Jump to Recipe⌄
Taco soup!
Thanks for stopping by! To get the newest recipes 

subscribe

 or join us on facebook.
Taco soup is by far the most requested meal at my house. My husband LOVES it and could probably eat it twice a week. It's one of my favorite meals too. Heck the kids even love it…and they are PICKY! I just don't add the taco seasoning to their bowls. It's definitely one of our all time favorite (EASY) recipes to make! I originally posted this recipe two years ago but wanted to post my "re-vamped" version with fall just around the corner.
Everyone I make this for always asks for the "secret" taco soup recipe. I promise it's super easy to make. If my husband can make this…YOU can too! ;)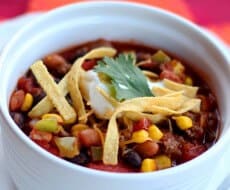 Taco Soup
Ingredients:
1 lb hamburger or turkery burger You can leave out the meat as well
2 TB taco seasoning more or less to taste
1 medium sweet onion chopped finely
1/2 green bell pepper chopped
1/2 red bell pepper chopped
1/2 orange or yellow bell pepper chopped
1 15 oz can black beans drained and rinsed
1 15 ozcan kindey beans drained and rinsed
1 15 oz can corn with water
1 can rotel tomato's mild or medium
1 15 oz can diced tomato's
1/4 cup salsa
1 8 oz can tomato sauce
Directions:
1. Brown hamburger in a large pan. Add in onions, bell peppers and saute for a few minutes.
2. Add in remaining ingredients and stir until combined. Let simmer for about 20 minutes, stirring occasionally. You can add a little water if it starts getting too thick. You could also put this soup in a crock pout and let cook on low for several hours.
3. Top with your favorite fix in's. Our favorites are sour cream and cheese. Serve with tortilla chips. Enjoy!
All images and text ©
This soup is a great freezer meal. Allow the soup to cool and then place in a freezer Ziploc bag or container. It will stay good up to six months in the freezer.
For more yummy recipe make sure to check out my

recipe box

.
Thanks for stopping by. Hope you have a great day!