Baby food jar candy gift
Every wonder what to do with old baby food jars?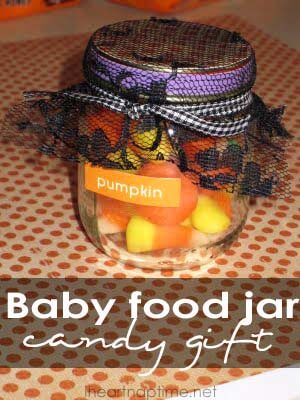 I've saved a ton of glass baby jars over the past year, because they are just SO cute, and can be used for so many fun things!
These cute candy jars were so easy to make, and made great little gifts. All you have to do is cut out strips of scrapbook paper to wrap around the top of a jar, then a circle for the top. I'm impatient when it comes to gluing so I used hot glue, but you could really use any type of adhesive. After it's dry you can decorate these with embellishments or just tie it with a ribbon.
Then fill it will candy, and enjoy the treats! These are the perfect gifts for VT, YW's, teachers and can be used for any holiday… just mix up the scrapbook paper!