Welcome to the Crazy Christmas event! If you're new here, join us on Facebook and Pinterest. Now let's give Landee a big welcome! We're so happy to have you guest posting!
Hello I Heart Nap Time Readers! I am Landee from landeelu.com and I am so excited to be here today as part of the awesome Crazy Christmas Event!
Today I am sharing these adorable Twine Wrapped Wire Trees that would add a festive touch to your home this holiday season. I love that they are both modern and a rustic looking at the same time… a hard balance to strike!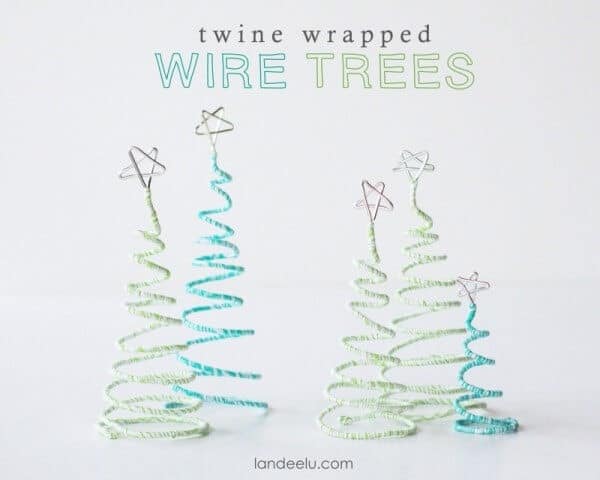 Here is what you'll need to make these sweet little trees.
Supplies:
12 gauge wire (about 4 feet per 8″ tree, more or less depending on how big you want to make it)
Twine or yarn
paper mache cone (found at Michaels for around $1)
Wire cutters
Needle nose pliers
And here is how you make them!

STEP ONE: Using the needle nose pliers, bend one end of your wire into a simple star shape. Keep in mind that the distance from the end of your wire to the first bend will determine how large your star will end up being.
STEP TWO: Tie your twine around the wire at base of star. Secure the short piece to the wire using a small piece of scotch tape. This will make wrapping the twine much easier.
STEP THREE: This is really just some tips I discovered as I made several of these… first of all, as you wrap the twine, go ahead and bend the already wrapped end to make wrapping the rest of it easier. Also, once you get going, you can wrap it quite fast, a section at a time, and then push it up to make it close together. After I realized this, it made wrapping so much faster!
STEP FOUR: When you get to the end, tie your twine in a knot, add a dab of glue to secure, then bend the wire back on itself to keep the twine in place.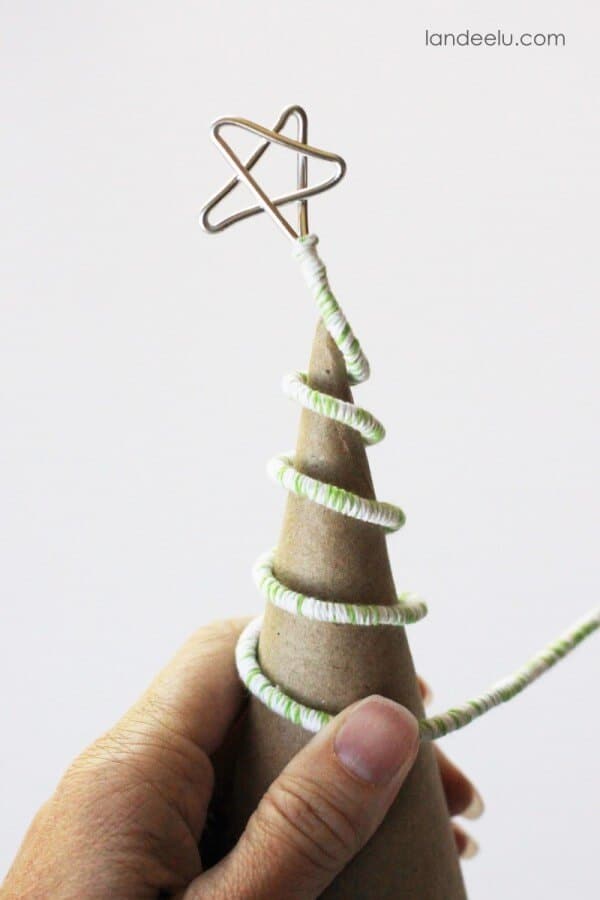 STEP FIVE: Using your paper mache cone as a "mold," wrap your now twine wrapped wire around & around to create a tree shape.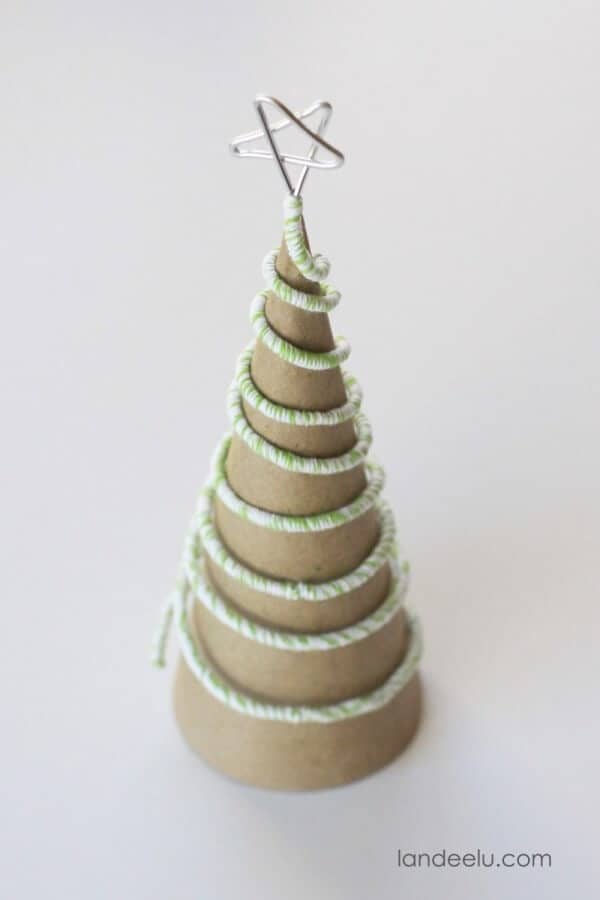 STEP SIX: Remove the cone and you're done! You can adjust them to make them taller or shorter, as desired.
I think these would look so fun across the top of a piano or on an entry way table. Then I started thinking how cute they would be as place card holders at the Christmas dinner table! Who wouldn't love seeing this on their plate, right?
Thanks for having me here today Jamielyn! Merry Christmas Crafting!
Here are some other past projects I have done that would be great as gifts for you to give this Christmas if you are on a budget or simply love giving handmade gifts!

Hexagon Picture Frame // DIY Pedestals // DIY Jewelry Organizer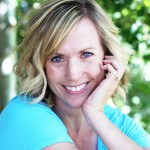 Landee is the mother of three charming children and wife of one hilarious man who makes her laugh everyday. She loves being creative and manages to squeeze inspiration out of anything and everything! Her quest is to try and make her home a little prettier, holidays a little more festive and life a little more memorable for her family. You can find her doing just that on Facebook, Pinterest, Instagram (landeelu) and Twitter (@landeelu).
P.S. Her blog is changing from Landee See, Landee Do to simply Landeelu.com. Don't be confused… it's still her! :)
Thanks so much for sharing! We loved having you guest post today! If you'd like to see more from the Crazy Christmas Event click HERE.