Valentine's Day Arrows Wall Hanging – decorate your home this Valentine's Day with this simple arrow wall hanging.
I love Valentine's Day crafts, but I normally don't do a lot of home decorating for Valentine's Day. This year I have a few DIY projects I wanted to try and since chevrons, arrows, and feathers are super trendy right now, I thought why not make a fun little wall hanging for my girls' room.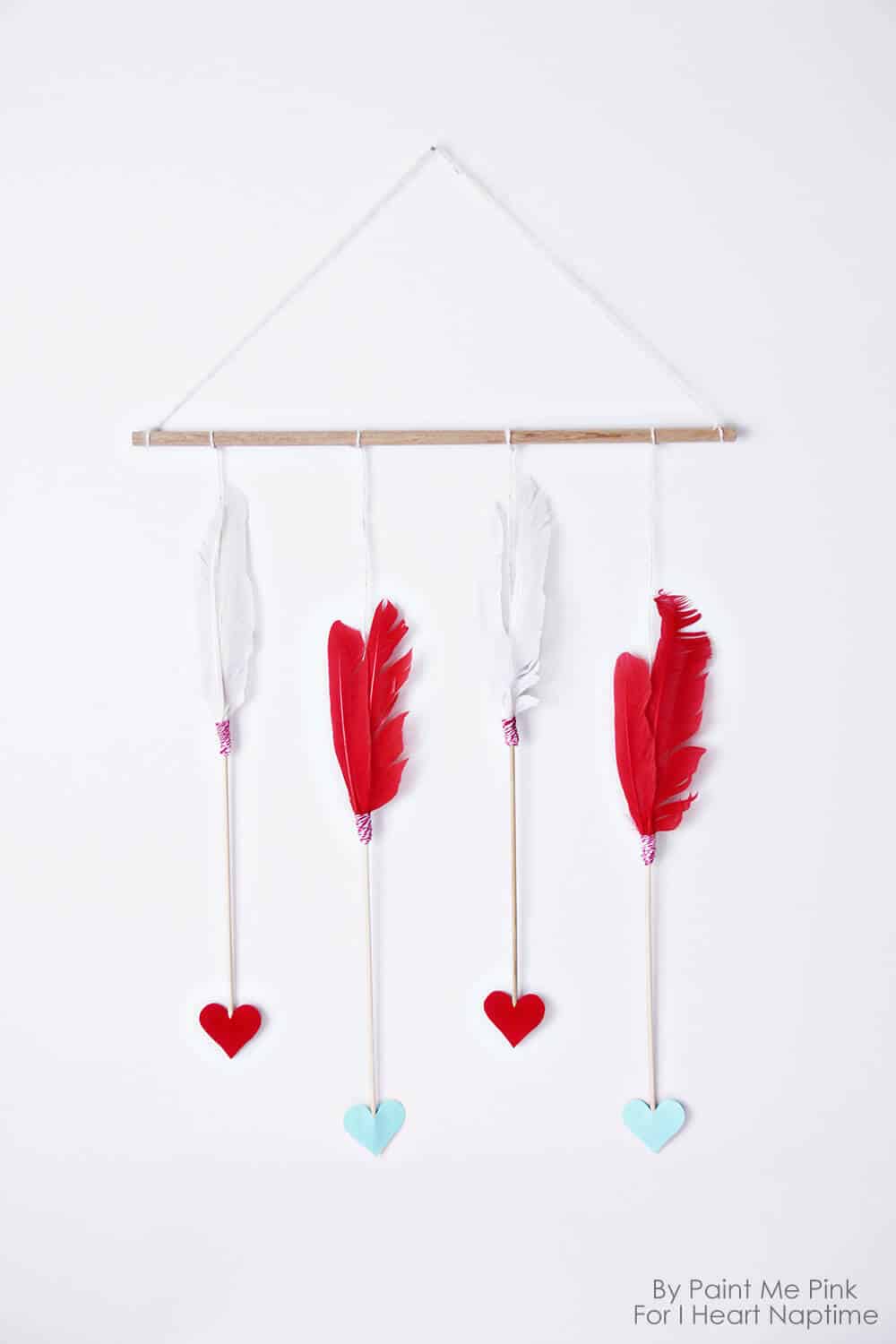 I went with the traditional red and white for the arrows and added a bit of turquoise and pink. I thought those colors would go great in their room. You can go with neutral colors and even add some burlap for a rustic look.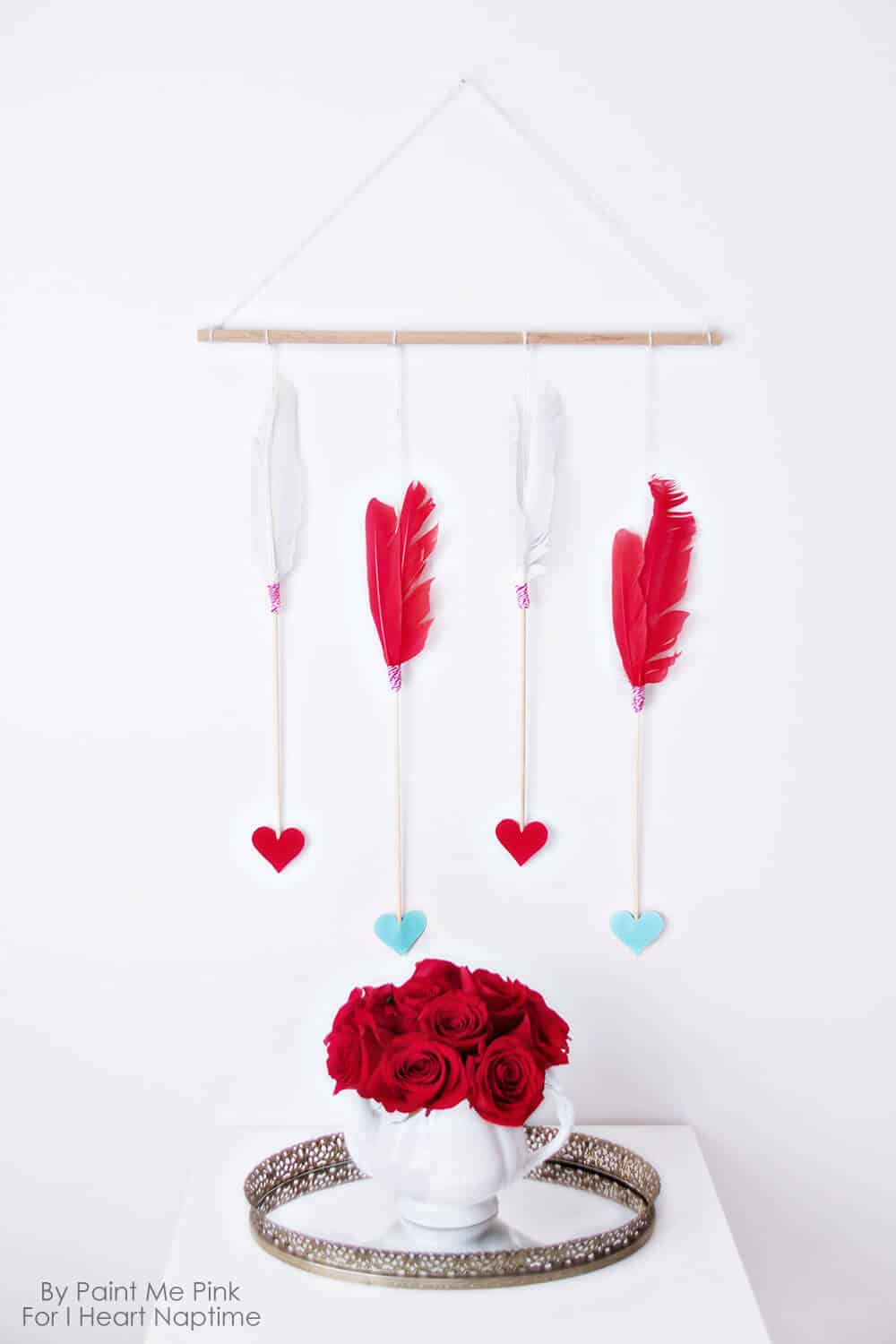 This 'Cupid's Arrows' wall hanging is a really easy, inexpensive project that you can even do with your kids. So let's get started!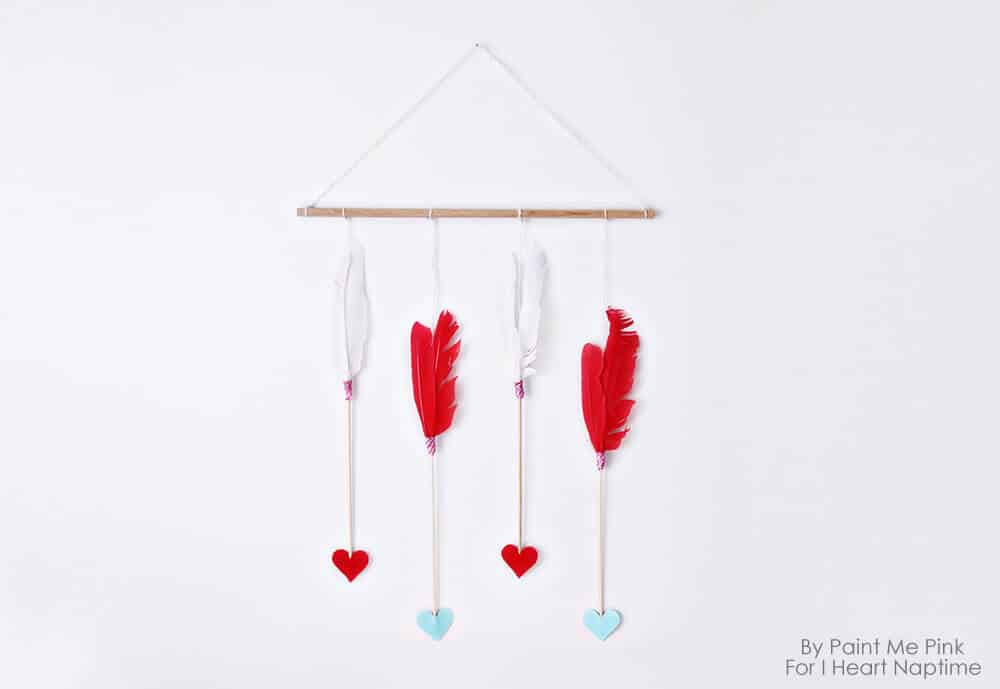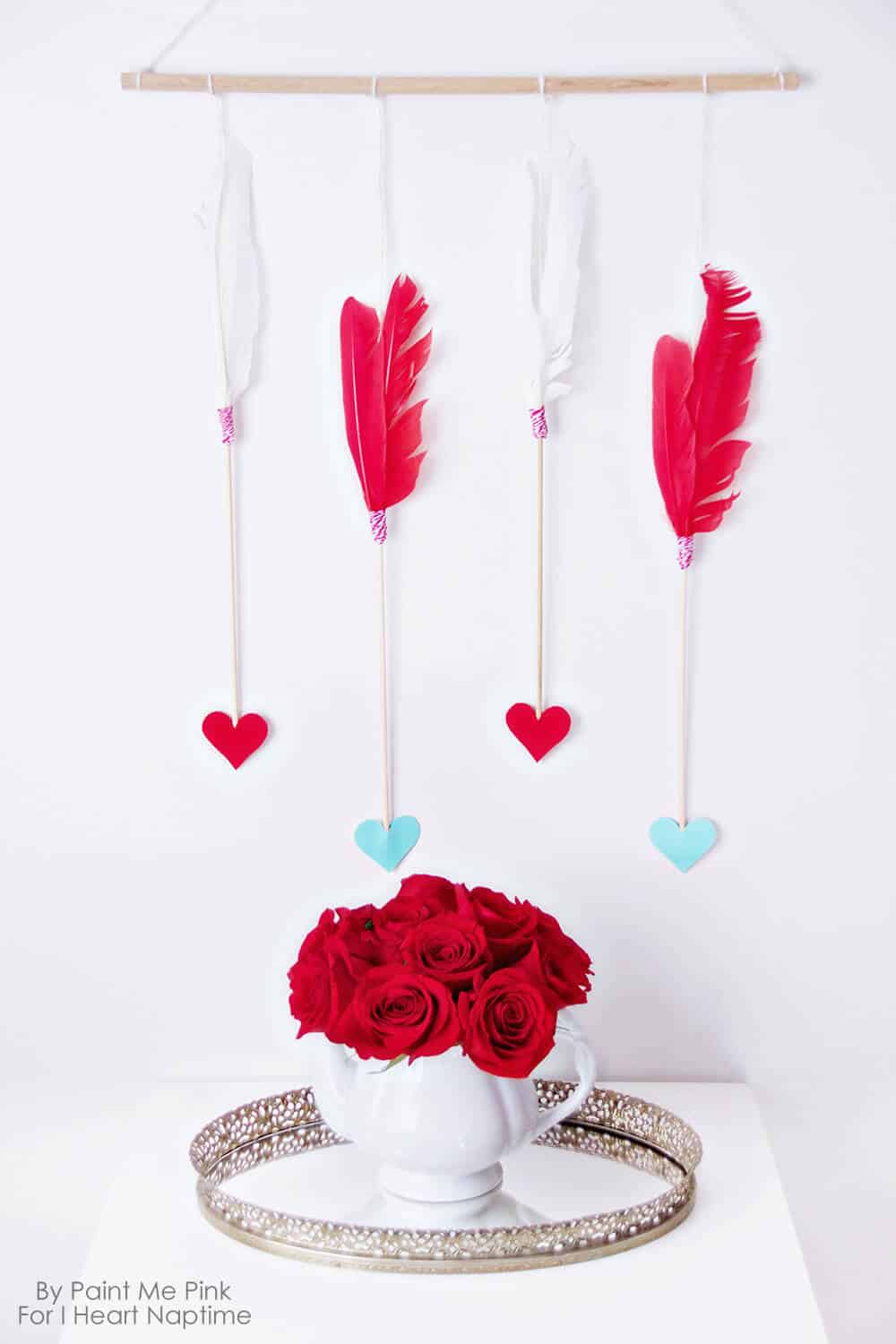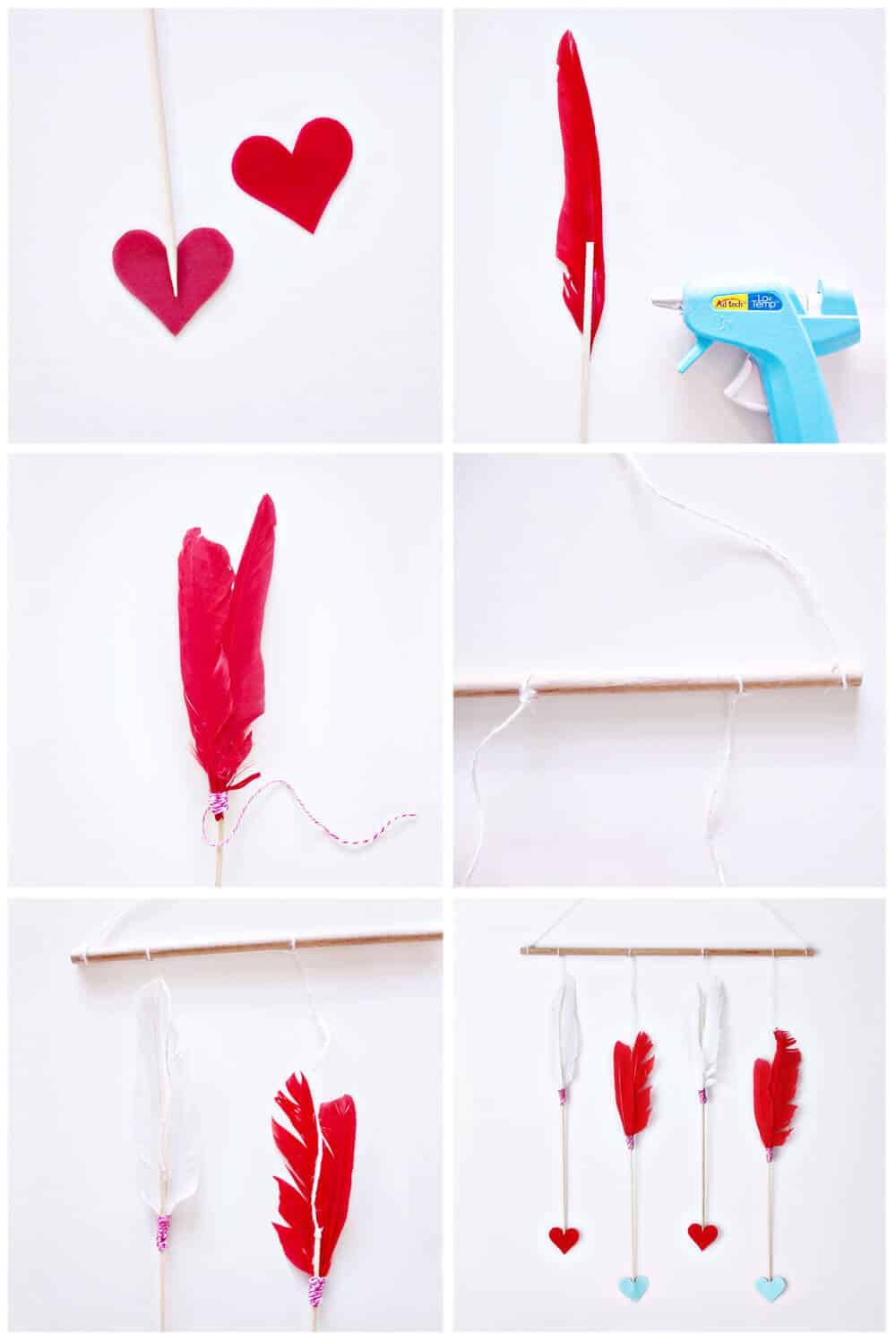 Supplies:
Twine
Card Stock Paper
Wood Dowel
Skewers or wooden dowels
Feathers
Hot Glue Gun
Scissors
Step 1:
Draw and trace your desire heart shape onto your card stock paper then cut them out. You are going to need 2 hearts for each arrow.
Step 2:
Hot glue a heart to one end of the wooden skewer or dowel. Repeat on the other side, covering the end of wooden skewer or dowel.
Step 3:
Hot glue the feathers to the other end of the wooden skewer or dowel. I used 2 feathers, but you can certainly add more.
Step 4:
Wrap twine around the bottom of the glued feathers. I used hot glue to secure the twine at the beginning and the end.
Step 5:
Tie together twine from one end of the large wooden dowel to the other to create the loop for handing. I used hot glue to secure the knots and to keep the twine from sliding.
Step 6:
Tie twine from large wooden dowel to hang your arrows.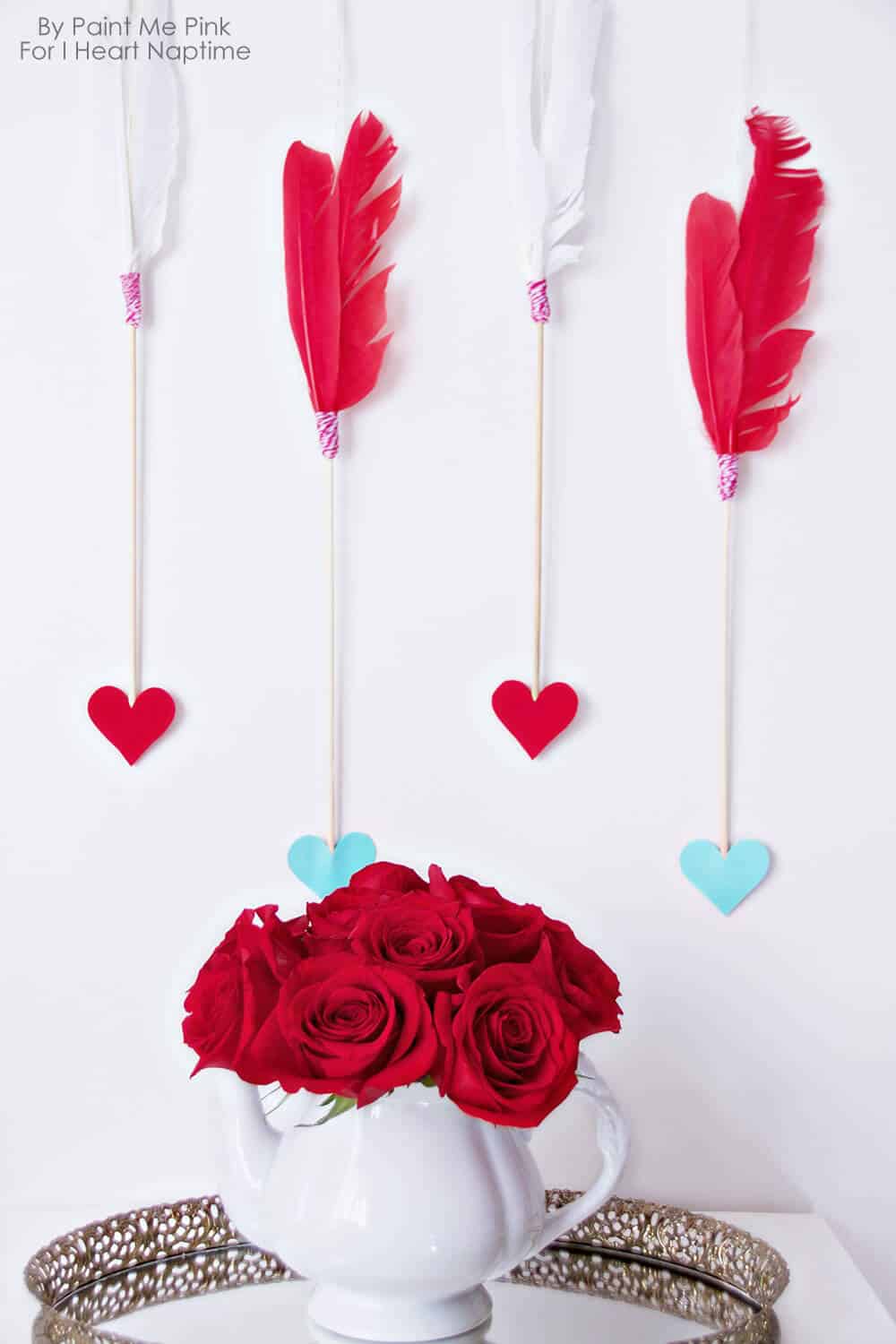 You can do so many fun things with them too, like crisscross them and make a little 3-D art, or place them in a vase for a simple Valentine's Day centerpiece, you can also attach a little note and use them as Valentine cards.
Thanks, Norma!
Love this adorable Valentine's DIY? You'll like these, too!