What's in my bag? +$50 Target giveaway
This post is part of a sponsorship with Target.
Today I have a fun post for you. I always love hearing about my friends favorite products, so today I thought I'd share a few of my favorites that I use on a daily basis. Here's what's inside my go-bag. These are my essentials. Some of them I could live without, but I'd prefer not to. ;) And if you took a peak inside my ACTUAL bag you may just find gold fish crumbs and melted fruit snacks… but we'll pretend that this is what my bags contents look like on a daily basis. Share your favorite go-to items in the comments below and be entered to win a $50 gift card to Target. Woo hoo!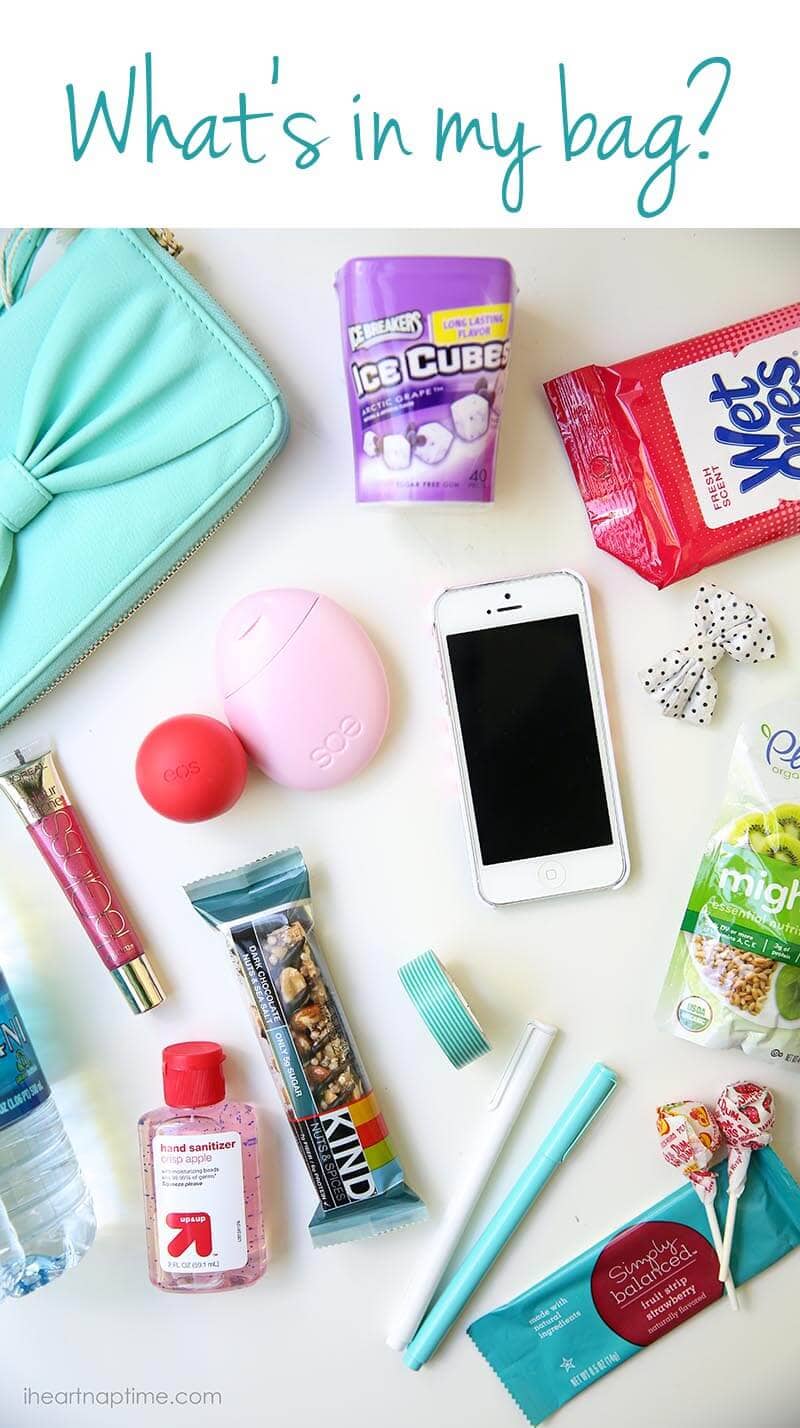 Here is a list of my favorite bag essentials (all found out the beloved Target – AKA my favorite store ever)!
1. Wallet -that's kind of a duh one, but this turquoise one was just too cute to pass up.
2. Ice breakers gum in arctic grape -seriously try it. I love that gum!
3. Wet ones and hand sanitizer -an absolute must now that my kids are in school. I may be a hand sanitizer natzi. Watch out. ;)
4. EOS lip balm and lotion -my favorite lip balm. I secretly just love the shape and pretty colors it comes in.
5. My iPhone – another obvi one. Who's excited for the new 6 coming out next week? ME (raising hand)!
6. Snacks -kind bars are my favorite. I like to keep fruit pouches and strips for the kids because they won't make a mess in my purse like crackers somehow always do.
7. Secret stash of dum-dums – these are for emergency's and work like a charm when I need to use them.
8. Pens and washi tape – always a good idea to have on hand.
9. Water bottle -another must…especially in the summer.
10. Hair bow and hair tie- for when mine or my daughters hair is getting in the way.

If you're still in the diaper bag phase make sure to check out Target's Baby Sale going on through 9/13.
Giveaway
How to enter: Tell me your must have bag essentials in the widget below.
a Rafflecopter giveaway

Easy peasy. Good luck! Now I'm off to do a little shopping at Target…

This post is part of a sponsorship with Target. All opinions are 100% my own. No purchase necessary.  Open to legal residents of the 50 US and DC, 18 or older. Giveaway ends on 9/15 and the winner will be announced in this post on 9/17.