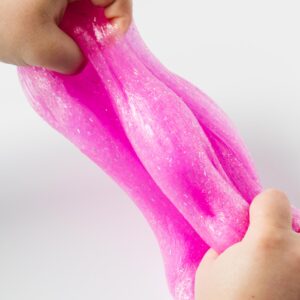 Print Recipe
Glitter Slime Recipe
This Glitter Glue Slime is made with only 3 ingredients and has a vibrant pink color that's loaded with glitter! Such a fun and festive craft that will keep the kids entertained for hours.
Pour the glitter glue into a bowl. Then add the baking soda to the middle. Pour the contact lens solution over the top.

Stir until your can no longer stir. There will still be liquid in the bowl. Mix the liquid into the slime with your hands until it has all worked in (about 1-2 minutes) and is no longer sticky. It will not be sticky when it is all worked in.

Wash your hands and then get ready to play with your glitter slime. Store in a plastic container with a lid or zip top bag.