Kitchen Aid Giveaway + The I Heart Naptime Cookbook is now available!
Happy Tuesday friends!! I hope you all had a wonderful Labor Day weekend.
Today is the official day that the I Heart Naptime Cookbook is available in stores! YAY! I am so excited to announce my first book is now available at book stores and online stores nationwide! You can find more information about the book and order your copy HERE.
I have all the feels this morning. I am nervous and excited all at the same time. It still feels surreal. After talking with a few friends who have written books, we joke that it is like having a baby (I was actually pregnant the entire time I wrote this book, which is crazy). More about that story in the book ;)
I wanted to thank you guys for all your support during this whole process. Thank you to the amazing recipe testers who helped test recipes for this book. Thank you for your suggestions and recipe ideas early on. Thank you for cover suggestions. Thank you for all the kind words. Thank you for sharing the book on your social accounts. Thank you for being as obsessed with naptime and dessert as I am. Really… just THANK YOU! I couldn't have done this without each one of you and I am truly grateful for all of you. Your support and enthusiasm mean the world to me. This book definitely wouldn't be here without you!
To celebrate the launch I made this fun video for you. I also have a KitchenAid multi-cooker giveaway below so make sure to enter!
KitchenAid Multi-Cooker Giveaway
One winner will win the amazing KitchenAid multi-cooker (seriously you will love this cooker… it can do anything) + a signed copy of The I Heart Naptime Cookbook! We also have 4 bonus winners that will receive a copy as well. Woohoo!!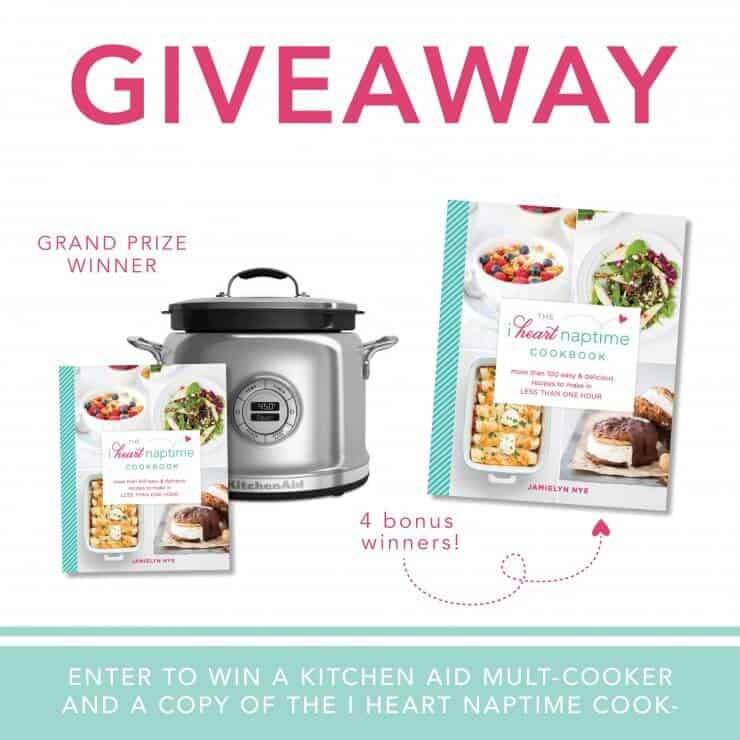 To enter: Only one mandatory is entry. The more entries, the higher your chance of winning. Good luck friends!
KitchenAid Multi-Cooker giveaway

Order your copy today! More info about the book HERE
Click one of the retailers below to get your copy:

Good luck friends!