This easy meatball recipe is so easy to make and come out juicy and flavorful every time. They're perfect for appetizers, subs or on top of spaghetti!
If you're a fan of Italian food, you're going to love this easy meatball recipe for dinner! It's a staple and is so simple to whip up in just 30 minutes. You'll also love my homemade bolognese, crockpot lasagna and meatloaf recipe.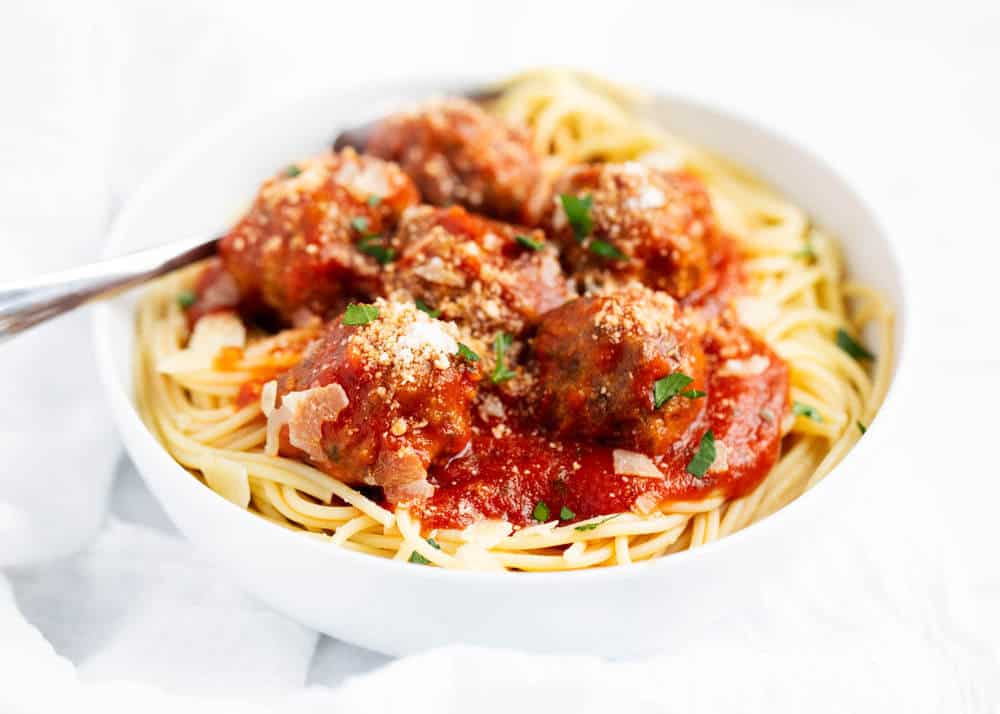 Family Favorite Dinner
These baked meatballs are always on our monthly rotation. Spaghetti and meatballs are one of my kid's favorite dinners…they request them almost every week. And because they are one of my favorite easy ground beef recipes plus super flavorful, I have no problem with that! If there's leftovers, we usually make meatball sliders.
I love that you can bake them in the oven…it makes them so simple to whip up and keeps the meatballs juicy. Once they cook in the oven, all you have to do is simmer them for a couple of minutes with marinara sauce while you cook the pasta.
Sometimes I'll even make my own homemade tomato sauce if I have some fresh tomatoes on hand. We also love to serve with roasted vegetables and garlic bread.
Ingredients
To make these homemade meatballs, you'll need the simple ingredients below.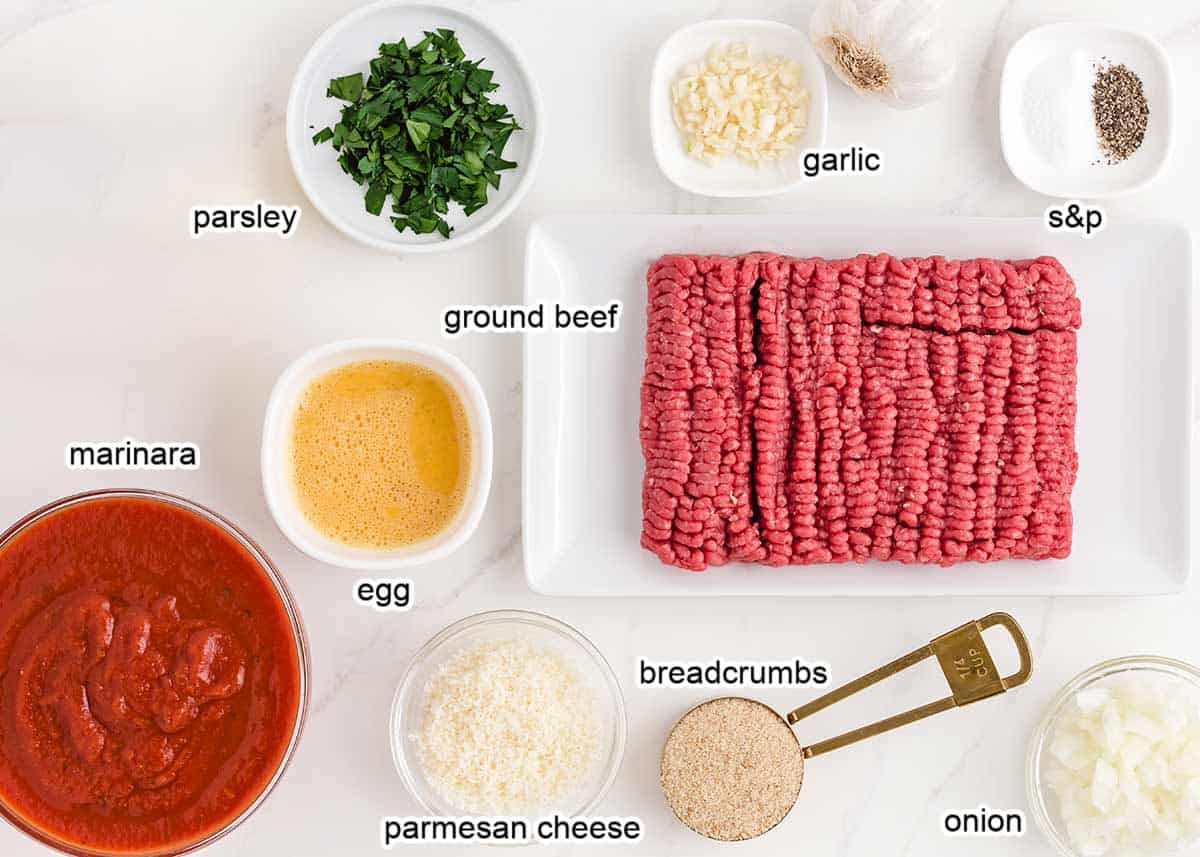 Find the full printable recipe with measurements below.
Ground beef – I typically use 80% lean ground beef. It's not overly greasy, while still containing enough fat to make the meatballs moist and juicy. You could also use half beef and half Italian sausage.
Egg – This is used as a binder to hold the meat mixture together. Whisk the egg first before combining with the beef.
Breadcrumbs – These help absorb the juices in the meat, so that your meatballs stay juicy and flavorful on the interior.
Parmesan cheese – Freshly grated parmesan cheese will give you the best flavor.
Onion – Fresh chopped onion is my preference, but onion powder is also a great substitute if you don't have any on hand.
Garlic – Fresh minced garlic adds a robust flavor. You may also swap with garlic powder if you'd like.
Salt and pepper – Kosher salt and freshly ground black pepper are a simple way to elevate the flavor.
Parsley – This is optional, however I love to add fresh chopped Italian flat leaf parsley to my homemade meatballs. It adds a slightly peppery taste and makes the flavor more vibrant.
How To Make Homemade Meatballs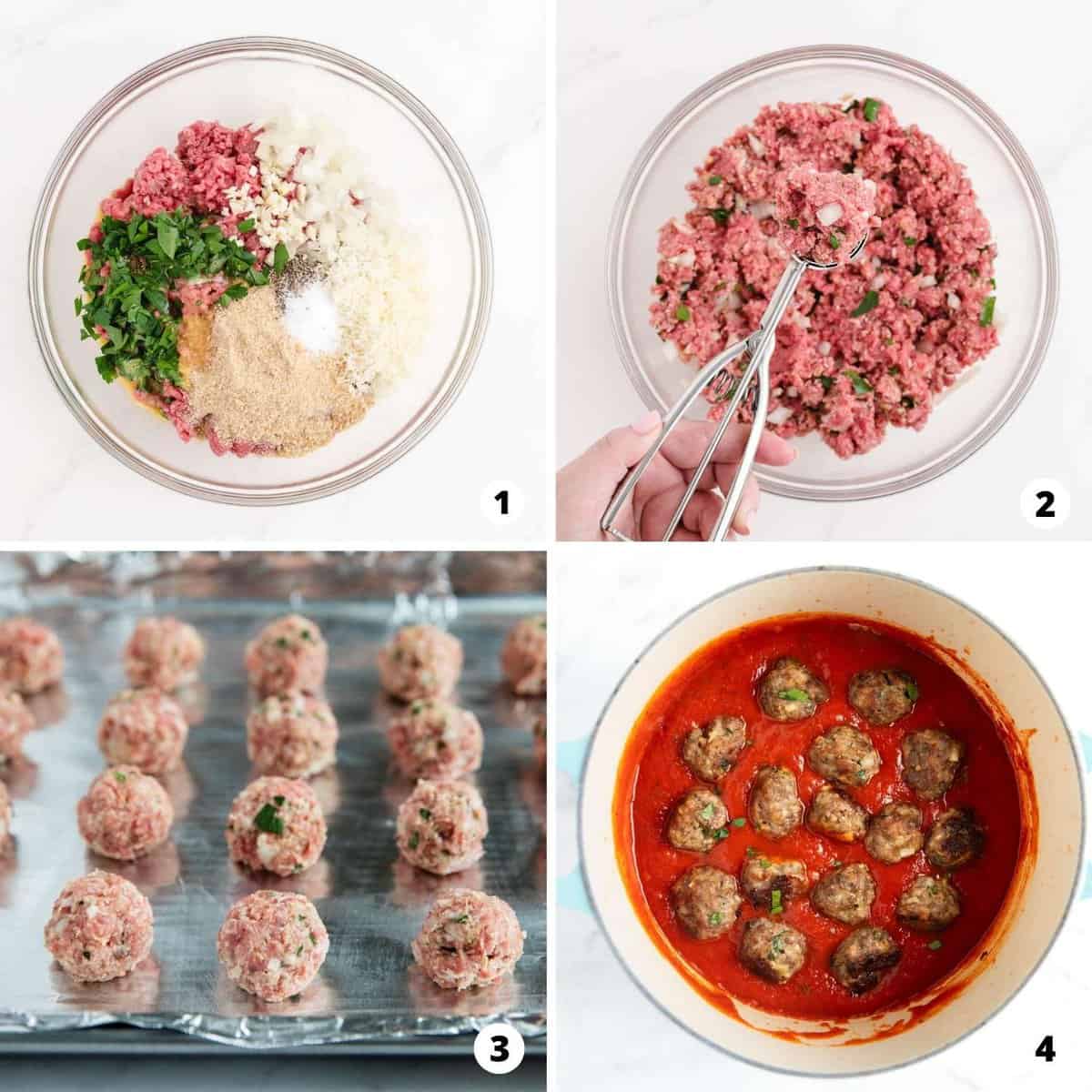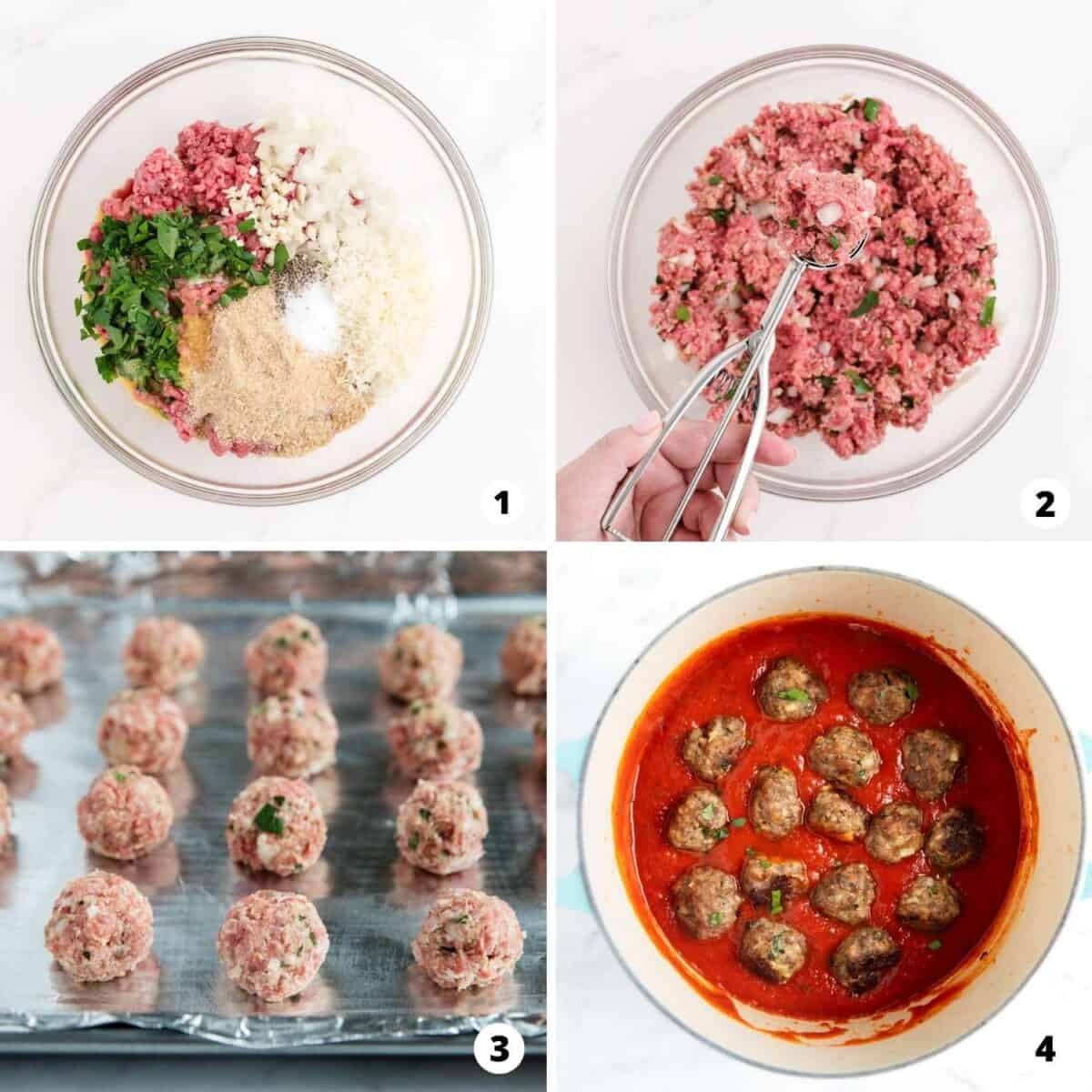 Combine: Place all ingredients in a large bowl and stir until combined. If needed, add a Tablespoon of milk to keep mixture wet.
Shape: Scoop the meat from the bowl and form into 1 1/2″ balls. Then place meatballs on baking sheet.
Bake: Place onto prepared baking sheet and bake meatballs uncovered for 17-20 minutes, or until middle is no longer pink. Flip halfway through.
Simmer: If desired, simmer with marinara sauce for 10 minutes and serve over cooked pasta.
Cooking Tips
Once these meatballs are baked and ready to eat, this will be the best way to enjoy meatballs when you are ready to eat. Place these meatballs in a slow cooker to make cranberry meatballs or Hawaiian meatballs for added flavor!
Don't over mix! Over-mixing can make the meat tough.
Use a cookie scoop (an ice cream scoop works too) to make the meatballs equal in size. This will ensure they all cook the same.
If your mixture is too dry when combining, add a Tablespoon of milk to keep it wet.
Make sure to flip the meatballs halfway through so that the bottoms don't burn!
If you don't have fresh garlic or onion on hand, sub with garlic and onion powder.
Got an air fryer? Make air fryer meatballs instead.
Can You Freeze Leftover Meatballs?
Yes, you can definitely freeze the leftovers, or make a double batch for later. All you need to do is allow them to cool. Then transfer the meatballs to a clean baking sheet and freeze for 1 hour. Once they harden in the freezer, transfer to a ziptop bag or freezer container. Label and place them back in the freezer for up to 3 months.
To thaw, place the in the refrigerator overnight. I like to take them out of the freezer and add the meatballs to the slow cooker with marinara sauce. I just cook them on low for 2-3 hours for an easy dinner later on!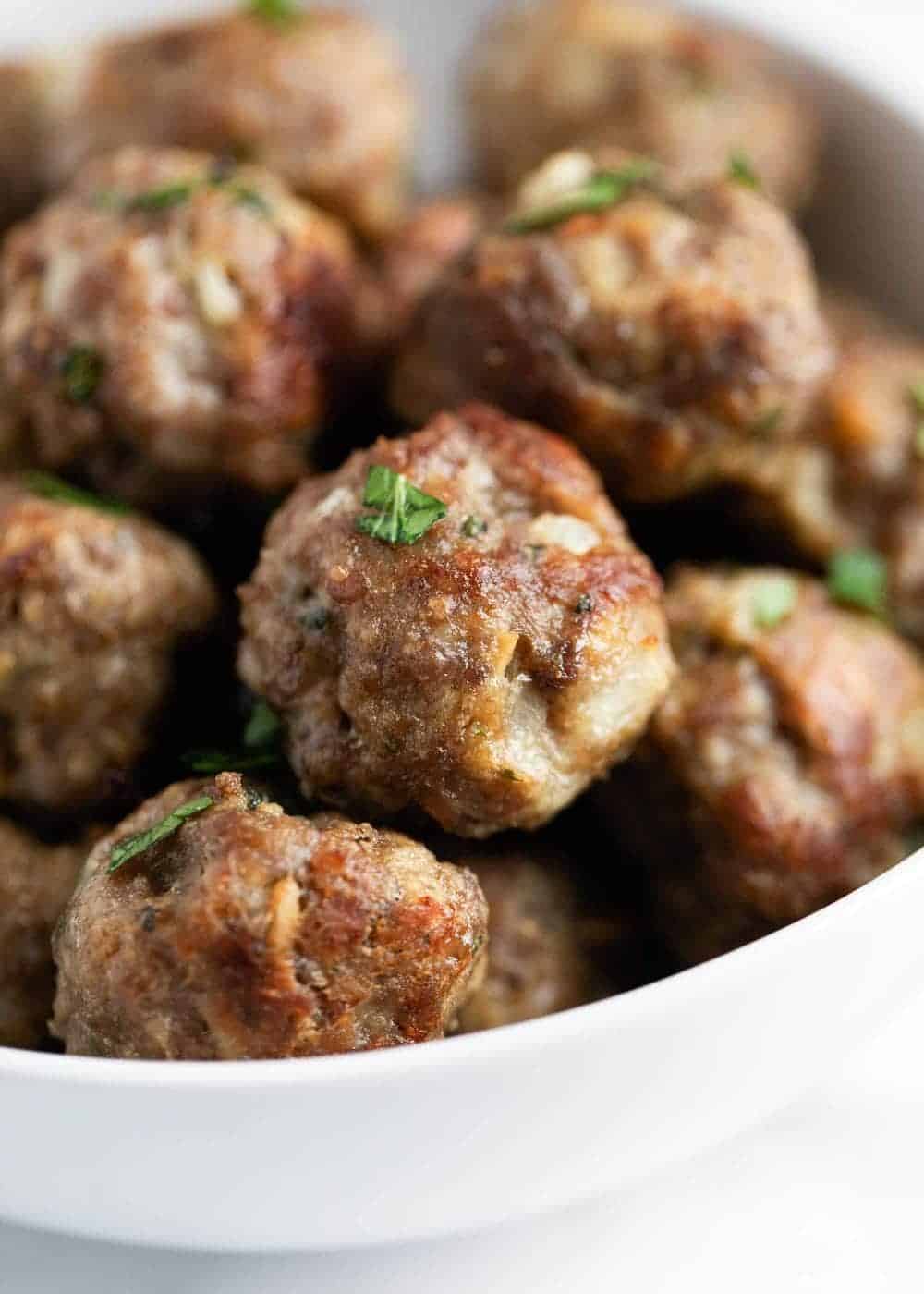 FAQs
How do you make moist meatballs?
One of my favorite tips for making moist meatballs is to use half ground beef and half pork. Since pork is a bit fattier, it makes the meatballs super tender. You can also add a Tablespoon or two of milk if you find the mixture is too dry
What kind of meat is used for meatballs?
If I'm making a classic Italian meatball recipe, I like to use lean ground beef. Sometimes I'll add in ground pork to make them a little juicier. I save ground sausage for breakfast meatballs. If you'd rather use ground turkey, check out this healthy turkey meatball recipe or browse all my easy meatball recipes.
What can you substitute for breadcrumbs?
I like to use breadcrumbs in this baked meatball recipe because they absorb the natural juices and help the meatballs to keep their shape. If you don't have breadcrumbs in your pantry you can use crushed crackers. You can also make homemade breadcrumbs by toasting a few slices of bread. Then place in a food processor and pulse into crumbs.
Can I make in advance?
Yes, you can make them up to 3 days advance. Simply allow them to cool and then place in an air tight container. Rewarm in the oven or stove for a few minutes, tossing occasionally until heated through.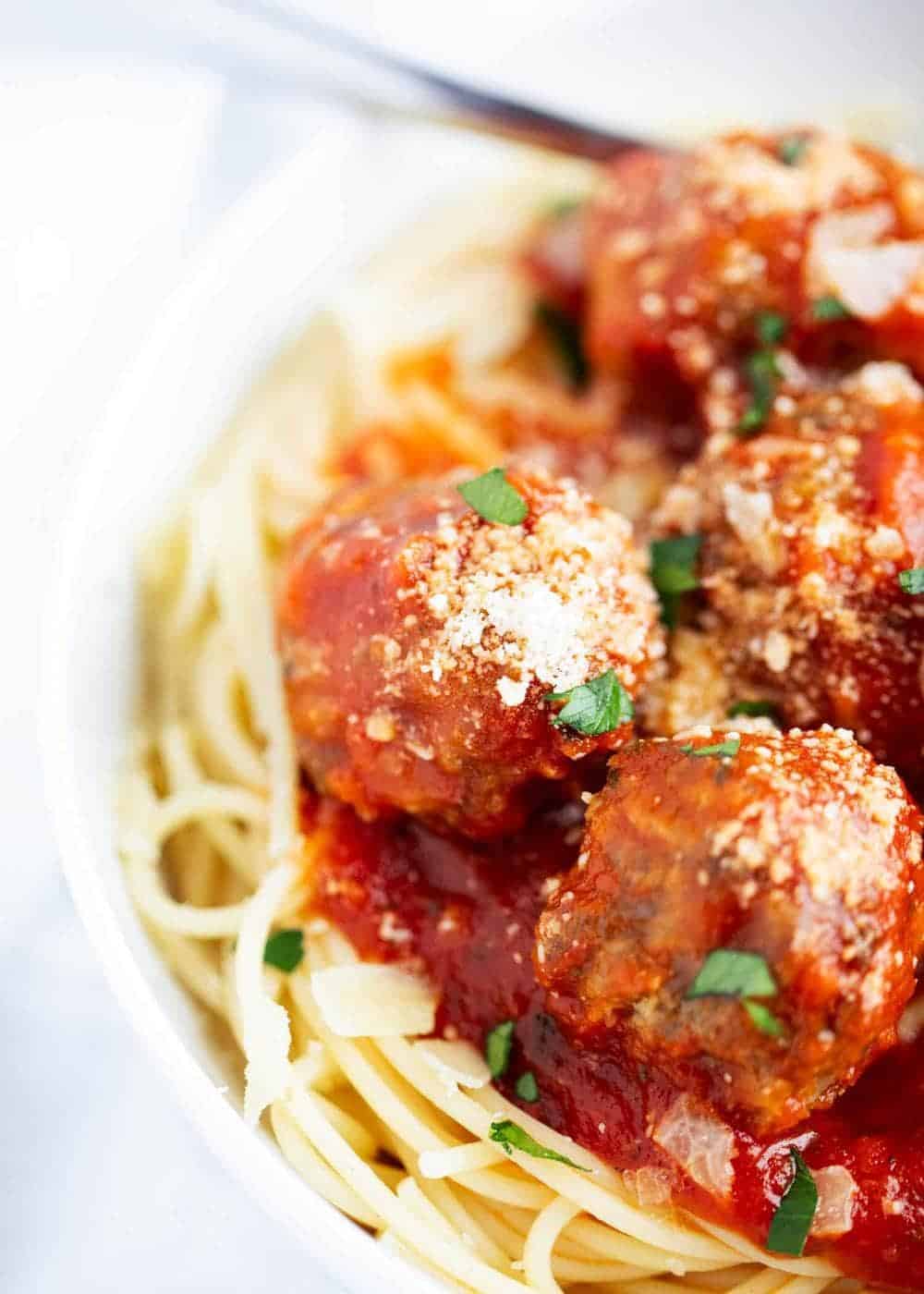 More Delicious Meatball Recipes
HUNGRY FOR MORE? Subscribe to my newsletter and follow on Facebook, Pinterest and Instagram for all the newest recipes!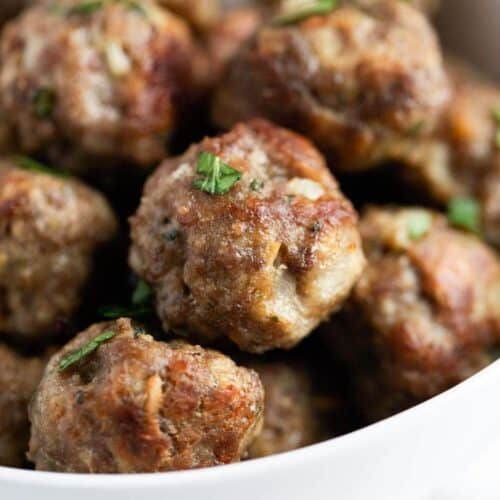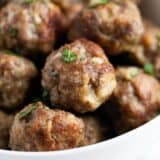 Easy Meatball Recipe
These are the best oven baked meatballs! So easy to make, juicy and flavorful. They're perfect for appetizers, meatballs subs or on top of spaghetti.
Ingredients
1 pound 80% lean ground beef (could sub with half ground pork)
1 large egg , beaten
¼ cup breadcrumbs
¼ cup grated parmesan cheese
¼ cup finely chopped onion
2 teaspoons minced garlic
¾ teaspoon Kosher salt
¼ teaspoon ground black pepper
2 Tablespoons chopped fresh Italian flat leaf parsley , optional
Optional serving: 2 cups marinara sauce, cooked noodles, grated parmesan cheese, basil, or parsley
Instructions
Preheat the oven to 400°F. Line a baking sheet with foil and spray with non-stick cooking spray.

In a large bowl, combine the meat, egg, breadcrumbs, cheese, onion, garlic, salt, pepper, and parsley, if using.

Use a medium cookie scoop or spoon to scoop the meat mixture. Form into 1 1/2-inch balls and place on the baking sheet.

Bake uncovered 17 to 20 minutes, or until no longer pink in the middle. Turn halfway through, so the bottoms don't brown.
Optional Way to Serve
Simmer meatballs with marinara sauce, if desired, for 10 minutes.

Serve meatballs on their own or serve over spaghetti noodles. Top with parmesan cheese and fresh herbs, if desired.
---
Notes
How to fry meatballs:
Fry meatballs in a pan with 2 Tablespoons oil over medium-high heat for 7 to 10 minutes, or until cooked through. Flip every few minutes to prevent burning.
Substitutes:
You can use 1/2 teaspoon garlic powder and onion powder if you do not have fresh garlic and onions. You may also use 2 teaspoons dried parsley if you do not have fresh.
If I have pork on hand, I like to use 1/2 pound ground beef and 1/2 pound ground pork. It creates juicier meatballs. You can also do half ground beef and half ground turkey to cut back on fat.
Storage and freezer instructions:
Store in a covered container in the fridge for up to 3 days. Store in a freezer container up to 3 months. Place in the fridge overnight to thaw and then reheat on the stove top over medium-low heat until warm.
Nutrition
Serving: 5meatballs | Calories: 184kcal | Carbohydrates: 5g | Protein: 23g | Fat: 7g | Saturated Fat: 3g | Cholesterol: 93mg | Sodium: 537mg | Potassium: 348mg | Vitamin A: 90IU | Vitamin C: 1mg | Calcium: 81mg | Iron: 2.6mg
Nutrition provided is an estimate. It will vary based on specific ingredients used.
Did you make this recipe? Don't forget to give it a star rating below!