Insider Disney Cruise Tips and all the reasons why I think you should take your family on a Disney Cruise for your next family vacation.
A few weeks ago we surprised our kids with a trip of a life time to go on the Disney Dream! The Disney Dream is absolutely breathtaking. The ship is so amazing and everything is so well thought out. We have also been on the Magic and love both ships. This is by far our favorite vacation we have ever taken! Watching my kids faces light up and their reactions really made the whole trip.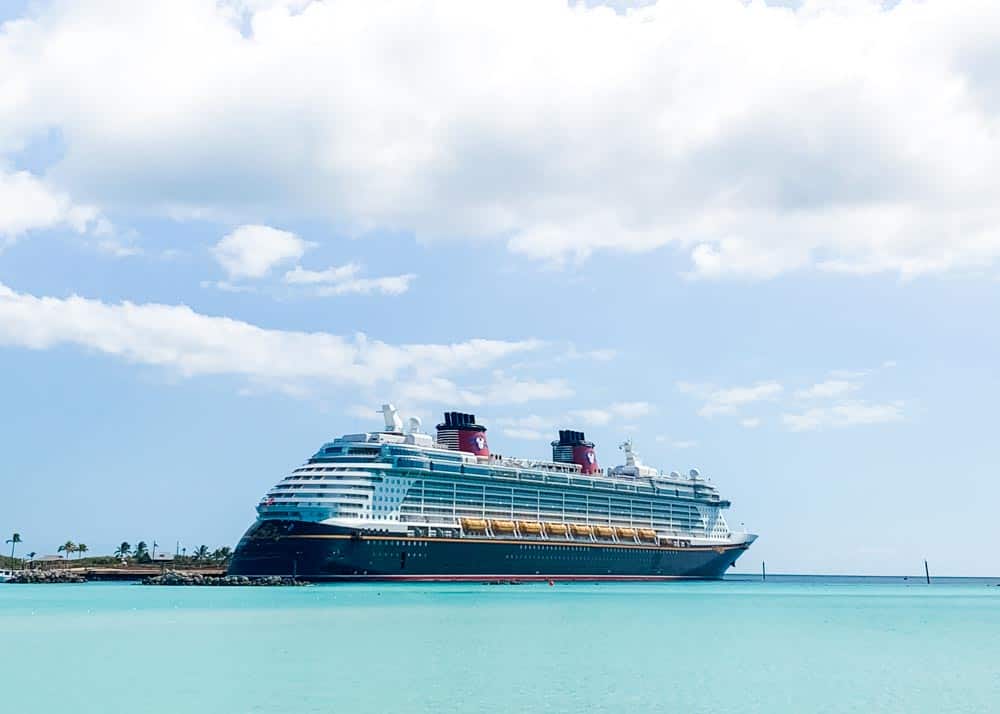 Why take a Disney cruise?
The Disney Difference: Disney's signature service, attention to detail, Disney's private island and the entertainment and rich storytelling are some of the reasons why Disney Cruise Line is voted among the best at sea. I honestly could go on and on about how much I loved the Disney Cruise. It was absolutely amazing!
Here are my top 10 reasons why I think your family would love this cruise.
The Disney magic. From on boarding the ship and being welcomed by name, to hanging out with the characters on the deck, to receiving chocolates on your pillow each night, there is so much magic happening all around the ship.
The food. Where do I even begin with the food? It is all SO AMAZING! I loved that everything was inclusive. There was food available on the ship 24/7. Whether you wanted to pop into the buffet, grab a bite by the pool, sit down at a restaurant or order room service there was always something delicious to try. There are specialty items you can purchase for extra, but plenty of options that don't cost extra. I'll share some of my favorites later on in the post.
The rooms. Even though they are smaller than your typical hotel stay, they are so well designed so everything fits. We love to unpack on the first day and then store our suitcases under the bed after that. I love that there are hidden bunk beds they pull down and put away for you each day. The TV is also loaded with every Disney movie you could imagine. I love love that the bathroom is split into two rooms, so that one could be showering while the other person is getting ready for the day.
The kids club. The Disney cruise kids club is unlike ANYTHING I have ever seen. My kids honestly go in and never want to leave. I love being able to check them in for a few hours and spend some time alone with my husband in the adult pool or at the spa.Make sure to pre-register for the kids club during registration to make the first check in go smoothly. There are so many different rooms and things for them to explore. The Oceaneer club is for ages 3-11. For teenagers there is Edge for ages 11-14 and Vibe for ages 14-17.
The entertainment. From the amazing broadway shows each night to game nights and fireworks at sea, there is something that everyone will enjoy. The baby diaper dash may just be my favorite. They also show new movies at the Buena Vista Theatre, so make sure to catch a film there. You can bring your own food and drinks in (they charge extra in the theatre), so go to deck 11 before the show and grab a soda and a snack to bring in.
The cleanliness. The Disney cruise is by far the cleanest ship I've been on. Before dining a cruise member hands you a towlet to wash your hands. They also have the coolest hand washing machines they have to use before they go in.
The service. The service on The Disney Cruise is absolutely incredible. My kids loved our waitor and were so excited to see him every night. Everyone goes above and beyond to make sure you have the best trip ever.
Pirate night. The pirate night at sea is one my favorite nights. My kids loved getting to stay up late that night and watch Jack Sparrow in the show. The fireworks on ship were also amazing and a must see!
The pools. The swimming pools are my kids favorite spot on the ship. On the Disney Dream the aqua duck is a must! The slide takes you all around the top of the ship in a tube and is seriously so much fun. My kids loved that they could swim and watch their favorite movies on the big screen.There is also an adult only pool and jacuzzi that is a relaxing place to hang out. If you're really wanting to relax I would get a day pass to the spa, it is AMAZING.
Disney Castaway Cay. My favorite stop was definitely Disney's Private Island in the Bahamas. The water is pure turquoise and so clear. It is so beautiful! My kids loved playing on the beach, snorkeling, the splash pad, going on bike rides and getting smoothies. The day was absolutely magical…we never wanted to leave. We like to get off at the 2nd stop, near the children's playground/splash pad and snorkeling. We loved renting bikes there as well. If you want to drop your kids off at the Kids Club on the beach, you can sneak away to the adult only beach for awhile, while they play with their friends. We didn't do this since we had 2 littles, but it might be nice if you wanted a little relaxing time.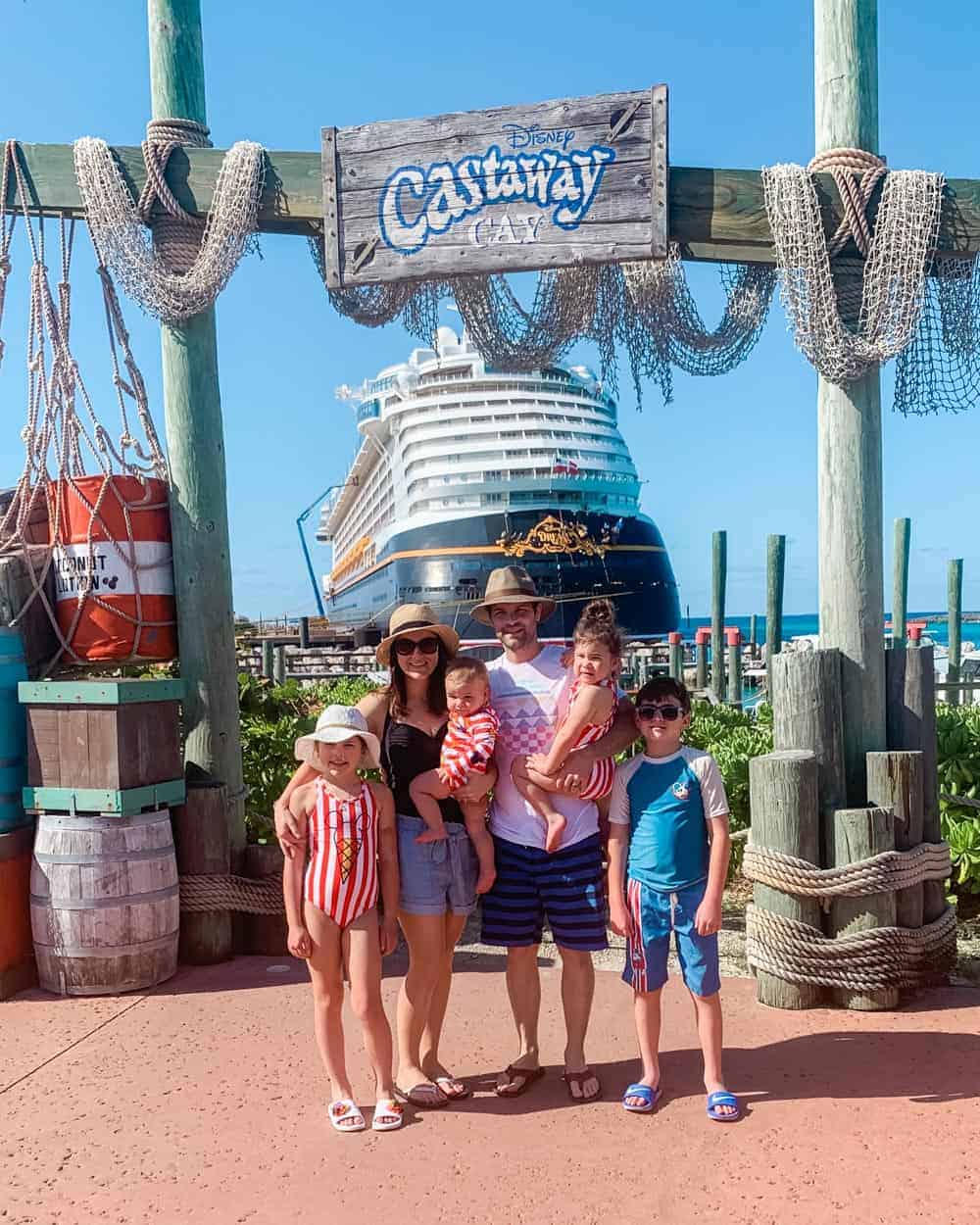 Where does the Disney cruise go?
The Disney Cruise Line sails world-wide from tropical Caribbean islands to Alaska and Europe. We took the 4-day cruise to the Bahamas and it was absolutely perfect. You can find the 2019 Itineraries & Ports here. We're thinking about going on the Pacific Coast cruise next!
The Carribean
The Bahamas
Baja
Mexican Riviera
Bermuda
Canada
Pacific Coast
Panama Canal
Europe
Here are some more highlights from our trip! My girls biggest highlight was going to the Bippity Boppity Boutique and getting a princess makeover! This was our first time doing this and it was SO magical! I love how sweet the workers were with my girls and made them feel so special!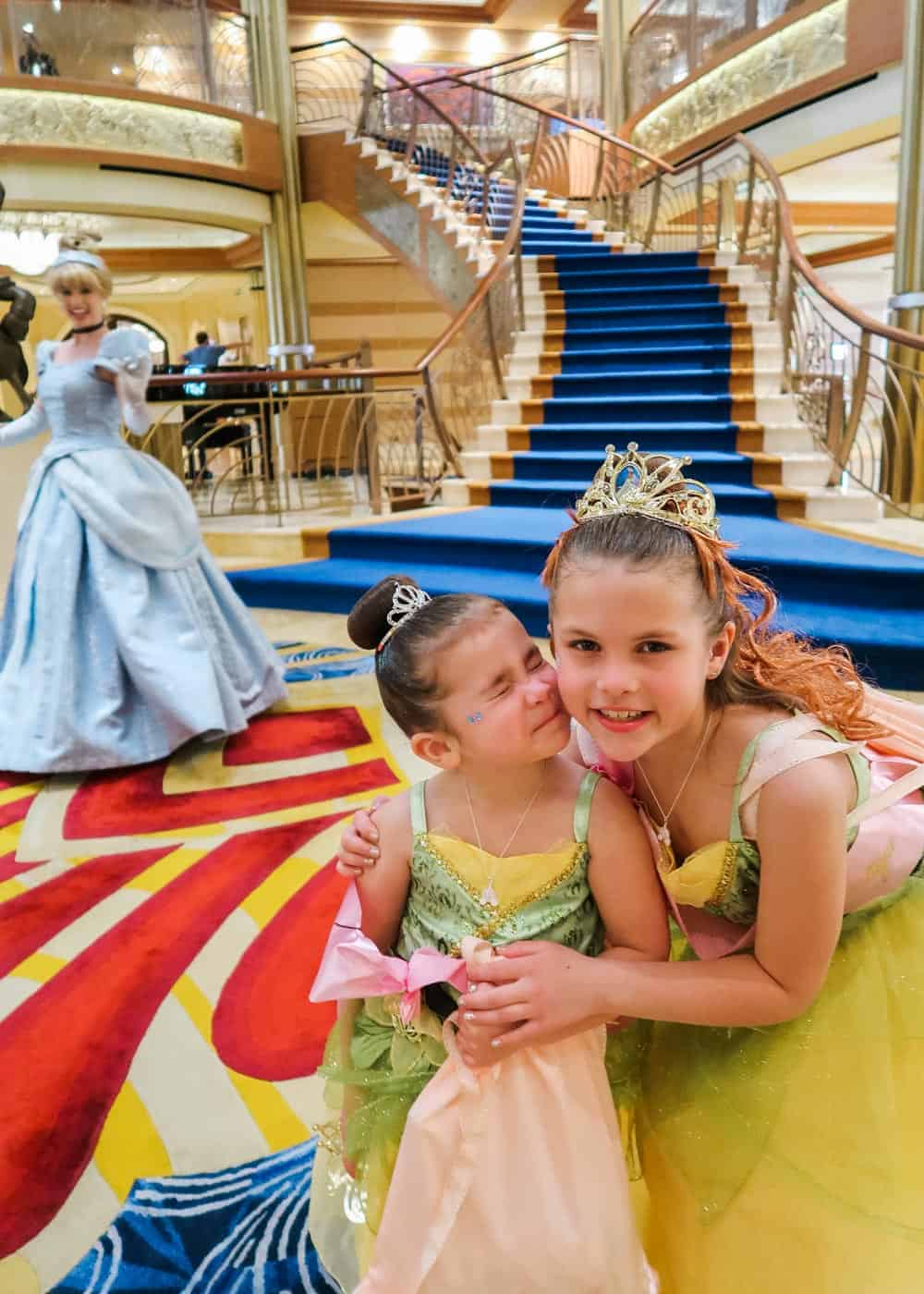 Disney cruise food
The food on the cruise was my favorite part! Obviously. There is no shortage of dining options. I've heard all the calories on the cruise magically disappear. ;)
On deck 11 you can get all the soda, water, ice cream your heart desires 24/7 along with food at Flo's cafe, Vanellope's, Frozone treats, Cabanas, Cove Cafe & Vista Cafe and the Senses Juice Bar. Each night you'll rotate through the fabulous restaurants: Animator's Palate, Enchanted Garden and Royal Palace. More about the menu's here.
All the food is included and you can order as much as you'd like. If two things look good, you can order both. Some nights I just couldn't resist ordering two desserts, because I couldn't decide. Or we would order one of each and split them between the table so we could try a bite of them all. Also, if you're looking for something on the menu that isn't there, just ask. I always asked for a bowl or plate of fruit at dinner.
I also loved that we had the same servers every night, even when we moved to different locations. They are seriously THE best and so entertaining. They remembered my kids names and all our drink orders, so we had drinks right when we arrived. My kids always loved seeing them do magic tricks too. If you have dietary restrictions, allergies or just simply want them to know you like lemon in you water, let them know the first night and you wont have to let them know again.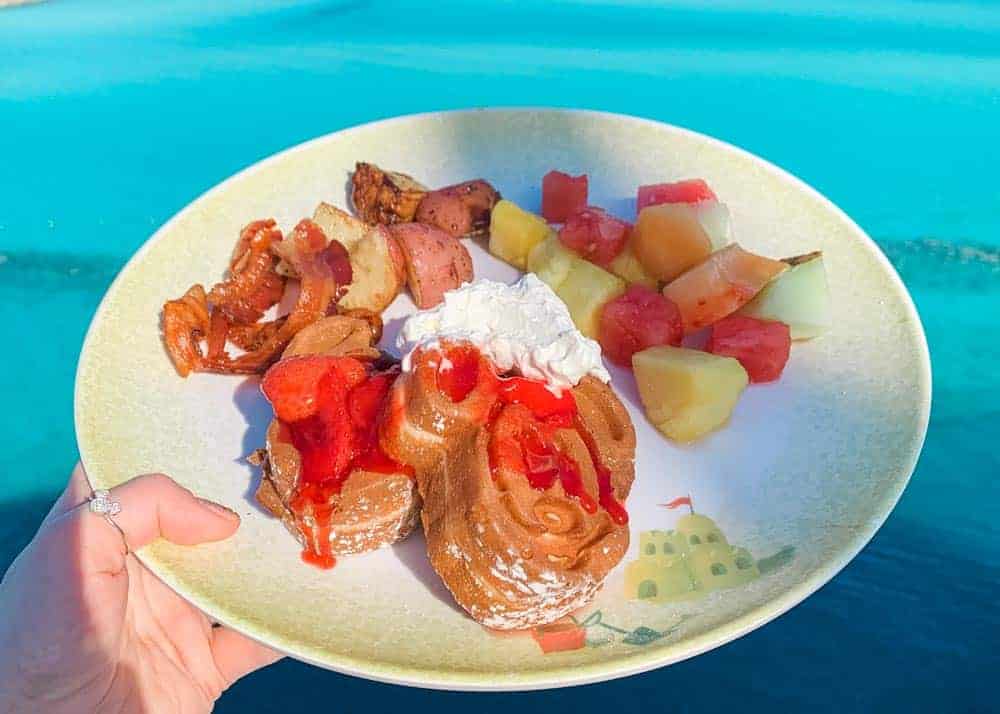 Breakfast
For breakfast we loved going to the buffet at Cabanas since we have young kids, but you can go to a sit down restaurant as well. My kids got the Mickey waffles every day and I usually got an omelet with some fruit and a pastry. On our last cruise we went to went to brunch at Remy's – A French-inspired menu for superior seasonal ingredients ensures dining at this luxurious gourmet restaurant-inspired by the hit Disney Pixar film Ratatouille. All the food was amazing.
Some mornings I was honestly still full, so a green smoothie from the Senses Juice Bar on deck 11 (by the gym) was all I wanted. It was perfect!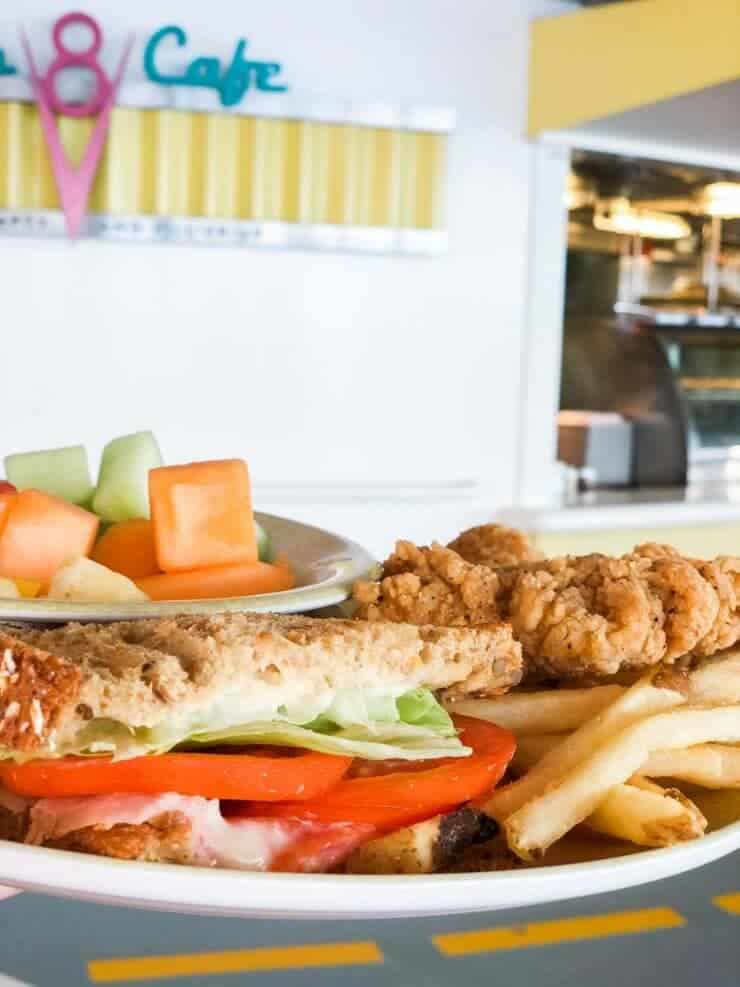 Lunch
For lunch we typically would grab something at Flo's Cafe (on Deck 11 midship) or grab something on the island. Flo's Cafe had a variation of pizzas, sandwiches, hamburgers, salads, wraps and more. My kids always loved getting the chicken fingers and fries! Okay… I admit, I did too. ;)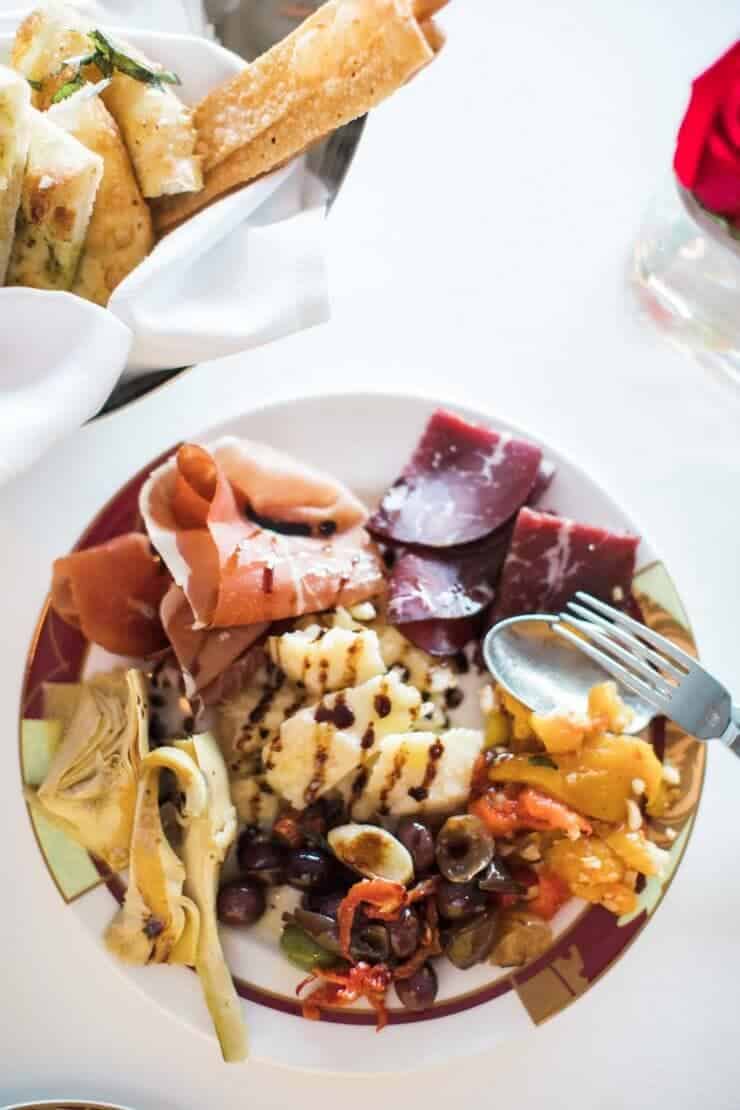 Dinner
Animators Palate is one of my favorite restaurants. My favorites on the menu were the garlic and herb focaccia, the chicken and walnut salad, the lemon-thyme marinated chicken with mashed potatoes, the lemon ice box pie and cheese cake for dessert. My kids loved watching crush bounce between screens and talk to the kids. It was so much fun!
We also made a reservation at Palo, which features Italian cooking with a modern twist at this chic adult exclusive restaurant. Make sure to make a reservation ahead of time (preferably before 6pm so you can watch the sunset and see the amazing views). I heading to Palo, you'll want to check your kids in to the kids club where they can eat dinner and dress up :)
Our favorites from the menu were: tomato mozzarella caprese, soft potato gnocchi, roasted lemon rosemary chicken, grilled prime beef tenderloin and the chocolate soufflé for dessert.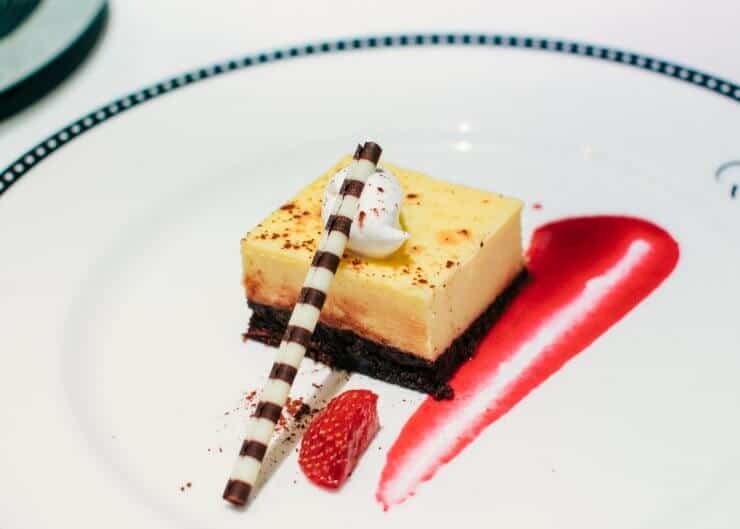 Dessert
The dessert was probably my favorite part! Seriously so many yummy options! We always loved getting a few to share at dinner.
We loved getting the ice cream cones multiple times a day on deck 11. Sometimes we would grab a cup from the soda fountain and make our own floats too. YUM! There was also so yummy treats and ice cream at Vanellelope's. That was one of my favorite spots on the ship!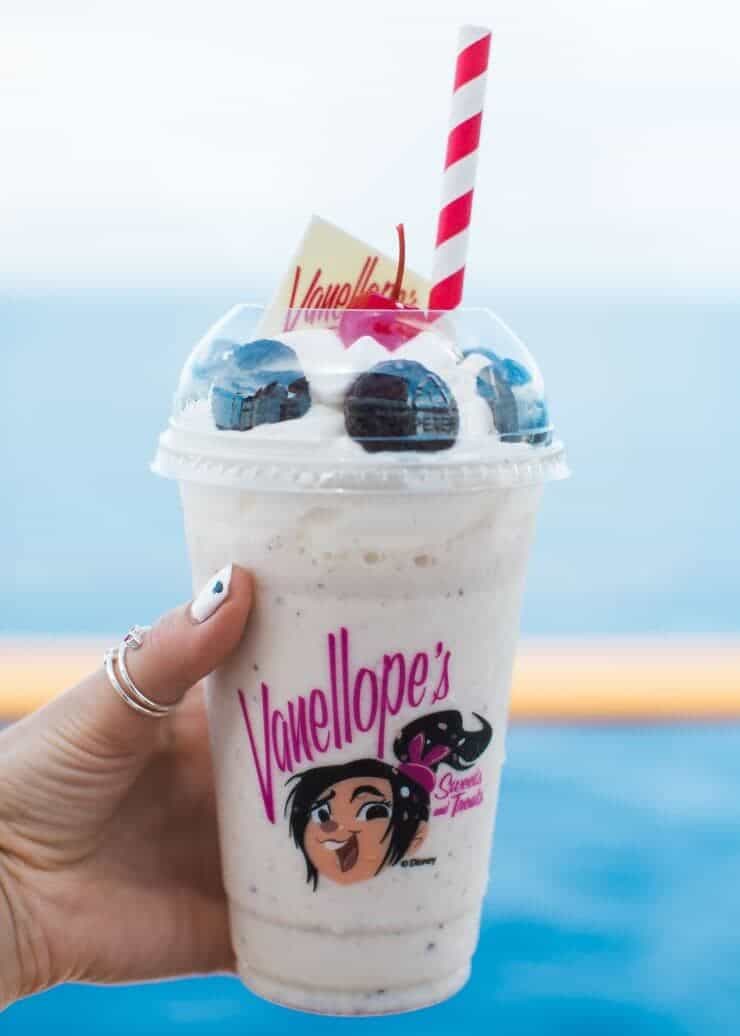 I'm still dreaming about this vanilla cream from Remy's. To die for!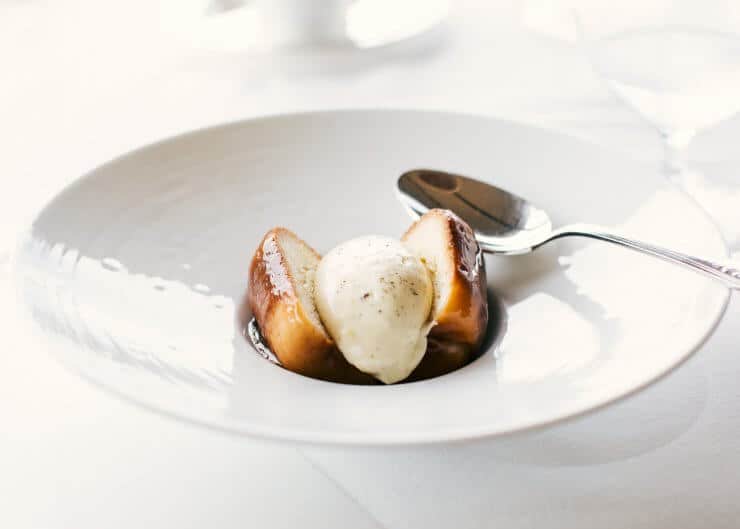 If you're still hungry and feel like a late night treat, feel free to order room service (it's free). They offer a lot of the same foods as Flo's Cafe and you can also ask for the dessert of the day or a Mickey ice cream bar (that isn't listed on the menu). Warm cookies and milk are also a nice treat. It's also nice to order room service for breakfast and eat on the deck.
There are also free snacks/desserts in the Cove Cafe (near the adult only pool). Look at this delicious spread! You will definitely not go hungry on the Disney Dream!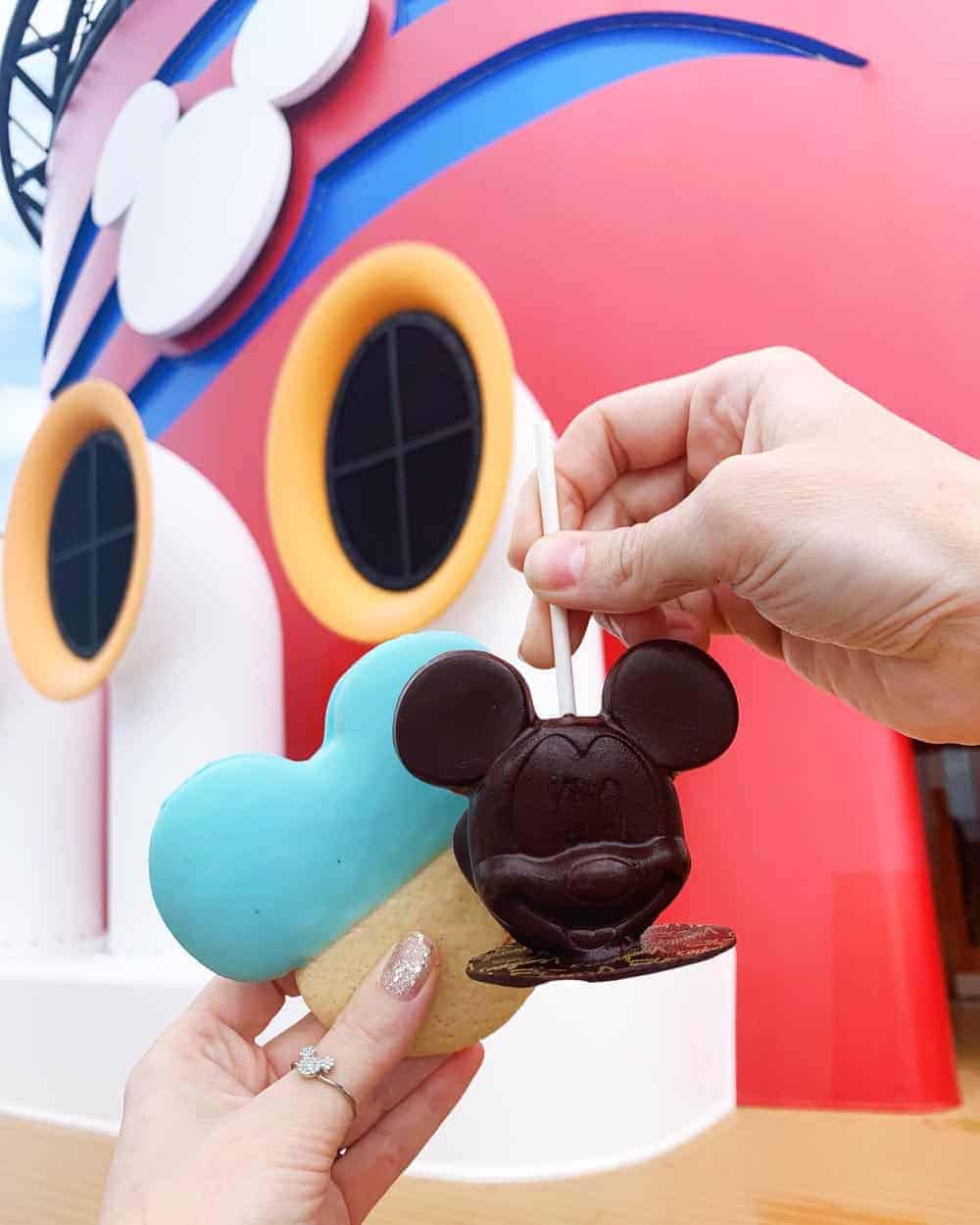 Disney Dream cruise tips
The best deals on a Disney cruise are usually in September when the kids have gone back to school.
Check in online early (as soon as it becomes available), set a reminder on your calendar. Make sure to book your excursions ahead of time as well.
Schedule the earliest port arrival time and make sure to get there on time. It will give you more time on the ship, to check in and grab lunch.
Fly in the night before your cruise leaves, so you are not stressed out that morning. Here are some tips on transportation to the port.
Pick up a case of water bottles and snacks on your way to the port. Even though the drinks and food is free, sometimes it's nice to have it in your room and not have to wait for room service (which is free BTW).
Unpack the first night and store your luggage under your bed. There isn't a ton of room, so it's best to get organized the first day.
Make sure to download the Disney cruise line navigator app before you leave. It's the best way to access the daily itinerary and message other guests on the ship. Refresh the app occasionally, so you make sure to have the most current info.
Sign up for the FREE 50MB wifi package on the first day and use it sparingly. Make sure to sign out at digitalseas.io each time you're done using it, or it will continue use the date in the background. The best part about the cruise is staying unplugged, but sometimes it's nice to check in with family.
When you walk outside your door you'll notice stars on the floor. Remember that the top point of the star points towards the front of the ship. The two bottom corners point to the aft.
If you get seasick, make sure to plan ahead. I like to bring some dramamine and sea bands on board just in case.
Bring an old gift card to put in the slot by the door. You have to put in your room key to power the electricity, and it's nice to have something always there so you don't have to use your card.
Get a rainforest spa day pass and relax in the jacuzzi or sauna. They also have large showers (perfect for washing your hair)!
Bring your own refillable cup for the soda/water fountain.
Wait until the 2nd or 3rd day for character photos, the lines will be super short (especially in the am). You can also find the characters walking around on the decks and ask for photos there as well (there's usually no line).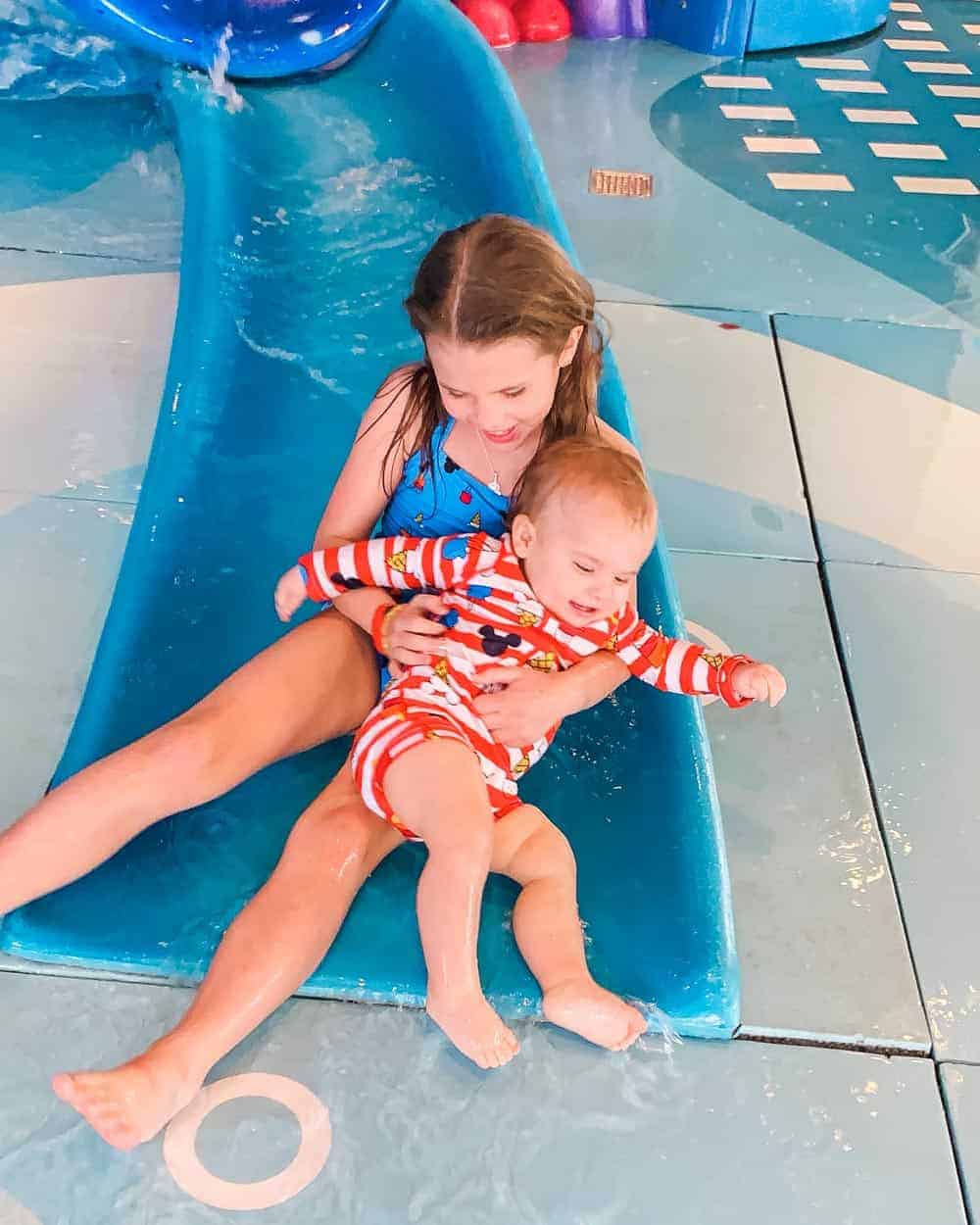 Disney Dream cruise tips with babies and toddlers
Reserve a crib or stroller ahead of time. Also, if you have a baby you can ask your waiter to puree or cut any of the food. So awesome!
Make sure to pack a bag with your swim suits (my kids want to get in the pool right away, and it is always the least crowded then) and whatever else you'll need for the afternoon since the luggage won't be to your room until around 4-6pm.
Reserve time at the nursery the first day (within the first few hours) or times will book up quickly. We loved putting our baby down to sleep during the show. They are great there!
You can pre-book any character meet and greets beforehand to make it easier. You can also wait in the lines and they are surprisingly not too long.
Jack-Jack's Incredible Diaper Dash was also so cute and hilarious! We had Wes compete and it was so fun watching all the babies. Pretty much the cutest thing ever and you need to go! The cruise director told us this is her favorite activity on the ship, don't miss it!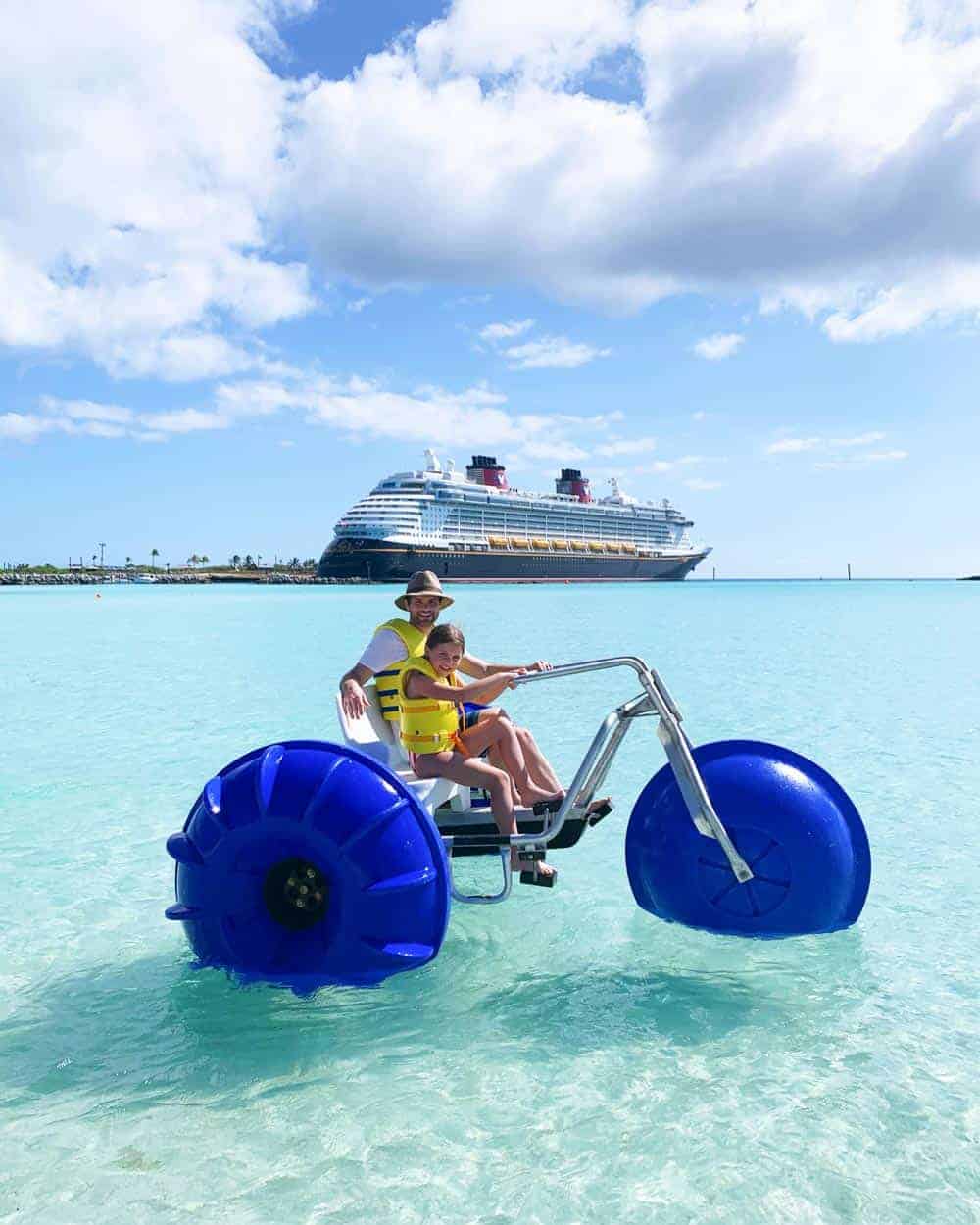 If you're headed on your first cruise remember to enjoy every minute! Remember to have fun, relax and spread pixie dust wherever you go!
Do you have any tips? Share in the comment section below!
Disclosure: This post is in partnership with Disney. All opinions are 100% my own.