Top 10 Disney Tips with Toddlers – All of my best tips to help you make the most of your next trip to Walt Disney World.
It's no secret that we LOVE Disney! Recently we had the opportunity to attend the Disney Creator Days at Walt Disney World and I got so many questions on how I do Disney with a 1 and a 3 year old. I thought I would share some of my tips for conquering Disney with toddlers here.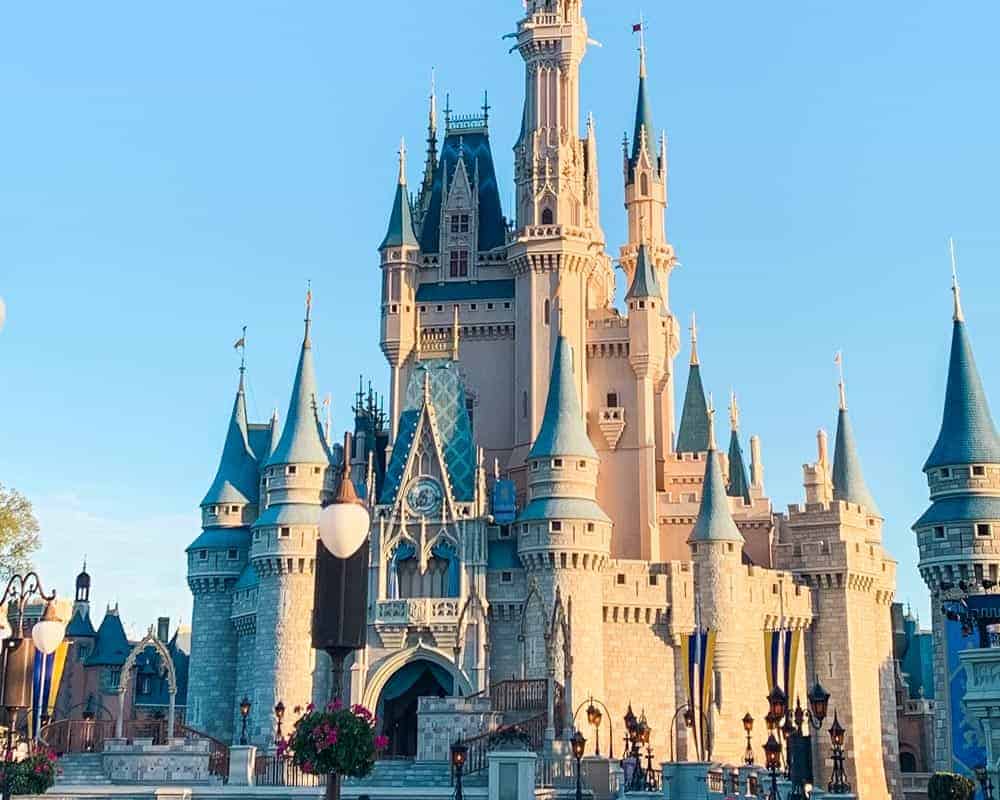 Disney World with toddlers
There really is nothing like experiencing Disney World with toddlers. The magic that is in their eyes is simply indescribable. While tackling the parks with little ones in tow does make things a little more challenging, it is 100% worth it. If you're planning a trip to the Disney parks with a toddler, there are a few things you'll want to consider to help things go as smoothly as possible.

Top 10 tips to make the most of your time at Disney Parks with toddlers:
Go during the off-season. As tempting as it may be, don't plan your visit during the summer, over a holiday, or around spring break. Instead, see if you can visit during the quieter months of the year – traditionally January and February, as well as just after school resumes and in early December. You'll have a much easier time navigating the parks with your stroller when there aren't nearly as many people around, and smaller crowds means shorter lines.
Consider your accommodations carefully. When you visit Disney World with a toddler, everything takes a little more time and effort. Staying at an off-property hotel can seem like a smart idea, but driving and parking every day can be a hassle (not to mention expensive!). Instead, you might want to think about booking a room at one of the Disney Resorts. You can conveniently reach the parks by bus from any hotel on Disney property. It can be especially helpful to stay at the Polynesian or Contemporary Resort. They offer access to the monorail, which makes it extra easy to head back to the hotel for a quick midday nap. However, we stayed at Animal Kingdom Lodge for the first time on our last trip and it is my kids new favorite resort! They LOVED seeing the animals every morning.
Bring a helping hand. Tackling Disney World with a toddler is tough on your own. It's smart to bring at least one other person – whether that's a spouse, big brother or sister, or grandma – along to help out when you need it. This is an especially good idea if you'd like to ride some of the more exciting rides in the parks, like Space Mountain.
Use rider switch passes. We love using the Rider Switch program, which will let you and your partner switch between experiencing the ride and watching your little one. It's also nice because if you're with big kids they can go on the ride twice.
Plan ahead. Do a bit of research before you visit the parks to optimize your visit. You'll want to know where you can find your child's favorite characters for meet-and-greets and which rides are best suited for your toddler. Creating an itinerary – even a loose one – will help you make sure you check off all the must-do items on your list. Also make sure to download the Walt Disney World app so you can easily find your way around and see wait times.
Stock the diaper bag. Stock your diaper bag with everything you might need in the parks.

An extra pair of clothes and shoes can save you a trip back to the hotel
It's always smart to keep a poncho or rain jacket around when you're visiting Florida.
Bring water bottles and a cup with milk.
Pack ALL the snacks to keep you going throughout the day. It's nice to have things like apple sauce pouches, goldfish and fresh fruit and veggies for your littles to snack on.
Hand sanitizer and wipes.
Sunscreen.
Portable sound machine, blanket and pacifier for naps
Don't forget a stroller (or rent one at the park)

Check out the baby center. If you happen to forget something, have a blow out or just need a quiet place to chill visit the baby center right off Main Street. I've gone there plenty of times when I needed to buy an extra binki or baby food. It's also a great place to nurse your baby or change diapers.
Take your toddler on the rides. I was actually surprised how many rides my toddler and baby could actually go on. Here are some of my 1 & 3 year olds favorite rides. Here's a list with the height requirements.

Dumbo
It's a small world
Pirates
Peter Pan's flight
Mad tea party
Jungle cruise
The many adventures of Winnie the Pooh
The magic carpets of Aladdin

Lower your expectations. At the end of the days kids are kids. They are going to get tired and have tantrums. Take time to slow down.
Naptime. Whatever you do try to schedule some down time to get your toddlers afternoon nap in. It will make for a much more enjoyable day. If we're staying near the park, we'll usually head back to the room for an afternoon nap. If we're not near by I will usually push them around in the stroller until they fall asleep.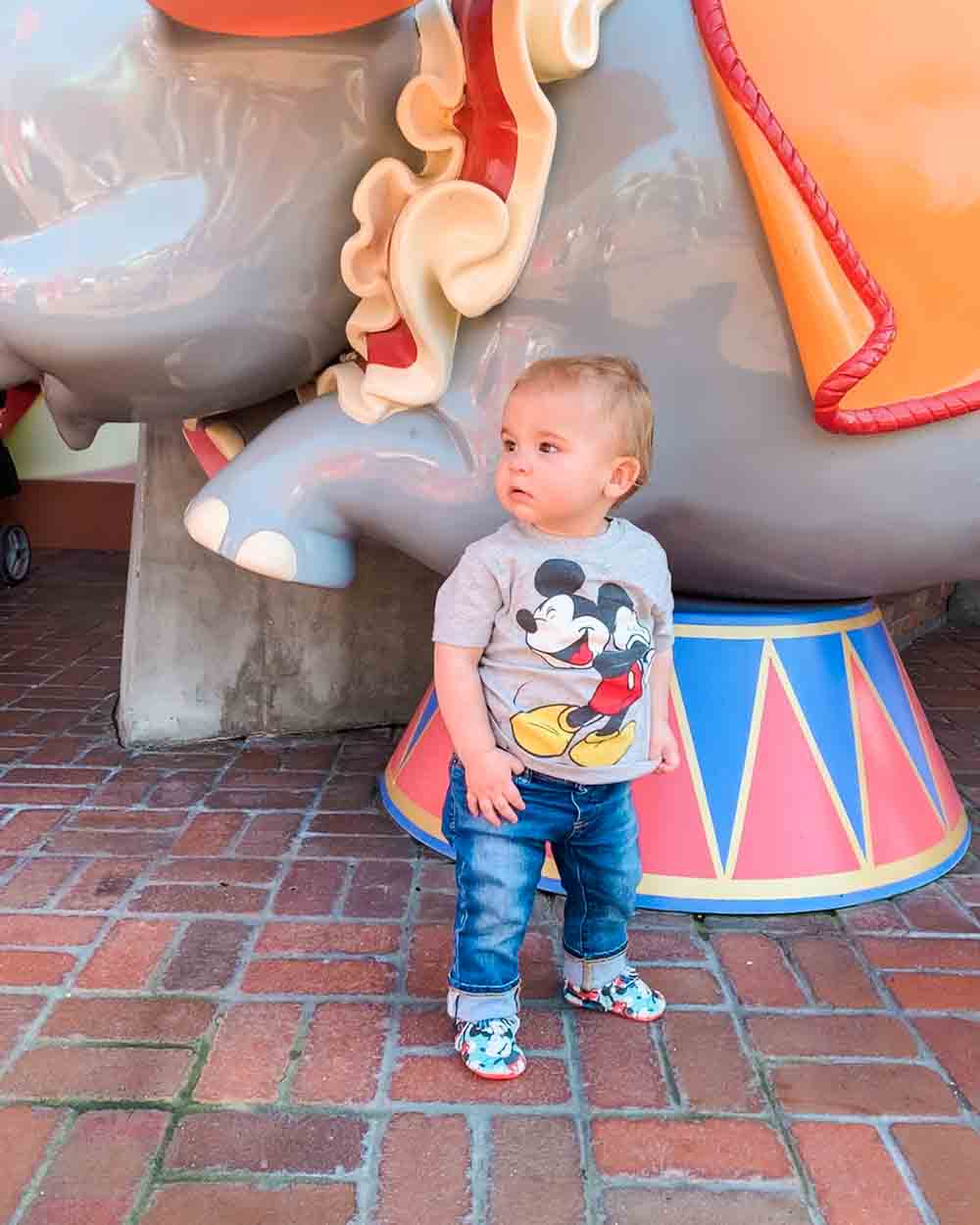 Hopefully these tips will help you as you prepare to navigate Disney World with toddlers! I honestly LOVE taking my littles to Disney. Seeing their faces light up with smiles and giggles is worth the trip alone.
If you've tackled the parks with a toddler in tow, what tips can you share? Leave a comment and let me know.
Disclosure: This post is in partnership with Disney. All opinions are 100% my own.