Filled with tender pasta, crisp veggies, and a zesty Italian dressing, this delicious and easy pasta salad is a potluck must-have!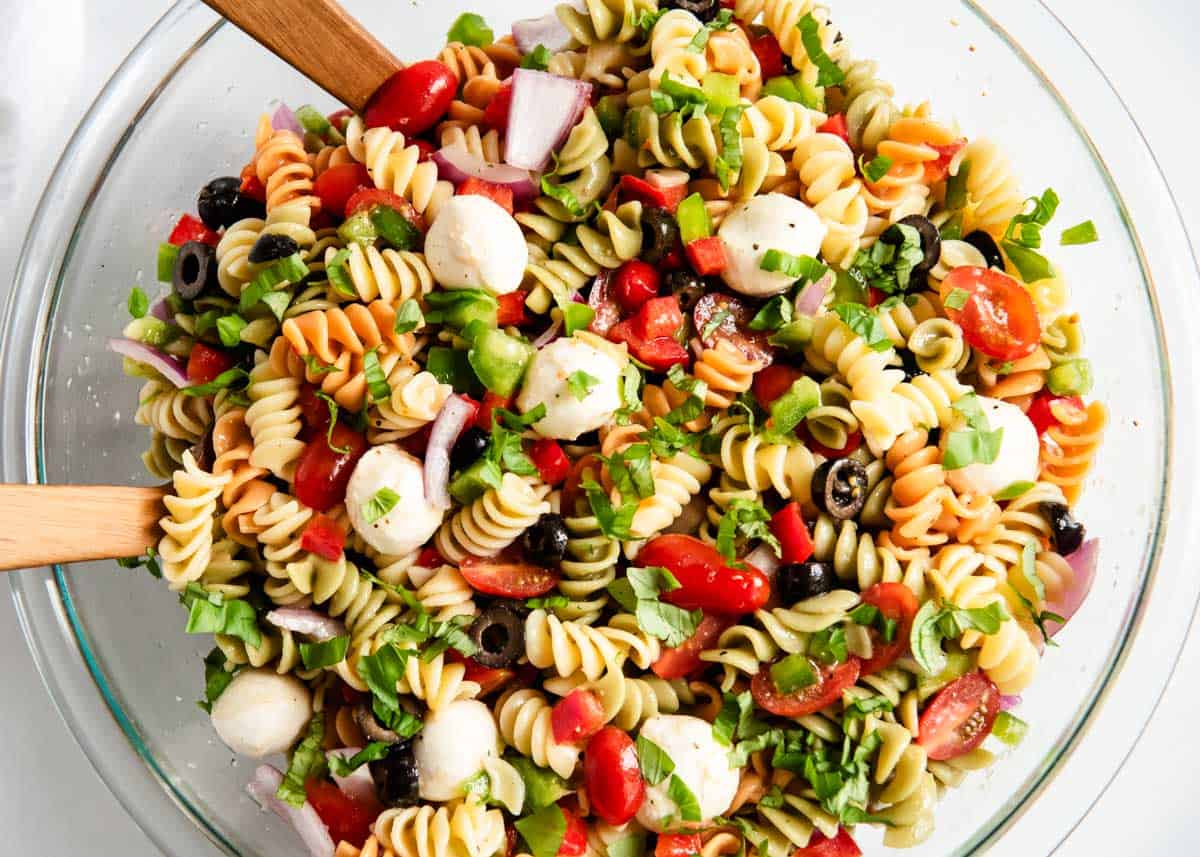 Crowd Favorite Easy Pasta Salad Recipe
When it comes to potluck side dishes, cold pasta salad or macaroni salad is a must! It's always a hit with the crowd and is so simple to throw together. Plus the leftovers taste delicious all week long (that is, if there are any!).
I got this easy pasta salad recipe from my mother-in-law and changed a few things up to make it my own. It's made with just noodles, veggies, and a tangy Italian dressing. I mean, does it get more simple than that?!
Simply throw in your favorite extras to make it your own and dig in! Trust me, this is a dish that your whole family will love. It really is a favorite around our house!
Italian Pasta Salad Ingredients
Take all your favorite ingredients and toss them in the best pasta salad recipe with Italian dressing! This easy pasta salad recipe has fresh veggies cut up, the perfect grape tomatoes sliced, and soft cheese to make this Italian salad the perfect combination!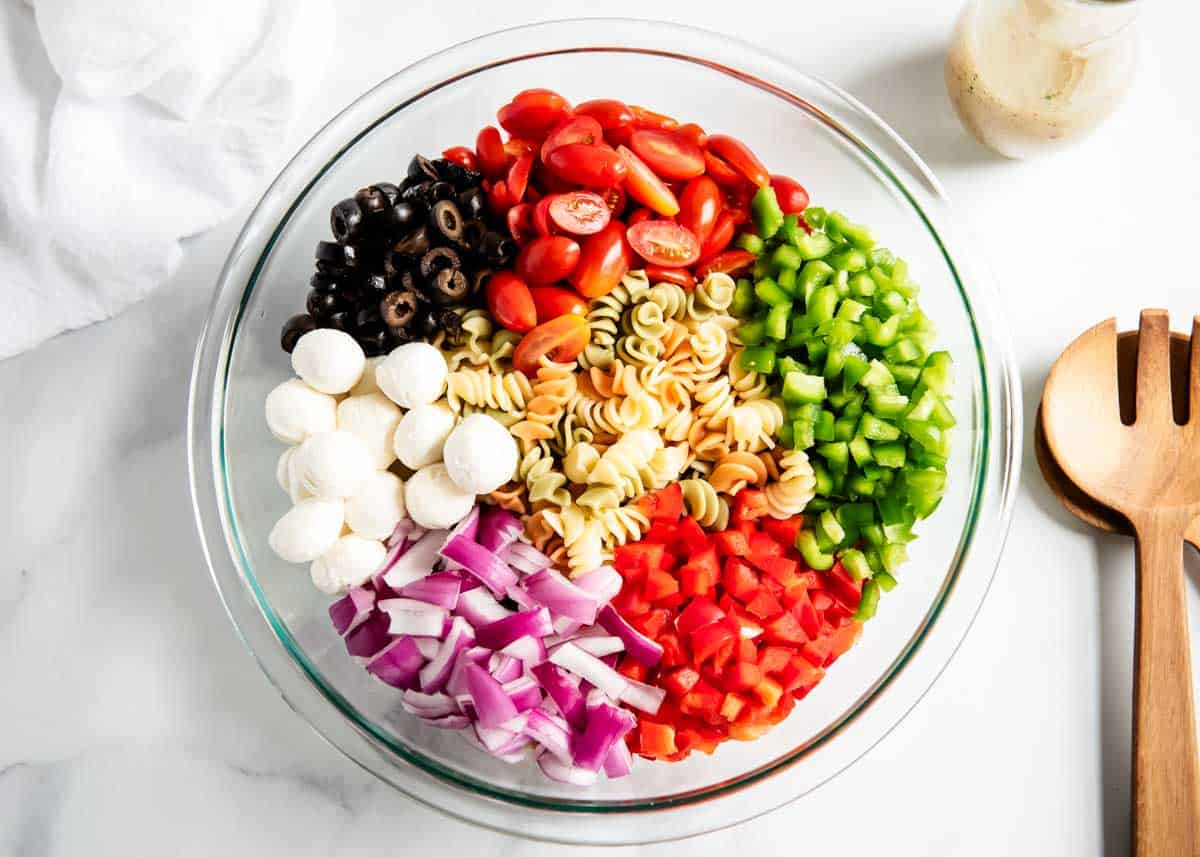 Find the full printable recipe with specific measurements below.
Rotini pasta: This is my favorite pasta to use, as the dressing adheres it to so nicely and the tri-color is pretty.
Bell peppers: Red and green add a nice bit of spice to the easy pasta salad recipe.
Red onion: Italian dressing and red onions are a match made in heaven.
Cherry tomatoes: These add such a nice burst of sweetness to the salad.
Black olives: These are a great way to punch up the flavor.
Mozzarella: The small fresh mozzarella balls are a perfect size for pasta.
Italian dressing: I love to use this recipe, but store-bought works as well.
Fresh herbs: Parsley or basil are my picks to go with the rest of the ingredients.
How to Make Easy Pasta Salad with Italian Dressing
Combine all the easy pasta salad recipe ingredients into one serving bowl to create a delicious and beautiful salad everyone loves! It is a simple salad that comes together quickly and easily. Kids to adults love this salad whenever it is served at your family gathering!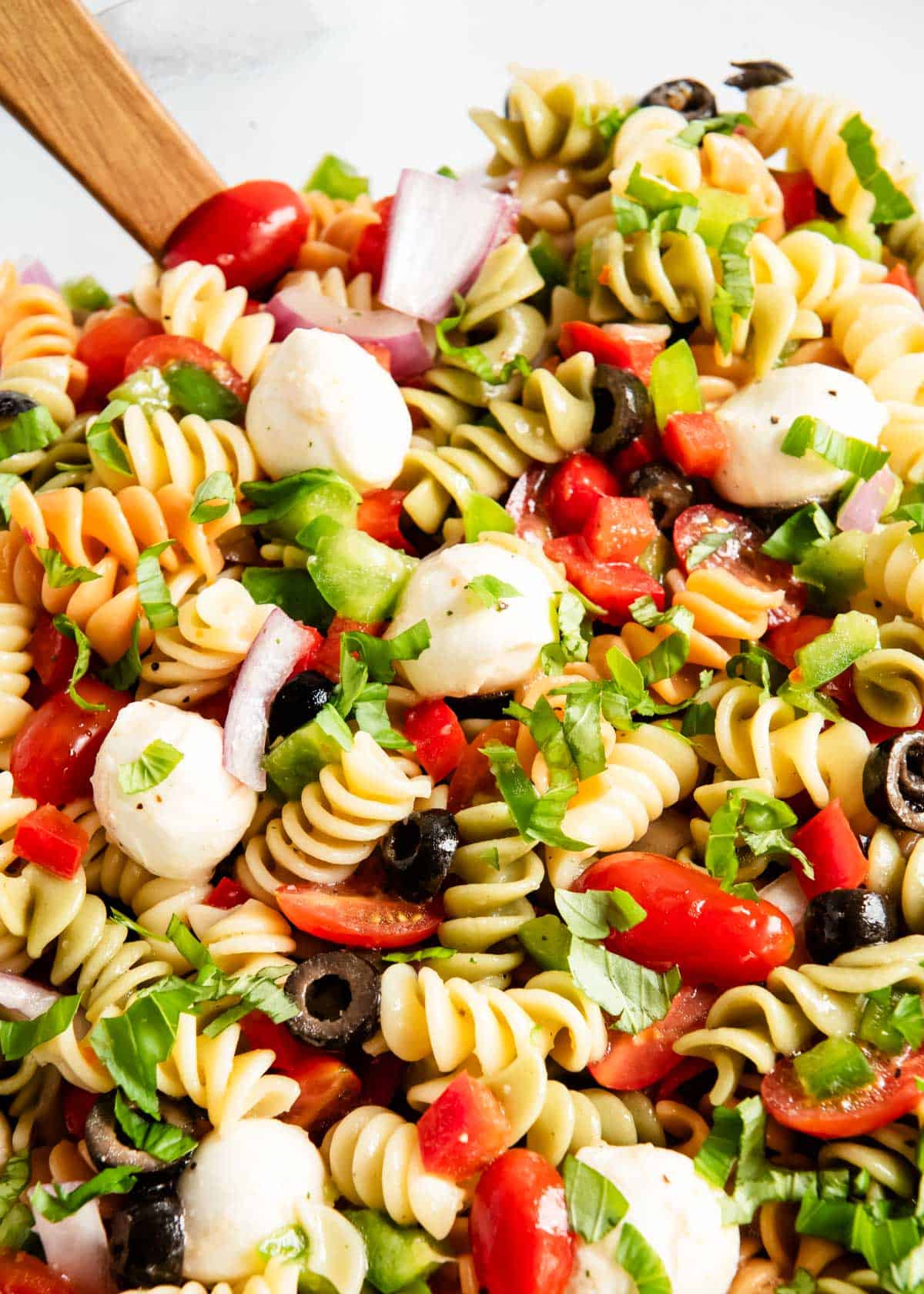 Cook. Make sure the rotini pasta is cooked and cooled.
Combine. Stir together the rotini, bell peppers, onion, tomatoes, olives, and mozzarella in a large bowl.
Chill. Drizzle with Italian dressing and sprinkle with fresh herbs over the easy pasta salad recipe. Place in the fridge until ready to serve.
Tips for the Perfect Pasta Salad
Italian easy pasta salad recipe is a unique salad with all the flavor! It is a savory salad with hints of sweetness from the cherry tomatoes. Add in extra ingredients, change the noodles, and learn all the tips for making the best pasta salad side dish!
Salt the water. A trick when boiling the pasta is to salt the water first. It helps improve the flavor of the noodles, as well as helps the water boil slightly faster.
Cook al dente. The goal is to cook the noodles al dente so that they're tender to bite but will still remain sturdy enough to hold up in the salad. If you overcook the noodles, they can get mushy and fall apart easily when tossed.
Noodles. Try different pasta noodles like farfalle, penne, or rigatoni. Each of these types of noodles locks in the salad dressing when tossed together.
Extras. There are plenty of delicious extras that you can add to this recipe. Mix in some pepperoni or chopped salami, sliced cucumbers, corn, broccoli or cauliflower, and chickpeas, or add a sprinkling of fresh parmesan cheese. You can even swap feta for mozzarella, or leave the cheese out entirely to make this a vegan dish.
Let marinate. Whenever I make this dish, I like to let it chill in the fridge for a few hours before serving. This gives the dressing some time to marinate together with the pasta and veggies so that it's extra flavorful and delicious. Plus you can't beat a cold pasta salad in the summer!
Recipe FAQs
What are five mistakes to avoid when making pasta salad?
Some thoughts on avoiding when making pasta salad are making sure you have the right size and shape of pasta. It is best not to overcook or undercook the pasta, make sure the pasta is cooled and not warm when adding the dressing and mixing together. This pasta salad is best made the day of or the night before for freshness and flavor!
Can I double the recipe for an easy pasta salad with Italian dressing?
Absolutely! Just be sure to use a big enough bowl when stirring everything together.
Do I have to use rotini pasta?
Traditionally this dish is made with rotini noodles. They have the perfect shape and ridges to really soak in the flavor from the Italian dressing. That doesn't mean you can't use other varieties of noodles though. Penne, fusilli, or bow-tie pasta would all work great, too.
How long is a pasta salad with Italian dressing good for?
When stored covered in the refrigerator your pasta salad should stay fresh for about 5 days. If the pasta has soaked up all the dressing, add a bit more to freshen it up.
Can I freeze leftover pasta salad?
I don't recommend freezing the pasta salad once it has been assembled as the veggies will change texture once thawed. You could freeze plain cooked pasta in advance by tossing it with a bit of olive, flash-freezing it, and then freezing it until ready to use. When ready to use just thaw and proceed with the recipe.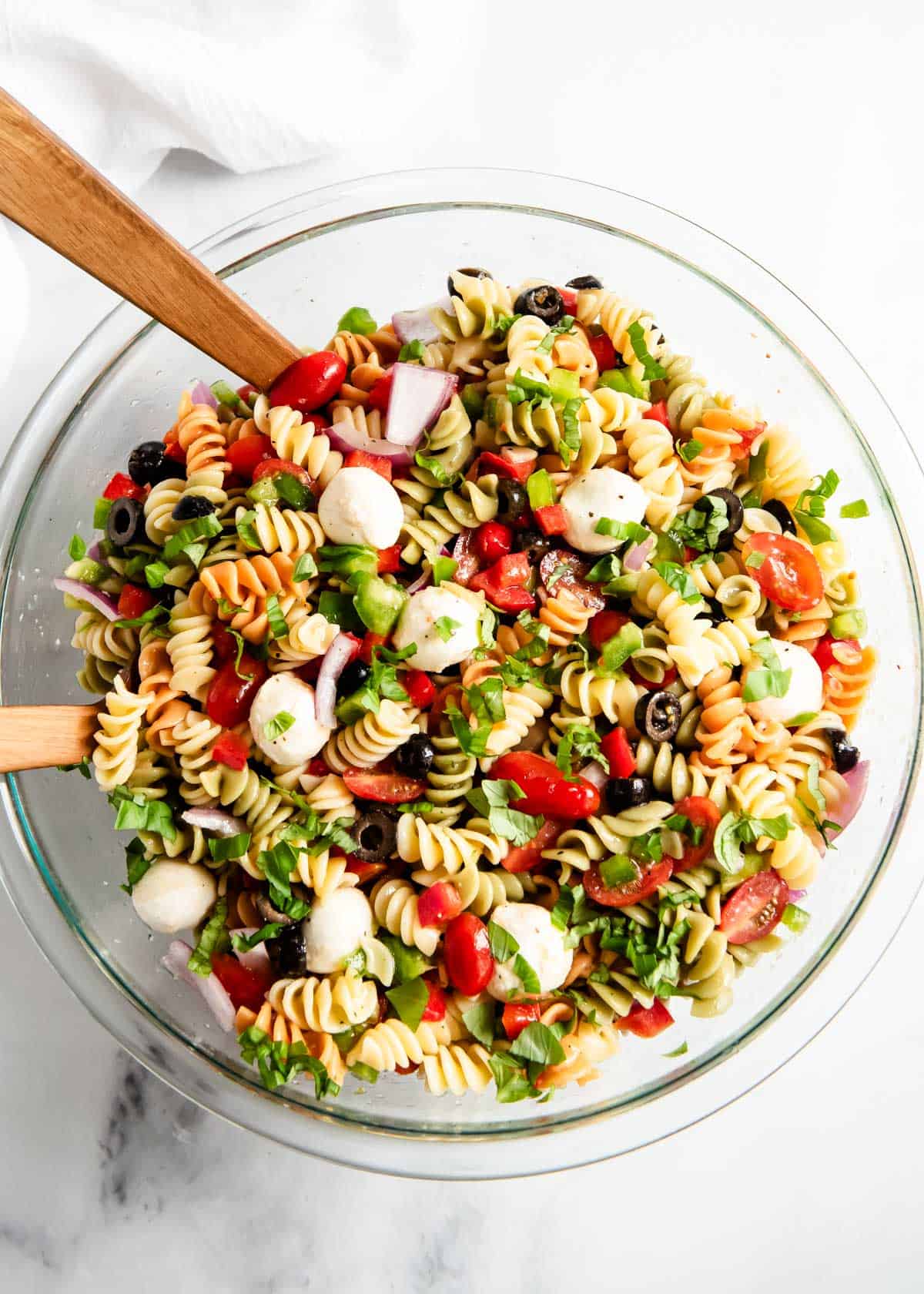 5 star review
"Yummy! This is such a delicious and very colorful pasta salad! We love how tasty and easy this recipe is! Excited to make this again!"

-Beth
Make Ahead + Storing
You can definitely make this recipe the night beforehand if you prefer. The longer it marinates in the fridge, the more flavor it will have. I love to make it ahead of time and then when ready to serve, I'll add fresh chopped parsley and a sprinkle of parmesan cheese. Delicious!
If you have leftovers, they will stay fresh in the fridge for about 5 days. They are perfect to enjoy throughout the week and make an amazing side dish for so many lunches or dinners.
More Potluck Salads You'll Love
HUNGRY FOR MORE? Subscribe to my newsletter and follow on Facebook, Pinterest and Instagram for all the newest recipes!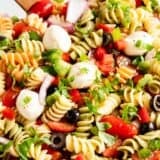 Pasta Salad with Italian Dressing
Filled with tender pasta, crisp veggies and a zesty Italian dressing, this delicious and easy pasta salad is a potluck must-have!
Ingredients
1 (1-pound) box tri-color rotini pasta
1 red bell pepper , chopped
1 green bell pepper , chopped
2 cups cherry tomatoes , sliced in half
½ sliced red onion
1 cup sliced olives
8 ounces small mozzarella balls
1 cup Italian dressing or vinaigrette , more if desired
2 Tablespoons chopped fresh herbs (parsley or basil)
Shredded parmesan cheese , optional
Optional add-ins: Chickpeas, Snap peas, Chopped salami or pepperoni
Instructions
Cook rotini according to package. Drain and rinse under cold water.

In a large bowl, stir together rotini, bell peppers, tomatoes, onions, olives, and mozzarella balls.

Pour Italian dressing over the top and sprinkle with fresh herbs. Cover and chill at least 2 hours. Top with parmesan cheese, if desired, before serving.
---
Notes
Dressing: Here is my favorite homemade Italian dressing recipe.
Substitutions: You may substitute mozzarella for feta cheese, or omit the cheese all together to make vegan. Other types of noodles will also work, such as penne or fusilli.
Storage: Store leftovers in an airtight container in the fridge up to 5 days.
Nutrition
Calories: 136kcal | Carbohydrates: 13g | Protein: 5g | Fat: 8g | Saturated Fat: 2g | Polyunsaturated Fat: 2g | Monounsaturated Fat: 2g | Trans Fat: 0.01g | Cholesterol: 5mg | Sodium: 291mg | Potassium: 105mg | Fiber: 1g | Sugar: 3g | Vitamin A: 432IU | Vitamin C: 21mg | Calcium: 64mg | Iron: 1mg
Nutrition provided is an estimate. It will vary based on specific ingredients used.
Did you make this recipe? Don't forget to give it a star rating below!