Baked peaches with brown sugar, butter, and cinnamon. Tastes like a homemade peach pie – without all the work and calories!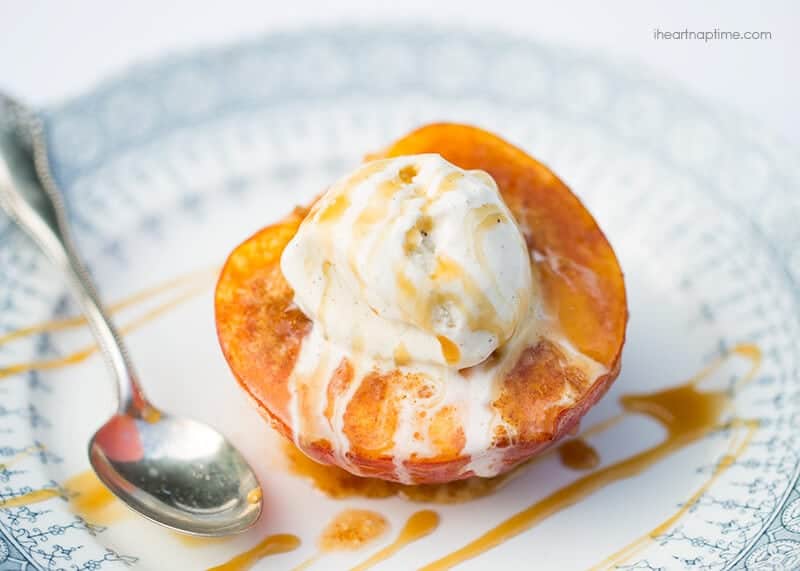 Cinnamon Sugar Roasted Peaches
This recipe is one of my favorite fruit desserts to enjoy during the summer. The peaches are so ripe and delicious, with the absolute best flavor. Some of my other top picks are strawberry shortcake biscuits, fruit salsa, and pineapple fluff.
There is nothing better than a juicy peach on a hot summer day! I love buying a big box of fresh peaches this time of year. My family loves to snack on them all summer long.
Another favorite is using them in all of our summer desserts. Two of our favorite ways to make them is to fire up the grill for grilled peaches or to bake them with cinnamon sugar. It creates a delicious caramelized top that is out of this world.
If you love peaches and cream, you are going to love this dessert. These baked peaches are so simple to make and taste so delicious!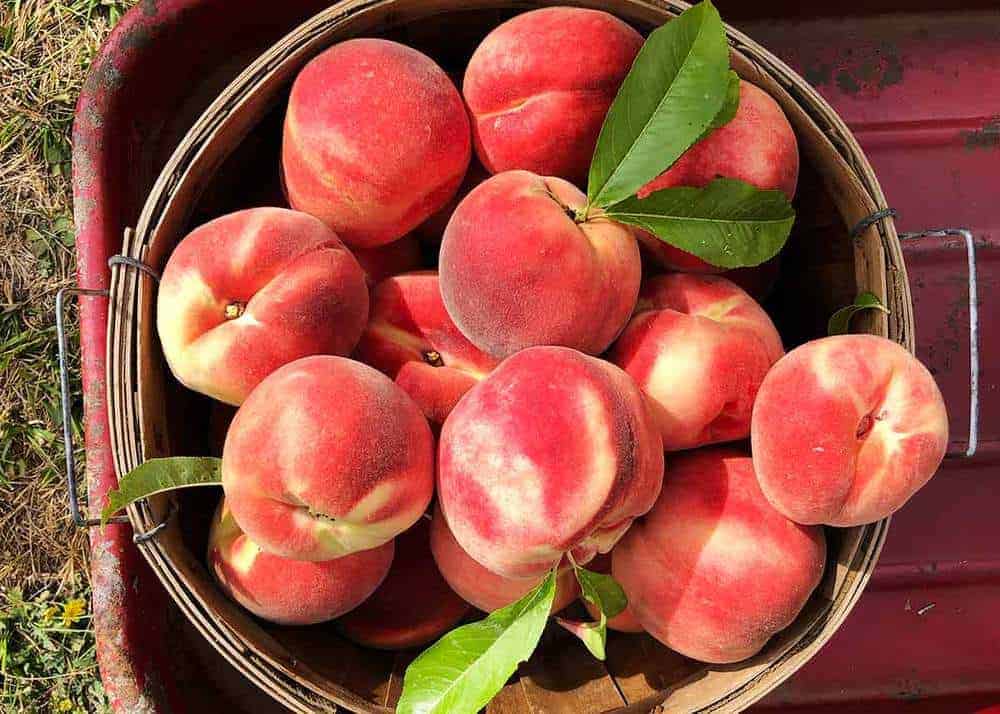 Ingredients Needed for Easy-Baked Peaches
Simple ingredients for a simple peach recipe! Peaches are baked with a sweet brown sugar and cinnamon mixture giving these peaches the sweet and savory taste for a delicious dessert. There are only four ingredinets that will take your peaches to the next level!
Find the full printable recipe with specific measurements below.
Peaches: This is the main ingredient! You will want to find fresh, ripe peaches that are juicy and flavorful. Slice the peaches in half and take out the pit when preparing them. You do not need to peel the peaches.
Butter: Slice the butter into sections laid over the top of each peach in the center. As the butter melts into the peaches it will give them a buttery delicious flavor.
Brown sugar: Soften the peaches and give them a sugary taste with a brown sugar mixture!
Cinnamon: It is savory and has a hint of spice that adds to the sweet brown sugar mixture.
Picking Fresh Peaches
Peaches are in season during the summer, so it's easy to find many that are ripe and juicy. When picking fresh peaches, look for ones that are vibrant in color (and no longer have a green tint). You want them to be soft to the touch, so make sure to press gently on the peach skin. If it starts to give a little, then it's ready to enjoy. Ripe peaches will also have a fragrant smell.
How to Make Baked Peaches
These baked peaches are so easy to make (5-minute prep) and taste amazing! I love to top my baked peaches with a scoop of vanilla ice cream and caramel drizzled on top for the ultimate treat!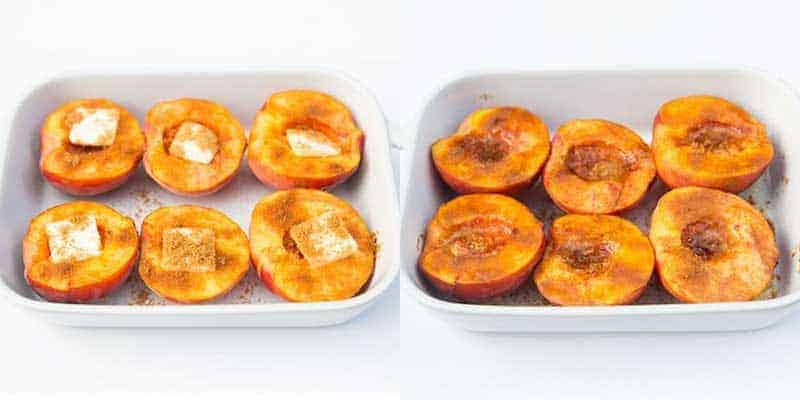 Prepare. Slice the peaches in half and remove the pit. Place in a baking dish. Place a small piece (about 3/4 teaspoon) of butter in the middle of each peach.
Sprinkle. Sprinkle cinnamon sugar mixture over each of the peach halves.
Bake. Preheat the oven and bake the peaches for 8 to 12 minutes or until golden. Top with cream and caramel if desired.
Grilled Version
These peaches also taste amazing when grilled. Simply prepare as directed, however, wrap in foil instead of placing in a pan. Place on the grill and cook for about 8 to 12 minutes until the tops are golden and caramelized. So easy and delicious!
5 star review
This was so easy and delicious. It tasted like peach pie without the crust. Making more tomorrow! I need to make extra, so I can have it for breakfast with yogurt and granola.

– Debbie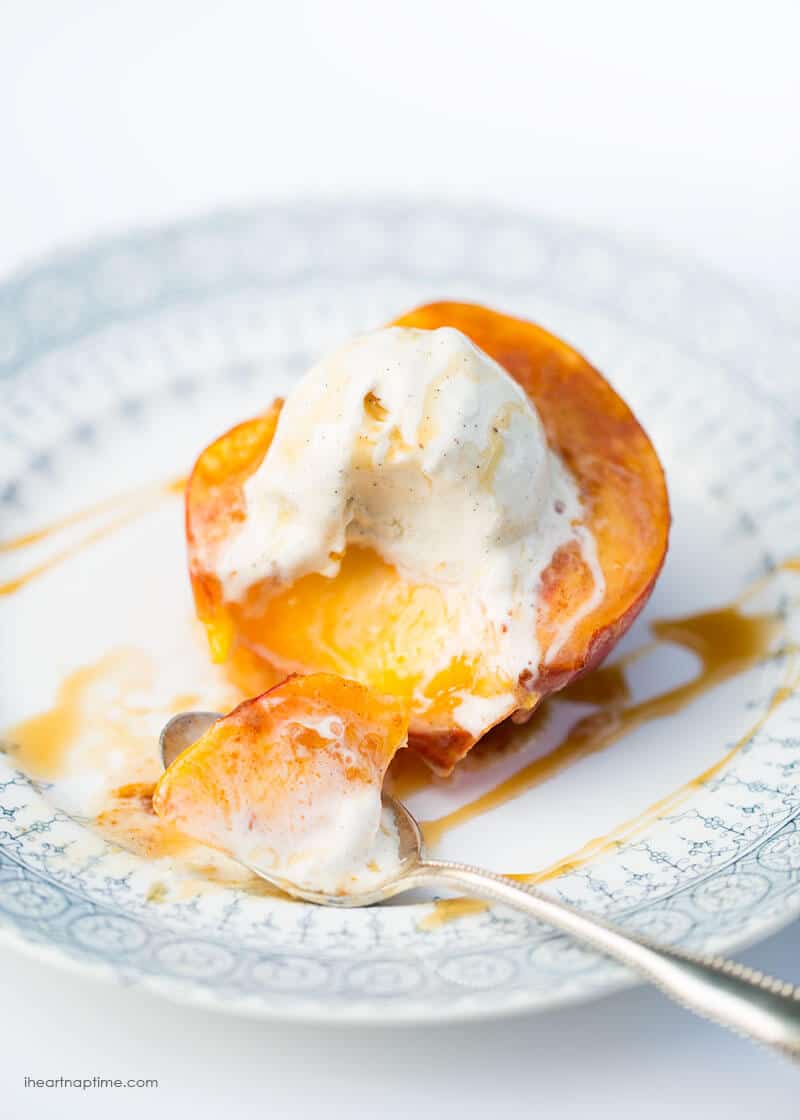 Favorite Toppings
Make your baked peaches just the way you like! Add your favorite topping to create the best-baked peach recipe. The possibilities are endless!
Vanilla ice cream: Any baked dessert paired with a scoop of vanilla ice cream makes it taste that much better!
Whipped cream: This is an easy option to make a swirl on top of the peaches.
Caramel sauce: Drizzle this over top of each peach for an extra boost of sweetness!
Greek yogurt: Make these baked peaches on the lighter side with Greek yogurt. It is a sweet and savory flavor!
Cottage cheese: If you haven't tried peaches and cottage cheese then run to the store and pick up a tub. This is the perfect combination!
Granola: Add an extra crunch to each bite with homemade or store-bought granola. It will taste like a peach crisp!
Chopped nuts: Take your peaches to the next level with chopped nuts on top!
Recipe FAQs
Can you bake peaches with the skin on?
Yes! The skin on peaches will soften during the baking process. It will become tender and soft once they are done baking.
What do you put on peaches?
Peaches are a fun fruit that can be sweet or savory! Use ginger, cinnamon, cardamom, clove, or nutmeg for warmth on your peaches. For a earthy flavor try thyme and rosemary with basil and tarragon. These are just some options to start with!
How do you make peaches taste better?
Peaches taste great by themselves or baked in sweet desserts! To make your peaches juicy, place them in sugar. This will draw out the liquid and make them extra juicy. Sugar and spice make peaches nice!
What do peaches do to your body?
Peaches are full of vitamins, minerals, and antioxidants. They are known to be a soft and sweet fruit. They smell delicious and taste even better! Peaches have several health benefits, including a heart-healthy body, and boosts a strong immune system.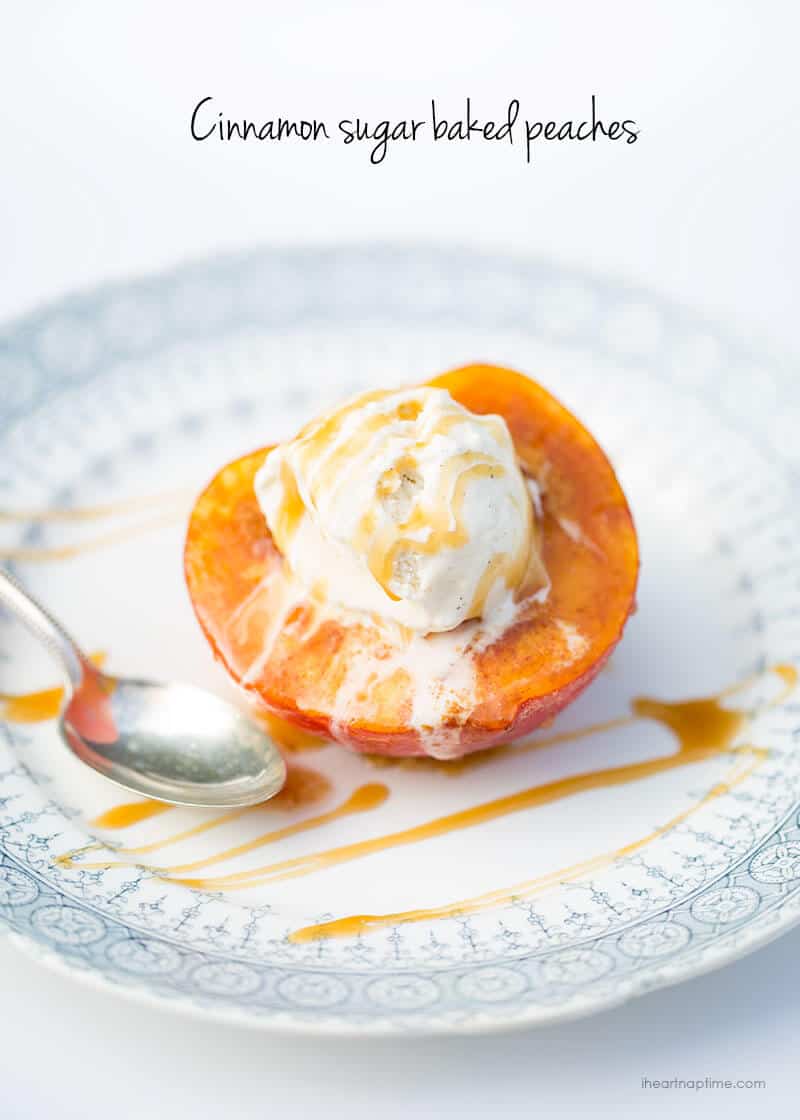 Storing Fresh Baked Peaches
Call yourself lucky if you have baked peach halves left over! Store your leftover baked peaches in an airtight container in the refrigerator for three to five days long. When ready to reheat, place in the microwave or back in the oven to warm up.
More Fresh Peach Desserts
HUNGRY FOR MORE? Subscribe to my newsletter and follow on Facebook, Pinterest and Instagram for all the newest recipes!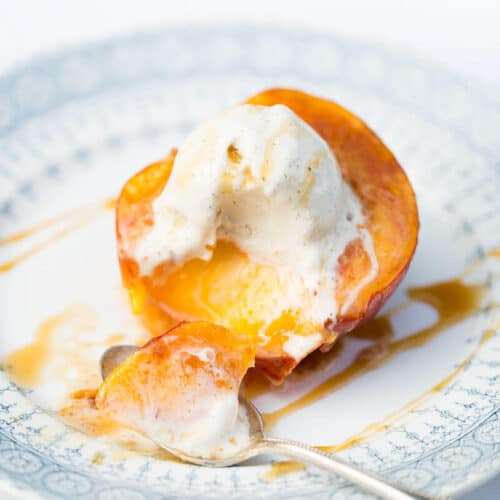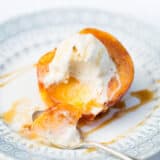 Baked Peaches
Baked peaches with brown sugar, butter and cinnamon. Tastes like a homemade peach pie – without all the work and calories!
Ingredients
3 large ripe peaches
1 to 2 Tablespoons salted butter
2 Tablespoons light brown sugar
¼ teaspoon ground cinnamon
For serving: Vanilla ice cream or whipped cream and caramel sauce
Instructions
Preheat oven to 375°F and spray an oven safe pan with nonstick spray. Slice peaches in half and remove the pit, then place in the pan. Place a small piece of butter (about 3/4 teaspoon) in the middle of each peach.

Combine brown sugar and cinnamon in a small bowl. Then sprinkle over the peach.

Bake for 10 to 13 minutes, or until golden and soft. Top with cream and caramel if desired.
---
Notes
Grilled version: These peaches taste delicious grilled. Place the peach in a piece of foil and wrap. Grill until the tops are golden (about 8 to 12 minutes). For a low calorie version, use greek yogurt or cottage cheese in place of ice cream.
Nutrition
Calories: 61kcal | Carbohydrates: 11g | Fat: 2g | Saturated Fat: 1g | Cholesterol: 5mg | Sodium: 17mg | Potassium: 142mg | Fiber: 1g | Sugar: 10g | Vitamin A: 305IU | Vitamin C: 5mg | Calcium: 8mg | Iron: 0.2mg
Nutrition provided is an estimate. It will vary based on specific ingredients used.
Did you make this recipe? Don't forget to give it a star rating below!