These no-bake breakfast cookies are easy to make, healthy, packed with protein and simply delicious. They can be whipped up in less than 5 minutes and stored for up to two weeks.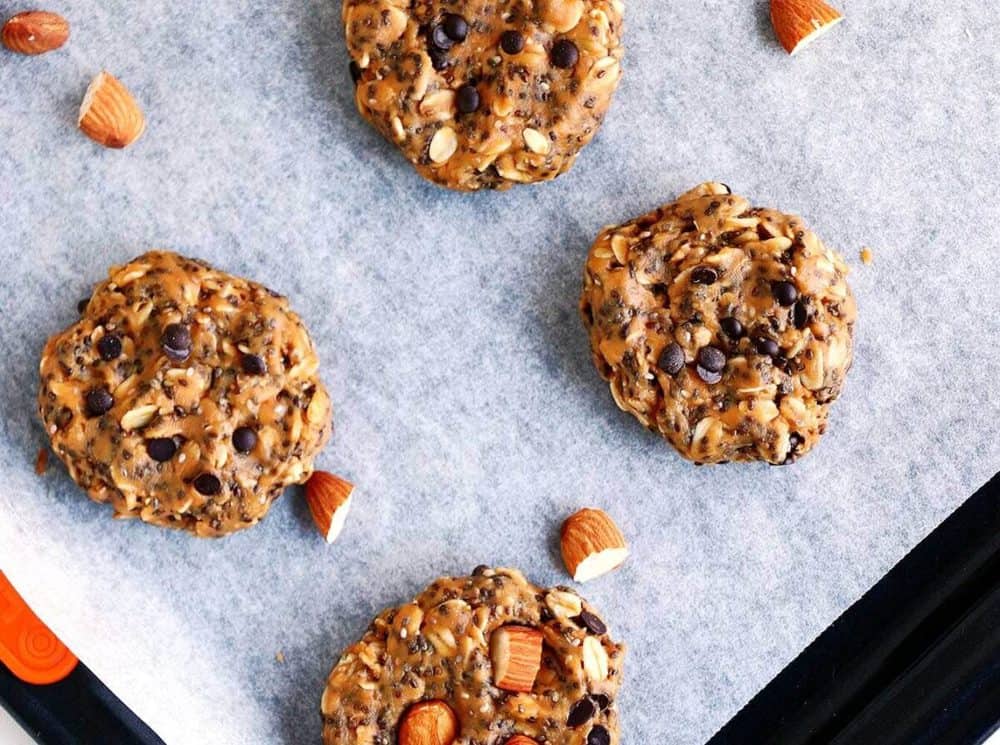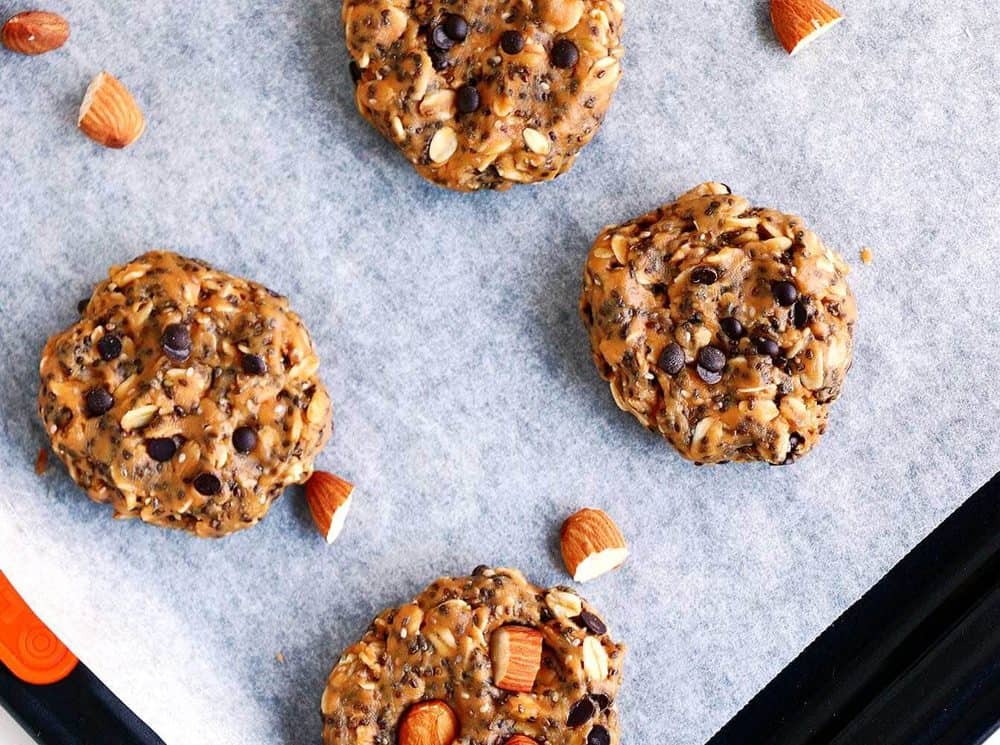 Healthy Protein Breakfast Cookies
Whenever I get a little lazy to make breakfast or if I know I'm going to have a hectic week ahead of me, I whip up these guys. These healthy no-bake cookies are gluten-free, refined-sugar free, dairy free and oh so delicious!
I eat 2 or three of them for breakfast (okay, sometimes it's 4) and I always love snacking on them when I get that mid-afternoon dip. They are packed with protein so they really keep you feeling full and powered up.
The thing I love most about these breakfast cookies (other than the fact that they only take 5 minutes to make) is that you can change them up all the time! Sometimes I add only chocolate chips to them (I love dark chocolate chips). Other times I add some chopped almonds or some pecans. The mix-in options are endless – try adding in pumpkin seeds, dried cranberries, flaxseeds…you name it!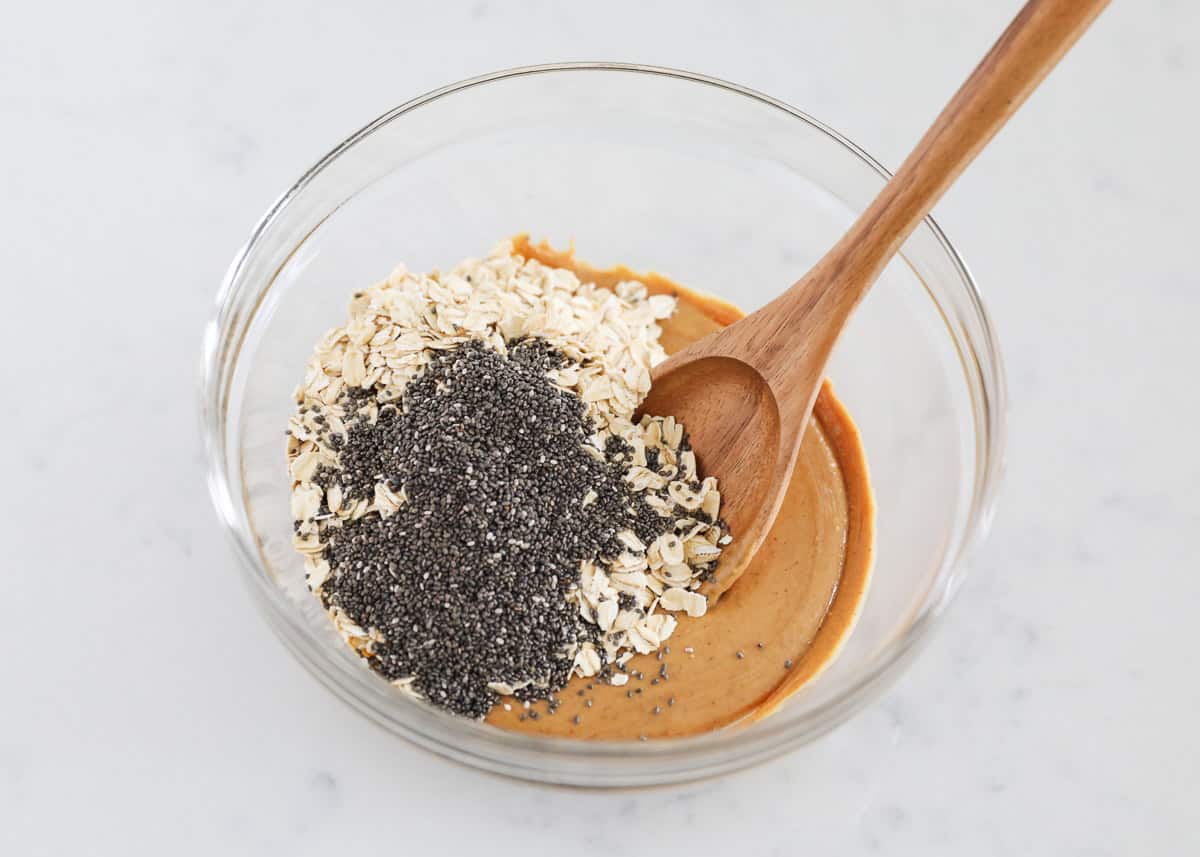 5 Simple Ingredients
Below are the base ingredients needed for this recipe. From there, feel free to add in any additional mix-in's to make the cookies your own (ideas below). That's the beauty of these breakfast cookies…they are so easy to customize!
Peanut butter: I used peanut butter, but other types of nut butters will work too as long as they're the CREAMY type. The creamy consistency acts as the "glue" that helps hold the cookies together.
Oats: This recipe calls for old fashioned oats. They're chewy, delicious and are a great source of fiber.
Honey: You can use honey (or maple syrup) to sweeten the cookies.
Vanilla: Pure vanilla extract adds an extra boost of flavor.
Chia seeds: I love adding these for extra protein, fiber and antioxidants. You can't really taste them, but they help pack a punch of nutrients!
Other Mix-In's to Add
You can stick with the base ingredients above, or add extras to make some fun variations. Try adding dried cranberries and shredded coconut for a sweet, fruity taste. Or chocolate chips and pecans for extra richness. There are so many fun ways to jazz up this recipe!
Chocolate chips
Chopped almonds or pecans
Raisins
Dried cranberries
Pumpkin seeds
Protein powder or collagen
Flaxseeds
Shredded coconut
Cinnamon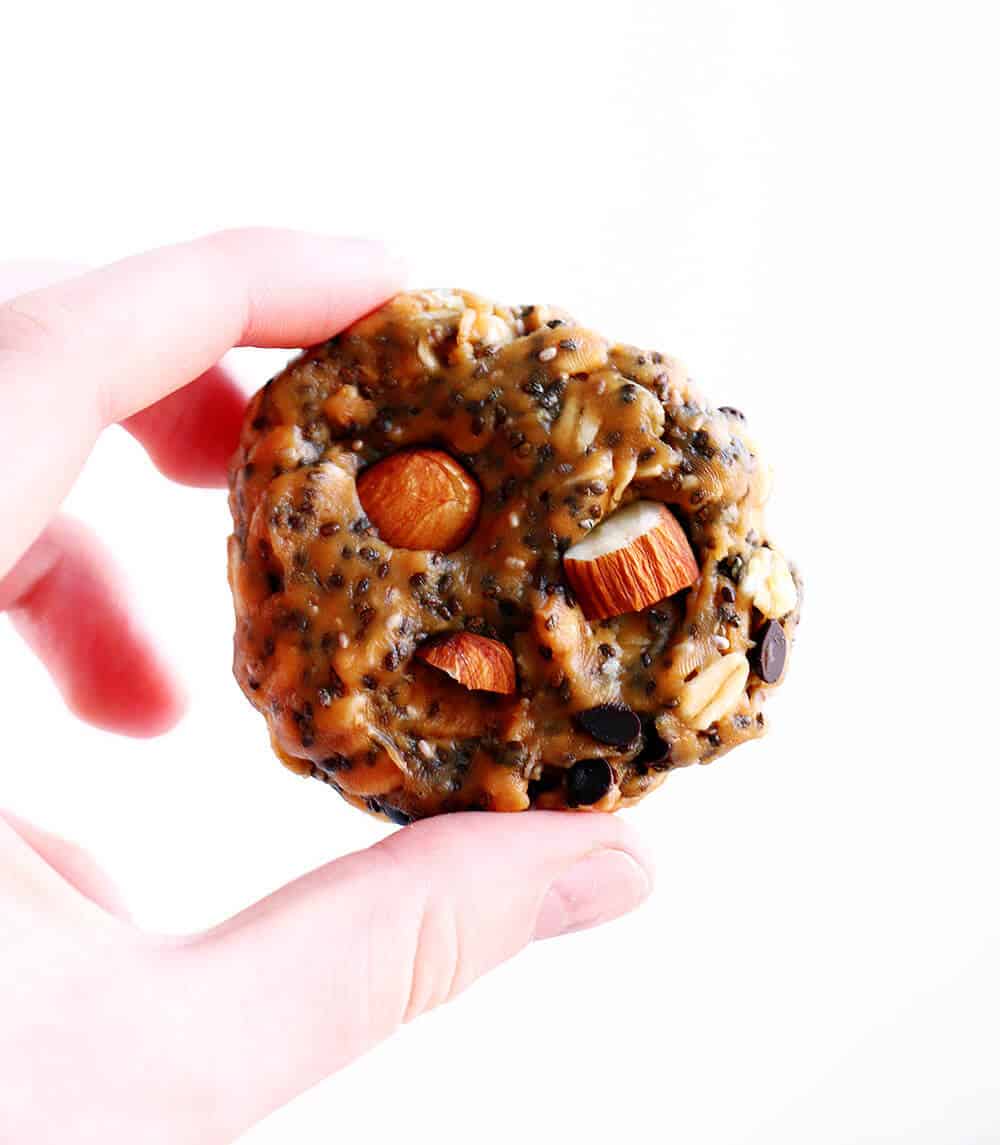 Tips for the Best Breakfast Cookies
Microwave. After mixing together the wet ingredients (peanut butter, honey and vanilla), give it a quick 20 second nuke in the microwave. It's much easier to stir together with the rest of the ingredients when the mixture is a bit warm and melty.
Consistency. You can always adjust the consistency until it's just right. If the mixture is too runny, add in a little more oats to soak it up. Or if it's dry and crumbly, add in more creamy peanut butter or honey.
Taste test. Give the mixture a quick taste before shaping into balls. Add in a little more honey to sweeten if needed or a small pinch of salt or cinnamon for more flavor.
Shape. These cookies are a bit larger than energy balls, so after rolling them up, don't forget to press down on the ball to slightly flatten them out. You can use the palm of your hand or the bottom of a cup to do this. This gives them that round cookie shape, while also making them easier to eat.
Let chill. After shaping the cookies, they will need to chill in the refrigerator or freezer in order to set. Although they'll still taste delicious at room temperature, they might fall apart easier. Giving them time to set helps them keep their shape.
Storing + Freezing
To store: Simply place in an airtight container or zip top bag and keep in the refrigerator. The cookies will stay for up to 2 weeks if stored properly in the fridge.
To freeze: I like to flash freeze the cookies first, so they don't stick together. Simply freeze them on a baking sheet until hard (about 30 minutes to an hour). Then stack in a freezer container or bag and freeze for up to 3 months.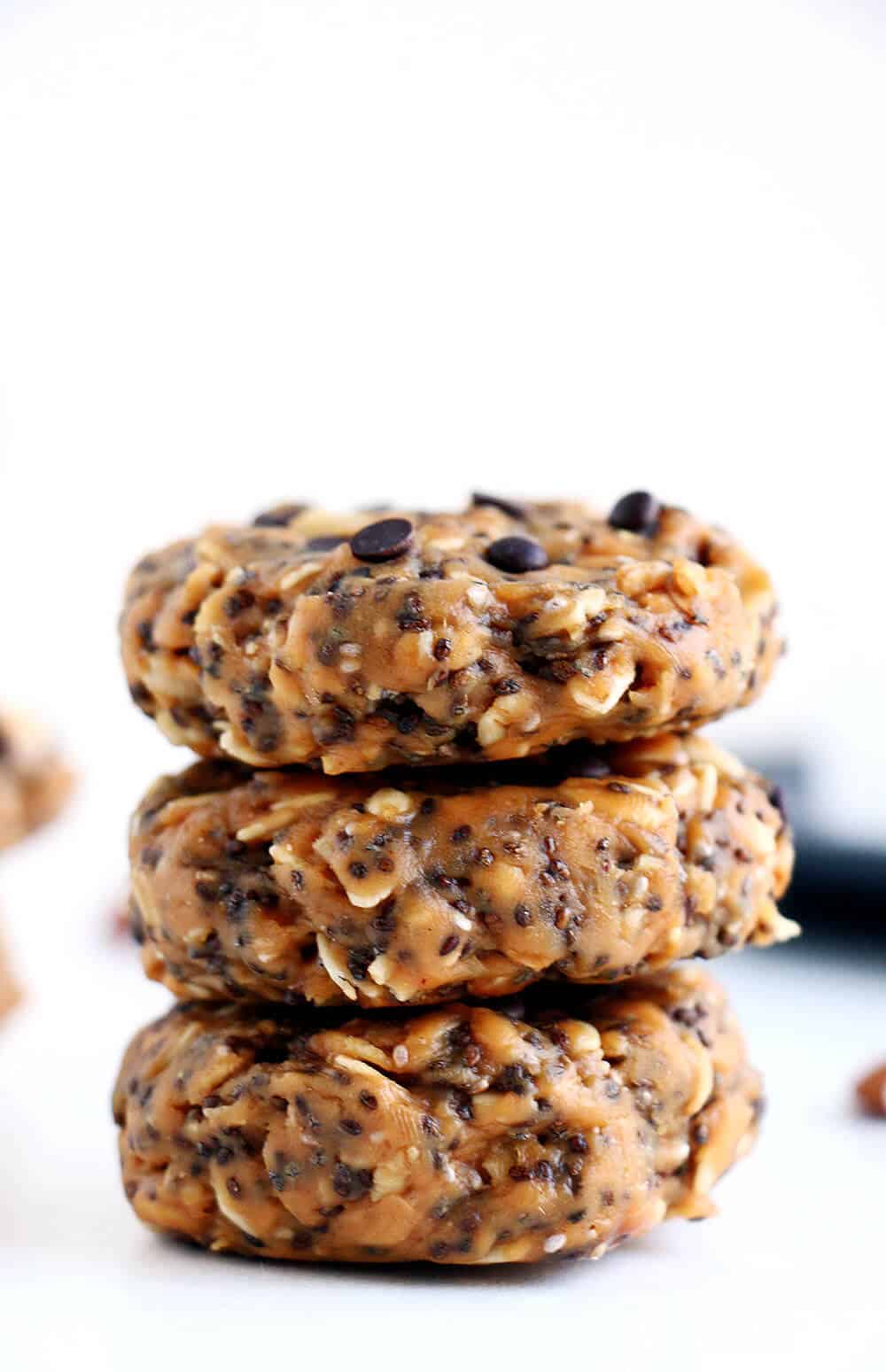 More Healthy Breakfast Ideas
HUNGRY FOR MORE? Subscribe to my newsletter and follow on Facebook, Pinterest and Instagram for all the newest recipes!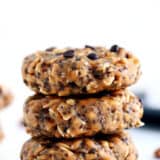 Breakfast Cookies
These no-bake breakfast cookies are easy to make, healthy, packed with protein and simply delicious. They can be whipped up in less than 5 minutes and stored for up to two weeks.
Ingredients
Optional Mix In's: 1/4 cup mini chocolate chips, chopped almonds, raisins, pumpkin seeds, protein powder, flaxseeds
Instructions
Place the peanut butter, honey and vanilla in a microwavable bowl and microwave the ingredients for 20 seconds. Taste and add more honey or vanilla to reach desired taste.

Stir the mixture until well combined, then add in the remaining ingredients (and any extra mix-in's). Stir well and ensure everything is well incorporated. Taste and add any extra's if desired. If it's too runny, add more oats. If it's too dry, add more honey and peanut butter.

Roll the mixture into 8 balls and place the balls on a baking tray lined with parchment paper. Press the balls flat slightly and add any extra desired toppings. Place them in the fridge or freezer until set.

Take out a few minutes before serving. Serve and enjoy.
---
Notes
Freezer instructions: Place on a small baking sheet and then place in the freezer for 30 minutes or 1 hour until hard to par freeze. Then stack the cookies in a freezer container or zip top bag for up to 3 months.
Nutrition
Serving: 1cookie | Calories: 189kcal | Carbohydrates: 12g | Protein: 7g | Fat: 13g | Saturated Fat: 2g | Sodium: 111mg | Potassium: 191mg | Fiber: 2g | Sugar: 4g | Calcium: 26mg | Iron: 0.9mg
Nutrition provided is an estimate. It will vary based on specific ingredients used.
Did you make this recipe? Don't forget to give it a star rating below!
Recipe and photography contributed by Jane from Baking-Ginger.