I'm super excited to share my white and grey kitchen makeover (with pops of color too) with you today!
It's been a little over a year since we moved in, so I thought it was about time I posted an update and a little tour. You may remember seeing the house tour, but I'll share a before pic in case you don't remember what it looked like when we bought it. I'll share a source list at the bottom too, if you're wondering where I got things from or paint colors.
It seems like I just shared my last kitchen makeover from my old house. Time is flying!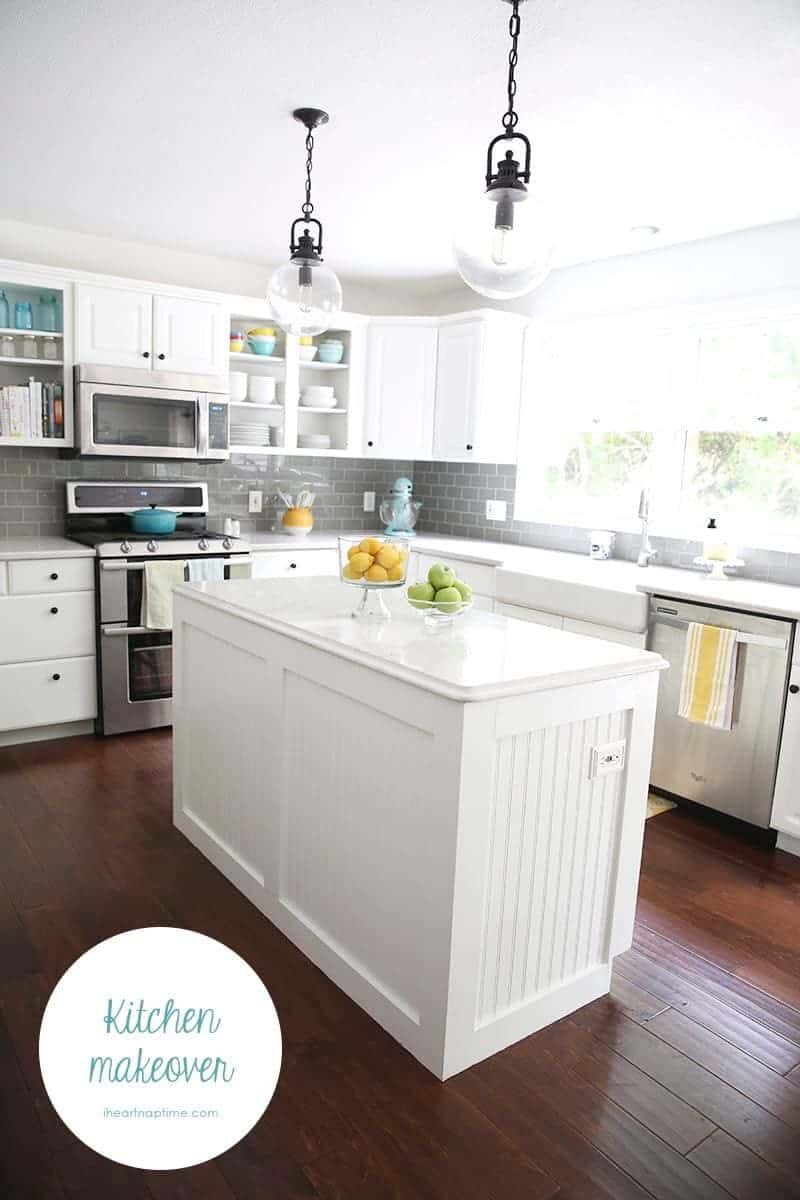 Ready for the before?! This is a pic from when we toured the house. It definitely was not in bad shape, but lacking personality for sure.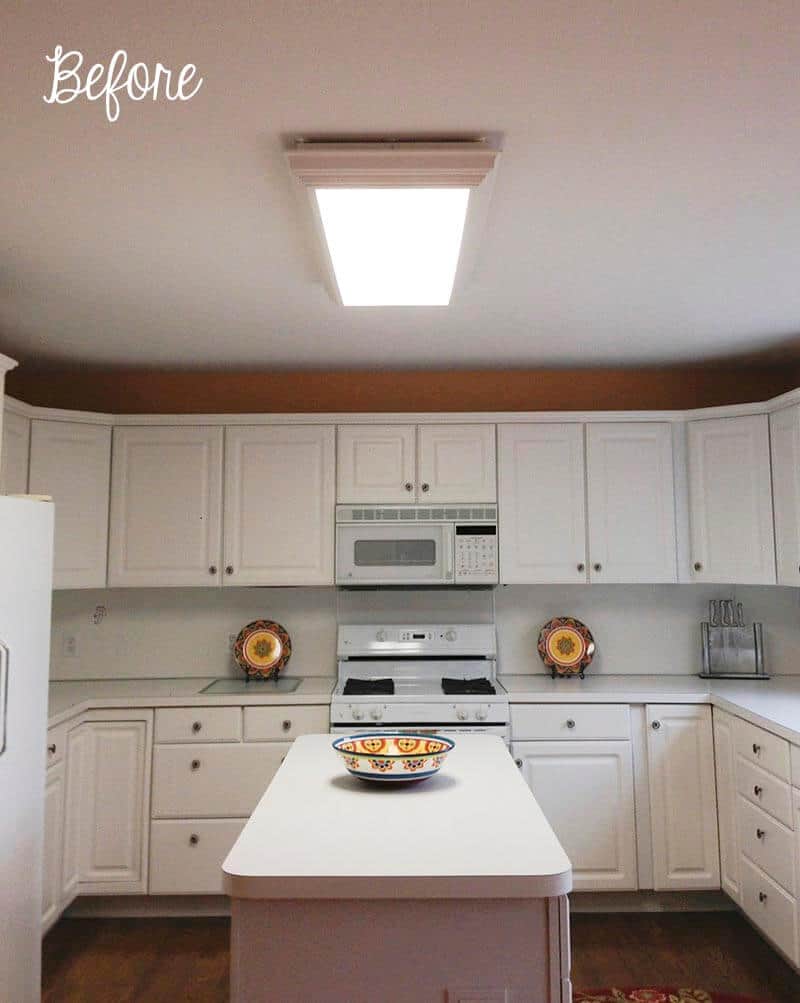 Here's the after! What a difference! I am so in LOVE with all the white! Luckily there was already white cabinets, but with the yellow paint behind it, it just made everything feel darker.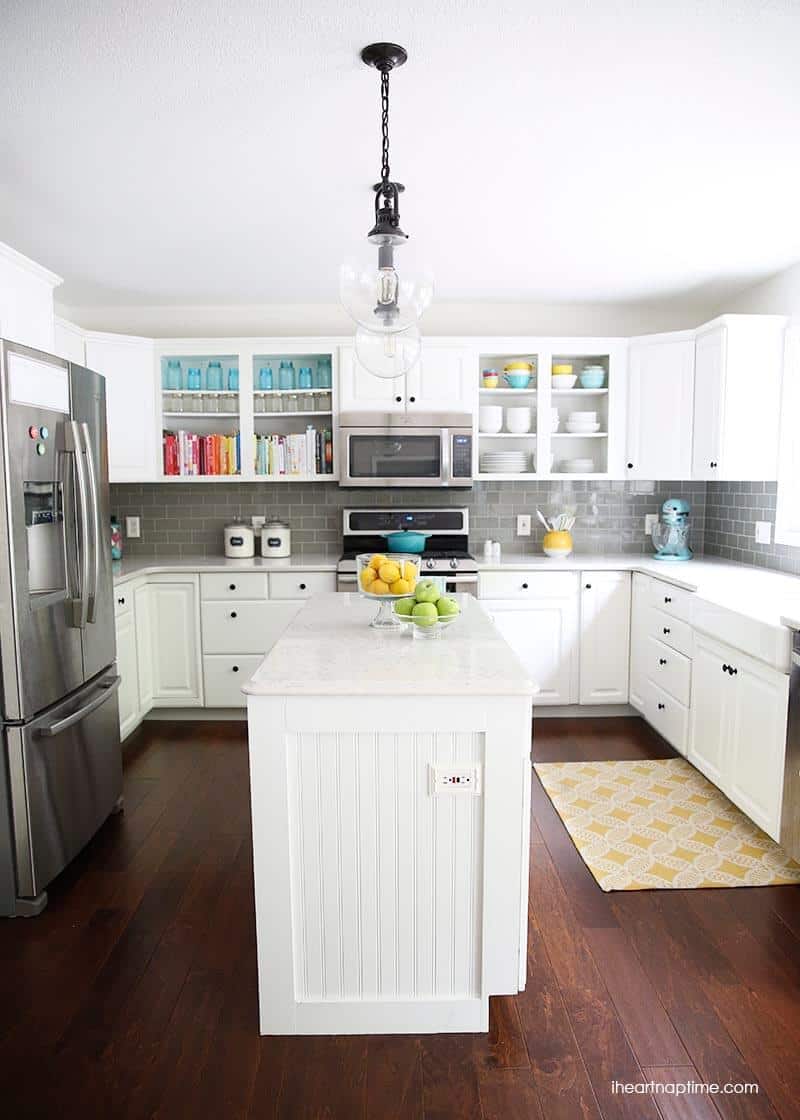 So let's take a tour, shall we?! I'll show you what we did!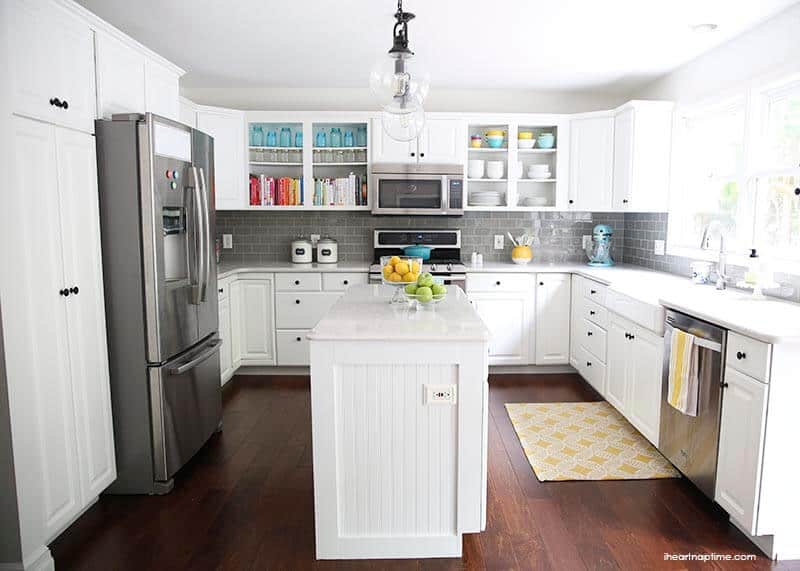 Before we moved in we had our floors replaced, then we did everything else about 6 months later. We basically painted all the walls, added beadboard and trim around the island (let me know if you want a tutorial) and then had the countertops and tile put in. I really wanted to go with marble, but after doing some research decided quartz would be better with kids. It looks really similar and holds up WAY better. You can't scratch these countertops. They are awesome! My son helped me put in all the new knobs and boy does that make a difference! I seriously love how it all came together.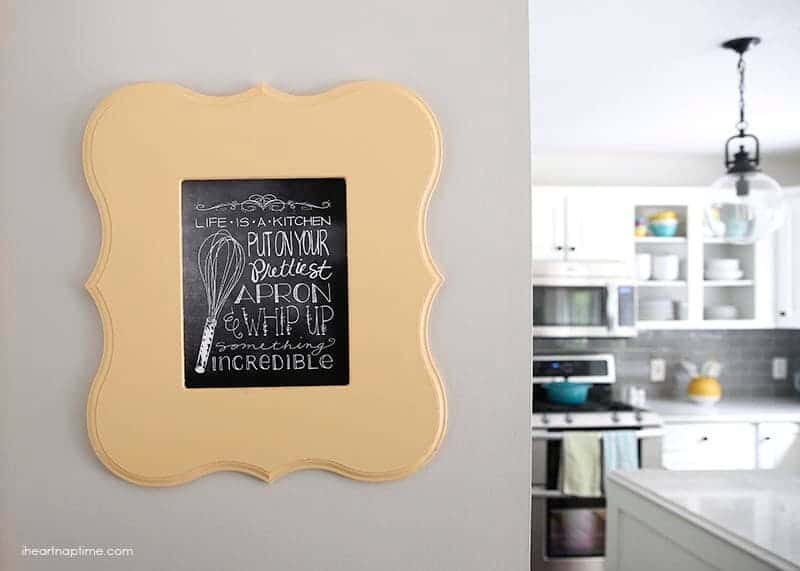 Still so in love this kitchen art too. It makes me happy every time I walk in the kitchen. You can download the free printable here.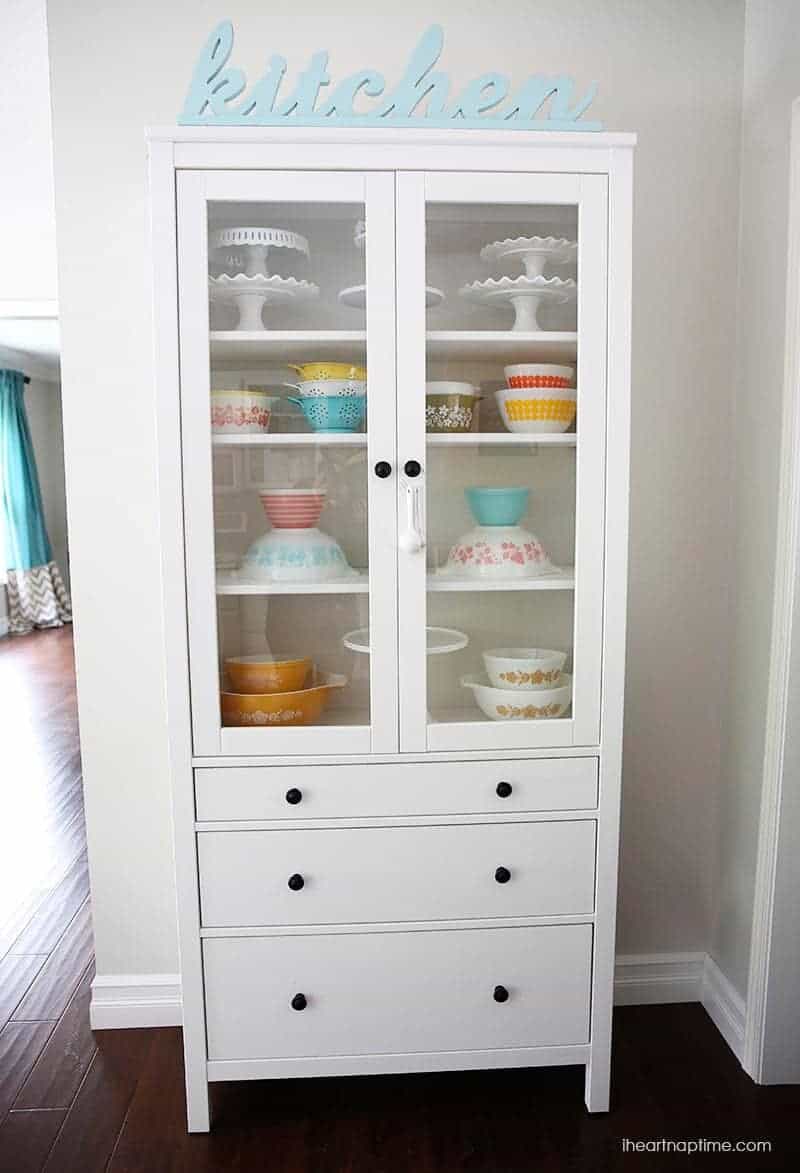 This cabinet (from ikea) also makes my heart pitter patter. I am seriously obsessed with vintage pyrex…so here's where I store a few of my favorite dishes and cake stands.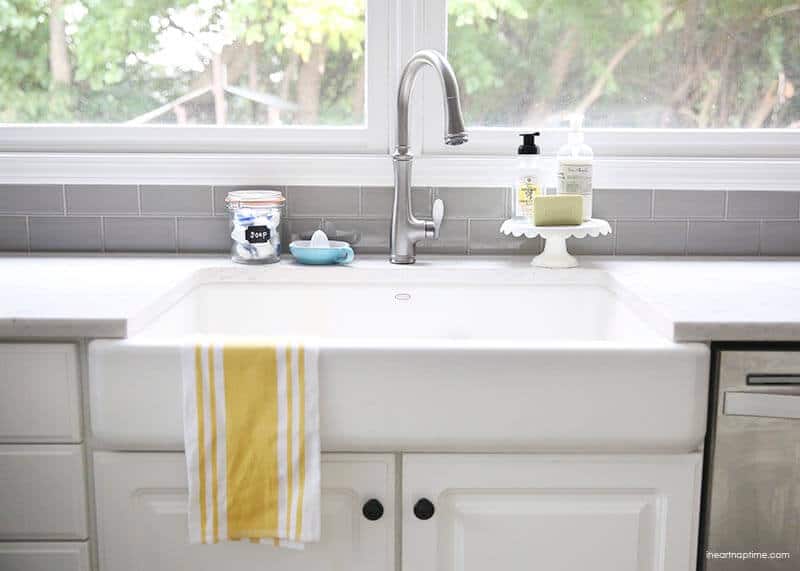 I've been dreaming about a farmhome sink for awhile now, so I was so happy to put one of these in our home. We went with the whitehaven self-trimming farmhouse sink from Kohler because it 1. it is gorgeous and 2. it has the self-trimming feature. This allowed us to remove the top panel and then slide the sink right in. A few of the other ones we looked at, we would have had to buy a whole new cabinet. I seriously LOVE this sink! Worth every penny!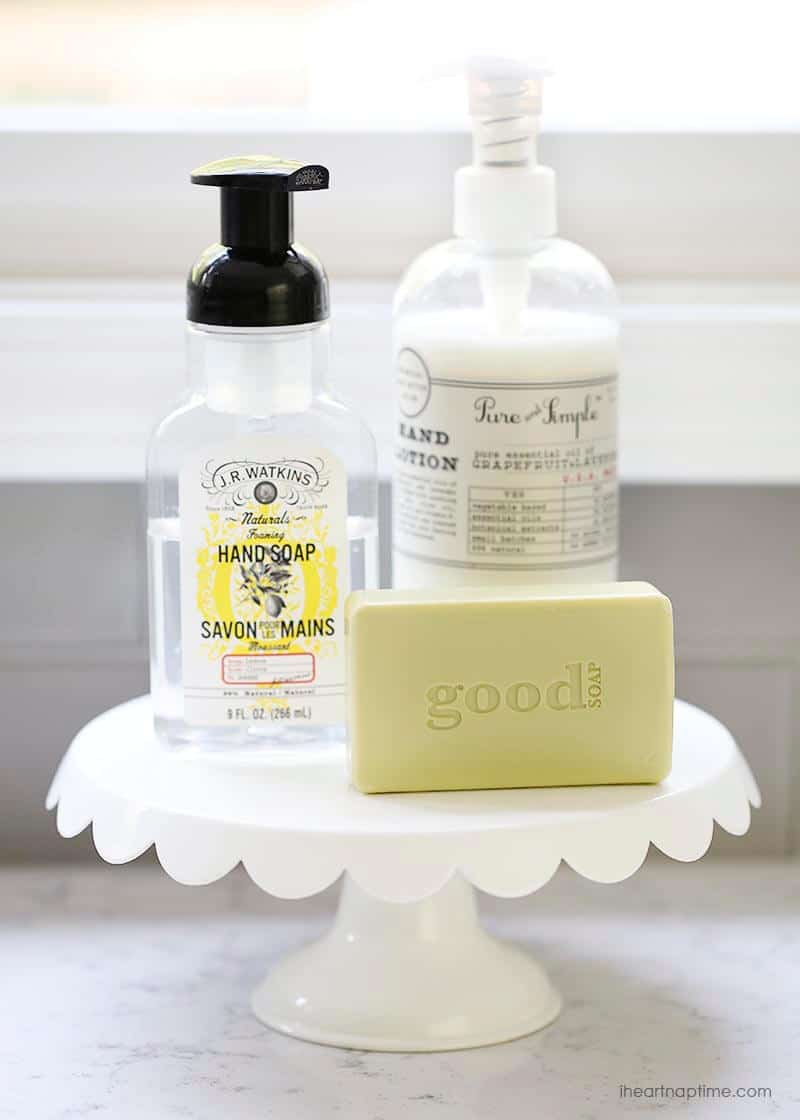 I sort of have a thing for cake stands and soaps. They just go together, don't they?! I had these in my last kitchen, so thought I would have them here too.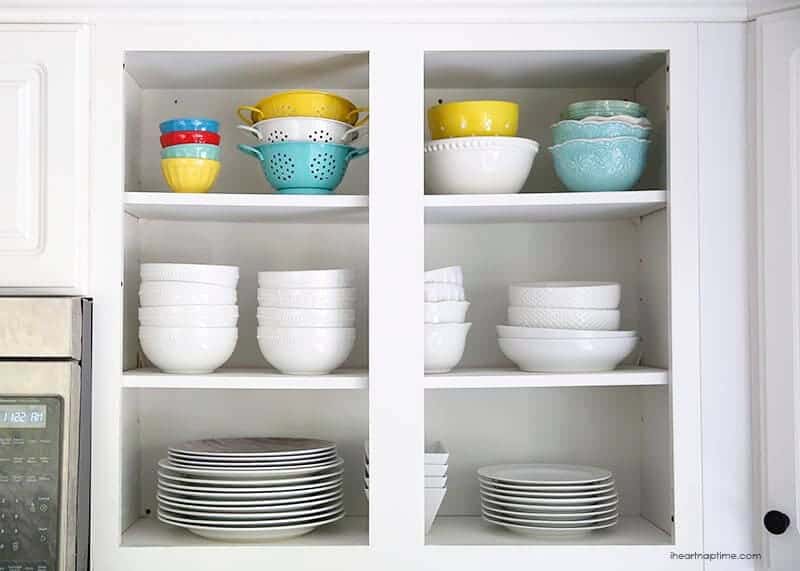 Right before I started taking pictures of the kitchen, I thought it would be a good idea to take off these cabinet doors. I felt like it would open the space a little more and add some personality to the room. I'm so glad I did! I love the look! Such a cheap and easy way to transform a room.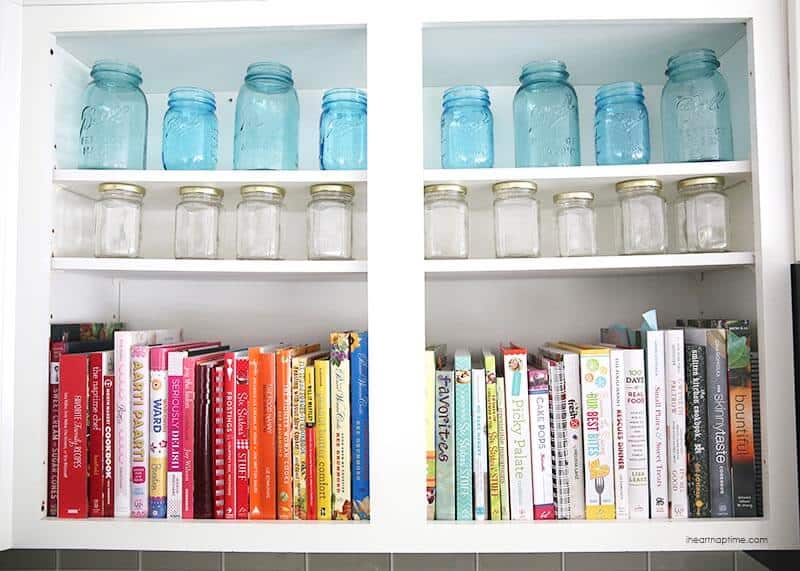 I had to do some serious organizing in this cupboard. You do not want to see the before pic on this one. ha! I love that all my cookbooks are color coordinated now. Hopefully, I'll keep them this organized now that the doors are off. ;)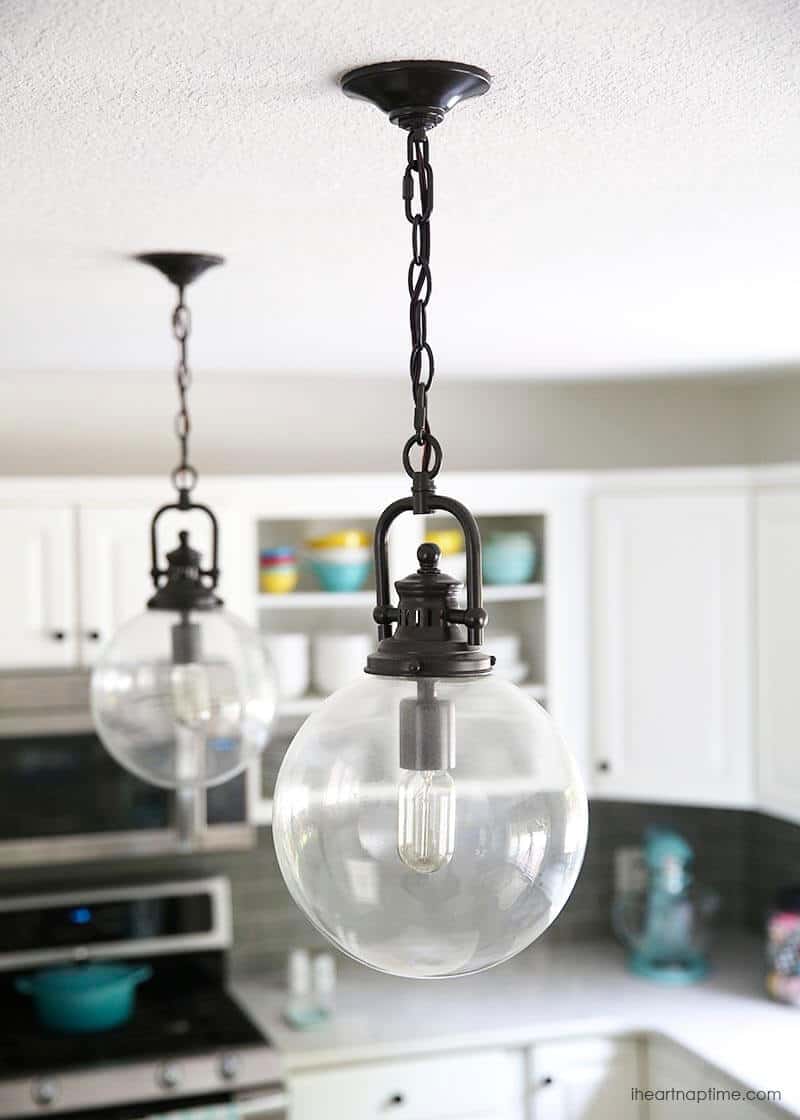 We also removed the giant white square light and installed these awesome globe lights I found at Shades of Light! I also found the edison light bulbs to put inside and love the look. These lights are always the first thing people comment on when they walk in.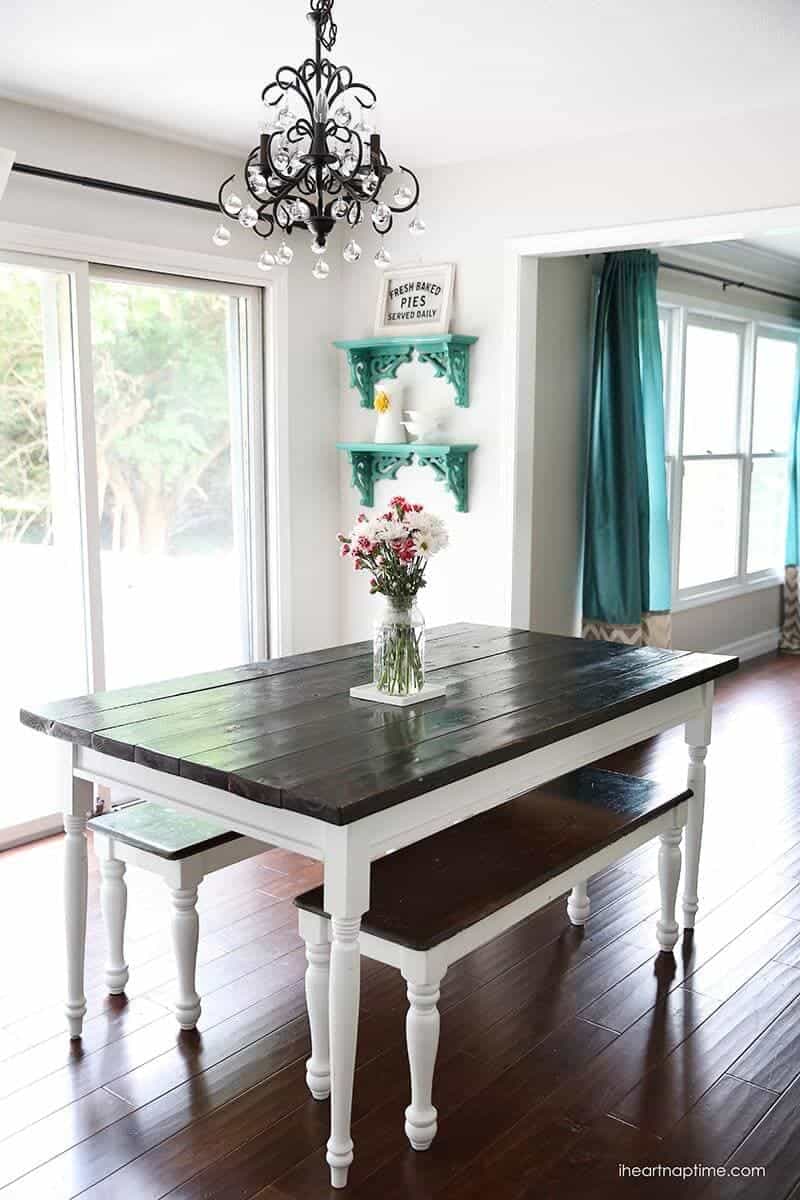 Here's the kitchen table we built (tutorial here) with the fun new chandelier I found on sale at Pottery Barn. The table has held up so well! It definitely has some extra dings and scratches, but I think it gives it character.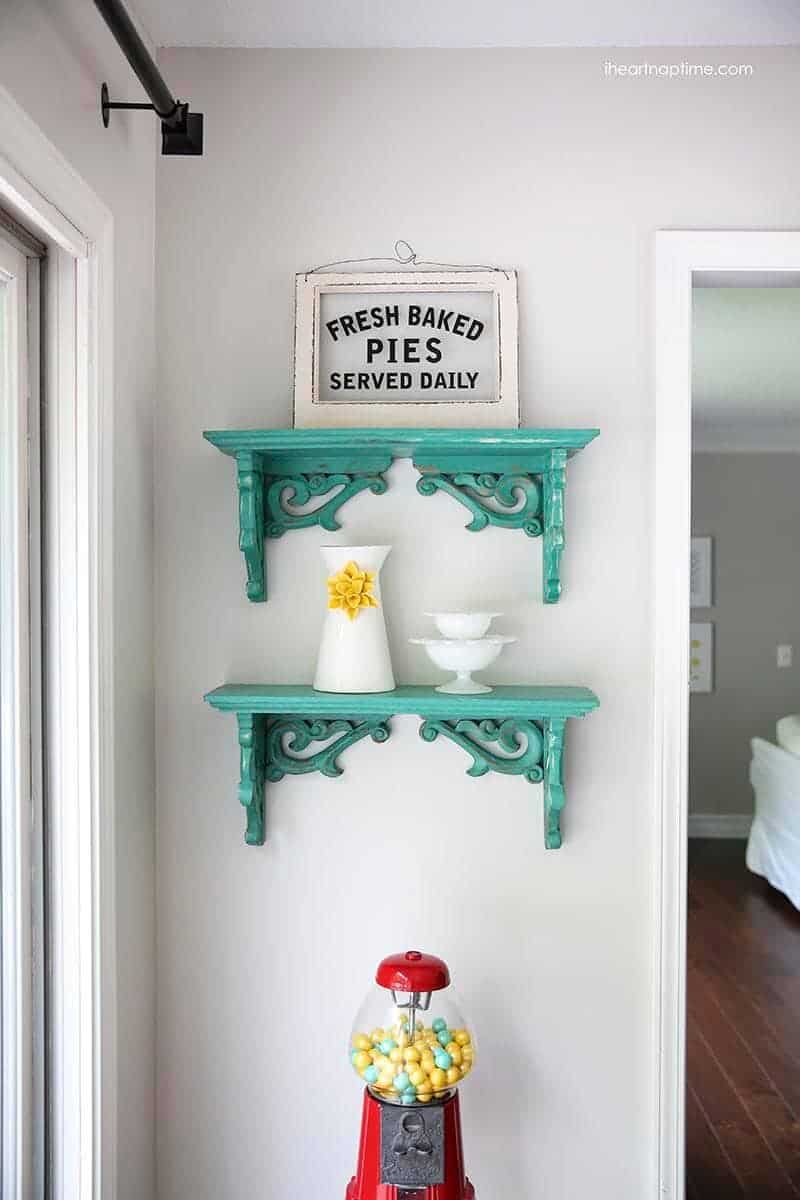 I found that awesome gumball machine from a yard sale for $5! Crazy, right?! It is so fun! And I rarely keep gumballs in there… but it is a fun piece of decor. I also love that fun pie sign I found at World Market. My husband was joking with me that it wasn't true. Let's be honest… I probably only bake pies twice a year …BUT I am usually baking/cooking SOMETHING daily. ;)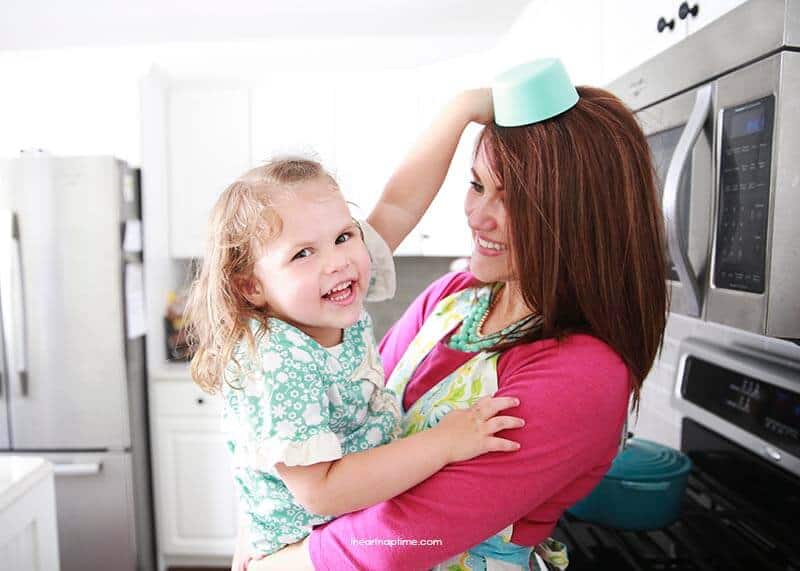 This girl loves to help me bake!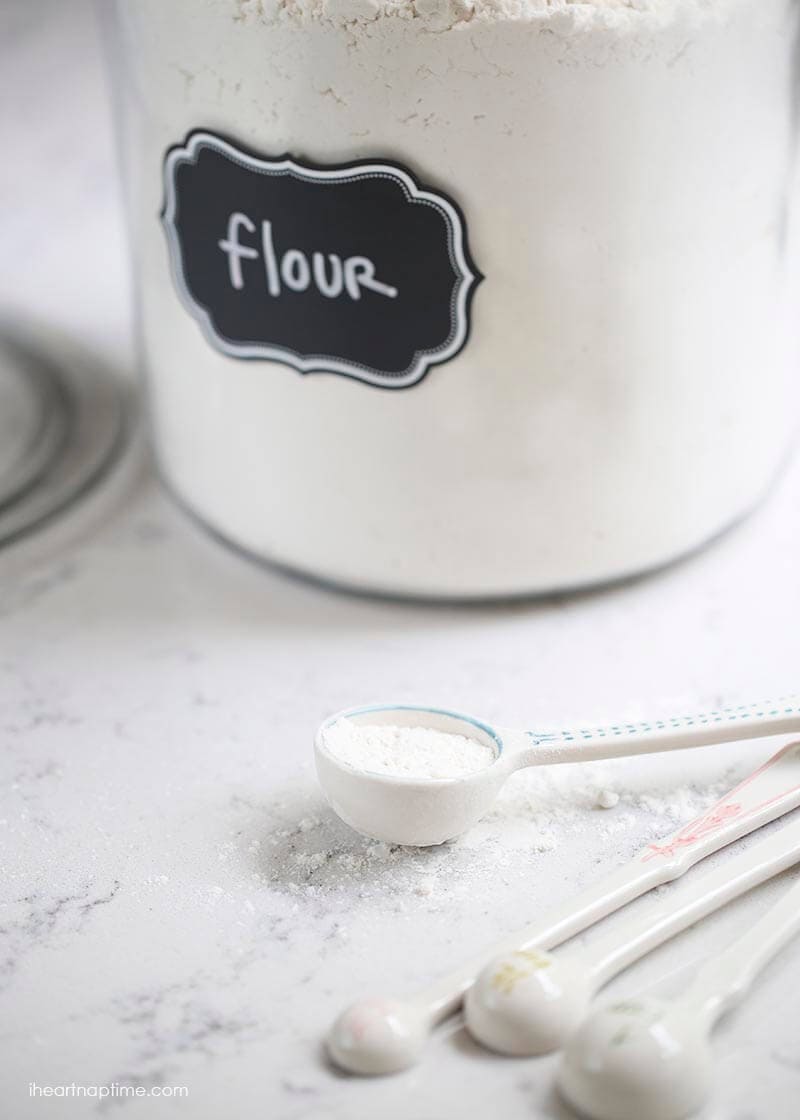 I love these big clear jars and have several of them throughout my house!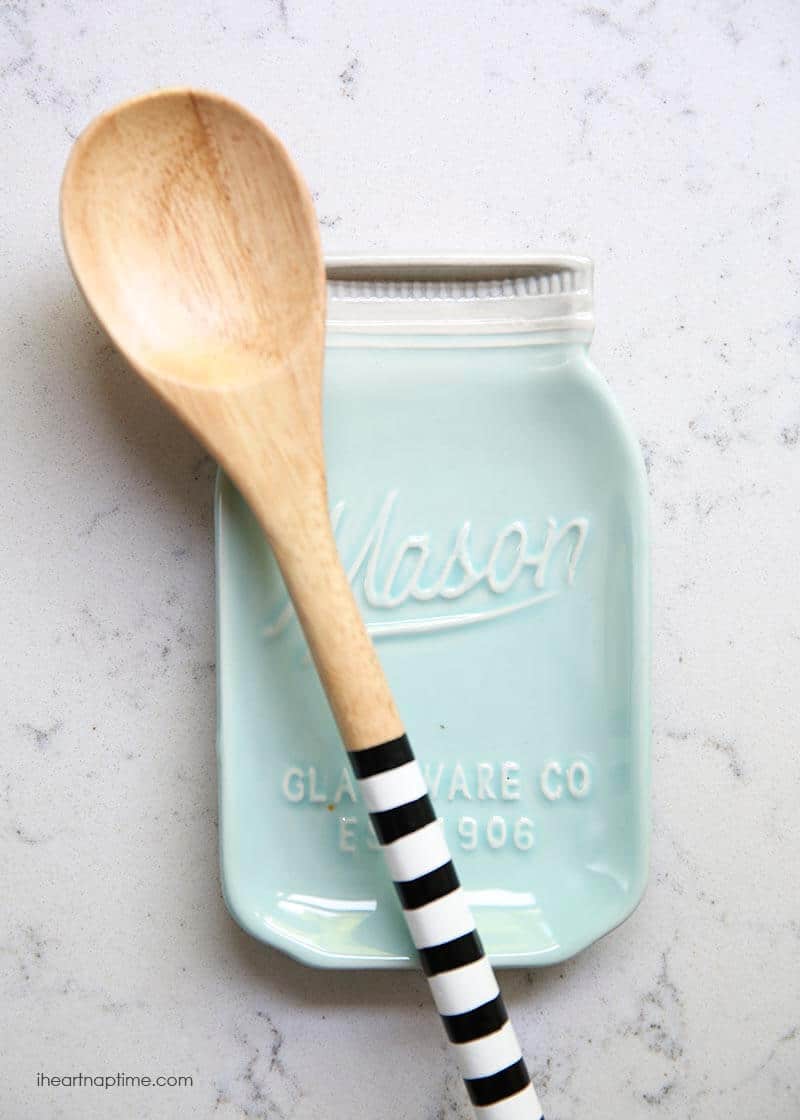 And how adorable is this spoon holder? I may be a tiny bit obsessed with mason jars too. ;)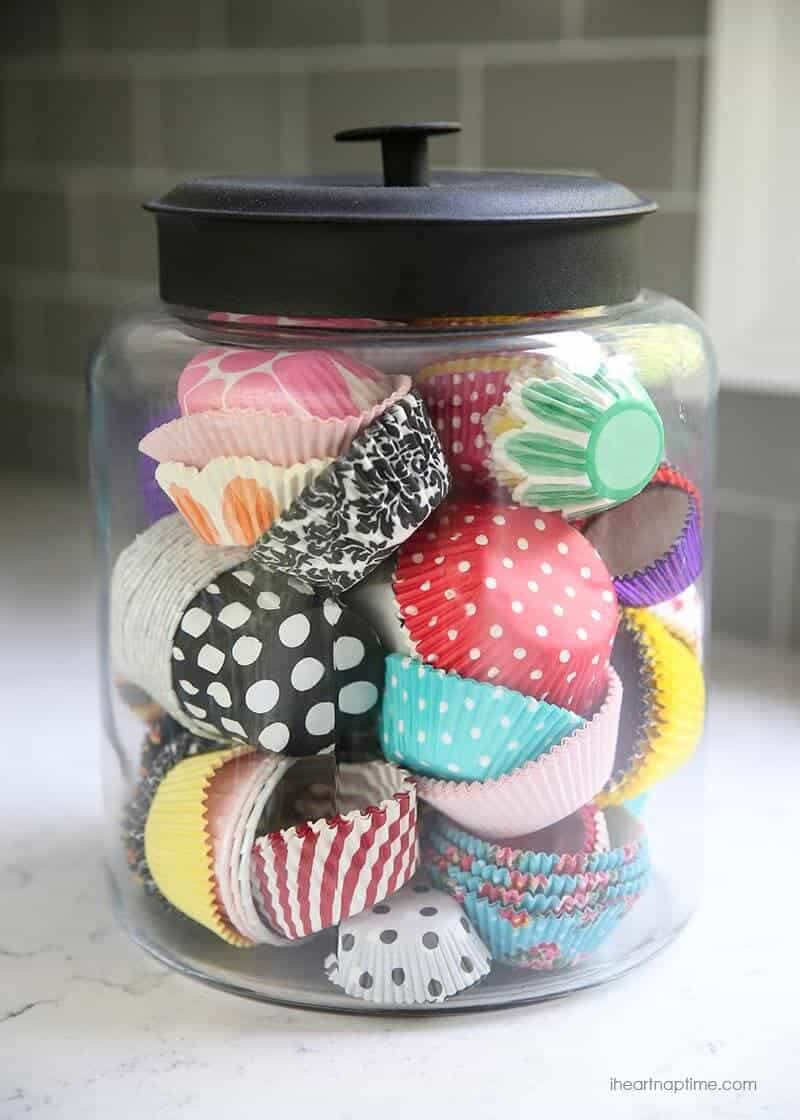 One of my favorite (and useful) pieces of decor is my cupcake liner jar. It adds such a fun pop of color to my kitchen.

Thanks for coming with me on a little tour of our new kitchen! If I'm missing something and you'd like to know where it's from just leave a comment and I'll add it to the source list. :)
Source list:
Thanks for reading! Happy friday friends! XO