Jump to Recipe⌄
Easy homemade pretzel bites
Easy homemade pretzel bites brushed with melted butter and sea salt. These are the perfect appetizer or snack!
With the Superbowl coming up this weekend I thought it would be fun to make homemade pretzel bites. You won't believe how easy these are to make. I remember watching a show on the cooking channel last year where they made homemade pretzels and it has been on my list ever since. I crave "mall pretzels" daily!
I specifically remember them saying the "Baking soda wash" and "egg wash" were the most important steps. This helps the dough turn into the chewy goodness that is found in a store bought pretzel. The best part about this recipe is they only take about 30 minutes to make! They do involve a bit of work… but they are definitely worth it! They are so so good. I can't wait to make them again!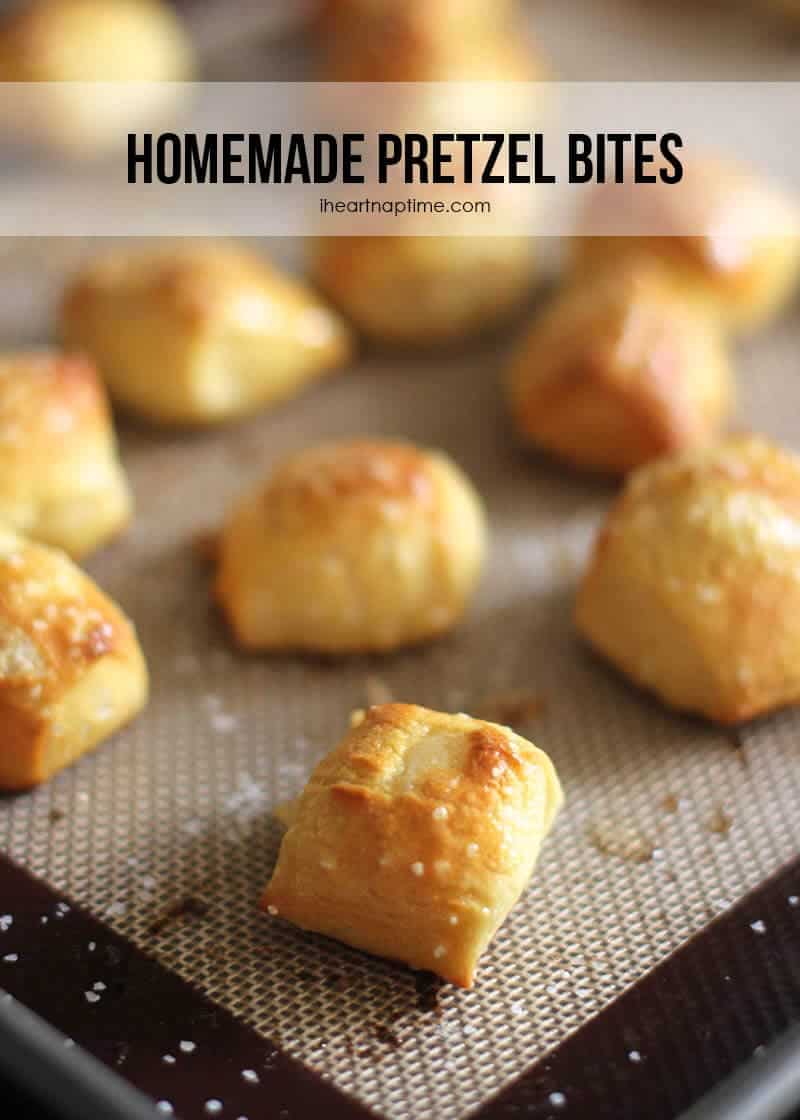 MY OTHER RECIPES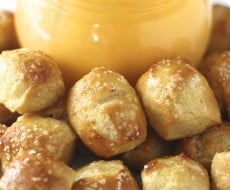 Easy homemade pretzel bites
Ingredients:
1 1/2 cup warm water
1 packet active yeast (or 2 1/4 teaspoons)
11/2 tsp salt
1 TB sugar
4 cups of flour
1/3 cup baking soda (for boiling water)
1 egg (whisked)
Coarse salt (kosher or sea salt)
Directions:
Preheat oven to 425°F. Line a baking sheet with a baking mat or parchment paper and set aside.
In a small bowl add warm water and yeast. Allow to sit for 3-5 minutes. Add salt and sugar and stir.
In a large bowl add flour and then pour yeast mixture over top. Knead with bread hook in your mixer or by hand for about 5 minutes.
Separate dough into 6 sections. Roll dough into ropes about 15-20 inches long and 1 inch thick. Cut with scissors into 11/2 – 2 inch pieces. Optional: cut a "t" or "x" on the top of the pretzel with scissors.
In a small pan bring water + 1/3 cup baking soda to a boil. Once water is boiling place about 8 pieces of dough into the water for about 30 seconds. Remove with slotted spoon and place pretzel bites onto baking sheet. Brush dough lightly with egg and sprinkle salt on top.
Bake for 8-10 minutes, or until golden brown. You can turn the oven to broil for the last minute to brown the tops. Remove pretzel bites to a cooling rack and brush tops with melted butter if desired.
Enjoy with your favorite cheese sauce.
Variation: For a sweeter version, bake the pretzels without salt. When they come out of the oven, roll them in melted butter and then roll the tops and sides in cinnamon sugar (1/2 cup granulated sugar combined with 2 tablespoons ground cinnamon. Serve warm
All images and text ©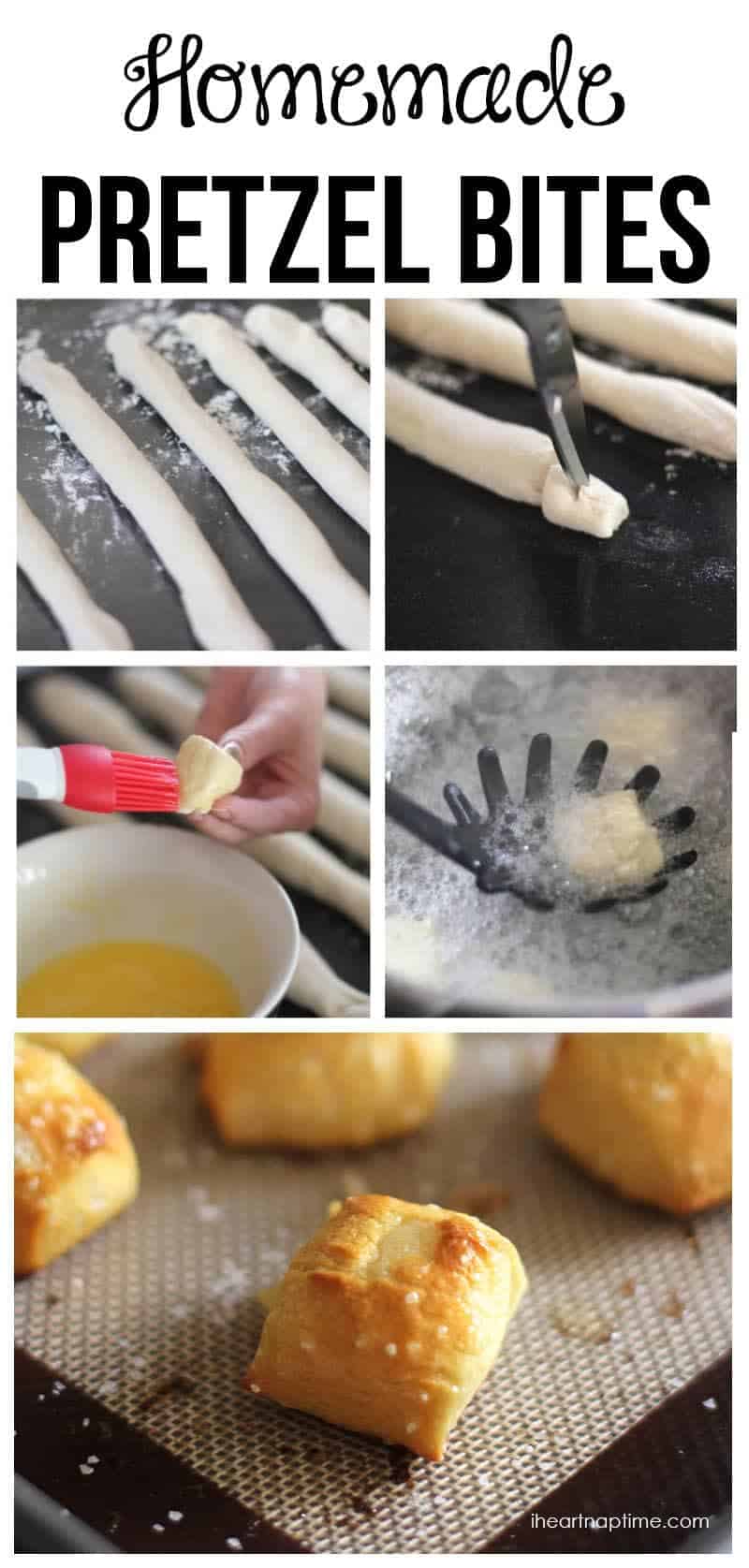 Enjoy with cheese dipping sauce. You could even roll them in cinnamon sugar before baking to create a yummy dessert.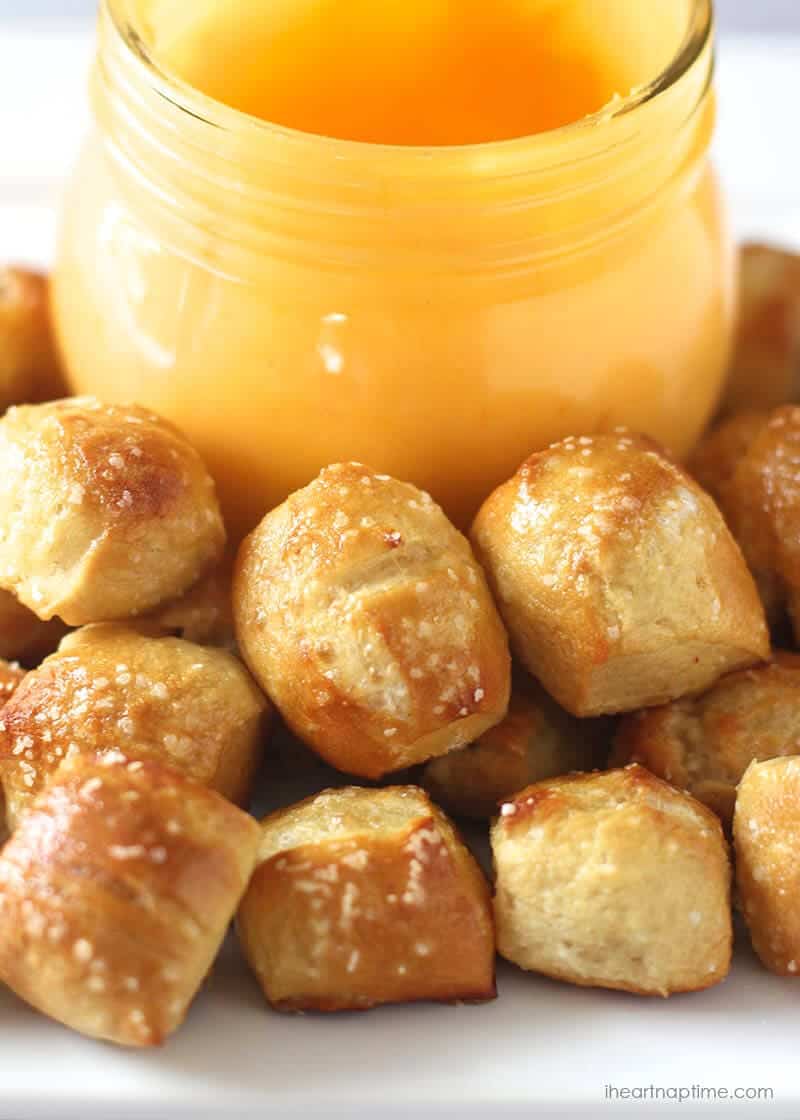 Mmm… now I'm craving pretzels! They are perfect right out of the oven. Definitely add these babies to the must make list!
So what will you be making for the Superbowl?
Looking for more appetizers? You'll love these:
Restaurant style salsa -the best!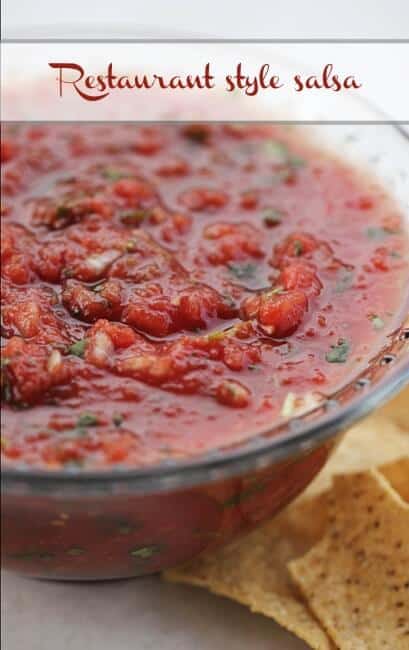 Mouthwatering cheesy pesto bread