Do you need an easy solution for a filling breakfast? This crescent roll breakfast casserole can be prepared the night before and baked in the oven in the morning. Loaded with sausage, eggs, cheese, and buttery crescent rolls, this simple-to-make breakfast makes any day feel special!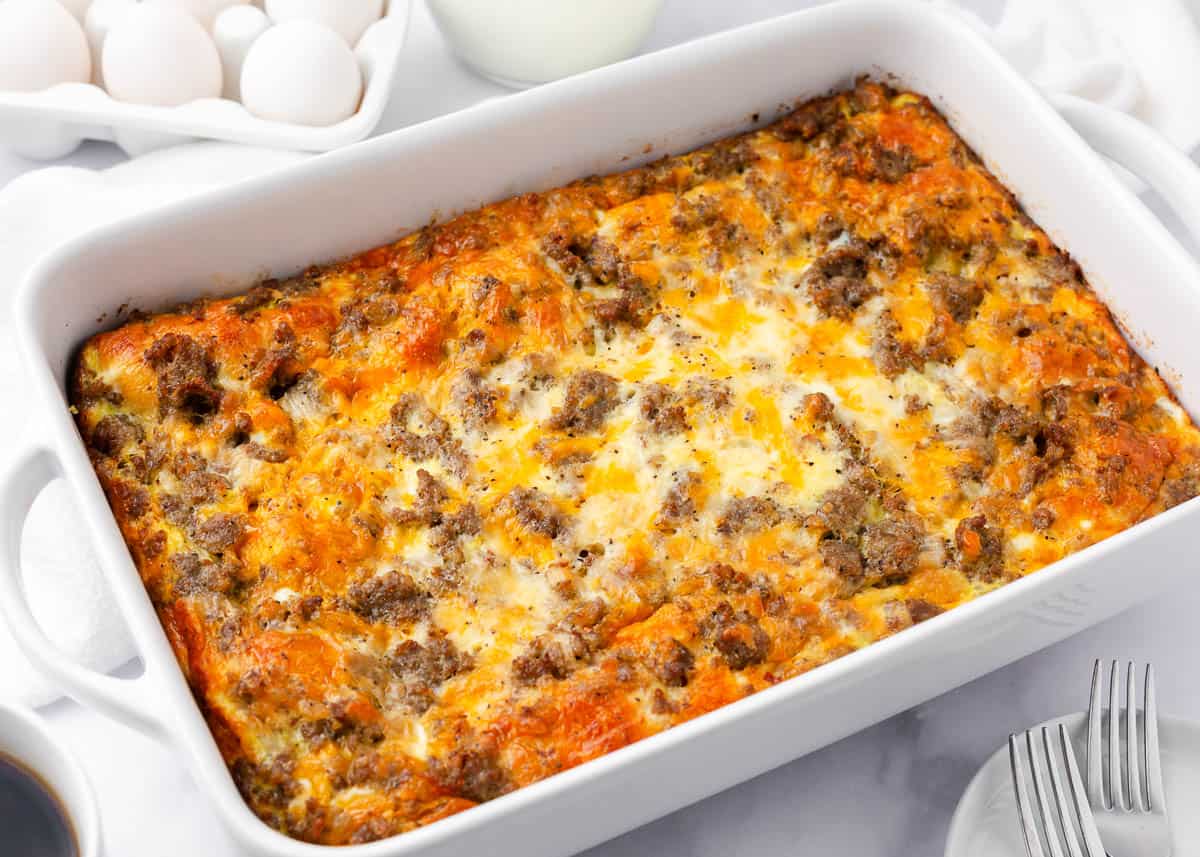 Easy Breakfast Casserole
I'm back with another super easy make-ahead breakfast recipe! This recipe for crescent roll breakfast casserole is quick to prepare and perfect for serving to a crowd for a Christmas morning breakfast, or to your family as a hearty weekday breakfast.
If you've visited here before, you probably know that I'm no stranger to easy breakfast casseroles! I just love how everything bakes up in one dish. My make-ahead breakfast casserole, hashbrown breakfast casserole and tater tot breakfast casserole are among my favorites! We even love this enchilada breakfast casserole for a change.
This crescent roll breakfast casserole starts with a tube of refrigerated crescent roll dough. You know the kind – it comes in a cardboard tube that you pop open. I usually have a tube or two hanging around in my fridge and I often use them for making my sausage breakfast pizza.
Next, you layer on some cooked crumbled sausage, cheese, and eggs. At this point, you can store the unbaked casserole in the fridge to bake in the morning or you can bake everything for about 35 minutes. Easy peasy!
Why This Recipe Works
Customizable. The great thing about this recipe, in addition to being able to make it ahead, is that you can also customize it to your tastes. Don't like sausage? Try bacon instead. Want to add more veggies to your diet? Throw in what you have in the fridge. Keep reading to learn about some more variation ideas.
Taste and texture. The crescent roll dough puffs up as it bakes and absorbs some of the egg mixture to make a deliciously light and fluffy texture. Each mouthful is full of tasty sausage, buttery eggs and crescent rolls, and gooey cheese. It doesn't get any better!
An anytime meal. Enjoy it on Christmas morning or Sunday brunch. Bring leftovers in your lunch the next day or have breakfast for dinner one night!
Recipe Ingredients
All of the ingredients are pretty straightforward for this recipe and you should be able to find them easily in most grocery stores.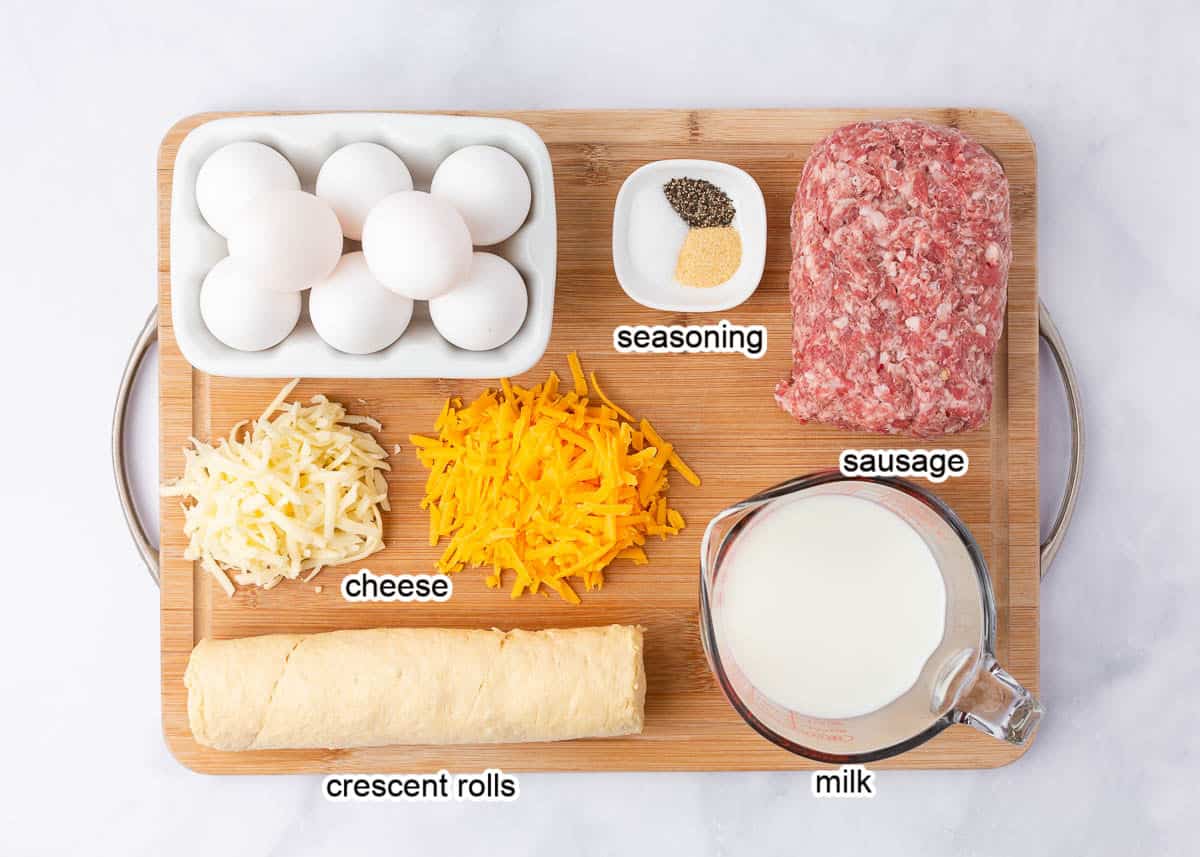 Find the full printable recipe with specific measurements below.
Refrigerated crescent rolls: These are the ones that come in a tube. They usually have precut perforations on the dough that let you easily tear it apart to make crescent rolls. You can find these rolls in the refrigerated section of your grocery store, often near dairy products.
Breakfast sausage: My family loves the mild flavor of breakfast sausage, but feel free to use any variety of sausage that you like.
Eggs: You need 8 large eggs for this recipe, which sounds like a lot, but the casserole is very hearty and filling, so it goes a long way.
Cheese: I use cheddar cheese with some Monterey jack for added flavor. Shredded cheese is always better when you grate it yourself.
Variations
Don't you love when you can take a recipe and mix it up a little? Not only does it mean you can customize it to your tastes, but you can also use up ingredients you have on hand to make the recipe your own!
Here are some ideas for variations to get you started:
For a different flavor, you can use sage sausage and Gruyere cheese.
Use biscuits instead of crescents like I do in breakfast casserole with biscuits!
You can use all cheddar or even substitute it with mozzarella cheese if you prefer.
For a little kick, add a few dashes of hot sauce and red pepper flakes with the eggs.
Add in some sauteed vegetables such as onions, bell peppers, or mushrooms.
Sprinkle some chopped green onions over the casserole for a hint of green.
Add some chopped fresh herbs for a fresh flavor.
How to Make Crescent Roll Breakfast Casserole
Follow these easy instructions to make this delicious sausage crescent roll breakfast casserole!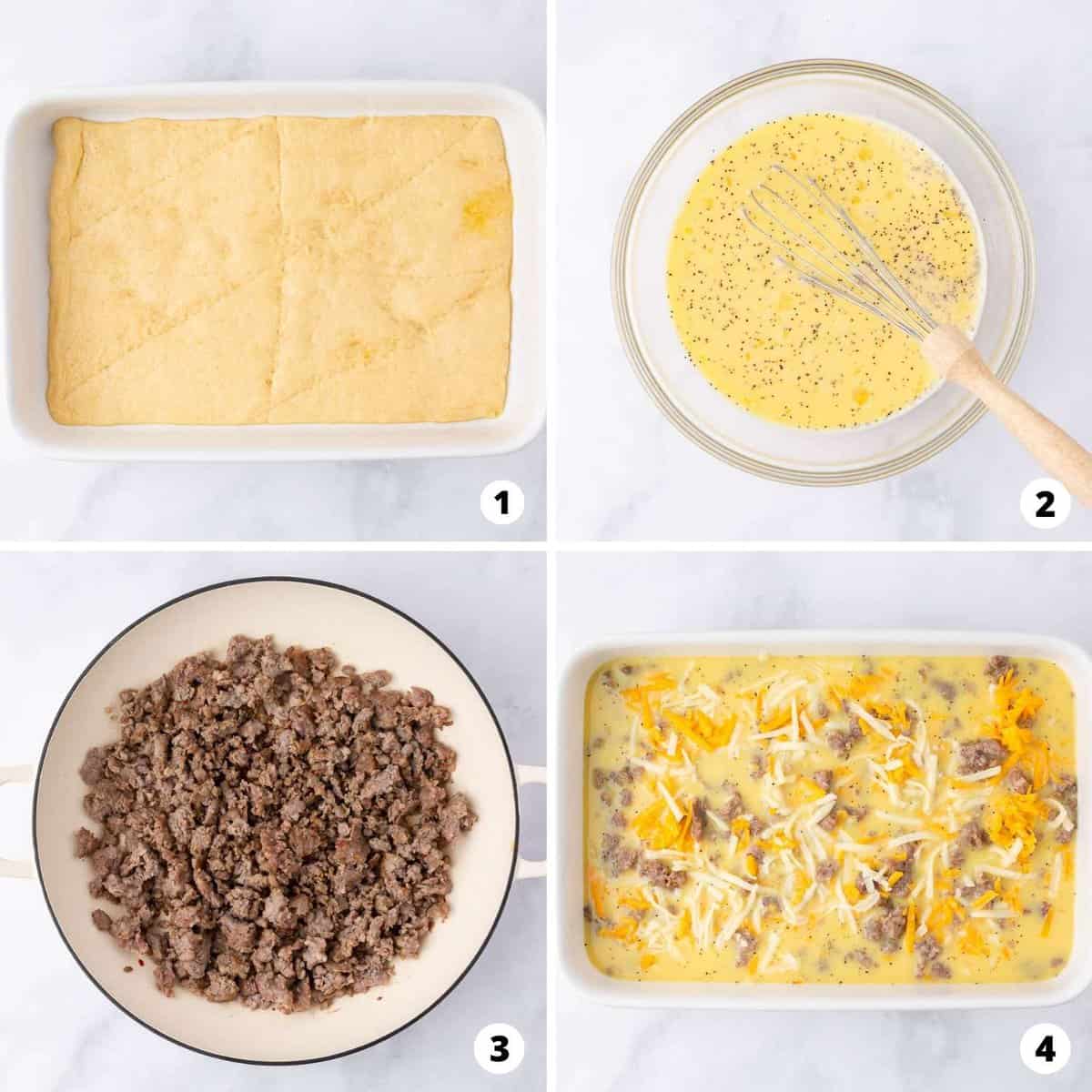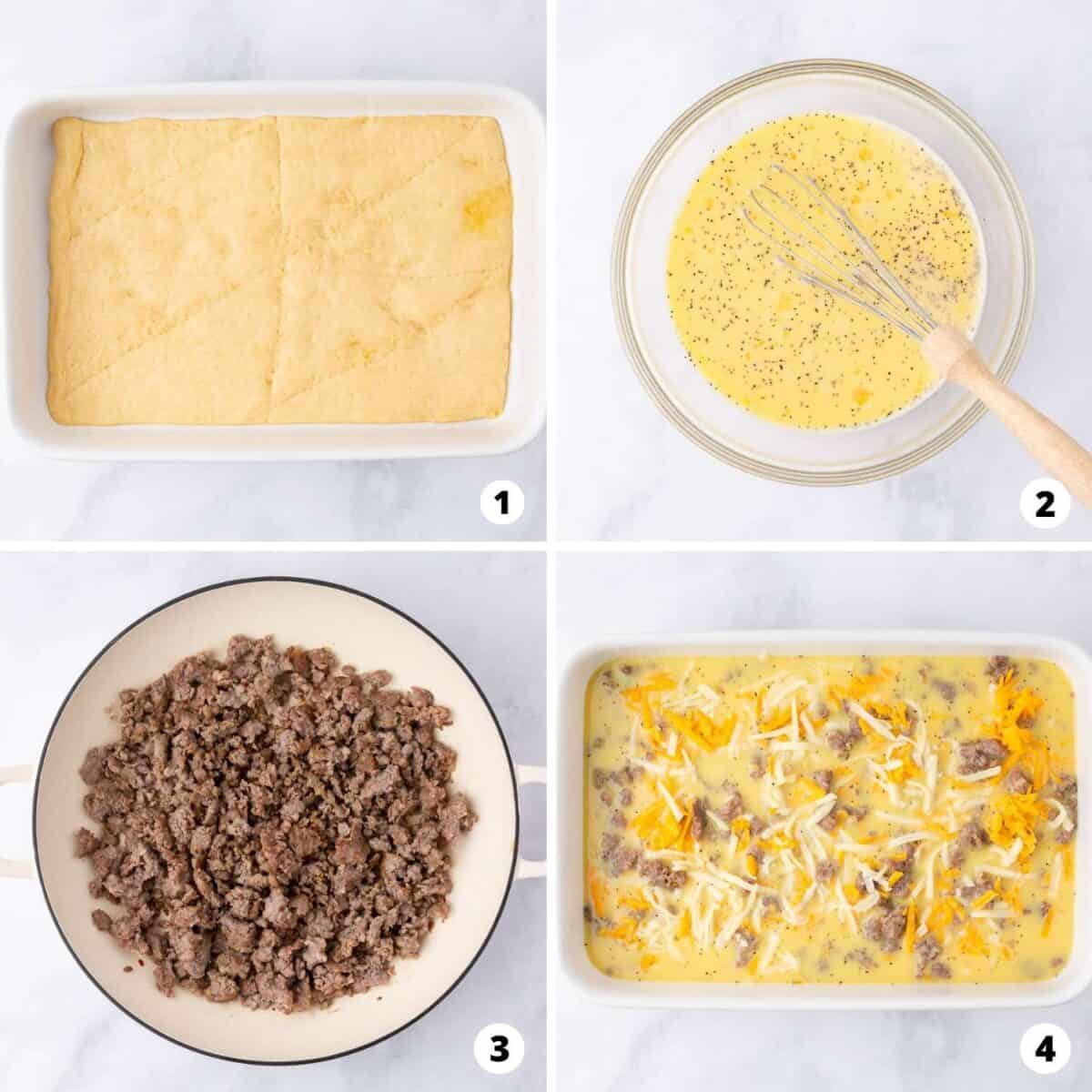 Unroll crescent dough. Open up your tube of refrigerated crescent dough and press it into a greased baking dish. Remember to press the perforated edges together with your finger until the dough is as smooth as you can get it.
Cook sausage. Add your sausage to a skillet and cook until it's browned, breaking it up into crumbles as it cooks. Let it drain on a paper towel-lined plate while you make the egg mixture.
Whisk eggs. Add the eggs to a large bowl and whisk as if you were making scrambled eggs. Add the milk and seasoning and whisk some more.
Assemble. Sprinkle the sausage over the dough, then the cheese in an even layer, and finally pour the egg mixture over the top of everything.
Bake. It takes 35 – 40 minutes at 375°F for the casserole to bake completely. Please let the casserole cool slightly before serving!
Make Ahead
Did someone say make ahead? That's music to my ears! With my busy family life, I'm all for recipes I can prepare in advance like this one, crockpot breakfast casserole and my breakfast sausage meatballs.
You can brown the sausage the day before and store it in the fridge until you're ready to assemble your casserole.
Even better, you can assemble the entire casserole, cover it with plastic wrap and store it in the refrigerator, unbaked for up to 12 hours. All you have to do is bake it in the oven the next morning. So easy!
Expert Tips
Top browning too quickly? If it looks like the top of the casserole is browning too much before the middle of your casserole is cooked, cover the dish with aluminum foil while it continues to bake.
Drain the sausage. Don't skip this step or you'll end up with a greasy casserole. Line a plate with a paper towel and spoon the cooked sausage on top. The paper towel will absorb any additional grease.
Smooth out the crescent roll dough. Unrolled crescent roll dough has perforations in it that you normally use to tear the crescents apart. Press these perforations together with your finger to make the dough one smooth piece.
Grease the baking dish. Be sure to spray it with cooking spray. For easing slicing and serving, you want to create a nonstick surface so that once it is sliced, it comes out of the pan without falling apart.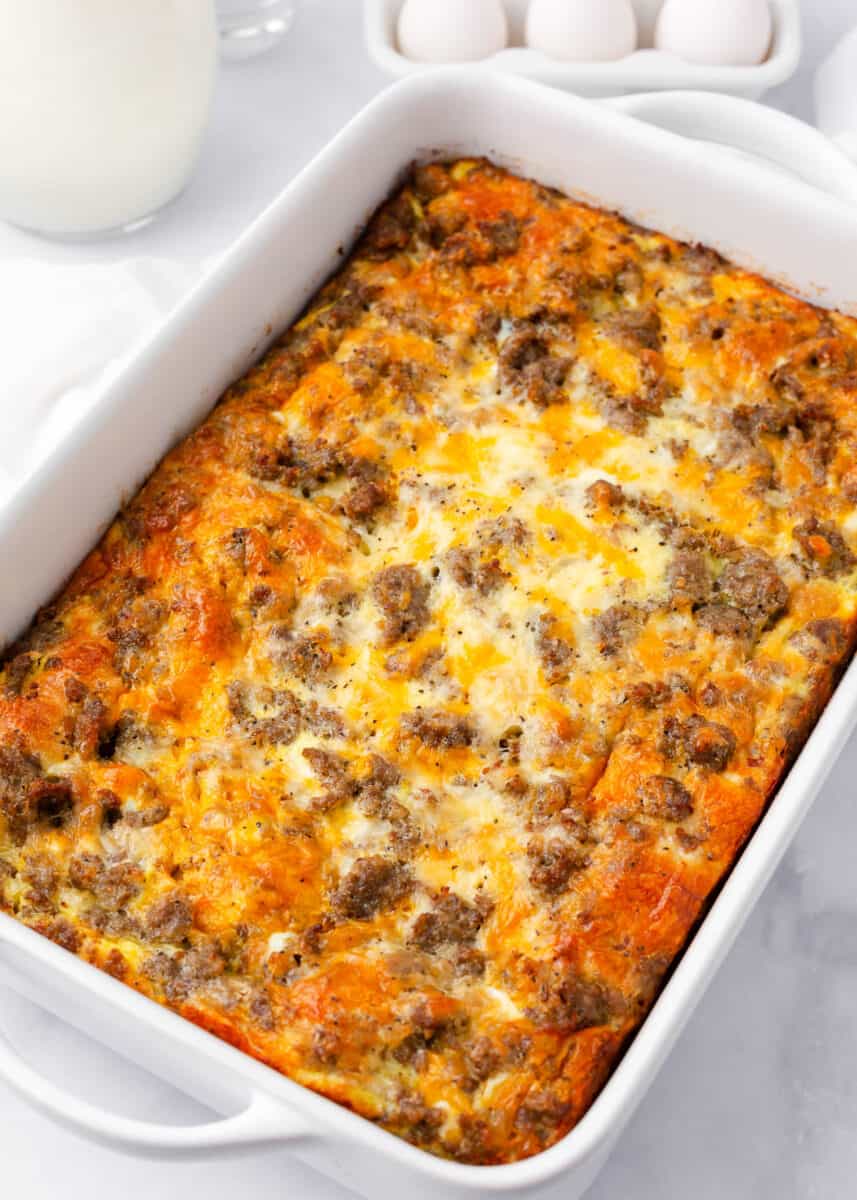 Recipe FAQs
How do you know if an egg casserole is set?
The easiest way to check that your casserole is cooked in the middle is to take a thin paring knife and insert it into the middle of the dish. If the blade comes out with creamy, unset eggs clinging to it, then you need to cook it longer.
How long can crescent roll casserole sit out at room temperature?
This casserole contains eggs and meat, so you don't want to let it sit out for a long time. I recommend serving it right out of the oven or storing it in the fridge and then reheating it. If you do want to keep it out for a bit, I suggest no longer than 2 hours.
Can you freeze crescent roll casserole?
Technically you can, but the quality of the casserole is reduced when you reheat it. I find that freezing any type of egg dish often results in watery eggs once they're warmed up again. If you're going to freeze the dish, be sure to wrap it well before storing it.
Storing & Reheating
This casserole keeps well in the fridge so you can safely store leftovers to enjoy throughout the week.
Store your leftovers in the refrigerator in an airtight covered container for up to 3 days.
To reheat: Put slices of casserole on a microwave-safe dish and heat for 30 seconds or so until warmed through. You can also reheat slices in a toaster oven or pop them into your air fryer to make them crispy!
HUNGRY FOR MORE? Subscribe to my newsletter and follow on Facebook, Pinterest and Instagram for all the newest recipes!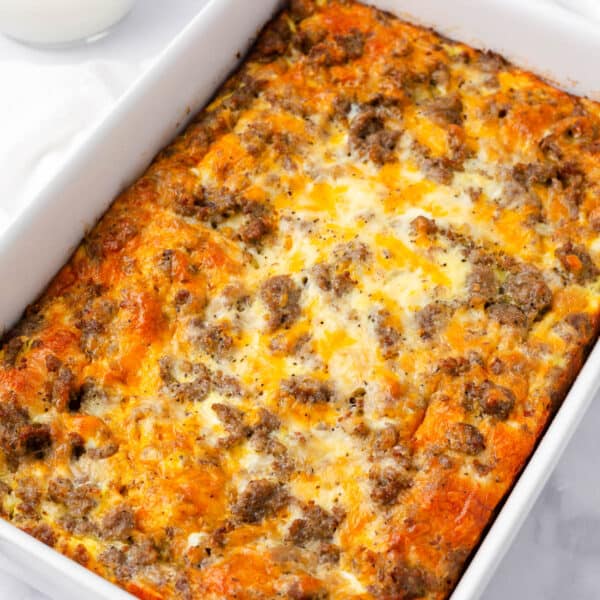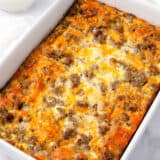 Crescent Roll Breakfast Casserole
Do you need an easy solution for a filling breakfast? This crescent roll breakfast casserole can be prepared the night before and baked in the oven in the morning. Loaded with sausage, eggs, cheese, and buttery crescent rolls, this simple-to-make breakfast makes any day feel special!
Ingredients
1 (8-ounce) package refrigerated crescent rolls
1 pound breakfast sausage
8 large eggs
1 ¼ cups milk , I use 2%
¾ teaspoon Kosher salt , or 1/2 teaspoon table salt
¼ teaspoon garlic powder
¼ teaspoon ground black pepper
1/2-1 cup shredded cheddar cheese
½ cup shredded monterey jack cheese , can sub for cheddar or mozzarella if preferred
Instructions
Preheat the oven to 375°F. Spray a 9×13-inch baking dish with nonstick spray.

Unroll the crescent dough and place in the bottom of the baking dish. Press the seams together and press the edges up the sides if excess. Bake 5 minutes.

In a large skillet, cook and crumble the sausage with a spatula over medium heat. Transfer to a paper towel-lined plate to absorb extra grease.

In a large bowl, beat the eggs. Whisk in the milk, salt, garlic powder and pepper.

Sprinkle the sausage over the dough. Spread the cheese evenly over the sausage. Pour the egg over the top.

Bake 35 to 40 minutes, or until a toothpick inserted in the center comes clean. Let cool a few minutes before serving.
---
Notes
Variations:
For a different flavor, you can use sage sausage and Gruyere cheese.
Swap the sausage for diced ham or bacon crumbles.
For a little kick, add a few dashes of hot sauce and red pepper flakes in with the eggs.
Add in some sauteed vegetable such as onions, bell peppers or mushrooms.
Make-ahead: Cover the unbaked casserole and refrigerate up to 12 hours. No need to prebake crust (it will be a little softer crust that is still delicious).
Storage: Store leftovers in a covered container in the refrigerator up to 3 days. Reheat in the microwave, a toaster oven, or the air fryer to make crispy.
Nutrition
Calories: 276kcal | Carbohydrates: 9g | Protein: 14g | Fat: 21g | Saturated Fat: 8g | Polyunsaturated Fat: 3g | Monounsaturated Fat: 7g | Trans Fat: 0.1g | Cholesterol: 161mg | Sodium: 650mg | Potassium: 188mg | Fiber: 0.02g | Sugar: 3g | Vitamin A: 340IU | Vitamin C: 0.3mg | Calcium: 122mg | Iron: 1mg
Nutrition provided is an estimate. It will vary based on specific ingredients used.
Did you make this recipe? Don't forget to give it a star rating below!