Creamy pretzel cheese dip that's made with just 5 simple ingredients in less than 10 minutes. Once you try it, you'll make this homemade version over store bought every time!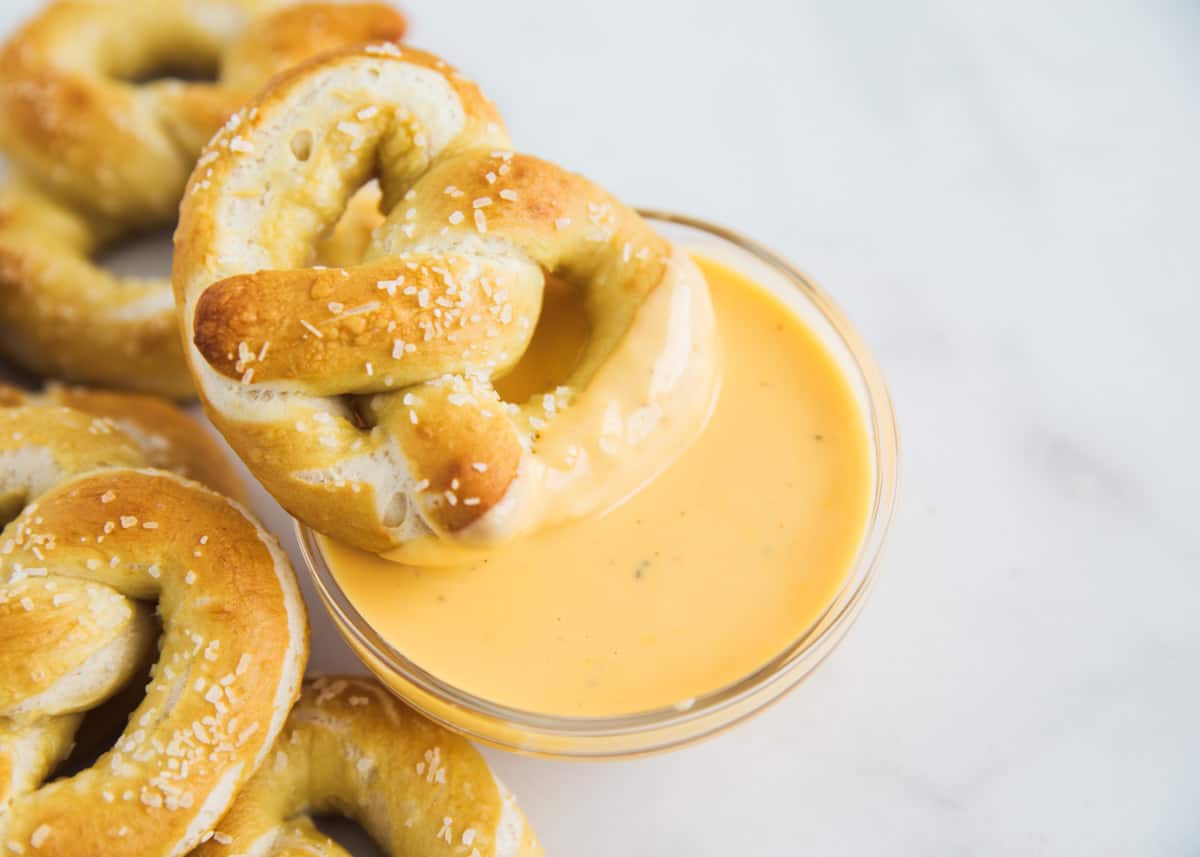 Cheese Sauce for Pretzels
One of my absolute favorite snacks are homemade pretzels with cheese sauce. And instead of buying pre-made sauce from the store, I recently tried making my own. And boy am I glad I did! It was so easy to whip up and tastes incredible.
Creamy, cheesy and smooth almost like a cheese fondue recipe or nacho cheese dip but for pretzels!
This cheese dip is so easy and simple to make. It only takes 5 ingredients and comes together in less than 10 minutes! The sauce is so creamy and cheesy. It isn't too clumpy and has the perfect smooth consistency. It's also really easy to save and reheat for later.
It tastes so much better than the canned stuff and is better for you, too. There are so many yummy ways to use this delicious dip. Serve it with pretzel bites or bread, on top of a baked potato or even over vegetables. It tastes great on pretty much anything!
5 Simple Ingredients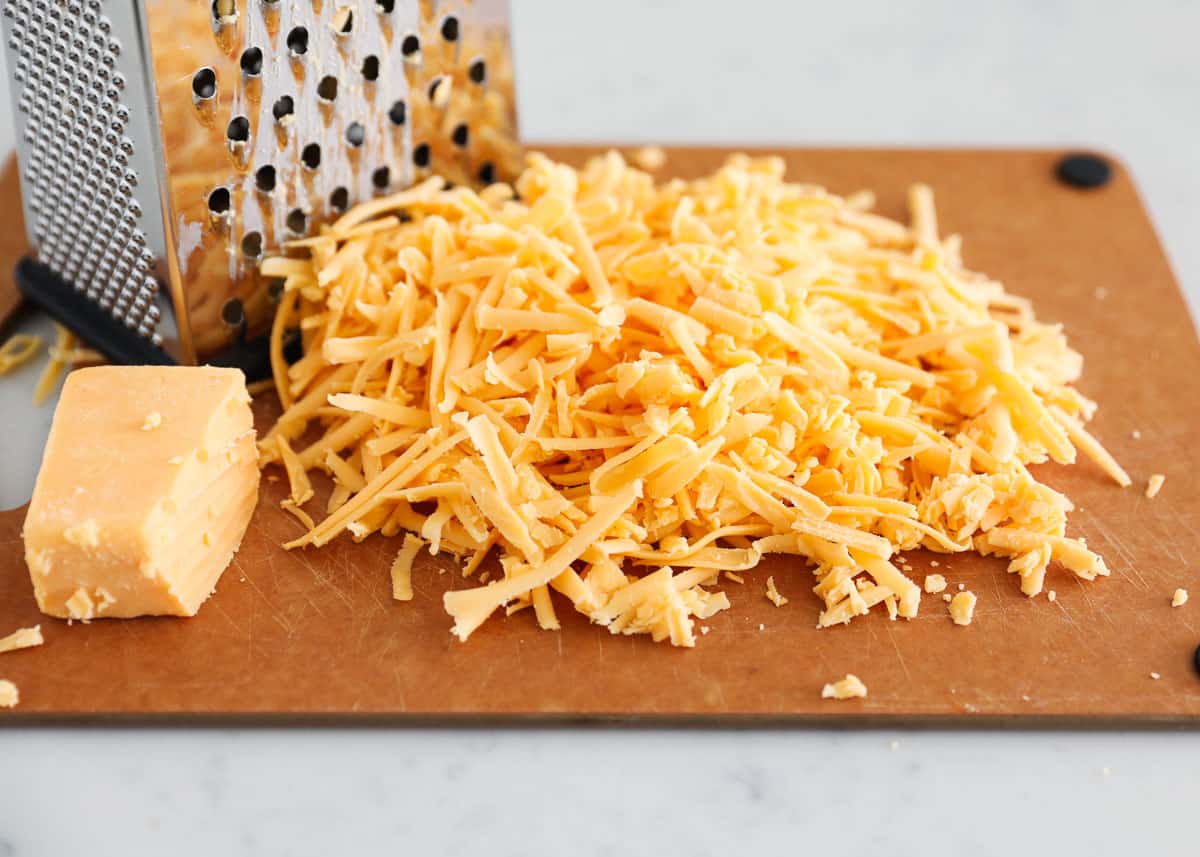 Find the full printable recipe with specific measurements below.
Unsalted butter
All-purpose flour
Whole milk
Cheddar cheese
Hot sauce
How to Make Cheese Dip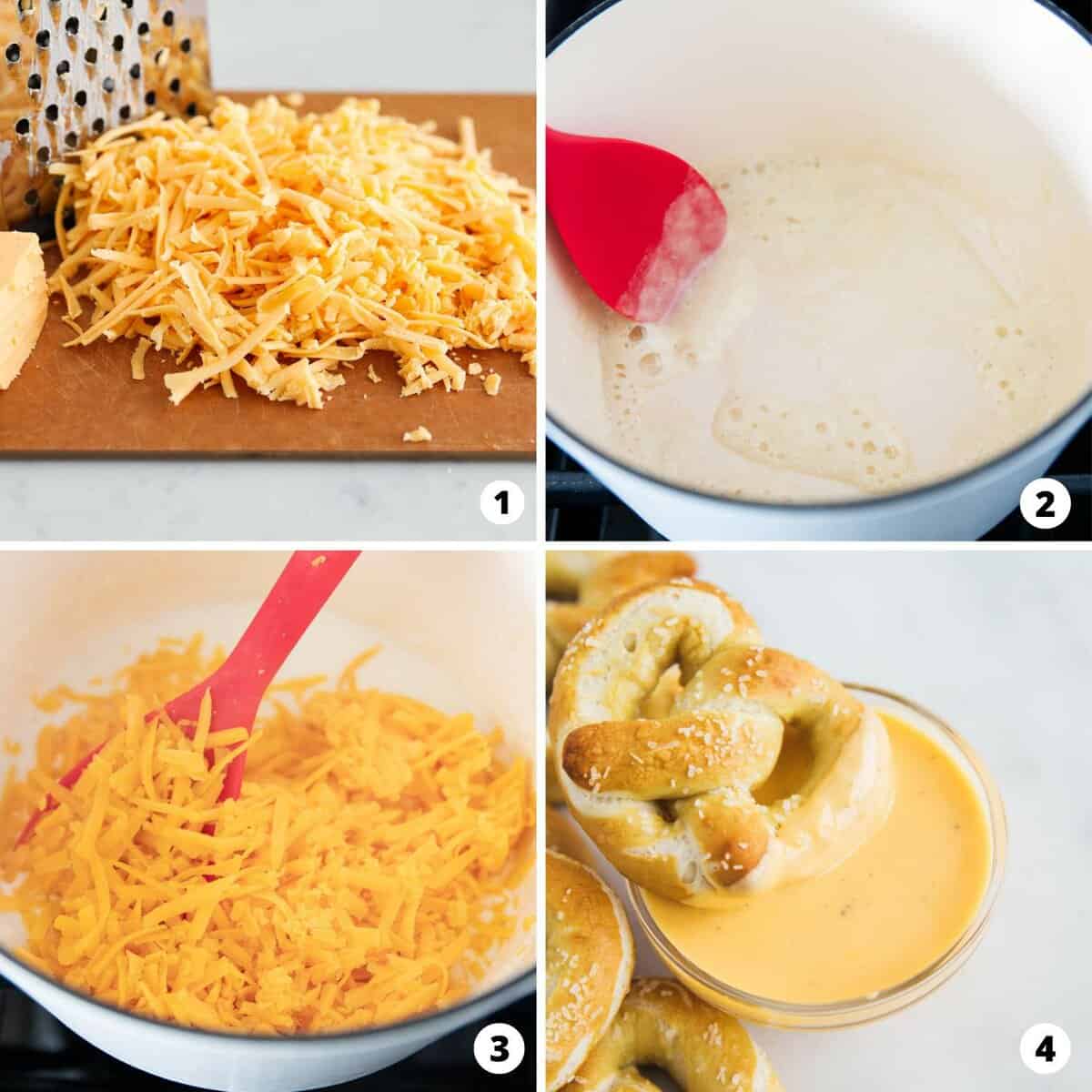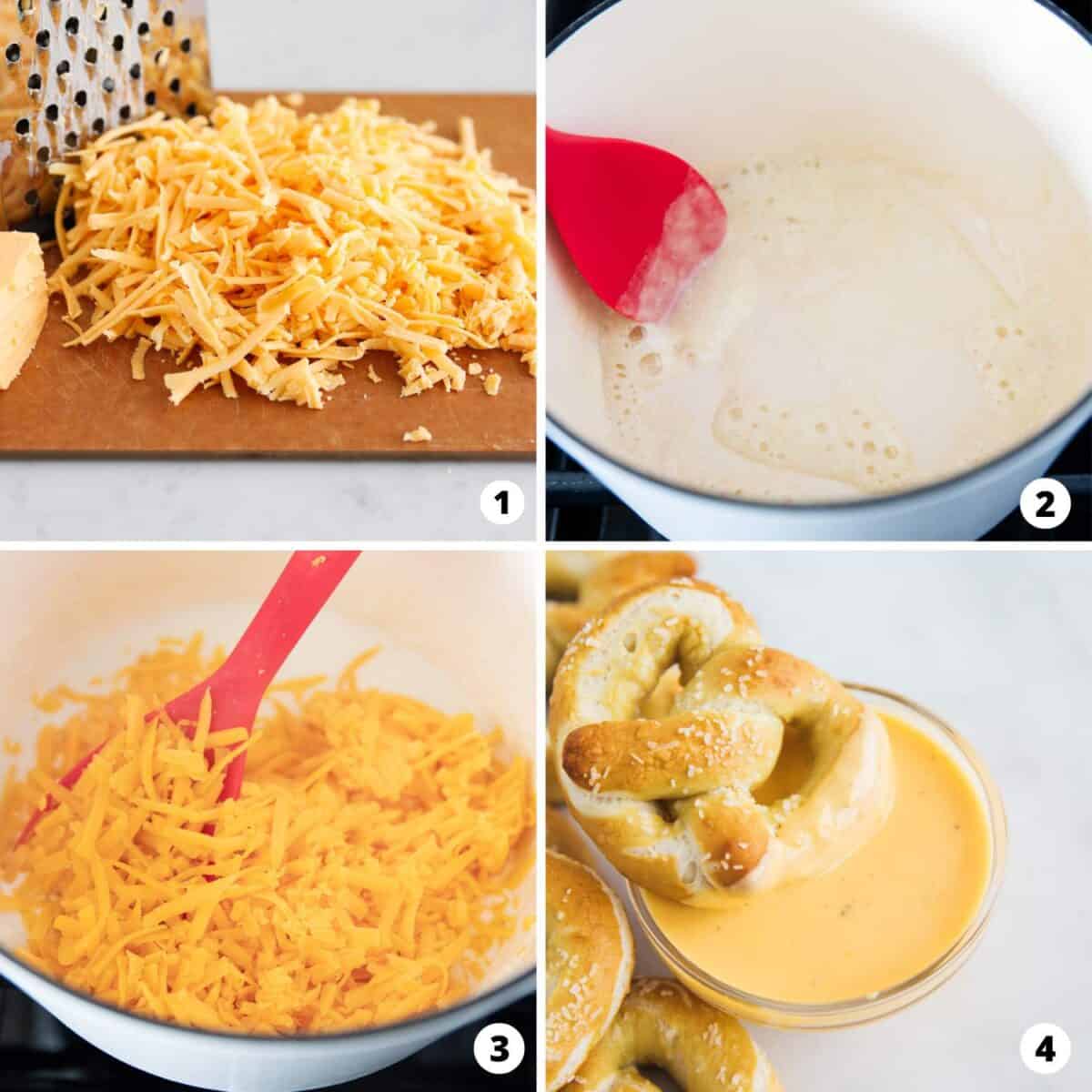 MELT. Add butter to skillet and melt over medium heat. Sprinkle the flour on top of the butter and cook for 1 minute, constantly stirring. It should form a thick paste. Then whisk in the milk until slightly thickened.
STIR. Remove from heat and slowly begin to mix in the shredded cheese until smooth. Add 2 to 3 teaspoons of hot sauce and salt and pepper to taste. If you need to thicken it down a bit, add a few Tablespoons of warm milk.
STORE. Pour into an airtight container and store in the refrigerator. Reheat on the stove or in the microwave.
Variations
Spicy nacho cheese dip: Add an extra Tablespoon of hot sauce and dash of cayenne pepper. You can add jalapeno as well.
Mustard cheese dip: Add a Tablespoon or two of mustard.
Frequently Asked Questions
What is a cheese dip?
Cheese dip is a melted cheese sauce which is usually served as an appetizer alongside pretzels, tortilla chips, bread or vegetables.
What is pretzel cheese made of?
It consists of butter, cheese, milk, cornstarch and seasonings. The milk helps keep the cheese sauce in a smooth consistency.
Can I freeze the leftover cheese dip?
No I do not reccomend freezing leftover cheese dip. The texture will not be as smooth and creamy.
Make Ahead + Keep Warm
Make ahead: Prepare as directed, then store in an airtight container in the fridge. When ready to enjoy, simply heat back up on the stove or in the microwave.
Keep warm: This cheese sauce is great served right from the stove, but if it's going to be more than 10 minutes before I serve it, I like to transfer to a mini crockpot to keep warm.
5 star review
"I cannot believe how easy this was to whip up! Literally like ten minutes!!! It is so delicious and you can customize it to how you like it!"

-Lissete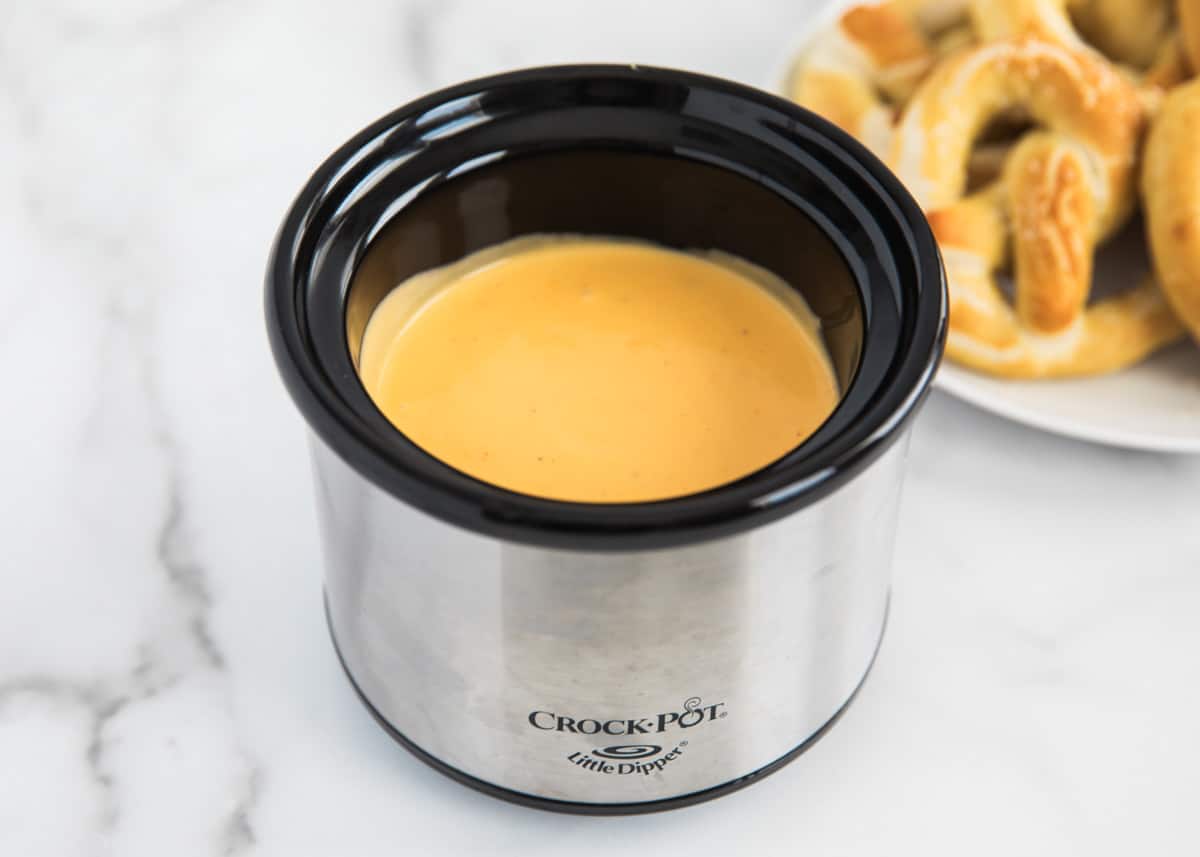 What Else to Serve with this Cheddar Cheese Sauce?
We love to use this cheese sauce for pretty much anything. It makes a great cheese fondue as well.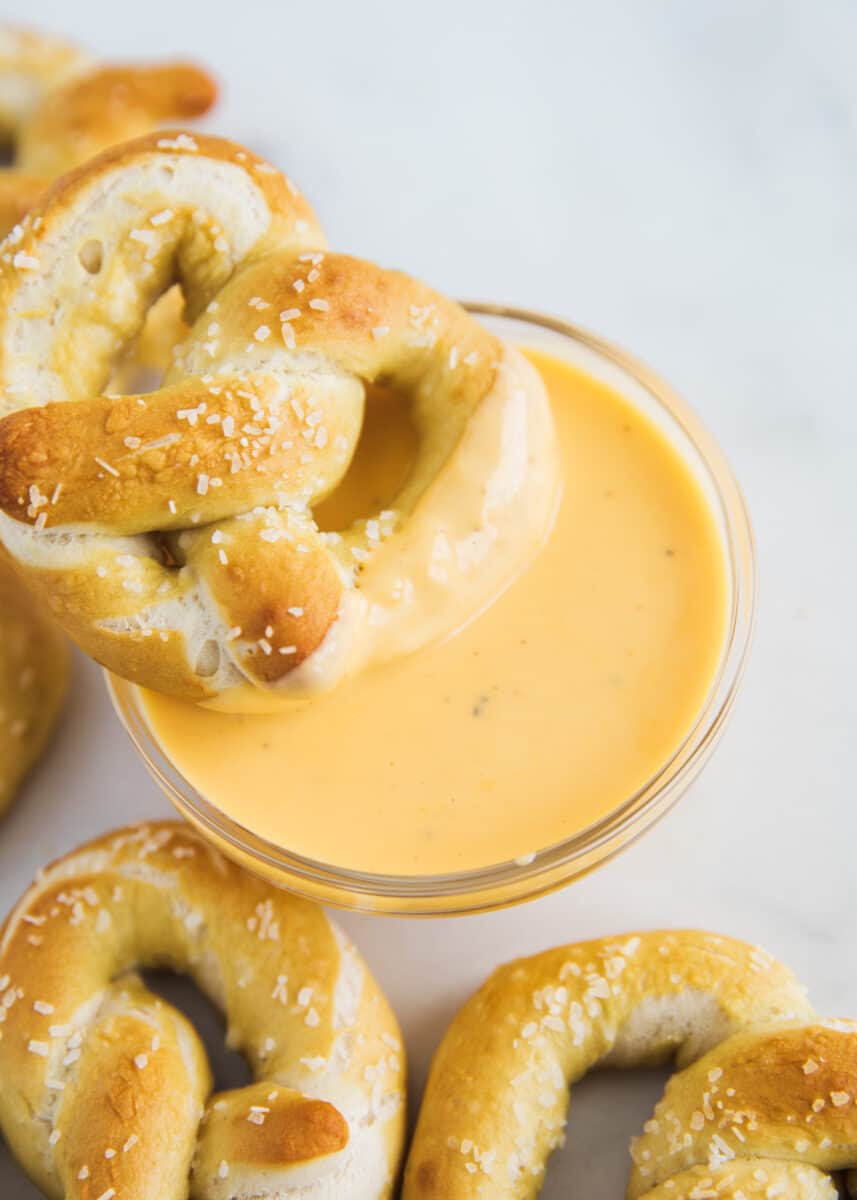 HUNGRY FOR MORE? Subscribe to my newsletter and follow on Facebook, Pinterest and Instagram for all the newest recipes!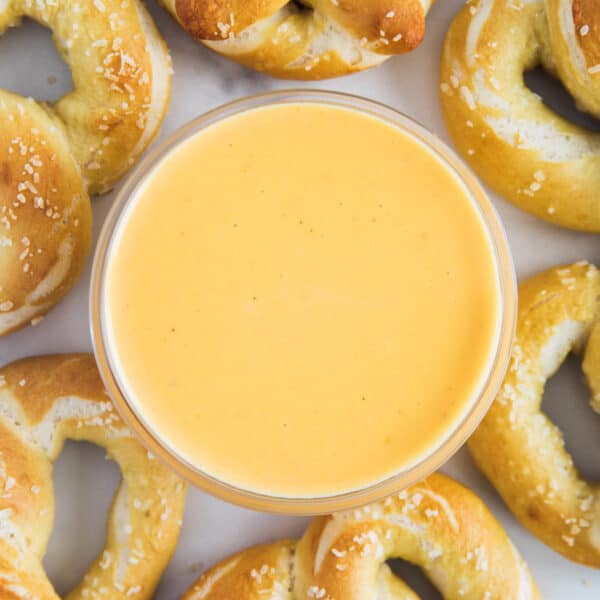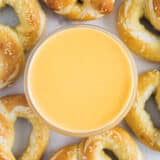 Pretzel Cheese Dip Recipe
Creamy pretzel cheese dip that's made with just 5 simple ingredients in less than 10 minutes. Once you try it, you'll make this homemade version over store bought every time!
Ingredients
1 Tablespoon unsalted butter
½ Tablespoon corn starch (or all-purpose flour)
1 cup milk , plus more as needed
8 ounces sharp cheddar cheese or Velveeta
¼ teaspoon salt
⅛ teaspoon ground black pepper
1-3 teaspoons hot sauce (I prefer Frank's) , plus more to taste
Optional: Cayenne pepper or chili powder
For serving: Soft pretzels, Tortilla chips, Vegetables
Instructions
In a small saucepan over medium heat, melt the butter. Sprinkle the cornstarch over the butter, stirring constantly, and cook for 1 minute.

Warm the milk in the microwave 15 to 20 seconds. Slowly pour the milk into the saucepan, while whisking constantly. Continue whisking until thickened (but still pourable). Watch it carefully.

Remove from heat and stir in the cheese until smooth. The sauce will continue to thicken as it cools.

Stir in salt and pepper. Add amount of hot sauce you prefer. If the sauce gets too thick, whisk in 1 to 2 Tablespoons warmed milk. Add a dash of cayenne pepper or chili powder for a little heat.

Place in a mini crockpot to keep warm and gooey. If it thickens, reheat in the microwave 15 seconds. Serve with pretzels, tortilla chips, or vegetables.
---
Notes
Cheese: If you are using processed American cheese (Velveeta) dice it up before adding. It will result in a creamier texture. If using shredded cheese, make sure to use freshly grated high quality cheese.
Spices: If you prefer a little spice, add in extra hot sauce and 1/4 – 1/2 teaspoon cayenne pepper.
Storage: This dip is best served the first day. You can store in a covered container up to 3 days in the refrigerator. Reheat in the microwave or on the stove top until warmed.
Pretzels: These are my favorite homemade pretzels and pretzel bites to serve alongside.
Nutrition
Serving: 2Tablespoon | Calories: 139kcal | Carbohydrates: 2g | Protein: 8g | Fat: 11g | Saturated Fat: 7g | Cholesterol: 35mg | Sodium: 183mg | Potassium: 47mg | Sugar: 1g | Vitamin A: 352IU | Calcium: 221mg | Iron: 1mg
Nutrition provided is an estimate. It will vary based on specific ingredients used.
Did you make this recipe? Don't forget to give it a star rating below!