Jump to Recipe⌄
Clover rice krispie treats
Thanks for stopping by! To get the newest recipes subscribe or join us on Facebook and Pinterest. Make sure to check out our recipe box too!
Over the weekend my son helped me make these cute and delicious clover rice krispie treats. I made these with my mom as a little girl and thought it would be fun to carry on the tradition. My mom always went all out for Saint Patrick's Day. Everything was magically GREEN! Her secret weapon: food coloring. Little did we know! ;)
You can find natural food dies at whole food stores or Trader Joe's. They work great!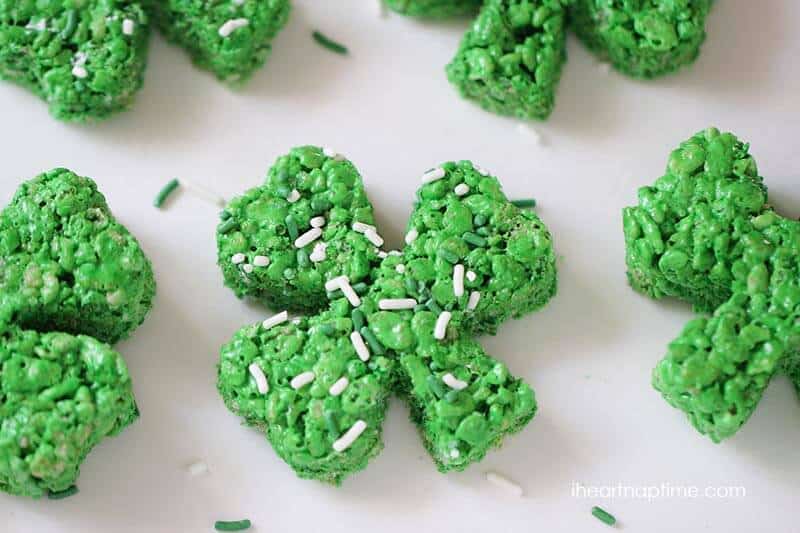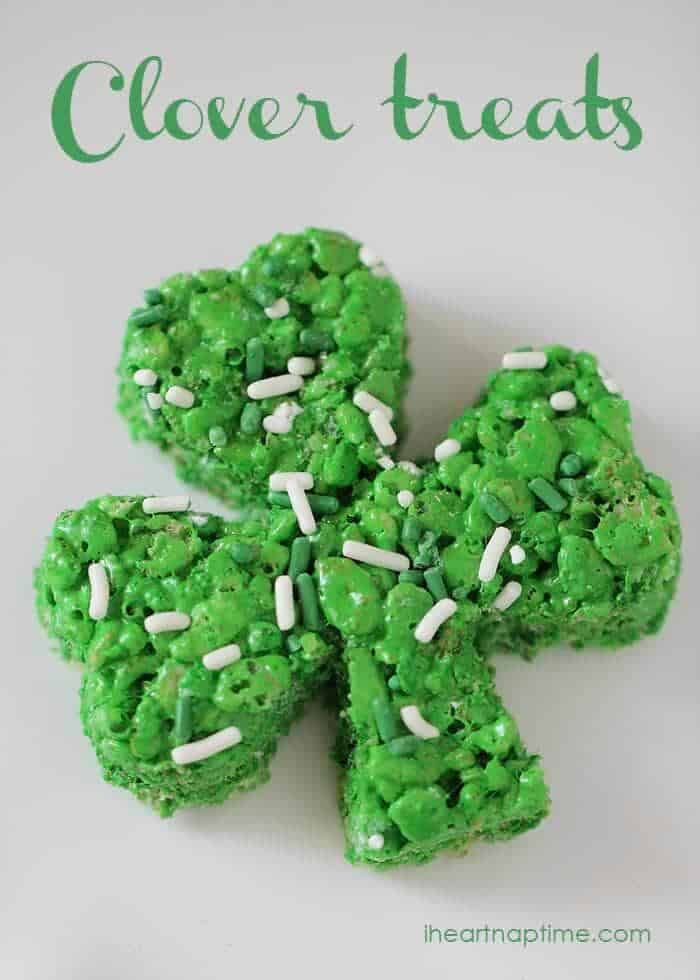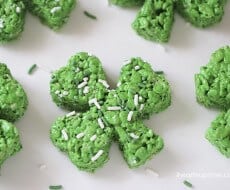 Shamrock rice krispie treats
Ingredients:
1/4 cup butter
4 cups mini marshmallows (make sure they're soft)
5 cups rice krispies
Green food coloring
Sprinkles (optional)
Directions:
1. Melt butter over low heat in a large sauce pan. Once butter is melted add in marshmallows and continue to stir until the marshmallows have melted.
2. Add in food coloring and stir until combined.
3. Remove from heat and stir in rice krispies. Stir until the cereal is coated.
4. Place rice krispie treats in a buttered 9×13 pan. Press down on the treats with a buttered spatula.
5. For the shamrocks, place a little bit of butter around the edges of the cookie cutter, then push down on the rice krispies.
6. Place shamrocks on wax paper. Enjoy!
All images and text ©

You could make these for any holiday! So many possibilites. Enjoy! :D
Looking for more Saint Patrick's Day ideas? You'll love these:
50 BEST Saint Patricks Day crafts and recipes