I'm SO excited to show you the before and after photos of our modern farmhouse kitchen from the 1888 fixer upper we remodeled.
You guys have been so patient waiting for this post. The past few months have been crazy with end of the school year stuff going on, selling this house and with the kids home now for summer, I don't have much time to sit down and write posts. I finally have an hour alone (yay!), so I'm sitting down to gather all the photos and sources for this modern farmhouse kitchen. I really love how it turned out! Maybe even more than my white and grey kitchen in our current home! ;) Let's take a tour, shall we?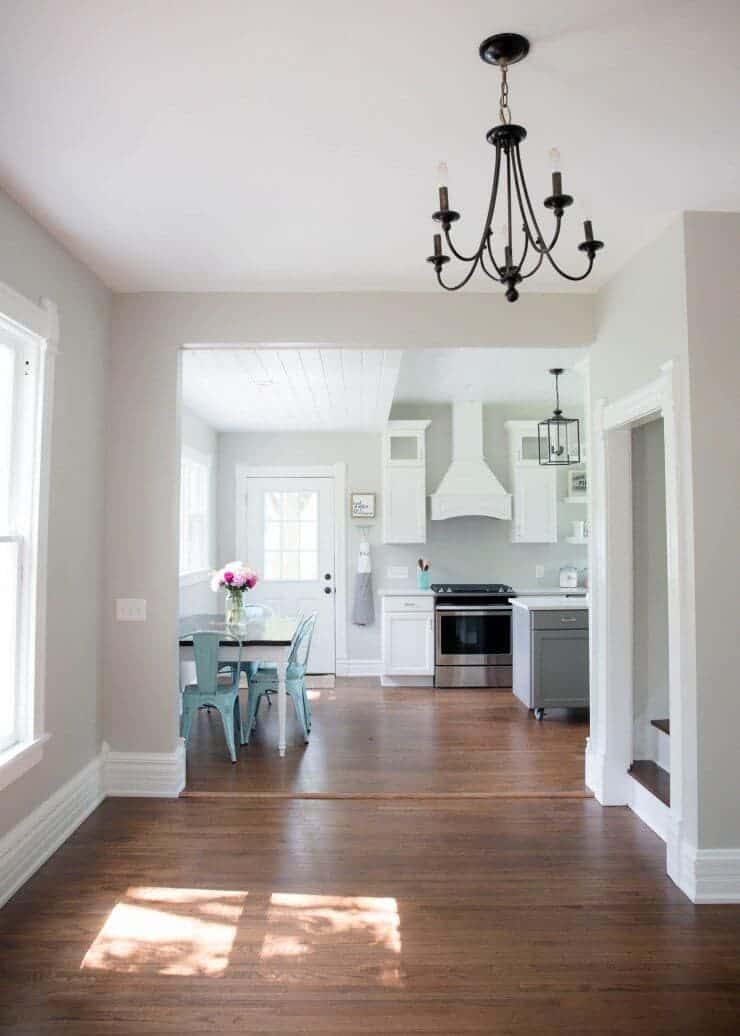 Modern farmhouse kitchen before and after
First, do you remember the before photo coming into the kitchen?! We basically knocked that wall out, had the electrical moved, a beam added and had new floors added to match the original hardwood floors from the living room. Once they were stained the same color they ended up blending really well! I love the open concept. It makes the whole house feel so much bigger.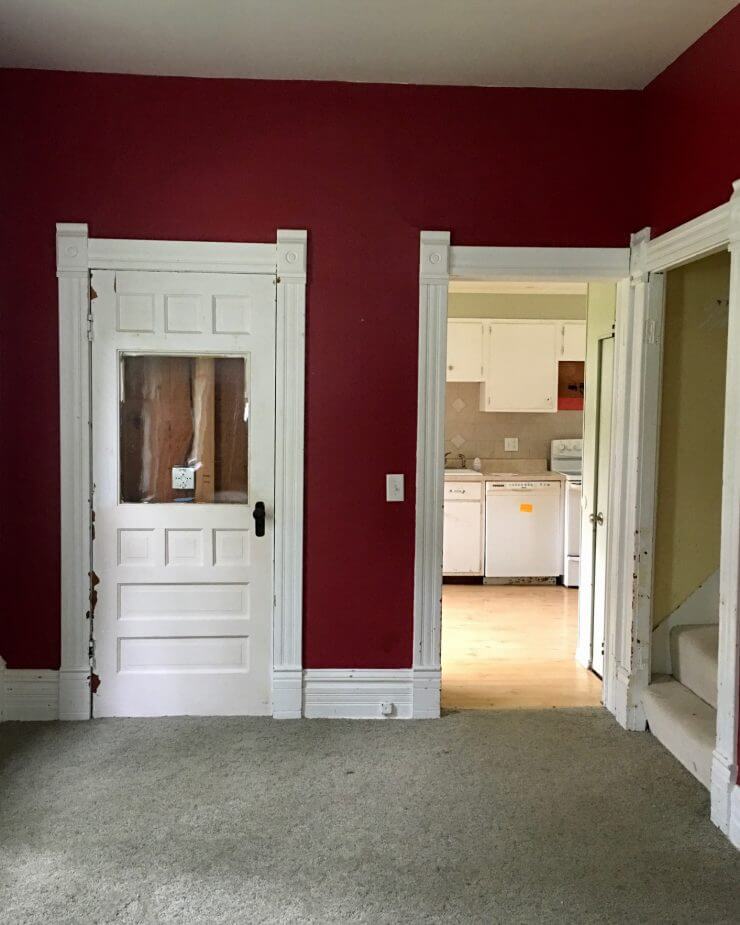 It's hard to believe this is the same space. It changed SO much! It was quite the process with way more downs than up's, but I'm so glad it's finally finished. It turned out better than I could have imagined when we first bought the home last summer!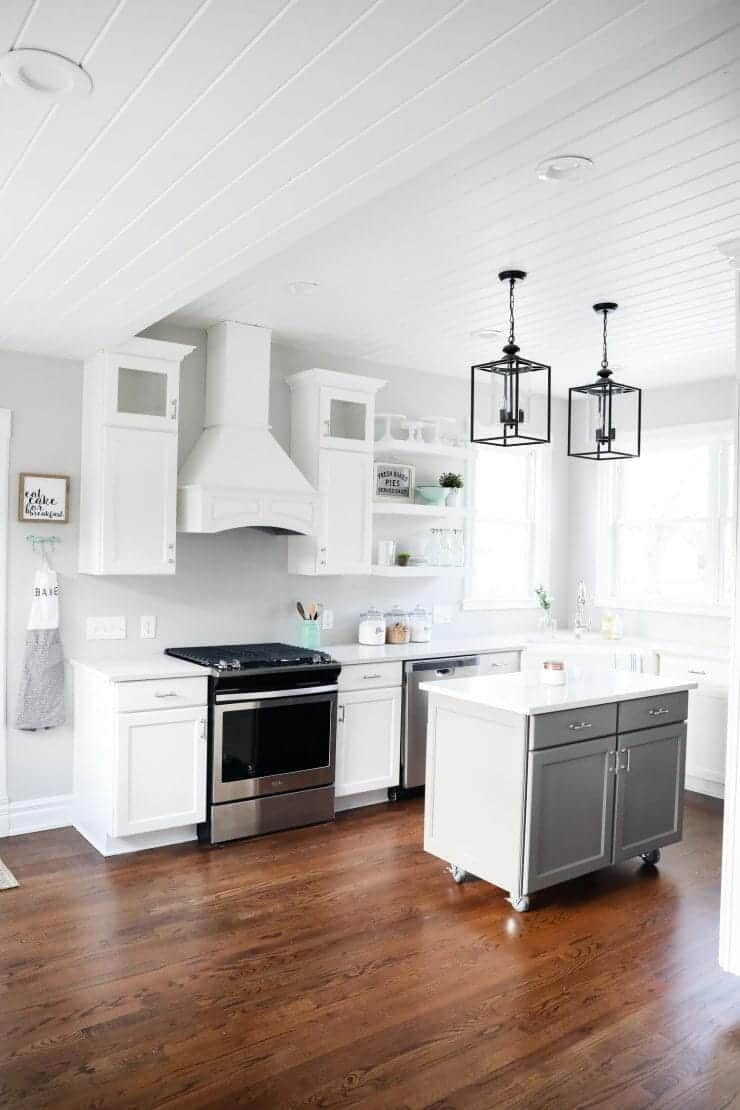 Here's another before of the side angle. Everyone said they felt like we had walked into a mobile home when they entered this room. You almost felt like you had to duck down. This kitchen was an addition to the original home, so it had absolutely no character and didn't match the rest of the home. Everything had to go STAT!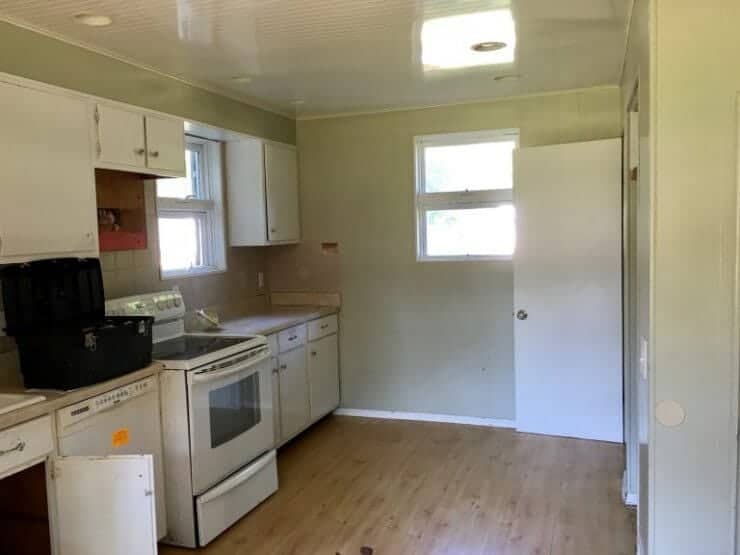 Heres a photo during the demo (even scarier)!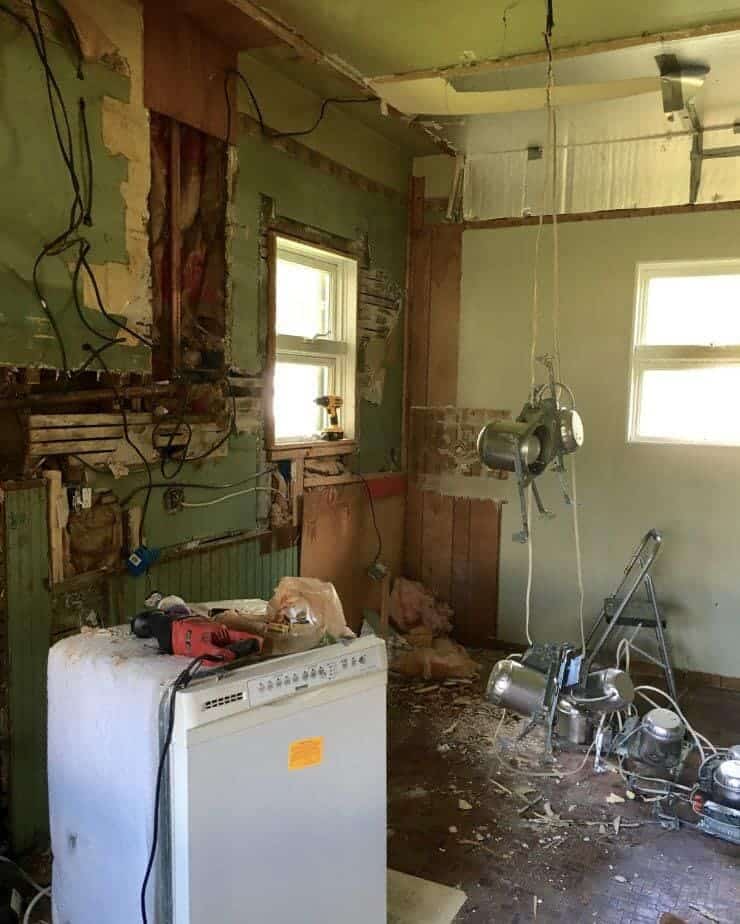 The kitchen was basically gutted and we started from scratch. I knew we needed to rework the whole space to make it functional. We (okay my husband) got everything down to the studs. We also removed the drop ceiling and gained about 2 feet, which really opened up the whole space. As you can see below, we also added two large windows and had the plumbing moved (thanks Todd) to the corner, so there could be a corner sink and lots of natural light. There's nothing better than a sink by the window to look outside while doing the dishes. We tried to have all of the trim molding match the original trim in the house. Mike and his crew did a great job with all the molding, painting and installing the cabinets in this space.
Also, can we talk about how much I love this farmhouse sink from Kohler?! I have it in my current kitchen and it is so dreamy.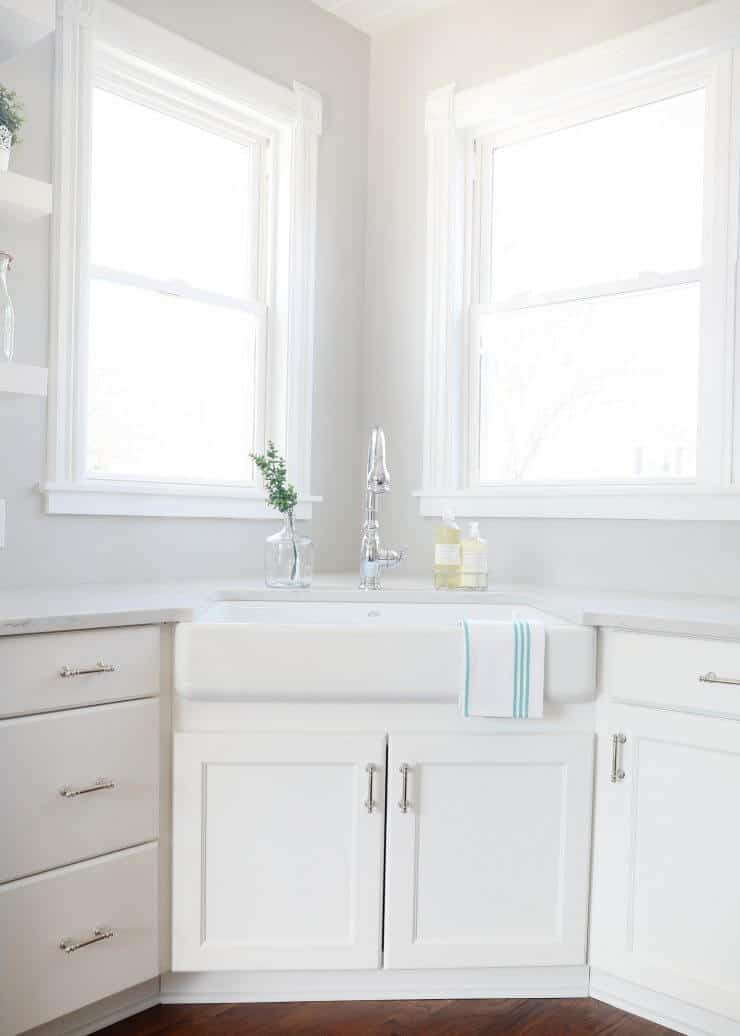 I don't want to bore you with the details/amount of work that went into renovating this kitchen. From having to remove the entire floor, re-level and pour new cement for the foundation, get new plumbing/electrical, drywall and insulation… the list goes and on. We'll just focus on the pretty stuff now. ;) The cosmetic stuff is what I loved working on!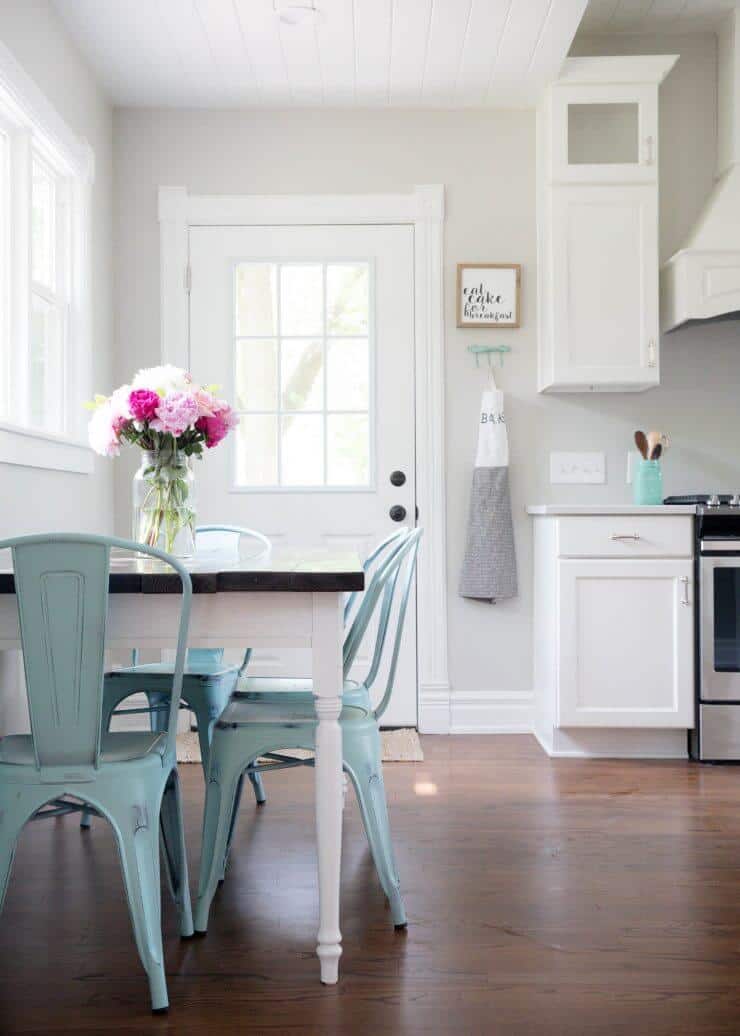 When it finally came time to decorate the space, I borrowed a lot of the furniture/dishes from my current home. You may remember this farmhouse kitchen table my husband built for me a few years back. It fit perfectly in this space. Swoon.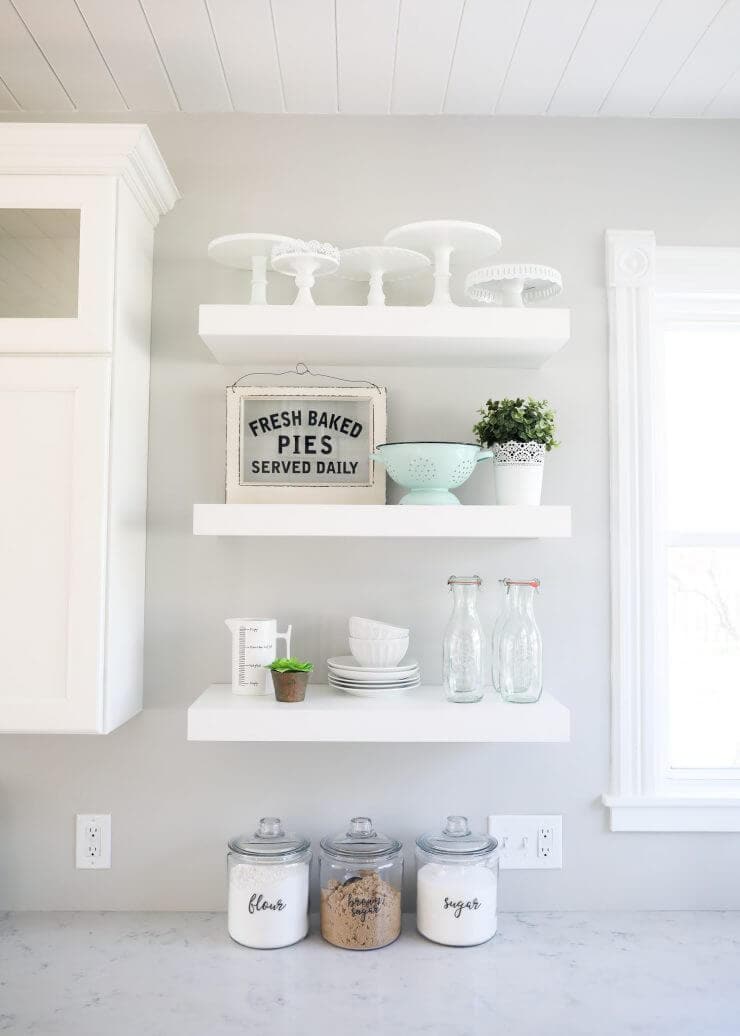 I decided to add some white floating shelves last minute and really love how they fit the space. Perfect for storing all my white cake stands. ;)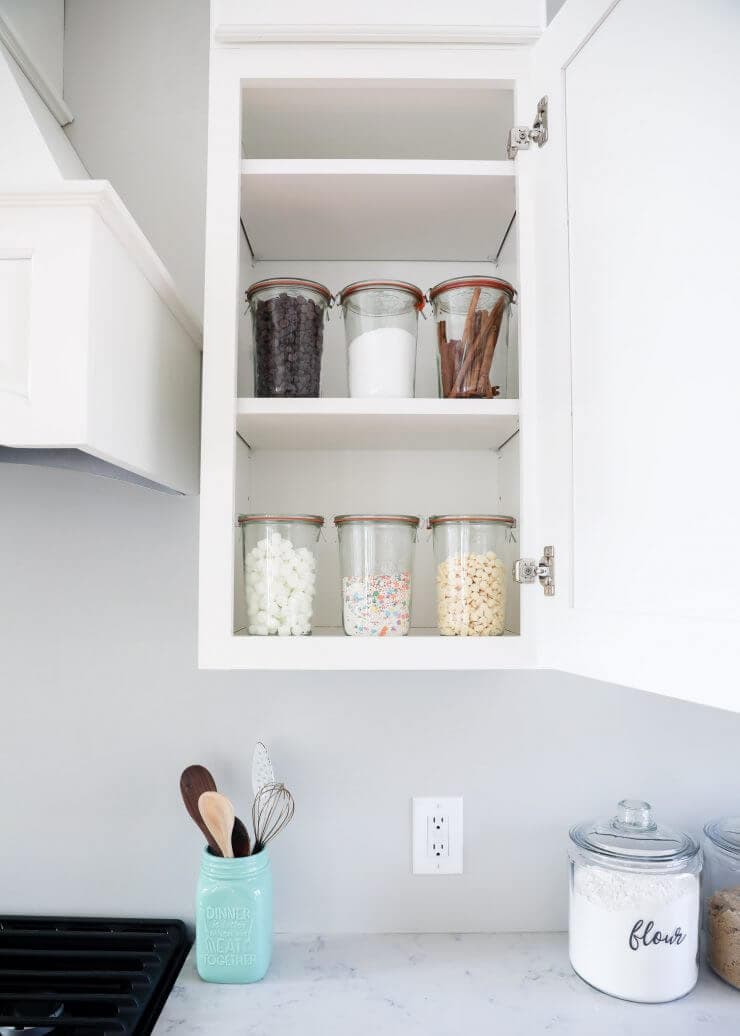 I really love the classic white cabinets we went with as well. We decided to do glass on the top cabinets to make the space feel bigger and add more storage. You just can't go wrong with white!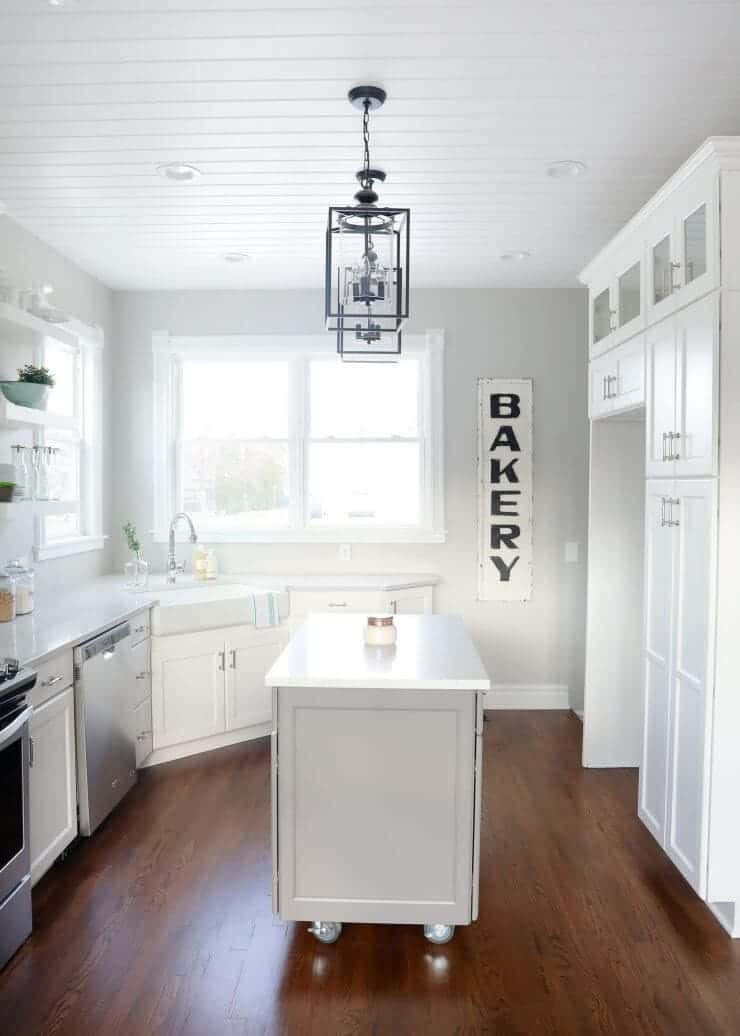 We also went with a grey island to add a little contrast and had it put on castors to make it movable. As you can see, the new windows adds SO much light to the kitchen and makes it feel so much brighter! I'm also obsessed with the plank ceiling! It really adds the character that this space needed. Our original plan was to add white subway tile on the wall with the floating shelves as well, but with so many unexpected things that came up, we had to cut that out.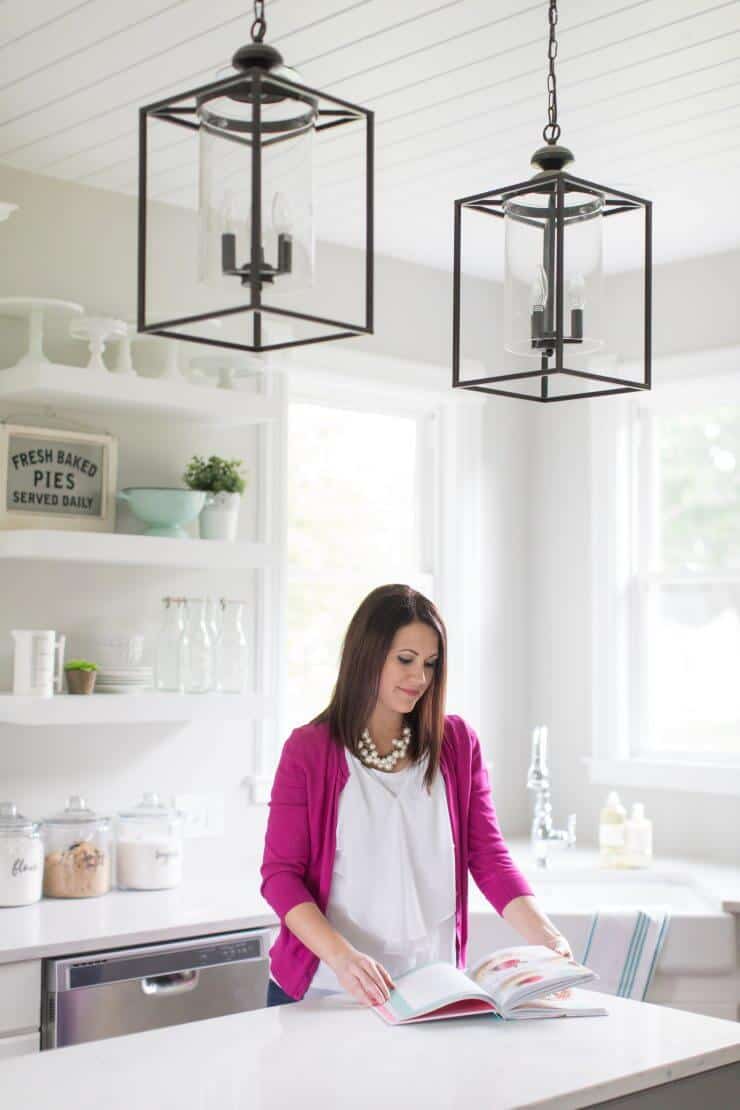 My friend Angie at Angela Gerber Photography snatched the photo above of me looking through pendant lights and decorating with the peonies, while I was taking photos! Aren't those pendant lights gorgeous?! I really love them. They remind me of the ones Joanna uses in the show Fixer Upper.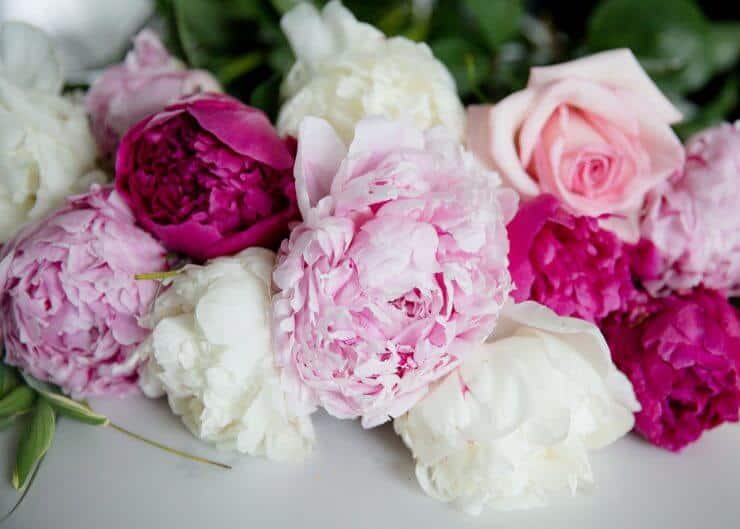 I just LOVE pink peonies and sad the season is almost coming to an end. They added the perfect pop of colors to this space.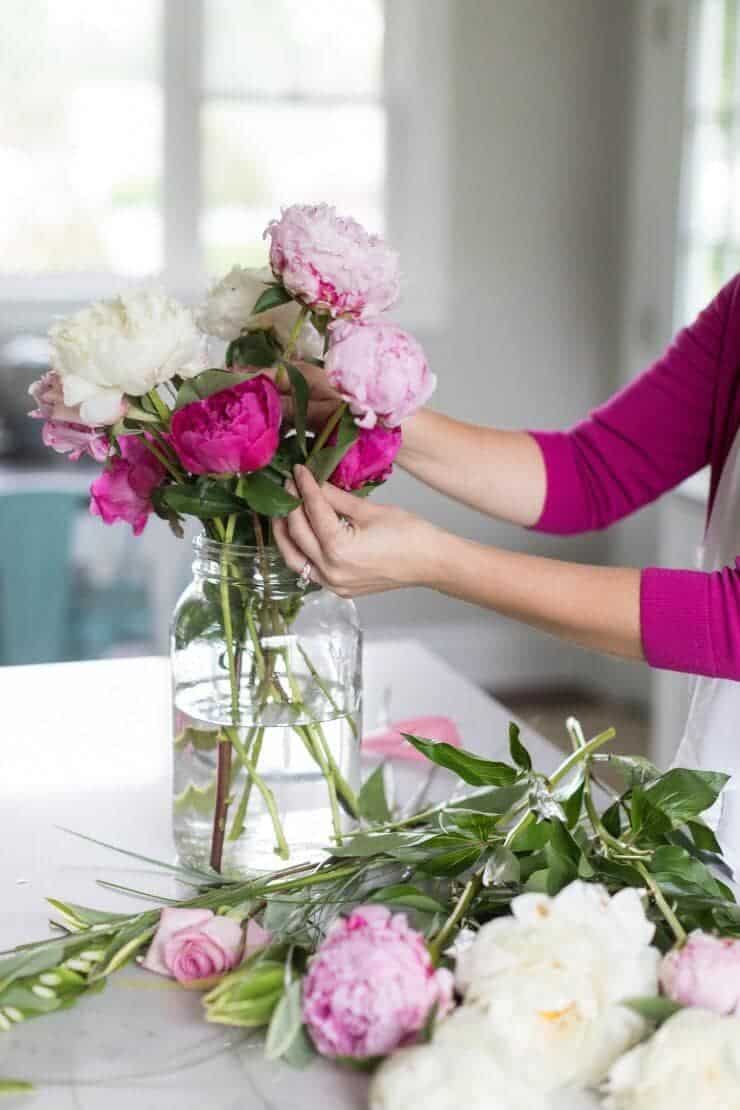 Farmhouse kitchen sources:
Wall color: Repose Gray by Sherwin Williams
Hardware for cabinets (from Home depot -the Martha Stewart brand)
Cabinetry: ordered locally
Countertops: zodiaq neve quartz
Flour jars from Target and labels from Michaels

Hope you enjoyed this tour! Leave any questions you have in the comments and we'll try to get them answered!
More posts from our 1888 FIXER UPER:
Disclosure: This post contains some affiliate links. Thanks to Kohler and Sherwin Williams for partnering with us on this kitchen.