This no knead Dutch oven bread with 4 simple ingredients and 5 minutes prep time is perfect for beginners. With a soft tender crumb, a golden crust and amazing flavor, this artisan bread can be prepped in the morning and baked on the same day.
No Knead Dutch Oven Bread
You may have never thought of making bread in a Dutch oven, but trust me, you must try it! Unlike traditional homemade bread, there's no kneading required to make this version. You simply give the dough a quick stir, let it rise, shape into a ball and then bake in the oven. The end result is absolutely perfect each time!
This bread is very similar to my favorite artisan bread, however it is cooked in the Dutch oven instead of on a pizza stone. Cooking it this way gives it a crusty outside and makes the bread super soft and tender with those nice airy holes in the center.
This is the perfect bread to make for beginners because it only takes 5 minutes to prep, you don't need any fancy bread flours and there's absolutely no kneading required. It's easy, hassle free and has incredible flavor. Take one bite and you'll be hooked!
What is No Knead Bread?
It's bread you don't need to knead! Normally, bread dough is kneaded to form gluten. With no knead bread though, the dough is very wet and sticky and this leads to gluten being developed all on it's own!
There is no need for any equipment or mixer, you just combine the ingredients and then let it rise. There is no need even for a second rise, it's so easy and hassle free! It's different than white bread with a more shaggy appearance similar to a sourdough. No knead Dutch oven bread is dense and fluffy and looks like you might have picked it up at the bakery.
Why Use a Dutch Oven to Bake Bread?
You're probably wondering what makes baking bread in a Dutch oven so special. Because the pan is enclosed, it creates extra humidity and evenly distributes the heat. The bread begins to steam, which creates a super moist and tender inside. Then the lid is removed the last few minutes of baking to create a crispy golden crust (without drying out the center).
It's the easiest way to make an artisan-style bread that yields a loaf with a crackly crust and irresistible flavor.
Recipe Ingredients
This cast iron Dutch oven bread requires only a few ingredients plus warm water and then it's hands off while it rises! The beauty of this loaf lies in its simplicity.
Flour: All-purpose flour is my first choice of flour for this recipe.
Yeast: You use either active dry yeast or instant yeast. Measurements will be slightly different.
Sugar: This helps feed the yeast.
Salt: Adds flavor to the loaf.
Variations
Bread flour: Bread can be used instead of all purpose flour. It tends to give this Dutch oven bread a slightly higher rise.
Added whole grains: You could replace up to 1 cup of the flour with whole wheat white flour, but do not make any other substitutions. This bread is best with all-purpose flour.
Cornmeal: For a more rustic appearance, before baking sprinkle your Dutch oven with cornmeal.
Mix-ins: Try some Parmesan cheese, fresh herbs, or roasted garlic for a fun variations.
How to Make Bread in a Dutch Oven
No knead Dutch oven bread recipe is simple to make with no kitchen gadgets required! Just mix, rise and then bake in your Dutch oven.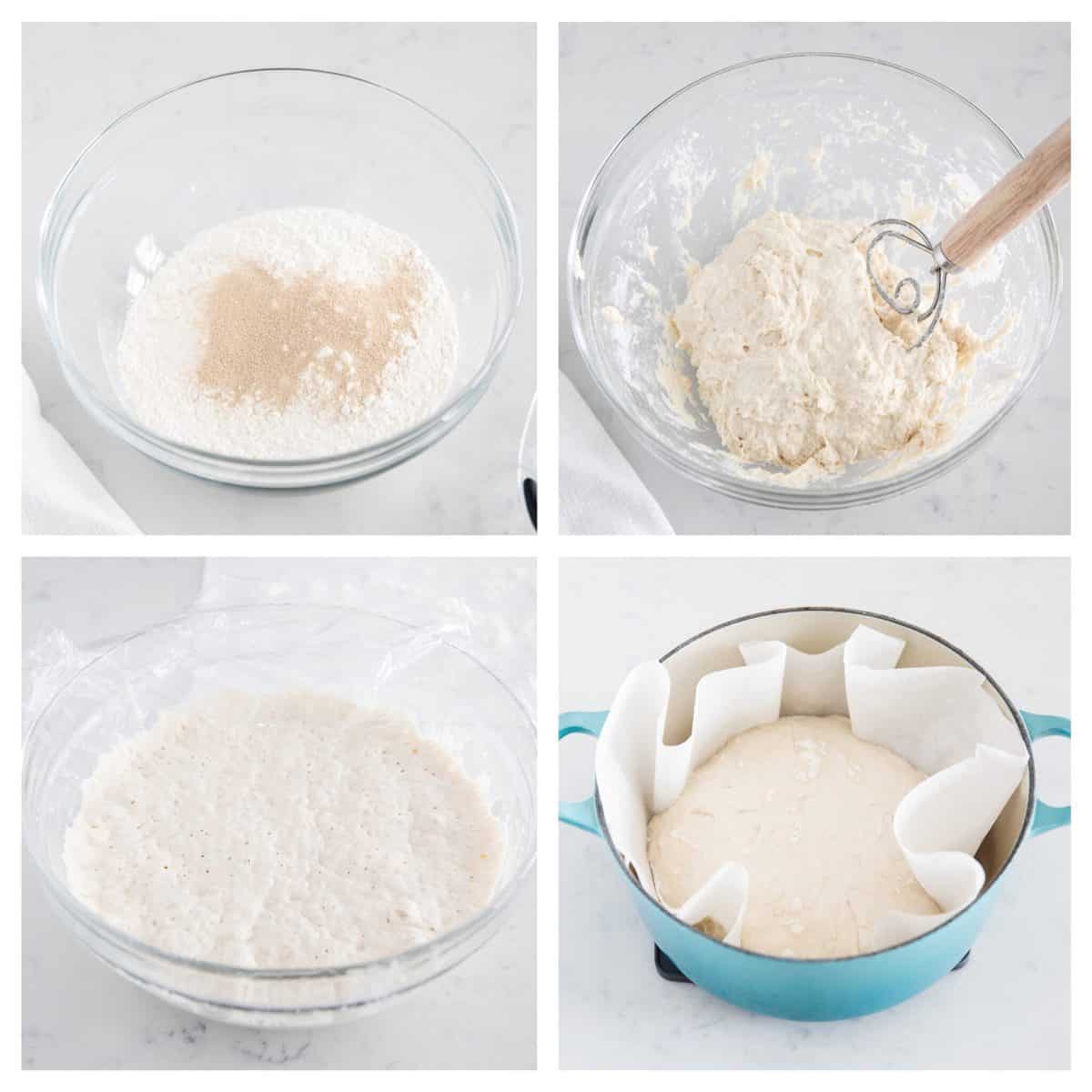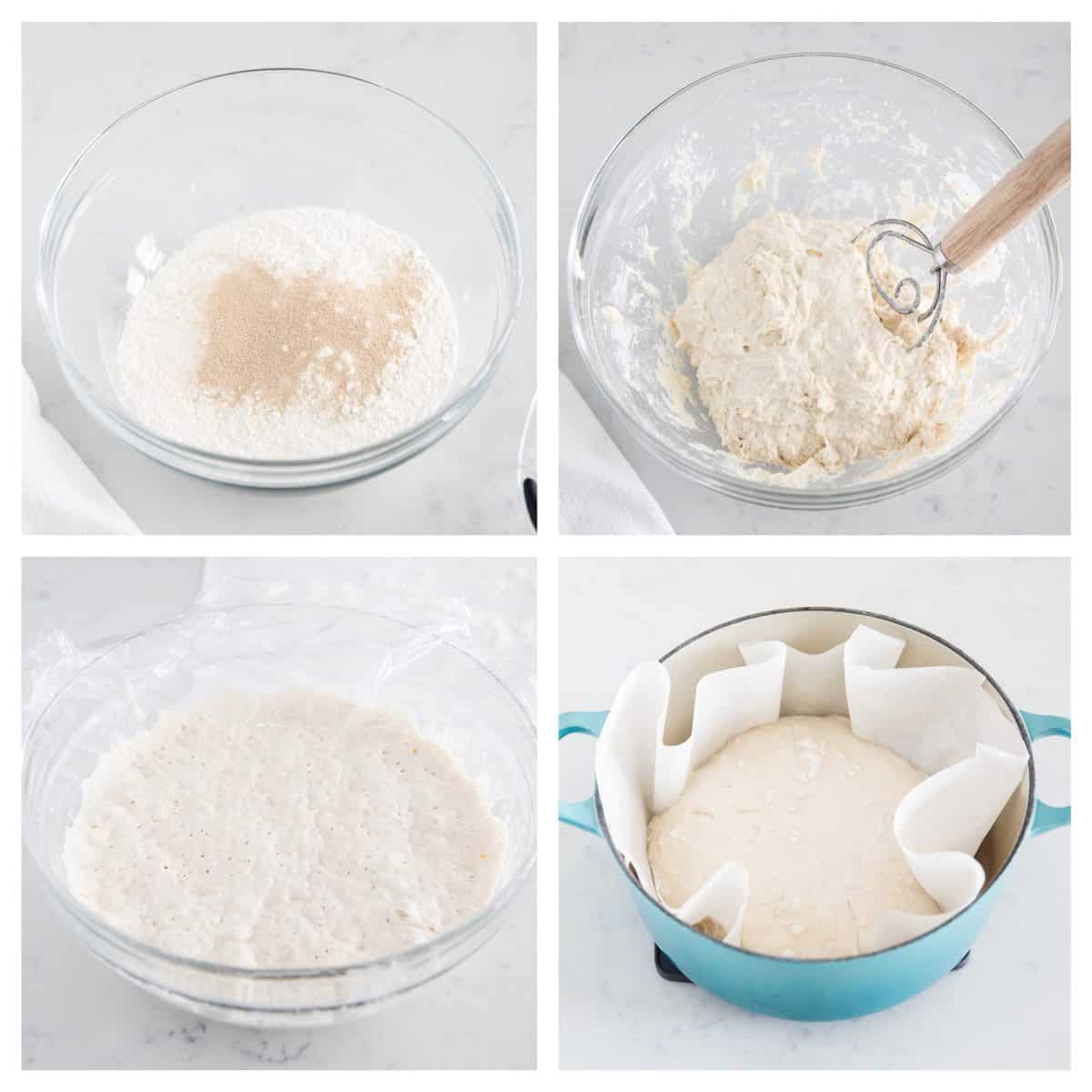 Proof yeast. Proof the yeast by adding the flour, sugar ,salt and yeast in a large bowl, then pour the warm water on top.
Mix dough. Mix together the dough until a shaggy dough forms. I like to use a dough whisk, but a spatula or wooden spoon also work great.
Rest and rise. Cover the dough with plastic wrap and let rest on the counter for about 8 hours, although it can ready to bake in as little as 3 hours.
Shape and bake: Turn the dough onto well floured surface and use your hands to quickly shape into a French boule (round ball). Cover and let rest for 30 minutes. Carefully slide your dough into your hot Dutch oven. Close the lid and place pan in oven. Bake for 35 minutes, then remove lid and bake an additional 10 to 15 minutes. Let cool and then slice and serve.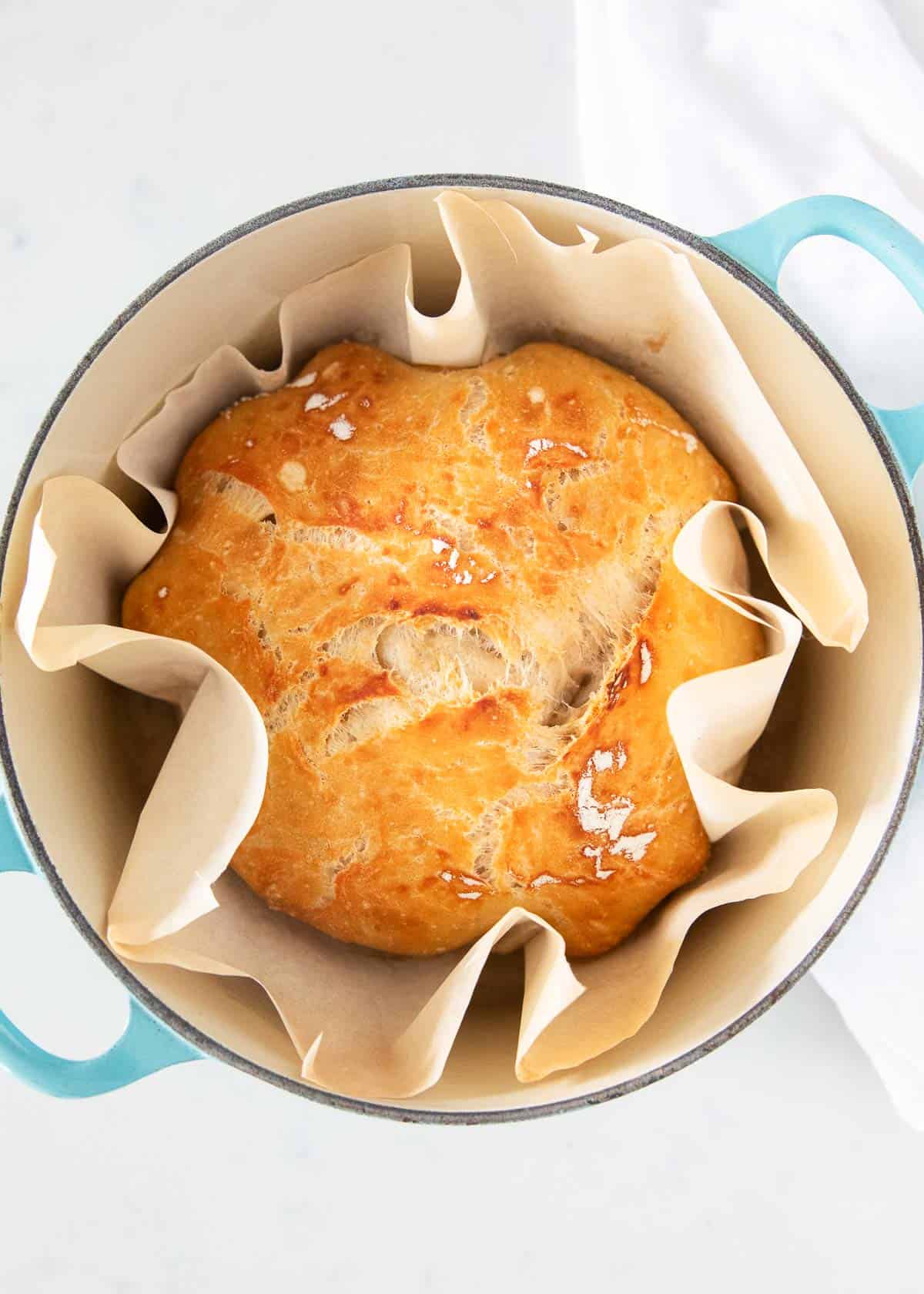 Baking Tips
Dough texture. After mixing, the dough should look shaggy and slightly sticky/wet to touch. If it's too sticky to work with, add 1-2 more Tablespoons of flour.
Rise time. The longer it rises, the more chewy and flavorful it will be. It can rise on the counter for up to 24 hours or in the fridge for up to 1 week. If you're short on time, you can bake after rising for 3 hours.
Flour your hands. Because of it's sticky texture, make sure to generously flour your hands before shaping the dough. No need to punch it down, knead or roll it out. Simply use your hands to gently shape it into a round ball.
Hollow insides. To test if it's done, knock on the bread loaf. It should sound hollow inside when knocking.
FAQs
What is the best Dutch oven for bread?
Any type will work, however you'll get the best results when using a heavier Dutch oven with thick walls. The heat holds better in this type of pan, which means your loaf will cook evenly and get perfectly crispy. This recipe is best with a 4, 5 or 6 quart dutch oven.
Do I need to score my bread?
Yes, score the bread before baking with a bread knife by making 1-3 lines across the top that are about 2-inches deep. It will help the bread rise better and create more craters in the crust.
What temperature do I need to bake Dutch oven bread at?
For both preheating your Dutch oven and baking, your oven will need to be at 450 degrees F. About an hour before baking, you'll need to heat your Dutch oven pot so that it's hot. Preheat the temperature to 450°F and place your Dutch oven (with the lid) in the oven. Let it heat in oven for at least 30 minutes.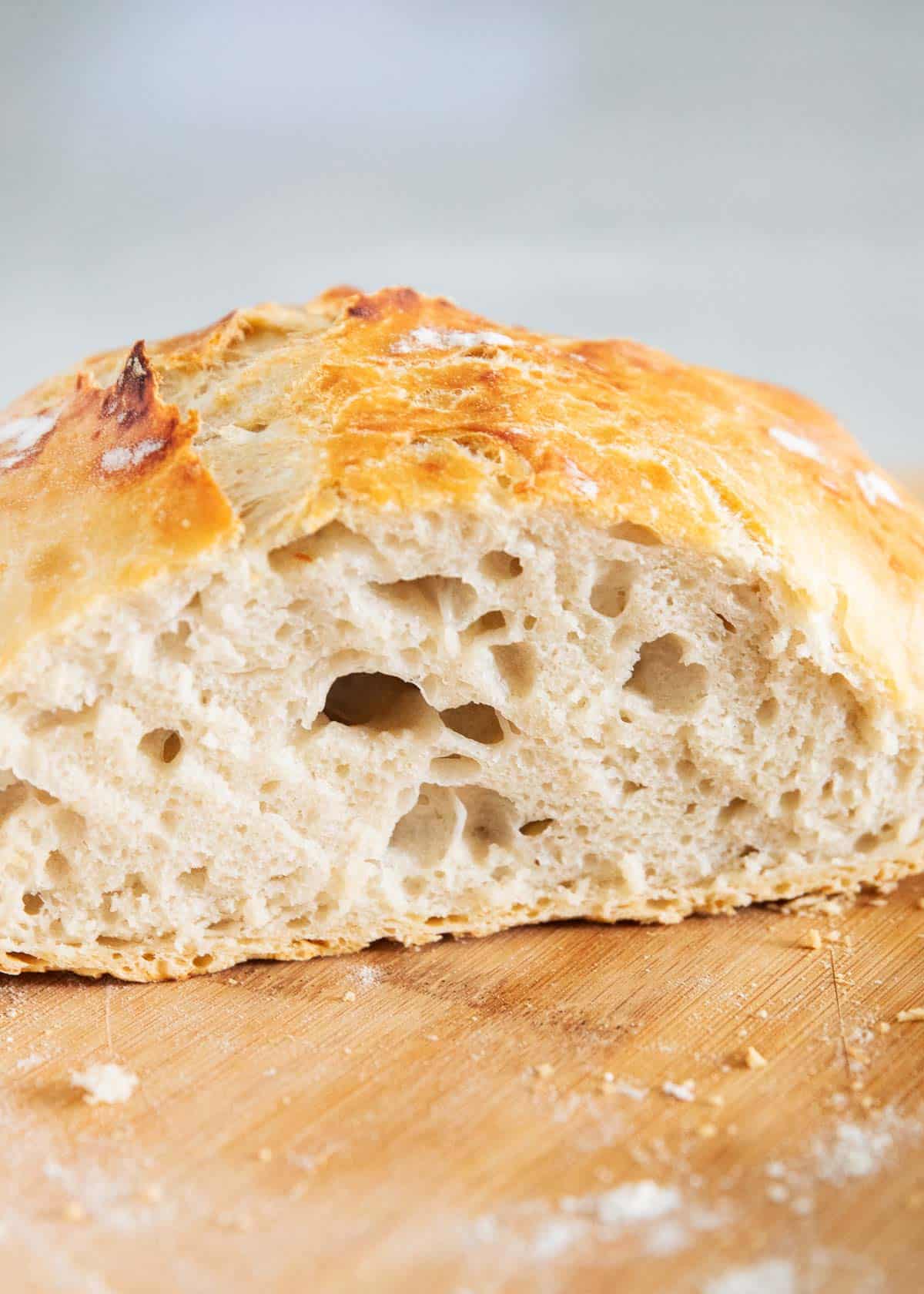 Serving Suggestions
This easy no knead bread recipe is a favorite! Everyone who tries it loves it. It's amazing slathered with butter, goes perfect with a warm bowl of soup or just dip it into olive oil with some balsamic.
It tastes great when used for a chicken salad sandwich! Here are some favorite recipes to pair with this artisan no knead bread:
Storing Dough and Baked Bread
If you had good intentions to bake your bread at night but ran out of time, simply store the dough in the refrigerator up to 1 week! When you are ready to use it, bring it to room temperature, let it rise again, then proceed with baking it in your preheated hot Dutch oven.
For best results, store the Dutch oven bread in a paper bag so that it doesn't soften. Do not store in a plastic zip top bag, as it will trap moisture and make the crust soft and soggy. The paper bag let's more air in, keeping the crust crispy and delicious.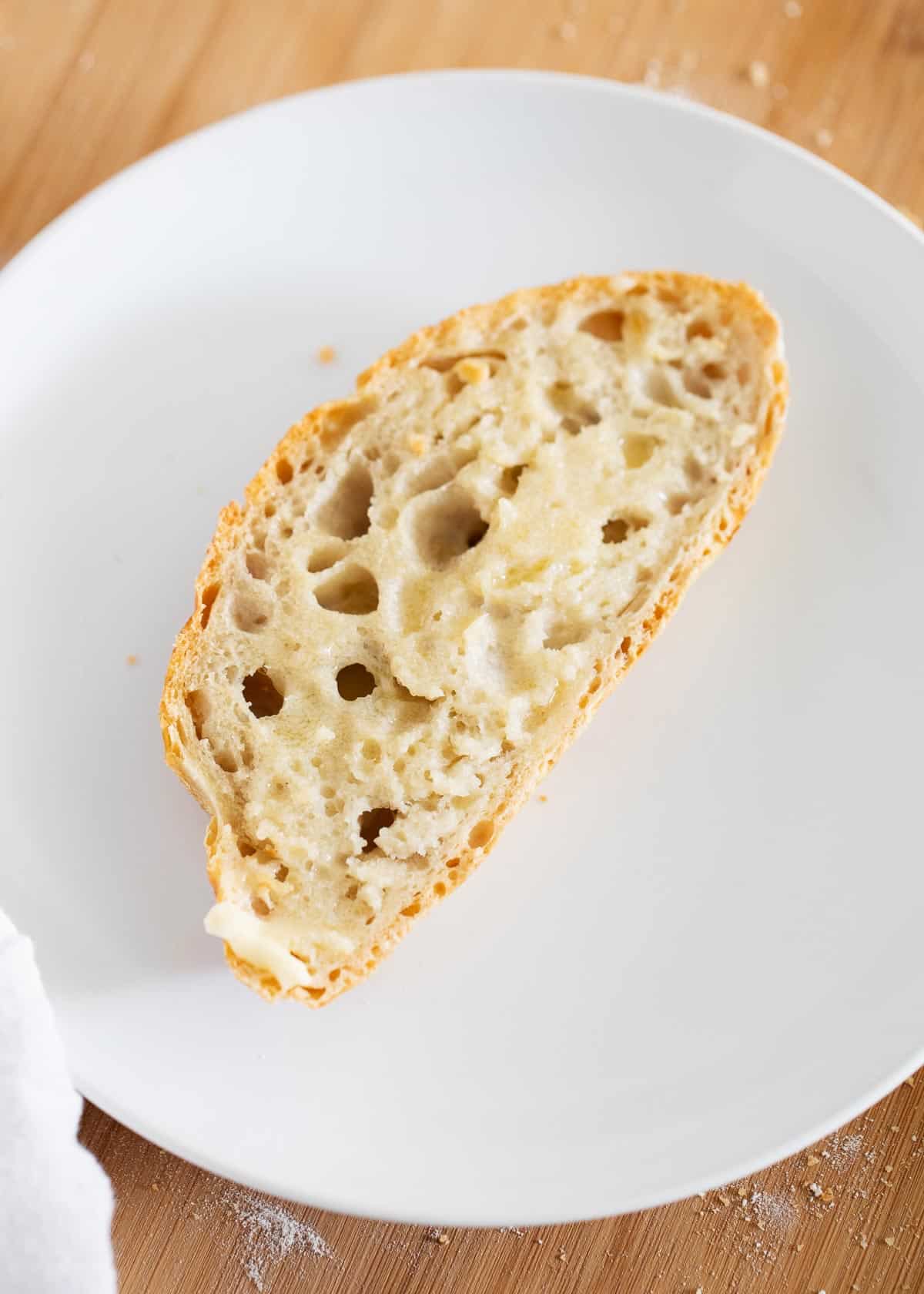 HUNGRY FOR MORE? Subscribe to my newsletter and follow on Facebook, Pinterest and Instagram for all the newest recipes!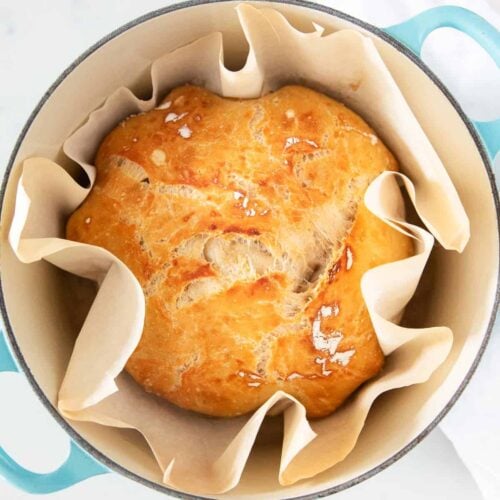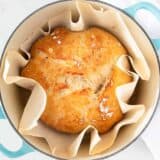 Dutch Oven Bread
This no knead dutch oven bread with 4 simple ingredients and 5 minutes prep time is perfect for beginners. With a soft tender crumb, a golden crust and amazing flavor, this artisan bread can be prepped in the morning and baked on the same day.
Ingredients
4.5 cups (585 grams) all-purpose flour (more for dusting)
1 Tablespoon (15 grams) sugar
2 ½ teaspoons (14 grams) fine sea salt
¾ teaspoon (2 grams) active dry yeast (or 1 teaspoon instant yeast)
2 ¼ cups (17.8 ounces) warm water (105°F)
cornmeal , optional
For serving: Butter and/or Jam
Instructions
Make dough:
Place the flour, sugar, salt and yeast in a large bowl. Then pour the warm water over top. Then you can use a dough whisk, spatula, wooden spoon or your hands to mix together. Stir until a shaggy dough forms and the dough is combined. The dough should be wet and STICKY, but add a Tablespoon or two more flour if it's too sticky to handle.

Once the flour is all mixed in, cover with a towel or plastic wrap spayed with nonstick spray. Leave on the counter and let rise for 8-24 hours. If you're short on time, you can bake as soon as 3 hours (I prefer to make in the morning and bake in the evening). You can also refrigerate it for up to 7 days.
Shape:
Generously flour the counter and your hands (use about 1/4 cup). Then turn the dough onto the counter. The dough will be sticky. Do not punch it down, knead it or roll it out. Gently and quickly work the dough into a French boule (round ball) by pulling the ends into the center. Then place into a glass bowl. Lightly dust the top with flour. Cover and let rest for 30 minutes while the oven preheats.
Preheat:
Preheat the oven to 450°F about 1.5 hours before serving. Place a 4-6-qt dutch oven (with the lid on) into the oven for 30 minutes to get hot.
Bake:
Remove the dutch oven from the oven and sprinkle some cornmeal into the bottom of the pot or a piece of parchment paper. Then carefully pour the dough into the pan. Use a bread knife to add 1-3 lines across the top if desired. Cover with the hot lid and bake for 30 minutes, or until it's starting to turn golden. Remove the lid and bake an additional 15-20 minutes or until golden brown. When you knock on the bread, it should sound hollow.

Allow the bread to cool on a cooling rack atleast 30 minutes before slicing (the middle will finish cooking while it cools, so make sure to give it time to rest).
---
Notes
Artisan bread: Don't have a dutch oven? Try my 3 ingredient artisan bread.
Storage: Store in a paper bag (so it doesn't soften) for up to 4 days. Freeze up to 3 months.
Nutrition
Calories: 114kcal | Carbohydrates: 24g | Protein: 3g | Fat: 1g | Saturated Fat: 1g | Sodium: 293mg | Potassium: 33mg | Fiber: 1g | Sugar: 1g | Calcium: 6mg | Iron: 1mg
Nutrition provided is an estimate. It will vary based on specific ingredients used.
Did you make this recipe? Don't forget to give it a star rating below!