This is the BEST homemade bread recipe that's super soft and tender. It makes the perfect sandwiches and freezes well too. Top it with butter and fresh homemade jam for the ultimate bread.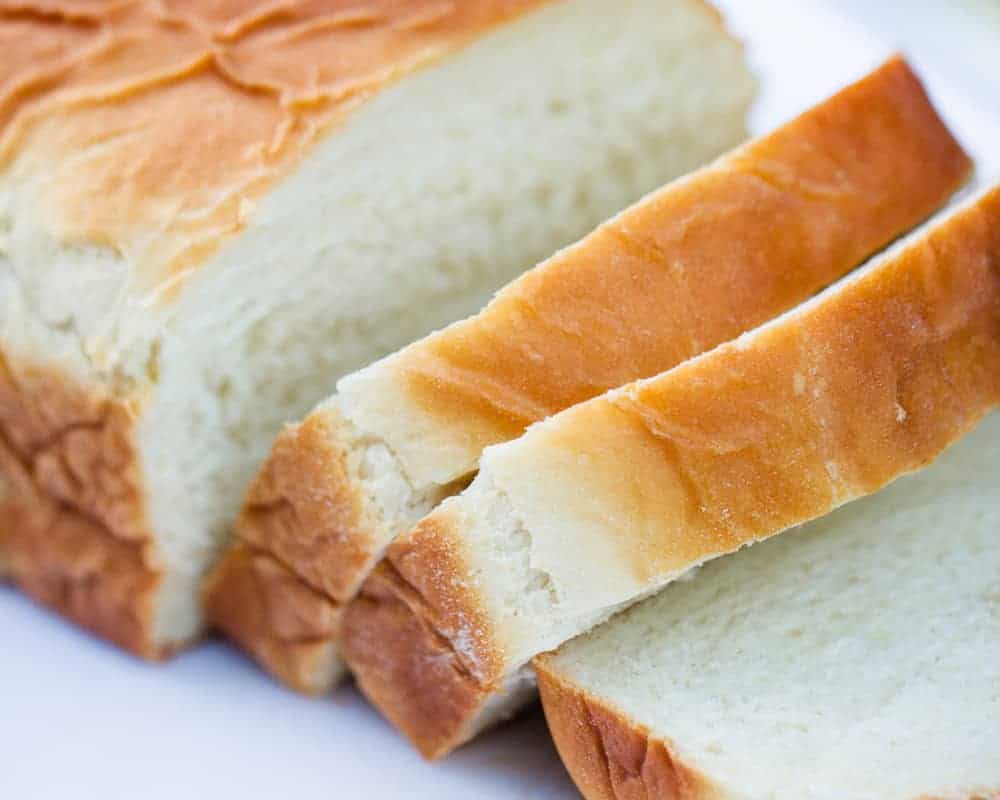 Tried and True Homemade Bread
There really is nothing better than a warm slice of bread with butter on top. While I love making my homemade french bread, dinner rolls and artisan bread, I tend to make this white bread recipe for my family the most!
I learned to make this bread when I was 12 and have been making it ever since. It has the perfect texture. I even made a whole wheat version, but this original recipe will always have my heart!
There is one secret ingredient that certainly takes it over the top! The evaporated milk adds the perfect flavor. This bread goes great with dinner but also makes a great sandwich for lunch. You might as well go all out and even top it with homemade strawberry jam!
I'm excited to share all my bread making tips with you. Don't let yeast intimidate you. Seriously there is nothing better in my opinion than a warm loaf of homemade bread. You will be a pro in no time.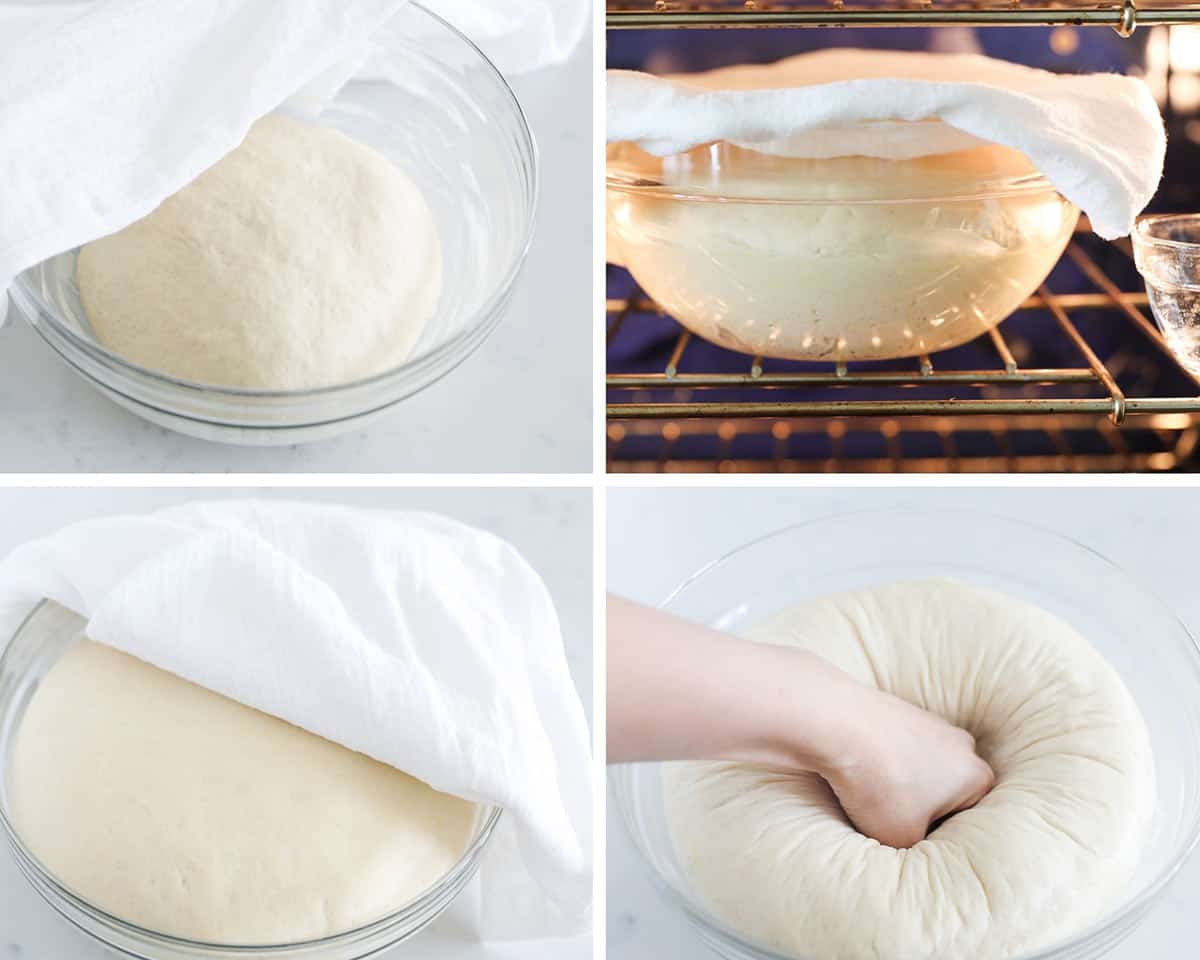 Ingredients
Scroll below to find the full printable recipe.
Warm water: The water temperature is key. If it's too hot, it will kill the yeast. I like to keep it around 105°F.
Active dry yeast: Make sure you are using fresh yeast. If your yeast is old, your bread will not rise.
Granulated sugar: This adds the perfect sweetness.
Butter: The butter adds the perfect flavor.
Salt: This salt will bring all the flavors together.
Evaporated milk: This is the secret ingredient that really adds the perfect flavor and tenderness. You can substitute with milk if needed.
Flour: I've made this recipe with bread and all-purpose flour, both will work well. Be careful not to add too much, add slowly at the end.
How To Make Homemade Bread
Here are a few tips on how to form the bread. Scroll down for the printable recipe with ingredients.
Proof the yeast: Let the yeast bubble up in warm water. You want the yeast mixture to be foamy and dissolved before you add to the flour.
Mix together: Add a little more flour and keep mixing until the dough comes off the edge of the mixer. You know it's done when your finger no longer sticks to the dough.
Rise once: While you're letting the dough rise, cover the bowl with a warm towel and set by a window. You can also turn the oven to 175°F and then turn it off. Then place the bowl inside the oven and let it rise there. Make sure the dough has doubled in size before touching it.
Shape the dough: When the dough is ready to be formed, punch the dough and then cut in half to make two loaves on a floured surface. Press the dough down removing any air bubbles and start kneading for a couple minutes. Form a loaf and tuck the ends under.
Rise again: Stick the two loves in bread pans and then let the dough rise until it has doubled in size or formed the perfect size bread.
Bake: Then it's ready to bake! Bake until golden brown and then butter the tops.
Does weather affect bread making?
When making homemade bread, both the weather outside and temperature of your house can make a difference in the overall consistency and how it rises. Here are a few tips for both humid and cooler weather.
Humidity: You may need to mix in a bit more flour so that your dough isn't too sticky. Add ¼ cup at a time, until the dough no longer sticks to the sides of your mixer (and your finger doesn't stick to the dough when you press on it).
Cooler weather: If your house is on the cooler side, your dough can take a lot longer to rise. Whenever I bake bread in the winter, I let it rise in the oven (as mentioned above).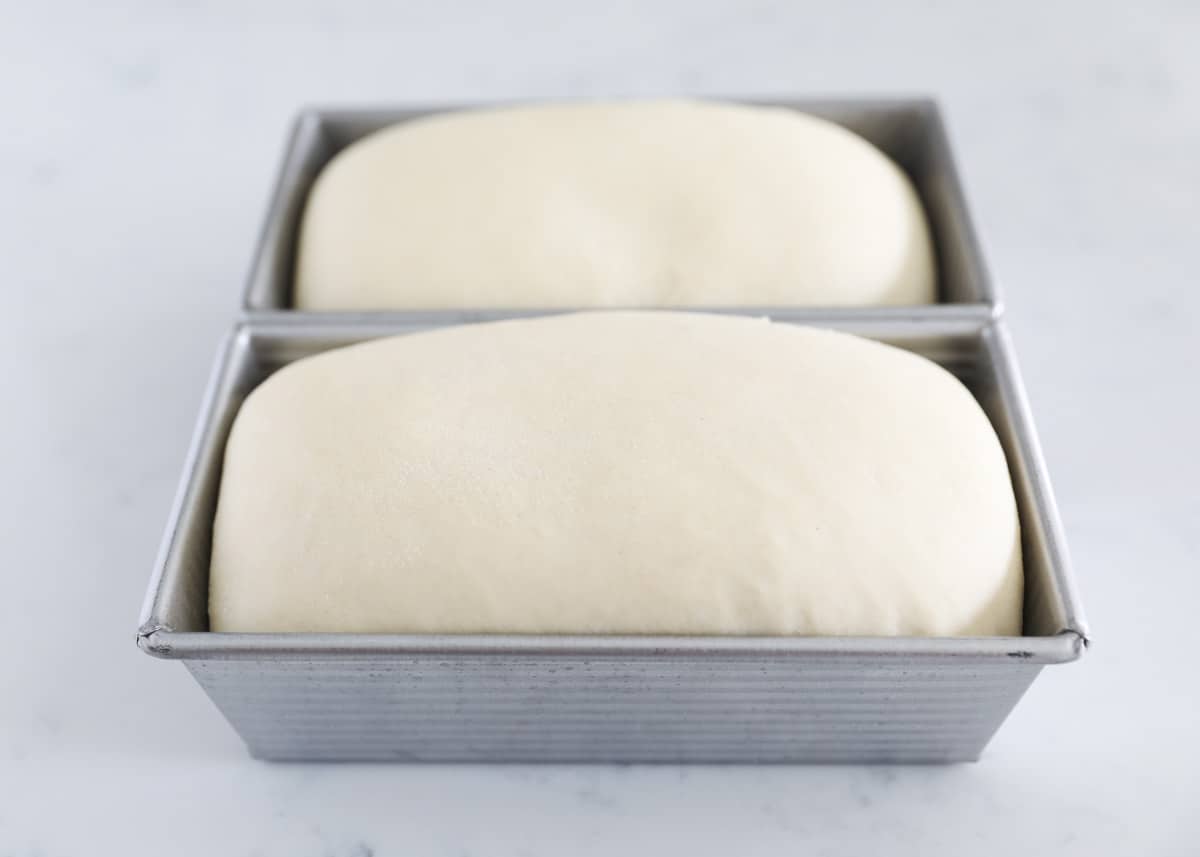 Helpful Tools
FAQ's
What kind of yeast did you use?
I use active dry yeast. You need about 2 1/2 teaspoons to make 2 loaves.
Can I use all-purpose flour?
Yes! I just prefer using bread flour when making this recipe, but all purpose tastes great too. Make sure you accurately measure the flour before getting started.
Can you use regular milk instead of evaporated?
Yes you can use regular milk, I just prefer the flavor with evaporated. It makes the bread more rich.
Can I cut the recipe in half?
Sure! Just simply cut the ingredients in half to make 1 loaf instead of 2.
Can I use a bread machine?
Although I haven't tried, others have had success using a bread machine to make this recipe.
5 star review
"I tried various recipes when I decided to make bread for my family instead of buying it from the store. This one is by far the best! The loaves are soft and fluffy every time. The whole family enjoys it and my kids say it tastes better than store bought. I use regular milk and it turns out perfect."

-Amanda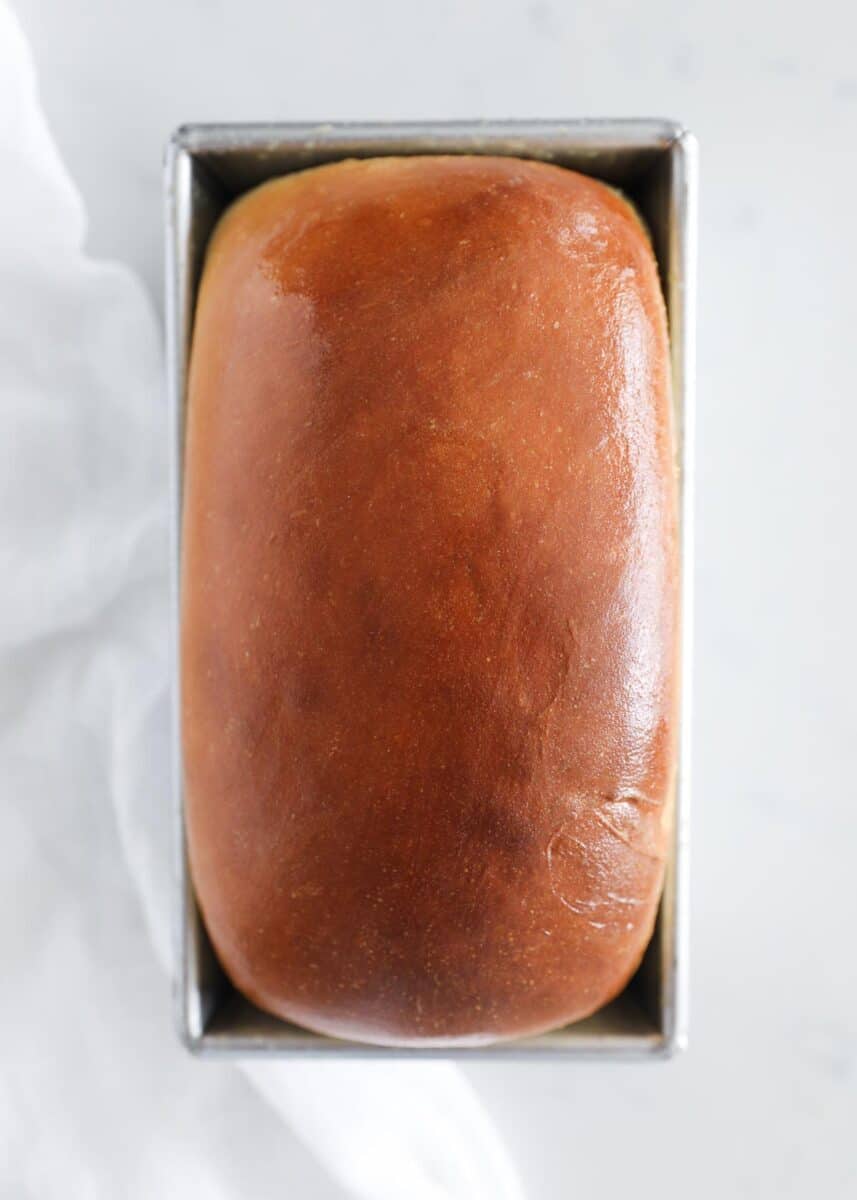 Storage + Freezing
The bread will keep for up to 5 days if stored in an airtight container or bag. It will also stay fresh if tightly wrapped in foil.
To freeze the bread after it's been baked, simply let cool completely then wrap in foil or saran wrap. Then stick in a freezer bag. Freeze for up to 3 months. You can also freeze the dough after it rises the first time. Just make sure to let it rise again as it thaws.
Favorite Ways to Use Homemade Bread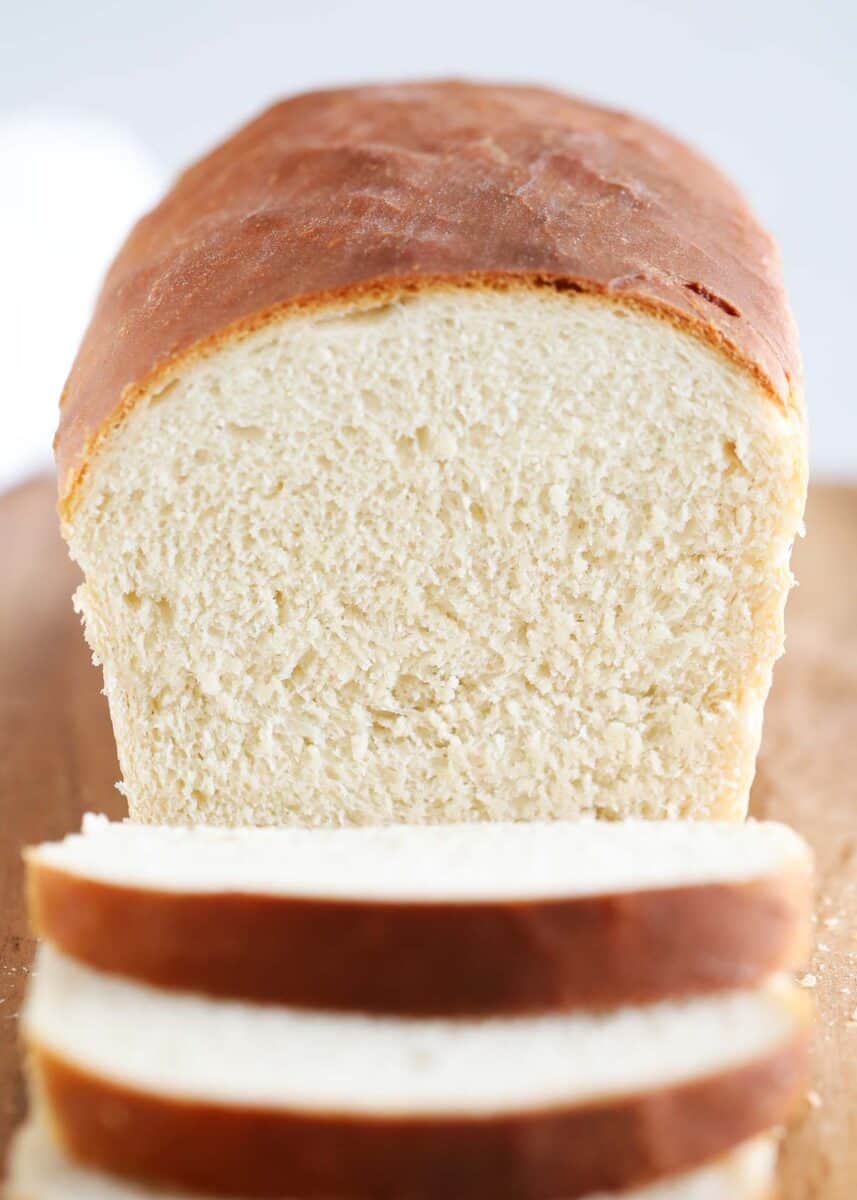 More Homemade Bread Recipes:
HUNGRY FOR MORE? Subscribe to my newsletter and follow on Facebook, Pinterest and Instagram for all the newest recipes!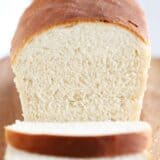 Homemade Bread Recipe
Look no further, this is the BEST homemade bread recipe! It's perfect for sandwiches, super soft and freezes well. Great for beginners and experienced bakers.
Ingredients
Proofing yeast
2 ½ teaspoons active dry yeast
½ Tablespoon granulated sugar
2 cups warm water , 105°F
Bread
¼ cup melted butter , plus 1 Tablespoon for brushing on top
¼ cup granulated sugar
1 Tablespoon Kosher salt
½ cup evaporated milk
5-7 cups bread flour , or all-purpose
1 Tablespoon shortening , or butter
Instructions
Proofing the Yeast: place the yeast and sugar in a small bowl. Pour the warm water over the yeast mixture and let it sit for 5-10 minutes, or until nice and bubbly. If it doesn't foam, restart. The water was either too hot or the yeast was not fresh.

Combine: In a large mixing bow, combine melted butter, sugar, evaporated milk and salt. When your yeast mixture is bubbly then add in and mix just until combined.

Knead: Using a stand mixer, put on your bread hook and then pour in 3 cups of flour. Then add in 1 cup of flour at a time and mix. When you get to 6 cups of flour in the bowl, add in 1/2 cup more of flour at a time until the dough is no longer sticking to the sides. You'll know it's ready when your fingers no longer stick to the dough. You can knead by hand if needed.

Rise: Cover the ball of dough and sides of the bowl with shortening or butter and cover the bowl with a warm towel. Set by the window and allow it it rise for an hour, or until doubled. When it has risen over the bowl, punch it down and place on a floured surface.

Roll: Knead the dough for 2-3 minutes. Cut dough into two pieces and roll them out into a rectangle. Roll the dough up and tuck the ends under. Then place into 2 greased bread pans.

Bake: Preheat oven to 375°F and place the rack in the middle. Let the bread loaves rise in the pan about 30 minutes. When it looks like a good loaf of bread, place them in a preheated oven and cook for 25-35 minutes. If the tops are browning too fast, place a piece of foil on top.

Serve: When the bread is done, coat the top with butter and remove onto a cooling rack. Slice once slightly cooled. Enjoy with butter and jam.
---
Notes
Flour: I prefer to use bread flour for this recipe, but you can definitely use all-purpose flour as well. If you'd like to use wheat flour, I suggest using my whole wheat bread recipe.
Rising tip: Turn the oven to 175°F. Then turn off the oven and let the dough rise in the oven with the door slightly cracked.
Storage + Freezing: The bread will keep for up to 5 days if stored in an airtight container or brown bag. To freeze the bread, let cool completely then wrap in foil or saran wrap. Place in a freezer bag. Freeze for up to 3 months. Thaw the night before serving.
Nutrition
Calories: 103kcal | Carbohydrates: 16g | Protein: 2g | Fat: 2g | Saturated Fat: 1g | Cholesterol: 5mg | Sodium: 239mg | Potassium: 34mg | Sugar: 2g | Vitamin A: 65IU | Vitamin C: 0.1mg | Calcium: 14mg | Iron: 0.2mg
Nutrition provided is an estimate. It will vary based on specific ingredients used.
Did you make this recipe? Don't forget to give it a star rating below!