Jump to Recipe⌄
How to make Homemade Bread {my fav recipe}
Thanks for stopping by! To get our newest post make sure to subscribe (for free!) or like us on facebook or pinterest.
Hello September! I'm so glad you're here! Tis' the season to start baking!! Who's excited?! Me! This is my favorite time of year.
Today I'm going to share one of my absolute favorite homemade bread recipes! I first got this recipe from a sister in my church probably 10 years ago when I was still in school. She taught me and a few other young woman in my church how to make homemade bread and we all loved it! I've adapted a little over the years and this recipe has been requested many times!
It had been awhile since I made this recipe, so I decided to whip up a batch a last week. It is truly my favorite bread recipe. It has the perfect sweet touch. There is one secret ingredient that certainly takes this bread over the top!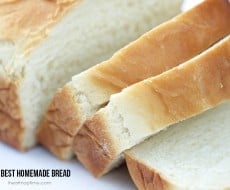 Homemade bread
Ingredients:
2 cups warm water
2 1/2 teaspoons active dry yeast
1/2 Tablespoon sugar
1/4 cup melted butter
1 Tablespoon salt
1/4 cup sugar
1/2 cup evaporated milk
5-7 cups of bread flour, white or wheat will work too (can use more if needed)
1 Tablespoon shortening (or butter)
1 Tablespoon butter, melted (to top bread)
Directions:
1. Place the yeast and sugar in a small bowl. Pour the warm water (not too hot) over the yeast mixture and let it sit for about 10 minutes, or until nice and bubbly.
2. Combine melted butter, sugar, evaporated milk and salt into a large mixing bowl. When your yeast mixture is ready add them together and mix.
3. If you are using a stand mixer put on your bread hook and then pour in 3 cups of flour. If not you can stir/kneed it as well. Then add in 1 cup of flour at a time and mix. When you get to 5 cups of flour in the bowl, add in 1/2 cup more of flour at a time until the dough is no longer sticking to the sides. You'll know it's ready when your fingers no longer stick to the dough.
4. Then cover the ball of dough and sides of the bowl with shortening and cover the bowl with a warm towel. Set by the window and allow it it rise (about 1.5 hours). When it has risen over the bowl punch it down and place on a floured surface.
5. Kneed the dough for 2-3 minutes.
6. Cut dough into two pieces and roll them out into a rectangle. Roll the dough up and tuck the ends under. Then place into 2 greased bread pans.
7. Let the bread rise again, and when it looks like a good loaf of bread place them in the oven at 375 degrees for 25 minutes. When the bread is done, coat the top with butter and remove onto a cooling rack.
Enjoy!
All images and text ©
How to make Homemade Bread Video


How to make homemade bread
Now that you have my favorite bread recipe here are a few tips on how to form the bread. These tips can be used with any bread recipe. :)
Let the yeast bubble up -the higher the better!
Add a little more flour and keep mixing until the dough comes off the edge of the mixer. You don't want it to be too sticky or too hard. Soft.
While you're letting the dough rise, cover the bowl with a warm towel and set by a window.
Make sure the dough has doubled in size before touching it.
When the dough is ready to be formed, punch the dough and then cut in half to make two loaves on a floured surface.
Press the dough down removing any air bubbles. Form a rectangle as you're pressing it down.
Roll the rectangle up like a cinnamon roll.
Tuck the ends under and it's ready to rise again.
Stick the two loves in bread pans and then cover with seran wrap that has been buttered and sprayed with non-stick spray.
Let the dough rise until it has doubled in size or formed the perfect size bread. Then it's ready to bake!
Once the bread comes out of the oven spread butter on top! If you're making homemade bread… you might as well go all out and even top it with homemade strawberry jam! ;) Seriously there is nothing better in my opinion than homemade bread! Give it a try! So so good!
So have you made homemade bread? What are your tips?
Looking for more bread recipes? You'll love these too: