Rosemary focaccia is a traditional Italian flatbread lightly seasoned with fresh olive oil, rosemary, and sea salt, baked until golden brown. One of my favorite easy to follow bread recipes to make on Italian night!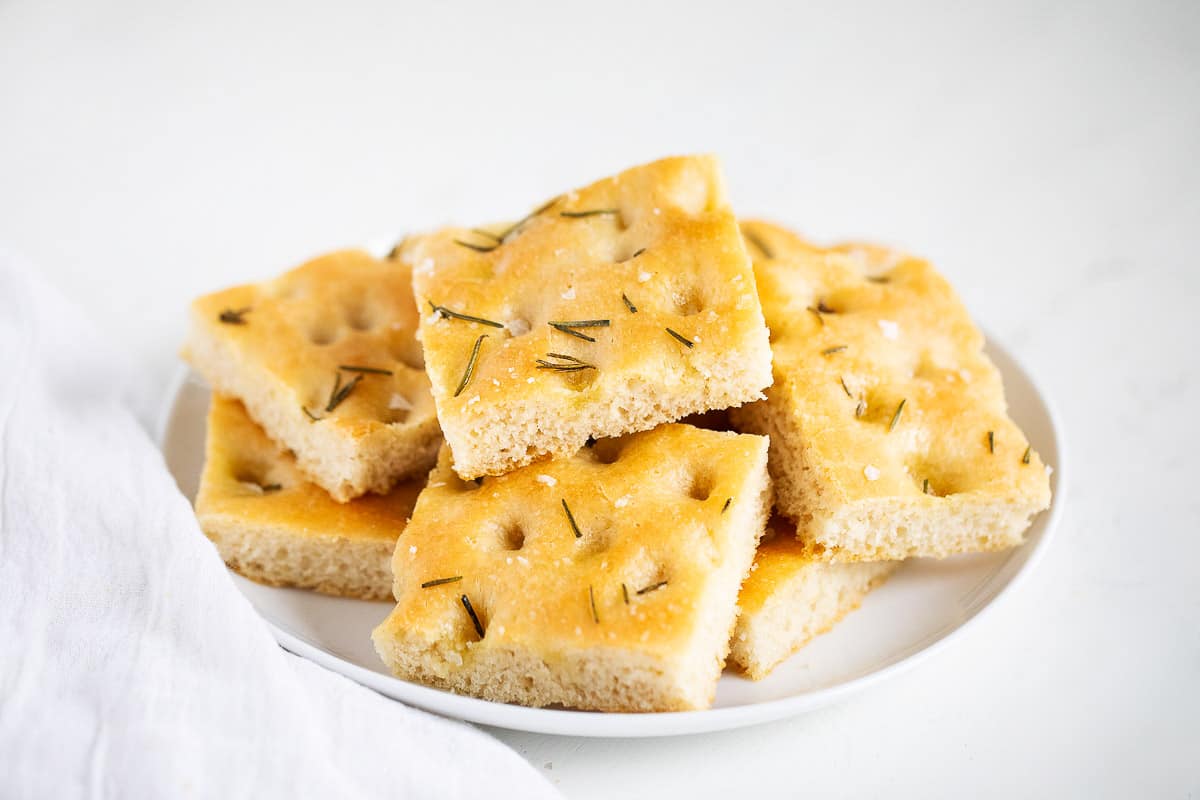 Rosemary Herb Focaccia
Focaccia bread may remind you of pizza dough and although it's slightly different, you can definitely use it for that when topped with your favorite toppings. It's also great for sandwiches, bruschetta, or to scoop up remaining marinara sauce left in your bowl. But really, it is so delicious all on its own you honestly don't need an added reason to eat it!
Bring a little taste of Italy into your kitchen with this traditional flatbread. This homemade focaccia may seem complicated but it's actually very easy to make. Follow this simple step by step guide to working with yeast which results in a bread that is light and airy on the inside with a crispy golden exterior and those signature finger grooves right on top!
If you're trying your hand at bread making from scratch for the first time, this is the one to try. It's just the rise time that will require a bit of patience but I promise it'll be worth the wait. Trust me, everyone needs a basket of fresh-baked bread on their dinner table!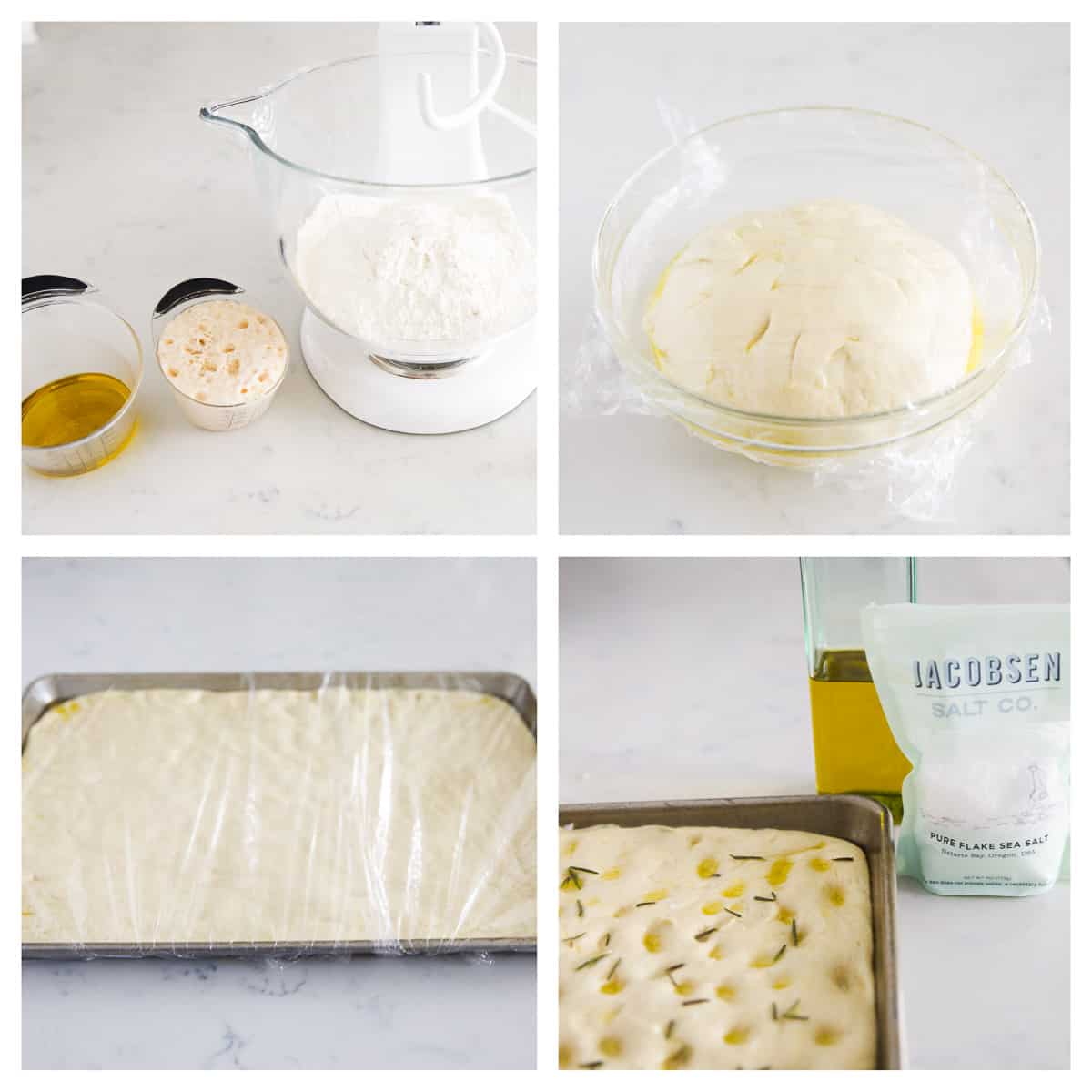 How to Make Rosemary Focaccia
Prep. Yeast thrives in warmth, so you'll want to use warm (almost hot, but not too hot) water when combining with the active dry yeast and sugar. Set aside in a small bowl and cover with plastic until yeast is foamy and activated. If it doesn't activate it means your yeast is no longer usable and you may need to go grab some fresh yeast.
Combine and Knead. In the bowl of a stand mixer, with the dough hook attached, combine the bread flour and salt. Add activated yeast into the flour and turn the mixer on low. Slowly add remaining water and olive oil minus a bit of the oil. Turn speed to medium and continue to knead until the sides have pulled away from the bowl. At this point, your dough should be soft and not sticky. If it is you can add a bit more flour. You can knead this by hand but you'll need to account for the extra time and energy. A stand mixer is much more convenient but doing it without one is great if you've missed arm day at the gym!
Cover. Transfer the dough to a bowl that has been coated with oil. Making sure to roll the dough around the oil to get all sides lightly coated. Cover with plastic wrap and allow to sit in a warm draft-free area until doubled in bulk.
Roll out. Drizzle a jelly pan with a bit of oil, dump the dough out onto the pan, and press out the dough to fill the edges of the pan. If you find that it is resisting a bit and bouncing back, let it rest as it is for a few minutes and try again. This usually means your gluten is too tight and allowing it to sit at room temperature for a bit should help with that.
Cover. Once again, cover and let it rise. Preheat the oven with 20 minutes left in the rise time.
Dimple the dough. This is the fun part! You know those fun dimples and grooves that are so distinct in focaccia? This is done by pressing all five of your fingertips into the dough, gently overtop the entire surface of the dough.
Drizzle. Add the remaining oil by drizzling the top followed by sprinkling evenly with sea salt. You can use either coarse or flaky sea salt, whatever you prefer. Add the fresh rosemary on top and immediately place it in the oven.
Bake. When the top is golden brown, you'll know it's done. Remove from the oven and drizzle with more olive oil on top if desired. Let it cool before slicing and enjoy for days! Serve on the side of soups, stews, and homemade chili.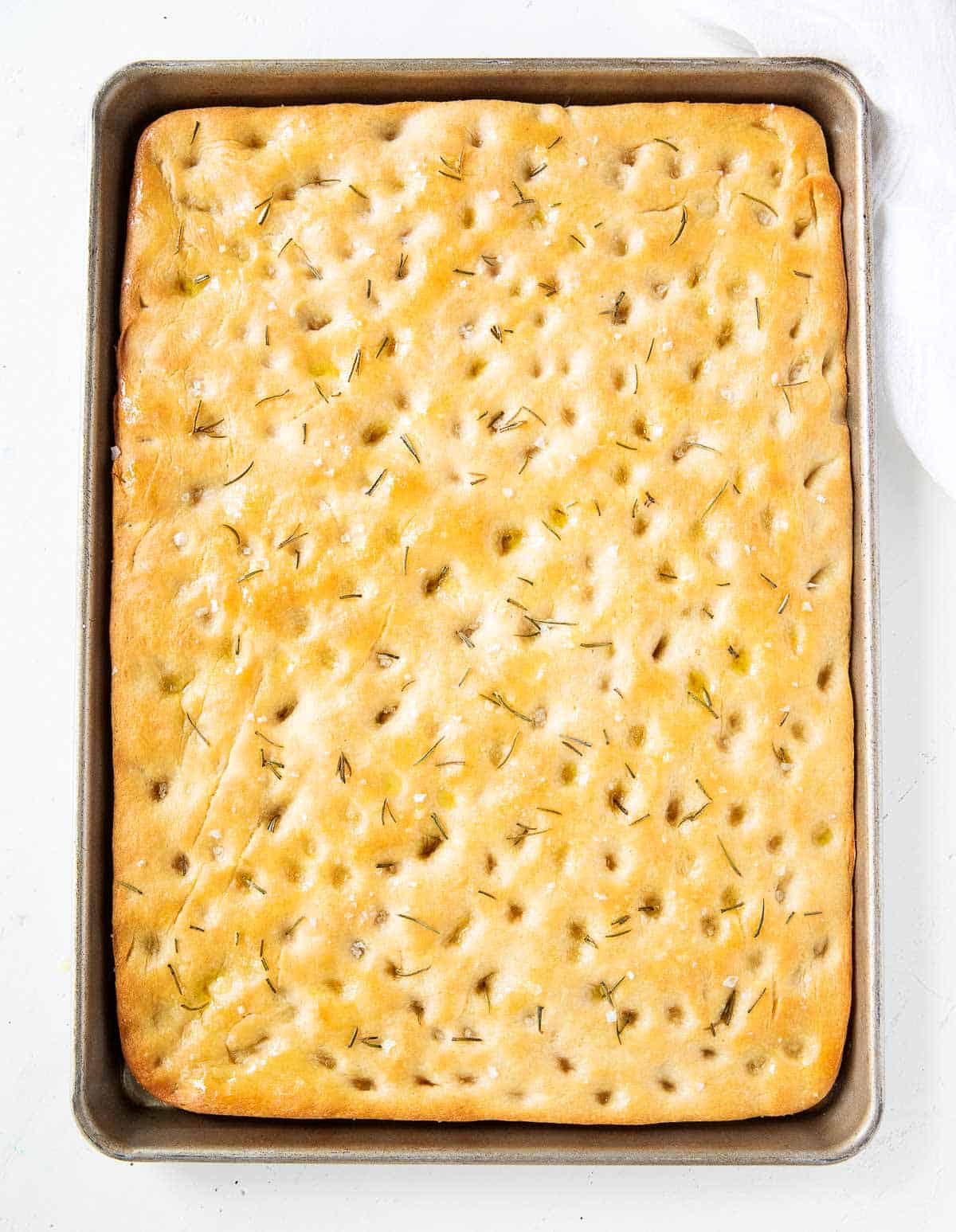 Tips & Variations
Make-ahead. This can be used as a make-ahead recipe because the longer the dough sits, the better it gets. Allowing the oil to seep into it only makes it that much more delicious. You can either leave it resting up to a day before baking or you can even freeze the dough for up to 3 months. When you're ready to use it, thaw in the fridge and bring to room temperature. Then follow the steps of the recipe.
Toppings. Ok now that you've mastered this focaccia recipe, you can play around with the toppings. And my goodness, there are many! Try parmesan and roasted garlic. Or sundried tomatoes, cherry tomatoes, or caramelized onions. Maybe different herbs or a sprinkling of toasted nuts. Pesto or sliced olives would be nice too!
Check yeast. Proof the yeast and make sure it's active before starting. If it's old it won't work and your bread won't rise.
Fill'er up. When making a sandwich, do like the Italians do and slice one piece of focaccia in half to create a sandwich. If using two pieces of focaccia for a sandwich you might find that a lot of bread. Fill with your favorite fillings and enjoy!
Yeast-free. If you don't have any yeast at all, don't worry! There is an option to leave out the yeast and swap the bread flour for semolina flour. In the end, you'll have a delicious and thin crispy focaccia.
The right salt. The salt you use for sprinkling on top should not be regular table salt. Because it is so fine, it will be harder to spread the salt evenly across the entire bread without it become way too salty. Coarse or flaky sea salt is best, it's the right amount of salt and adds a little texture. If you have only fine sea salt, half the amount.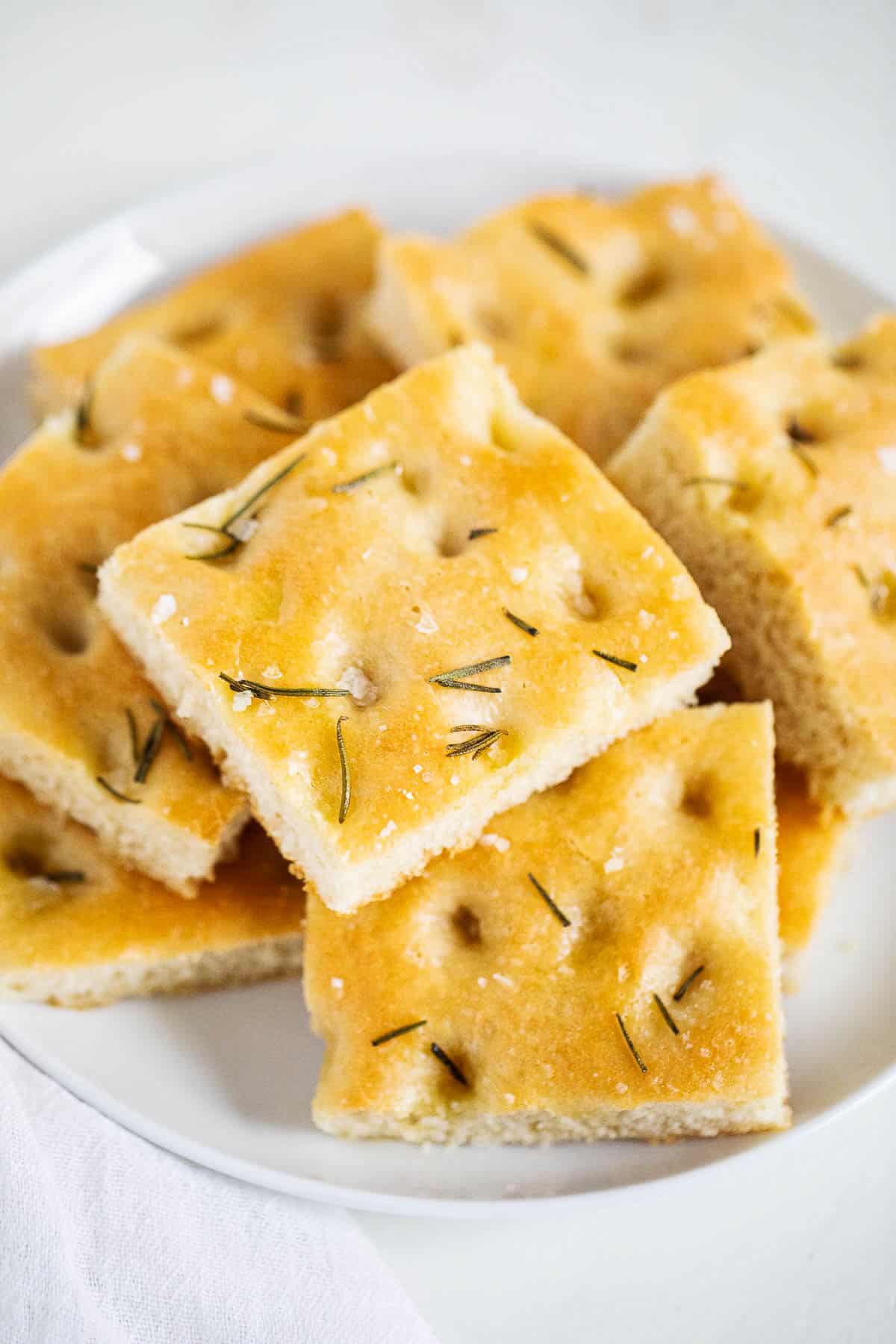 Storing Tips
This recipe yields approximately 24 pieces of focaccia. Depending on how hungry your family is, or how many people you're feeding, you may or may not have leftovers. If you do, consider yourself lucky, because you'll be wanting to eat this over and over again! It can be stored in an airtight container for up to 3 days. It can also be stored in the freezer for months and reheated in the oven to bring back its crispy awesomeness.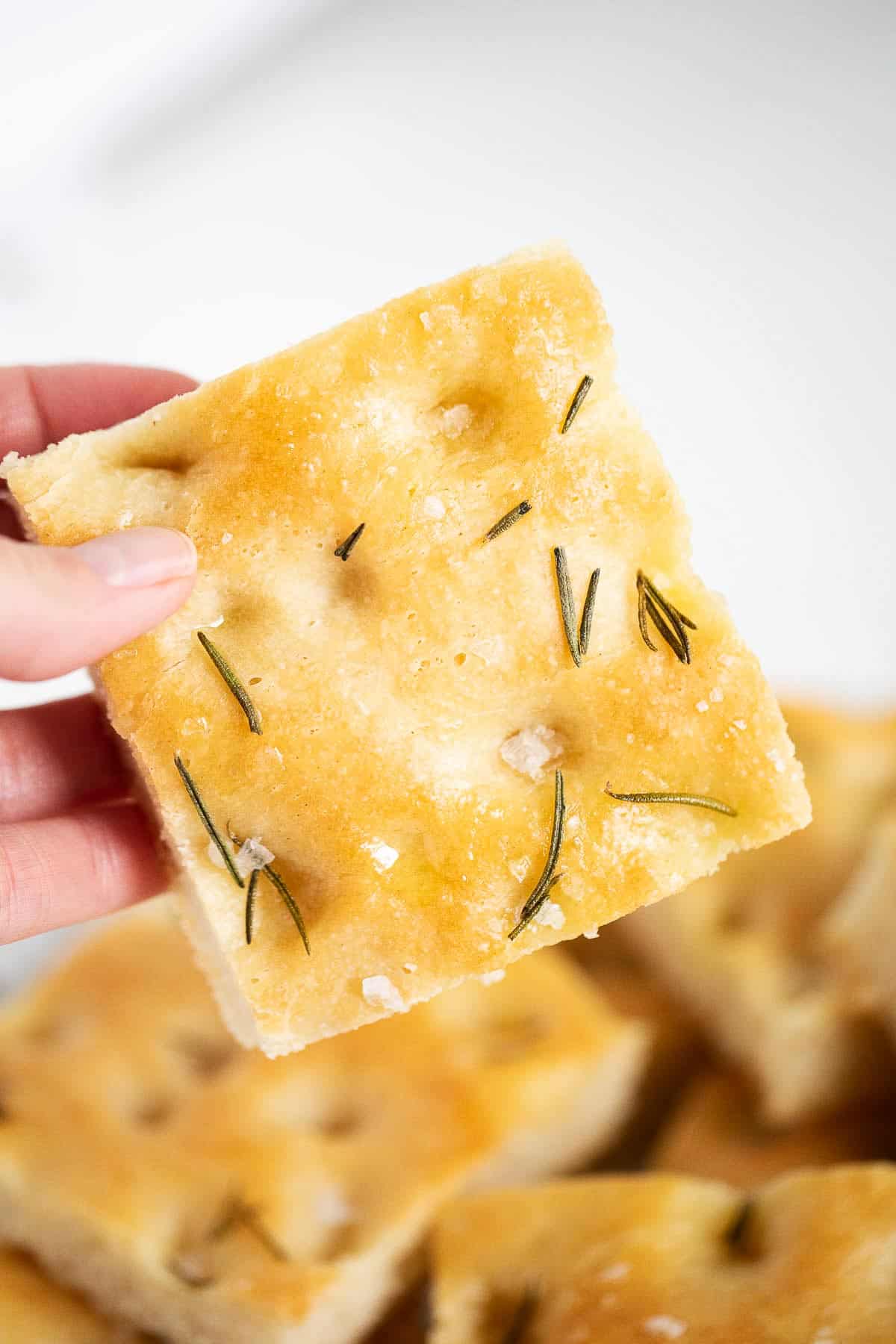 More Homemade Bread Recipes
HUNGRY FOR MORE? Subscribe to my newsletter and follow on Facebook, Pinterest and Instagram for all the newest recipes!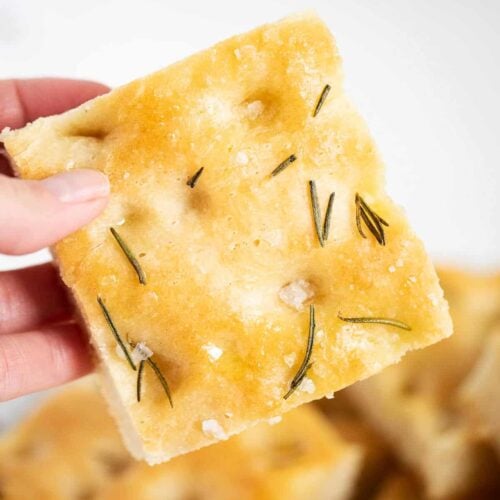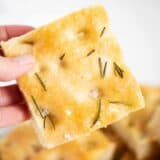 Rosemary Focaccia
Rosemary focaccia is a traditional Italian flatbread lightly seasoned with fresh olive oil, rosemary, and sea salt, baked until golden brown. One of my favorite easy to follow bread recipes to make on Italian night!
Instructions
In a small bowl, combine 3/4 cup warm water (reserve 1 cup in a separate bowl), the yeast and sugar. Stir and cover with plastic for 5 minutes, or until foamy.

In a large mixing bowl (with the dough hook attached), combine the flour and salt. When the yeast is ready, pour the yeast into the flour and turn the mixer on low. Slowly add the remaining water and the olive oil (leaving about 2 Tablespoons in the measuring cup to cover the dough). Once the dough is combined, turn to medium speed and knead for 5 minutes and the sides have pulled away. The dough should be soft. If it's too sticky, add an additional 1-2 Tablespoons of flour.

Coat a bowl with about 1 Tablespoon of olive oil and then place the dough ball into the bowl and roll to cover with oil. Cover with plastic wrap and set in a warm place to rise until doubled, about 1 hour.

Add 1-2 Tablespoons of olive oil to a 17×13" jelly roll pan. When the dough is ready, dump it onto the pan and then press out the dough to fill the pan. If it bounces back, let it rest 10 minutes and then press down. Cover lightly with plastic and let rise for 1 hour.

Preheat the oven to 425°F during the last 20 minutes of the rise.

Once the oven is preheated, dimple the dough by pressing all five finger tips down across the top of the dough. Then drizzle the top with 2-3 Tablespoons of olive oil and sprinkle evenly with flaky sea salt. Add rosemary on top. Then immediately place in oven.

Bake for 20-25 minutes or until the tops are golden brown. Remove from oven and drizzle an additional Tablespoon of olive oil on top if desired. Let cool for 5-10 minutes in the pan and then slice into 24 pieces.

Store in an airtight container for 2-3 days.
---
Notes
Salt: Do not use regular table salt. If you only have fine sea salt, you can use that but you'll want to only use 1/2 the amount.
Nutrition
Calories: 216kcal | Carbohydrates: 33g | Protein: 6g | Fat: 7g | Saturated Fat: 1g | Sodium: 293mg | Potassium: 56mg | Fiber: 1g | Sugar: 1g | Vitamin A: 2IU | Calcium: 7mg | Iron: 1mg
Nutrition provided is an estimate. It will vary based on specific ingredients used.
Did you make this recipe? Don't forget to give it a star rating below!