Jump to Recipe⌄
Best Chocolate Chip Banana Bread Recipe
Best Chocolate Chip Banana Bread Recipe …my family's favorite treat, requested by friends, and so easy to make! It is super soft, sweet and absolutely delicious!
Today I'll be sharing the BEST chocolate chip banana bread recipe. Seriously! I've tried quite a few recipes and have finally nailed down the perfect banana bread… which of course involves chocolate chips. This bread is requested by all my friends. It is super soft, sweet and absolutely delicious!
You can leave the chocolate chips out, but in my opinion they make the bread! ;) You can also add some chopped walnuts as well if you like those. My family is not a fan, so we stick to straight chocolate chips.
This chocolate chip banana bread is super easy to make. The hardest part is waiting that whole hour for it to bake. ;) You can also make banana muffins with this recipe too. We make those a lot and will freeze half the batch!
If you've been a long time follower you may remember I posted this recipe a few years ago here. I love looking back at my firsts posts to see how much I have grown. My old pics always make me laugh!
Best Chocolate Chip Banana Bread Video
Best Chocolate Chip Banana Bread Recipe Printable Recipe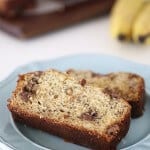 Chocolate Chip Banana Bread
Ingredients:
1 stick butter
1 1/3 cup sugar
2 eggs
1 tsp vanilla
1 cup sour cream
2 cup flour
1 tsp baking powder
1 tsp baking soda
3/4 tsp salt
1 cup mashed ripe bananas
1 cup chocolate chips
1/2 cup chopped walnuts or pecans (optional)
Directions:
Preheat oven to 325°F. In a large bowl cream butter and sugar. Then mix in eggs, vanilla and sour cream. In a separate bowl whisk flour, baking powder, baking soda, and salt. Slowly add to sugar mixture and stir until combined. Fold in bananas, nuts, and chocolate chips. Pour into 2 large loaf pans or 4 small loaf pans. You can also make 24 muffins.
Bake for 1 hour in a loaf pan, 35-45 minutes in a small loaf pan or 25 min in a muffin pan. You want the bread to be lightly browned. Make sure it comes clean with a toothpick.
Once the bread is cooked, remove the bread from the pan and place on a cooling rack.
Enjoy with a cold glass of milk!
All images and text ©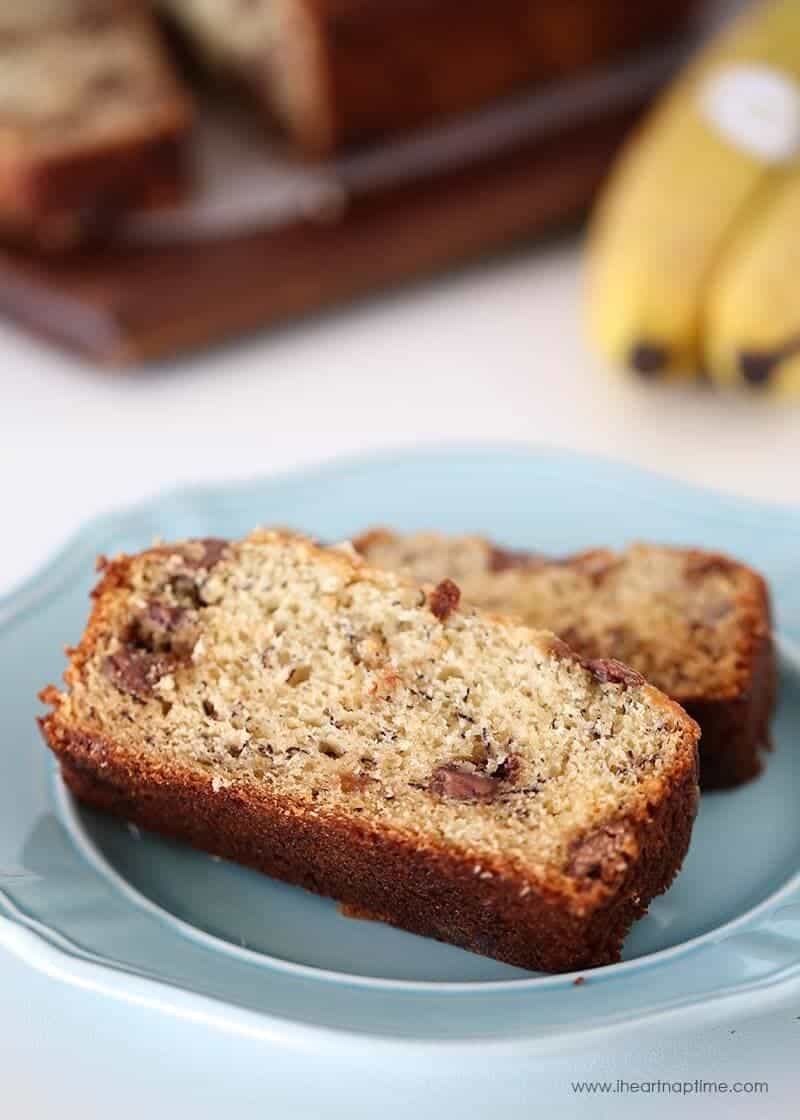 Enjoy!!
Looking for more banana recipes? You'll love these too: