This moist and delicious cranberry banana bread is bursting with fresh, juicy cranberries and rich and creamy white chocolate chips in every bite! So soft, fluffy and full of flavor.
Beyond cranberry sauce, there are so many delicious ways to use fresh cranberries! Try them in cranberry orange bread and apple cranberry pie, too!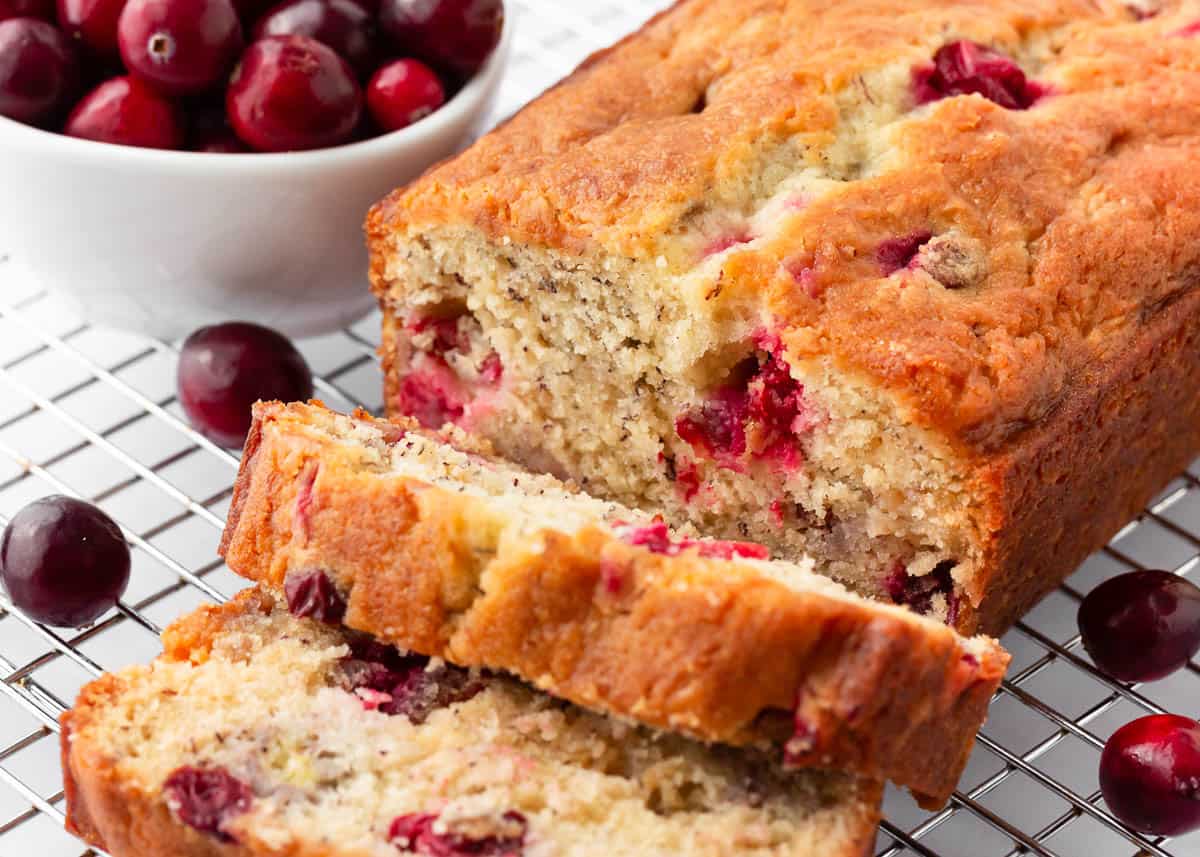 Festive Holiday Quick Bread
I had some extra cranberries in the fridge and some old spotty bananas lying around so I thought I would try making a cranberry banana bread recipe. I adapted this recipe from my favorite easy banana bread recipe and it turned out amazing!
Cranberries are a holiday favorite and taste delicious in so many Christmas recipes. I stock up every year and buy multiple bags to make our favorite cranberry salad and cranberry salsa , but it was also so fun to use them in a quick bread recipe this time around.
You can add white chocolates or nuts to this easy cranberry banana bread. The white chocolate chips end up melting inside the bread (so you won't have big chunks), but it spreads the most delicious flavor throughout every bite. Let's be honest, it's pretty much a dessert.
Once fresh cranberries go out of season, you could also use dried cranberries, but I really love the extra punch of flavor and texture the fresh cranberries give. I love adding a few extra berries on top of this banana cranberry bread. So festive for the holidays!
Why This Recipe Works
Bursting with flavor. Sweet bananas, tart cranberries, and decadent white chocolate create the perfect balance.
Tender and moist. Butter gives a tender crumb while sour cream is the key to a moist quick bread, simply the best!
Versatile. Have a slice as breakfast cake, enjoy it for dessert, or gift a loaf to a neighbor!
Recipe Ingredients
Made with classic banana bread ingredients plus a few extras such as fresh cranberries and white chocolate chips to give this treat the perfect holiday flare!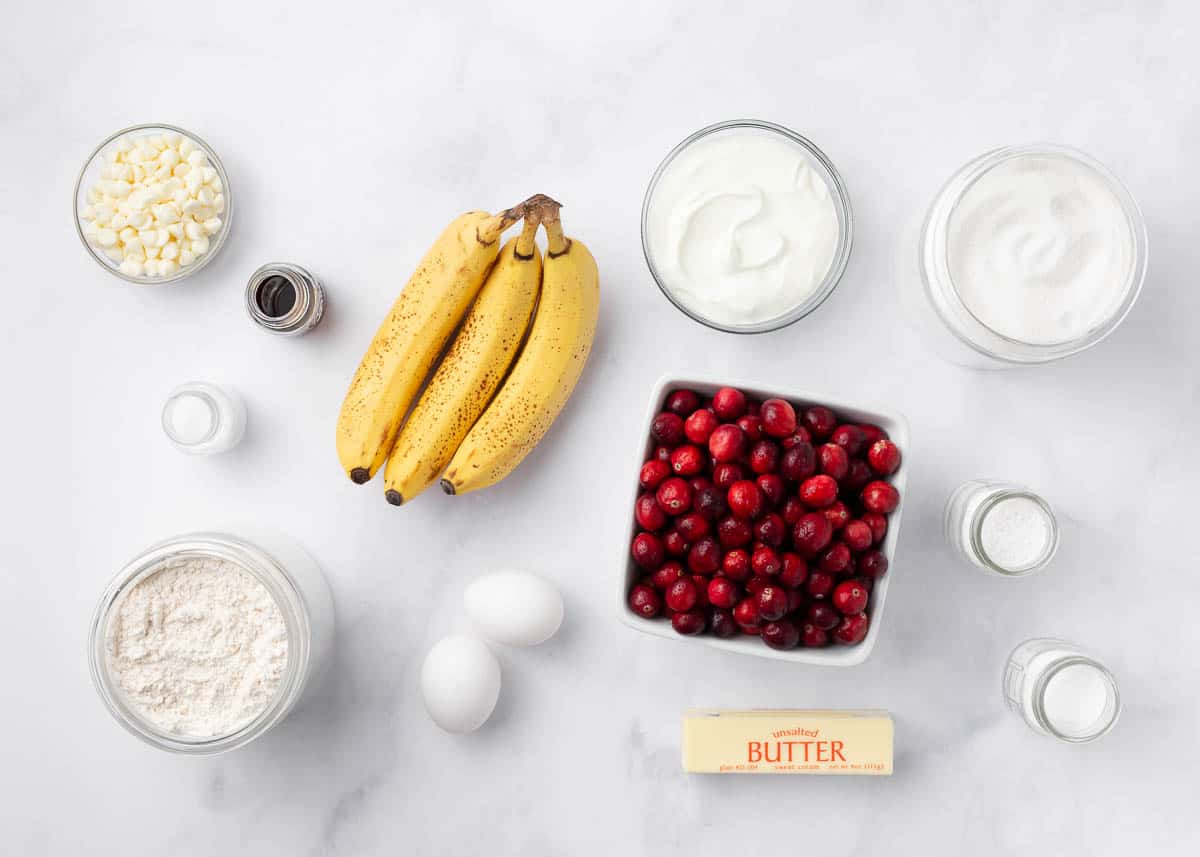 Find the full printable recipe with specific measurements below.
Baking staples: Traditional ingredients such as unsalted butter, granulated sugar, eggs, vanilla extract, all-purpose flour, baking powder, baking soda and salt.
Bananas: The riper the bananas, the sweeter the bread, so I recommend using bananas that are soft with brown spots. You'll get the best flavor this way, as well as a super moist texture.
Cranberries: Using fresh cranberries really takes this recipe up a notch. They're sweet, juicy and add the absolute best flavor. If you can't find fresh, dried cranberries can be substituted instead.
Sour cream: The secret ingredient in all of my banana bread recipes! It makes the texture super soft and moist.
White chocolate chips: Rich and creamy white chocolate chips are mixed throughout the batter to add another layer of sweetness. If you've ever tried my white chocolate cranberry cookies, you know just how delicious white chocolate and cranberries taste together!
Variations
Feel free to add chopped nuts (pecans or walnuts) in place of white chocolate chips, or add them in addition to the chocolate for an extra crunch. If you prefer a classic chocolate chip banana bread, you could also substitute the white chocolate for milk chocolate chips.
This cranberry banana bread recipe would also taste delicious drizzled with a sweet powdered sugar glaze or cream cheese glaze before serving.
How to Make Cranberry Banana Bread
This easy banana bread with cranberries is super simple to make in one bowl. I love that you can use up any old bananas and cranberries and the bread turns out as good as new!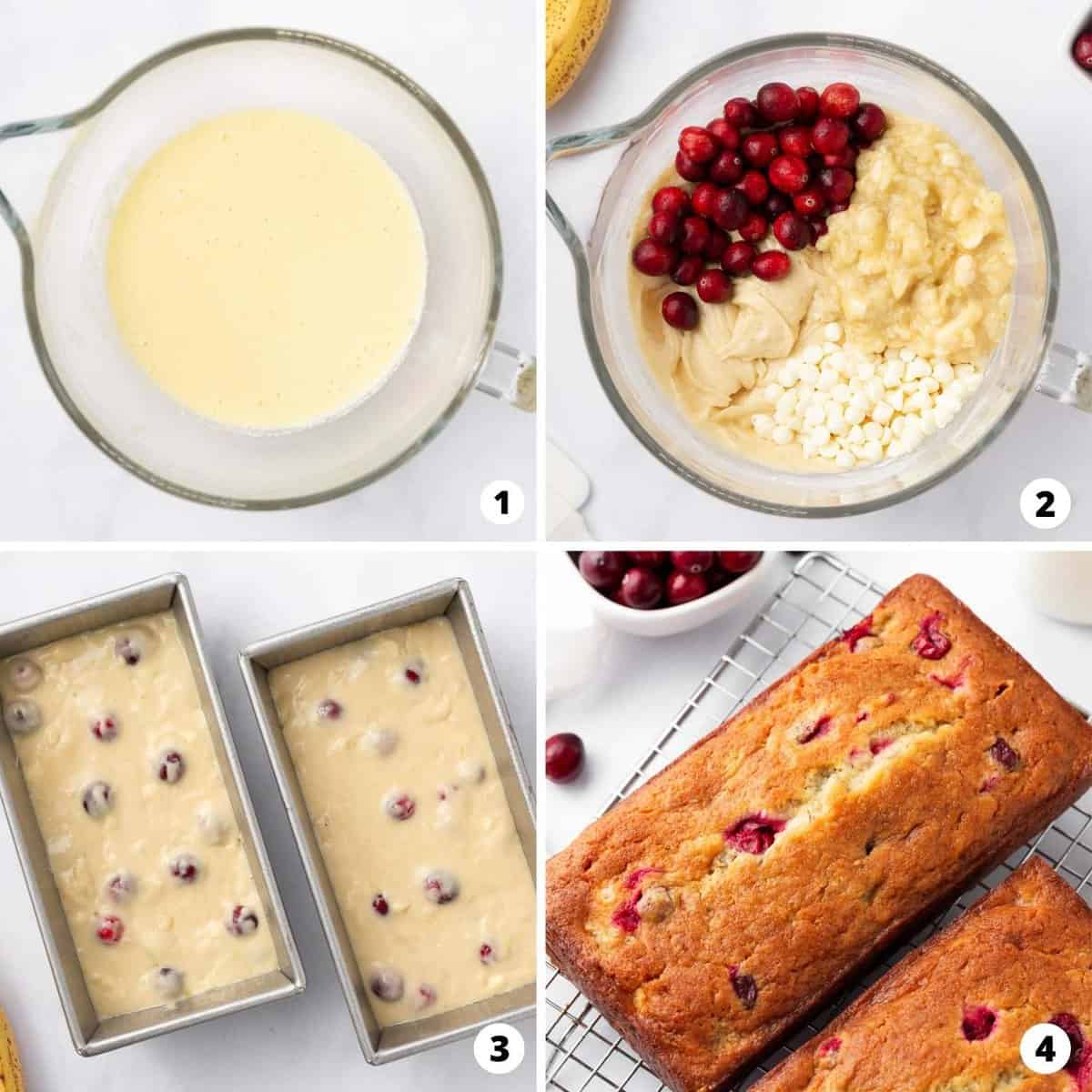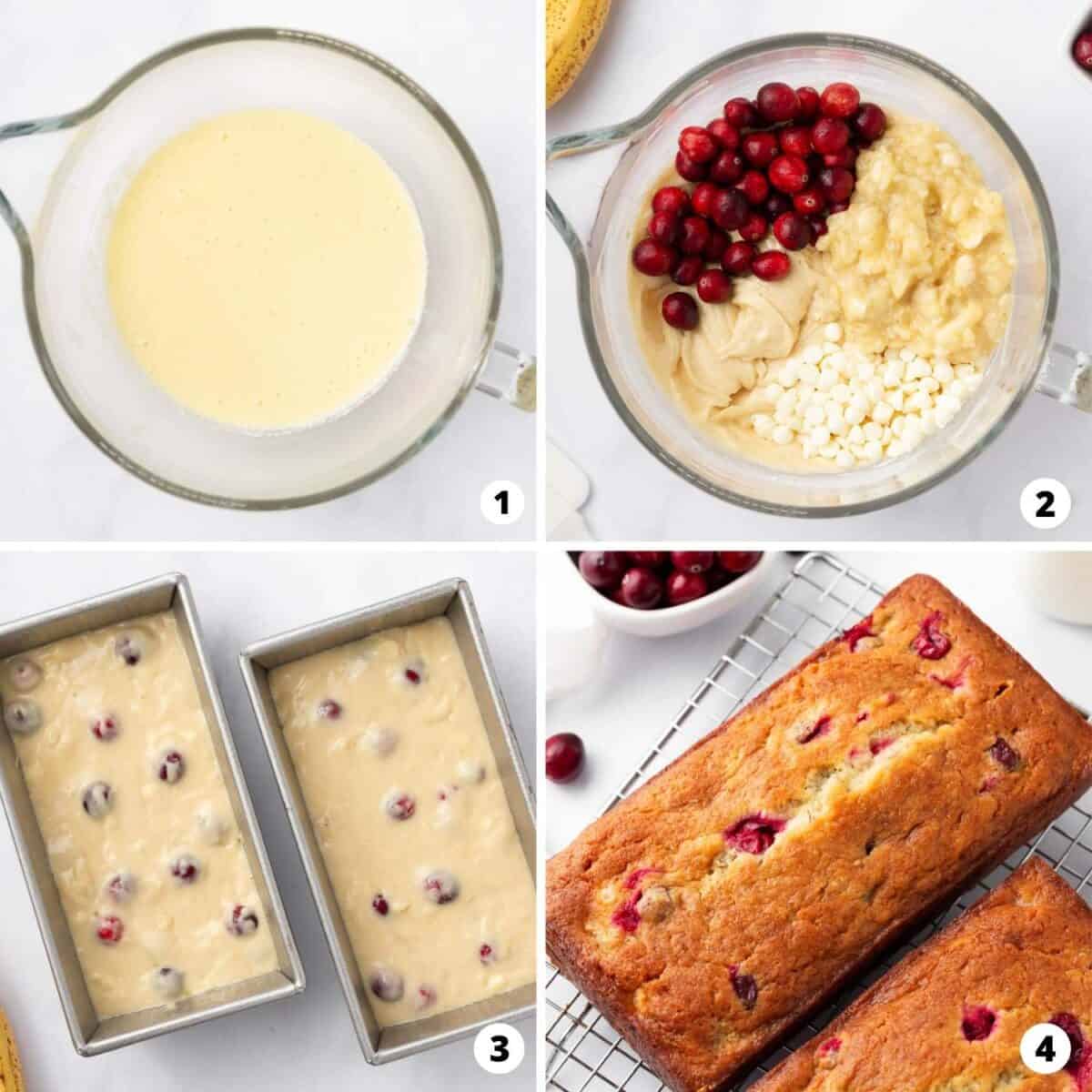 Cream the butter and sugars together in a mixing bowl. Make sure it gets nice and fluffy. Then mix in the eggs, vanilla and sour cream. In a separate bowl whisk flour, baking powder, baking soda, and salt. Slowly add the dry ingredients to the butter mixture and stir until combined.
Fold in the mashed bananas, fresh cranberries and white chocolate chips (or chopped nuts) until combined.
Pour into two greased loaf pans and bake for an hour at 325°F. The top of the bread should be lightly golden when ready. Remove from oven and transfer to a wire rack to cool completely.
Slice into nice thick slices (about 1/2-inch) and then serve and enjoy!
Muffins or Mini Loaves
You can use this recipe to make 4 mini loaves of banana cranberry bread, or make cranberry banana bread muffins instead. They will bake at the same temperature as making a regular-sized loaf (325°F), however the baking time will decrease. For small loaves, bake for 35 to 45 minutes and only about 25 minutes for muffins.
5 star review
"This is SO good! I used 3 bananas and fresh cranberries and it turned out very tasty! I will definitely be making this again soon!"

– Raquel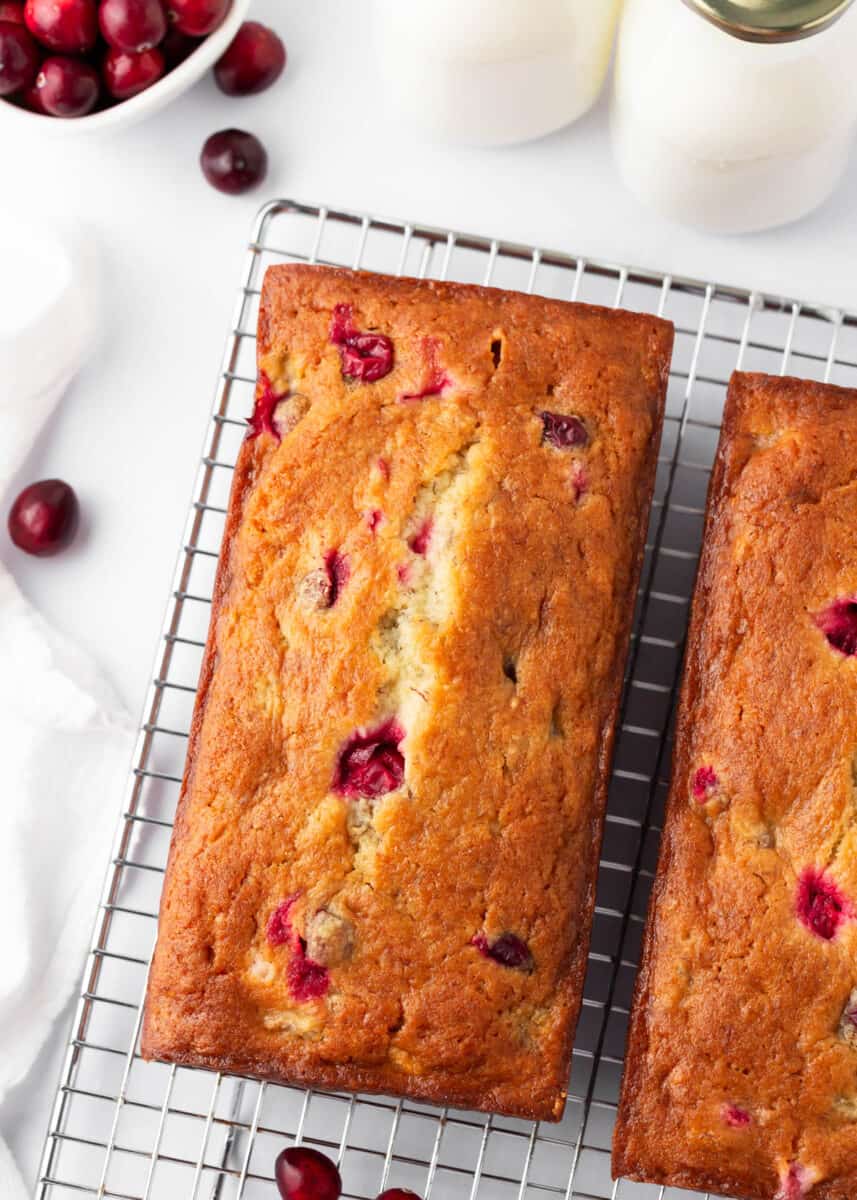 Expert Tips
To ripen your bananas quickly, you can bake them in the oven at 350°F until they brown, usually for about 15 to 20 minutes. Or for a quicker method, microwave them for about 30 seconds to a minute.
Don't overmix the batter so the bread stays moist and soft. Mix together the ingredients just until combined and gently fold in any extras.
Test the bread with a toothpick to ensure the bread is done in the center. If there is still batter on the toothpick, bake for a few more minutes and test again until the toothpick comes out clean.
If the exterior of the bread starts to brown before the center is done, lightly cover with foil and continue baking until cooked through.
Recipe FAQs
Can I use dried cranberries for baking?
Yes, you can substitute dried cranberries, but it will change the texture. I would only add 1/2 cup if you do.
Do you have to cook cranberries before baking?
No, they will cook in the oven. No need to cook them before baking. If using frozen cranberries, do not thaw before baking.
Does banana cranberry bread need to be refrigerated?
Cranberry bread can be left on the counter for up to 3 days. Storing it in the fridge or freezer will extend the shelf life. It will stay fresh in the freezer for up to 3 months.
Can I substitute yogurt for sour cream?
Yes, you may use Greek yogurt in place of sour cream to lighten up the recipe a bit. However making cranberry banana bread with sour cream is my preference for the absolute best texture!
Can I make one loaf instead of two?
Sure, simply cut the recipe in half to make only one loaf of cranberry banana bread. I always love to make the full recipe with two loaves so that I can pop one in the freezer for later!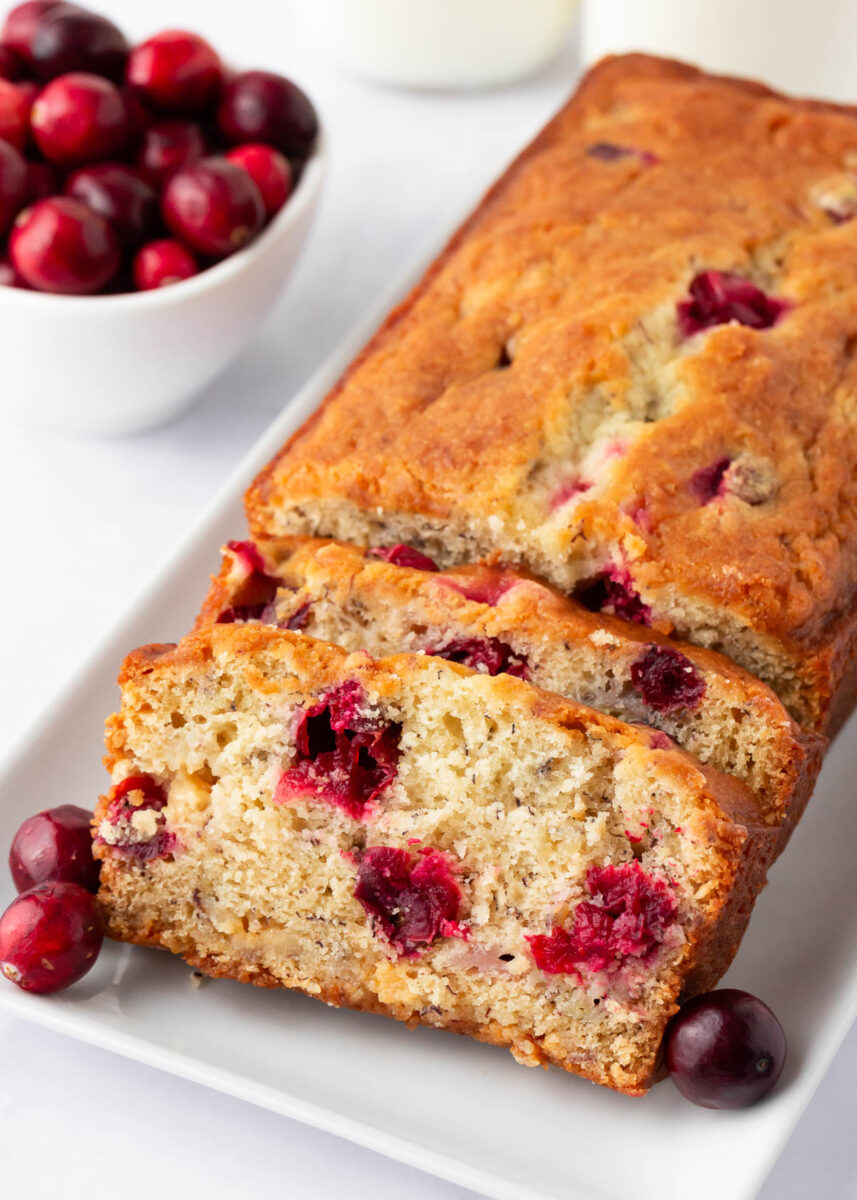 HUNGRY FOR MORE? Subscribe to my newsletter and follow on Facebook, Pinterest and Instagram for all the newest recipes!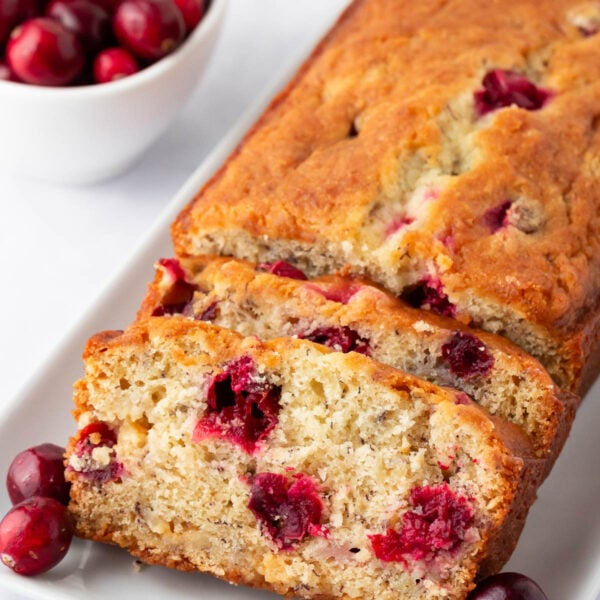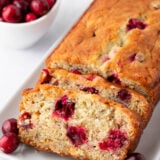 Cranberry Banana Bread
This moist and delicious cranberry banana bread is bursting with fresh, juicy cranberries and rich and creamy white chocolate chips in every bite! So soft and full of flavor.
Ingredients
½ cup unsalted butter (1 stick)
1 ⅓ cups granulated sugar
2 large eggs
1 teaspoon vanilla extract
1 cup sour cream
2 cups all-purpose flour
1 teaspoon baking powder
1 teaspoon baking soda
1 teaspoon Kosher salt
1 cup mashed ripe bananas (about 3 small bananas)
1 cup fresh cranberries , can substitute for 1/2 cup dried cranberries
½ cup white chocolate chips , or chopped nuts
Instructions
Preheat the oven to 325°F. Spray 2 loaf pans with non-stick cooking spray. You may also use 4 small loaf pans or a muffin tin.

In the bowl of a stand mixer fitted with the paddle attachment, cream butter and sugar over medium speed until pale and fluffy. Mix in eggs, vanilla, and sour cream.

In a medium bowl, whisk flour, baking powder, baking soda, and salt. Slowly add to butter mixture and mix until combined. Fold in bananas, cranberries, and chocolate chips. Pour into pans.

Bake 1 hour in a loaf pan (35 to 45 minutes in a small loaf pan or 25 minutes in a muffin tin), or until a toothpick inserted in the center comes out clean. You want the bread to be lightly browned. Cover with foil while baking if it begins to brown too fast.

Transfer from the pan to a cooling rack to cool completely.

Slice the cranberry banana bread in 1/2-inch slices. Store in a covered container.
---
Notes
Glaze: This bread would taste delicious drizzled with a powdered sugar icing or cream cheese glaze.
Storage: Store in a covered container at room temperature up to 3 days.
Freezer instructions: Wrap in foil or plastic and freeze up to 3 months.
Nutrition
Calories: 168kcal | Carbohydrates: 24g | Protein: 2g | Fat: 7g | Saturated Fat: 4g | Polyunsaturated Fat: 0.4g | Monounsaturated Fat: 2g | Trans Fat: 0.2g | Cholesterol: 32mg | Sodium: 156mg | Potassium: 84mg | Fiber: 1g | Sugar: 15g | Vitamin A: 208IU | Vitamin C: 1mg | Calcium: 30mg | Iron: 1mg
Nutrition provided is an estimate. It will vary based on specific ingredients used.
Did you make this recipe? Don't forget to give it a star rating below!
Holiday Gift Idea
You can also bake this cranberry banana bread in little baking dishes (I found these ones at Michaels for $1 last year). Then I packaged them up with clear wrap and a fun bow. Perfect treat for friends and neighbors.
If you don't have any leftover cranberries, add them to your shopping list. You must make this before the end of the year. Mmm… so good. Off to add cranberries back onto my shopping list! ;)