Get ready for hours of yummy fun with this edible playdough recipe! Frosting, powdered sugar, cornstarch, and food coloring are all you need to make a perfectly pliable ball of dough. A fun and safe craft activity for kids of all ages!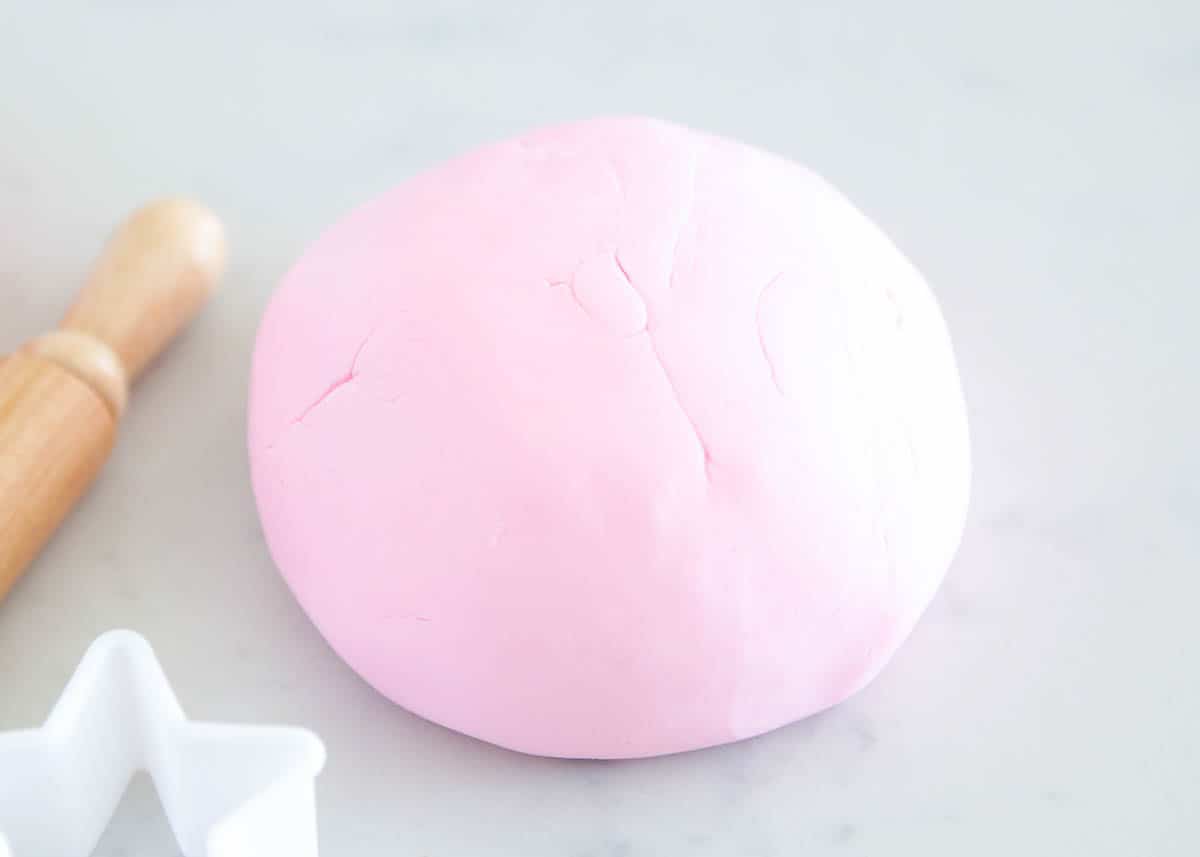 3 Ingredient Edible Playdough
This edible playdough recipe is so much fun to have around and with fewer ingredients used than my original homemade playdough recipe. It's super fun, the kids love making it, and best of all, it's a super easy activity for the kids to get involved in!
This homemade edible playdough is made with just 4 gluten-free food ingredients found in your pantry. It's non-toxic which makes it suitable for the classroom and is great for little ones who like to put things in their mouths. They'll just get a mouthful of sugary dough, which I'm sure they won't mind!
It's safe for toddlers and preschoolers and fun for older kids and a great rainy day activity or something to keep on hand if you run a daycare. It's stretchy and gooey and keeps everyone entertained for hours of fun. It's also less messy than slime!
If you've got lots of food coloring choices, make a few separate batches for a bright and colorful activity!
Why We Love This Recipe
Safe for kids. What kid doesn't love playing with their food?! This edible activity means you're not worrying about little ones putting things in their mouths.
Quick and easy. An activity that provides hours of fun, without a ton of mess to clean up, is always welcome when you've got kids! No cooking, boiling water, or electric mixing anything.
Budget-friendly. You don't need to spend a lot of cash to have fun! This edible playdough is made with pantry staples and lasts up to a week.
Great texture. You'll end up with smooth, silky, stretchable playdough every time!
Ingredients Needed
Vanilla frosting: The kind you find in tubs at the store. We use Pillsbury but you can use what you have. As long as it binds nicely and isn't runny.
Food coloring: This is optional. You can either buy colored frosting and not worry about this, or leave your playdough white. Then again, you could use a few different vibrant colors. It's all up to you!
Powdered sugar: This helps to stabilize the playdough and helps to keep it from falling apart. You may need to adjust the amount you use, depending on what type of frosting you have.
Cornstarch: Forms the dough into a cohesive smooth blob that can stretch and retract.
How to Make Edible Playdough with Frosting
Stir frosting and food coloring. Add frosting to a large, clean bowl. Stir in drops of food coloring if you're using it. Start with a couple of drops and then add more until it's the color you want it. Stir until smooth.
Add in cornstarch and powdered sugar. Stir in the powdered sugar 1 cup at a time, stirring until smooth. Then add the cornstarch.
Knead the dough. At this point, you may find it easier to combine the mixture by hand. Knead the dough like you would any other type of dough.
Adjust consistency and enjoy! Add more cornstarch or powdered sugar if you notice it's still a bit sticky. Roll the dough out, use cookie cutters to cut out shapes, and just have fun with it!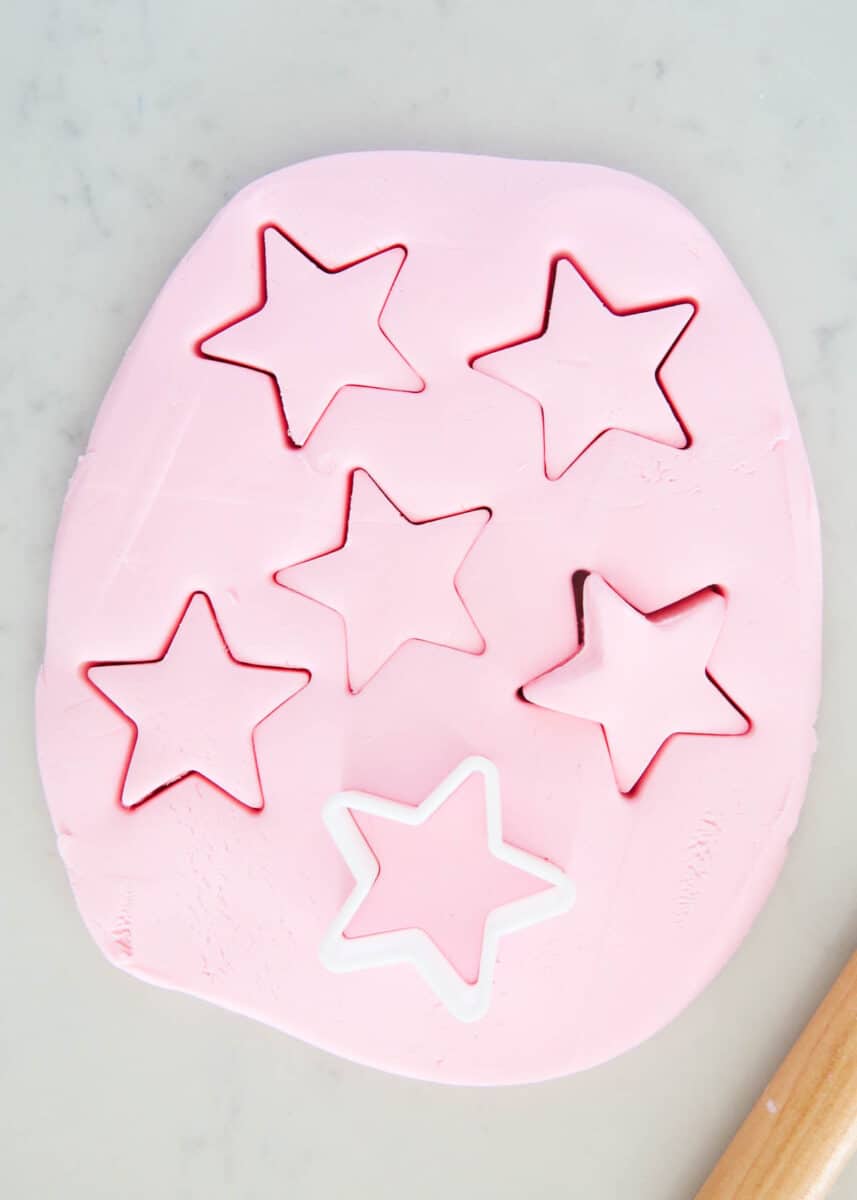 Recipe Tips
Start with clean hands and a clean work surface. It is something you might eat after all!
Gel food coloring and liquid food coloring both work. You'll need less gel coloring to get as vibrant of color, however, it is pricier.
For extra yummy fun, mix it up by using different flavors of frosting!
You could also use different colors of food coloring for each kid. Everyone can make their own batch.
Always store playdough covered to keep it from drying out so you can come back and play with it again later.
FAQs
How long does it take to make this homemade playdough recipe?
From start to finish, using my step-by-step instructions, just 5 minutes! All you need is your ingredients, and 1 bowl. Cookie cutters, rolling pins, and other accessories are all optional.
What does edible playdough taste like?
This one tastes like very sweet frosting! So you know, sugary goodness ;)
How long does it last?
When covered in a Ziploc bag or airtight container it can last up to 1 week. If you don't cover it, it will remain exposed and dry out quickly.
Can this playdough be eaten raw?
It can! You may not want to serve it as a dessert or anything, but it's definitely edible and safe to eat. On its own, it might be too sweet, but when cut out into cookie shapes, they make great cake or cupcake decorations!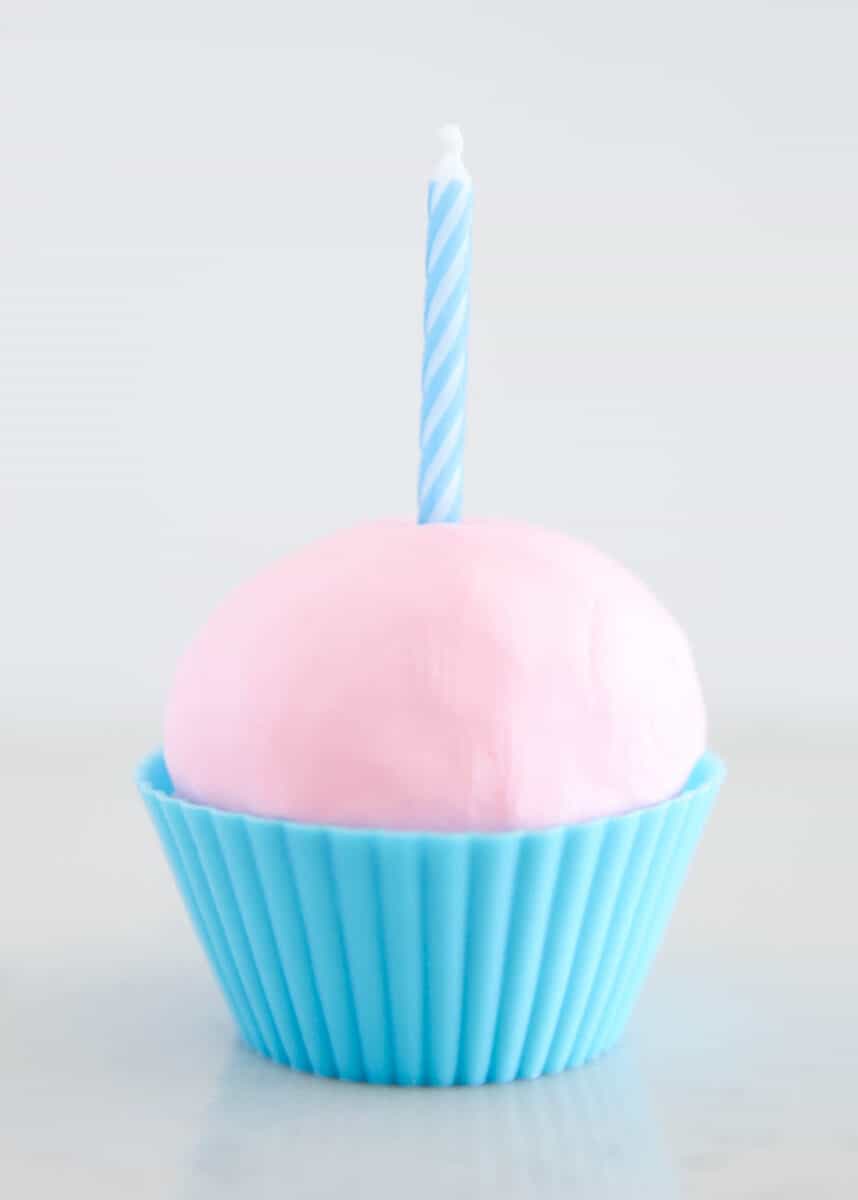 More Recipes to Make with Kids
HUNGRY FOR MORE? Subscribe to my newsletter and follow on Facebook, Pinterest and Instagram for all the newest recipes!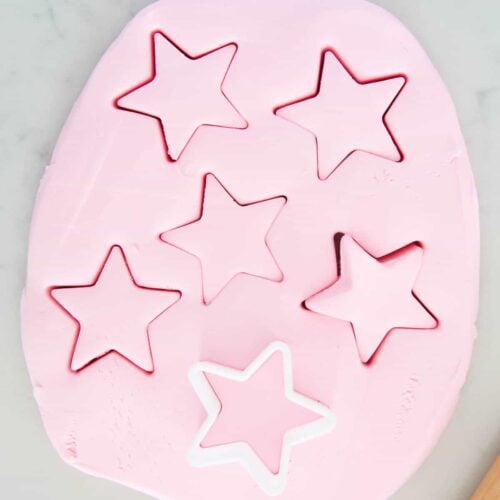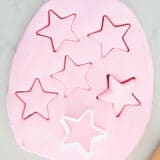 Edible Playdough
Get ready for hours of yummy fun with this edible playdough recipe! Frosting, powdered sugar, cornstarch, and food coloring are all you need to make a perfectly pliable ball of dough. A fun and safe craft activity for kids of all ages!
Ingredients
1 cup vanilla frosting , we used Pillsbury
Food coloring , optional
2 cups powdered sugar , plus more if needed
2-3 Tablespoons cornstarch , add more to texture
Instructions
Wash your hands and workspace very well.

In a large bowl, add the frosting. Stir in the food coloring, if using. Add more drops until you reach your desired color. Stir until smooth.

Stir in 1 cup powdered sugar until smooth. Add the remaining 1 cup powdered sugar and 2 Tablespoons cornstarch. You may need to knead the dough with your hands until it is mixed. Add more cornstarch or powdered sugar, if the dough is too sticky.

Roll out the dough and cut out with cookie cutters. Have fun with it!
---
Notes
Storage: Store leftover dough into a zip-top bag or covered container for up to 1 week. Variations: You can mix it up with different frosting flavors and food coloring.
Nutrition
Calories: 121kcal | Carbohydrates: 25g | Protein: 0.003g | Fat: 2g | Saturated Fat: 0.4g | Polyunsaturated Fat: 1g | Monounsaturated Fat: 1g | Sodium: 26mg | Potassium: 5mg | Fiber: 0.01g | Sugar: 24g | Calcium: 1mg | Iron: 0.04mg
Nutrition provided is an estimate. It will vary based on specific ingredients used.
Did you make this recipe? Don't forget to give it a star rating below!