Easy fridge organization ideas for a seamless back to school season! Learn how I create an organized and functional fridge for my family with 4 little ones.
In my opinion, the biggest key to a successful school year with a family of 4 is organization. That's why I love to use free organization printables like calendars, meal plans and school planners. They are so helpful in order to stay on top of everything!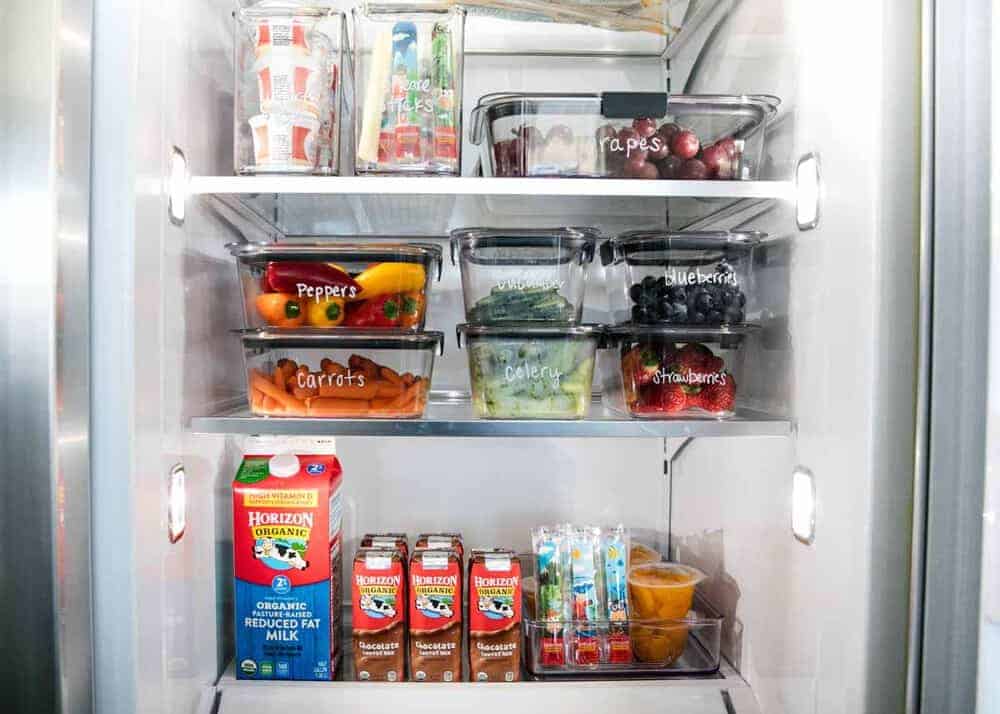 This post was created in partnership with Horizon Organic. All opinions are 100% my own. Check out their website for more recipes.
Another school year is back in full swing and that means schedules are super busy and often a little hectic. Because making breakfast, packing lunches and grabbing after school snacks are such a big part of our school-week routine, I thought I'd share one my biggest tips for success: a clean and organized fridge!
Organizing our fridge and having accessible snacks for my kids to grab has been so helpful! They can easily reach for a nutritious and protein-packed breakfast or snack, like their favorite Horizon® Organic cheese sticks and milk boxes.
It's so nice to be able to see what you have in the fridge and makes grocery shopping so much easier because you'll be able to see what you're out of. It also helps save on time with meal prep and cooking. It may take an hour or two to get everything organized, but I promise you will feel so much better after the job is done!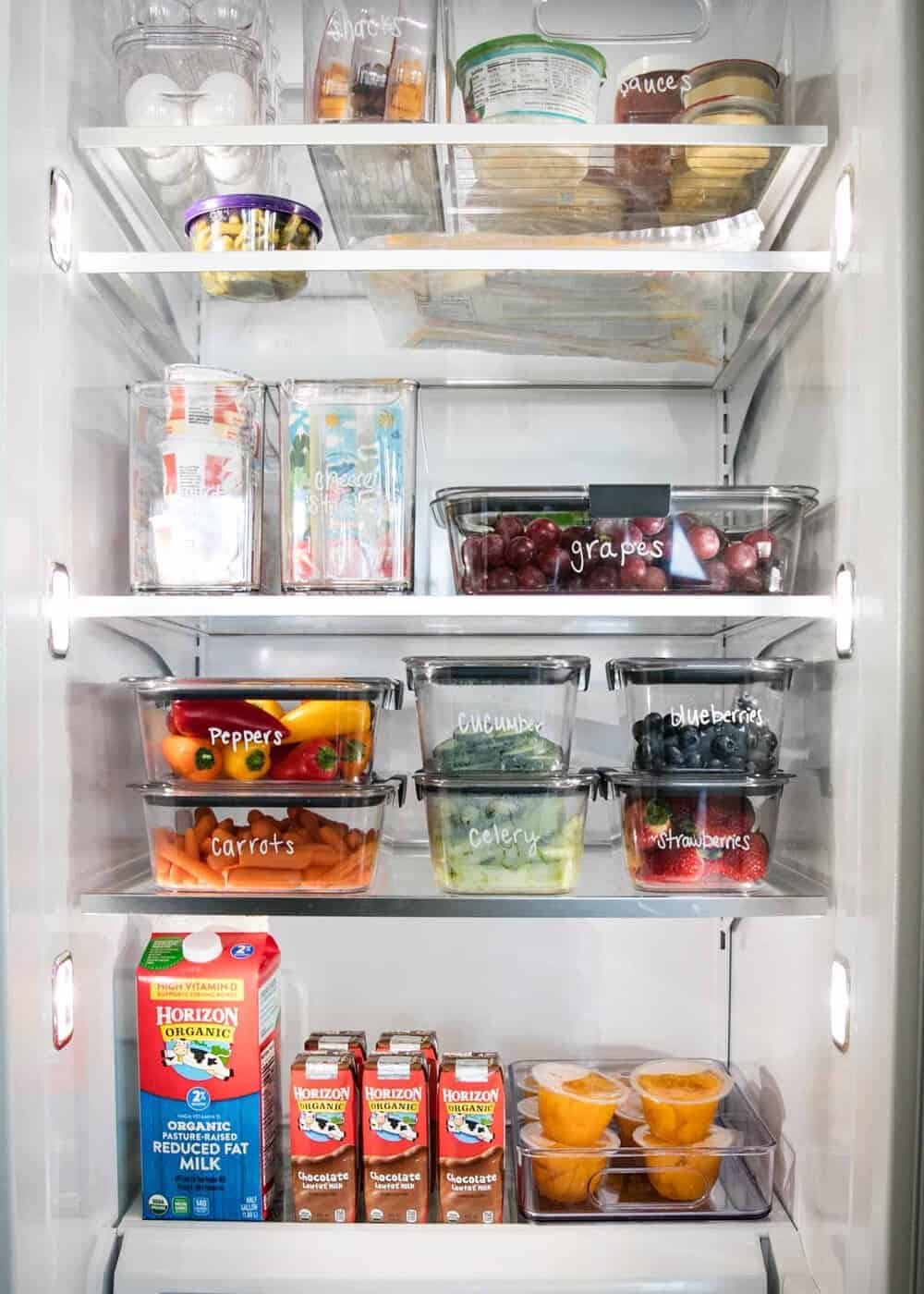 How to organize your fridge
Go to the store and buy fridge organization bins (get all different sizes, you can return ones you don't need later)
Take everything out of the fridge.
Wipe down the refrigerator and clean out any crumbs. You can add fridge shelf liners if desired.
Get rid of anything that has expired.
Separate all of the foods into categories (produce, dairy, condiments, etc.).
Remove any food that is in bags or cardboard boxes.
Find a bin that fits each category and then place those foods in the bins. Make sure to have a place for everything.
Label your bins. I used a white sharpie marker, but stickers or a labeler work great too.
Place the bins back in the fridge and rearrange shelves as needed.
TIP: Once your fridge is organized, try to get in the habit of cleaning it out at the end of the week (moldy food, leftovers, etc.) before you bring home your new groceries for the week ahead.
Fridge organization bins
I love to use clear bins for organizing my fridge. It keeps everything looking clean and uniform. It's also great because you know where everything goes when you get home from the grocery store. You can find them all over…even the dollar store has some!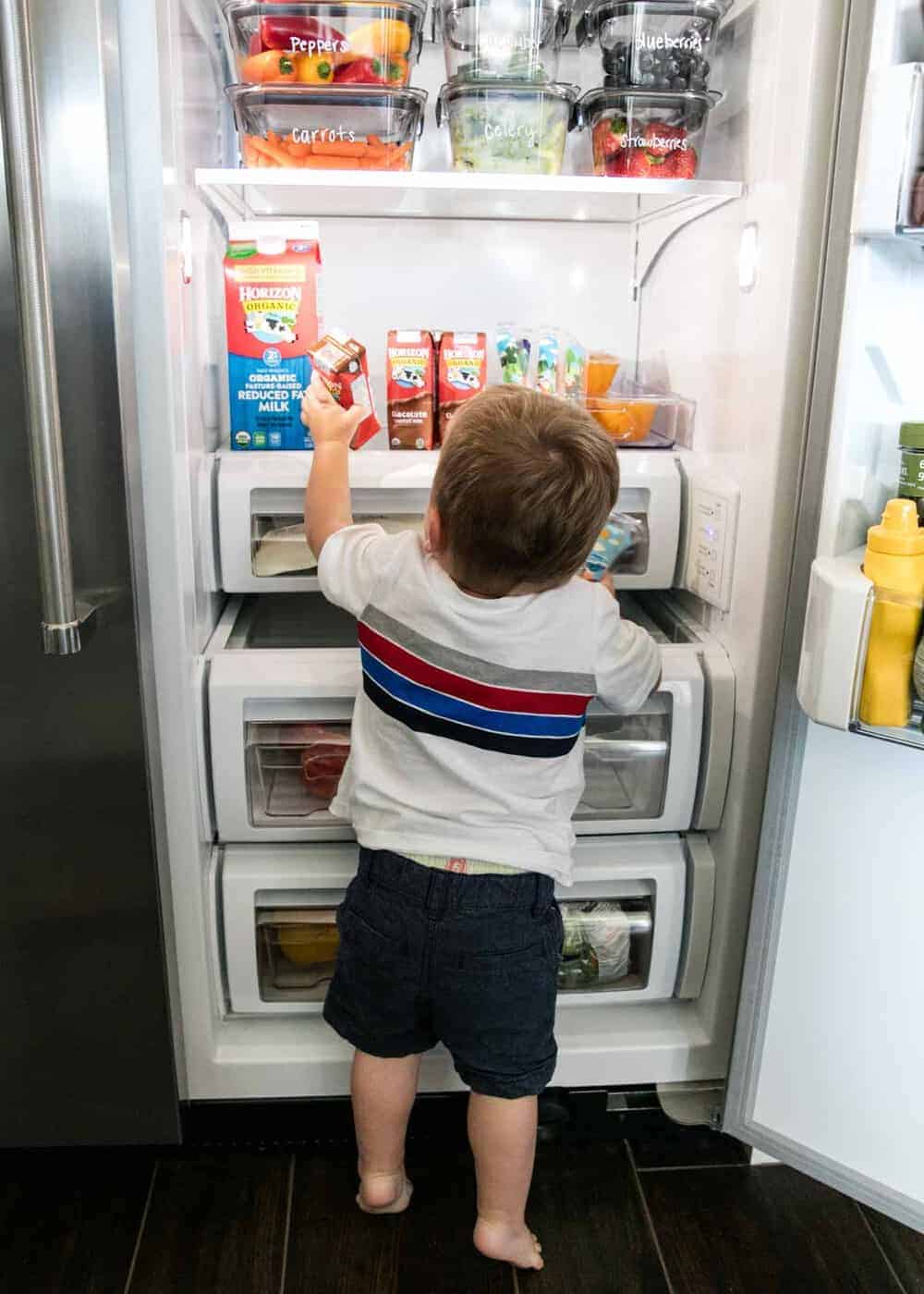 Easy snacks to organize:
Horizon Organic cheese sticks: These cheese sticks are the perfect size and make a simple, no-mess snack! They hardly take up any space in the fridge and are great to take in the car, pack for lunch or enjoy after school. Plus they're packed with 7 grams of protein!
Horizon Organic milk boxes: My kids love to enjoy milk boxes with their breakfast in the morning. It gives them the perfect boost of protein and calcium to power up their day. They especially love the chocolate flavor. The apple doesn't fall far from the tree. ;)
Fruit: Our favorites are grapes, blueberries and strawberries. They're delicious and easy for the kids to snack on. I like to wash and dry them first, then store in glass containers in the fridge.
Veggies: Surprisingly, my kids love to snack on veggies! We almost always have mini bell peppers, carrots, cucumbers and celery on hand. Chop and wash them beforehand for convenience.
Hard boiled eggs: I love to make a batch of hard boiled eggs at the beginning of the week. So easy and quick!
Sliced turkey: I can always count that my kids will eat up a few pieces of sliced turkey right away. And honestly, I love it too! Perfect for quick lunches.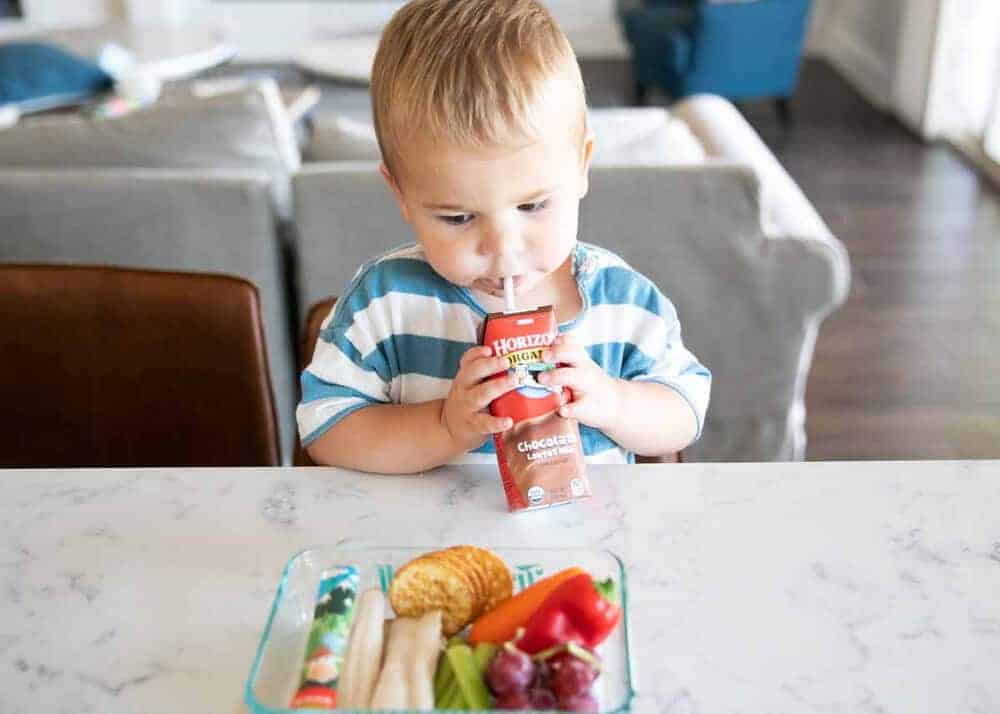 I hope these fridge organization tips and tricks help make life a little easier during this busy school season!
Brought to you by Horizon