Organize your meal planning schedule with these FREE printable menu plans! The perfect way to get on track each week.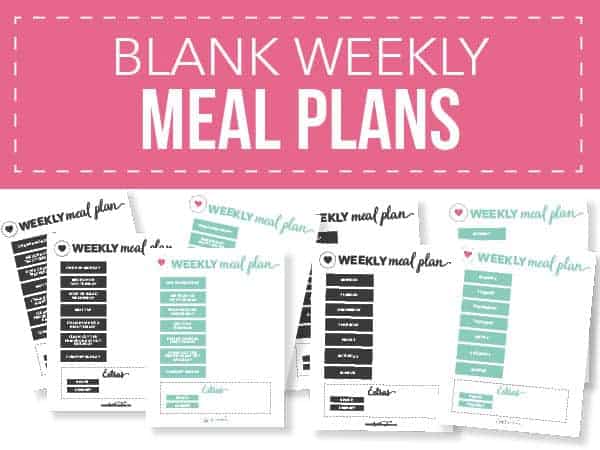 Easy Printable Meal Plans
I love to use weekly menu planners to schedule out my dinners for the week ahead. It helps me stay on track with healthy eating and takes the guess work out of what to cook each night.
Since the summer began, my meal planning has been pretty much non-existent. When that happens, I end up buying groceries I don't need, I don't eat as healthy and I DREAD cooking dinner. Between keeping up with my kids, working at home and cleaning – cooking can take the back seat. If you're like me, hopefully these blank printable menu plans will keep you on track!
It's easier for me to remember things when I write them down on paper. It solidifies what I'm thinking and helps me plan better, so I just love having an easy weekly menu plan on paper. Which is why I have created this meal plan template for you.
My plans are to get the menu planning template laminated, then write on it with a dry-erase marker. When I'm ready to go to the store, I'll just take the list with me and erase the items as I put them in my cart. So easy and efficient. You can also use our editable version and just print out a new meal plan each week.
To Download Free Printable Meal Plan Template
There are two free templates available – check out the differences between the different versions below.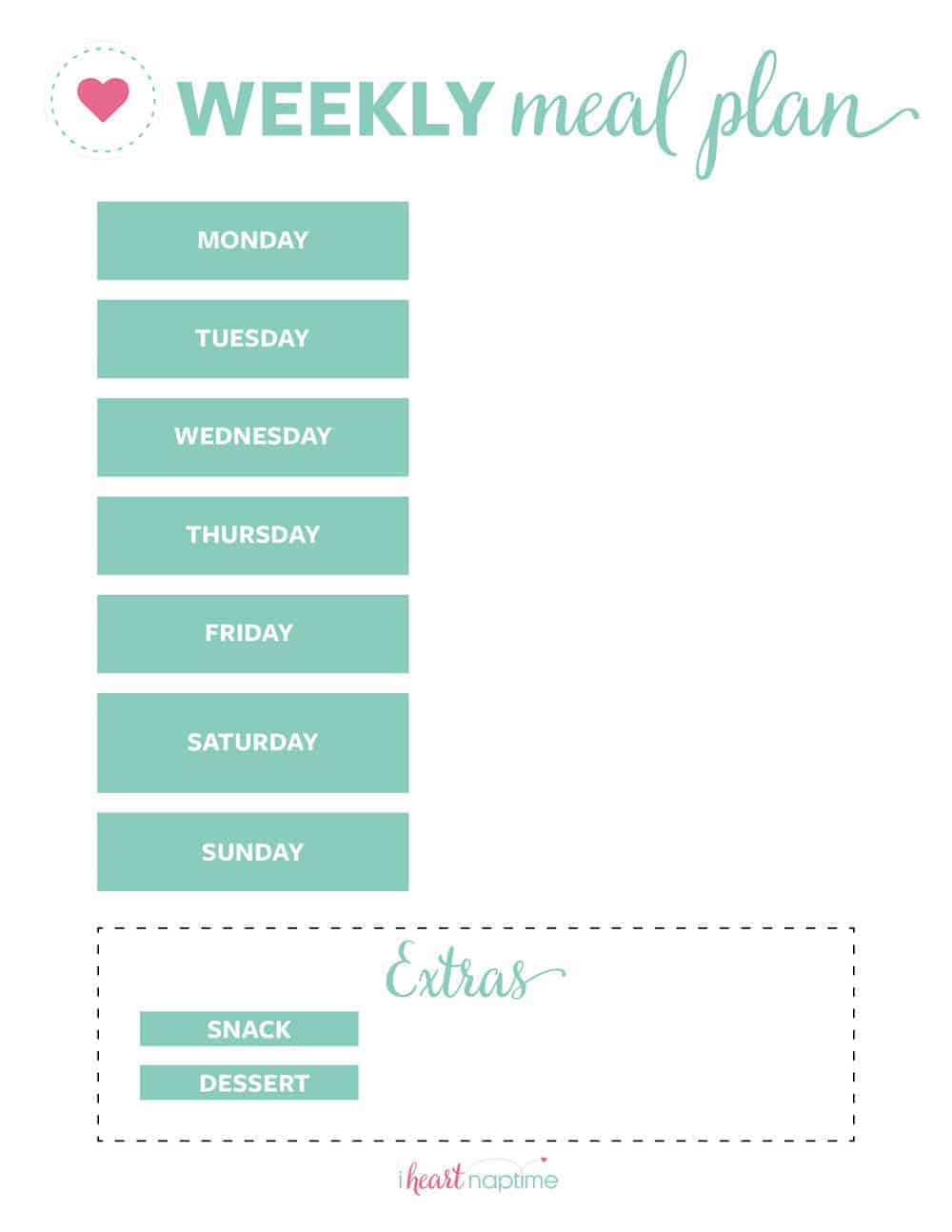 Version 1 (days of the week): Blank weekly meal plan with no set theme. Also includes a shopping list page. Available in turquoise and black and white.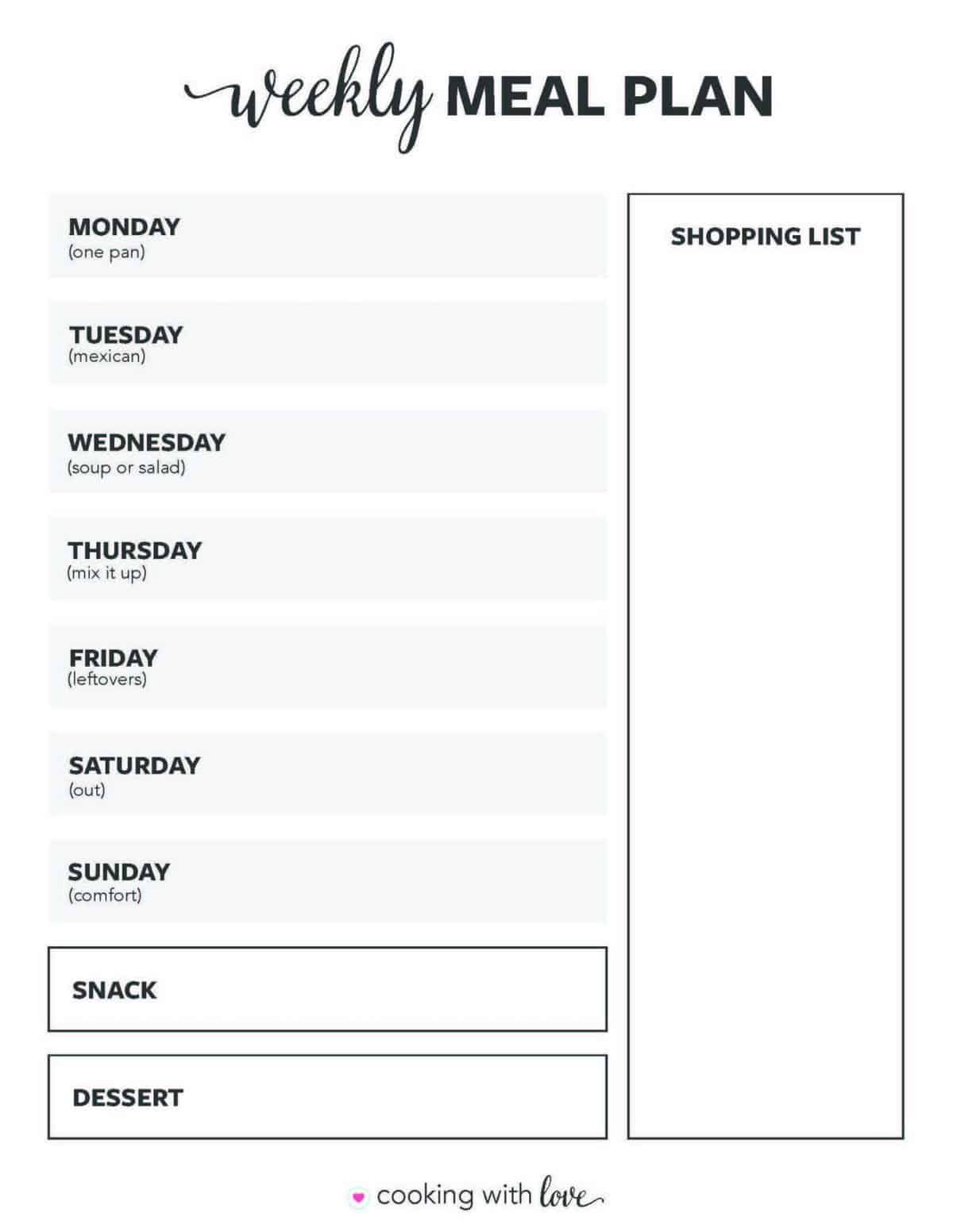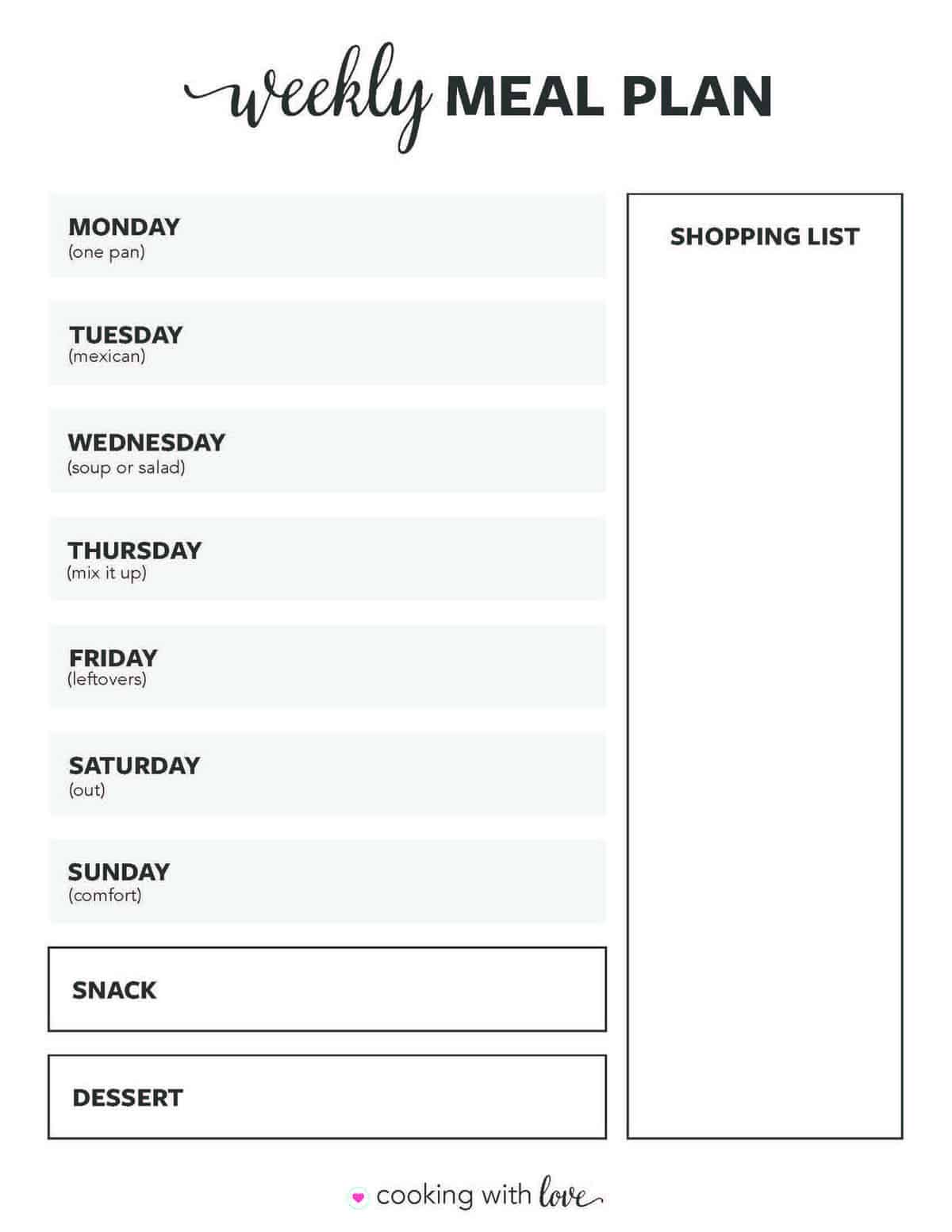 Version 2 (editable document with theme): Blank weekly editable meal plan that you can easily edit from week to week on your computer. This version also includes a shopping list box on the same page.
Tips for Weekly Meal Planning
Keep a secret Pinterest board for your menu plans. When the week is over, you can move the recipes you like to your public boards and delete the ones you didn't like and start over again!
Try to create dishes for the week that have some of the same ingredients.
Try new recipes, but make sure you add some family favorites to your list every week. I find that I spend way more time trying new recipes and you don't want to burn yourself out.
Create meals that have combined preparation time. For instance, have to recipes that have grilled chicken so you only have to grill chicken once and you save it for the next meal!
Keep your refrigerator (somewhat) organized and clean. When my fridge is too full, it's hard for me to remember what I have and I buy multiples. I had to buy a new refrigerator and I actually bought a smaller one so I would HAVE to throw out the leftovers more often!
I think the best thing about following a weekly menu planner is that I eat healthier AND save money. I'm a lot less likely to buy junk food when I have a set list of items. I've been following a weekly meal plan for the past week and I feel SO much better!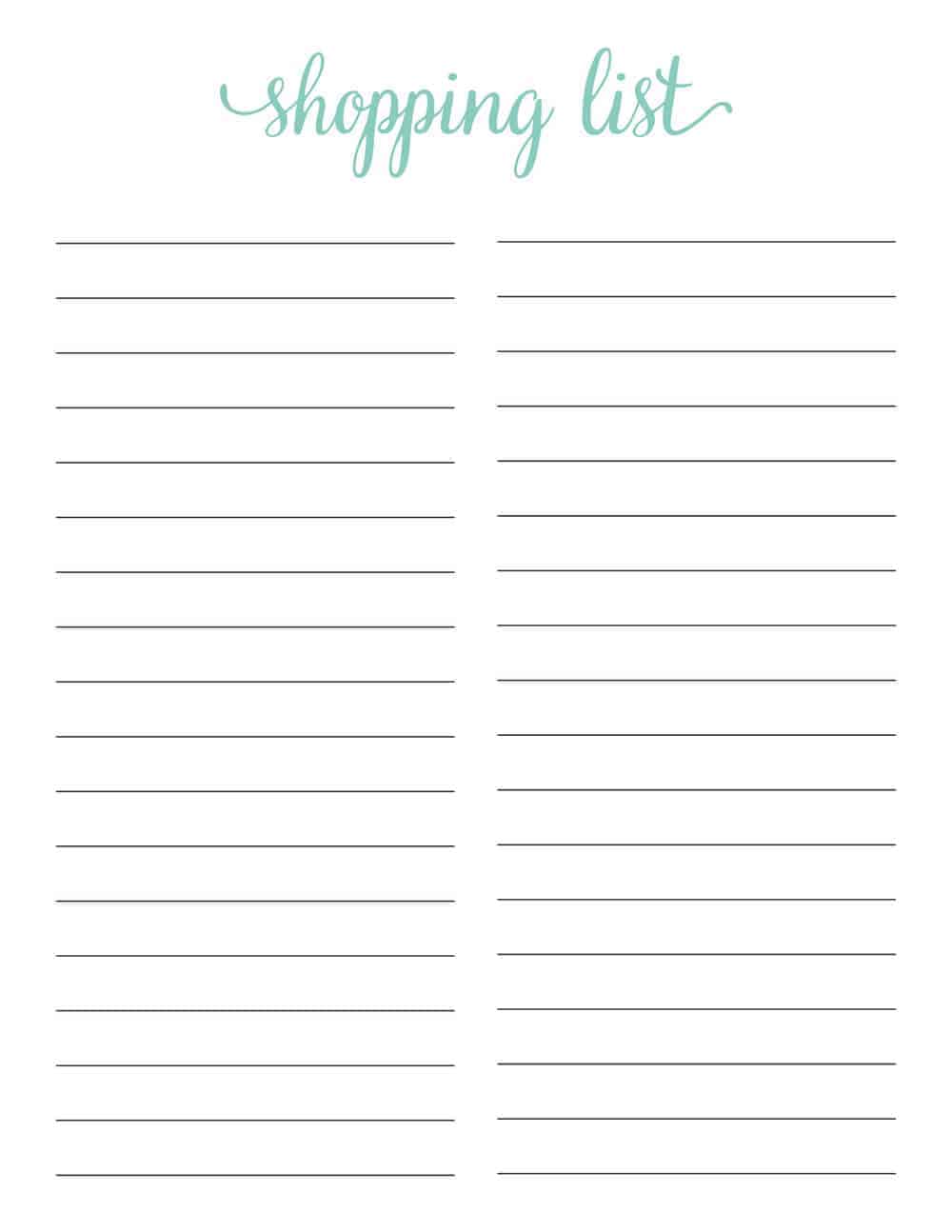 Join our Facebook Group for 40+ Meal Plans!
Did you know we have a community group on Facebook called 'Naptime Foodies'?! Each week we post a new FREE meal plan, tips and so much more! Click HERE to join. And don't forget to check out our amazing archive with 40+ FREE meal plans available to download.
More Organizing Helpers