It takes just 10 minutes to get tender grilled asparagus with a salty crispy-crunchy edge. Enjoy this simple tasty side dish served with any grilled meat, on the side of your breakfast omelette, or toss some into your salad!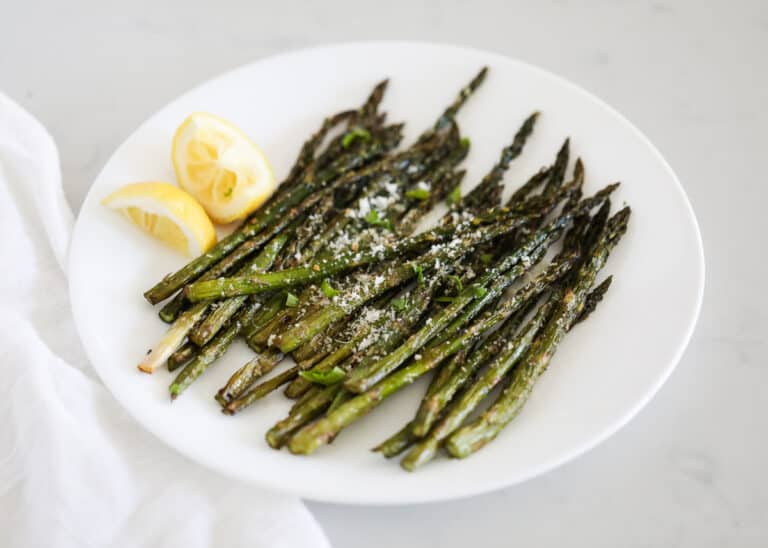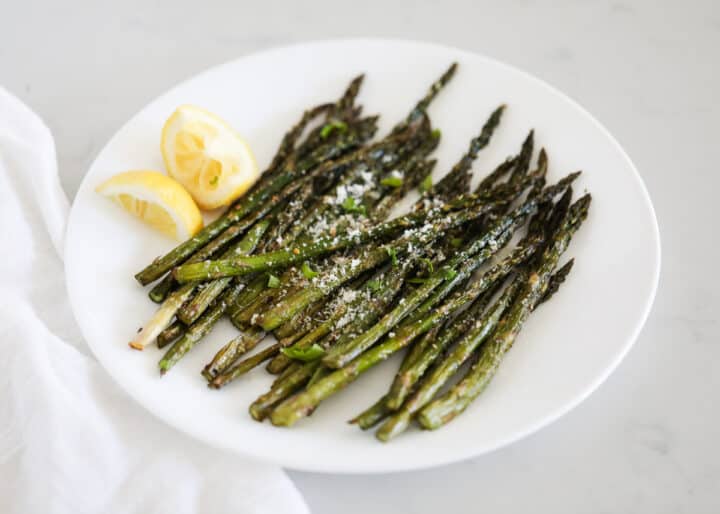 An easy grilled asparagus recipe
Grilled asparagus makes a great BBQ side dish throughout grilling season. When I'm making any type of grilled vegetables or vegetable skewers, it's usually to go alongside a main, whether it's grilled salmon, grilled chicken, steaks, or hamburgers. So, having easy recipes to turn to makes keeping an eye on the meat so much easier. This easy, grilled asparagus recipe is perfect for that.
It's a simple toss in oil, and a sprinkling of salt and pepper and the grill does the rest. They're a bit smoky and sweet with crispy-crunchy caramelized edges and a tender juicy inside. My kids love when I add a squeeze of lemon and a sprinkling of parmesan to add a citrusy, salty, yummy finish.
Cooking asparagus on the grill is super low maintenance and still ends up one of the best-tasting vegetables. They're a great option for a casual family dinner but also work for fancier occasions, maybe level up with grilled bacon wrapped asparagus or top with a balsamic glaze. It's a versatile summer side dish that can be used to complete any meal!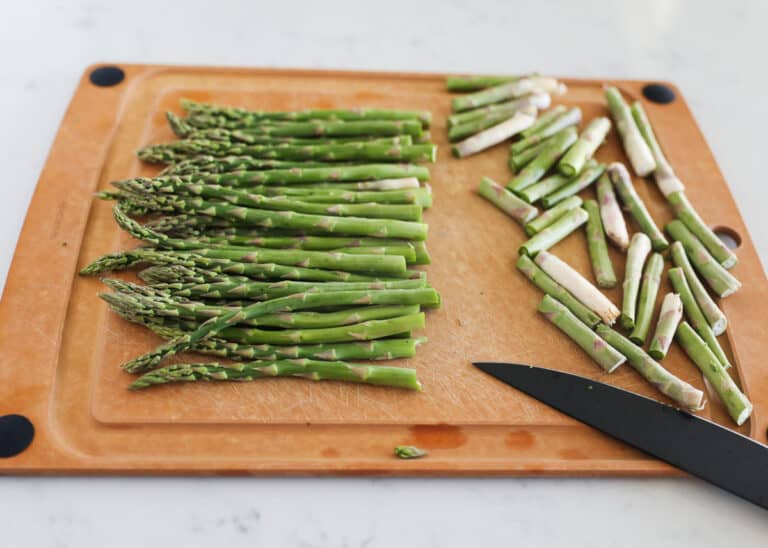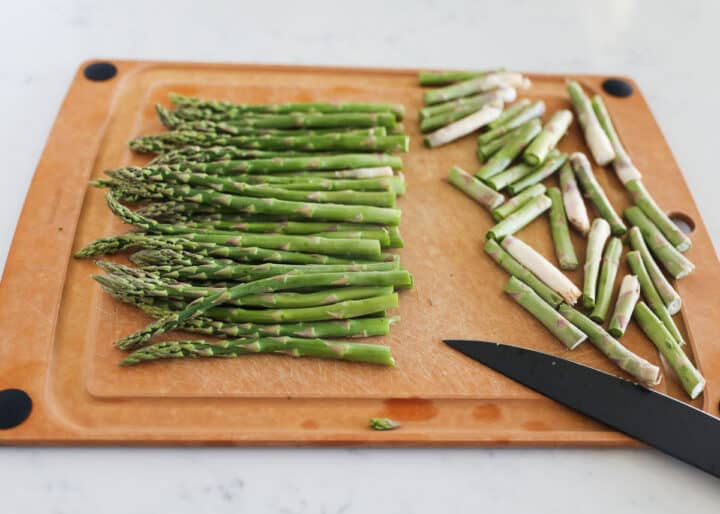 Preparing asparagus for the grill
Make sure to wash your asparagus before cooking it. You can wash it before or after trimming, as long as you dry it before it hits the grill. If you add wet asparagus to the grill, you'll steam it and it will get mushy rather than crispy.
How to trim asparagus
The snap: Grab both ends of the asparagus (1 or 2 at a time) and gently bend it until it naturally snaps. It should be about 1/3 of the way from the bottom (the thicker part of the stem) where the woody part ends and the tender stalk begins.
The cut: Line your asparagus up in a row, using a sharp knife, cut about 1/3 of the way up from the bottom. You should have nice even stalks and all uniform sizes.
Now, if you're super serious about your asparagus game, you might have come to learn that not everyone believes the first method actually works. When you're eating at a fancy restaurant they're not taking the chance that the break will happen at the exact right spot for fear of serving customers woody ends! So, the second method is sometimes preferred.

Tips for grilling asparagus
Make sure to clean your grill before you place the asparagus on.
When serving a crowd, once you've snapped off the ends, line them up and give them an even trim. Just for the sake of presentation!
Bundles come in a variety of sizes. Aim for thicker stalks that way they'll stay crispier and withstand the heat. You'll also have less of a chance they'll fall through the grate.
Place them down horizontally and crosswise against the grate.
If you're afraid of losing thinner stalks to the BBQ black hole, use a foil packet. Place the asparagus (and really any other veggies you'd like) toss them in oil, and sprinkle with salt and pepper.
How long to grill asparagus will depend on your grill, how many you're grilling, and how thick they are. A general rule of thumb is about 10 minutes, flipping once, or until they're tender yet crispy.
Ways to serve grilled asparagus
Storing & reheating
To Store: Keep grilled asparagus in an airtight container for up to 3 days in the fridge.
To Reheat: For a quick reheat, you can pop them in the microwave. They will be soft and wilted most likely this way. For best results, and to crisp them up a bit, use an air fryer or an oven at 300°F for 5 minutes.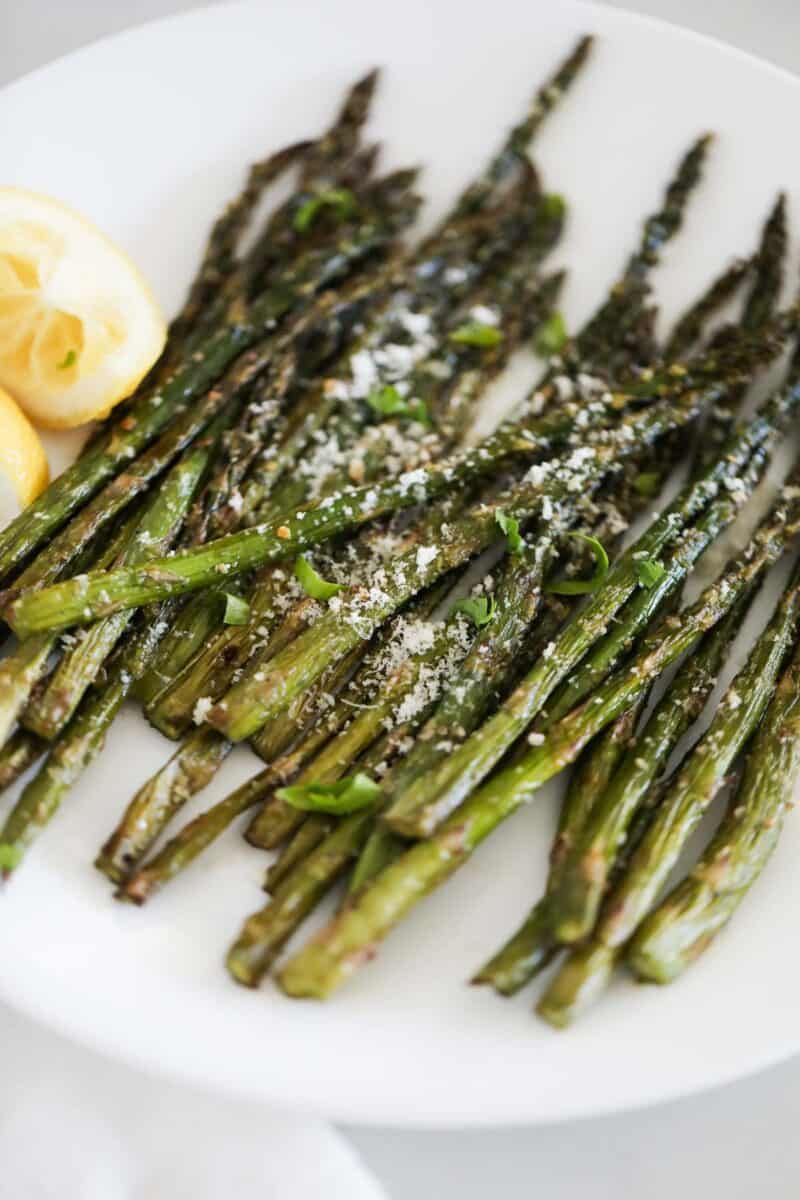 More grilled favorites: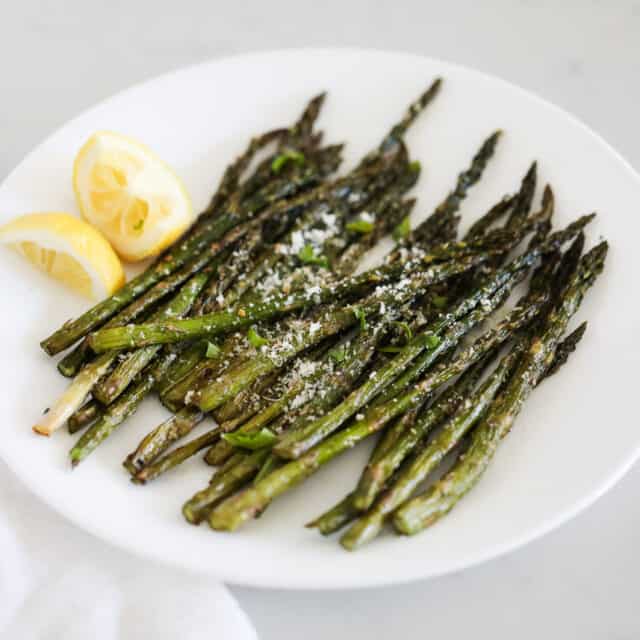 Grilled Asparagus
It takes just 10 minutes to get tender grilled asparagus with a salty crispy-crunchy edge. Enjoy this simple tasty side dish served with any grilled meat, on the side of your breakfast omelette, or toss some into your salad!
Ingredients
1 pound asparagus , washed
1 to 2 Tablespoons olive oil
1/2 teaspoon Kosher salt
1/4 teaspoon ground black pepper
For serving (optional): lemon wedge, freshly grated parmesan cheese
Instructions
Clean your grill and preheat to 350°F. Trim the bottom 2 to 3 inches of the asparagus by snapping the ends off or cutting them with a knife.

Place the asparagus in a bowl. Add the olive oil, salt and pepper. Toss until combined.

Transfer on the grill grates using tongs. Make sure they are in an even layer horizontally on the grill grates. Close the grill lid and cook for 5 minutes. Flip and cook an additional 3 to 5 minutes, or until they have grill marks and are slightly crisp.

Transfer to a serving platter. Add a squeeze of lemon juice and freshly grated parmesan cheese if desired. Salt and pepper to taste. Serve while warm.
---
Notes
Storage: Store leftovers in a covered container for up to 3 days. Reheating: You can reheat in the microwave, however these taste best reheated on the grill, in an airfryer or the oven. Simply cook at 300°F for 5 minutes or until warm.
Calories: 85kcal | Carbohydrates: 5g | Protein: 3g | Fat: 7g | Saturated Fat: 1g | Sodium: 584mg | Potassium: 233mg | Fiber: 2g | Sugar: 2g | Vitamin A: 859IU | Vitamin C: 6mg | Calcium: 29mg | Iron: 2mg
Nutrition provided is an estimate. It will vary based on specific ingredients used.
Did you make this recipe? Don't forget to give it a star rating below!