Bring out the natural flavors of your favorite vegetables with customizable sheet pan veggies. This recipe uses Brussels sprouts, bell peppers, onions, and broccoli that are roasted to caramelized, crispy, and tender perfection for a fresh, healthy, and delicious side dish for any main!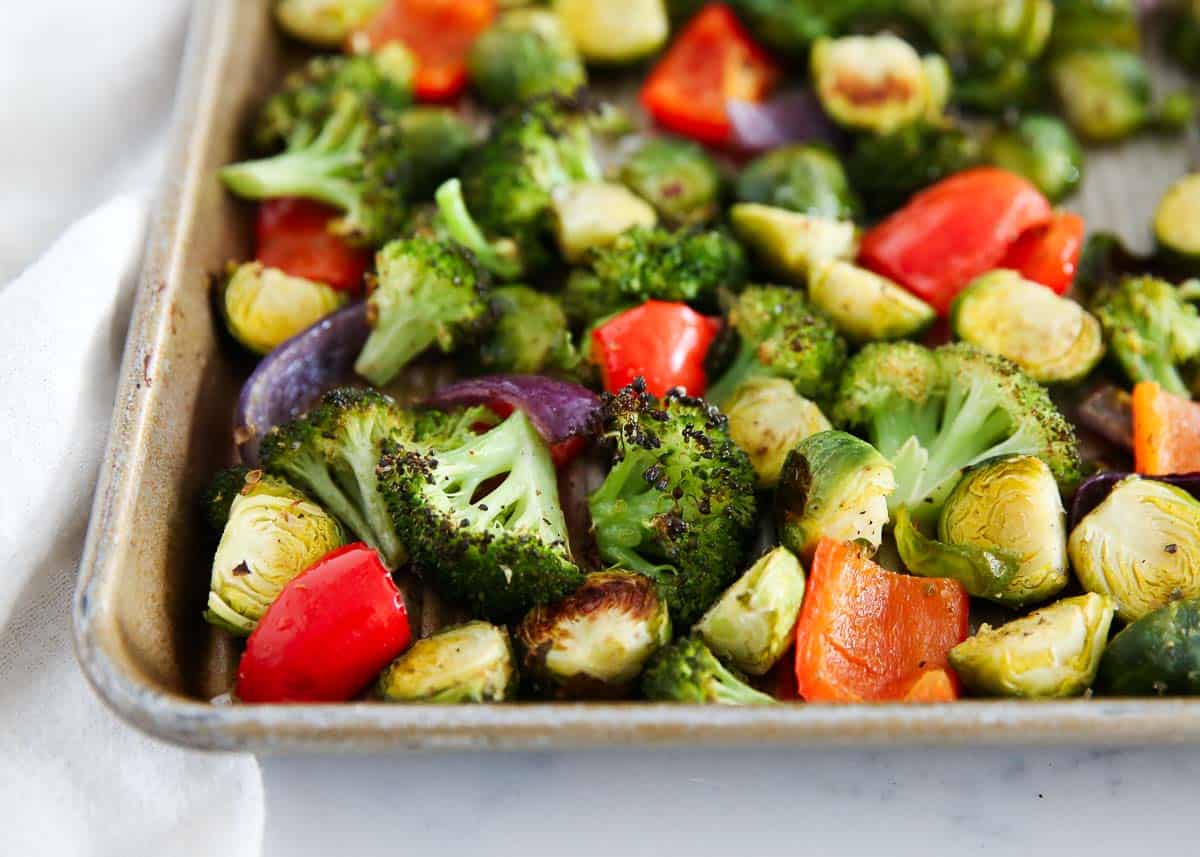 Colorful, Caramelized, and Crispy
If you've never considered vegetables something drool-worthy, well then it's safe to assume you've never tried any sort of oven roasted vegetables. It's about time we change that!
Sheet pan veggies are an easy way to get the most flavor out of any vegetable, from cruciferous to root veggies to any seasonal veggie you have in the fridge.
By cooking them at high temperatures, their natural sugars get released, giving them caramelization on the outside with crispy edges and a juicy and tender bite on the inside.
The thing about any sheet pan meal is that it's meant to be easy! We've made sheet pan sausage and veggies and sheet pan chicken and veggies among other complete meals, but sometimes we're just looking for a way to ramp up our side dishes.
So, the next time you want a quick and easy way to make a veggie side dish that everyone will devour (including the kids), this sheet pan oven roasted vegetable recipe is for you. We love it on the side of pot roast, oven baked steak or oven baked chicken breast for a wholesome, yummy meal any night of the week.
The Best Vegetables to Roast
The key is always roasting similar vegetables at the same time. That way you're not overcooking or undercooking any of your sheet pan veggies. Other than that, the options are limitless!
Brussels sprouts, broccoli, cauliflower
Bell peppers, green beans, onions, mushrooms
Beets, potatoes (sweet potatoes and regular potatoes), butternut squash, carrots, parsnips
Recipe Ingredients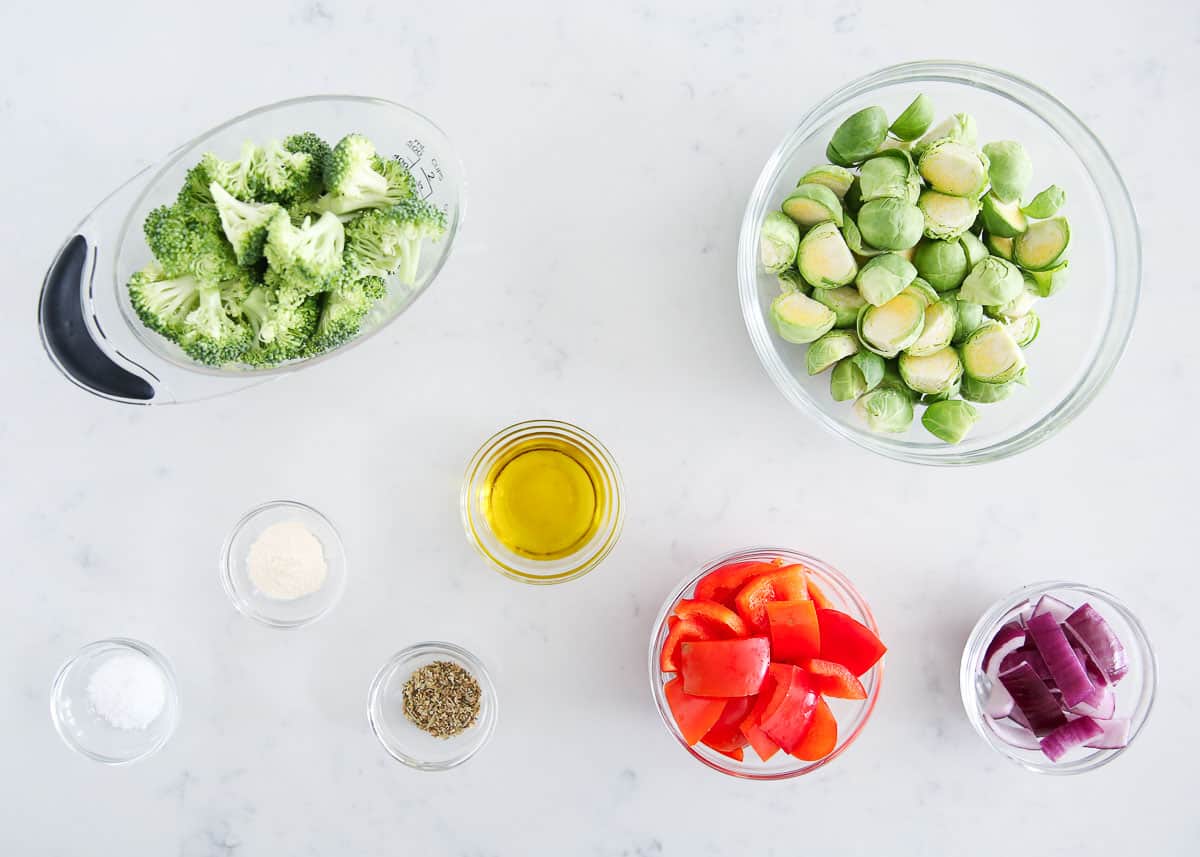 Find the full printable recipe with specific measurements below.
Broccoli: Chopped into medium florets.
Brussel sprouts: You can technically roast whole Brussels sprouts but I always like to halve them and remove the bottom stem. That way more of the inside gets that beautiful char and not just the outside. Make sure to wash them properly and remove any outer layers that don't look so nice.
Red bell pepper: Slice them into chunks. If you leave them too small they will cook too fast for the other veggies. Of course, you can choose whatever color pepper you like.
Red onion: Also cut into chunks. This is a milder sweeter onion that people eat raw but tastes even better roasted. You can swap this for wedges of yellow or white onion if preferred. If you don't love onion, feel free to omit.
Olive oil: Needed to help coat the vegetables for a nonstick surface and to help the seasoning stick, but it also helps with browning and caramelizing.
Seasoning: I use homemade Italian seasoning, garlic powder, salt, and pepper.
Variations
If you'd like to add in some root veggies like carrots or potatoes to your sheet pan veggies, throw them in the oven 10-15 minutes earlier than the rest.
Make it a meal with added protein on top. Sliced sausage or diced chicken is always great. The juices from the meat add even more flavor.
Toss in some seasonal veggies such as squash or zucchini.
Switch up the seasoning on occasion. Use thyme, rosemary, balsamic vinegar, lemon juice, or Parmesan cheese. Any of the above combinations would work too!
Drizzle with a sauce. Right before serving we occasionally love to drizzle a balsamic glaze or honey mustard on top.
How to Make Sheet Pan Veggies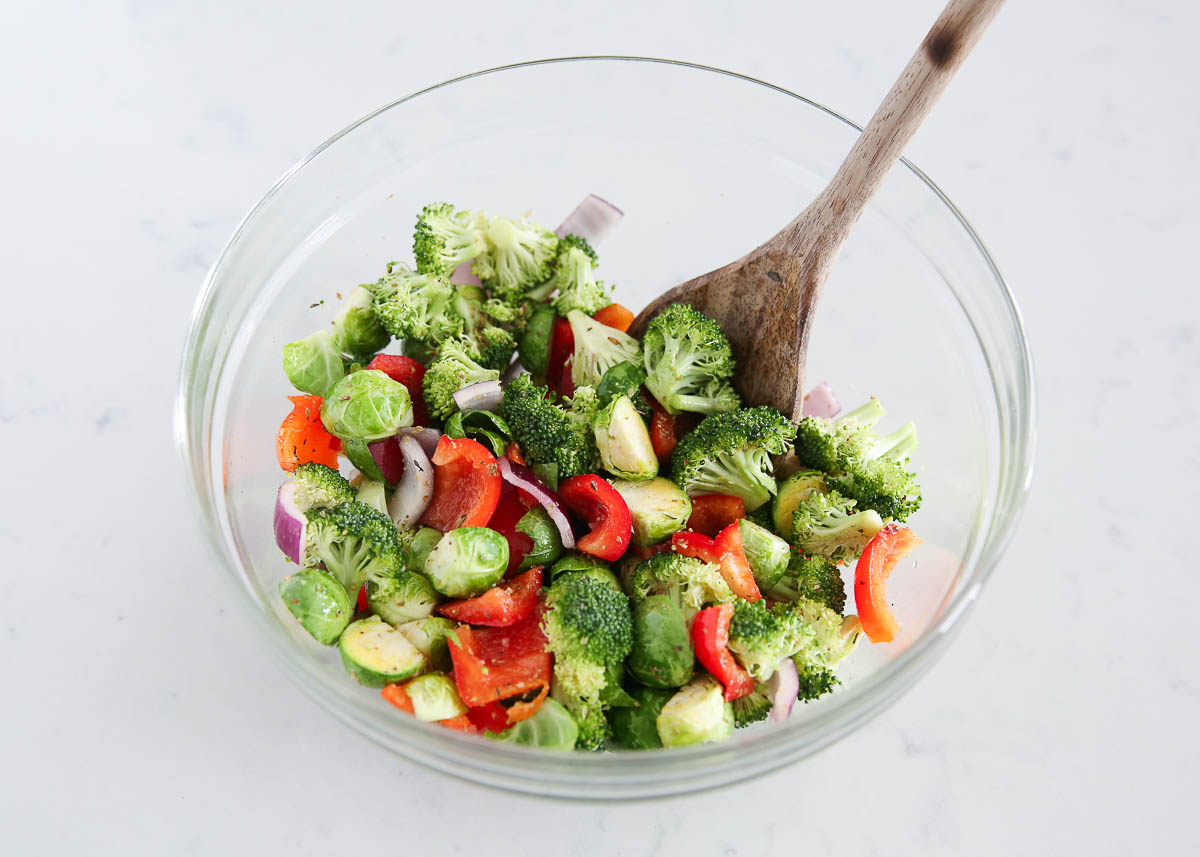 Season the veggies. In a large bowl, add broccoli, sprouts, pepper, and onion, and toss in olive oil and seasonings until well coated.
Arrange them on a baking sheet. Transfer the vegetables to a prepared baking sheet and arrange them in a single layer. I like to make a point of placing the Brussels sprouts open face down, that way the insides get the best char!
Transfer to the oven. Bake for 20-25 minutes until the veggies are tender and golden around the edges.
Season and serve. Sprinkle with a bit of extra salt and pepper and serve warm.
Tips to Avoid Soggy Roasted Vegetables
Be sure to completely dry your veggies after they've been washed. I mean TOTALLY. You want them to crisp up nicely, rather than steam! I like to wash them a couple hours before baking.
Do not overlap. As best as you can place them in a single layer leaving a bit of space in between. If you need to, use 2 baking sheets or work in batches.
Heat the pan. It's a great idea to place the sheet pan in the oven ahead of time to get it nice and hot. Once the veggies hit the tray, they immediately sizzle and start to form an outer crisp.
Toss the veggies. Although it's not a must, it's nice to flip them halfway to make sure all sides are getting crispy. This is helpful if the pan is a little crowded.
Cut into similar sizes. You want all your veggies to be cut into uniform sizes. That way they roast at the same time.
Do not overcook. Leaving them in the oven for too long can either burn them or make them soggy, especially veggies that contain more water.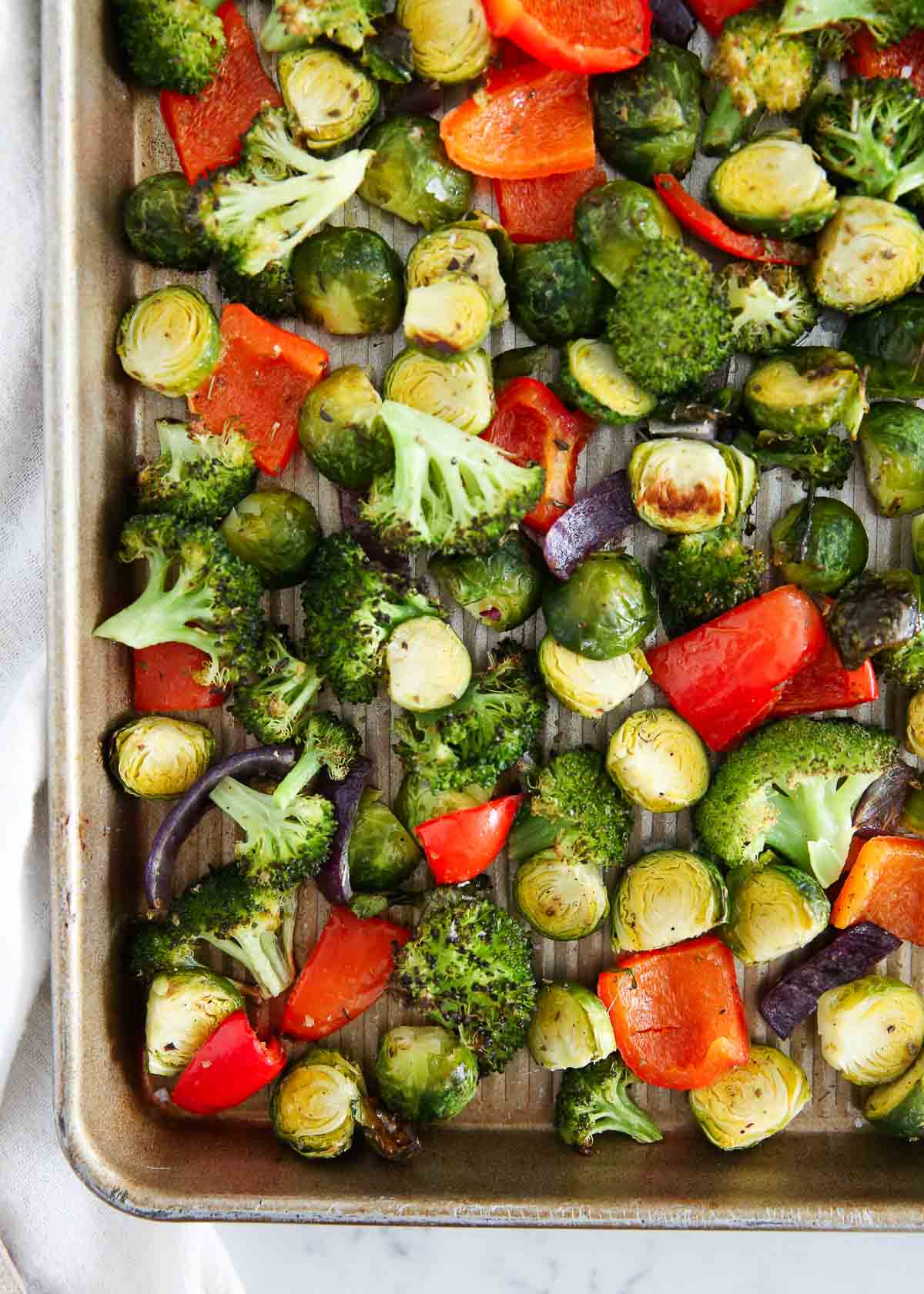 Recipe FAQs
What temperature is best for roasting vegetables?
425°F is my preference, but you could get away with anywhere between 375°F and 425°F, depending on the types of veggies and your oven. You'll just need to adjust the cooking time slightly if you adjust the temperature.
Is it better to roast vegetables on aluminum foil or parchment paper?
To be honest, I find roasting directly on a nonstick baking sheet sprayed with cooking oil is best! If you're looking for a bit of an easier time with cleanup, then parchment paper is the next best thing.
How long can I store leftover cooked veggies in the fridge?
Keep them stored in an airtight container for up to 4 days.
What's the best way to reheat roasted sheet pan vegetables?
The longer they sit, the more they'll lose their crispness, so avoid the microwave if you care to get any of that back.

Use either a bit of oil in a skillet on the stovetop, the oven, or the air fryer.
Serving Suggestions
Mixed roasted sheet pan veggies can do no wrong. They go with almost everything! Serve them on the side of a teriyaki burger, pan seared salmon, homemade meatloaf, or baked ham.
For a simple vegetarian meal or light lunch have them on the side of a bowl of creamy sweet potato soup.
These sheet pan veggies are so good, you'll find yourself eating a bowlful all by itself. And good luck trying not to pick them right off the baking tray!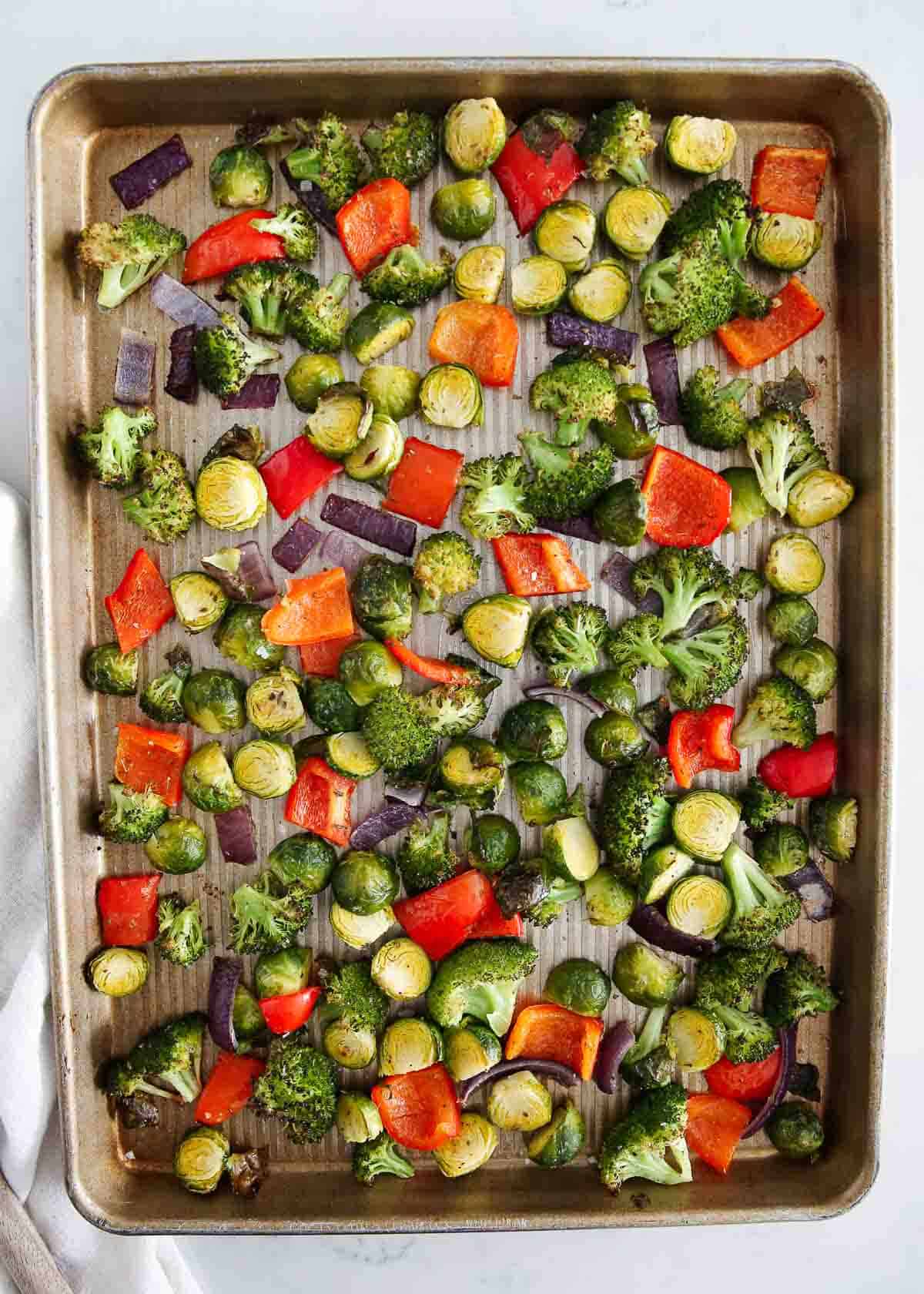 HUNGRY FOR MORE? Subscribe to my newsletter and follow on Facebook, Pinterest and Instagram for all the newest recipes!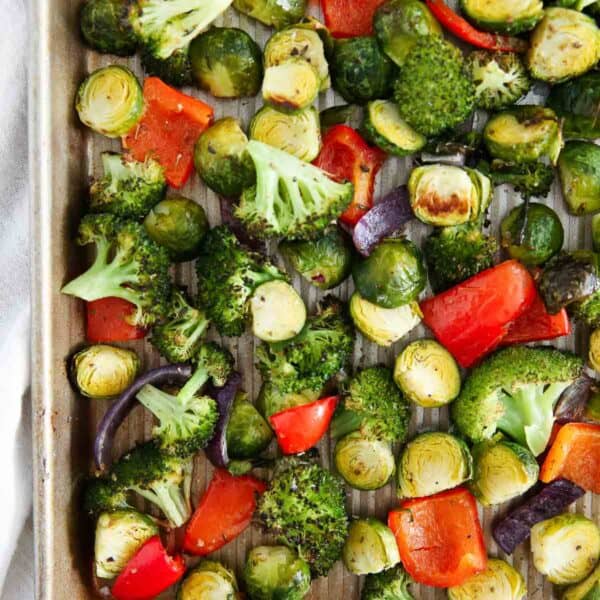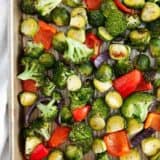 Sheet Pan Veggies
Bring out the natural flavors of your favorite vegetables with customizable sheet pan veggies. This recipe uses Brussels sprouts, bell peppers, onions, and broccoli that are roasted to caramelized, crispy, and tender perfection for a fresh, healthy, and delicious side dish for any main!
Ingredients
1 head broccoli , chopped
2 cups brussels sprouts , sliced in half and bottom stems removed
1 red bell pepper , sliced into chunks
½ red onion , sliced into chunks
2-3 Tablespoons olive oil
1 teaspoon Italian seasoning
½ teaspoon garlic powder
1 teaspoon Kosher salt
¼ teaspoon ground black pepper
Instructions
Preheat the oven to 425°F. Spray a large baking sheet with nonstick spray.

In a large bowl, toss together broccoli, brussels sprouts, bell pepper, and onion. Drizzle with olive oil and add Italian seasoning, garlic, powder, salt, and pepper. Toss until veggies are well coated. Transfer to the baking sheet in a single layer.

Bake 20 to 25 minutes, or until the veggies are fork tender and golden around the edges.

Season with salt and pepper and serve while warm.
---
Notes
Variations:
Add in root vegetables, such as potatoes and carrots. I like to cook these for about 10-15 minutes before adding the other vegetables.
Make it a meal and add in some sliced sausage or diced chicken on top.
Add in seasonal vegetables, such as zucchini or squash.
Storage: Store leftovers in an airtight container in the refrigerator up to 4 days. Reheat on the stovetop with a little olive oil or in the oven.
Nutrition
Serving: 1cup | Calories: 99kcal | Carbohydrates: 12g | Protein: 4g | Fat: 5g | Saturated Fat: 1g | Polyunsaturated Fat: 1g | Monounsaturated Fat: 3g | Sodium: 430mg | Potassium: 498mg | Fiber: 5g | Sugar: 4g | Vitamin A: 1480IU | Vitamin C: 141mg | Calcium: 70mg | Iron: 1mg
Nutrition provided is an estimate. It will vary based on specific ingredients used.
Did you make this recipe? Don't forget to give it a star rating below!