Discover the secrets behind recreating the mouthwatering Chicken Madeira from Cheesecake Factory at home! Juicy chicken, mushrooms, and a sweet wine sauce make it both fancy and comforting. Perfect for family dinners or special occasions.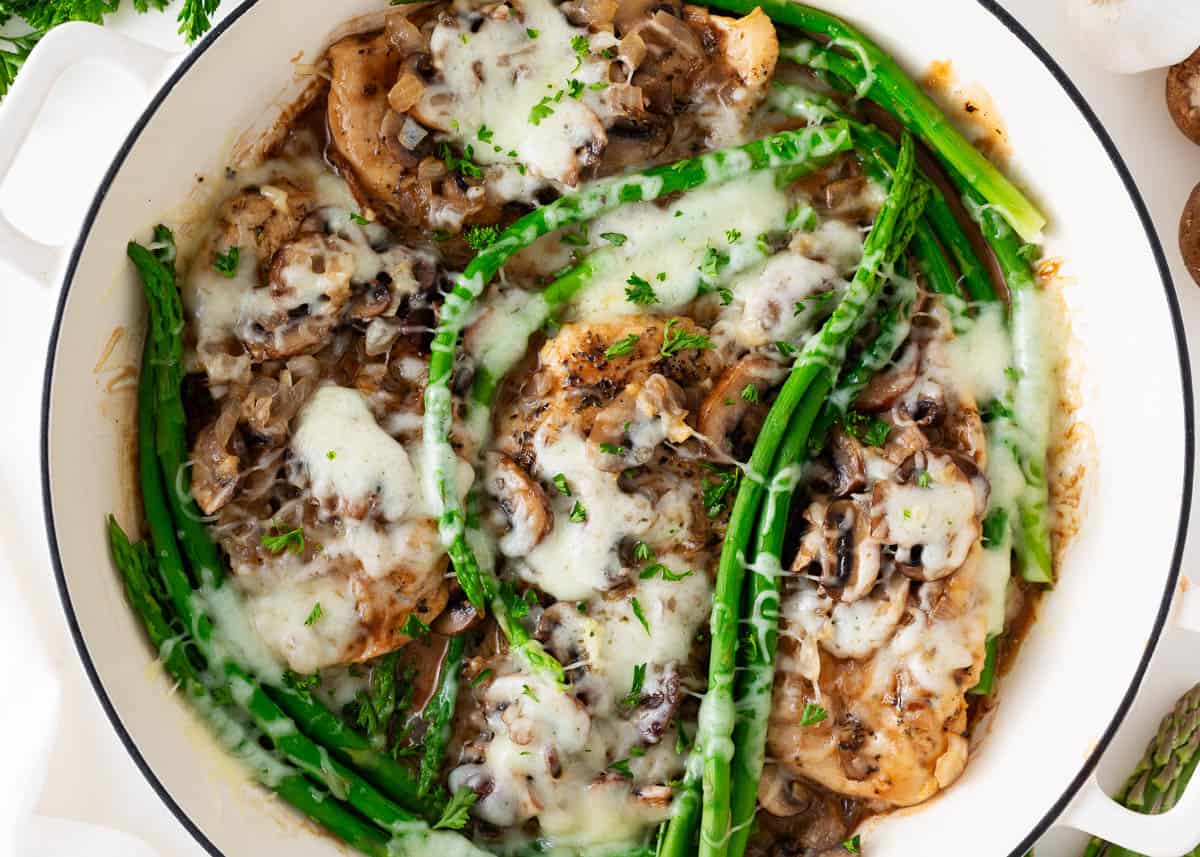 A Family Favorite
Today, we're diving into a recipe that's all about indulgence and comfort. If you've ever dined at the Cheesecake Factory and fallen head over heels for their chicken Madeira, you're in for a treat. I'm about to unveil the secrets behind recreating this mouthwatering dish right in your own kitchen!
This is one of my family's favorite copycat recipes. It's an elevated comfort meal perfect for a family weeknight dinner that can just as easily be served to guests for special occasions.
Similar to my chicken marsala and salisbury steak recipes, everything is made in one pot so the cleanup is a breeze which means less time in the kitchen!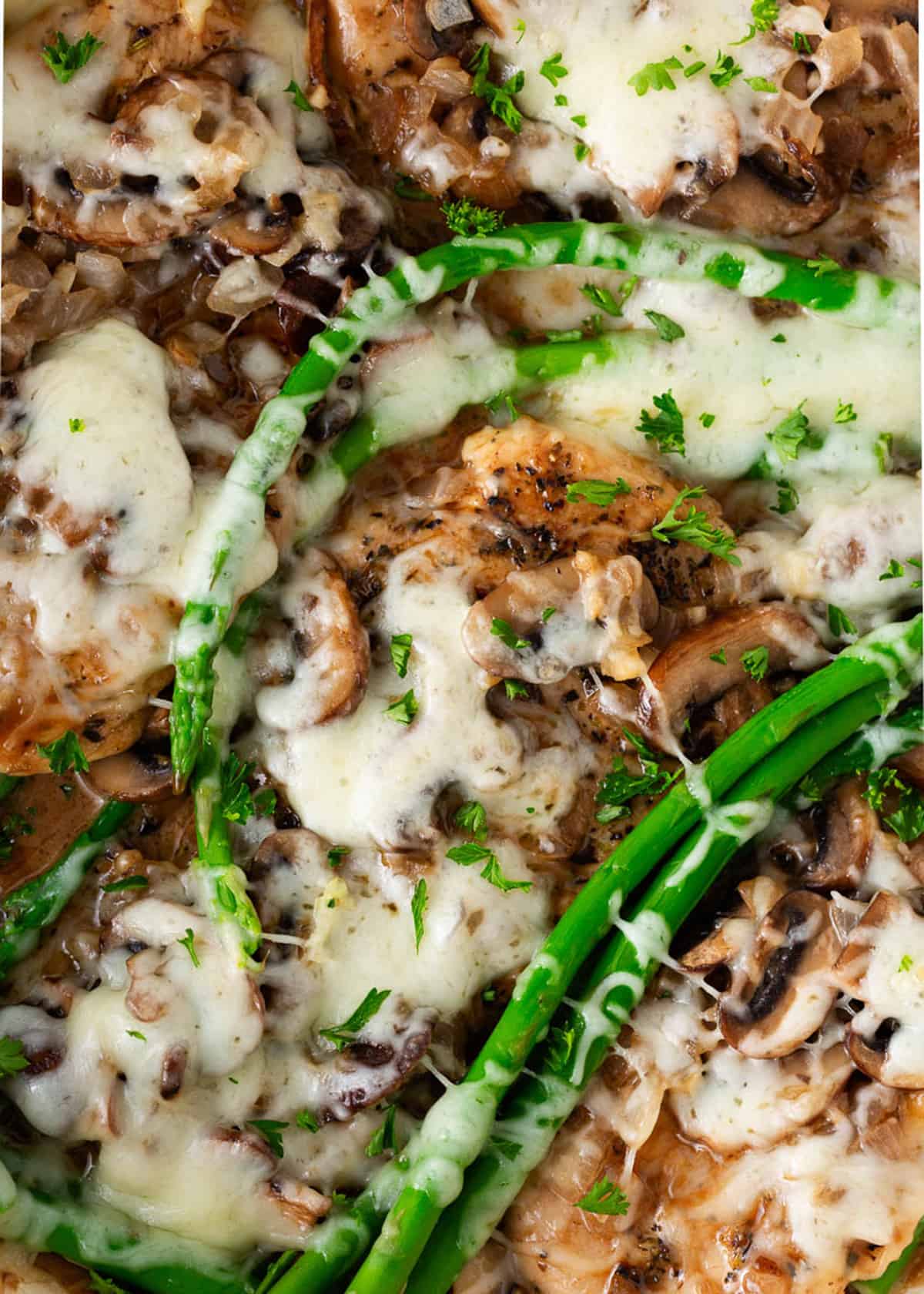 What is Chicken Madeira?
Basically, it's juicy chicken cooked just right, mixed with tasty mushrooms and onions. Then everything is topped with a creamy Madeira sauce made with wine that's a bit sweet.
Plus, there's also asparagus that's crispy and green. Oh, and don't forget the melty cheese on top! It's a bit fancy but also really comforting!
Recipe Ingredients
Let's take a look at what you'll need to make this recipe for Madeira chicken.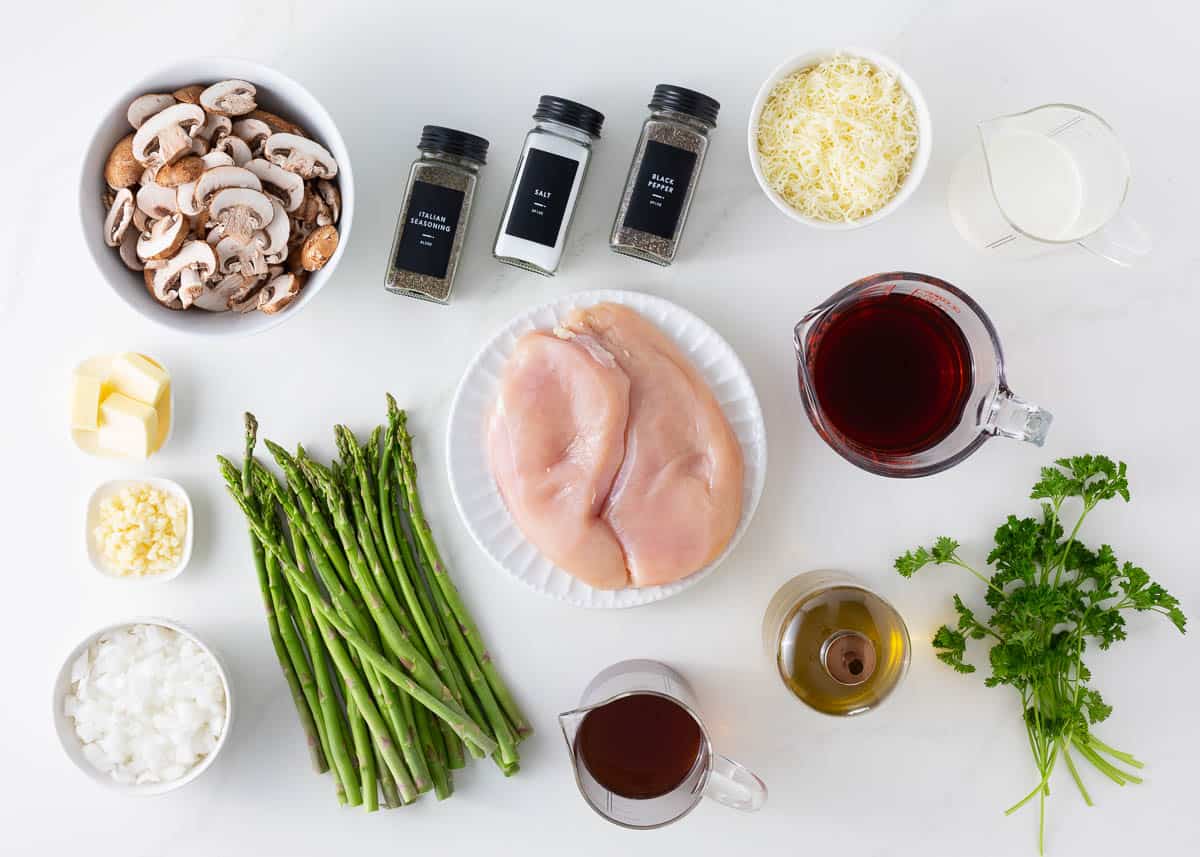 Find the full printable recipe with specific measurements below.
Mushrooms and onions: These are sautéed to a golden brown so they give the chicken dish a flavorful base.
Skinless chicken breasts: While this chicken Madeira recipe calls for breasts, you can also use boneless, skinless chicken thighs if you prefer. Just adjust the cooking time slightly as chicken thighs might take a bit longer to cook through.
Italian seasoning: A blend of dried herbs like oregano, basil, and thyme, this seasoning adds a touch of Italian flair. You can make your own Italian seasoning at home or buy a blend.
Madeira wine: Madeira wine lends its distinct depth and sweetness to the sauce. If unavailable, you can substitute with other dry red or white wines, adjusting the sweetness as needed.
Low-sodium broth: The broth forms the base of the sauce. Choose either beef or chicken broth based on your preference.
Asparagus: Asparagus adds a wonderful touch, but you can use other vegetables like green beans, broccoli, or spinach if you'd like. Just make sure to adjust the cooking time as needed for the vegetable you choose.
Whipping cream: Cream adds a luxurious, velvety texture to the sauce. Using room-temperature cream prevents curdling when added to the hot sauce.
Mozzarella cheese: Mozzarella cheese tops the dish. You can experiment with different cheeses, but mozzarella's mild flavor works well here.
Variations
It's so easy to switch this recipe for chicken Madeira up a bit depending on your personal preferences.
No asparagus at home? No problem! Swap it out for some broccoli, green beans, or even sautéed spinach. Use whatever you have!
Instead of heavy cream, use half-and-half, milk, or even Greek yogurt in a pinch.
Other cheeses work! While mozzarella is my first choice, you can also try provolone, Gruyère, or Swiss for a cheesy finish.
Use any kind of mushrooms you like. Shiitake, cremini, or oyster would all work in this recipe. You could also leave the chicken out and use portobello mushrooms instead for a vegetarian twist. In that case, also use vegetable broth for the sauce.
How to Make Chicken Madeira
This is a bit of a hands-on recipe, so it's a good one to try when you have time to spend in the kitchen attending to the different components. Even though there are a few steps, my version of this popular chicken dish comes together pretty quickly.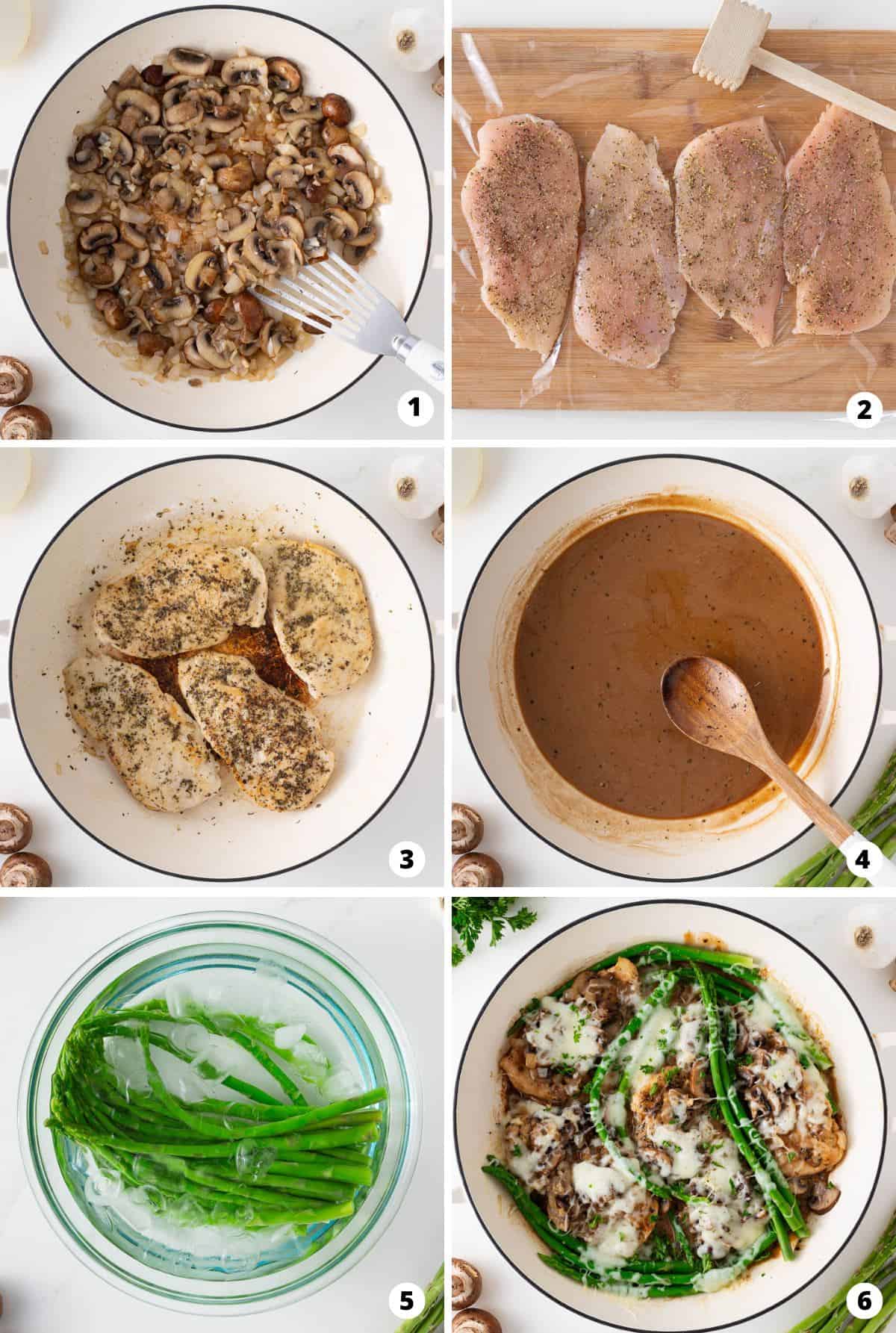 Sauté. Add the onions and mushrooms to an oven-safe pan and sauté until they have softened. Add the garlic, continue to sauté then transfer everything to a plate.
Pound. Pound the chicken to ¼-inch thick and season.
Cook. Add the chicken cutlets to the pan and cook on medium-high for 3 – 4 minutes per side until they are golden brown and cooked through. Remove them from the pan.
Make the sauce. Deglaze the pan with the wine, then add the broth and let it boil until reduced to ¼ of its original liquid. Reduce the heat and slowly whisk in the cream and simmer for 2 minutes until the sauce thickens.
Boil asparagus. Place the asparagus in a large pot and boil until bright green and tender.
Broil. Return the cooked cutlets to the pan and top it with the vegetables. Sprinkle the cheese over the top and broil until the cheese is melted and bubbly.
Expert Tips
Pound your cutlets to an even thickness to ensure uniform cooking.
When sautéing the onions and mushrooms, let them cook until they release their moisture and start to brown.
To prevent curdling, make sure your whipping cream is at room temperature before adding it to the sauce. Slowly whisk it in and simmer gently to achieve a silky finish.
Plunging the asparagus in cold water avoids overcooking it plus it locks in that vibrant green color.
Keep a close eye on the cheese as it is broiled. It only takes a few seconds to achieve melty perfection.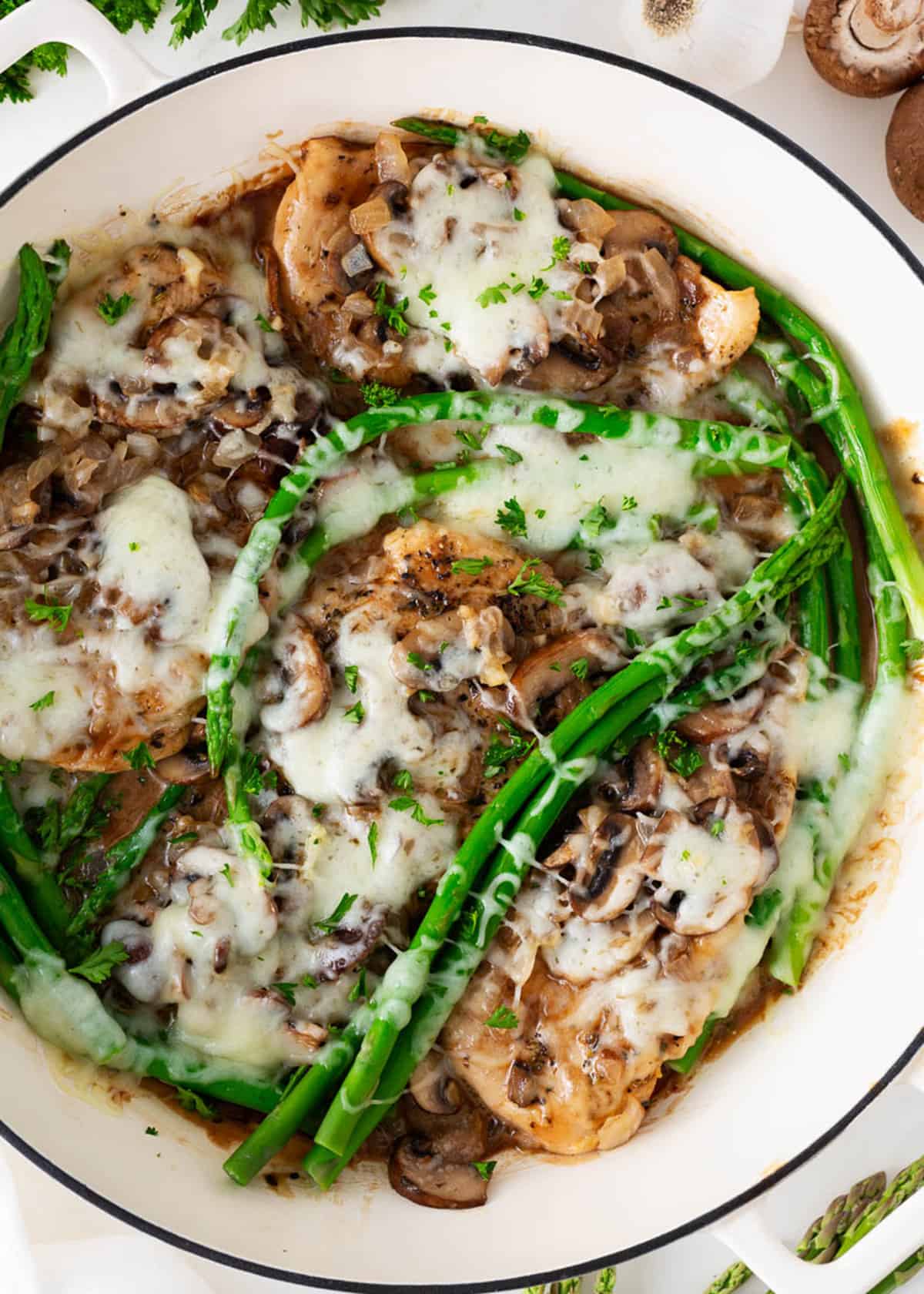 Recipe FAQs
Can I use a different type of wine if I don't have Madeira wine on hand?
Absolutely! If you don't have Madeira wine, you can substitute it with another dry red or white wine. Just keep in mind that the flavor might vary slightly, but it will still work well in the chicken Madeira recipe.
How can I make this chicken Madeira recipe more kid-friendly?
If you're serving this to kids, you can reduce the amount of Madeira wine in the sauce or use chicken broth instead of beef broth for a milder flavor. Additionally, you can skip the Italian seasoning and adjust the level of garlic to suit their taste preferences.
Can I make this chicken Madeira recipe ahead of time for a dinner party?
Yes, you can prepare the components ahead of time. You can cook the chicken, mushrooms, and asparagus, and make the sauce separately. Assemble the dish just before serving and broil to melt the cheese. This way, you can have a stress-free dinner party!
Can I freeze the leftovers?
While this dish is best enjoyed fresh, you can freeze the leftovers in an airtight container for up to 2-3 months. However, keep in mind that the texture of the sauce and the asparagus might change slightly upon reheating. I prefer it fresh.
Storing Leftover Chicken Madeira
Put your chicken Madeira leftovers into an airtight container and store them in the refrigerator for up to 3 days.
To reheat, you can use your microwave for a quick fix. Just be sure to use only 50% power in 30-second bursts so the cutlets don't dry out.
You can also reheat the leftovers on the stovetop in a non-stick skillet or saucepan over medium-low heat. If the meat looks a bit dry, add a splash of broth, wine, or water to keep things moist as you warm it up.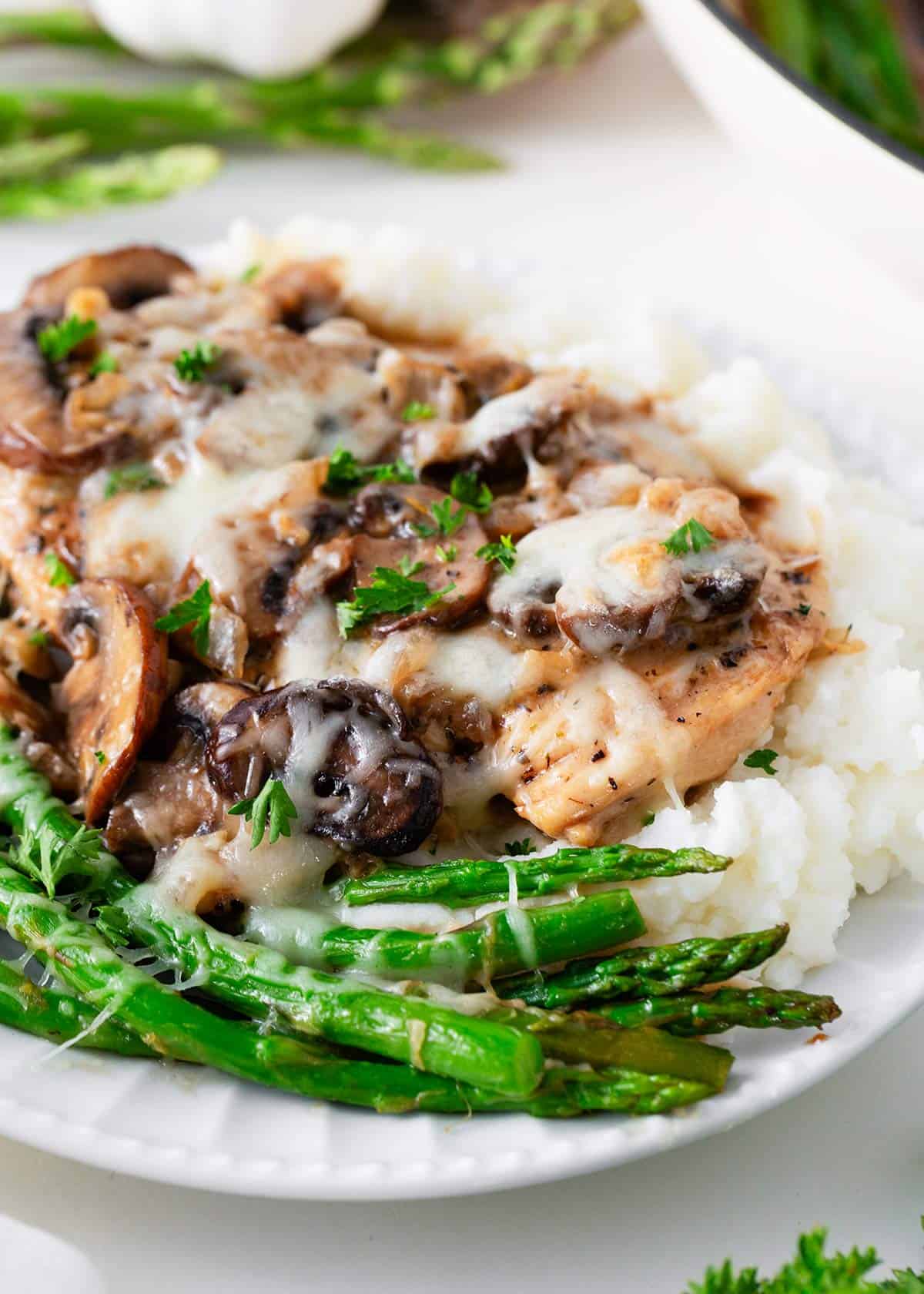 More Chicken Recipes
HUNGRY FOR MORE? Subscribe to my newsletter and follow on Facebook, Pinterest and Instagram for all the newest recipes!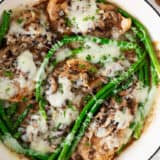 Chicken Madeira Recipe
Discover the secrets behind recreating the mouthwatering Chicken Madeira from Cheesecake Factory at home! Juicy chicken, mushrooms, and a sweet wine sauce make it both fancy and comforting. Perfect for family dinners or special occasions.
Ingredients
Chicken
3 tablespoons salted butter , divided
1-2 Tablespoons olive oil
1 small onion or 1/2 large, finely chopped
8 ounces mushrooms , thinly sliced
1 ½ Tablespoons minced garlic (about 3 cloves)
1 pound boneless, skinless chicken breasts (about 2 large breasts)
1 teaspoon Kosher salt
¼ teaspoon ground black pepper
½ teaspoon Italian seasoning
Sauce
1 ½ cups Madeira wine , or white cooking wine
1 cup low-sodium beef broth or chicken broth
8 ounces asparagus , ends trimmed (about 25 thin spears)
½ cup whipping cream (heavy or regular), at room temperature
Ground black pepper
1 cup shredded mozzarella cheese
2 tablespoons chopped fresh parsley , for serving
For serving: Mashed potatoes
Instructions
Chicken
In a heavy-bottomed, oven-safe pan, melt 2 Tablespoons butter and 1 Tablespoon olive oil over medium-high heat. Stir in the onions and mushrooms. Sauté 5 minutes, or until softened. Stir in the garlic and cook 2 minutes more. Transfer to a plate.

Slice the chicken breasts in half lengthwise. Place each piece between plastic wrap and pound to 1/4-inch thick. Rub the chicken 1 teaspoon salt, pepper, and Italian seasoning.

In the same pan, melt the remaining 1 Tablespoon butter over medium-high heat. Once the butter is no longer foaming, add the chicken breasts and sauté 3 to 4 minutes on each side, or until they are golden brown and cooked through. Transfer chicken to the same plate with the mushroom mixture.
Sauce
In the same pan, add the wine and boil over medium-high heat, scraping the bottom of the skillet to deglaze and pick up any browned bits, 5 minutes, or until wine is reduced by half. Stir in the broth and boil until 10 minutes, or until reduced to 1/4 of its original liquid.

While the sauce is reducing, fill a large pot with water and add salt. Bring to a boil over medium heat. Add asparagus and boil 3 to 4 minutes, or until bright green and tender. Place on a plate lined with paper towel or to keep crisp transfer asparagus to a bowl of ice cold water. Drain.

Reduce heat on the sauce to medium-low and slowly whisk in the cream. Simmer 2 minutes, or until sauce thickens. Season with salt and pepper to taste.

Return the cooked chicken breasts to the pan, ensuring the chicken is well coated in the sauce. Top with mushroom mixture, asparagus, and mozzarella. Broil 3 to 4 minutes, or until cheese is melted and bubbly.

Sprinkle with parsley and serve with mashed potatoes.
---
Nutrition
Calories: 535kcal | Carbohydrates: 11g | Protein: 36g | Fat: 32g | Saturated Fat: 17g | Polyunsaturated Fat: 2g | Monounsaturated Fat: 10g | Trans Fat: 0.4g | Cholesterol: 151mg | Sodium: 2829mg | Potassium: 1004mg | Fiber: 2g | Sugar: 5g | Vitamin A: 1526IU | Vitamin C: 11mg | Calcium: 211mg | Iron: 3mg
Nutrition provided is an estimate. It will vary based on specific ingredients used.
Did you make this recipe? Don't forget to give it a star rating below!