This parmesan roasted broccoli is the best broccoli ever! Such a simple, yet tasty side dish. Perfectly crispy and full of flavor!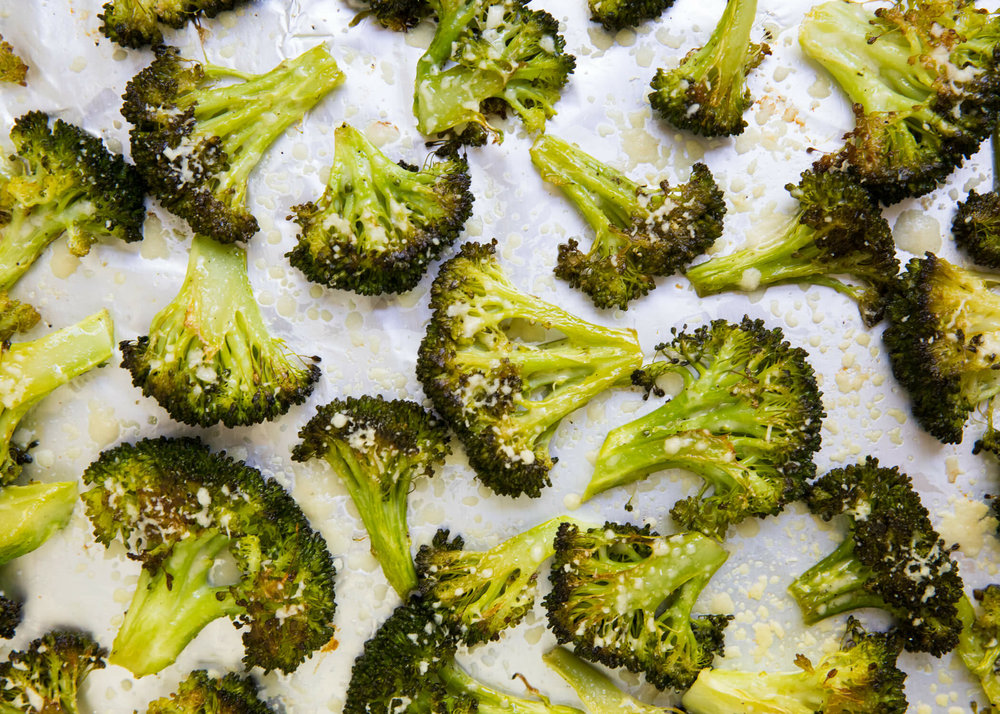 Roasted Broccoli with Parmesan
I know I've said it before, but there's something about roasting vegetables that make them 100 times better! We love roasted cauliflower, carrots, zucchini…you name it! I never really cared much for steamed broccoli, but once it's roasted, it's so addicting!
This parmesan roasted broccoli is one of my all-time favorite ways to cook broccoli. If you aren't a broccoli fan, you need to try roasting it. I promise, it will give you a whole different perspective!
Roasting it in the oven helps all the delicious flavors come out, resulting in a super delicious and crispy veggie. I may or may not make this recipe once a week. I'm still working on my older 2 kids, but my 2 year old tried it for the first time last week and LOVED it. She kept saying 'more brocly peas' in her cutest toddler voice. :)
I'm telling you, this recipe will turn broccoli haters into lovers. Once you try it, you wont ever go back to cooking it on the stove top again. Give it a try and let me know how you like it! :)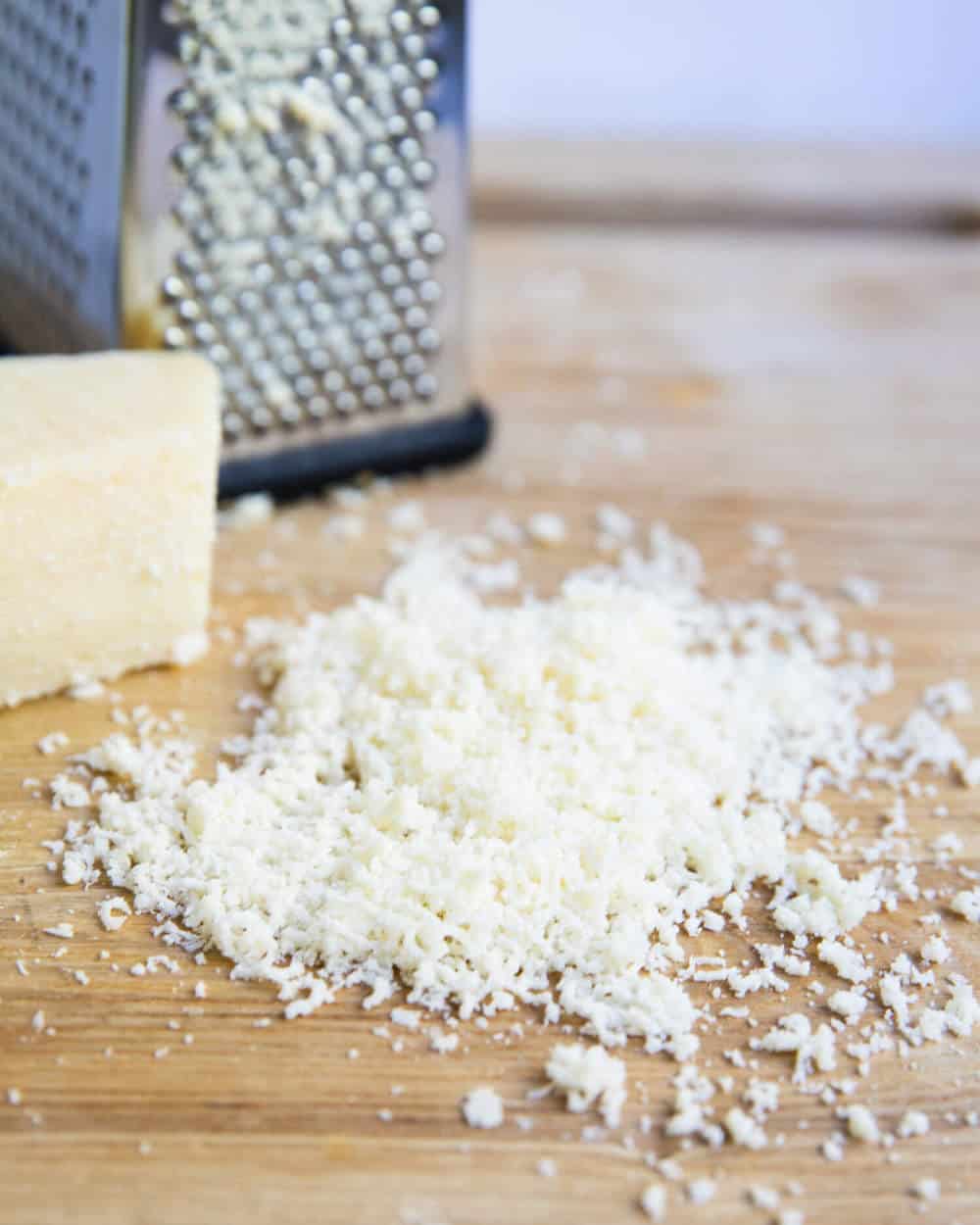 Use Fresh Parmesan Cheese!
Although it's not a necessity, I highly recommend using freshly grated parmesan cheese. I like to cook the broccoli for about 20 minutes before adding the cheese, so the spears get nice and tender. Once they start to caramelize, I pull them out and add the cheese. Then I put it back in the oven just long enough for it to melt. I love using freshly grated parmesan because it melts so nicely and tastes amazing!
Ways to Season
This recipe starts with a few simple ingredients: broccoli, olive oil and a couple of seasonings. To top it off, I use freshly grated parmesan cheese. If you'd like to add a little more flavor, try incorporating the following:
Lemon zest
Lemon juice
Minced garlic
Balsamic vinegar
Paprika
How to Roast Parmesan Broccoli
This recipe is SO easy to make and tastes amazing. Feel free to add in other soft veggies too when roasting, like cauliflower or brussels sprouts.
PREPARE. Preheat oven to 400ºF and line baking sheet with foil.
SEASON. Combine all ingredients (except parmesan) in a zip top bag. Shake until well coated and pour out evenly on baking sheet.
ROAST. Bake for 20 minutes then remove from oven and flip. Sprinkle with parmesan cheese, then bake for additional 5-10 minutes until tender and crispy.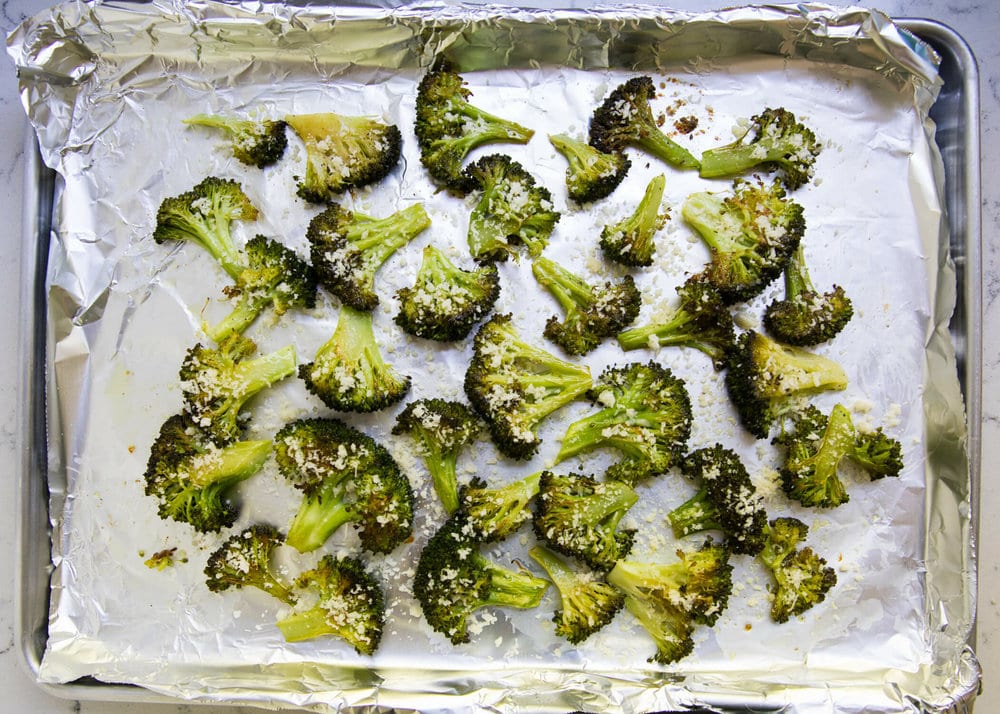 Tips for Extra Crispy Broccoli
Cut the florets in half so that they lay lengthwise on baking sheet. This helps the pieces to crisp up evenly.
Spread out the broccoli evenly on your baking sheet (you don't want them to touch).
Make sure each floret is well coated with oil and seasonings.
Roast at a high temperature (I prefer 400ºF).
Flip halfway through! This way both sides will crisp up nicely.
Serve Broccoli with these Main Dishes
HUNGRY FOR MORE? Subscribe to my newsletter and follow on Facebook, Pinterest and Instagram for all the newest recipes!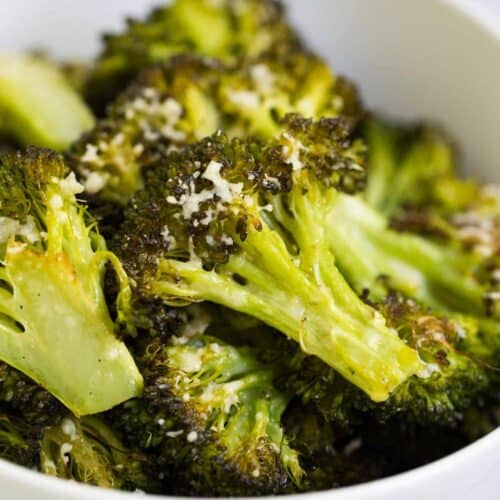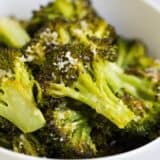 Roasted Parmesan Broccoli Recipe
This parmesan roasted broccoli is the best broccoli ever! Such a simple, yet tasty side dish. Perfectly crispy and full of flavor!
Ingredients
5 cups chopped broccoli
3-4 Tablespoons olive oil
½ teaspoon Kosher salt
¼ teaspoon garlic powder
⅛ teaspoon ground black pepper
¼ cup parmesan cheese
Instructions
Preheat oven to 400ºF. Line a baking sheet with foil.

Cut the broccoli lengthwise, so they lay flat. Combine the broccoli, olive oil, salt, garlic powder and pepper in a zip top bag. Shake until well coated. Then pour the broccoli evenly onto the baking sheet.

Bake in oven for 20 minutes. Remove pan from oven and flip the broccoli. Sprinkle parmesan cheese on top. Bake for an additional 5 to 10 minutes, or until the broccoli is fork tender and crispy around the edges.

Enjoy while hot!
---
Nutrition
Calories: 104kcal | Carbohydrates: 5g | Protein: 3g | Fat: 8g | Saturated Fat: 1g | Cholesterol: 2mg | Sodium: 285mg | Potassium: 239mg | Fiber: 1g | Sugar: 1g | Vitamin A: 505IU | Vitamin C: 67.7mg | Calcium: 85mg | Iron: 0.6mg
Nutrition provided is an estimate. It will vary based on specific ingredients used.
Did you make this recipe? Don't forget to give it a star rating below!