Jump to Recipe⌄
Roasted Winter Vegetables
Roasted winter vegetables recipe …veggies never tasted so good!
One of our favorite ways to eat our veggies in the winter is roasted. It is actually our favorite way to eat them any time of year but especially in the winter. This recipe was given to me by a friend who caters large events. Her recipe used 20 lbs of vegetables! I cut it down so that it only calls for about 12 cups (not sure on the weight)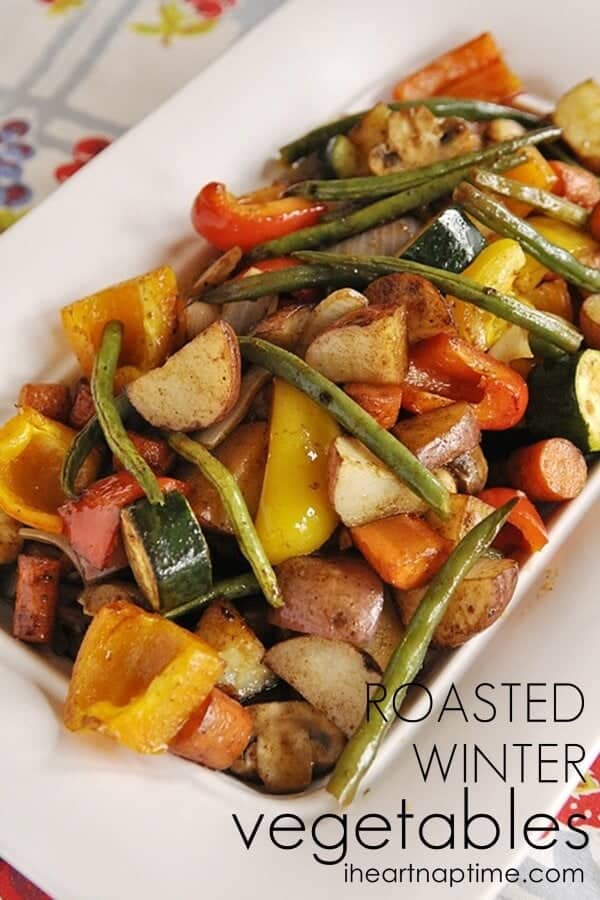 MY OTHER RECIPES
First, you want a selection of root vegetables. Our favorites are red potatoes and carrots but you may also want to consider, turnips, rutabaga, yams, beets or parsnip.
Then your softer vegetables. We like peppers (red,orange and yellow), onion, green beans,asparagus,whole garlic and zucchini. One of these days I am going to try brussel sprouts!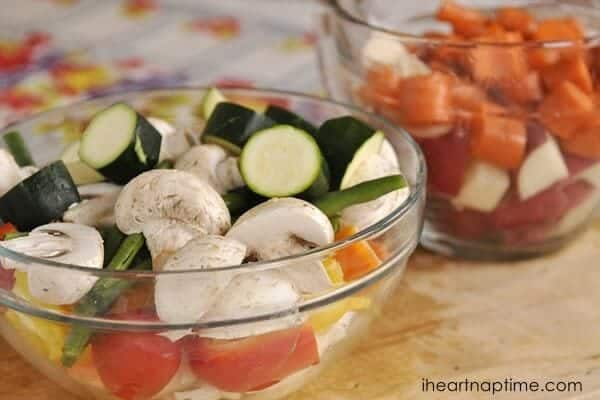 I keep the root vegetables separate from the softer vegetables because the root vegetables will take longer to cook.
Divide the liquid mixture between the two bowls. Place the root vegetables on a cookie sheet and bake at 425 for about 15 minutes or until the veggies just begin to get tender.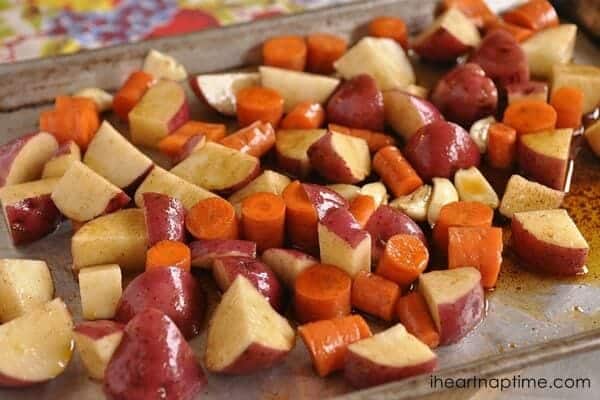 Add in the softer veggies and stir. Be sure all the vegetables are coated with the liquid mixture.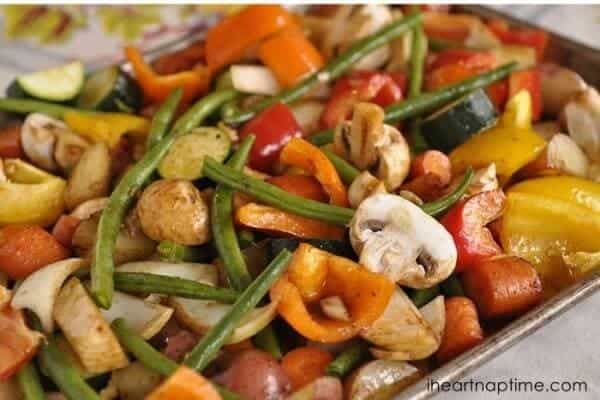 And continue to bake for another 15 minutes or so until they root veggies are nice and tender.
Vegetables never tasted so good. You may or may not need a main dish to go along with this.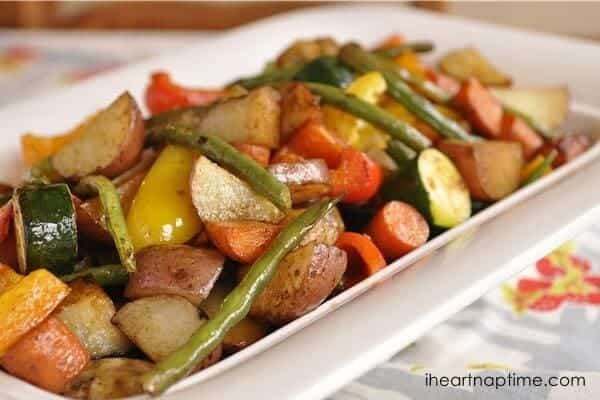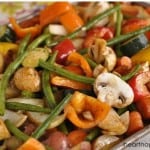 Roasted Winter Vegetables
Roasted winter vegetables recipe …veggies never tasted so good!
Print
Ingredients
6 cups vegetables (carrots, red potatoes, broccoli, red, bell peppers, onion wedges, mushrooms, zucchini, green beans, etc.)
1/4 cup olive oil
2 tbsp balsamic vinegar (or worcestershire sauce)
1/2 tsp paprika
1/2 tsp garlic salt
Salt and pepper, to taste
Instructions
Cut vegetables into similar size pieces. Keep root vegetables separate from softer vegetables. Mix together olive oil, Worcestershire sauce, paprika, garlic salt, salt and pepper. Pour over vegetables.

Place root vegetables on cookie sheet and bake at 425 degrees for about 15 minutes or until they begin to soften.

Add in softer vegetables and turn vegetables on sheet making sure they are all coated in liquid mixture.

Bake another 20 minutes or until the veggies are fork tender. Salt and pepper to taste.
Nutrition Facts
Roasted Winter Vegetables
Amount Per Serving
Calories 150 Calories from Fat 63
% Daily Value*
Total Fat 7g 11%
Saturated Fat 1g 5%
Sodium 210mg 9%
Potassium 293mg 8%
Total Carbohydrates 19g 6%
Dietary Fiber 5g 20%
Protein 4g 8%
Vitamin A 140%
Vitamin C 17.2%
Calcium 3.4%
Iron 7.7%
* Percent Daily Values are based on a 2000 calorie diet.
You'll love these recipes too: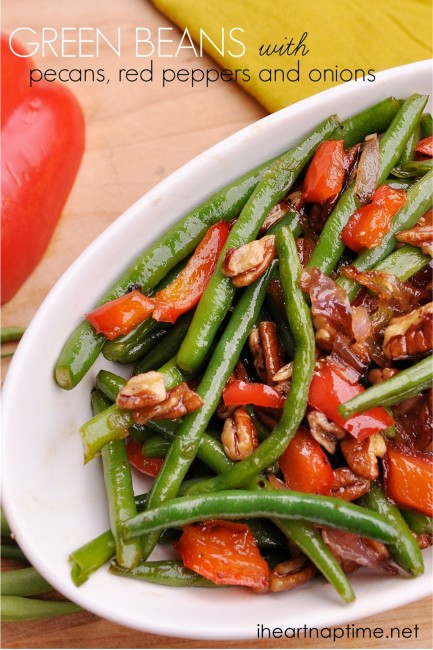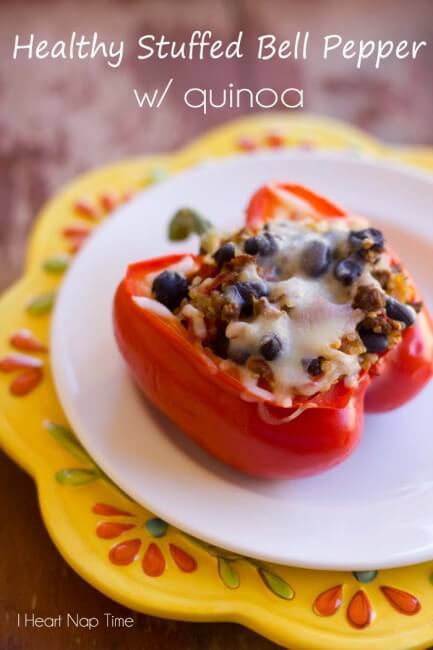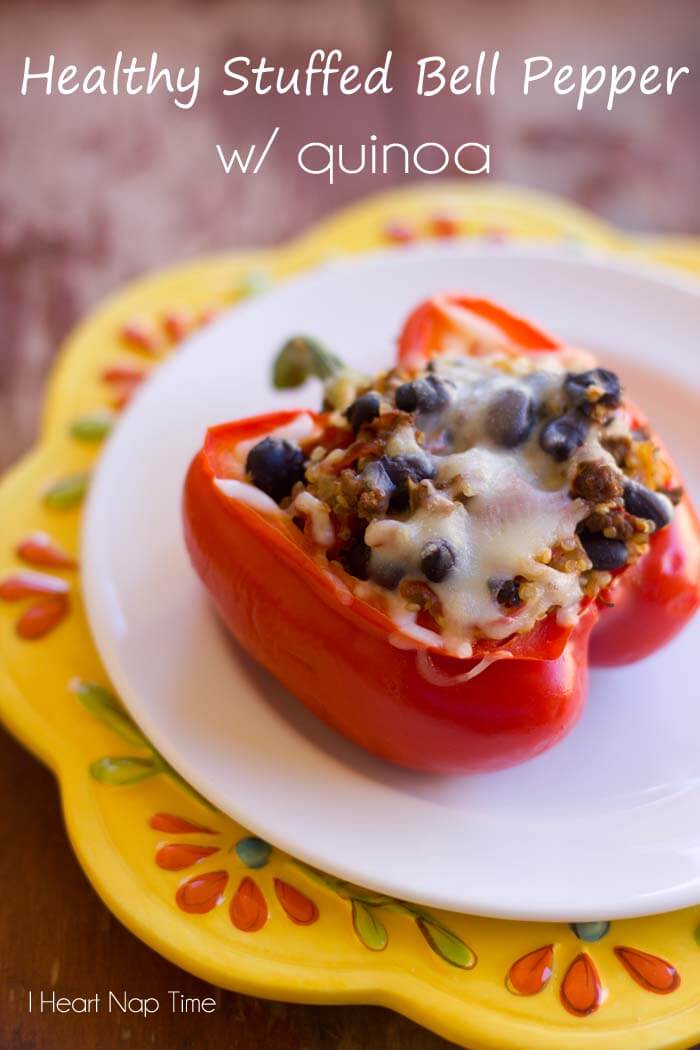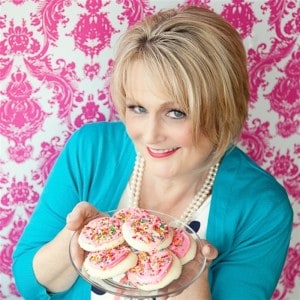 I'm Leigh Anne and food, family and friends are three of my favorite things. I am the mother of four young adults, a new mother in law and am still trying to adjust to life as an empty nester along with my husband of over 30 years.  I love throwing parties, burying my head in a book and digging in the dirt in my garden.    I believe that life is beautiful and it is up to us to find and create that beauty.  I love sharing my journey to finding the pretty and delicious in life over at Your Homebased Mom.