Delicious roasted vegetables coated in olive oil, balsamic vinegar, and flavorful spices. Perfectly crispy and roasted to perfection. These oven-baked veggies are always on repeat!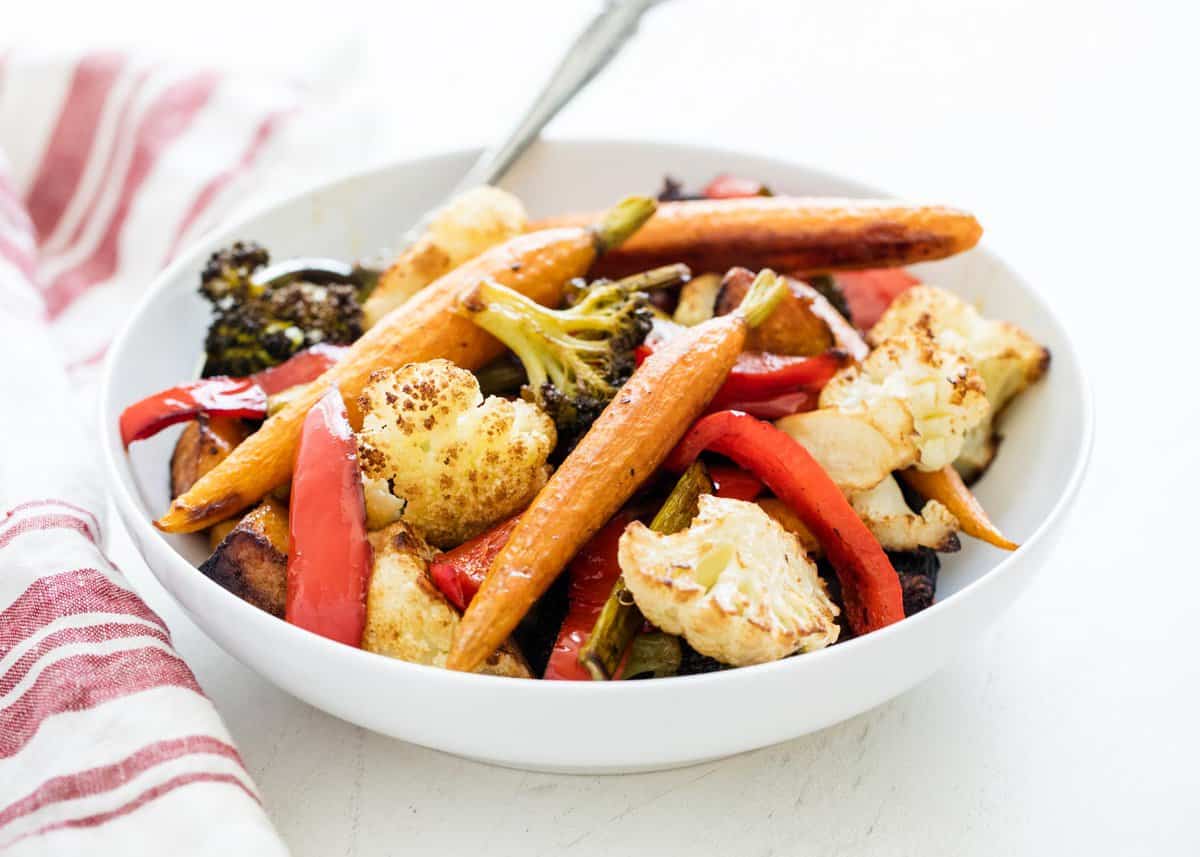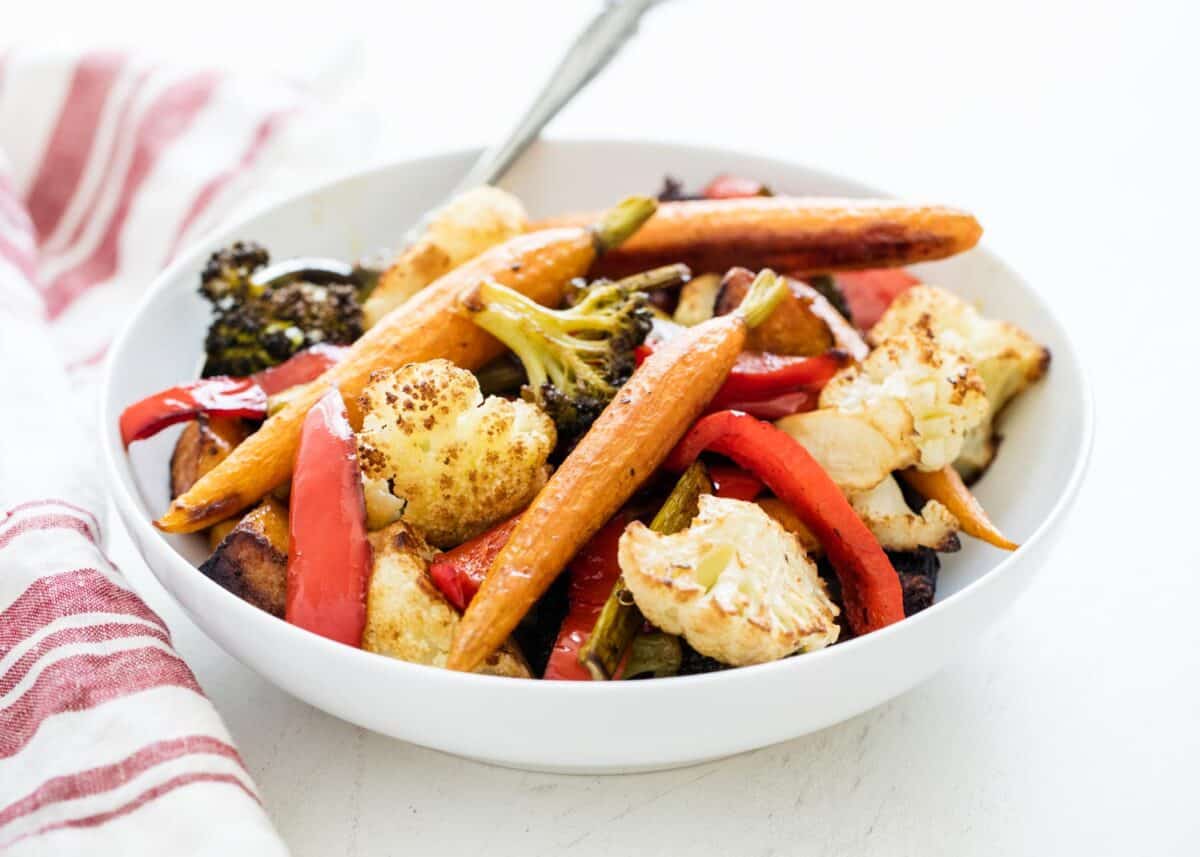 Easy Oven Roasted Vegetables
While I love making grilled vegetables, they're usually more of a summertime dish. This baked version tastes amazing during all four seasons and is always my go-to whenever I'm craving veggies.
You can even put a seasonal spin on them during the holidays, much as I did with these maple-roasted vegetables or add Italian seasoning instead like I do in sheet pan roasted vegetables. So yummy!
We make this roasted vegetable recipe ALL the time at our house! It's one of our favorite ways to eat our veggies and is a little more sophisticated than simple steamed vegetables or my baked sweet potato fries recipe. The beauty of this dish is that they are SO easy and baked in the oven in one pan. Plus, they are full of flavor and absolutely delicious. Even my kids love them!
Just throw in the veggies that are in season or you have on hand, stick them in the oven and you'll have delicious baked vegetables in no time. Talk about an easy dinner with hardly any cleanup. So healthy, delicious, and simple. Vegetables never tasted so good! :)
What Vegetables can be Roasted Together?
There are lots of different veggies that taste delicious when roasting, however, I like to use a mixture of root vegetables and softer vegetables. Below are a few of my favorites. I keep the root veggies separate from the softer veggies because the root vegetables will take longer to cook.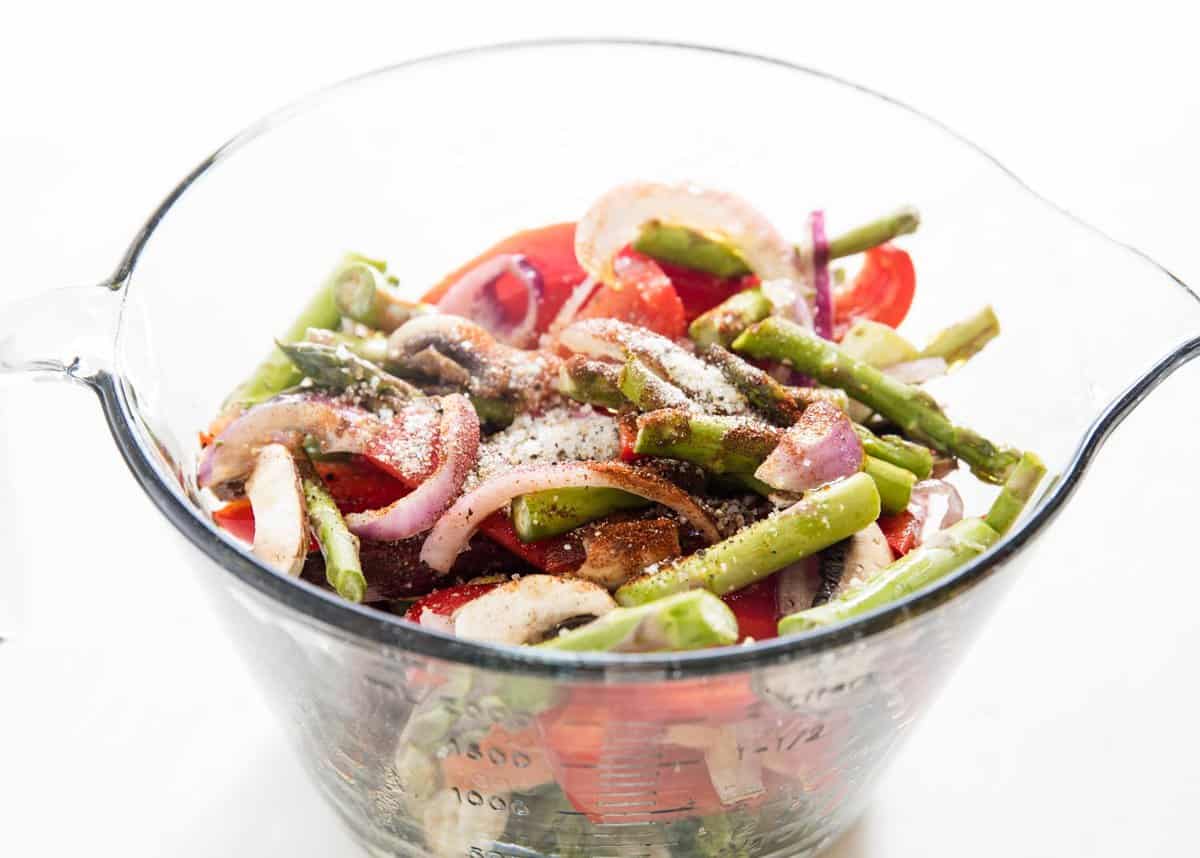 Find the full printable recipe with specific measurements below.
Root vegetables
A root vegetable are just like they sound! They are vegetables that are planted in the ground and can be found easier in the organic section at a grocery store. Root vegetables are known to be packed with fiber and antixodients.
Red potatoes
Carrots
Turnips
Rutabaga
Yams
Beets
Parsnips
Soft vegetables
Cook, bake, scallop, puree or add these soft vegetables into casseroles or slow cooker! Soft vegetables are easier to cook with and can be softened quickly.
Peppers (red, orange, or yellow)
Onion (red onion or yellow onion)
Green beans
Asparagus
Zucchini
Brussels sprouts
Broccoli
Cauliflower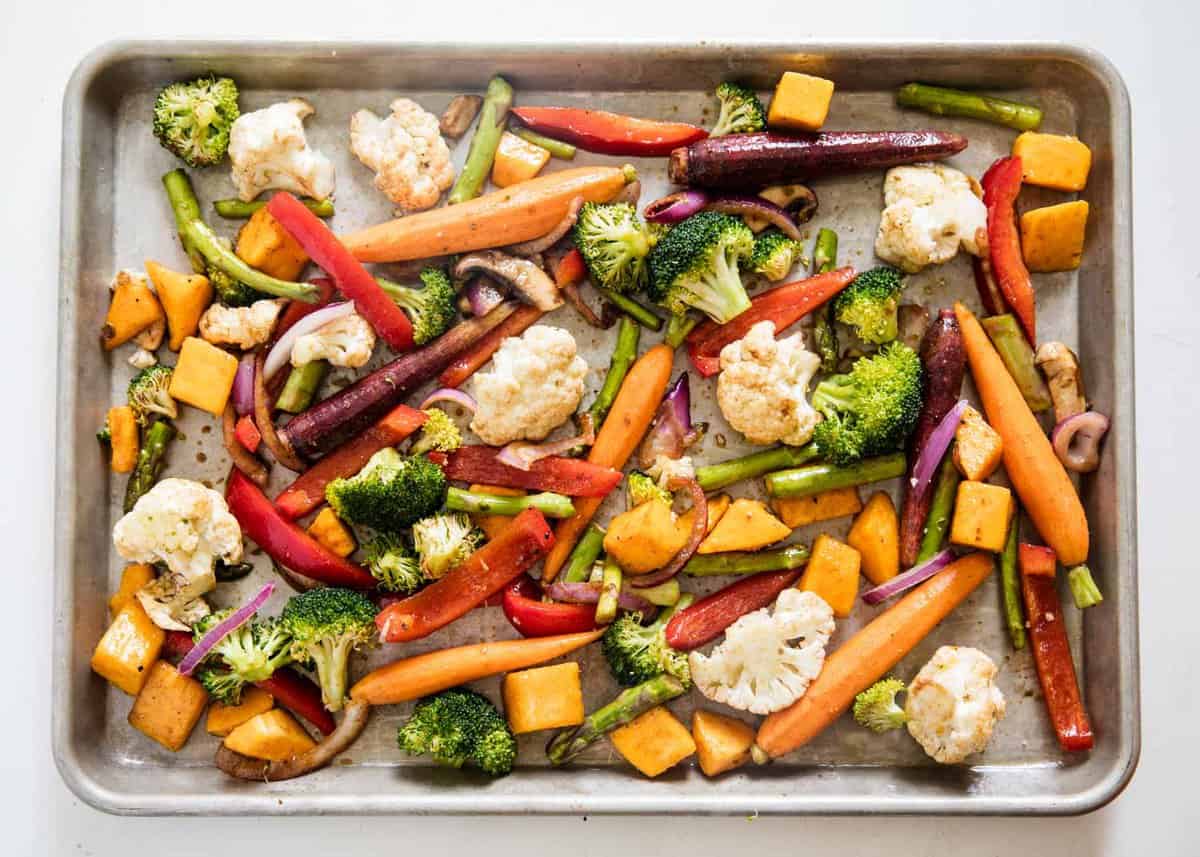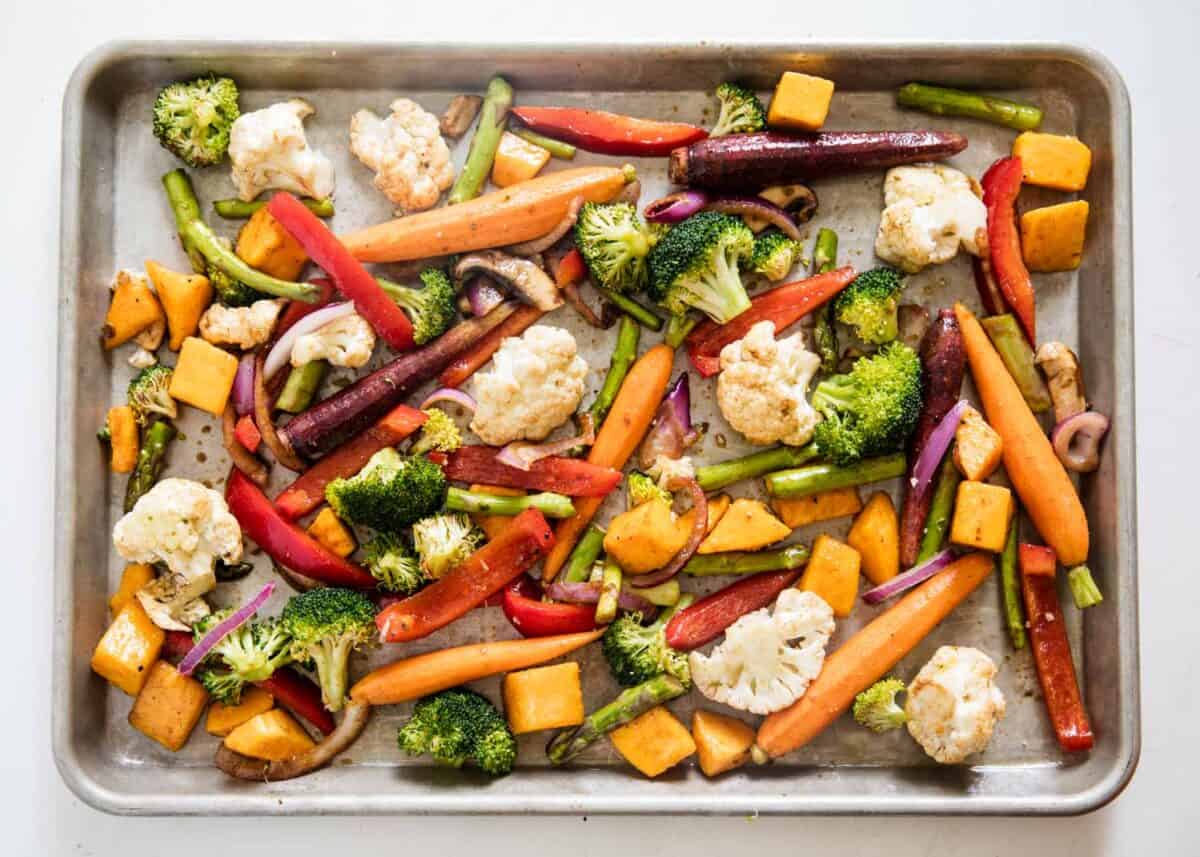 Favorite Seasoning to Use
The seasonings used for these oven-roasted veggies give them SO much flavor. It's definitely our favorite combination! Sometimes I'll even sprinkle a little parmesan on top before serving. YUM!
olive oil
balsamic vinegar (or Worcestershire or balsamic glaze)
paprika
garlic salt
salt
pepper
You can also season with cumin, oregano, rosemary, garlic powder, Italian seasoning, soy sauce, or even red pepper flakes for some heat. The seasoning options are endless!
How to Roast Vegetables
Roasting vegetables are a simple and delicious way to enjoy your nutrients. First, prepare your vegetables, toss them in seasoning, and bake until they are soft and tender. These vegeatbels are roasted to perfection and can be added to any meal!
Cut the veggies. Chop the vegetables into similar size pieces. Add root veggies to one bowl and softer veggies to another bowl.
Add seasonings and toss. Mix together the oil, balsamic, and spices. Then divide the mixture between the two bowls and toss to coat.
Bake the root veggies. Place the root vegetables on a baking pan and bake at 425° for about 15 minutes, or until they just begin to get tender.
Stir in soft veggies. Add in the softer veggies and stir. Be sure that they are all coated with the liquid mixture.
Bake until tender. Continue to bake for another 15-20 minutes, or until the root veggies are nice and tender.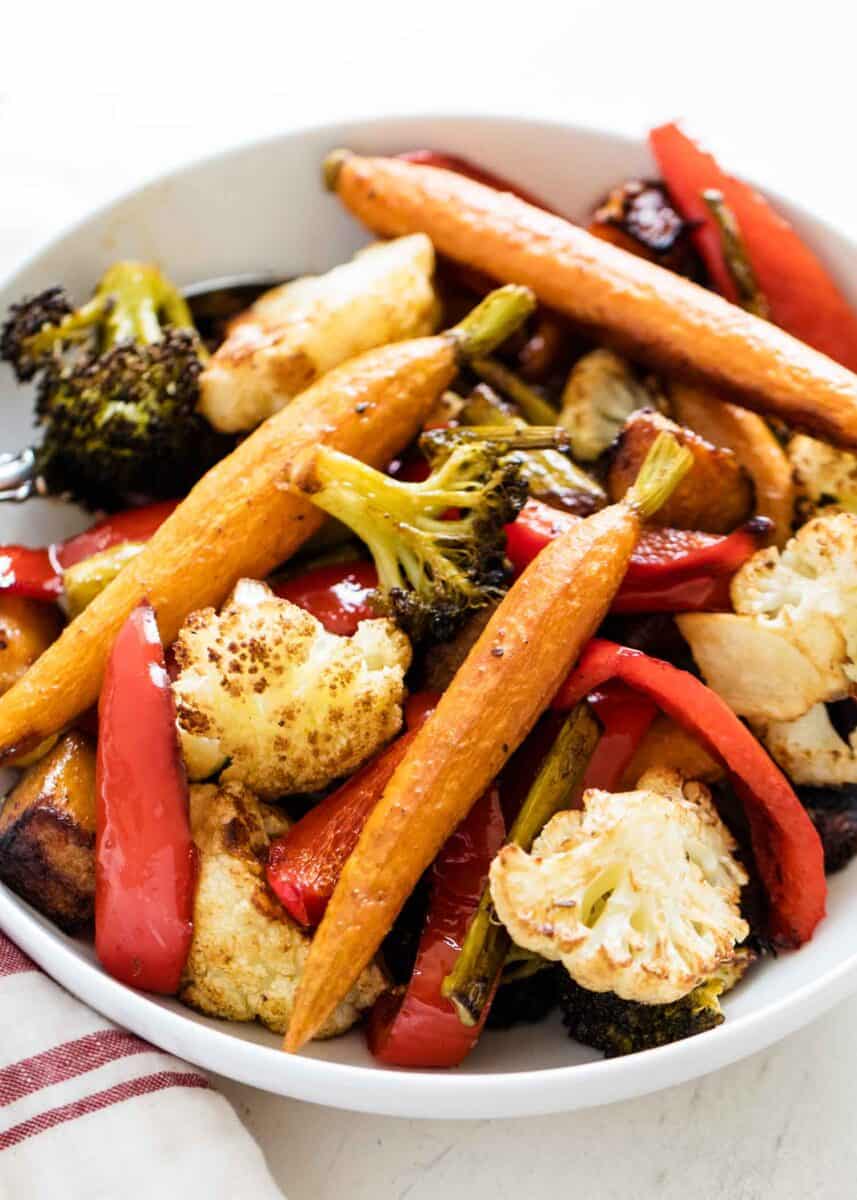 Roasting Tips for the Best Roasted Vegetables
Find out the best way to roast vegetables using these quick tips to help when cooking. Roasted vegetables are a favorite in our house and can be made simply. Follow these helpful tips and see how easy these vegetables are to roast!
Root vs. soft veggies. If you're using a mixture of root and soft vegetables, don't put them on the pan all at once. Root veggies will take longer to roast than soft ones, so let them bake first and then add in the softer veggies about halfway through.
Use what's in season. Feel free to switch it up throughout the year. Use fresh zucchini, squash, or tomatoes during the summer and butternut or delicata squash, brussels sprouts, and sweet potatoes during the winter.
Don't overcrowd the pan. The veggies should be on the pan in a single layer (with no overlapping). If you overcrowd the pan, they'll lose that crispy texture because they'll steam instead of roast.
Chop evenly. Make sure to chop the veggies into similar-sized pieces so that they cook evenly in the oven. I also like to cut my broccoli and cauliflower florets in half so that they lay lengthwise on the baking sheet. They get extra crispy this way.
Toss halfway. Don't forget to give them a toss about halfway through roasting so that all sides crisp up nicely and cook evenly.
Add protein. You can turn this into a complete sheet pan dinner by adding some protein to the pan. We love making sausage and vegetables or my balsamic chicken and veggies.
Favorites to Serve With Roasted Vegetables
These oven-roasted vegetables taste amazing alongside pretty much any main dish. Below are a few of our absolute favorite dinners to serve them with.
5 star review
"I made these veggies for dinner last night and they were incredible! Thanks so much for sharing the recipe!"

–Tayler
Recipe FAQs
What is the secret to roasting vegetables?
Using a high-temperature oven to let your vegetables cook quickly to hold them strong rather than the vegetable falling apart or becoming soggy. Make sure your pan is not crowded with vegetables and is spread out.
How long should veggies be roasted?
Vegetables should be roasted until they are soft and tender but not limp or falling over. Place in an even layer and cook for 25 to 30 minutes long.
Are roasted vegetables healthy?
Yes! Any type of vegetable is good for you and holds nutrients that are healthy and good for your body. Roasted vegetables with seasonings and oil over-tossed on them can reduce the nutrition level but still will have some nutrients that are good for you.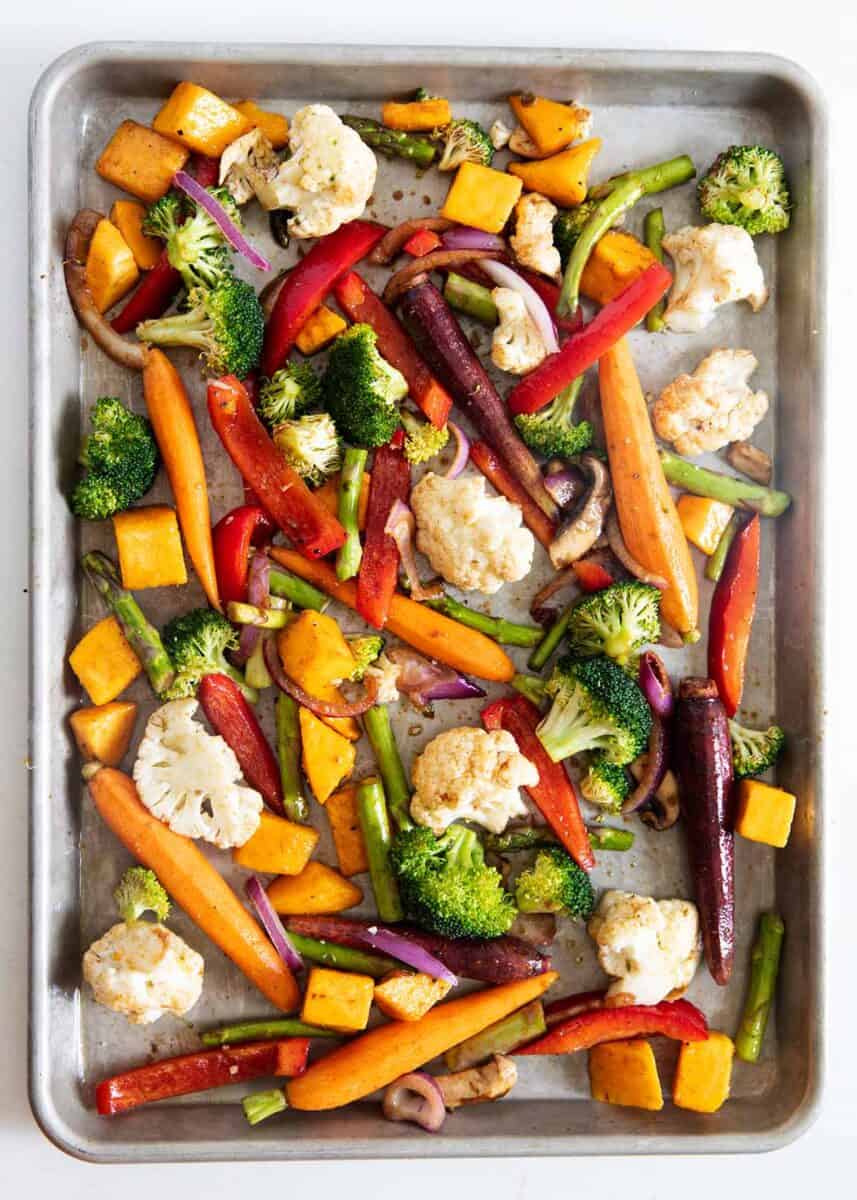 More Roasted Vegetable Side Dishes
HUNGRY FOR MORE? Subscribe to my newsletter and follow on Facebook, Pinterest and Instagram for all the newest recipes!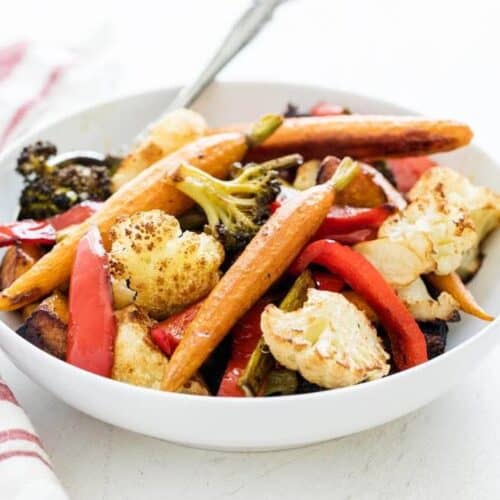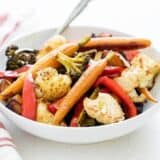 Roasted Vegetables
Delicious baked vegetables coated in olive oil, balsamic vinegar and flavorful spices. Perfectly crispy and roasted to perfection. These oven roasted veggies are always on repeat!
Ingredients
6 cups vegetables (carrots, red potatoes, broccoli, red, bell peppers, onion wedges, mushrooms, zucchini, green beans, etc.)
¼ cup olive oil
2 Tablespoons balsamic vinegar , or balsamic glaze or Worcestershire sauce
½ teaspoon paprika
½ teaspoon garlic salt
Salt and pepper, to taste
Instructions
Preheat the oven to 425°F and spray a large baking pan with nonstick spray.

Cut vegetables into similar size pieces. Keep root vegetables separate from softer vegetables.

Mix together olive oil, balsamic, paprika, garlic salt, salt and pepper. Pour over veggies.

Place root vegetables on pan and bake for about 15 minutes, or until they begin to soften.

Add in softer veggies. Then flip root vegetables over on pan, making sure they are all coated in liquid mixture.

Bake another 20 minutes, or until the veggies are fork tender. Salt and pepper to taste.
---
Nutrition
Calories: 150kcal | Carbohydrates: 19g | Protein: 4g | Fat: 7g | Saturated Fat: 1g | Sodium: 210mg | Potassium: 293mg | Fiber: 5g | Vitamin A: 7000IU | Vitamin C: 14.2mg | Calcium: 34mg | Iron: 1.4mg
Nutrition provided is an estimate. It will vary based on specific ingredients used.
Did you make this recipe? Don't forget to give it a star rating below!