Delicious baked vegetables coated in olive oil, balsamic vinegar and our favorite spices. Roasted to perfection and full of flavor. This roasted vegetables recipe is always on repeat!
My family absolutely loves roasted vegetables. We make these oven roasted veggies all the time, as well as parmesan broccoli, roasted brussels sprouts, baked zucchini fries and roasted asparagus.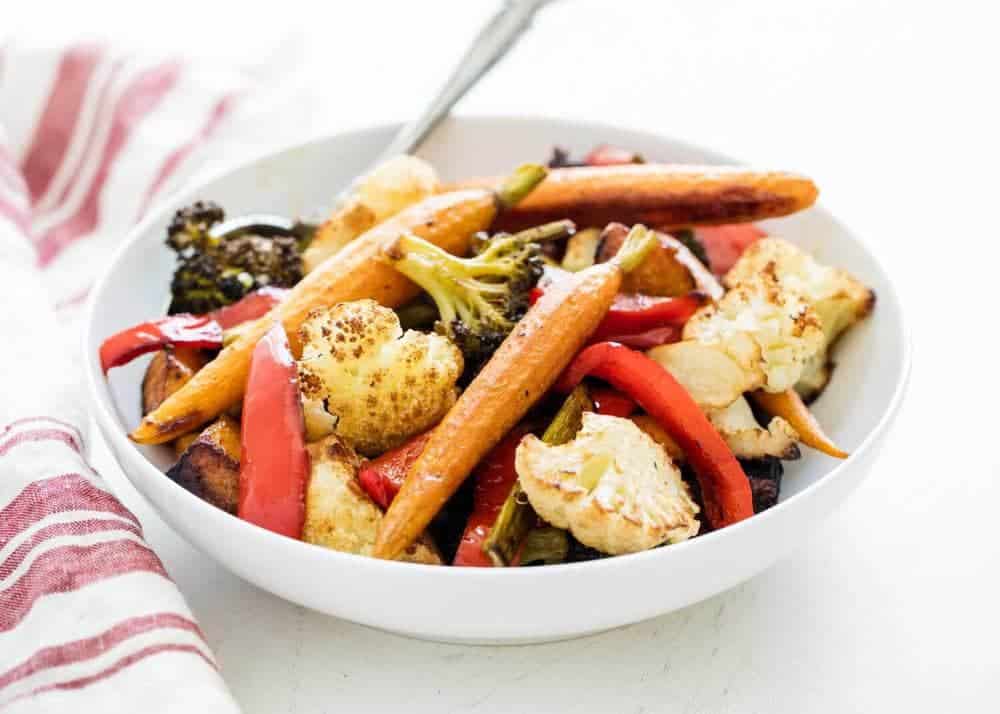 We make this roasted vegetable recipe ALL the time at our house! It's one of our favorite ways to eat our veggies. The beauty of these roasted vegetables is that they are SO easy and bake in the oven in one pan. Plus, they are full of flavor and absolutely delicious. Even my kids love them!
Just throw in the veggies that are in season or you have on hand, stick them in the oven and you'll have delicious baked vegetables in no time! We serve these veggies with chicken, beef, pork…you name it. Sometimes we even bake balsamic chicken on the same pan as the veggies.
Talk about an easy dinner with hardly any clean up. So healthy, delicious and simple. Vegetables never tasted so good! :)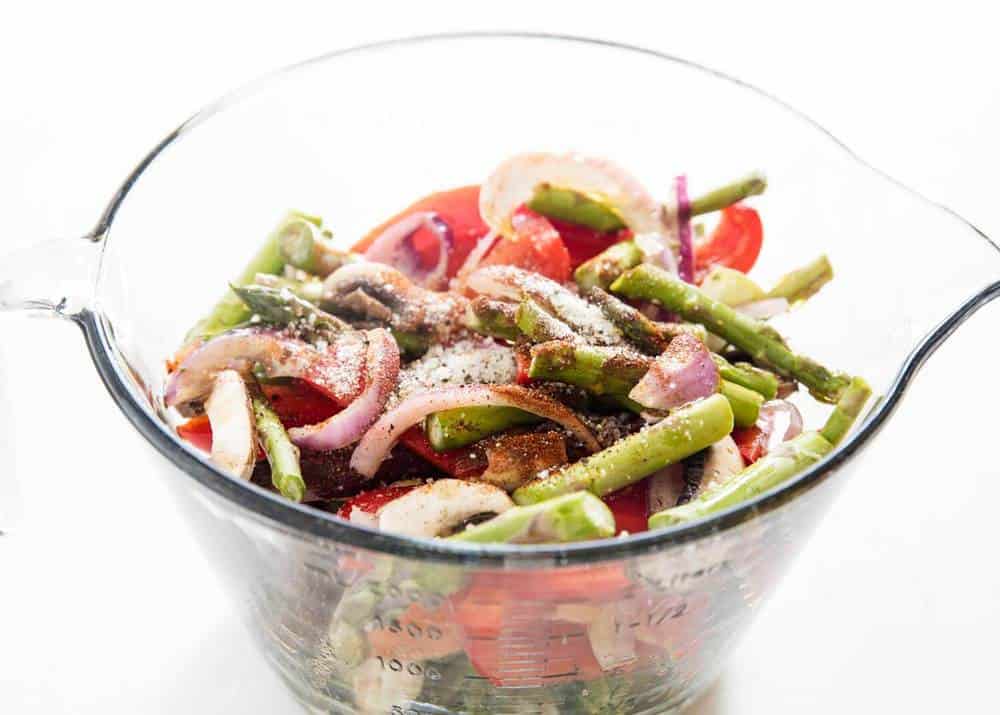 What vegetables can be roasted together?
There are lots of different veggies that taste delicious when roasting, however I like to use a mixture of root vegetables and softer vegetables. Below are a few of my favorites.
Root vegetables
Red potatoes
Carrots
Turnips
Rutabaga
Yams
Beets
Parsnips
Soft vegetables
Peppers (red, orange or yellow)
Onion
Green beans
Asparagus
Zucchini
Brussels sprouts
Broccoli
Cauliflower
TIP: I keep the root veggies separate from the softer veggies because the root vegetables will take longer to cook.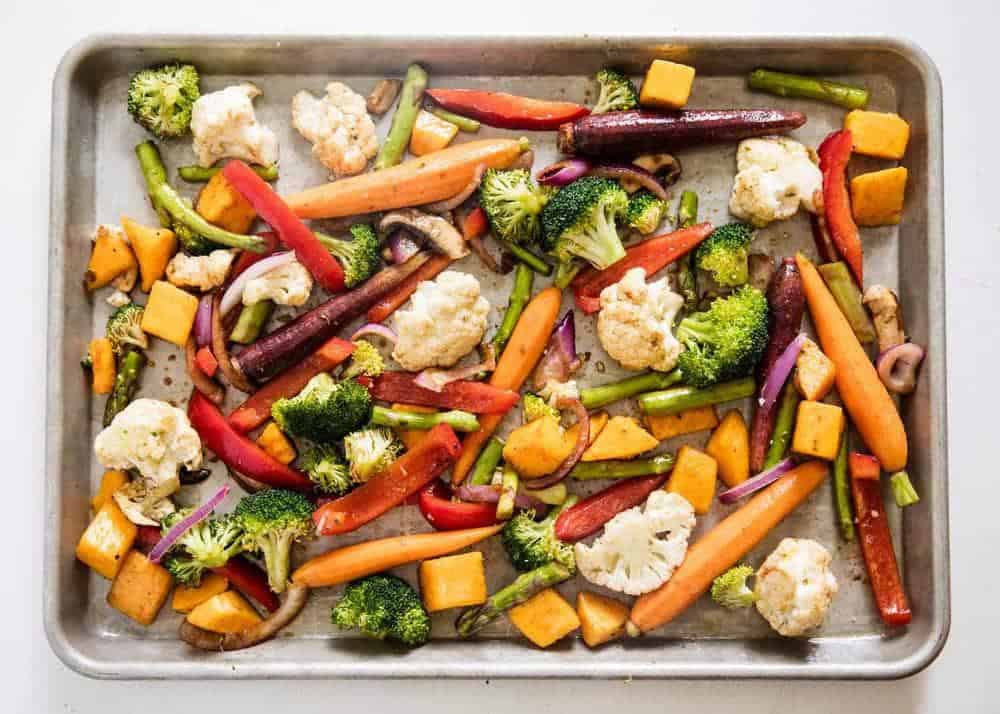 What to season roasted vegetables with:
The seasonings used for these oven roasted veggies give them SO much flavor. It's definitely our favorite combination! Sometimes I'll even sprinkle a little parmesan on top before serving. YUM!
olive oil
balsamic vinegar (or Worcestershire or balsamic glaze)
paprika
garlic salt
salt
pepper
You can also season with cumin, oregano, rosemary, garlic powder, Italian seasoning, soy sauce or even red pepper flakes for some heat. The seasoning options are endless!
How to roast vegetables
These oven roasted vegetables are SO easy and bake in the oven for just 30 minutes! Seriously, once you make this roasted vegetables recipe, you will be hooked. Scroll down for the printable baked vegetables recipe.
Cut the veggies. Chop the vegetables into similar size pieces. Add root veggies to one bowl and softer veggies in another bowl.
Add seasonings and toss. Mix together the oil, balsamic and spices. Then divide the mixture between the two bowls and toss to coat.
Bake the root veggies. Place the root vegetables on a baking pan and bake at 425° for about 15 minutes, or until they just begin to get tender.
Stir in soft veggies. Add in the softer veggies and stir. Be sure that they are all coated with the liquid mixture.
Bake until tender. Continue to bake for another 15-20 minutes, or until the root veggies are nice and tender.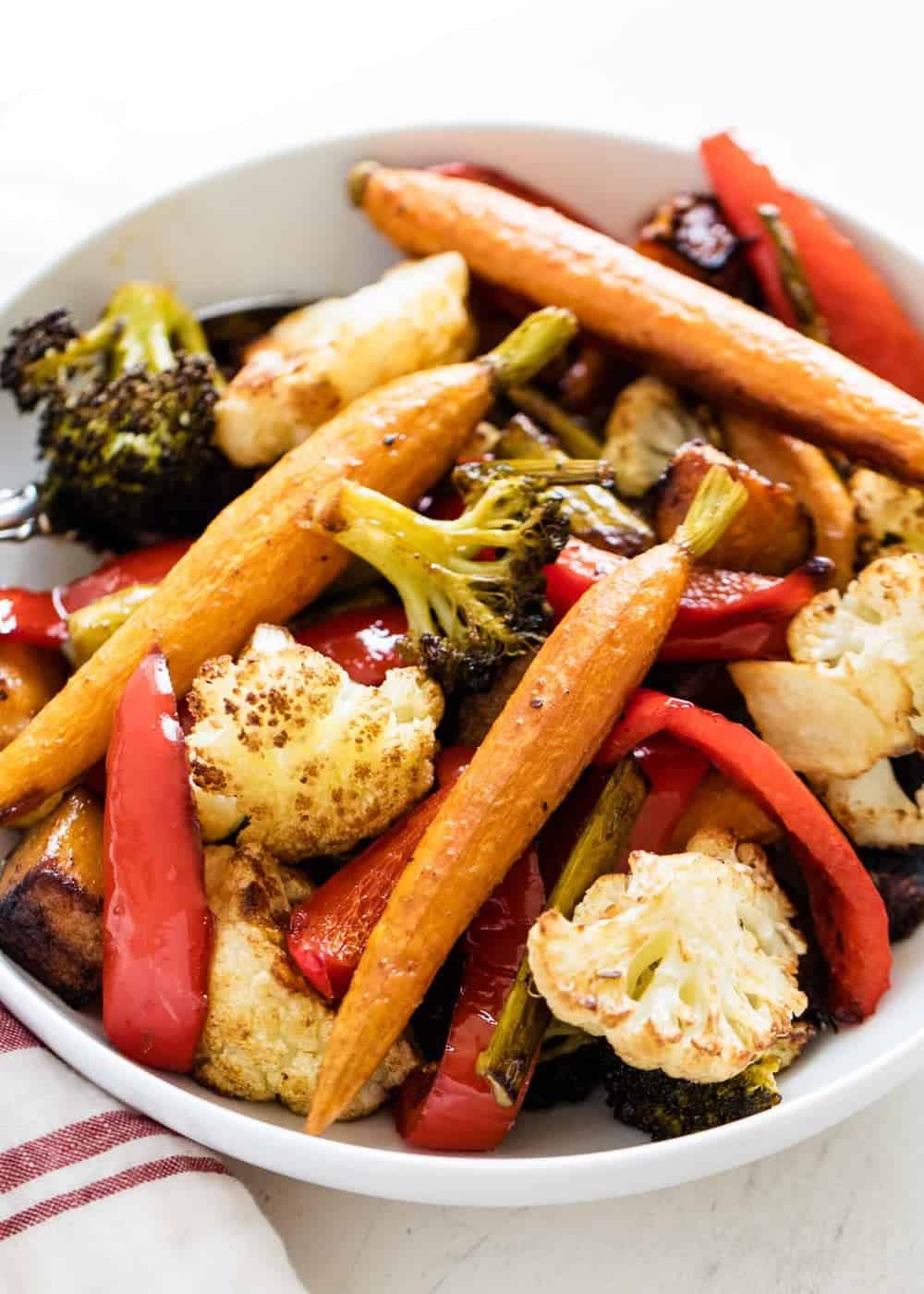 What temperature should I roast veggies at?
I prefer to bake them at 425° in the oven. I've found that this temperature gets them nice and crispy on the outside, while remaining soft and tender on the inside. And because they're roasting at a higher heat, they take less time.
Can you roast frozen veggies?
Although I strongly prefer to bake fresh roasted vegetables, you can also roast frozen veggies too. If roasting them frozen, I'd increase the oven temperature to 450°F. This helps to get rid of the condensation on your frozen veggies so that they begin to roast (vs. steam). The high temp helps them to still get crispy instead of soggy.
Can roasted veggies be made ahead of time?
Sure! I often mix up the marinade earlier in the day and let them soak in a plastic zip top bag in the fridge. Then I'll pull them out of the fridge, let them sit at room temperature for about 20 minutes and then bake!
If making the day before, I would recommend baking the veggies and then reheating in the oven the next day.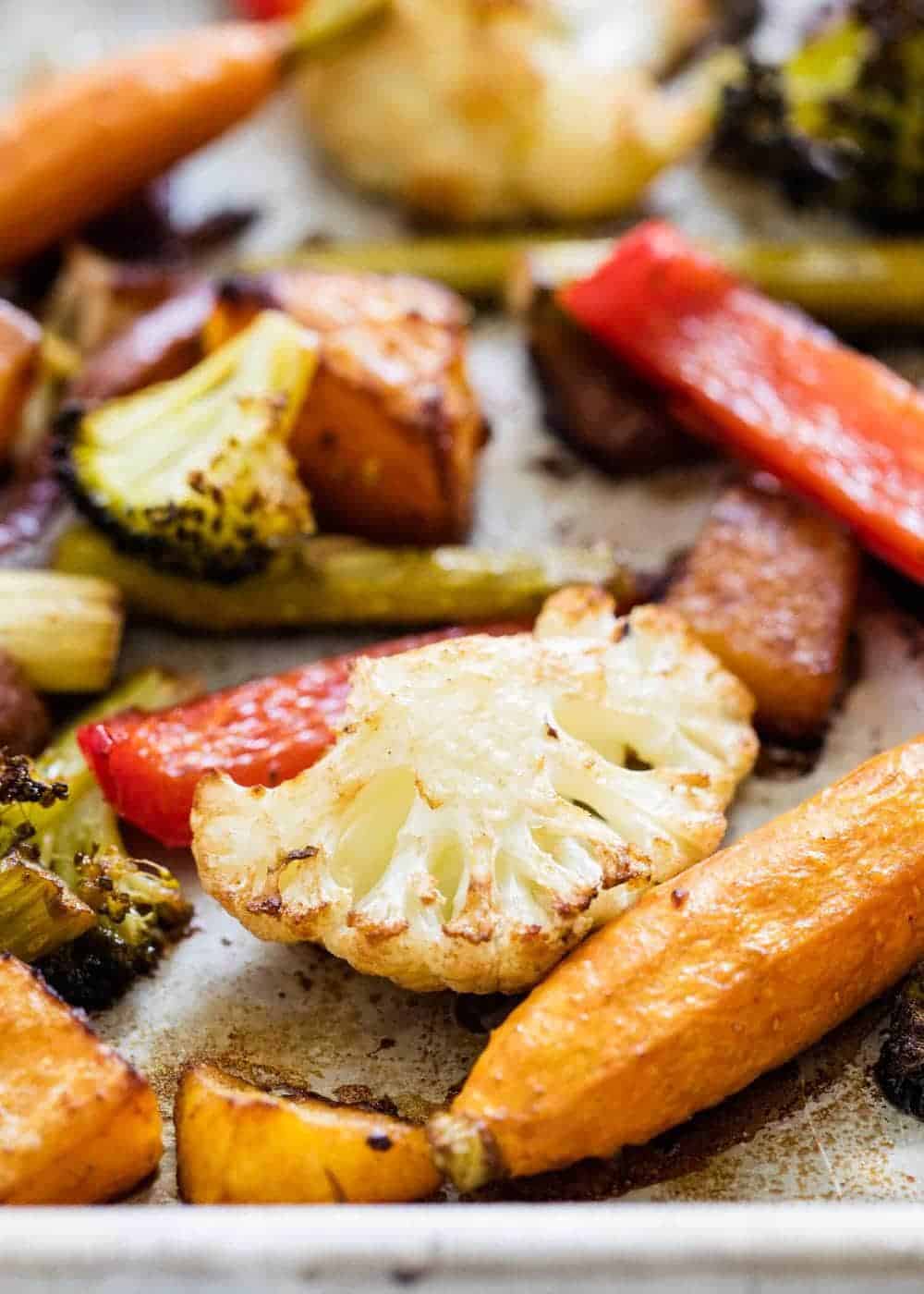 More cooked vegetables: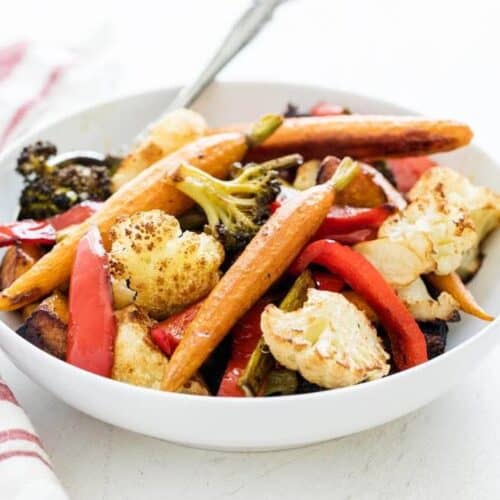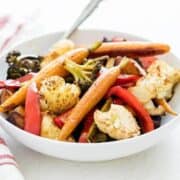 Roasted Vegetables Recipe
Delicious baked vegetables coated in olive oil, balsamic vinegar and our favorite spices. Roasted to perfection and full of flavor. This roasted vegetables recipe is always on repeat!
Ingredients
6

cups

vegetables

(carrots, red potatoes, broccoli, red, bell peppers, onion wedges, mushrooms, zucchini, green beans, etc.)

1/4

cup

olive oil

2

Tablespoons

balsamic vinegar

, or balsamic glaze or Worcestershire sauce

1/2

teaspoon

paprika

1/2

teaspoon

garlic salt

Salt and pepper, to taste
Instructions
Preheat the oven to 425°F and spray a large baking pan with nonstick spray.

Cut vegetables into similar size pieces. Keep root vegetables separate from softer vegetables.

Mix together olive oil, balsamic, paprika, garlic salt, salt and pepper. Pour over veggies.

Place root vegetables on pan and bake for about 15 minutes, or until they begin to soften.

Add in softer veggies. Then flip root vegetables over on pan, making sure they are all coated in liquid mixture.

Bake another 20 minutes, or until the veggies are fork tender. Salt and pepper to taste.
Nutrition
Calories:
150
kcal
|
Carbohydrates:
19
g
|
Protein:
4
g
|
Fat:
7
g
|
Saturated Fat:
1
g
|
Sodium:
210
mg
|
Potassium:
293
mg
|
Fiber:
5
g
|
Vitamin A:
7000
IU
|
Vitamin C:
14.2
mg
|
Calcium:
34
mg
|
Iron:
1.4
mg
PIN THIS RECIPE