This hearty breakfast hashbrown casserole with sausage is assembled the night before in just 15 minutes and it's loaded with sausage, frozen hashbrowns, eggs, and two kinds of cheese, then baked in the morning!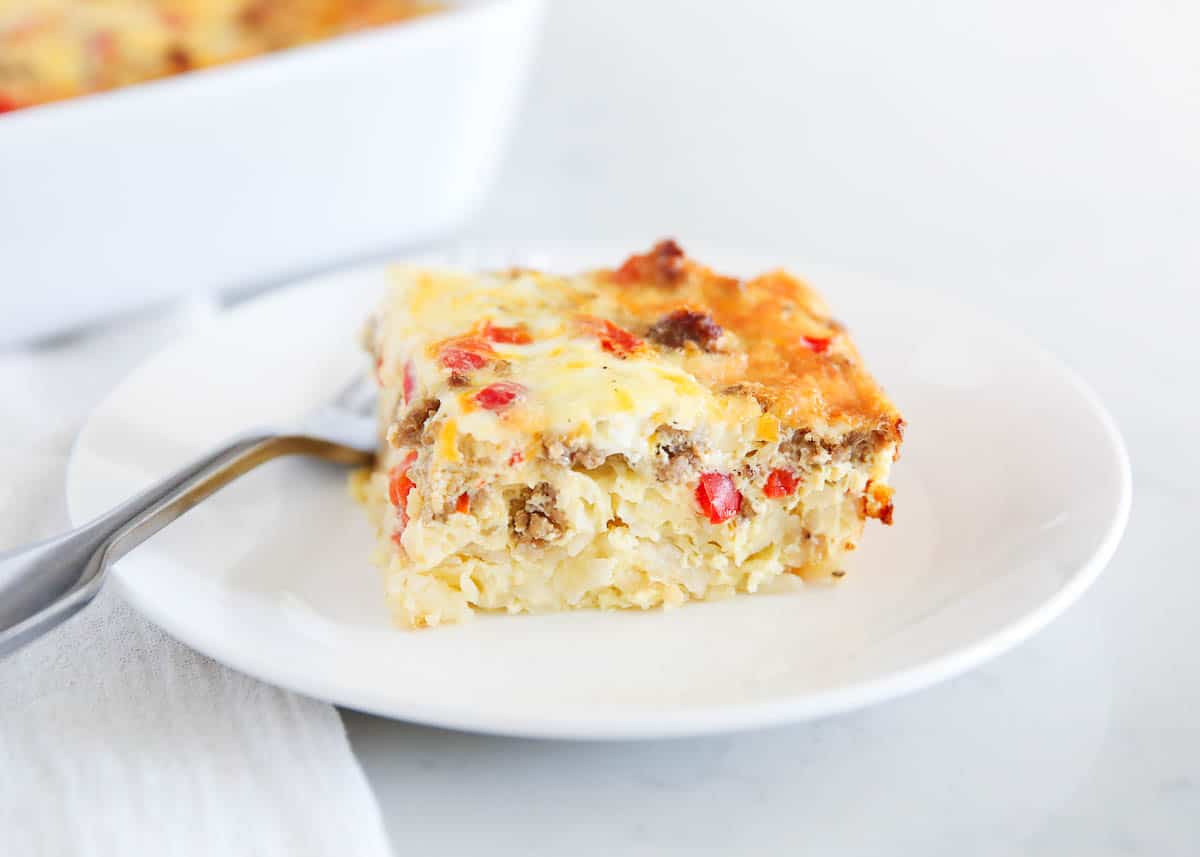 Easy Sausage Hashbrown Breakfast Casserole
Hands up if you love easy make-ahead breakfast recipes! I am a huge fan and often make a big batch of my breakfast meatballs recipe but hands down this sausage hashbrown breakfast casserole is one of my family's all-time favorites.
It's the perfect make-ahead egg dish for special occasions like Christmas morning or simply to enjoy for breakfast all week long.
Breakfast casseroles are great options if you like savory breakfasts. While I love to make my make-ahead breakfast casserole or sausage egg biscuit casserole, this recipe is a combination with sausage, frozen hashbrowns, eggs, and cheese. A classic combination!
The leftovers will also keep well in the fridge for up to 3 days, so you can bake a full casserole at the beginning of the week and reheat it for a quick breakfast throughout the week. It's delicious, efficient, and a great way to serve a crowd without a lot of fuss!
Why This Recipe Works
Make ahead. You prep everything the night before, which will take you about 15 minutes, and then pop the casserole into the fridge where it will wait until the morning to be baked into eggy, cheesy perfection.
Customizable. It's super easy to customize the recipe too, which means you can sneak in a few extra veggies for your kids to happily eat, or you can swap out the protein and use whatever you have on hand.
Convenience. Overnight egg casseroles save you time in the morning while delivering a big flavor. This easy savory breakfast or brunch will guarantee a good morning!
Allergy friendly: This is soy free, nut free, and gluten free as long as you use hash browns and sausage that have no gluten containing ingredients. Perfect for holiday guests!
Recipe Ingredients
A handful of simple and easy-to-find ingredients are all you need to make this hearty egg and hashbrown casserole.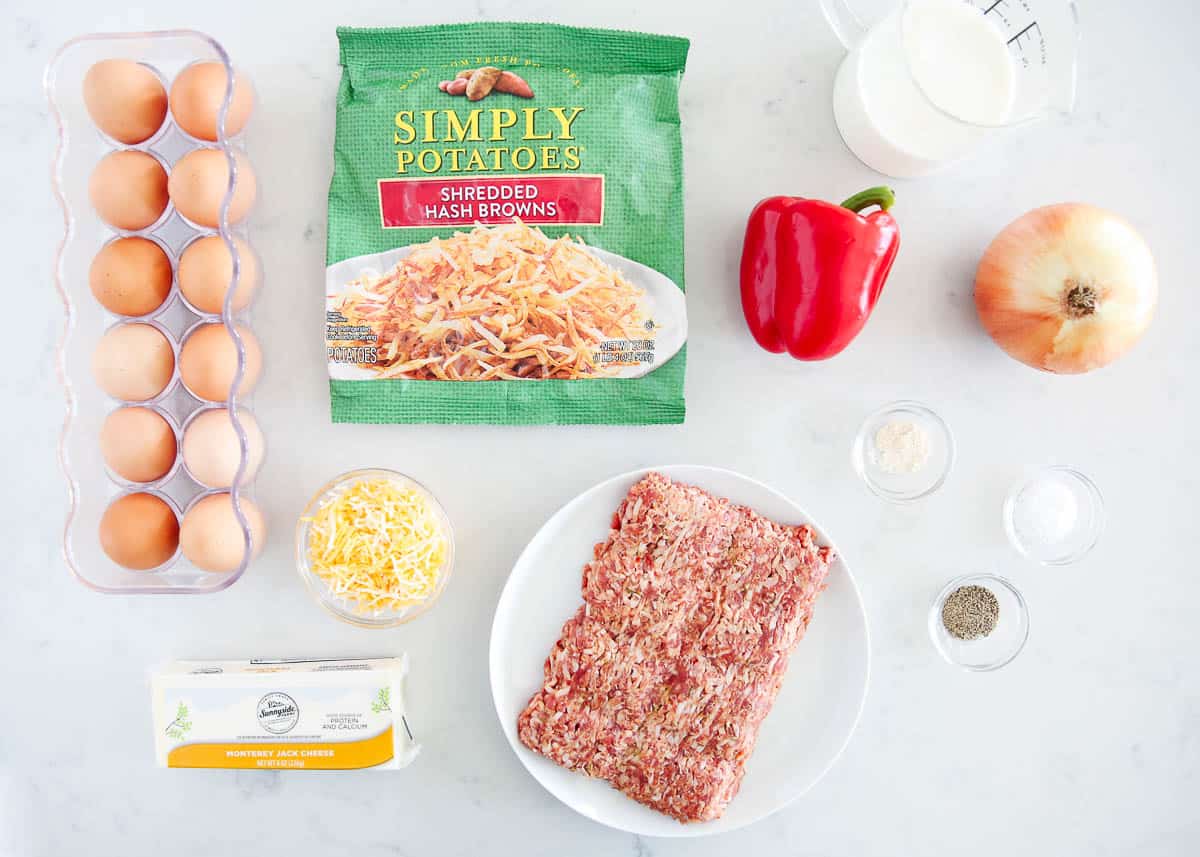 Find the full printable recipe with specific measurements below.
Breakfast sausage: I used 1 pound of pork sausage. You can buy just the sausage meat or sausages in casings, just be sure to remove the meat from the casing before cooking it.
Frozen shredded hash browns: These are usually in the frozen aisle by the French fries. There's no need to thaw them out first before browning them in the skillet. You can also make your own hash browns if can't find the frozen ones.
Cheese: I use a blend of shredded sharp cheddar cheese and Monterey jack but feel free to use all cheddar or even throw in some mozzarella.
Seasoning: I keep the seasoning simple so the kids will eat it. Garlic powder, salt, and pepper are all I add. If you'd like to throw in some hot pepper flakes, or seasoning salt, go for it!
Variations
I know you guys love taking recipes and making them your own to suit your families' tastes and this recipe has a ton of options you can go with.
For a different flavor, you can use sage sausage and Gruyere cheese.
Swap the sausage for turkey sausage, diced ham, or bacon crumbles.
Leave the meat out altogether for a vegetarian option like this cheesy hashbrown casserole.
For a little kick, add a few dashes of hot sauce and red pepper flakes to the eggs.
Throw in some sauteed vegetables such as onions, bell peppers, or mushrooms or even spinach like I do in my crockpot breakfast casserole recipe!
You can switch the protein to anything that works for you and your family. Leftover roasted turkey or baked ham from your holiday dinner or some chopped bacon would be great alternatives.
How to Make Hashbrown Casserole with Sausage
A few minutes of prep is all you need to assemble this easy sausage hashbrown breakfast casserole. Let's go through the steps!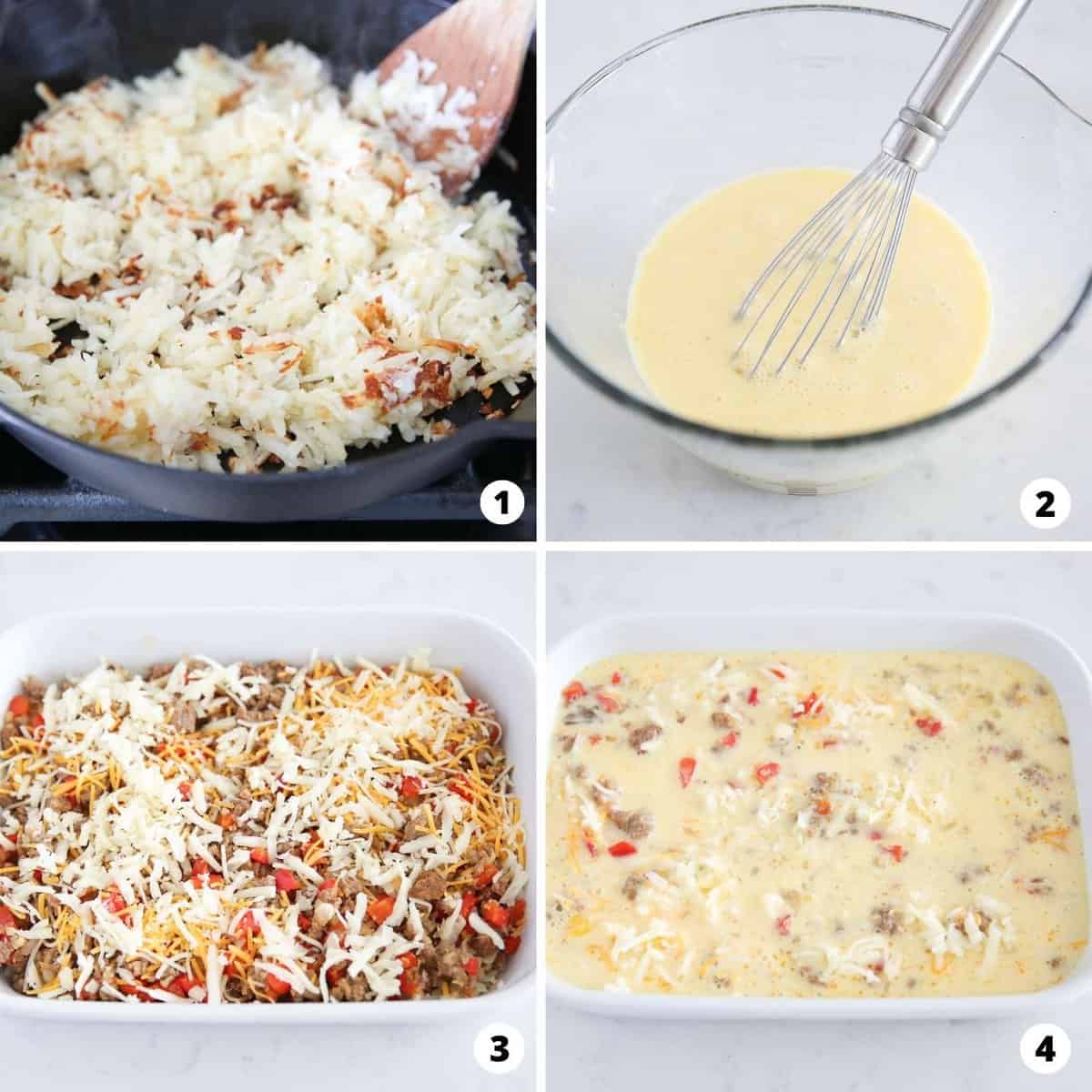 Brown sausage and hashbrowns. Cook sausage meat in a skillet then set the meat aside and brown the hashbrowns.
Beat the eggs. Crack the eggs into a large bowl and beat them together then whisk in the milk, garlic powder, and seasoning.
Assemble. Sprinkle the browned hashbrowns over the bottom of a 9×13-inch casserole dish then top with the sausage. Spread shredded cheese evenly over the sausage and finally pour the egg mixture over the top of everything.
Bake. The casserole should bake uncovered for 35 – 40 minutes. Remember to let it cool for a few minutes before serving.
Make Ahead
The beauty of breakfast casseroles is that they can be prepped the day before and then baked in the oven the following morning. They're perfect for busy mornings or a special holiday breakfast!
All you have to do is assemble the breakfast hashbrown casserole with sausage, cover the dish, and refrigerate it for up to 12 hours. Then the next morning, uncover the dish, pop it in the oven, and bake. The perfect fuss-free breakfast!
Expert Tips
Make it creamier. For a creamier egg custard, swap the 2% milk for whole milk or half and half.
Brown the hashbrowns. Browning your hashbrowns in a skillet first makes them crispy and gives your casserole a little extra crunch.
Top browning too quickly? Cover the hashbrown casserole with sausage using a piece of aluminum foil to finish baking if it looks like the top is browning too quickly.
Recipe FAQs
How do you keep egg casserole from drying out?
If you follow the recipe directions, your hashbrown casserole with sausage shouldn't dry out, but if you're worried about it, cover the dish with foil for the first half of baking and then remove it to let the casserole brown.
Should I thaw frozen hash browns before cooking?
The great thing about this recipe is that you don't have to defrost the hashbrowns first before you add them to the pan to cook. You can throw them in while still frozen and brown them in the pan.
How do you know if an egg casserole is set?
I usually insert the tip of a knife into the center of the casserole and if it comes out wet, then I pop it back into the oven for a few minutes.
Storing + Reheating
This breakfast hashbrown casserole with sausage will keep in the refrigerator for up to 3 days. Store the entire casserole or individual servings in an airtight container and reheat throughout the week!
To reheat: You can microwave individual pieces on a microwave-safe plate for about 1 minute. To make your pieces crispy, reheat them in the toaster oven or the air fryer. If you're reheating the entire casserole, I would suggest covering the dish with foil and putting the whole thing back into the oven at 350°F for 20 – 30 minutes until heated through.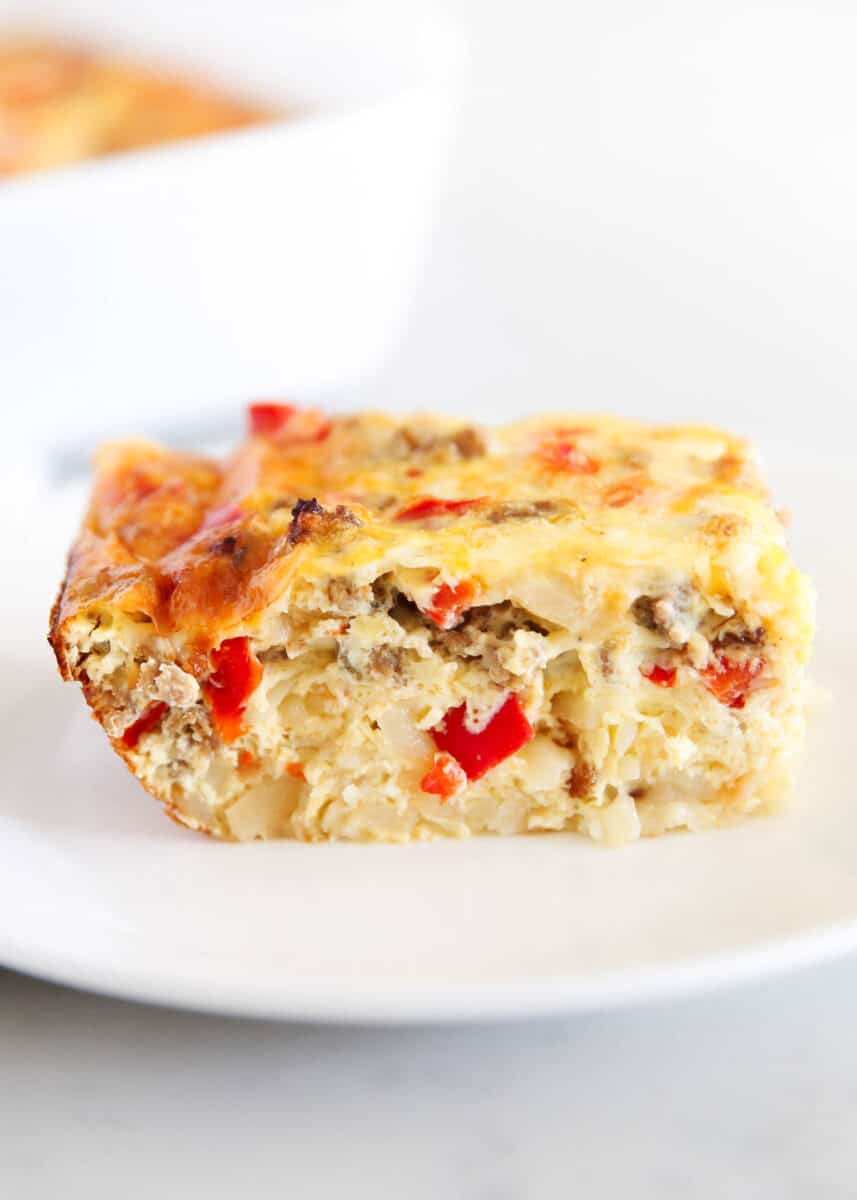 HUNGRY FOR MORE? Subscribe to my newsletter and follow on Facebook, Pinterest and Instagram for all the newest recipes!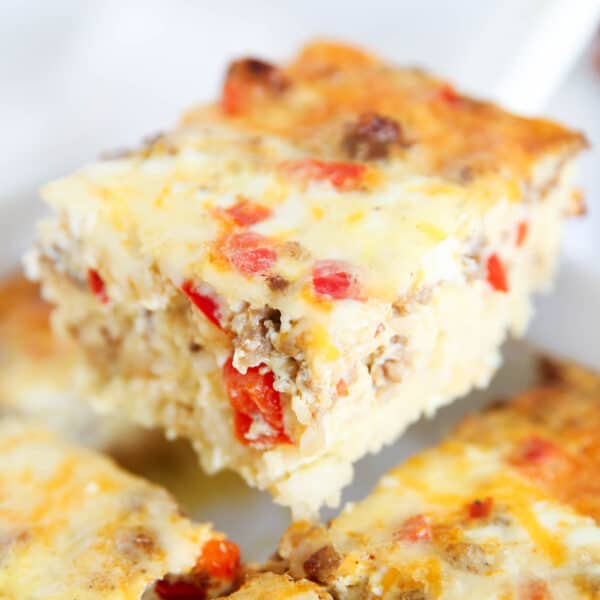 Breakfast Hashbrown Casserole
This hearty breakfast hashbrown casserole with sausage is assembled the night before in just 15 minutes and it's loaded with sausage, frozen hashbrowns, eggs, and two kinds of cheese, then baked in the morning!
Ingredients
1 pound breakfast sausage
1 (30-ounce) bag frozen shredded hash browns
8 large eggs
1 ¼ cups milk , I use 2%
¼ teaspoon garlic powder
¾ teaspoon Kosher salt , or 1/2 teaspoon table salt
¼ teaspoon ground black pepper
1/2-1 cup shredded cheddar cheese
½ cup shredded Monterey jack cheese , can sub for cheddar or mozzarella if preferred
Instructions
Preheat the oven to 375°F. Spray a 9×13-inch baking dish with nonstick spray.

In a large skillet over medium heat, cook the sausage and break into small pieces with a spatula. Transfer to a paper towel-lined plate to absorb extra grease. Add hash browns to the pan and cook until lightly brown (add more oil if necessary).

In a large bowl, beat the eggs. Whisk in the milk, garlic powder, salt, and pepper.

Place hash browns on the bottom of the baking dish. Sprinkle the sausage over the hash browns. Spread the cheese evenly over the sausage. Pour the eggs over the top.

Bake uncovered 35 to 40 minutes, or until a toothpick inserted in the center comes out clean. Let cool a few minutes before serving.
---
Notes
Variations:
For a different flavor, you can use sage sausage and Gruyere cheese.
Swap the sausage for turkey sausage, diced ham or bacon crumbles.
For a little kick, add a few dashes of hot sauce and red pepper flakes in with the eggs.
Add in some sauteed vegetable such as onions, bell peppers or mushrooms.
Make-ahead: Cover the unbaked casserole and refrigerate up to 12 hours.
Storage: Store leftovers in a covered container in the refrigerator up to 3 days. Reheat in the microwave, a toaster oven, or the air fryer to get crispy.
Nutrition
Calories: 273kcal | Carbohydrates: 14g | Protein: 14g | Fat: 17g | Saturated Fat: 7g | Polyunsaturated Fat: 2g | Monounsaturated Fat: 7g | Trans Fat: 0.1g | Cholesterol: 163mg | Sodium: 517mg | Potassium: 389mg | Fiber: 1g | Sugar: 1g | Vitamin A: 333IU | Vitamin C: 6mg | Calcium: 129mg | Iron: 2mg
Nutrition provided is an estimate. It will vary based on specific ingredients used.
Did you make this recipe? Don't forget to give it a star rating below!