These homemade hash browns are perfectly crispy on the outside and fluffy on the inside. An easy side dish that's ready in just 20 minutes!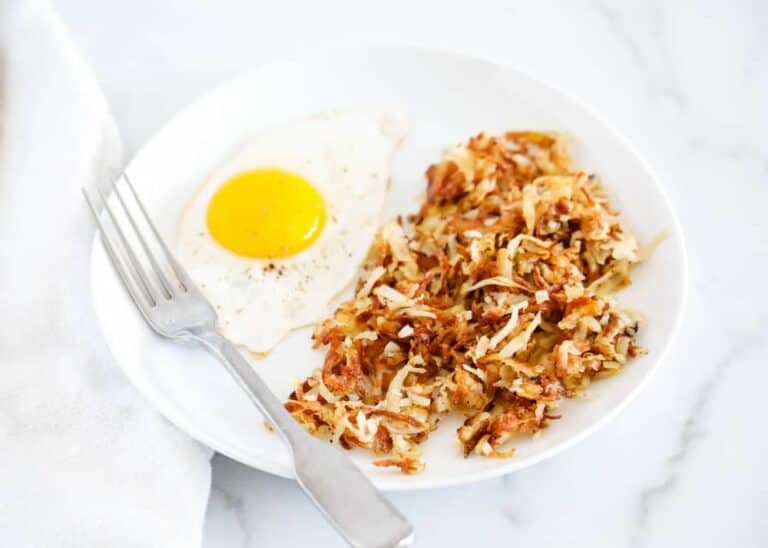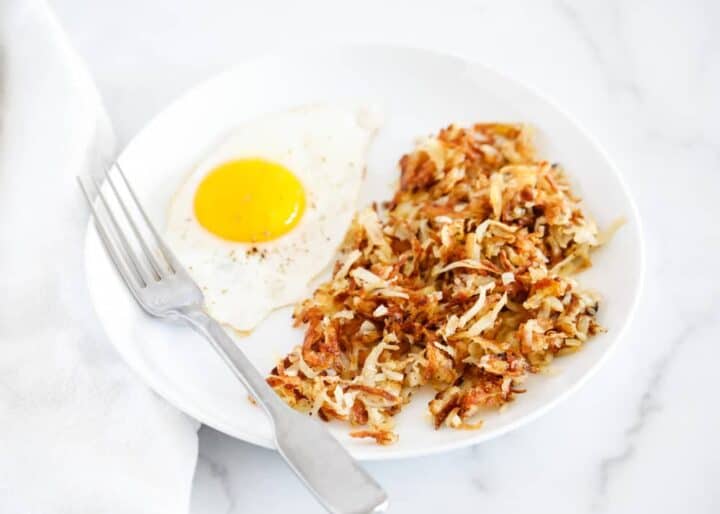 20-Minute Homemade Hash Browns
Hash browns are one of my favorite side dishes to make when we do breakfast for dinner that is unless I am making leftover mashed potato pancakes. They're quick, easy and only take a few simple ingredients. Plus I love that they are done in just 20 minutes.
With these tips and tricks, I'll teach you how to make perfectly crispy and delicious homemade hash browns. The last thing you want them to be is mushy or soggy. Using this method, they'll have an amazing texture and flavor every time!
We love serving them alongside bacon and scrambled eggs. If I'm feeling fancy, I may even make some buttermilk pancakes or french toast too. They also taste perfect with a side of ranch or ketchup. Takes me back to my childhood!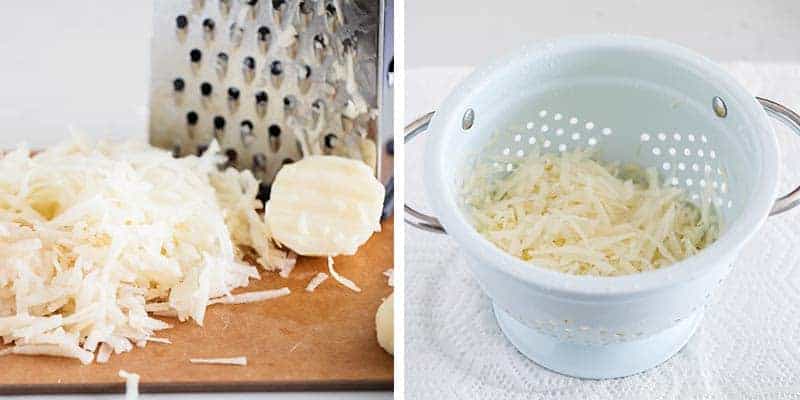 Best Type of Potatoes to Shred
When making hash browns, I'd recommend using russet potatoes. They're super starchy, which means they'll crisp up nicely on the skillet. They're also really easily to shred, which makes them the perfect potato to use. You can leave the skin on or peel it off before shredding…your choice.
I use a large-holed cheese grater to shred mine. Once you've washed and dried them, simply grate the potatoes one by one on the cheese grater until each potato is gone. A medium-sized potato should give you about 1 cup of hash browns.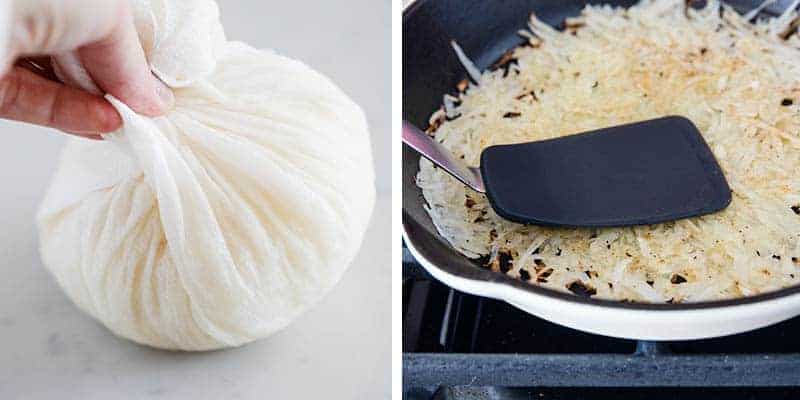 The Key to Crispy Hash Browns
To achieve that deliciously crispy texture, it's important that all of the excess water is completely gone from the potatoes before frying. So after you wash your potatoes, make sure to use a fine towel, cheese cloth or paper towel to squeeze out any extra water.
I also recommend using a cast iron skillet if you have one. The heat from the stove distributes evenly in a cast iron, making it perfect for frying. Also if it's well seasoned, then you won't run into any issues with the hash browns sticking to the bottom of the pan.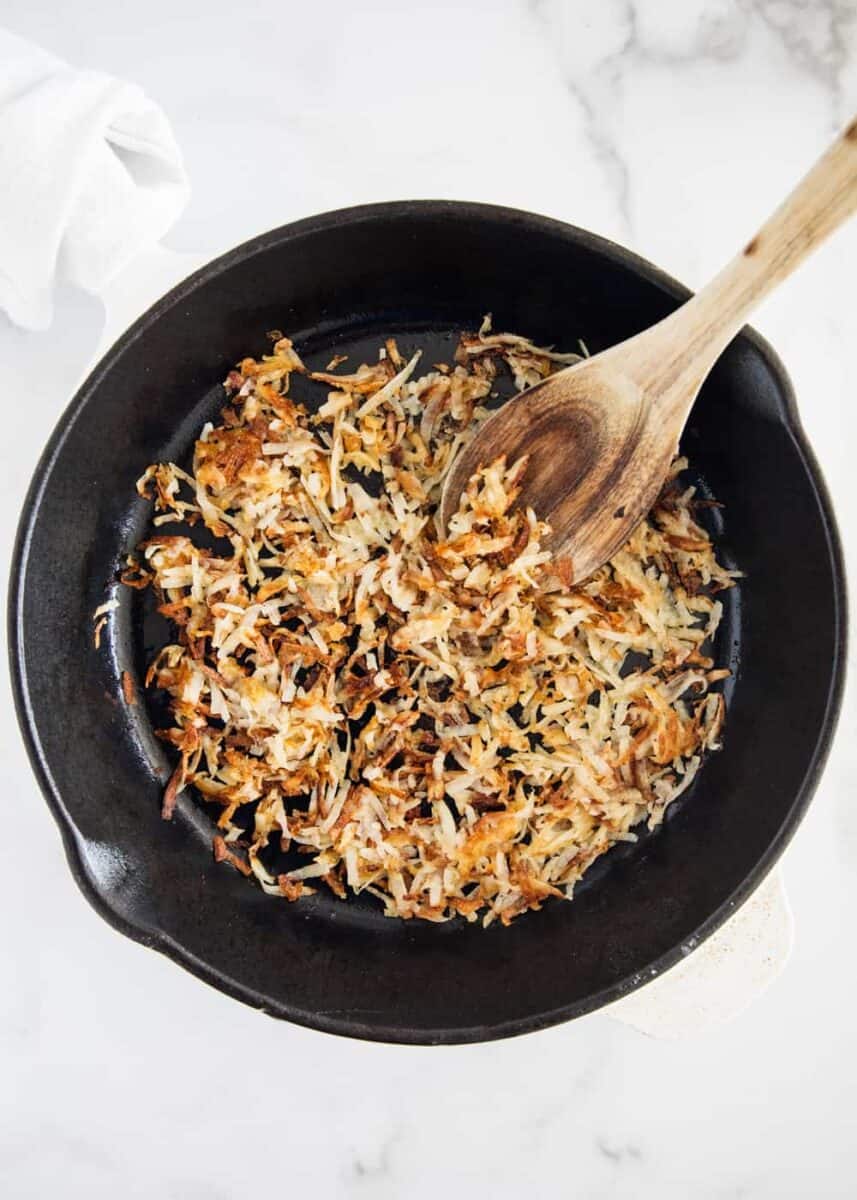 Other Helpful Tips
Use fresh, not frozen. Don't use the frozen pre-shredded bags of hash browns. Using freshly grated potatoes makes them way more crispy and delicious.
Medium heat. Although you want them crispy, you definitely don't want them burnt. Cooking on medium heat gives you more control over how fast the hash browns cook on the stove. Cooking on high heat will likely cause burning.
Absorb grease. Once they are cooked, make sure to transfer the hash browns onto a plate lined with paper towels. The paper towels help absorb any extra grease, so that the potatoes stay crisp and aren't too oily.
More Ways to Season
A simple sprinkle of salt and pepper is enough to make these hash browns taste delicious, but feel free to get creative with the seasonings. Some shredded cheese, smoked paprika or some sautéed minced garlic are easy ways to add some extra pizazz to your potatoes.
Spice. Add a dash of smoked paprika or chili powder to give the dish a little heat.
Cheese. A layer of melted cheese on top takes this dish to the next level. Try grating your own cheese for the most gooey and delicious cheesy goodness like I do in the hashbrown casserole!
Garlic butter. Swap the olive oil with a flavorful garlic herb butter.
Breakfast skillet. Instead of serving your bacon and eggs on the side, turn this dish into a cheesy bacon and egg breakfast skillet. Everything cooks in one pan and the flavors taste incredible together.
Egg cups: Hash brown egg cups are a portable breakfast made in a muffin tin!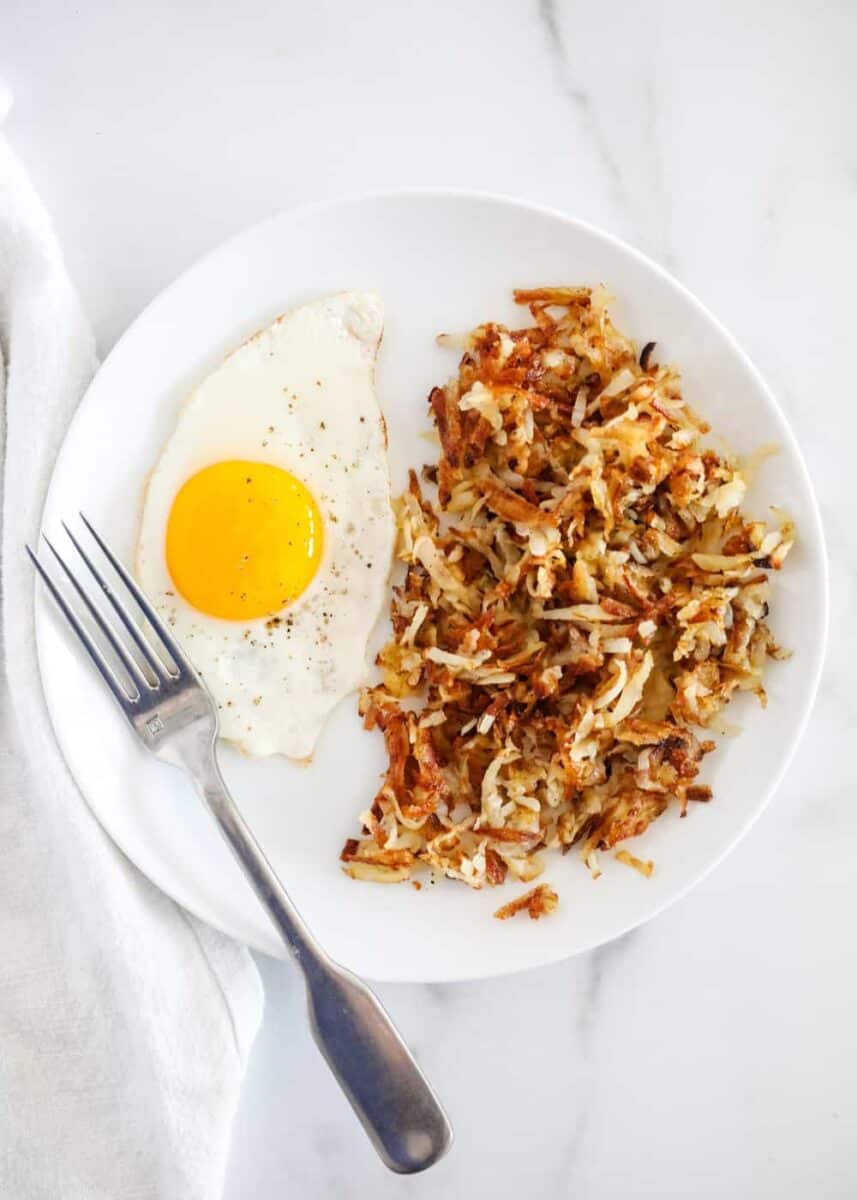 Favorite Dishes to Serve With:
Crispy hash browns make the perfect side dish to just about any breakfast recipe. Below are some of our favorites dishes to serve them alongside.
HUNGRY FOR MORE? Subscribe to my newsletter and follow on Facebook, Pinterest and Instagram for all the newest recipes!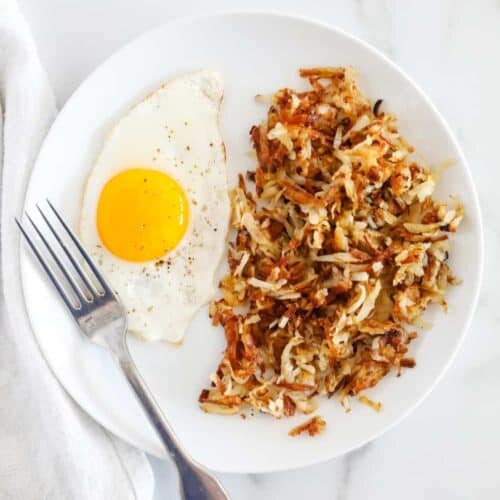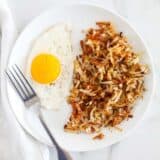 Homemade Hash Browns
These homemade hash browns are perfectly crispy on the outside and fluffy on the inside. An easy side dish that's ready in just 20 minutes!
Ingredients
1 pound russet potatoes , 2-3 potatoes
3 Tablespoons olive oil , or butter
½ teaspoon Kosher salt
¼ teaspoon onion powder
¼ teaspoon pepper
Optional: 1/4 teaspoon paprika
Instructions
Scrub the potatoes clean. Peel if desired (you can leave the skin on if preferred).

Grate the potatoes on a large-holed cheese grater. Then rinse the potatoes strands in a strainer.

Place the potatoes on a fine towel, cheese cloth or paper towel. Then squeeze out any extra water.

Heat the oil (or butter) in a large skillet over medium-heat. Sprinkle the potatoes evenly onto the skillet. Then press them down with a spatula. Let them cook for 2-3 minutes, or until lightly golden brown. Stir and then press down and cook for an additional 2-3 minutes. You may need to repeat a few times until the potatoes are golden brown.

Place the potatoes on a plate lined with paper towel to absorb any extra grease. Season, to taste. Serve alongside your favorite breakfast dish!
---
Notes
Seasonings: You may add a dash of paprika or chili powder for some heat. Or swap the olive oil for garlic herb butter for a flavorful variation.
Nutrition
Serving: 48g | Calories: 183kcal | Carbohydrates: 21g | Protein: 2g | Fat: 11g | Saturated Fat: 1g | Sodium: 297mg | Potassium: 473mg | Fiber: 1g | Sugar: 1g | Vitamin C: 6mg | Calcium: 15mg | Iron: 1mg
Nutrition provided is an estimate. It will vary based on specific ingredients used.
Did you make this recipe? Don't forget to give it a star rating below!