All your favorite breakfast items including sausage, cheese and crispy and fluffy potatoes in one baked homestyle dish. Not just for breakfast either, this easy and budget-friendly tater tot breakfast casserole takes just over an hour!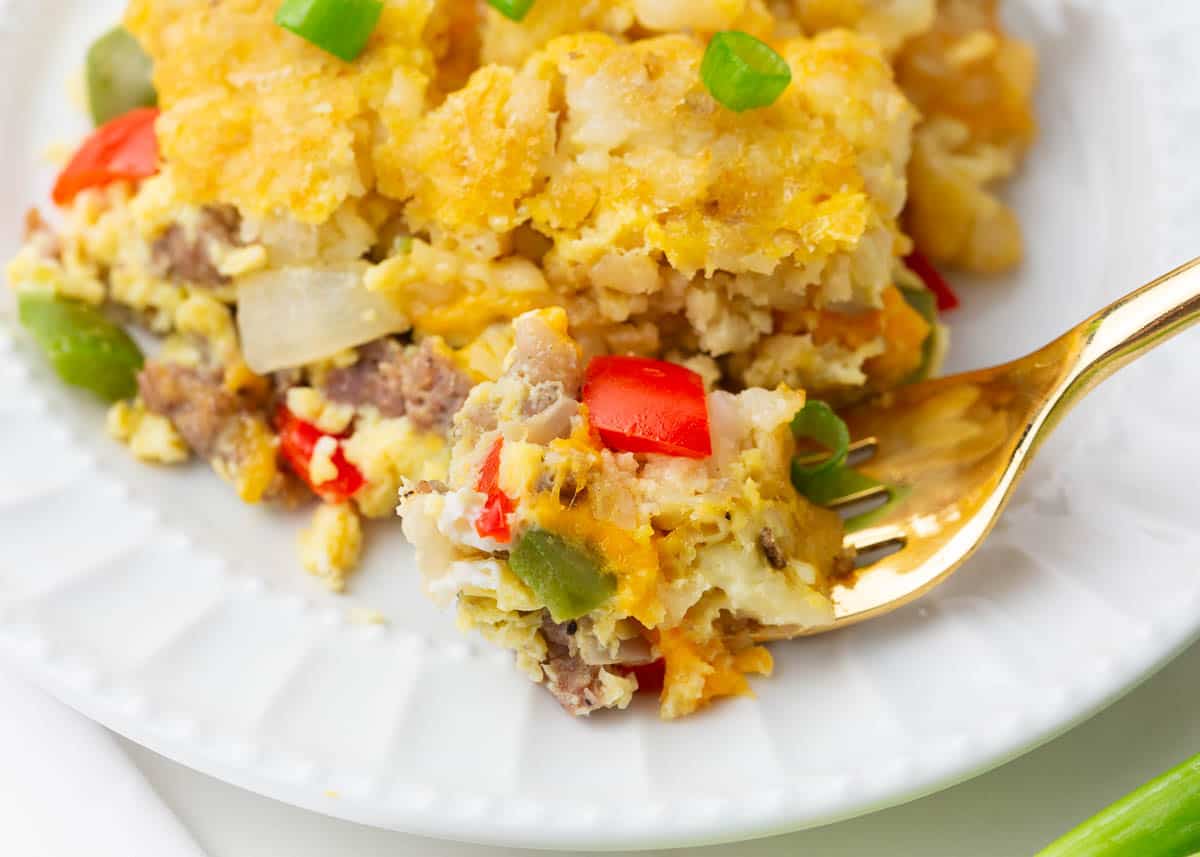 An Easy Homemade Meal On A Budget
I can't think of a better way to feed a hungry crowd than to make something easy, shareable, and satisfying. This tater tot breakfast casserole is one of my favorite make-ahead breakfast recipes similar to a long-standing favorite make-ahead breakfast casserole. It checks all of those boxes and then some!
This casserole is similar to easy tater tot casserole, but for breakfast instead of dinner! It's fully loaded with savory breakfast items like taters, seasoned breakfast sausage, cheese, onions, bell peppers, and eggs! It's an all-in-one breakfast or brunch dish that is the ultimate in comfort food.
You'll have people running to the table when this flavor-loaded dish is on the menu. Think about making 2 because you know people will be asking for more! Or, better yet freeze one for later!
What Are Tater Tots?
If you've ever had a hash brown you'll know exactly what tater tots taste like. They start as grated potatoes formed into little cylinders, then deep fried until golden and crispy on the outside and fluffy on the inside.
They are found in the freezer section of your grocery store. Although they are originally fried, you can also bake them, heat them in a skillet, or pop them in the air fryer to warm through and crisp up.
Why This Recipe Works
Customizable. It can be customized to suit your tastes by using different meat, cheese, or vegetables, and it doesn't have to just be for breakfast either.
Versatile. A satisfying meaty, cheesy, potato puff casserole can be enjoyed for dinner in the same way! Who says we can't have it for lunch either?!
Easy. Other than a bit of prep work like cooking the sausage and chopping veggies, there's nothing to it. Layer it, bake it, then eat it!
Make ahead. Much like my easy sausage crescent roll breakfast casserole, I love that it can be assembled the day before and baked just before serving. Easy entertaining at its finest!
Ingredient Needed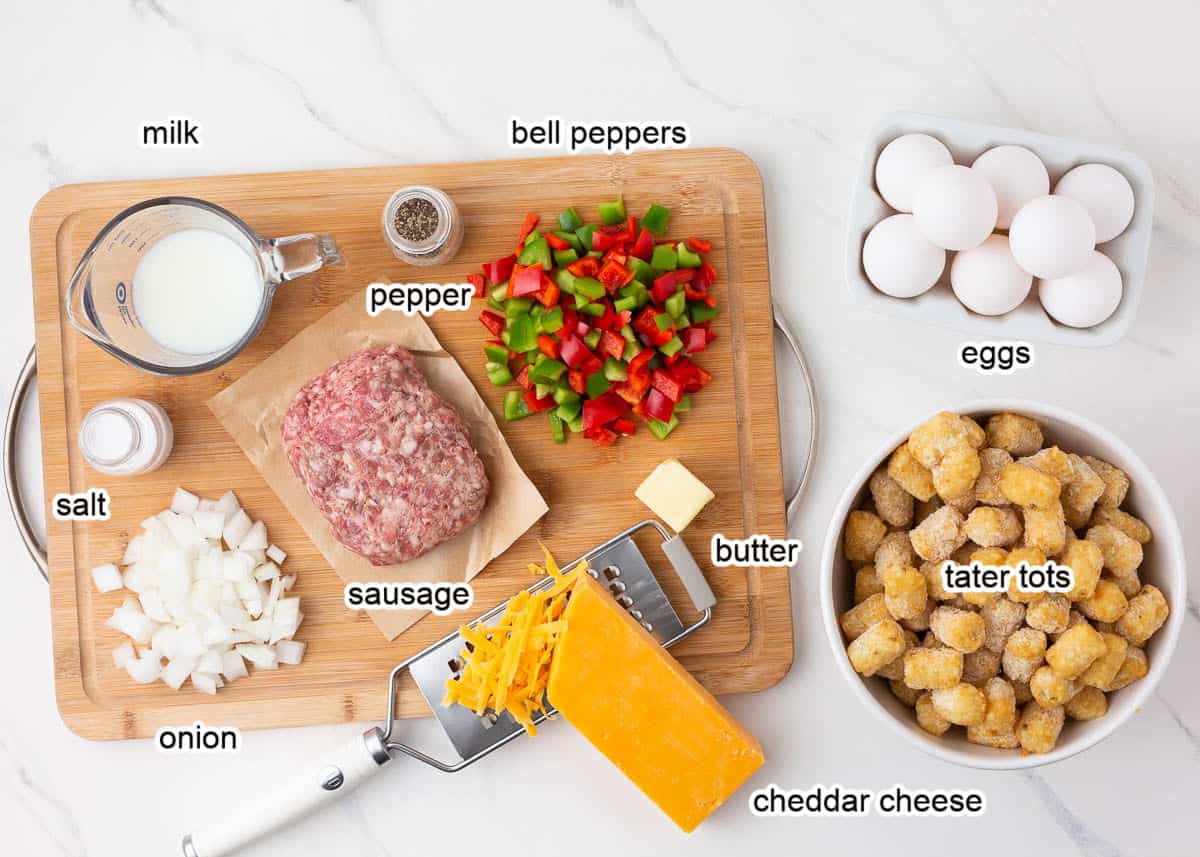 See the full printable recipe below.
Breakfast sausage: This can come in the form of links, patties, or a package of ground meat. Try and avoid the links so you don't have to bother with removing the casings and it's easier to crumble.
Tater tots: Found in the freezer section of your local grocery store. Do not thaw them first. If you can't find any, feel free to replace them with cut up hash browns.
Bell pepper: I use a combination of red and green bell pepper because I find using just red is a bit too sweet. Green adds a savory bite. Use whatever pepper combination you like.
Cheddar cheese: Freshly grated from a block is a must! Just kidding, it's not, but it's highly recommended. It melts easier, tastes better, and if you like sharp cheddar, it's not the same pre-shredded in a package.
Recipe Variations
Veggies: Mushrooms, asparagus, red bell pepper, broccoli, or spinach.
Cheese: Instead of sharp cheddar cheese, you could use pepper jack, mozzarella, or a blend.
A little heat: I like to serve mine with a drizzle of hot sauce on top, but if you want to add heat to the casserole itself, add diced chiles or jalapenos in there!
How to Make a Breakfast Tater Tot Casserole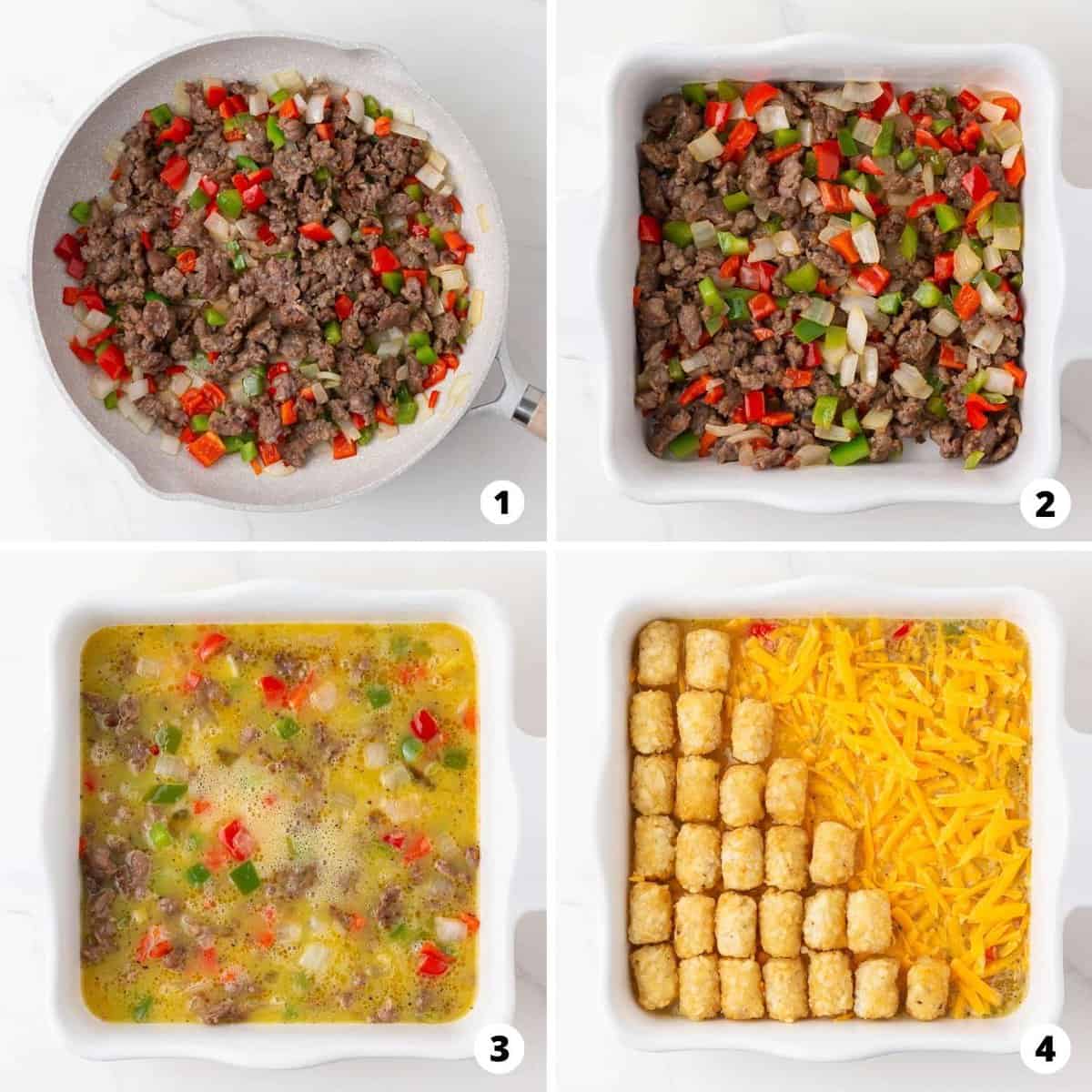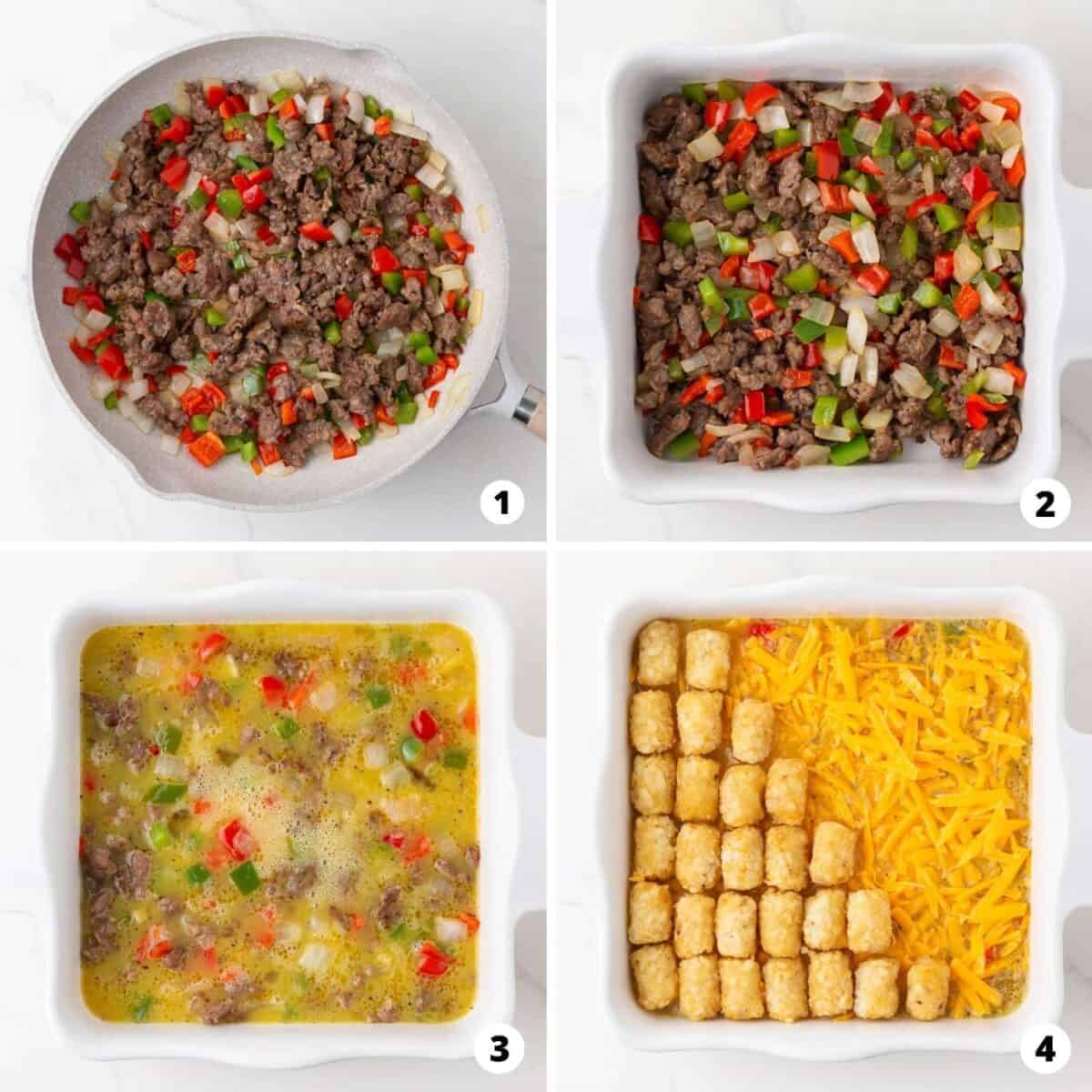 In a large skillet, cook the sausage over medium heat. Break it down into crumbles as it cooks through. Remove to a paper towel-lined plate to absorb excess grease and in the meantime, cook onions and bell peppers in some butter until tender, and add the sausage back into the pan.
Transfer the meat mixture to a casserole dish and transfer it to the fridge to cool slightly. This helps to avoid the eggs from cooking too soon if they were to be added to the hot sausage mixture.
Whisk the eggs, milk, salt, and pepper together and pour that egg mixture over the sausage.
Sprinkle that with cheese and place an even layer of frozen tater tots on top. Bake for 40 minutes and allow it to stand and set for 5 minutes before serving.
Expert Tips
Do not thaw your taters. They can be used in this tater tot breakfast casserole from frozen. That way they aren't mushy and soggy before baking.
If making ahead, bring it to room temperature an hour before baking. This helps with even baking and saving a bit of time in the oven.
Short cuts include pre-shredded cheese, already cooked meat (a great way to use up leftovers), and frozen diced onions.
To brown the top, add a bit of extra cheese and place it under the broiler.
You can use whatever milk you like, but I use whole milk for a richer, thicker creamy consistency in the eggs.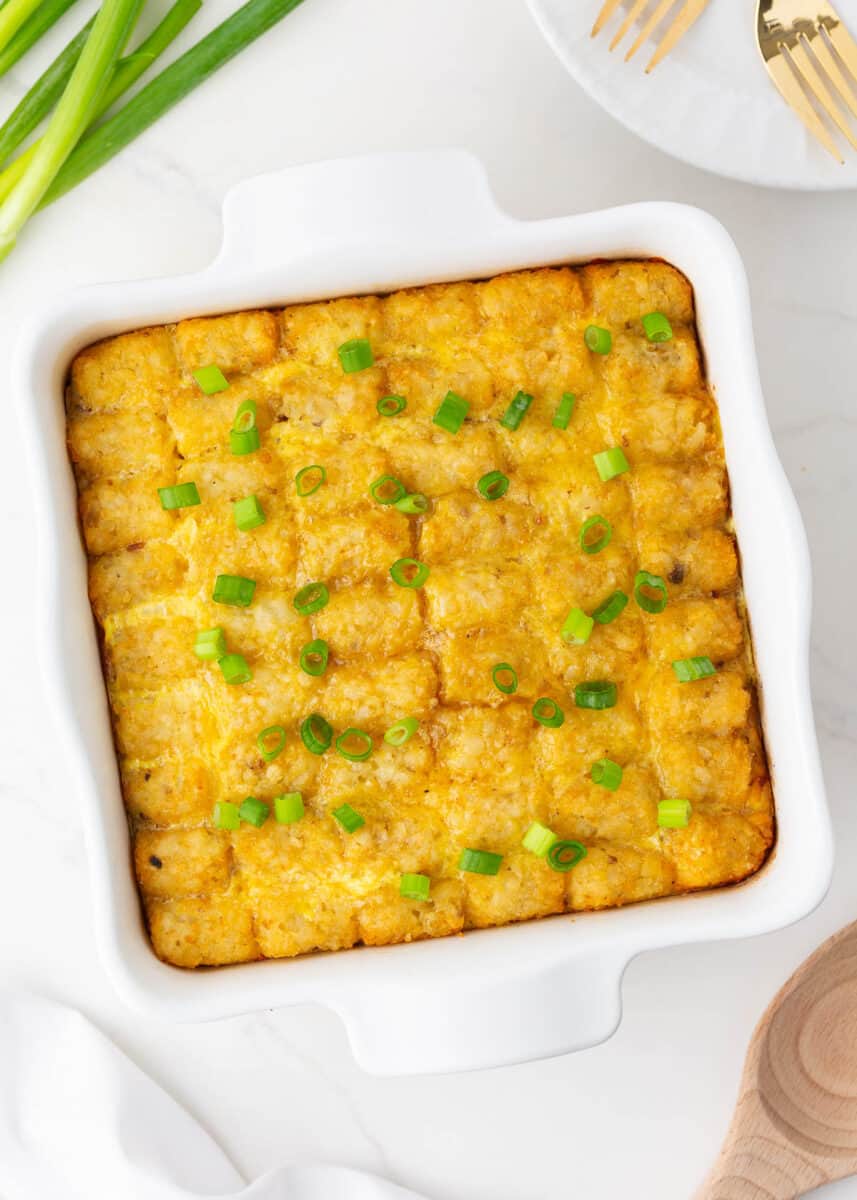 What to Serve with it
For Sunday morning brunch I like to include a few extra traditional breakfast items like freshly made waffles, pancakes, or even a honey lime fruit salad.
If it's a quick breakfast or lunch I'll sprinkle some fresh chives or green onions and a bit of hot sauce and I'm good to go! Although, a basket of fresh homemade biscuits is a nice pairing.
For dinner serve it with a side of salsa, sour cream, or a simple chopped salad.
Recipe FAQs
How to make this easy tater tot breakfast casserole recipe ahead of time?
Assemble it completely, and cover it with foil. Place it in the fridge and an hour before you're ready to bake, take it out of the fridge and allow it to come to room temperature.
Can you freeze tater tot casserole after you cook it?
Absolutely! This makes a great freezer-friendly meal that can be made today and eaten next month!

Let it cool completely and then either wrap it whole or slice it up first. Then you can transfer it to a freezer bag or airtight container and keep it in the freezer for up to 3 months. Thaw whatever you're going to use in the fridge overnight.
Does it reheat well?
Yes! You'll want to reheat individual servings in the microwave, but if you've got a larger portion, pop it in the oven or air fryer to heat through.
How to store leftovers?
Keep leftovers stored in an airtight container. It will keep fresh for up to 4 days, so it's a great recipe to have for quick reheated meals throughout the week.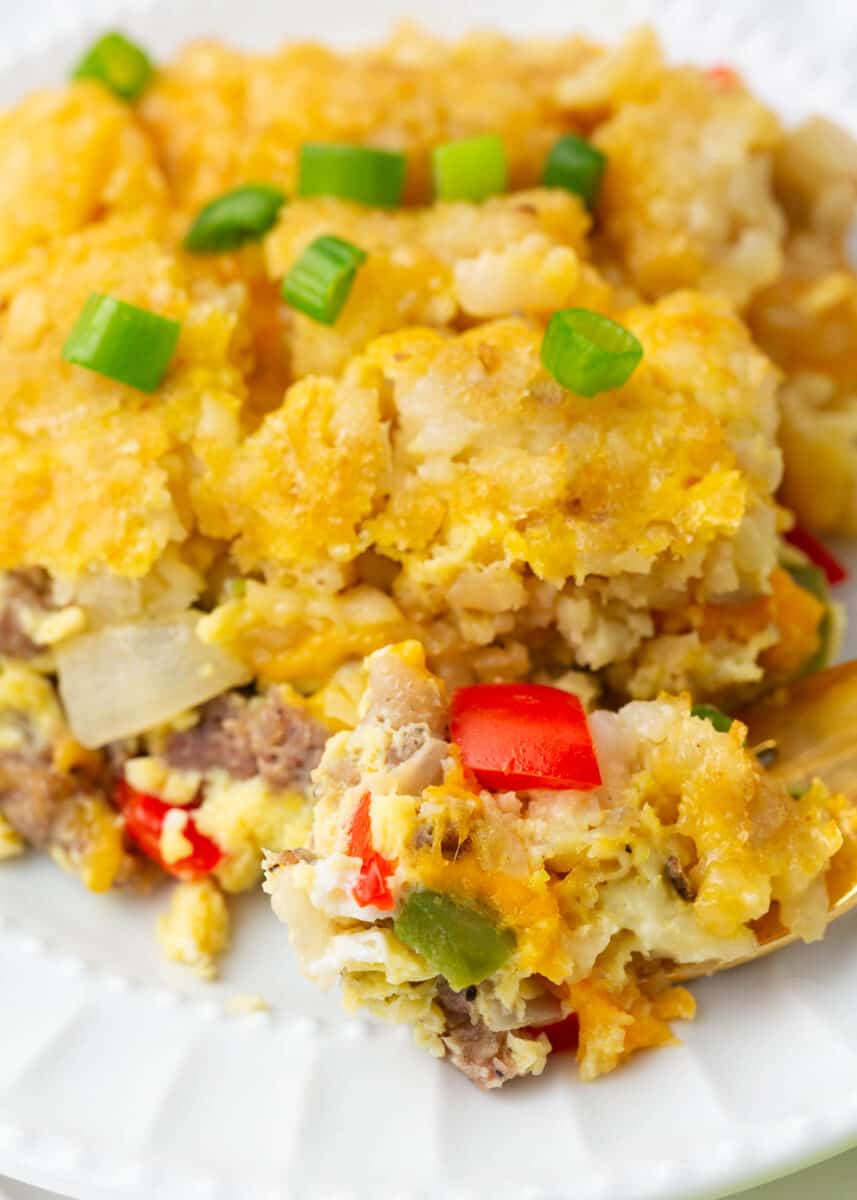 HUNGRY FOR MORE? Subscribe to my newsletter and follow on Facebook, Pinterest and Instagram for all the newest recipes!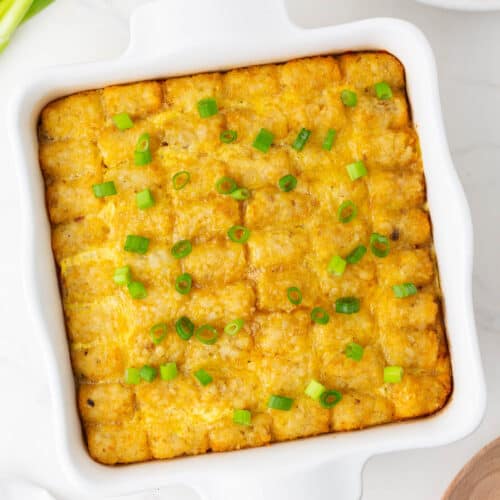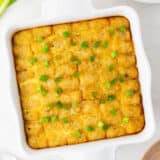 Tater Tot Breakfast Casserole
All your favorite breakfast items including sausage, cheese and crispy and fluffy potatoes in one baked homestyle dish. Not just for breakfast either, this easy and budget-friendly tater tot breakfast casserole takes just over an hour!
Ingredients
½ pound breakfast sausage
2 Tablespoons salted butter
½ cup chopped onion
1 cup chopped bell peppers
8 large eggs
⅓ cup milk
1 teaspoon Kosher salt
¼ teaspoon ground black pepper
1/2-1 cup shredded cheddar cheese
28 ounces frozen tater tots
For serving: Sliced green onions, Hot sauce
Instructions
Preheat the oven to 350°F. Butter a 9×9-inch baking dish or cast iron skillet.

In a skillet, cook the sausage over medium heat until cooked through. Remove to a paper towel-lined plate.

Add the butter, onions, and bell peppers to the skillet. Cook 3 minutes, or until tender. Stir in the sausage.

Transfer mixture to the baking dish. Place in the refrigerator to cool slightly,

In a large bowl, whisk the eggs, milk, salt, and pepper. Pour over the sausage mixture.

Sprinkle with cheese and line the tater tots evenly over the top.

Bake 40 minutes, or until the eggs have set and a toothpick inserted into the center comes clean. Let stand 5 minutes before serving.
---
Notes
Make ahead: This dish can be made up to 24 hours in advance. Simply cover and refrigerate before baking. This also makes a great dish to bake and serve throughout the week. Once baked, store leftovers for up to 4 days.
Variations:
Meat: You could substitute sausage with ground turkey, Italian sausage, diced ham, or bacon.
Vegetables: Feel free to add in any vegetables you'd like. Some of my favorites are mushrooms, spinach, chopped asparagus, or broccoli.
Nutrition
Calories: 410kcal | Carbohydrates: 29g | Protein: 15g | Fat: 27g | Saturated Fat: 9g | Polyunsaturated Fat: 5g | Monounsaturated Fat: 10g | Trans Fat: 0.2g | Cholesterol: 221mg | Sodium: 1063mg | Potassium: 474mg | Fiber: 3g | Sugar: 2g | Vitamin A: 1056IU | Vitamin C: 32mg | Calcium: 112mg | Iron: 2mg
Nutrition provided is an estimate. It will vary based on specific ingredients used.
Did you make this recipe? Don't forget to give it a star rating below!