Lemon tahini dressing is a creamy, earthy, light, and zesty dressing made in 5 minutes that's perfect on almost any salad and amazing as a dip too!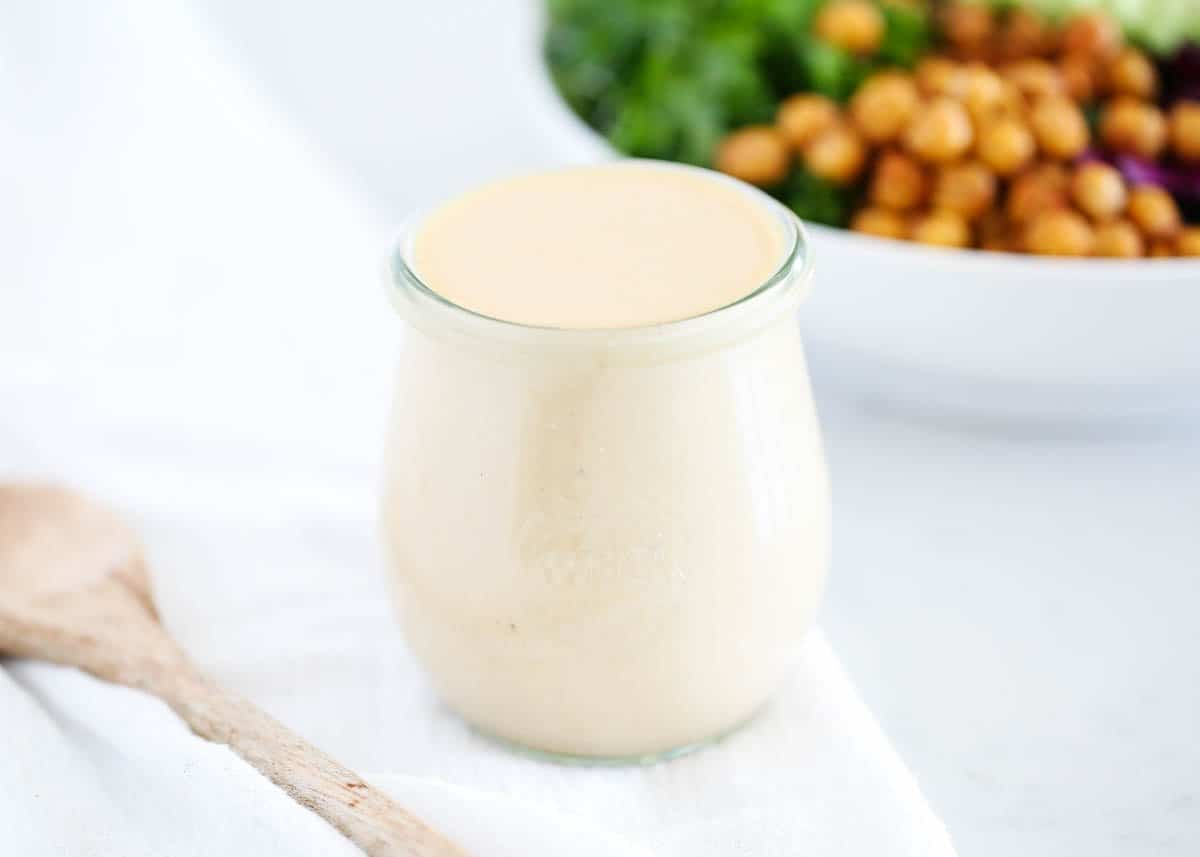 Creamy Lemon Tahini Sauce
It's not often you find a creamy dressing that's also zesty at the same time. Usually, it's one or the other, but this lemon tahini dressing has it all!
Sometimes referred to as lemon tahini sauce, it's got the creamy nutty elements from the tahini and the zest from the lemon juice. Then you've got the zing from the Dijon mustard which is all mellowed out with a bit of sweetness from the maple syrup. It's the best!
I love it drizzled on top of a buddha bowl with massaged kale, air fryer sweet potato cubes, cooked quinoa, crispy air fryer chickpeas, sliced avocado, and cabbage. Delish!
What is Tahini?
Tahini is a paste made from ground sesame seeds and olive oil. It's a very simple middle eastern condiment that can be used in dressings, sauces, and dips.
What Does Tahini Sauce Taste Like?
If you've ever had my homemade hummus, you'll most likely be familiar with that earthy nutty flavor that ground sesame seeds have. It's basically a more pronounced version of anything you've had containing sesame flavor. It's highly concentrated so it'll have that depth of flavor.
Mixed with fresh vibrant ingredients to balance it out, it makes an incredible tasting dressing!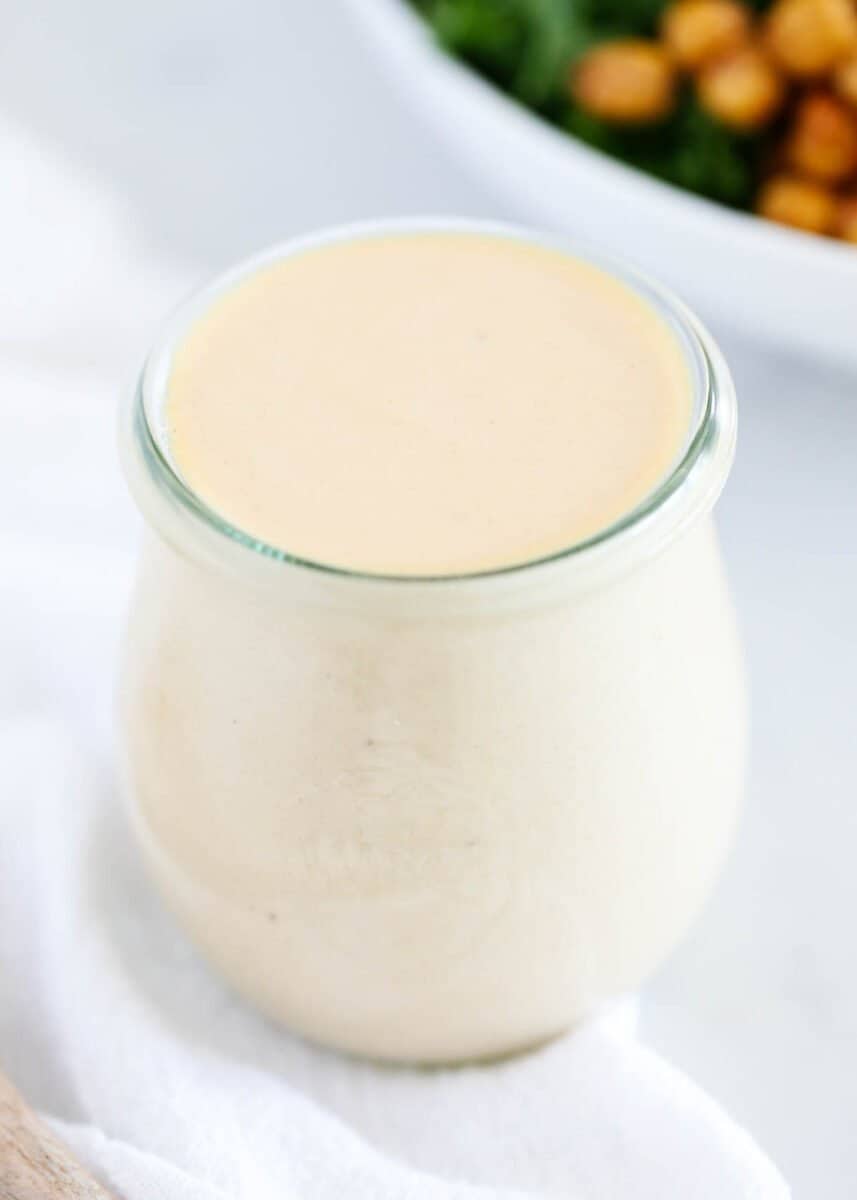 What's in this Tahini Dressing Recipe?
The amounts listed are guidelines for the way I like my dressing to taste. If you like yours with more citrus, add more lemon. More pungency, add more Dijon mustard. If you like it a little sweeter, add more maple syrup. You get the idea!
Tahini. It's just as easy to make your own as it is to buy it from the store. Either will work!
Fresh lemon juice. Freshly squeezed, not from a bottle, if possible. It really makes a difference to the flavor in the dressing.
Warm water. It helps to thin it out into a pourable dressing, as tahini can be quite thick.
Maple syrup. I love the sweetness it adds rounding all the ingredients together and bringing a little warmth.
Dijon mustard. More robust with a kick than yellow mustard which makes this a better choice!
Fine sea salt. The granules of fine sea salt are so small that more will fit in 1/2 teaspoon than if you were to use regular table salt or coarse salt. Keep that in mind when using different types of salt, the amount listed is specific to the kind of salt you're using.
Freshly cracked black pepper. To taste!
How do you Make Lemon Tahini Dressing?
Easily! Just grab your ingredients and a blender and you're almost there!
Combine all your ingredients into a blender and mix until smooth. The warm water is there if you need to thin it out a bit. If so, add a Tablespoon at a time until desired consistency is reached.
Add salt and pepper to taste, followed by any more maple syrup or lemon juice.
Use immediately or pour into a mason jar and keep it in the fridge for up to 1 week.
Ingredient Variations
This lemon tahini salad dressing is amazing but like any dressing, it has the flexibility of making it your own with a few minor tweaks.
To your mixture, whisk in some minced garlic if you love a garlicky dressing.
Toss in some fresh herbs, like basil, cilantro, or dill for a next-level vibrant finish.
Replace the tahini with your favorite nut butter instead. Peanut butter or almond butter are popular choices.
Double for a Crowd!
Easily double or even triple this recipe when serving guests for any occasion. It's great on salad, but you can even use it as a dip when serving veggies on a platter or drizzled over sliced tomatoes as an appetizer.
Favorite Salads for Serving
How to Store Lemon Tahini Dressing
It will stay fresh in the fridge for a week as long as it's kept in an airtight container. I like to pour it directly into a mason jar and use it straight from there whenever I need it. Give it a shake each time before you pour it out.
FAQs
Is lemon tahini dressing healthy?

You bet it is! Sesame seeds are high in calcium and potassium. Lemon juice gives us all the vitamin C. The olive oil, if you've made homemade tahini, delivers good fats.

If you're serving it over one of my nutrient-dense salads listed above, you'll get a ton of high fiber, protein, antioxidants, and vitamins and minerals too!
Is this tahini sauce recipe gluten-free?

It is gluten-free. It is also vegan, dairy-free, and refined sugar-free!

Making homemade salad dressings is always a great way to not only avoid the high sodium and sugar found in most store-bought dressings, but you can always make it according to your family's needs. You can't go wrong with a dressing made from scratch!
Can I make this lemon tahini dressing without a blender?

No blender? No problem! Grab a bowl and a whisk and stir to incorporate everything well.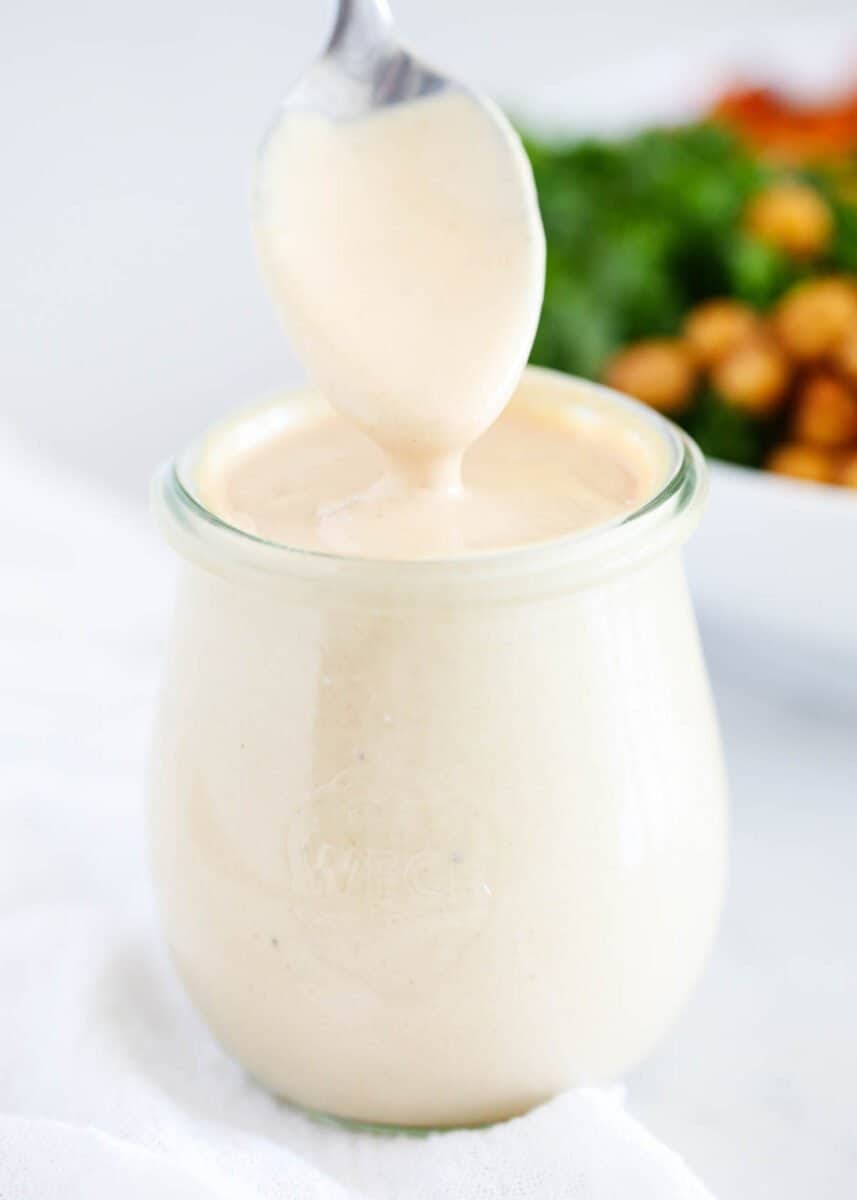 More Ways to Use Tahini Dressing
HUNGRY FOR MORE? Subscribe to my newsletter and follow on Facebook, Pinterest and Instagram for all the newest recipes!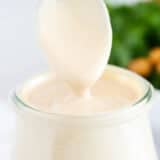 Lemon Tahini Dressing
Lemon tahini dressing is a creamy, earthy, light, and zesty dressing made in 5 minutes that's perfect on almost any salad and amazing as a dip too!
Ingredients
½ cup tahini
4 Tablespoons fresh lemon juice , more to taste
4-6 Tablespoons warm water
2 Tablespoons maple syrup , more to taste
½ teaspoon dijon mustard , more to taste (optional)
½ teaspoon fine sea salt
freshly cracked pepper
Instructions
Combine all the ingredients in a blender. Mix until well combined. Add an extra Tablespoon of water as needed to thin it out. Salt and pepper to taste. Add more maple syrup and lemon juice if desired.

Pour into a mason jar and store with the lid on in the refrigerator for up to 1 week.
---
Notes
Double: Feel free to double if you're serving for a bigger crowd. Storage: Store in the refrigerator in a covered container for up to 1 week.
Nutrition
Serving: 2Tablespoons | Calories: 130kcal | Carbohydrates: 7g | Protein: 4g | Fat: 11g | Saturated Fat: 1g | Polyunsaturated Fat: 5g | Monounsaturated Fat: 4g | Sodium: 206mg | Potassium: 110mg | Fiber: 1g | Sugar: 2g | Vitamin A: 14IU | Vitamin C: 5mg | Calcium: 33mg | Iron: 1mg
Nutrition provided is an estimate. It will vary based on specific ingredients used.
Did you make this recipe? Don't forget to give it a star rating below!