Creamy and sweet poppy seed dressing made with only 5 simple ingredients. Perfect to drizzle over summer salads with fresh fruit on top!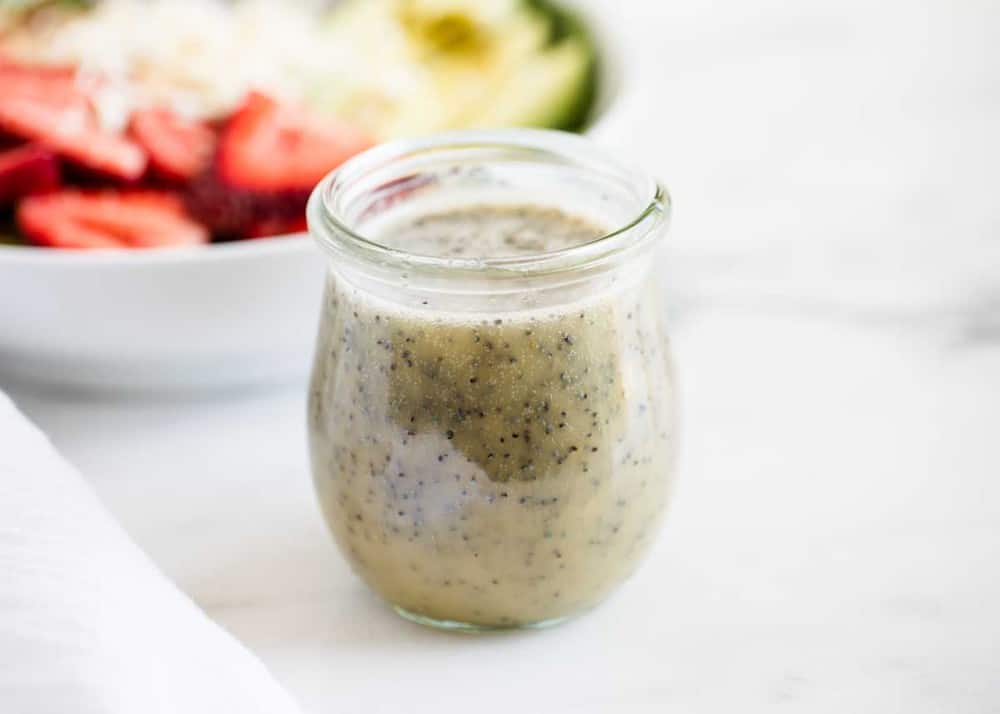 Homemade Poppy Seed Dressing
Poppy seed dressing has always been one of my favorite salad dressings. For years I bought a store brand, but then I discovered how easy it is to make this sweet and tangy dressing homemade. I love to drizzle it on fruit salads or greens salads to add a burst of flavor!
The best part about this recipe is that it's made with only 5 ingredients. Seriously so simple and absolutely delicious. And you can even make some healthier swaps to lighten it up a bit, like using Greek yogurt instead of mayo or omitting the granulated sugar.
This dressing tastes amazing on all types of salads, but is especially delicious on salads with fresh fruit on top (like my strawberry spinach salad). It would also taste great on a pasta salad or fruit salad. Yum!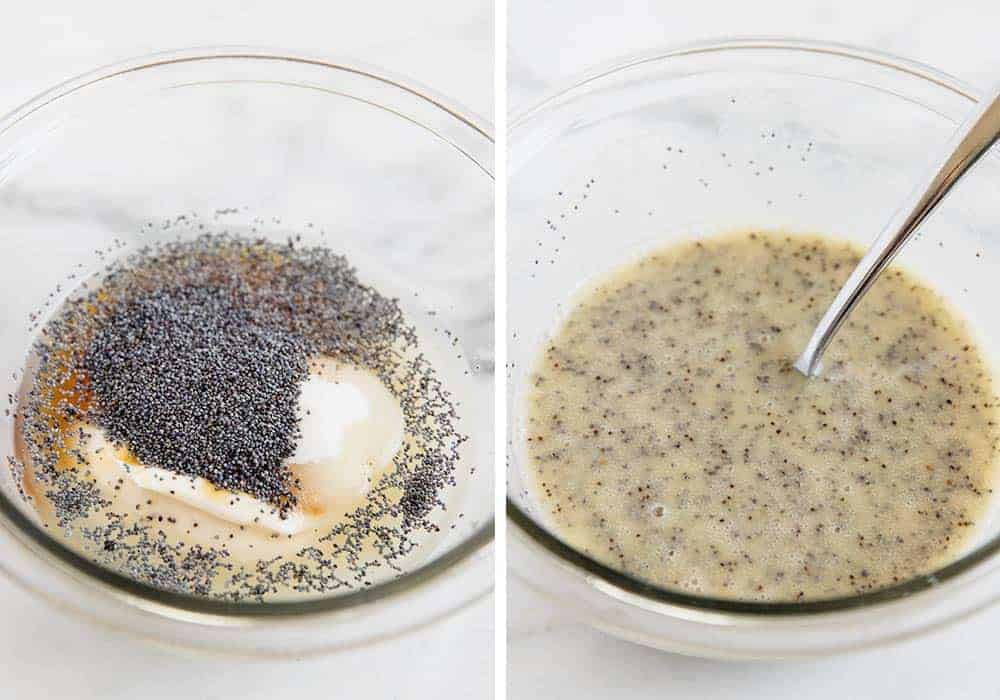 Tips for the Best Poppy Seed Dressing
Making your own salad dressing is super quick and easy. It tastes fresher than store-bought dressing and is way more affordable. This poppy seed salad dressing is one of my favorites to make at home, as well as ranch, vinaigrette and cilantro lime dressing.
Taste test. After you mix the dressing together, give it a taste and adjust as needed. Add in a little more honey to make it sweeter, or extra vinegar for a bolder tang.
Mix in a jar. Instead of whisking together the ingredients in a bowl, pour them into a jar and shake to mix. That way you have less dishes to clean.
Let chill. You don't have to chill the dressing first, but I like to stick it in the fridge for at least 30 minutes to help meld the flavors together and thicken it up.
Shake before using. Before drizzling on top of your salad, make sure to give the jar of dressing a few big shakes. Sometimes the vinegar and oil from the mayo can separate a little, so giving it a good shake will help smooth out the consistency.
Poppy seeds. Store any leftover poppy seeds in the fridge so that they stay fresh for longer. They should keep for about 3 to 6 months in the fridge.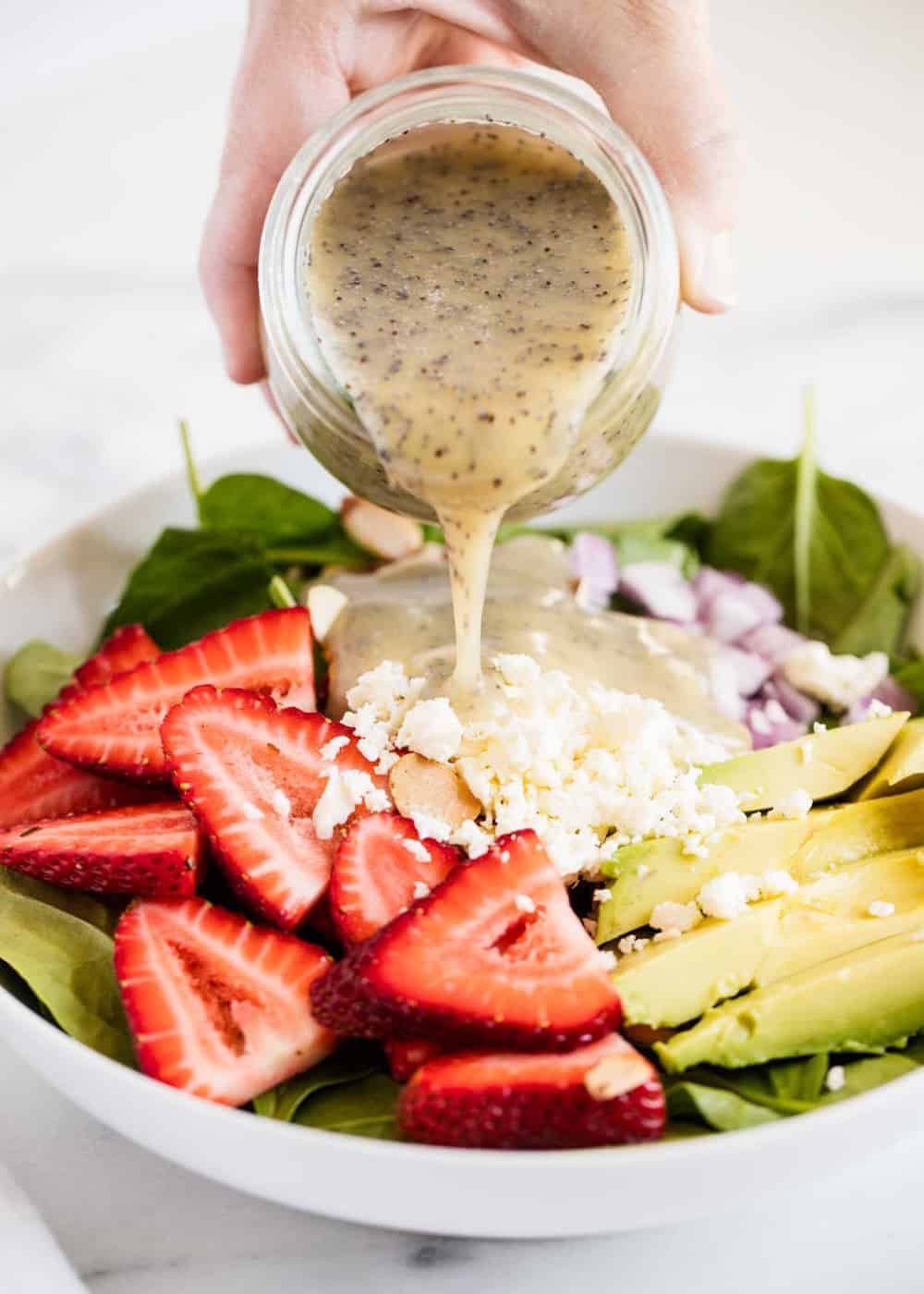 Variations + Swaps
Use Greek yogurt instead of mayo to lighten it up a bit.
Omit the sugar and only use honey instead.
You can use white vinegar, apple cider vinegar or even raspberry vinegar to give it a little more flavor.
If you don't have vinegar on hand, try replacing it with fresh lemon juice for a fun twist.
If you don't want a creamy poppy seed dressing, you can replace the mayo with a high quality olive oil instead. Or you can even do a mixture of both mayo and oil for a more subtle creamy texture.
Storing Tips
This poppy seed dressing will keep for up to 1 week if chilled in the refrigerator. I like to store it in a glass jar with a lid so that I can easily shake it up before using. Sometimes I even mix my ingredients together in the glass jar too, so that I don't dirty up 2 dishes. :) It's all about convenience!
FAQs
Should poppy seed dressing be refrigerated?
Yes! Since it has dairy ingredients it needs to be stored in an airtight salad jar in your refrigerator.
What do poppy seeds add to flavor?
They add a slightly nutty, earthy taste.
How do I make my dressing creamier?
Before adding your poppy seeds, emulsify the dressing in the blender. Pour into a jar then add your poppy seeds and give the dressing a good shake with the lid on to distribute the seeds.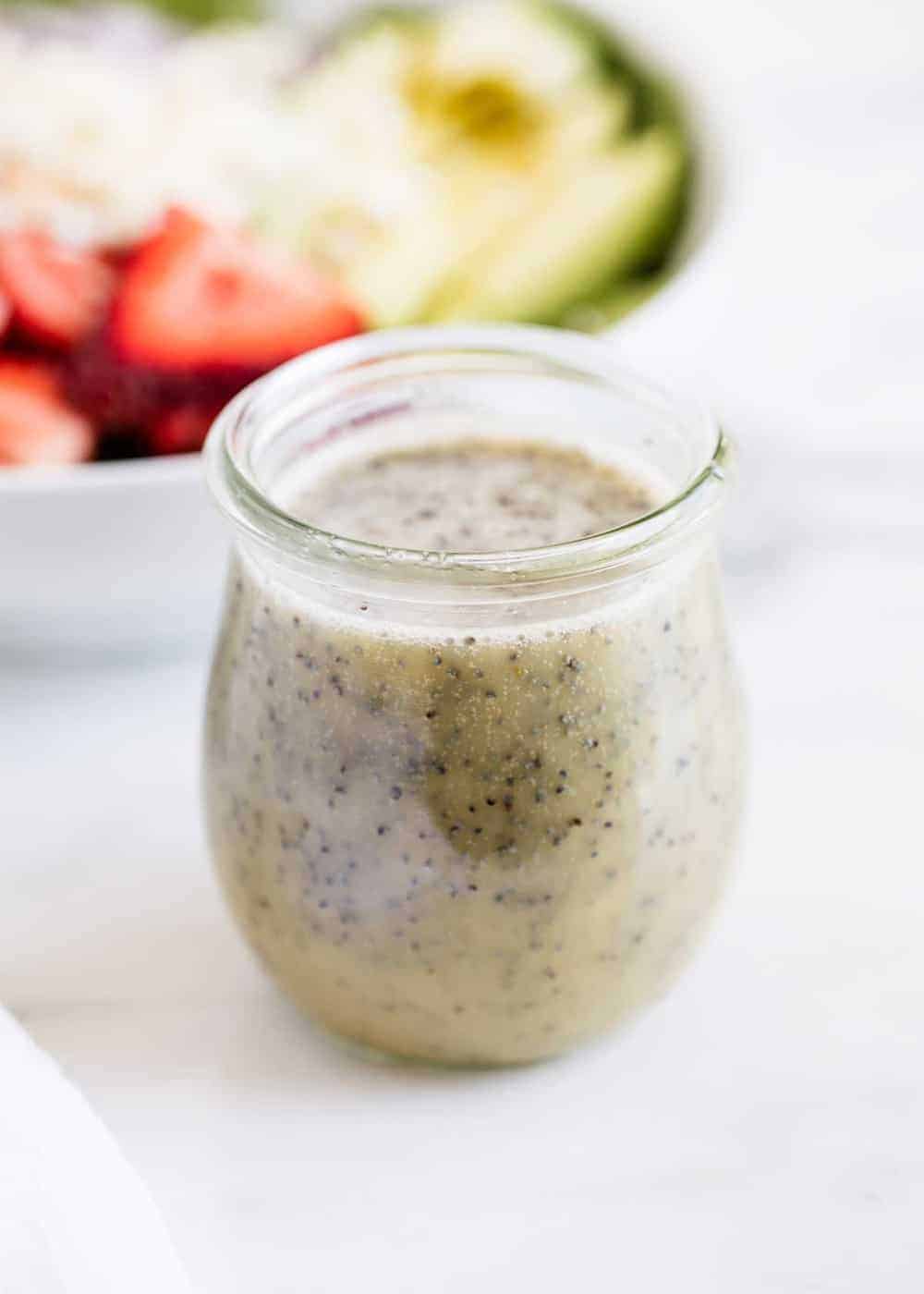 Favorite Salads to Enjoy with
HUNGRY FOR MORE? Subscribe to my newsletter and follow on Facebook, Pinterest and Instagram for all the newest recipes!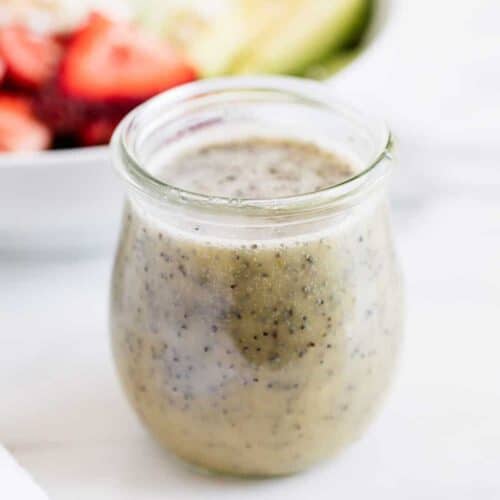 Poppy Seed Dressing
Creamy and sweet poppy seed dressing made with only 5 simple ingredients. Perfect to drizzle over summer salads with fresh fruit on top!
Ingredients
½ cup mayo
3 Tablespoons vinegar
2 Tablespoons honey
2 Tablespoons granulated sugar
1 Tablespoon poppy seeds
Instructions
Add the mayo, vinegar, honey and sugar in a glass jar or bowl.

Whisk or shake together until smooth. Salt and pepper to taste, then mix in the poppy seeds.

Serve over your favorite salad. This dressing stays fresh in the refrigerator up to 1 week. Shake well before serving.
---
Notes
Healthier swaps: Use Greek yogurt instead of mayo, or omit the sugar and only use honey. Vinegar: You can use white vinegar, apple cider vinegar or even raspberry vinegar.
Nutrition
Calories: 87kcal | Carbohydrates: 5g | Protein: 1g | Fat: 7g | Saturated Fat: 1g | Cholesterol: 4mg | Sodium: 60mg | Potassium: 5mg | Fiber: 1g | Sugar: 5g | Vitamin A: 5IU | Calcium: 11mg | Iron: 0.1mg
Nutrition provided is an estimate. It will vary based on specific ingredients used.
Did you make this recipe? Don't forget to give it a star rating below!