Learn to make the best Caesar salad in minutes! Everything from the crisp Romaine to the rich and creamy homemade dressing combines all the zesty briny flavors we love in a classic Caesar topped with Parmesan flakes and crispy croutons!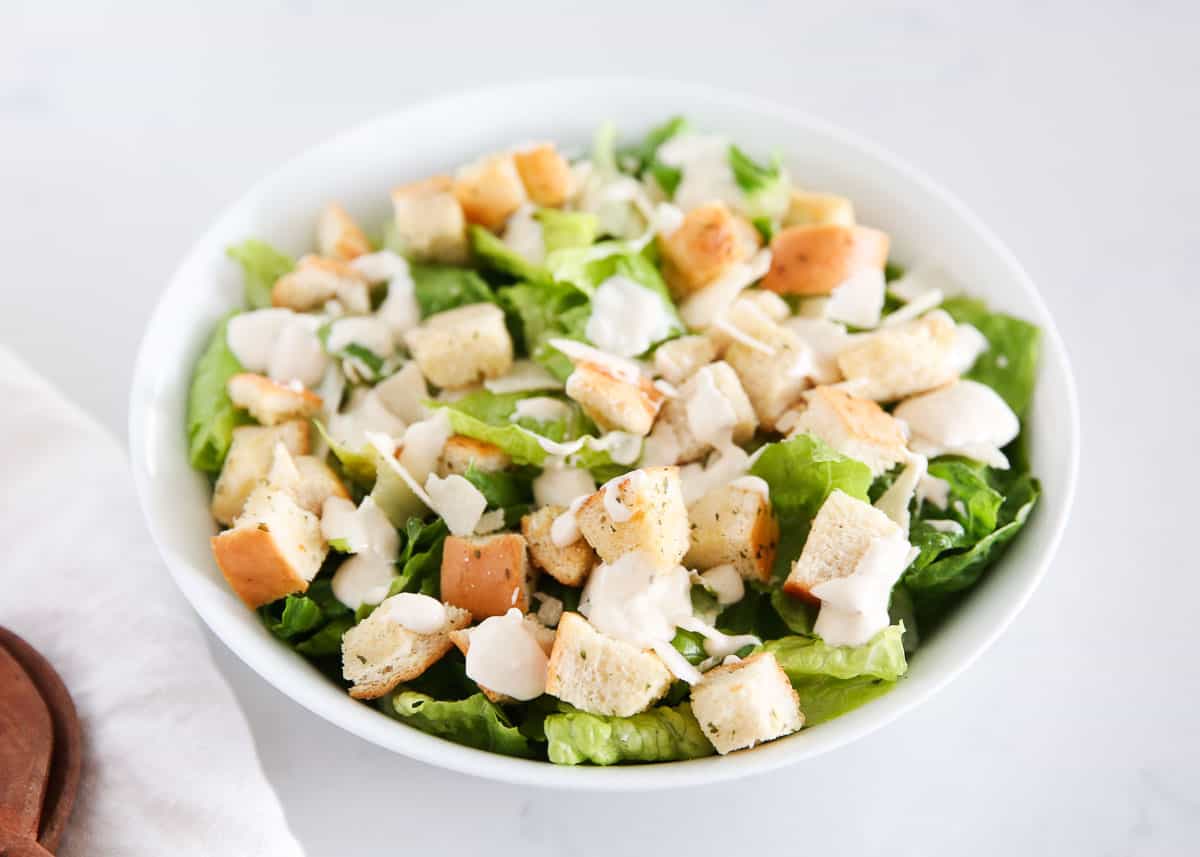 Crispy, Creamy, and Briny!
As close to authentic as they come, this homemade Caesar salad recipe is made with just a few simple ingredients. Fresh crisp Romaine lettuce, perfectly toasted croutons, and of course, a delicious homemade Caesar dressing that can't be found in a grocery store jar.
I'm not sure why salads have been given such a bad rap over the years, because I for one have never met one I didn't love. As long as the ingredients are fresh and healthy, there are contrasting textures, and it tastes great, I will love them almost as much as I love chocolate! I said almost.
I have a crazy amount of salad recipes on my blog everything from a Cobb salad and Greek salad to a wedge salad recipe. You name it, we've got fruit salads, pasta salads, winter salads, and fall salads!
However, there's nothing more classic than a good old-fashioned Caesar salad!
It's by far a favorite on pizza nights and in our house, there's no such thing as a pasta dish without a side of the best Caesar salad recipe. The unbeatable crunchy, creamy, salty flavors are simple yet perfect.
Why This Recipe Works
No raw egg. We're using mayonnaise in the dressing rather than olive oil and egg yolk, which is the little shortcut I like to take. This is a great option if you're concerned about serving young kids.
Everything is simple. With so few Caesar salad ingredients, we look for good quality in everything which makes a difference in taste. However, there is nothing complicated about this recipe!
Flexible flavors. Make it as garlicky or as briny as you like with extra anchovy paste or garlic. Add some extra lemon juice or Parmesan cheese if you'd like, or keep it mild. Make it your own!
Caesar Salad Ingredients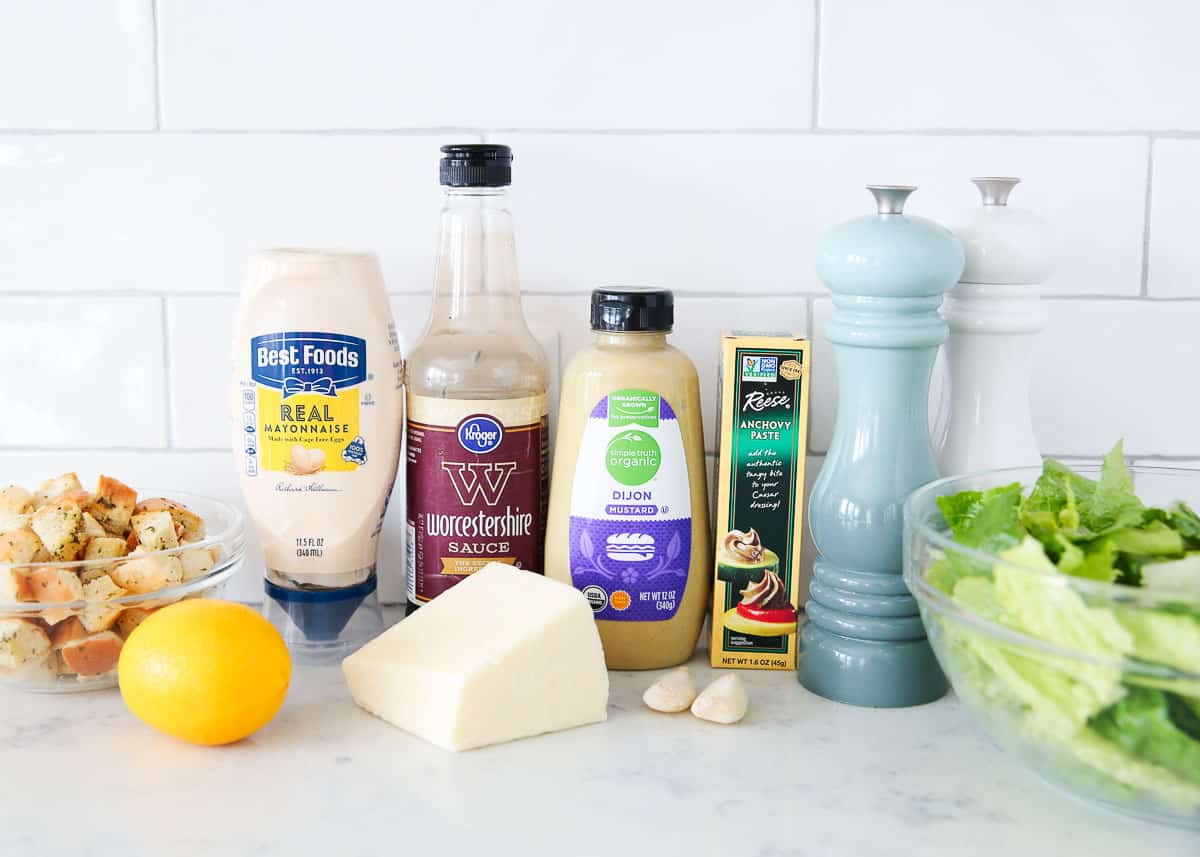 Find the full printable recipe with specific measurements below.
Romaine lettuce: When we talk about fresh crisp lettuce leaves, we mean they should be cold! Look for leaves that are not wilted. Break off the leaves, wash them whole, dry them and keep them in the fridge until you're ready to cut them and use them.
Croutons: I enjoy making my own croutons, especially if I've got day-old bread or want to go the extra mile. You can certainly use store-bought croutons if you have them handy.
Parmesan cheese: As often as I can get it, I aim to use authentic Parmigiano-Reggiano for this salad. In the dressing and on top of it. I grate my own from the block because it tastes so much better than the pre-shredded Parmesan.
Caesar salad dressing: We're combining anchovy paste, Worcestershire sauce, garlic, Dijon mustard, lemon juice squeezed from fresh lemons, mayonnaise, Parmesan cheese, and salt and pepper for this dressing. I recommend making homemade dressing if you're going to make the best Caesar salad, but store-bought works if you're in a pinch.
Quick Homemade Croutons
Use any day-old bread and it into 1″ pieces. French baguette or French bread is great, and so is sourdough bread. Having sturdier bread will help to avoid soggy croutons.
Drizzle the bread cubes with oil, and sprinkle with garlic powder, parsley flakes, salt, and pepper. Spread in a single layer on a baking sheet and bake in a preheated 375°F oven for about 15 minutes, stirring halfway.
They should be golden brown and crisp! See my homemade croutons recipe for more details.
How to Make Caesar Dressing
Whisk together the garlic, anchovy paste, Dijon mustard, fresh lemon juice, and Worcestershire sauce until combined. You can use a blender or food processor if you prefer.
Then, mix in the mayo, Parmigiano, salt, and pepper. Season to taste then chill until you're ready to use it.
How to Make Caesar Salad
Making croutons and a homemade dressing ahead of time is a great way to save a bit of time when you're ready to assemble!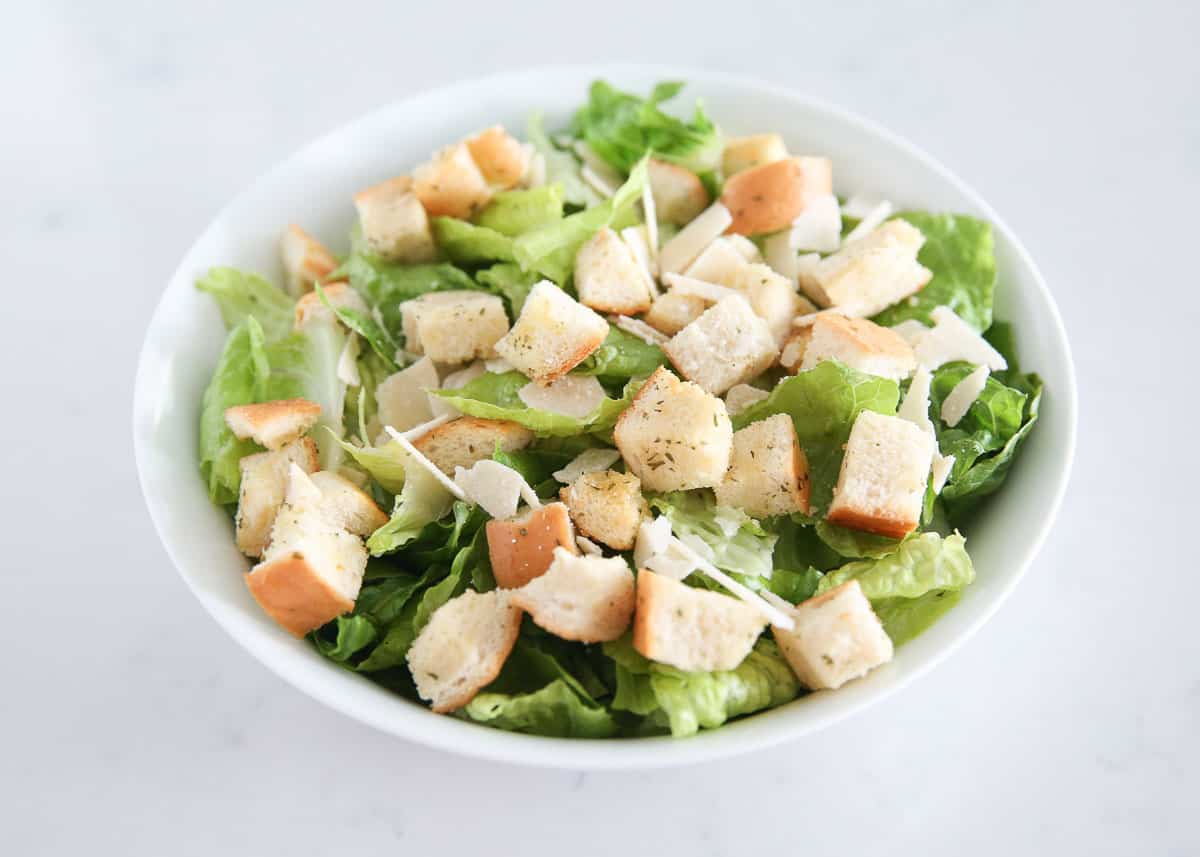 Assemble the salad. Add chopped Romaine lettuce to a large salad bowl and sprinkle with Parmesan and croutons. Then, drizzle with Caesar dressing.
Toss to combine. Use tongs to gently toss to combine, making sure the lettuce is evenly and lightly coated in the dressing.
Expert Tips
Cold crisp lettuce. There's nothing worse than room-temperature lettuce. For it to remain fresh and crispy, it must stay in the fridge for as long as possible. Look for wilted ends and discard them.
Bite-size pieces. Some people prefer to break their leaves all willy-nilly, leaving some larger pieces. I don't. I like to cut mine into even bite-sized pieces so they are easier to eat.
Quality ingredients. Don't skimp! I'm talking everything from fresh garlic and good quality mayo to grating your Parmigiano from a block and using fresh lemons. It's the difference between the best Caesar salad made at home and well…anything else just won't do. ;)
The right ratio. Sometimes we get excited about that deliciously creamy tangy dressing so we add too much. Be careful! Adding too much can overpower the salad and make everything soggy.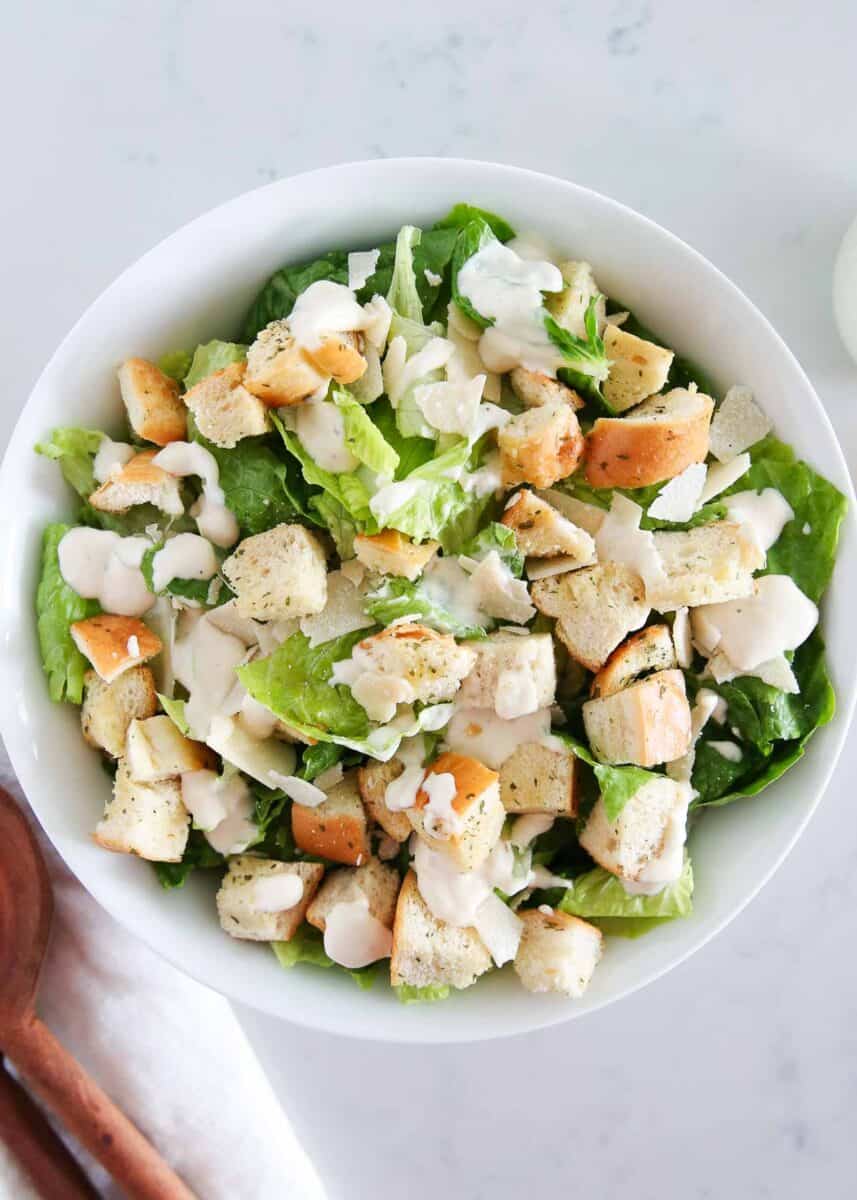 Recipe FAQs
Can I add a protein to Caesar salad?
It's easy to turn a side Caesar into a complete meal by adding protein to the mix. Bacon bits, salmon, shrimp, or chicken are all great ways to ramp up this salad.
What if I don't have Romaine lettuce?
You can always use whatever leafy greens you've got on hand. A salad mix, baby spinach, or even make it a kale Caesar salad if you'd like!
How to shave parmesan?
The easiest way is to use a vegetable peeler. That way you get even-sized shavings that sit right on top of your salad.
How long will the dressing last in the fridge?
It will keep fresh for up to 5 days when kept in an airtight container. I like to use a mason jar with a tight-fitting lid, that way I can just pour straight from the jar.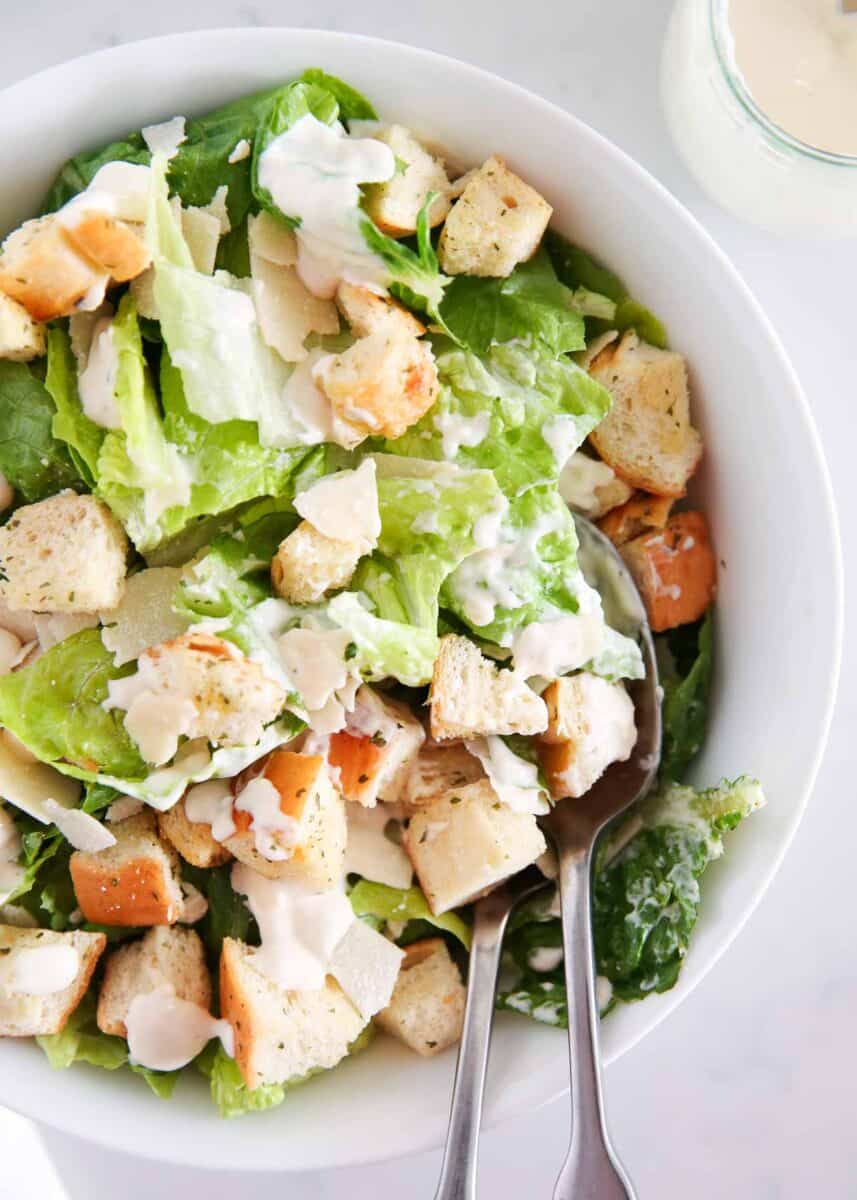 HUNGRY FOR MORE? Subscribe to my newsletter and follow on Facebook, Pinterest and Instagram for all the newest recipes!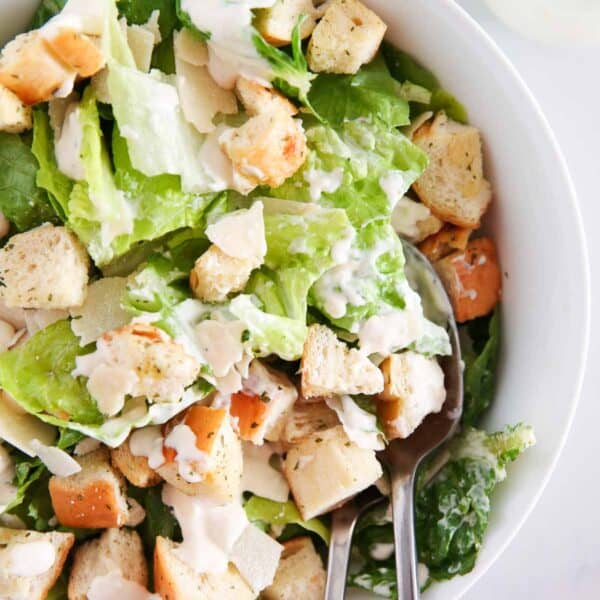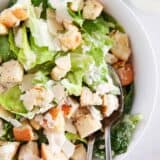 Caesar Salad Recipe
Learn to make the best Caesar salad in minutes! Everything from the crisp Romaine to the rich and creamy homemade dressing combines all the zesty briny flavors we love in a classic Caesar topped with Parmesan flakes and crispy croutons!
Ingredients
Caesar Dressing
1-2 garlic cloves , minced
½ teaspoon anchovy paste
1 Tablespoon freshly squeezed lemon juice (about 1/2 lemon)
¾ teaspoon Dijon mustard
1 teaspoon Worcestershire sauce
½ cup mayonnaise
¼ cup freshly grated Parmigiano-Reggiano
¼ teaspoon Kosher salt
freshly cracked pepper
Caesar Salad
1 head romaine lettuce , rinsed, chilled, and chopped into bite-sized pieces (6-8 cups)
2 cups croutons
⅓ cup parmesan cheese, shredded or shaved
Instructions
Caesar Dressing
In a medium bowl, whisk together the garlic, anchovy paste, lemon juice, mustard, and Worcestershire sauce until anchovy paste is combined.

Whisk in the the mayonnaise, Parmigiano-Reggiano, salt, and pepper until smooth and combined. Season to taste, if needed. Chill until ready to use.
Caesar Salad
In a large serving bowl, add lettuce and sprinkle with parmesan and croutons. Drizzle with Caesar dressing and toss gently until lettuce is evenly coated.
---
Notes
Storage: Store dressing in an airtight container in the refrigerator up to 5 days.
Nutrition
Calories: 373kcal | Carbohydrates: 12g | Protein: 8g | Fat: 33g | Saturated Fat: 7g | Polyunsaturated Fat: 17g | Monounsaturated Fat: 8g | Trans Fat: 0.1g | Cholesterol: 26mg | Sodium: 694mg | Potassium: 315mg | Fiber: 3g | Sugar: 2g | Vitamin A: 9223IU | Vitamin C: 7mg | Calcium: 216mg | Iron: 2mg
Nutrition provided is an estimate. It will vary based on specific ingredients used.
Did you make this recipe? Don't forget to give it a star rating below!