Make a spectacular homemade Italian dressing in as little as 5 minutes and always have a jar on hand as a fresh, bright, and flavorful way to dress up a salad or to use as a delicious and easy marinade!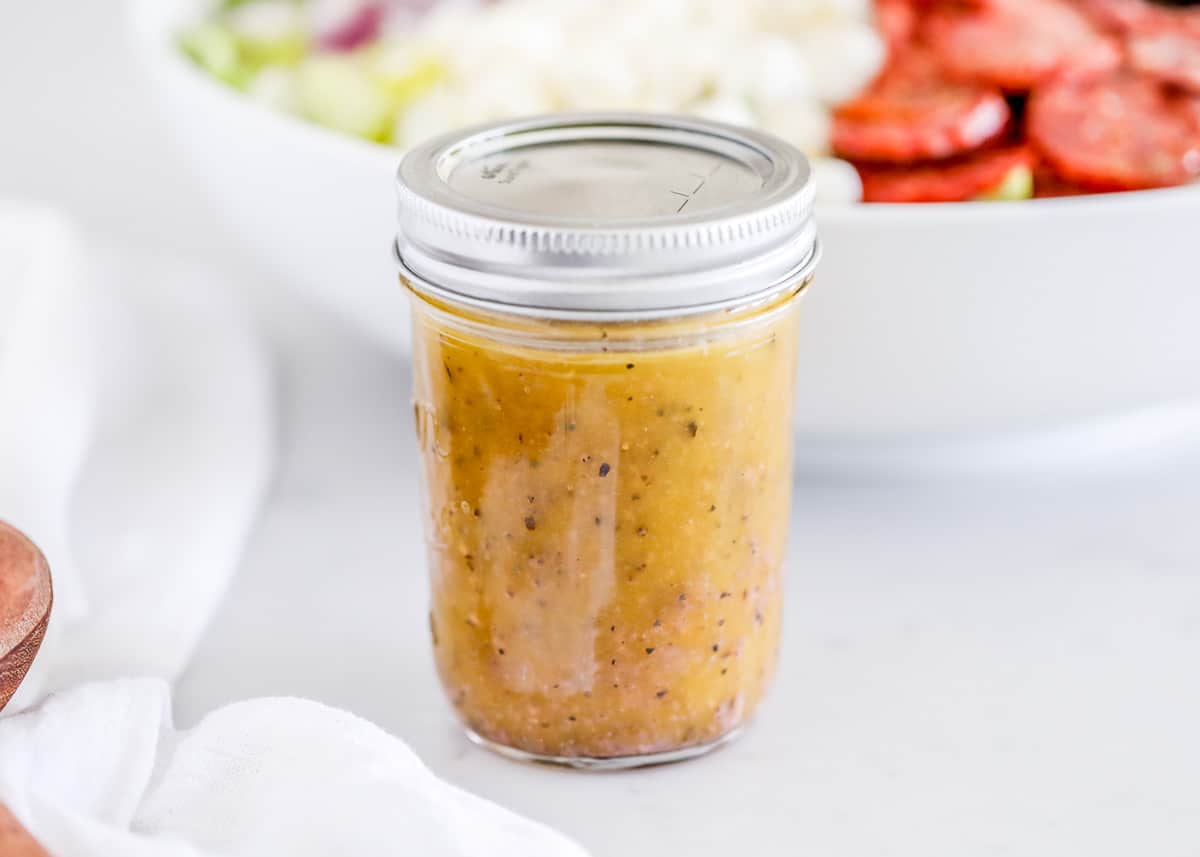 A Popular Tangy Vinaigrette
A simple homemade Italian dressing is something I love to keep on hand. It's a zesty way to spruce up an Italian salad, but it is also one of my favorite marinades for grilled chicken. It's nice and light so it works with Italian tortellini pasta salad as well as Antipasto salad without any heavy cream weighing it down.
Knowing how to make an Italian dressing from scratch is something every home cook should know. Kids LOVE it and if a good dressing means eating more salads, then it's definitely a win!
It's a pure and simple zesty vinaigrette made with olive oil, red wine vinegar, and loads of herbs and spices, most of which can be found in an Italian seasoning blend for convenience. There's nothing complicated about this dressing, which means it's super simple to make to keep on hand, and whenever I run out, I can make it again in a pinch. Hop on the homemade dressing train, trust me you'll never look back!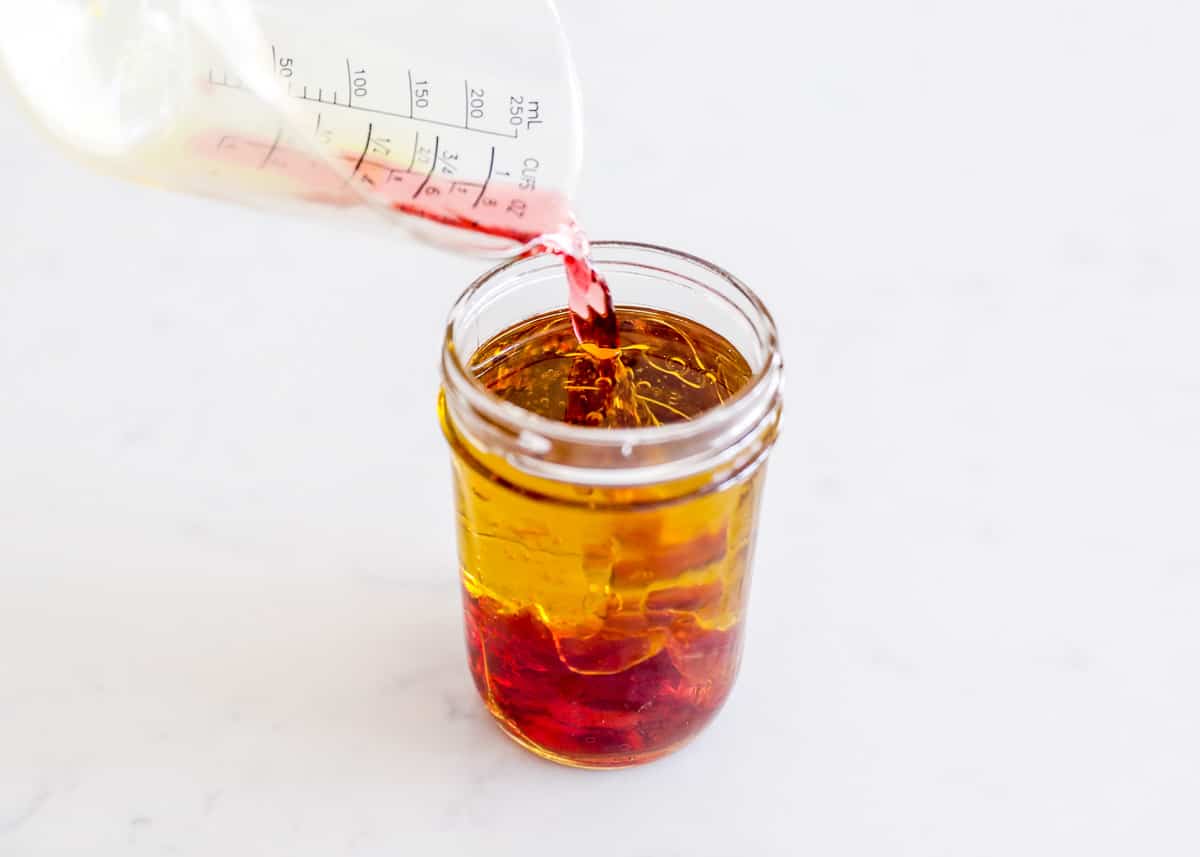 Is Homemade Italian Salad Dressing Healthy?
Making a homemade dressing from scratch is almost always healthier than using store-bought. I mean sure, sometimes it's super convenient to grab a bottle already made, but have you ever wondered why they have such a long shelf life? It's because of all the added sodium, preservatives, additives, and sugar!
A homemade Italian dressing allows you to control what you put in and what you keep out. A good quality olive, cold-pressed, extra virgin olive oil has a subtle flavor but also nutritional benefits such as antioxidants and helps to maintain good cholesterol. Store-bought dressings don't tend to use high-quality ingredients as a way to keep their costs down. Think about it the next time you reach for a bottle at the store. Homemade dressing all the way!
Variations for this Italian Dressing Recipe
Add 1/4 cup of freshly grated parmesan for extra flavor.
Throw in a scoop of Dijon mustard for a kick.
Use white wine vinegar for a slightly different taste.
Add both mayonnaise and parmesan cheese for a creamier texture, similar to this Olive Garden salad dressing.
Add 1-2 teaspoons of sugar or honey for added sweetness if you're not a fan of tangy dressings.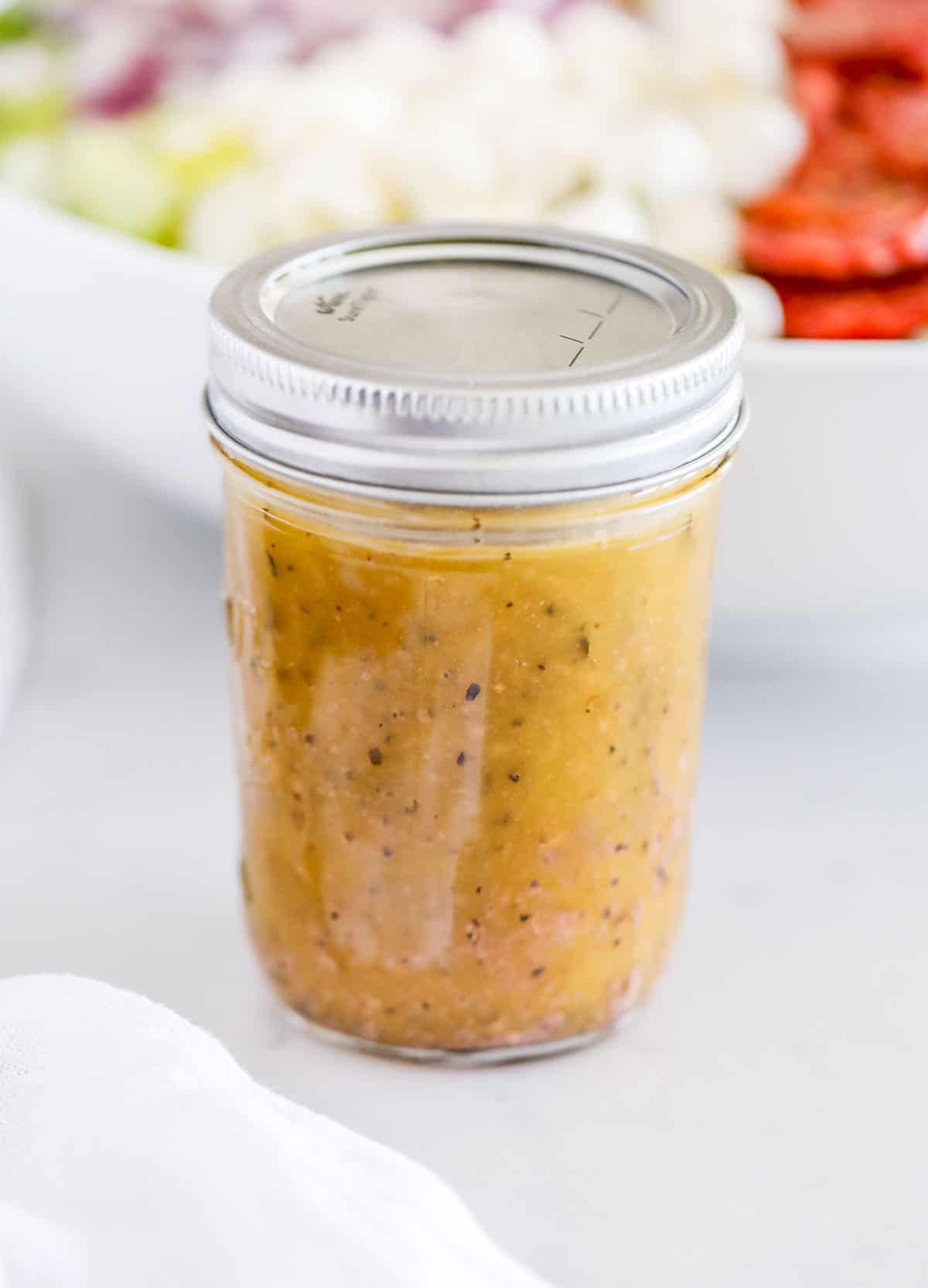 What Else Can I Use it For?
Storage Tips
Add all of your ingredients to a cute little mason jar, shake, and store with a lid for up to 14 days. That way you can use it to store and serve, even your guests, without dirtying up extra dishes. If you added parm or mayo to your dressing, it will keep fresh in the fridge for about 1 week.
FAQs
Should I use red or white wine vinegar?
Really the choice is yours! They both taste great so feel free to use what you have on hand. It really doesn't change the taste but if you want a color more like what is in the stores go with red wine vinegar.
What oil should I use?
The best thing about a homemade dressing versus a store-bought dressing is that store-bought dressings often use cheap, low quality oils. I prefer extra virgin olive oil in this homemade Italian dressing as it adds another layer of rich flavor. If you prefer a lighter taste feel free to use regular olive oil, extra light olive oil, canola oil or vegetable oil.
How can I balance the acidity of the dressing?
If the dressing is a bit acidic for your tastes you can add up to a teaspoon of sugar for balancing the taste. A great natural alternative would be honey.
Why did my dressing firm up in the refrigerator?
Store bought dressings add emulsifiers to prevent this from happening so your homemade dressing may solidify when chilled. This is normal. Bring it to room temperature and shake vigorously;uy to remix it before serving.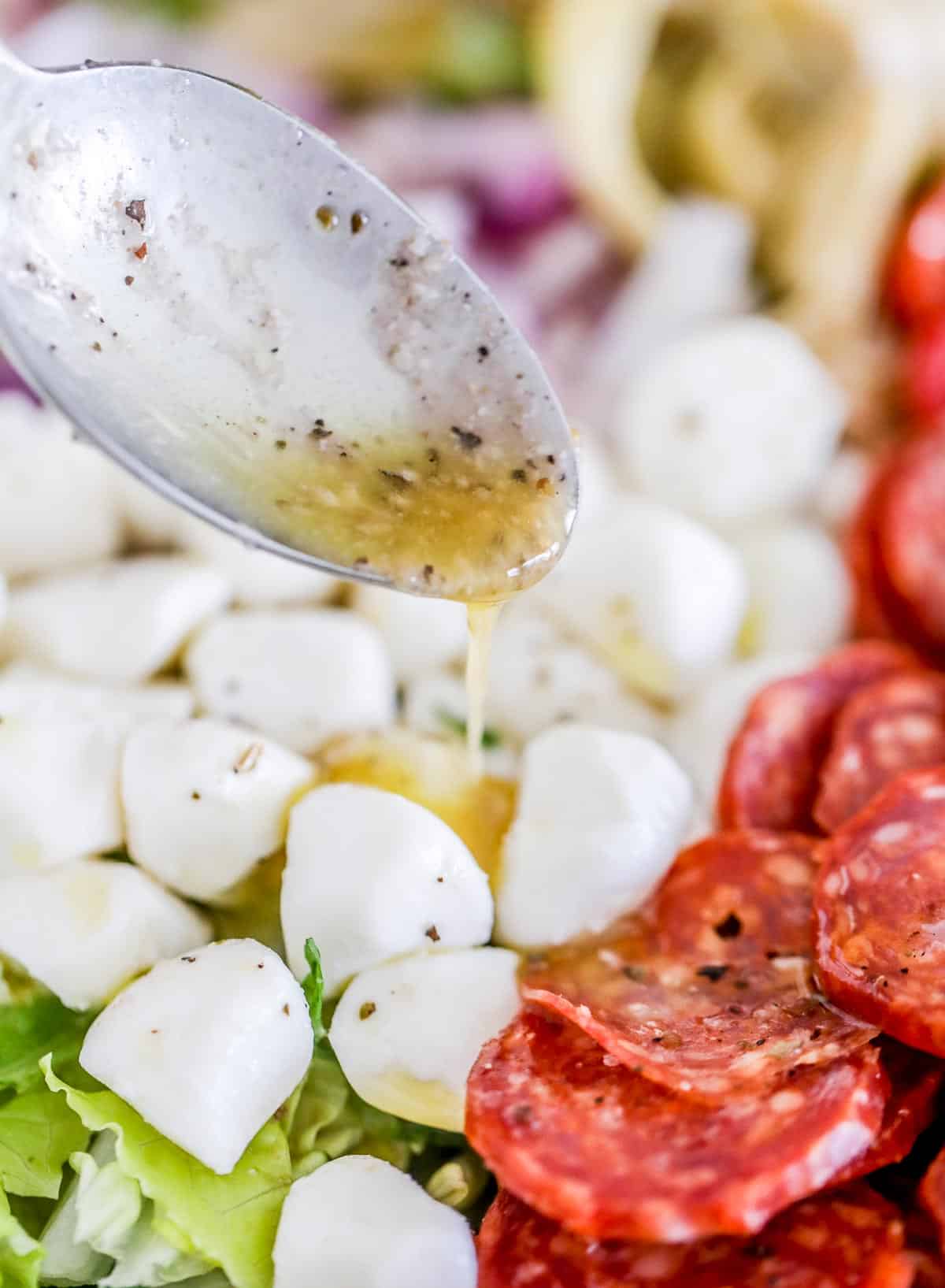 More Homemade Dressing Recipes
HUNGRY FOR MORE? Subscribe to my newsletter and follow on Facebook, Pinterest and Instagram for all the newest recipes!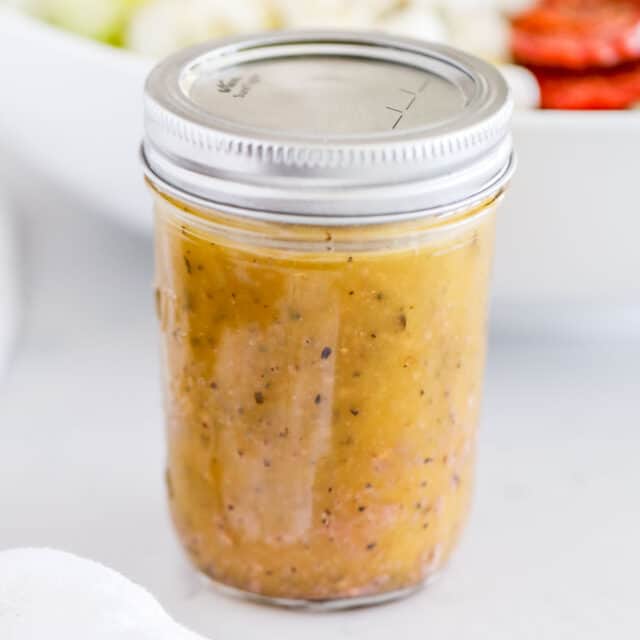 Homemade Italian Dressing
Make a spectacular homemade Italian dressing in as little as 5 minutes and always have a jar on hand as a fresh, bright, and flavorful way to dress up a salad or to use as a delicious and easy marinade!
Ingredients
¾ cup extra virgin olive oil
¼ cup red wine vinegar , or white vinegar
1 Tablespoon fresh lemon juice
1 teaspoon garlic powder
1 teaspoon dried basil
¾ teaspoon fine sea salt , more to taste
¾ teaspoon dried oregano
½ teaspoon onion powder
½ teaspoon crushed black pepper , more to taste
Optional: 1/4 cup grated parmesan cheese, 1 to 2 teaspoons sugar
Instructions
Combine the olive oil, vinegar, lemon juice garlic powder, dried basil, salt, oregano, onion powder and pepper in a mason jar. Close the lid and shake until well combined. Taste and add sugar and parmesan cheese if desired. Salt and pepper to taste.

Store with a lid in the refrigerator. Shake just before serving. Enjoy over your favorite salad.
---
Notes
Storage: Store with a lid in the refrigerator for up to 7 days with cheese and 14 days without. Flavor: For more of a sweeter dressing, add in 1 to 3 teaspoons of sugar. For more tang, add an extra splash of vinegar. For a delicious taste, add in parmesan cheese (make sure it is finely grated).
Nutrition
Serving: 2Tbsp | Calories: 184kcal | Carbohydrates: 1g | Protein: 1g | Fat: 20g | Saturated Fat: 3g | Sodium: 220mg | Potassium: 18mg | Fiber: 1g | Sugar: 1g | Vitamin A: 5IU | Vitamin C: 1mg | Calcium: 8mg | Iron: 1mg
Nutrition provided is an estimate. It will vary based on specific ingredients used.
Did you make this recipe? Don't forget to give it a star rating below!