These homemade potato rolls are so tender and soft with an amazing flavor. The perfect dinner roll for any occasion!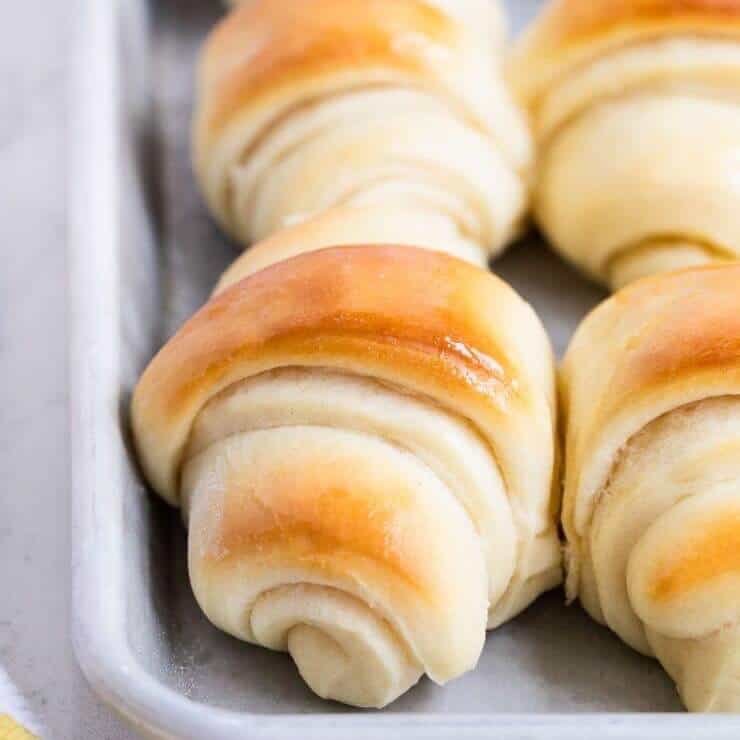 Fluffy Potato Dinner Rolls
I'm super excited to share this delicious potato roll recipe with you today! They are similar to the lion house rolls I shared a few years ago, however they are more of a dense roll, yet super fluffy at the same time. And they have such an amazing flavor!
Now I know what you're thinking…are these rolls going to taste like potatoes? The answer is no! You can't taste the potato flavor one bit. They just add a little weight to the rolls, while still keeping them super soft and tender. I also used the technique of doubling up the dough to create extra fluffy yummy layers.
These rolls make a great addition to your Thanksgiving menu or taste amazing served with your favorite comfort meal. You can even enjoy them as a snack with some cinnamon butter or garlic herb butter spread on top.
What is a Potato Roll?
Potato rolls are homemade dinner rolls that incorporate potato flakes (or sometimes even mashed potatoes). The potatoes help to add some weight to the rolls, making them dense yet still fluffy and soft. You can't taste the potatoes in this recipe, however they do help to create an amazing and delicious flavor.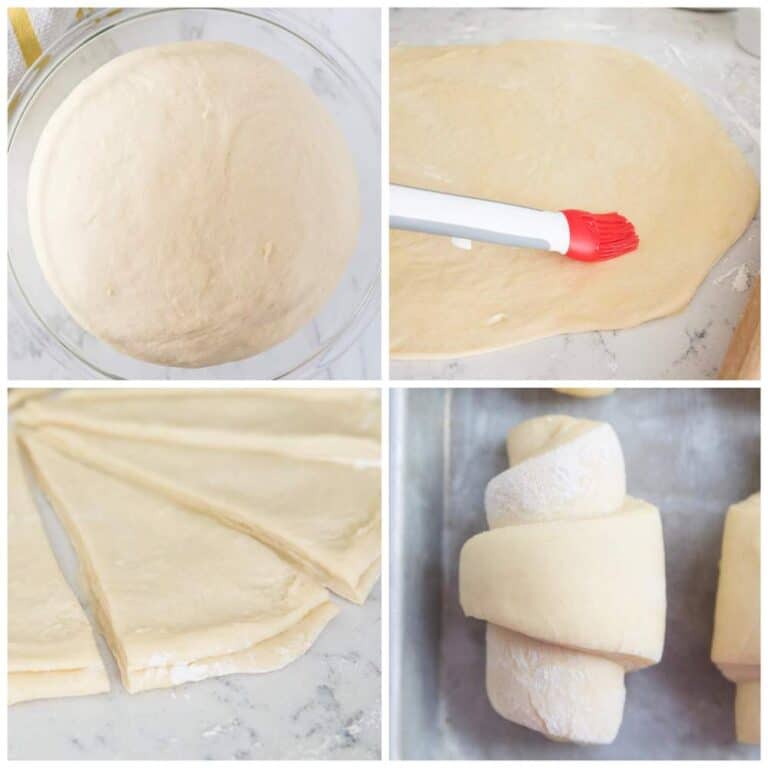 How to Make Potato Rolls
Scroll down for the printable recipe and video tutorial.
Proof the yeast. Combine the yeast, warm water and sugar in a small bowl and let sit for about 5 to 10 minutes, or until nice and bubbly.
Knead. Mix and knead the dough until it's soft, but not too sticky.
Let rise. Allow the dough to double in size.
Roll. Then divide into 4 and roll out into 4 circles about 1/8″ thick.
Stack. Next spread melted butter onto the circle and then stack onto the other circle.
Cut and roll. Then you'll cut the rolls like a pizza and roll up from the out in.
Let rise again. After that you'll place the rolls onto the pan and let rise another hour.
TIP: Sometimes I'll use half the batch to make cinnamon rolls. All you need to do is spread melted butter on top and then sprinkle cinnamon sugar (about 1/2 cup brown sugar and 1 Tablespoon of cinnamon).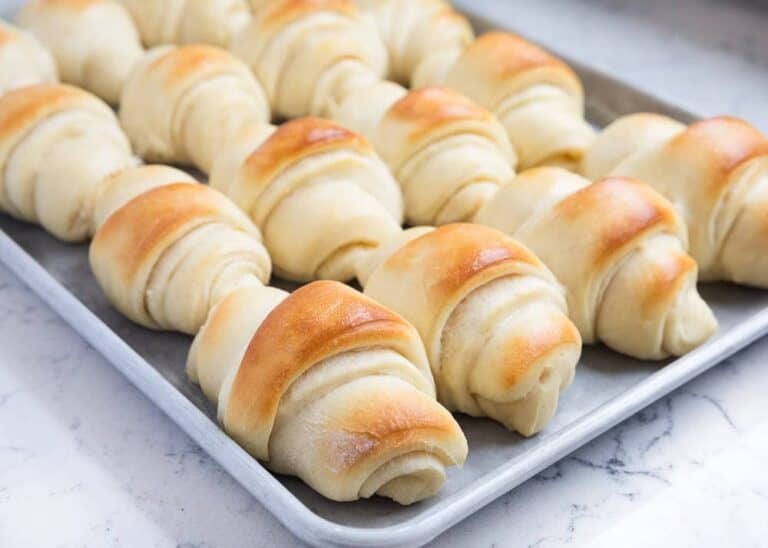 Making the Night Before
These rolls can be prepared up to 18 hours in advance if needed. Roll them up as directed, then place on a baking sheet about an inch apart. Let them rise halfway for about 30 minutes to an hour, then cover the pan lightly with foil. Make sure to spray the foil with nonstick spray so that it doesn't stick to the dough. Then place in the fridge overnight. The next morning, let the rolls rise for about an hour before baking.
Storing + Freezing
Storing: They will typically last for about 5 days to a week. Just be sure to store them at room temperature in an airtight container or plastic bag. We don't usually have a lot of leftovers, but if we do…they are gone within a day or two!
Freezing the rolled dough: Place the dough rolls on a baking sheet (I do 24 per sheet) and then cover with foil sprayed with nonstick spray. Store in freezer for up to 3 months. When ready to bake, let thaw and rise for about 4-5 hours. Then bake according to directions.
Freezing baked rolls: Once cooled, wrap each roll individually in aluminum foil. Then place in an airtight container or bag and freeze. They will typically last for about a month or two in the freezer. Let thaw overnight, then heat in the oven for a few minutes until warmed throughout.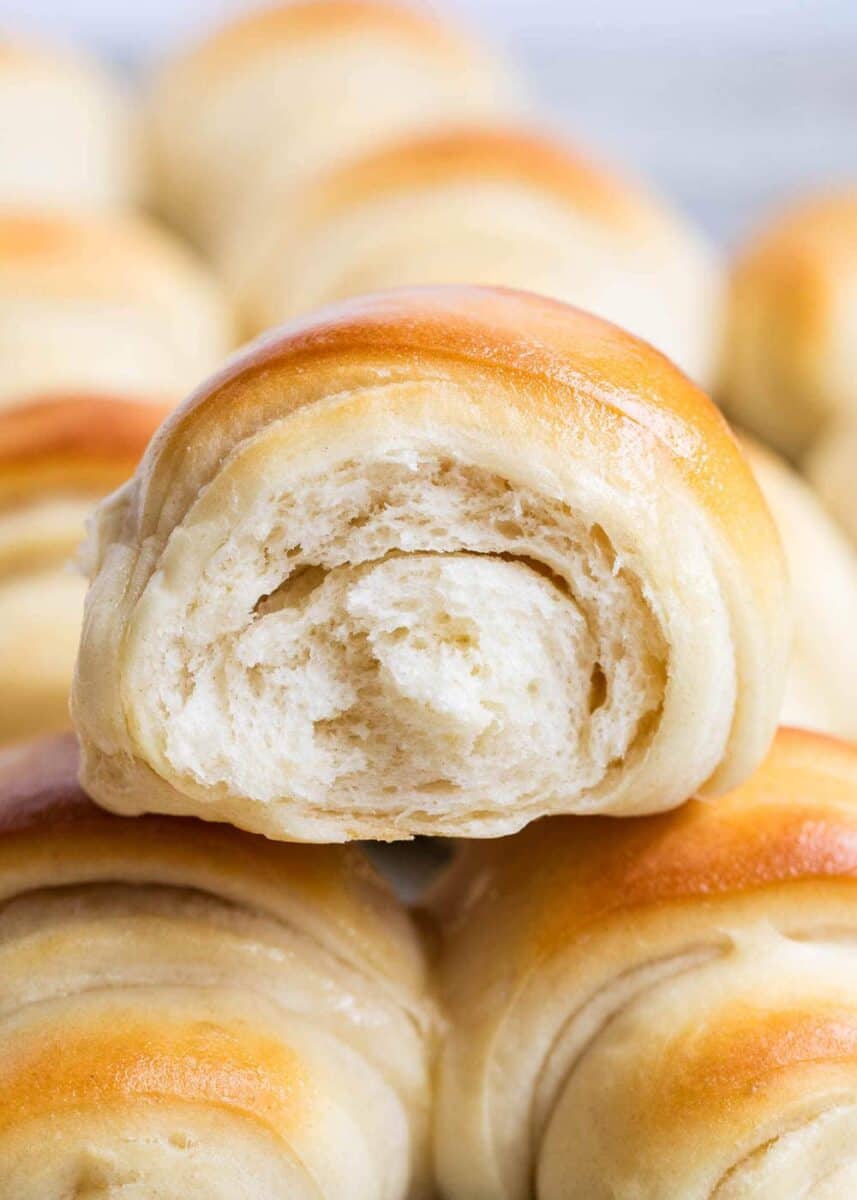 5 star review
"I just made these rolls and they are amazing!!! They are my new favorite…my forever bread. So easy! They came out light and fluffy. I made some round so we could use them as buns for bbq pork sandwiches. They were a hit!

– Michelle
More Homemade Bread Recipes: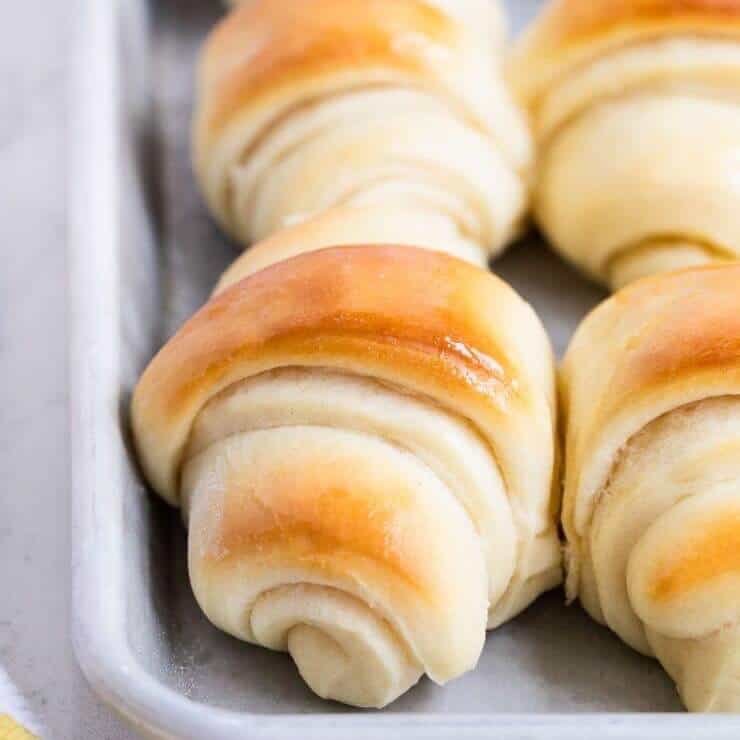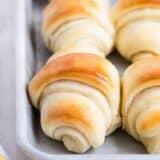 Potato Rolls
These homemade potato rolls are so tender and soft with an amazing flavor. The perfect dinner roll for any occasion!
Ingredients
2 1/2 cups warm water
2 Tablespoons dry yeast
1/2 cup granulated sugar
2 eggs (beaten)
1/3 cup oil (plus 1/2 Tablespoon)
1 Tablespoon Kosher salt
2/3 cup powdered milk
2/3 cup potato flakes
7 cups all-purpose flour (more or less depending on dough)
1/4 cup salted butter (melted)
Instructions
Combine the warm water, dry yeast and sugar in a small bowl. Cover with saran wrap and let sit for 5 minutes, or until the yeast has puffed up.

In a large bowl, combine the eggs, 1/3 cup oil, salt, powdered milk, potato flakes and 1 cup of flour. Add yeast mixture and stir until combined. Using an electric mixer and dough hook or by hand, gradually mix in the remaining 6 cups of flour, 1 cup at a time. You want the dough to be soft and not too sticky. Knead for about 5 minutes.

Cover dough with 1/2 Tablespoon oil and then cover with a cloth and let rise until double in size, about an hour. To help it rise you can turn the oven to 100°F with a small bowl of hot water and then turn the oven off.

Then punch down the dough and divide into 4. Roll out each dough ball into a circle about 1/8″ thick. Spread the melted butter over the tops of 2 of the circles and then place the other 2 circles on top. You can also get more rolls by not layering the dough.

Then cut each circle "sandwich" into 12 triangles (like a pizza). Then starting at the edge, roll each triangle into the center to form a crescent roll.

Spread butter over a large baking sheet and set aside. Place the rolls onto the prepared baking sheet. I usually fit 24 rolls per baking sheet. Cover and let rise until double in size, about 1 hour.

Preheat oven to 350°F and then bake for 15 to 20 minutes, or until lightly golden. Brush with melted butter after coming out of the oven.
---
Notes
Making the night before: You can make these up to 18 hours ahead of an event. Simply roll them out and place 24 on a baking sheet. Let sit for 30-60 minutes to rise half way and then cover lightly with foil that has been sprayed with non stick spray. Refrigerate overnight. Then in the morning remove from the fridge and let rise about one hour before baking. Freezing rolls: You can freeze the rolls after they have been baked and cooled. Simply place in a freezer container, then set out to thaw overnight. You can also freeze the rolled dough. Simply place the rolls on the baking sheet (I do 24) and then cover with foil sprayed with non stick spray. Then freeze for up to 3 months. When ready to bake allow to thaw and rise for about 4 to 5 hours. Once they have risen, bake according to directions.
Calories: 223kcal | Carbohydrates: 34g | Protein: 5g | Fat: 6g | Saturated Fat: 2g | Cholesterol: 22mg | Sodium: 330mg | Potassium: 112mg | Fiber: 1g | Sugar: 5g | Vitamin A: 110IU | Vitamin C: 1.7mg | Calcium: 42mg | Iron: 1.8mg
Nutrition provided is an estimate. It will vary based on specific ingredients used.
Did you make this recipe? Don't forget to give it a star rating below!
Adapted from the "Boys Can Cook Too" cookbook.