Jump to Recipe⌄
Perfect Potato Rolls
Perfect Potato Rolls Recipe …these rolls are so tender and soft with an amazing flavor. The perfect dinner roll for any occasion!
I'm super excited to share with you a new roll recipe just in time for Easter. These will definitely be going on my Easter menu. They are similar to the lion house rolls I shared a few years ago, however they are more of a dense roll, yet super fluffy at the same time. They have such an amazing flavor.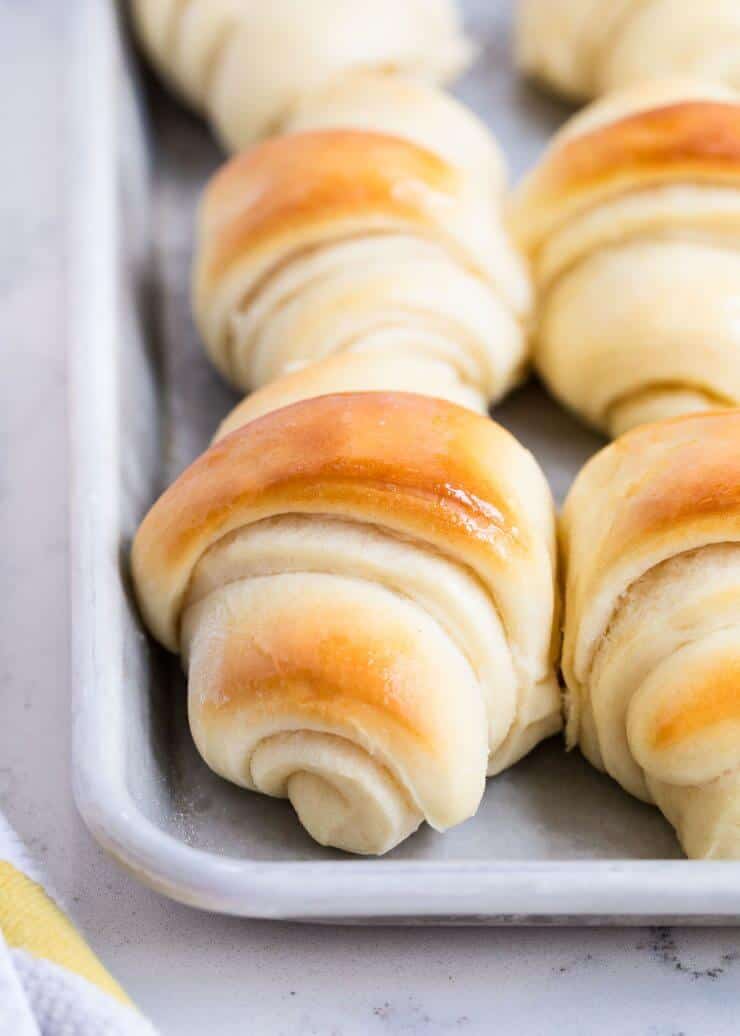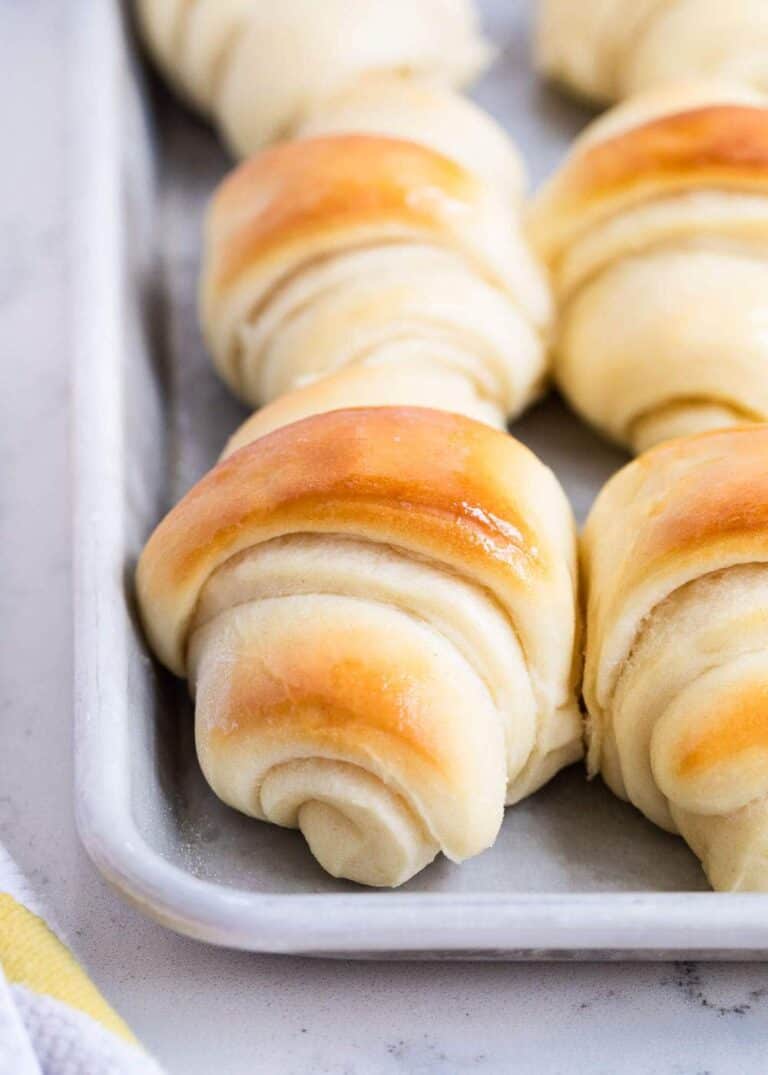 Now I know what you're thinking… are these rolls going to taste like potatoes? The answer is no. You can't taste the potato flavor one bit. They just add a little weight to the rolls, yet still keeping them super soft and tender. I also used the technique of doubling up the dough to create extra fluffy yummy layers.
Seriously, just look at how fluffy these are! You just can't go wrong with these potato rolls. We got this recipe when I was first married from a little handmade cookbook called, "Boys Can Cook Too." I've adapted it slightly over the years, and my family is absolutely crazy about them.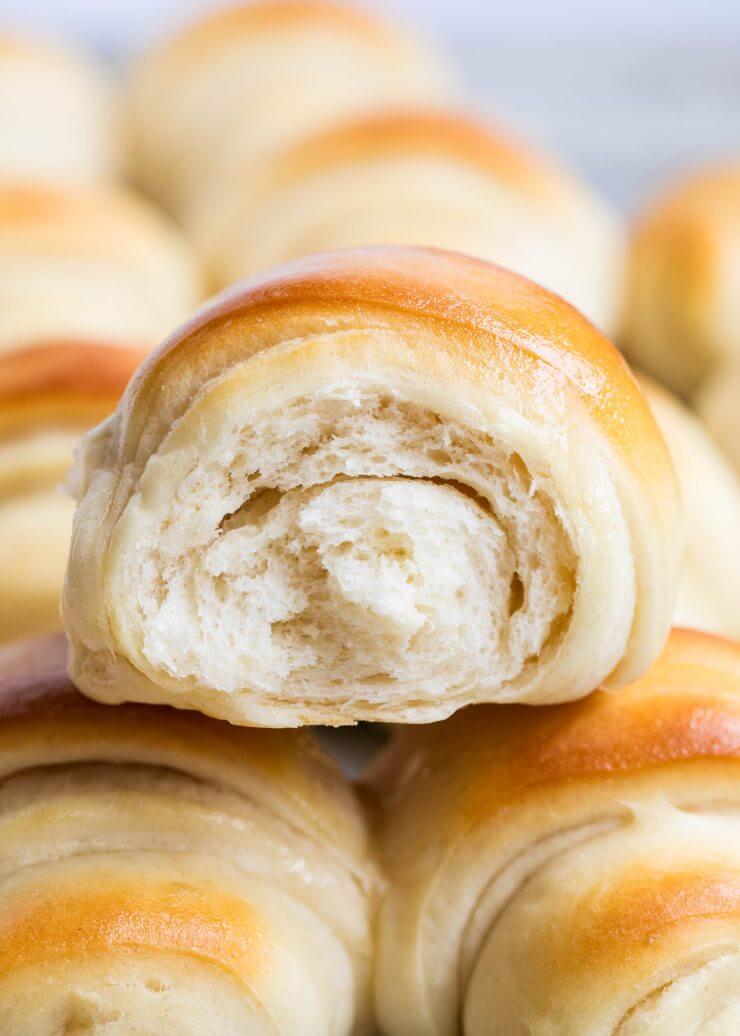 MY OTHER RECIPES
How to make the Perfect Potato Rolls
First allow the dough to double in size.
Next divide into 4 and roll out into 4 circles about 1/8″ thick.
Next spread melted butter onto the circle and then stack onto the other circle.
Then you'll cut the rolls like a pizza and roll up from the out in.
After that you'll place the rolls onto the pan and let rise another hour.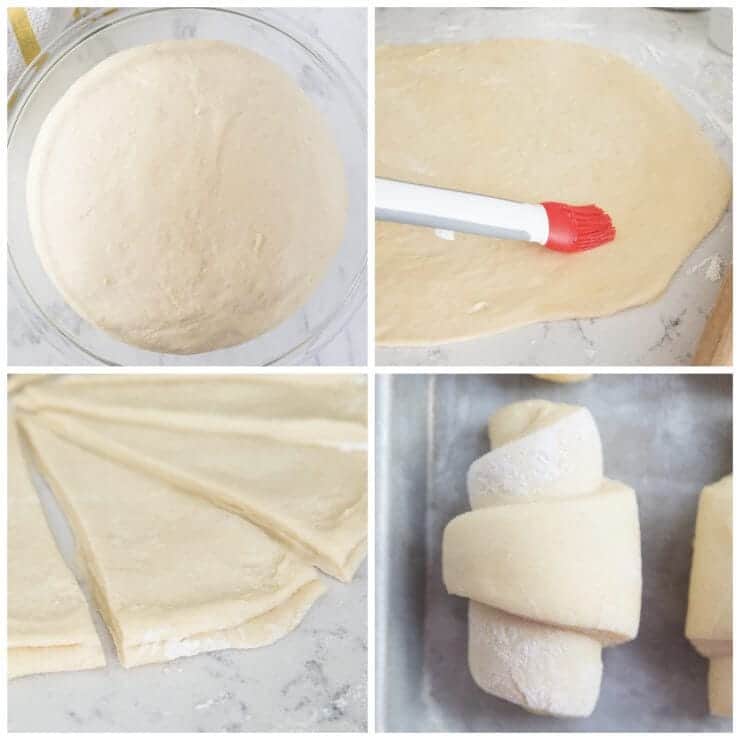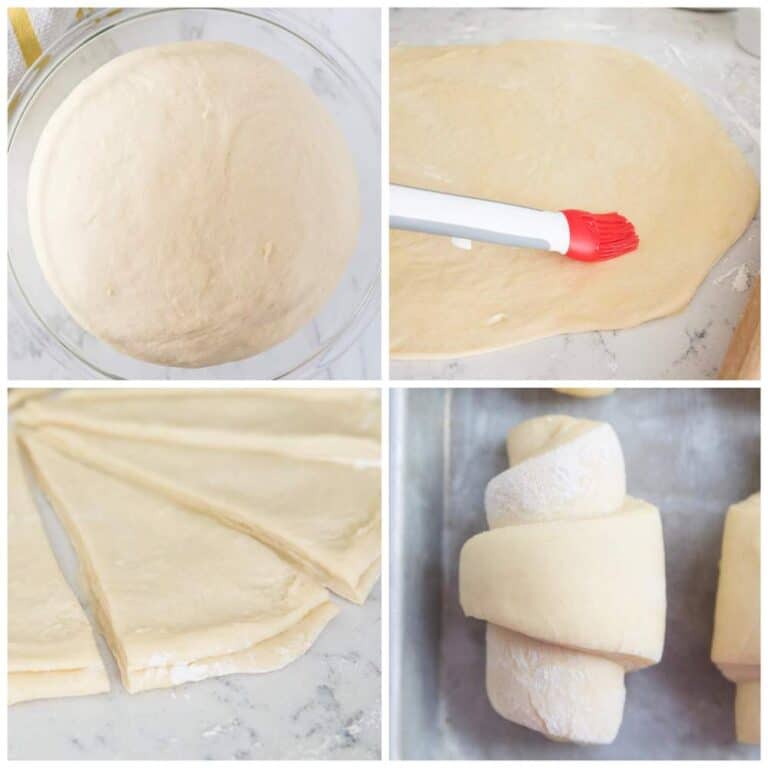 Sometimes I'll use one half the batch to make cinnamon rolls. All you need to do is spread melted butter on top and then sprinkle about 1/2 cup brown sugar and 1 Tablespoon of cinnamon. More instructions on how to make sweet rolls here.
Making this recipe? Don't forget to rate the recipe below and tag #iheartnaptime on Instagram. Thank you! XO
Perfect Potato Rolls
Yummy! These rolls are so fluffy and so good with butter!
Print
Ingredients
2 1/2 cups warm water
2 Tablespoons dry yeast
1/2 cup sugar
2 beaten eggs
1/3 cup oil plus 1/2 Tablespoon
1 Tablespoon kosher salt
2/3 cup powdered milk
2/3 cup potato flakes
7 cups flour more or less depending on dough
1/4 cup salted butter melted
Instructions
Combine the warm water, dry yeast and sugar in a small bowl. Cover with saran wrap and let sit for 5 minutes, or until the yeast has puffed up.

In a large bowl combine the eggs, 1/3 cup oil, salt, powdered milk, potato flakes and 1 cup of flour. Add yeast mixture and stir until combined. Using an electric mixer and dough hook or by hand, gradually mix in the remaining 6 cups of flour, 1 cup at a time. You want the dough to be soft and not too sticky. Knead for about 5 minutes.

Cover dough with 1/2 Tablespoon oil and then cover with a cloth and let rise until double in size, about an hour.

Spread butter over a large baking sheet and set aside

Then punch down the dough and divide into 4. Roll out each dough ball into a circle about 1/8″ thick. Spread the melted butter over the tops of 2 of the circles and then place the other 2 circles on top. Cut each circle "sandwich" into 12 triangles (like a pizza). Then starting at the edge, roll each triangle into the center to form a crescent roll. Place the rolls onto the prepared baking sheet. Cover and let rise until double in size, about 1 hour.

Preheat oven to 350°F and then bake for 15 to 20 minutes, or until lightly golden. Brush with melted butter after coming out of the oven.
Nutrition Facts
Perfect Potato Rolls
Amount Per Serving
Calories 223 Calories from Fat 54
% Daily Value*
Total Fat 6g 9%
Saturated Fat 2g 10%
Cholesterol 22mg 7%
Sodium 330mg 14%
Potassium 112mg 3%
Total Carbohydrates 34g 11%
Dietary Fiber 1g 4%
Sugars 5g
Protein 5g 10%
Vitamin A 2.2%
Vitamin C 2%
Calcium 4.2%
Iron 10%
* Percent Daily Values are based on a 2000 calorie diet.
Adapted from the "Boys Can Cook Too" cookbook

I hope you'll enjoy these rolls! Have a wonderful weekend!