Light and tender French bread rolls are soft on the inside, crusty on the outside and easy to make with a simple yeast dough. Perfect for weekends, special occasions or with any meal!
Making homemade bread is easy when you follow these tried and true favorites including easy homemade bread, dinner rolls or Hawaiian rolls.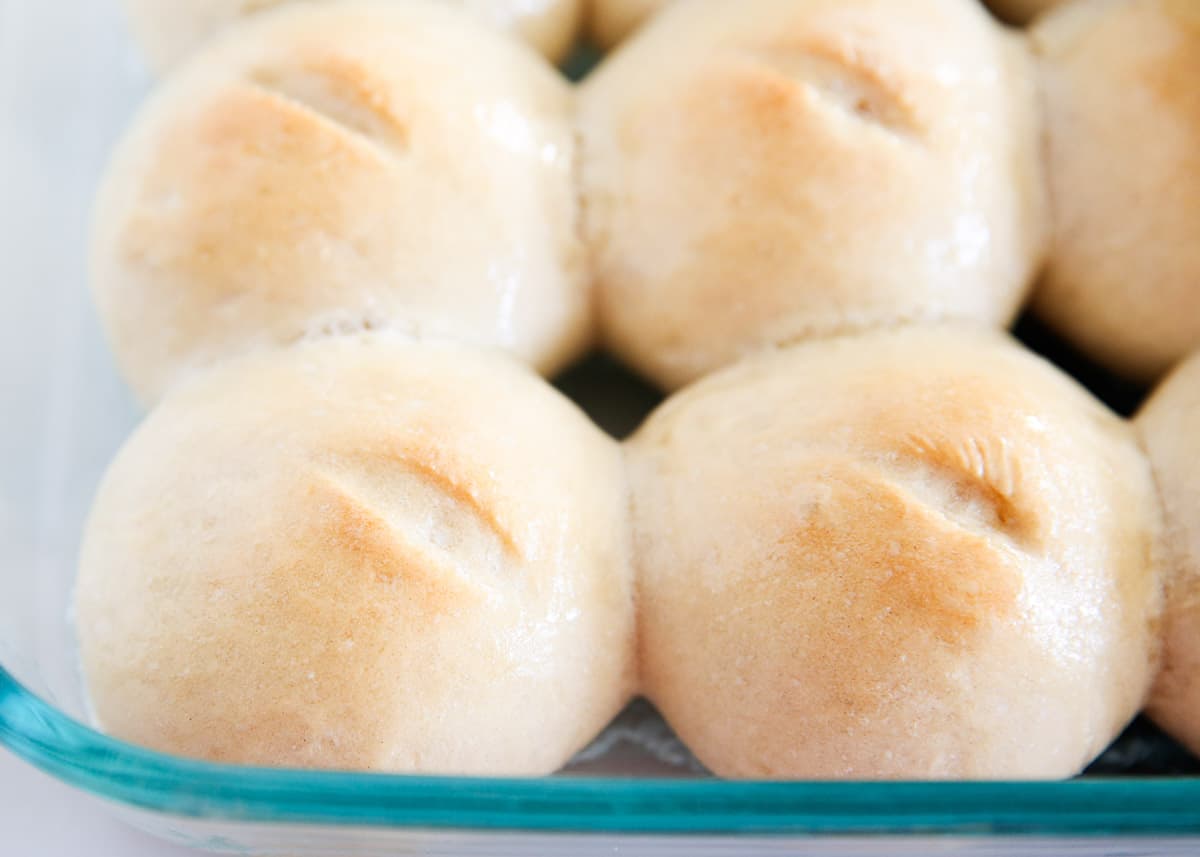 Soft, Fluffy and Slightly Golden
There's nothing more satisfying than baking yeast bread recipes from scratch, especially when it's your first time! This recipe for French bread rolls is easy for beginner bakers, and a classic just like my recipe for brioche bread that experts love, too.
An entire batch is made very simply with a few pantry staples, and the dough comes together easily. As you may have heard, this type of dough is very forgiving, which means you don't have to worry about having everything exactly right. It will still turn out amazing.
Complete with the signature score on the top, when served with salted melted butter, these billowy rolls are delicious and irresistible!
What Is a Crusty French Bread Roll?
French rolls are a smaller, rounder version of traditional French baguette with a softer crust, similar texture to homemade French bread, but not quite as soft as a dinner roll that contains milk and bread flour.
Light and fluffy on the inside slightly crispy and chewy on the outside and the perfect pairing to any meal!
I do enjoy a traditional French bread loaf for making things like stuffed French bread and French bread pizza, but there's nothing quite like homemade buns on the dinner table!
Recipe Ingredients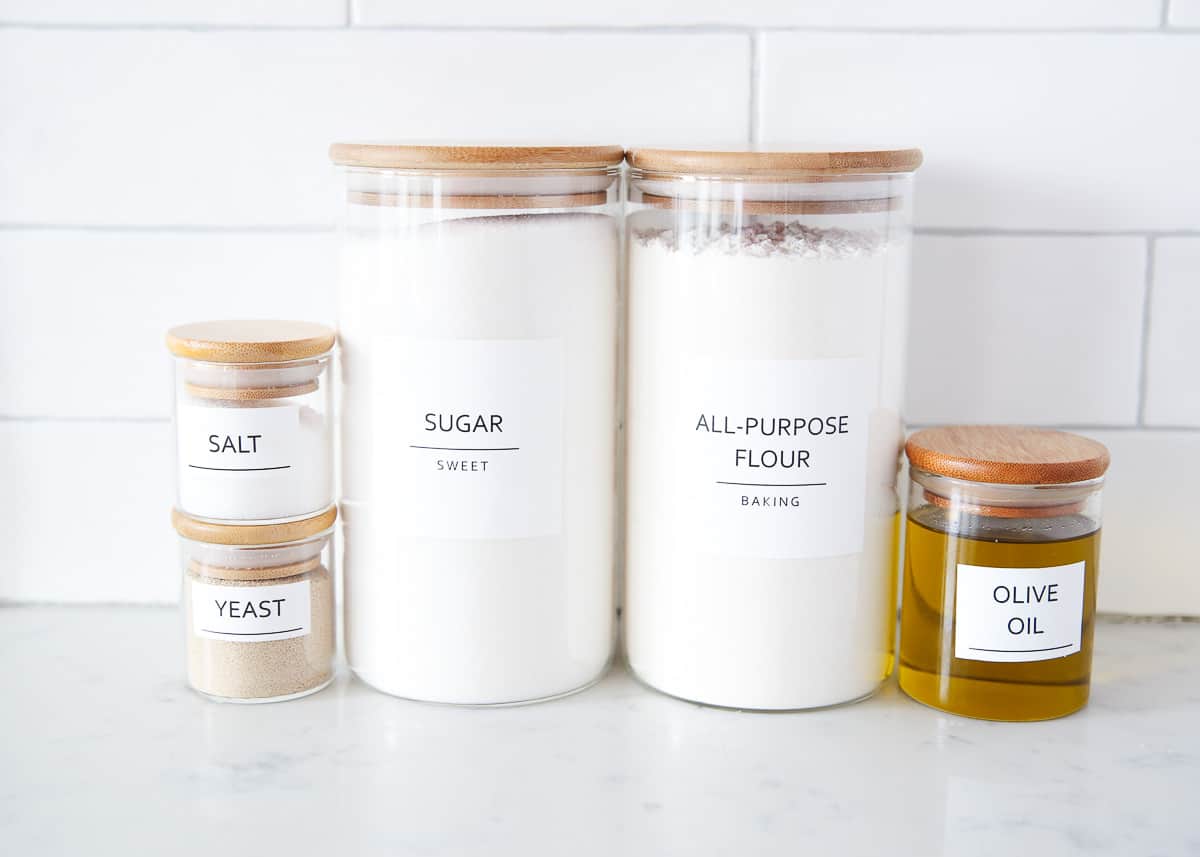 Find the full printable recipe with specific measurements below.
Warm water, active dry yeast, granulated sugar: You need warm water to proof the yeast and help to activate it. Yeast feeds on sugar so it too helps it thrive. Check your yeast to make sure it hasn't expired and be sure to use just warm water. If it's too hot it will kill it, if it's too cold it won't do much of anything.
All-purpose flour: Some recipes call for bread flour, but I like to use all-purpose flour just to keep it simple since it's what most people have on hand.
Salt: Gives the bread added flavor.
Olive oil: Once the dough has been formed, we'll use oil to coat the dough ball to prevent it from sticking but also to help keep it moist. I prefer olive oil, but vegetable oil will work here too.
Melted salted butter: Brushing the top of the French bread rolls with melted butter is completely optional but utterly delightful.
Variations
This French bread roll recipe like most roll recipes can be tweaked to your liking. Use whole wheat flour if preferred. It will be a slightly heavier texture and a more robust flavor, but will still be great.
If you enjoy the shiny crispy crust, brush the rolls with an egg wash of whisked egg and water before baking. You could also sprinkle sesame seeds on top.
For a bit of a sweet finish, instead of salted butter, brush with honey while warm. You can also use honey instead of sugar in the dough itself.
How to Make French Rolls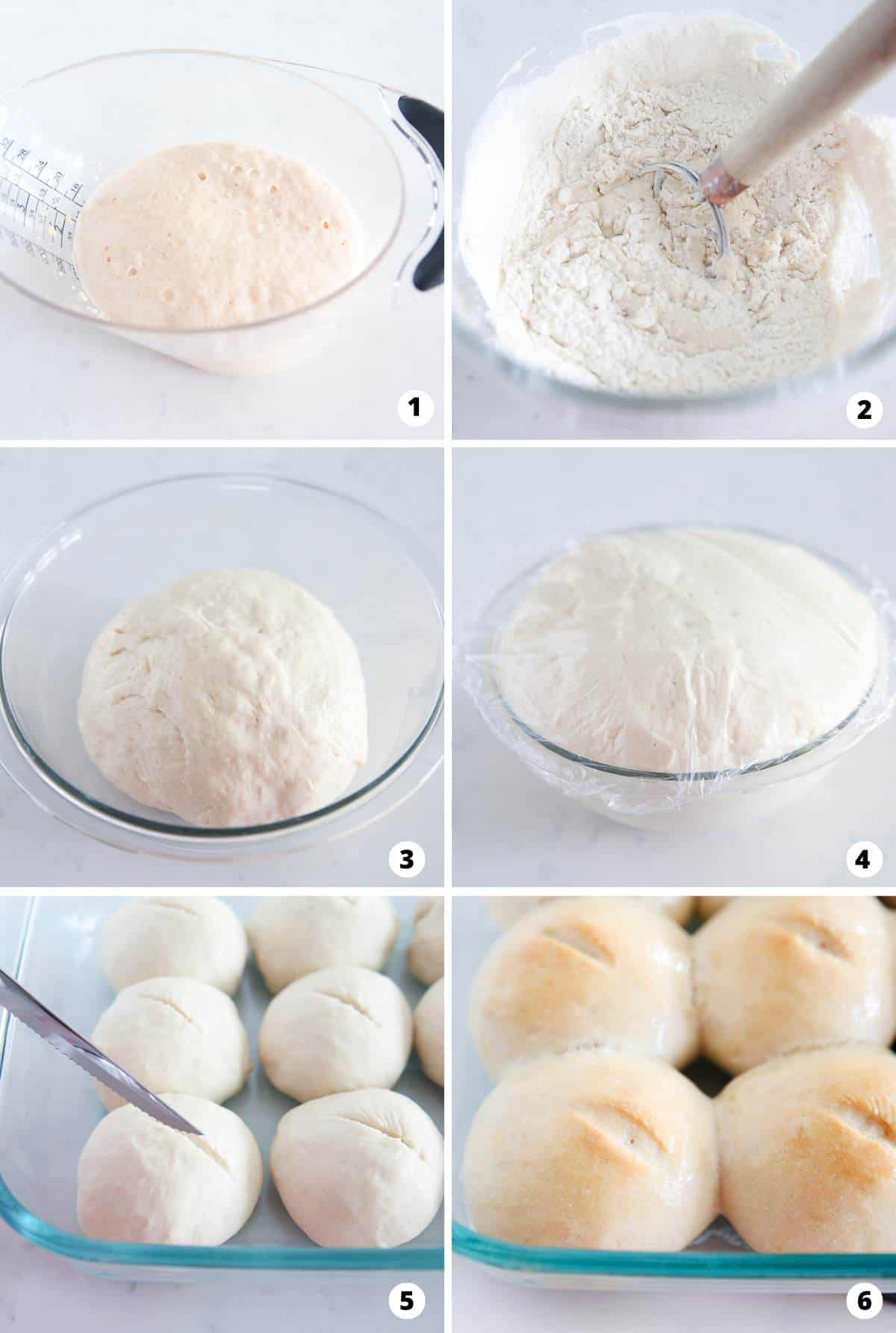 Proof. Allow the warm water, yeast, and sugar to sit for 5 minutes in a small bowl until it begins to foam. If it doesn't foam, unfortunately, it means your yeast is no longer active and will need to discard it and grab some fresh yeast.
Mix. In the bowl of a stand mixer (or large bowl), use the dough hook attachment to stir together 2 cups of flour and salt. Add the foamy yeast mixture and mix on medium-low speed.
Make the dough. Add the remaining flour 1/2 cup at a time, kneading to combine as you go. The dough should be smooth but not sticky. If it is sticky, add a bit more flour as needed.
First rise. Coat the ball of dough with olive oil and let it sit in the bowl, covered with a kitchen towel or plastic wrap for at least 30 minutes until it has doubled in bulk. Prepare the baking dish while you wait.
Portion out rolls. Once it has risen, punch down the dough and transfer it onto a clean, lightly floured surface. Dive it in half, then quarters, and cut those quarters into 3 or 4 equal pieces. Roll each one into a ball and place it in the prepared baking dish.
Second rise & bake. Use a lame or sharp knife to make a diagonal slit across the top of each dough ball. Cover lightly and allow them to rise again for 45 minutes until the rolls have now doubled in size. Bake for 15 minutes in a preheated 400°F until the tops are golden brown. Brush with melted butter if desired and enjoy while warm!
Tips for Making French Bread Rolls
Greasing the dish. I like to grease my dish with butter for flavor, but you can use cooking spray if you prefer.
If not using an egg wash to attain a shiny crispy crust, you can also add ice cubes to a baking sheet on the lower rack which will trap the steam. Tack on a few extra baking minutes.
To get precise equal amounts of dough per roll, use a kitchen scale to weigh each piece.
Do not overmix the dough. Once it starts pulling away from the sides of the bowl, stop mixing.
Use a stand mixer, an electric mixer, or mix by hand.
Let the dough rise in a draft-free warm place in your kitchen area.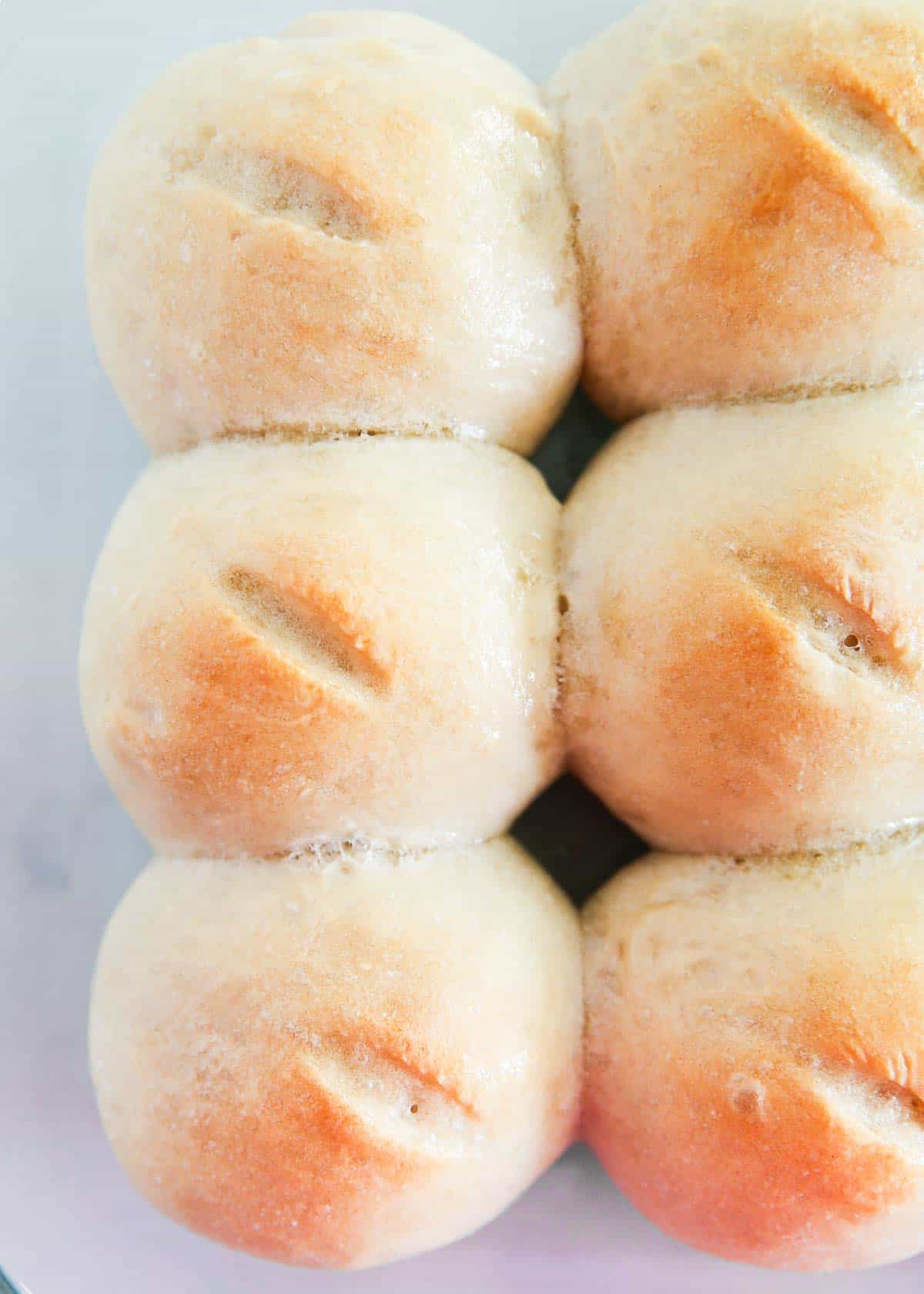 Recipe FAQs
Can I substitute with rapid rise yeast or instant yeast?
In a pinch, yes you can. You would just skip the initial proofing and add all ingredients to the mixing bowl at once.
Where is the best place to allow dough to rise?
Always in a warm, draft-free area. If the sun is shining, put it by the window. If the oven is on, leave it on the stovetop. You can also use the proofing drawer at the bottom of the oven.
Why do we score the top of the French bread rolls?
The main reason is decoration, although it can serve a purpose. It gives the dough a bit of extra room to expand and the steam to escape. Otherwise, it might end up with a crack in the crust.
How do I keep the rolls warm until I'm ready to serve them?
Cover them with a towel or aluminum foil to keep the French bread rolls nice and warm!
Serving Suggestions
These French bread rolls are so versatile!
They're amazing warm, freshly baked, and warm right out of the oven on their own, with a brush of melted butter, a sprinkling of coarse salt, or fresh garlic.
They are amazing when used as dinner rolls on the side of pasta, or chicken noodle soup. They can also be used as burger buns or sandwich rolls for sloppy joes, pulled pork, or ham and cheese sliders when you don't have Hawaiian rolls on hand.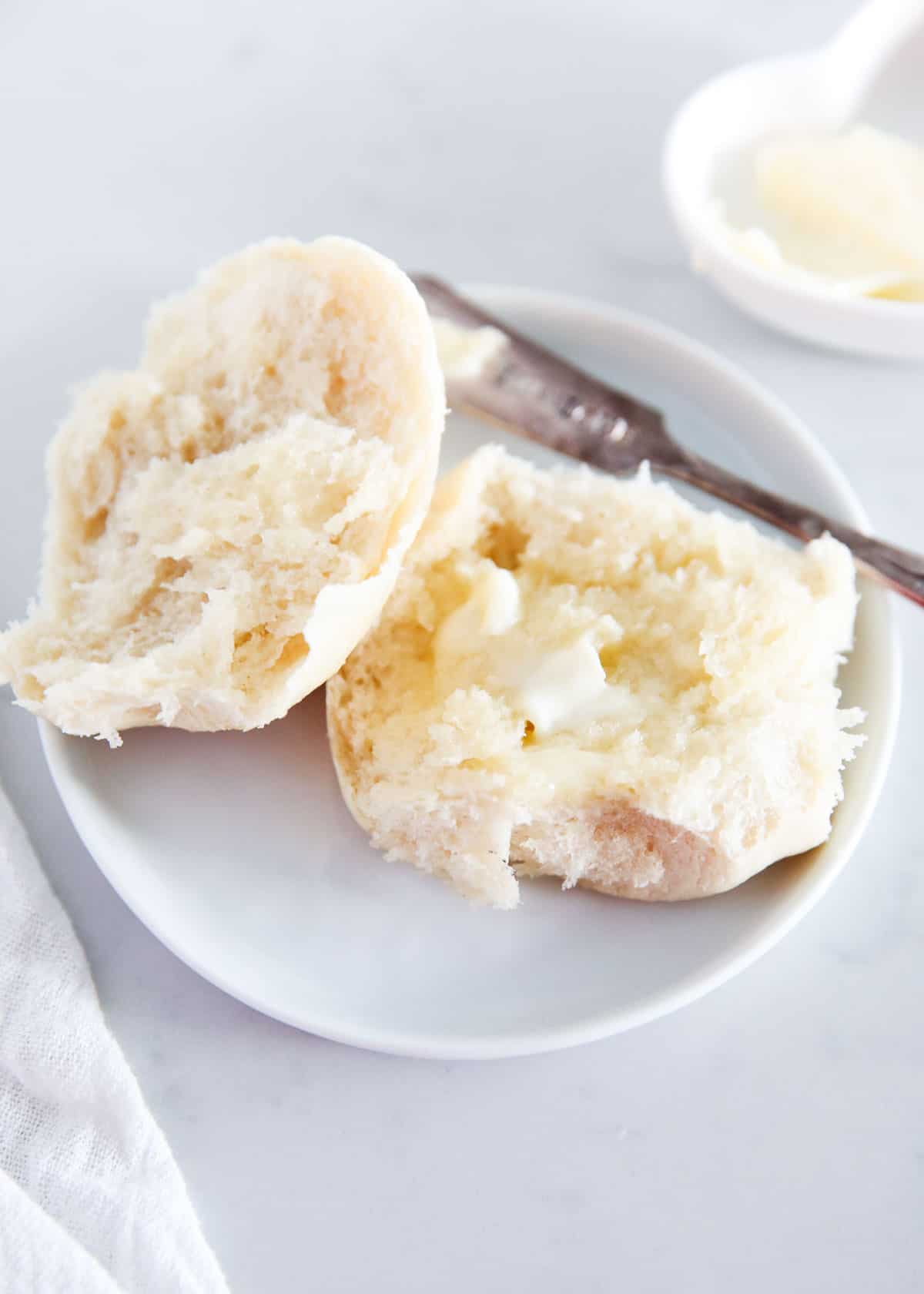 HUNGRY FOR MORE? Subscribe to my newsletter and follow on Facebook, Pinterest and Instagram for all the newest recipes!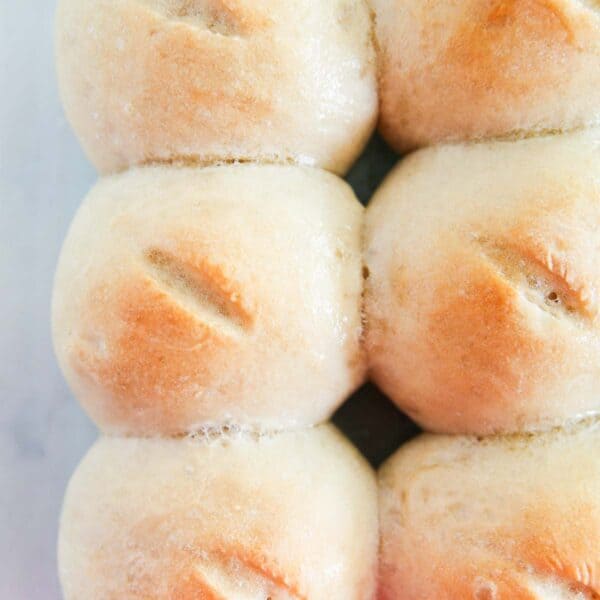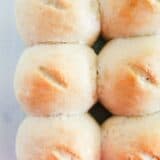 French Bread Rolls
Learn to make these easy 6-ingredient French bread rolls that are soft on the inside, slightly crispy on the outside and ready to serve any day of the week. Enjoy them on holidays, special occasions, or any meal in between!
Ingredients
1 ½ cups warm water (about 105°F)
2 ¼ teaspoons (1 packet) active dry yeast
1 teaspoon granulated sugar
3 ¾ cups (500 grams) all-purpose flour , plus more as needed
1 ½ teaspoons table salt or fine sea salt
1 teaspoon olive oil
Melted salted butter , for tops, optional
Instructions
In a small bowl, combine the warm water, yeast, and sugar. Let sit 5 minutes, or until it begins to foam.

In a stand mixer fitted with the dough attachment or in a large mixing bowl, stir together 2 cups flour and salt. Stir in the yeast mixture on medium-low speed or mix by hand. Knead 1/2 cup of the remaining flour in increments until the dough is smooth but not sticky. Add more flour as needed.

Rub the olive oil around the dough ball, cover the bowl with a towel and let rest at least 30 minutes. If you have time, let rise up to 1 hour, or until doubled in size. Butter a 9×13-inch baking dish and set aside.

Punch the dough down. Turn the dough onto a floured surface and divide it in half. Divide in half again and cut into 3 to 4 pieces. If you want a little larger rolls start with 12. For smaller rolls you can make 16. Roll each section into a ball. Place in baking dish.

Make a diagonal cut across the top of each roll with a sharp bread knife or lame. Cover lightly with a towel. Set in a warm spot and let rise 45 minutes, or until rolls have doubled in size.

Preheat the oven to 400°F. Bake 15 minutes, or until the tops are golden brown.

Brush the top with melted butter, if desired. Slice and serve while warm.
---
Notes
Shiny tops: I prefer a soft crust, but for a crispier/shinier crust, brush 1 egg white (whisked) with a teaspoon of water before baking the rolls. You can also add a few ice cubes into the oven to help trap the steam and add a few minutes onto the cooking time. Storing: These rolls store best in a brown paper bag on the counter. Freezer instructions: Allow to cool and then place in a large zip-top bag to freeze. Remove all the air from the bag and then freeze up to 3 months. Thaw overnight on the counter. Reheat in the oven at 250°F for a few minutes.
Nutrition
Calories: 207kcal | Carbohydrates: 43g | Protein: 6g | Fat: 1g | Saturated Fat: 0.1g | Polyunsaturated Fat: 0.3g | Monounsaturated Fat: 0.3g | Sodium: 221mg | Potassium: 66mg | Fiber: 2g | Sugar: 0.4g | Vitamin C: 0.002mg | Calcium: 9mg | Iron: 3mg
Nutrition provided is an estimate. It will vary based on specific ingredients used.
Did you make this recipe? Don't forget to give it a star rating below!