Jump to Recipe⌄
Lion House Rolls
Lion House Rolls have to be one of my favorite things EVER. Have you had them? If you have not tried them, you need to make them! Like NOW! Seriously put these on your list! You will thank me later… ahh, okay maybe you won't. ;)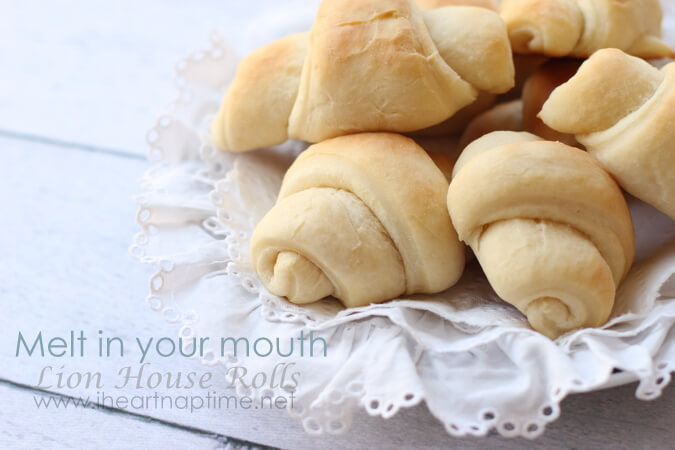 Imagine these rolls fresh out of the oven topped with melted butter and homemade strawberry jam. Holy cow! Words cannot describe the amazing taste! Seriously, if I'm in charge of  making rolls… this is my go to recipe!
Why I love these Rolls
They are amazing. The end. In all seriousness, the main reason I love them is because they are super soft and fluffy with a nice buttery taste. There is actually a special way to roll them up, but this time we ended up making crescent rolls. If you'd like to see how the REAL Lion House rolls are made you can watch the video here.
Seriously… you've got to try these. They really are not too difficult to make. Promise!
Lion House Rolls Video
Lion House Rolls Printable Recipe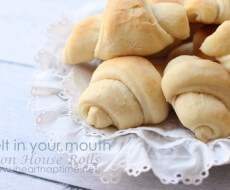 Lion House Rolls
Ingredients:
2 cups warm water
2/3 cups nonfat dry milk (instant)
2 TB dry yeast
1/4 cup sugar
2 tsp salt
1/3 cup butter or shortening softened
1 egg
5 cups bread flour or all purpose
Directions:
1. In a large bowl of an electric mixer, combine the water and milk powder and stir until the milk dissolves. Sprinkle the yeast on top and let it sit for a few minutes. Then add the sugar, salt, butter, egg and 2 cups of the flour. Mix on low speed of mixer until ingredients are wet, then turn to medium speed and mix for 2 minutes. Stop the mixer and add 2 more cups of flour then mix on low speed until the ingredients are wet, then turn mixer on medium speed and mix for 2 minutes. The dough will be getting stiff and you may need to remove the bowl from the mixer and mix in the remaining flour by hand. Add approximately 1/2 cup of flour and mix again (this can be done by hand or mixer). The dough should be soft, not overly sticky, and not stiff. It is not necessary to use the entire amount of flour.
2. Scrape the dough off the sides of the bowl and pour approximately on tablespoon of vegetable oil all around the sides of the bowl. Turn the dough over in the bowl so it is covered with the oil. (This helps prevent the dough from drying out.) Cover with plastic and allow to rise in a warm place until double in size.
3. Sprinkle your counter with flour and put the dough on the flour. Roll out and cut into desired shape and size of rolls. Place on lightly greased baking pans. Let rise in a warm place until the rolls are double in size (approx. 1 hour).
4. Bake at 350 for 12-15 minutes or until browned. Brush with melted butter when taken out of the oven.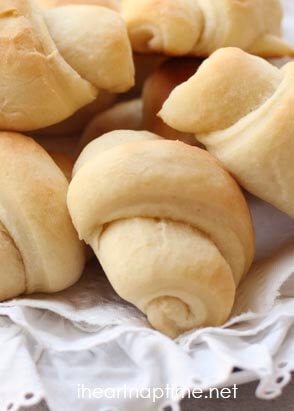 Enjoy! :)