Lion House Rolls – Hands-down my very favorite homemade roll recipe! Soft, fluffy and have a nice buttery taste. Perfect for the holidays or anytime you want an amazingly, delicious roll with dinner!
There is nothing like homemade rolls or bread! Seriously the best ever. My family is always requesting these lion house rolls, as well potato rolls, french bread and my homemade white bread recipe.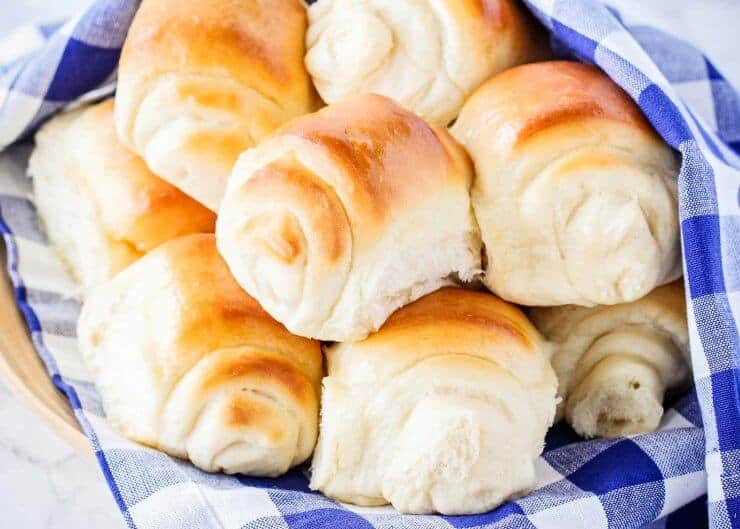 Homemade rolls
Lion house rolls have to be one of my favorite things EVER. Have you had them? If you haven't, you need to make them! Like NOW! Seriously put these on your list! You will thank me later… ahh, okay maybe you won't. ;)

MY OTHER RECIPES
Imagine these homemade rolls fresh out of the oven and topped with melted butter and homemade strawberry jam. Holy cow! Words cannot describe the amazing taste! Each lion house dinner roll is super soft and fluffy with a nice buttery taste. Seriously, if I'm in charge of making rolls…this is my go to lion house rolls recipe! And they aren't too difficult to make…promise!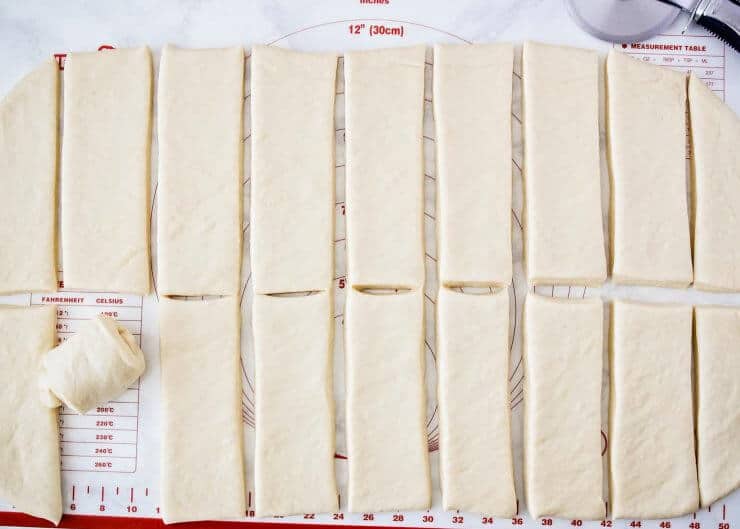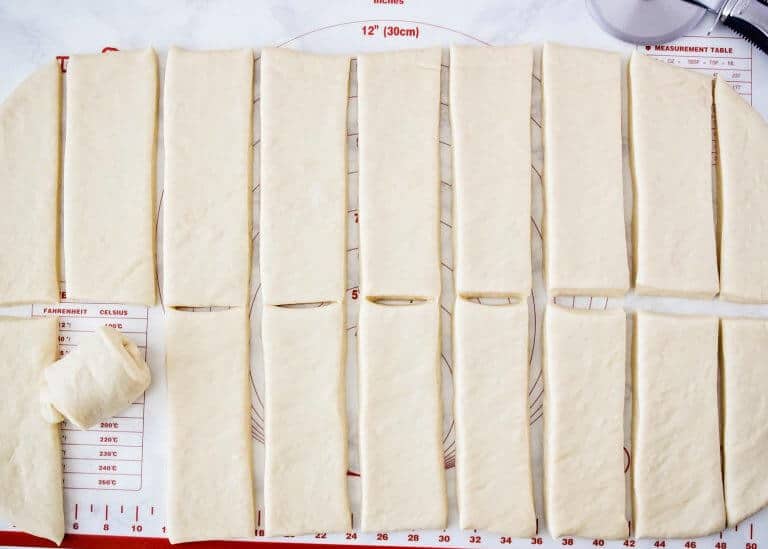 How to shape lion house rolls
Roll the dough out to make a long horizontal shape, similar to the picture above. Divide the dough in half horizontally. Next, make vertical cuts down the dough from one end to the other. This should make about 18 individual strips of dough that are 2-2.5 inches wide. To shape each homemade roll individually, take the dough strip with both hands and stretch it out vertically. Then flip the dough around from the bottom up, similar to how it's done in this video. You can also roll them up like crescents, like I show in the video below.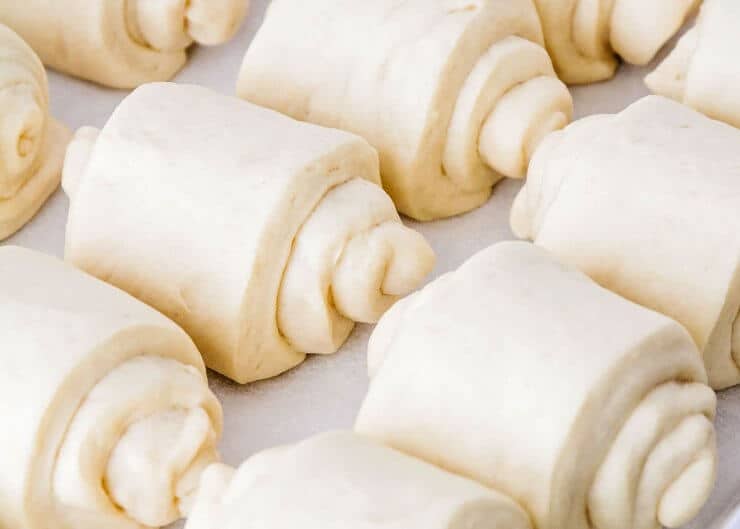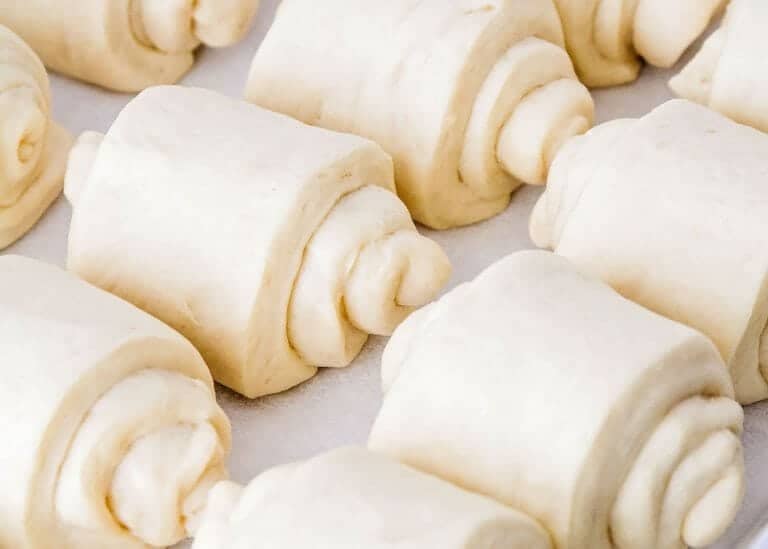 How do you make yeast rolls light and fluffy?
The key to making light and fluffy homemade rolls is to let the dough rise. I like to roll my dough in a ball, place it in a large bowl and let it rise in a warm place until it doubles in size. Then I'll roll the dough out and shape the rolls. I then let the rolls rise in a warm place until they double in size (for about an hour). Then they are ready to stick in the oven and bake beautifully…super light and fluffy!
How to store homemade rolls
These lion house rolls will keep at room temperature in an airtight container or storage bag for about 2-3 days. To freeze, wrap each homemade roll individually with foil and place in a storage bag in the freezer. The frozen rolls are best if reheated and eaten within about a month. To reheat, keep the rolls wrapped in foil and bake at 35o for about 10-15 minutes. Feel free to take the foil off within the last couple of minutes to brown the tops a little more.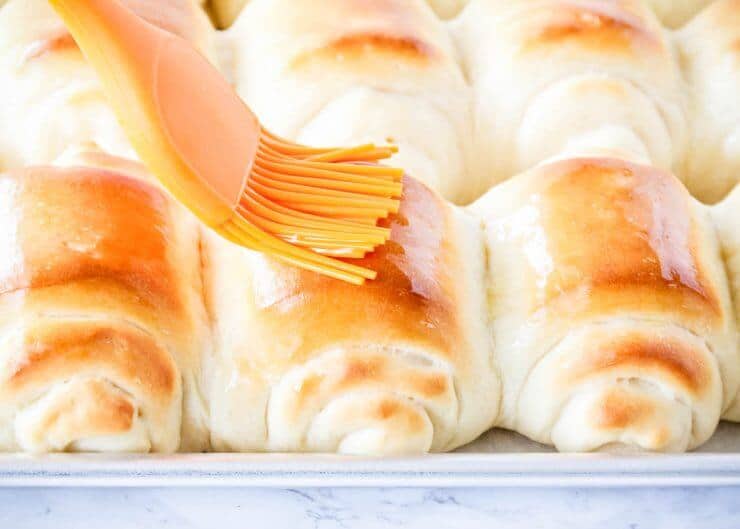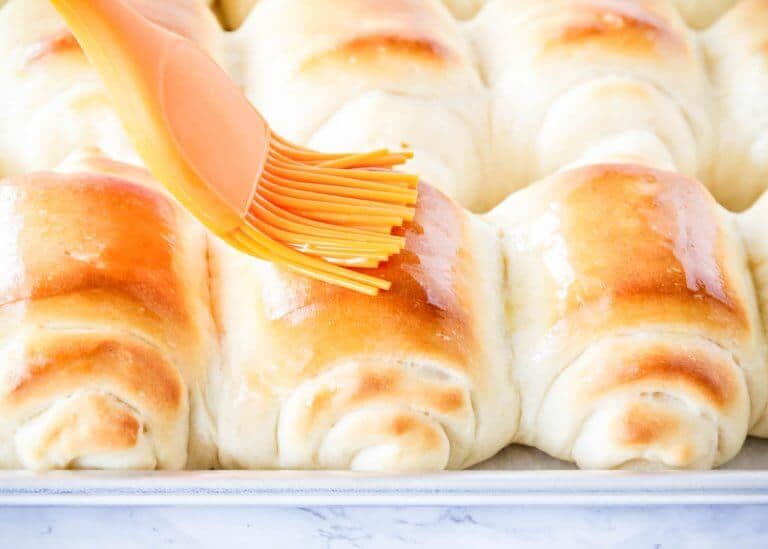 Favorite meals to serve with lion house rolls
Casseroles: The lion house rolls taste amazing served with all types of casseroles. Some of my favorites are chicken broccoli rice casserole and Mexican chicken casserole.
Soups: I love to serve homemade rolls alongside soup. I especially love to dip my roll in soup. :) These rolls taste great with lasagna soup, broccoli cheese soup and hearty vegetable soup.
Pasta: Homemade rolls are perfect to serve with lasagna, alfredo and classic spaghetti.
Holiday dinners: We always make these house rolls for Thanksgiving dinner and Christmas dinner. We never celebrate the holidays without them!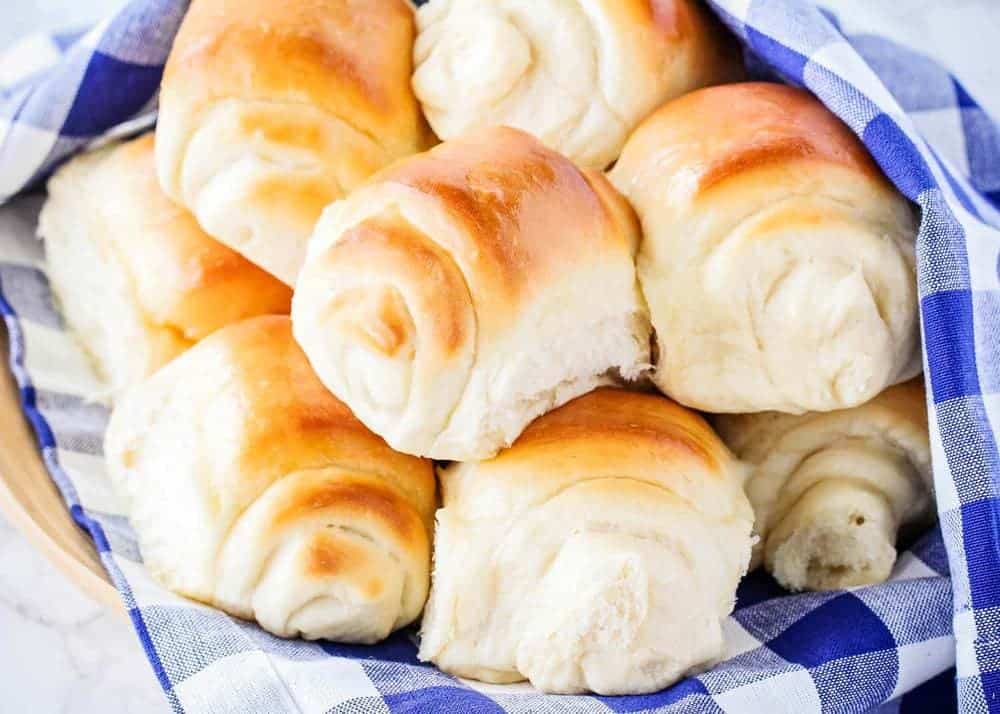 Lion House Rolls
Lion House Rolls - Hands-down my very favorite homemade roll recipe! Soft, fluffy and have a nice buttery taste. Perfect for the holidays or anytime you want an amazingly, delicious roll with dinner!
Total Time
1
hour
45
minutes
Ingredients
2

cups

warm water

2/3

cup

nonfat dry milk

(instant)

2

tbsp

dry yeast

1/4

cup

sugar

2

tsp

salt

1/3

cup

butter

(softened; or shortening)

1

egg

5

cups

bread flour

(or all-purpose)
Instructions
In a large bowl of an electric mixer, combine the water and milk powder and stir until the milk dissolves. Sprinkle the yeast on top and let it sit for a few minutes. Then add the sugar, salt, butter, egg and 2 cups of the flour. Mix on low speed of mixer until ingredients are wet, then turn to medium speed and mix for 2 minutes.

Stop the mixer and add 2 more cups of flour then mix on low speed until the ingredients are wet, then turn mixer on medium speed and mix for 2 minutes. The dough will be getting stiff and you may need to remove the bowl from the mixer and mix in the remaining flour by hand. Add approximately 1/2 cup of flour and mix again (this can be done by hand or mixer). The dough should be soft, not overly sticky, and not stiff. It is not necessary to use the entire amount of flour.

Scrape the dough off the sides of the bowl and pour approximately on tablespoon of vegetable oil all around the sides of the bowl. Turn the dough over in the bowl so it is covered with the oil. (This helps prevent the dough from drying out.) Cover with plastic and allow to rise in a warm place until double in size.

Sprinkle your counter with flour and put the dough on the flour. Roll out and cut into desired shape and size of rolls. Place on lightly greased baking pans. Let rise in a warm place until the rolls are double in size (approx. 1 hour).

Bake homemade rolls at 350 for 12-15 minutes or until browned. Brush with melted butter when taken out of the oven.
Recipe Video
Recipe Notes
Nutrition Facts
Lion House Rolls
Amount Per Serving
Calories 287
Calories from Fat 54
% Daily Value*
Total Fat 6g 9%
Cholesterol 28mg 9%
Sodium 480mg 20%
Potassium 203mg 6%
Total Carbohydrates 46g 15%
Protein 10g 20%
* Percent Daily Values are based on a 2000 calorie diet.
Enjoy! :)