Buttery, fluffy, and melt-in-your-mouth irresistible is what these Parker House rolls are famous for! They are spread with honey butter inside before baking and brushed with more while still warm!
Craving more pillow-y rolls recipes? Hawaiian rolls, French bread rolls and potato rolls are a few more favorites!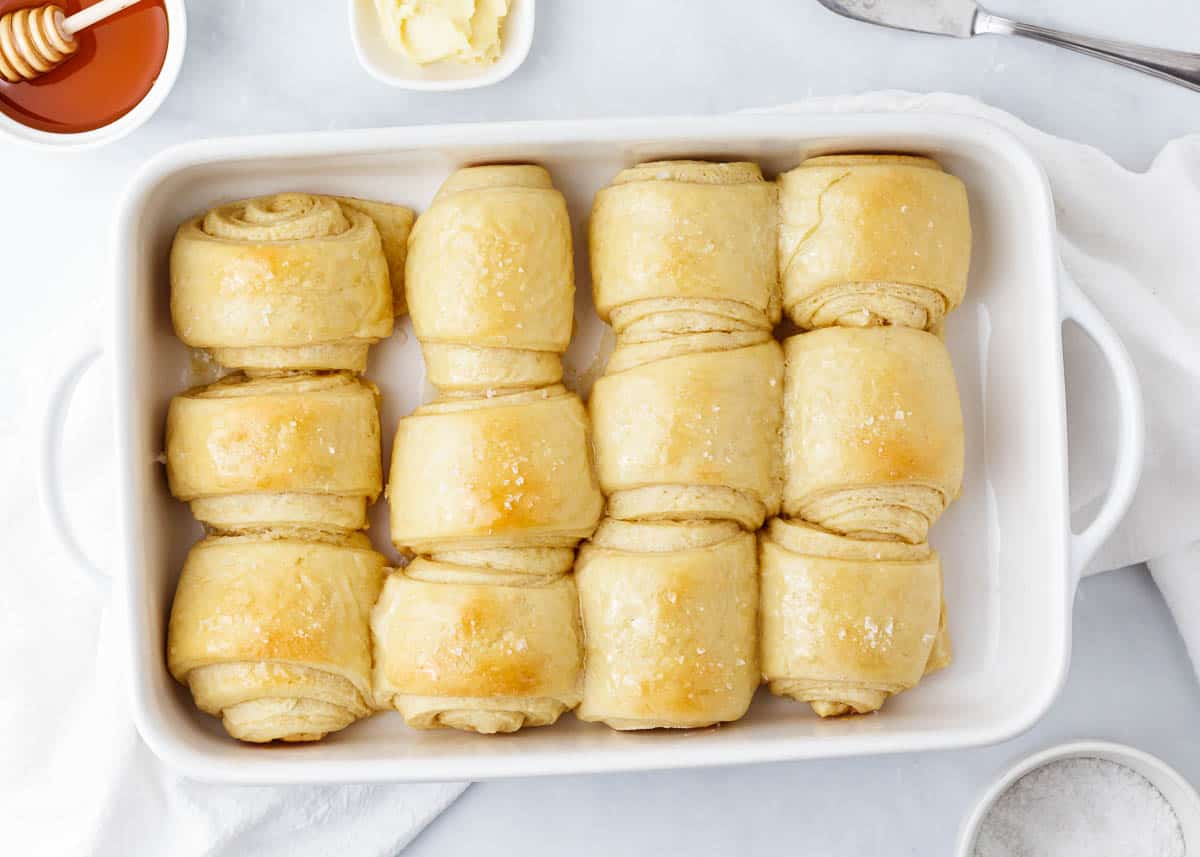 Best Parker House Roll Recipe
It's hard not to fill up on dinner rolls before dinner, especially when they're this good!
Parker House rolls are traditionally folded in a half-moon shape before they are baked, but I filled mine with honey butter, so I decided to roll them, similar to Lion House rolls. That way all of that delicious sweet butter doesn't get lost.
These soft rolls are made with rapid yeast which means there's a total of just 1.5 hours of rising time. This recipe with yeast is perfect for beginners and a nice mix up from the homemade French bread we usually make.
Why This Recipe Works
The butter. Parker House rolls are famous for the butter inside the roll as well as on top, which helps to give them their signature soft and fluffy texture and beautiful finish. This recipe doesn't skimp on any of it!
Perfect for any occasion. A basket of Parker House rolls always makes an appearance whether it's on the table for Christmas dinner or just something a little extra special on a weeknight.
Make ahead & freezer-friendly. You can make these the night before and bake the next day, or freeze the dough and bake them when you're ready.
Ingredients Needed
Less than 10 ingredients needed to make this easy recipe for Parker House rolls. Nothing fancy required…just simple classic baking staples that I'm sure you already have in the fridge and pantry!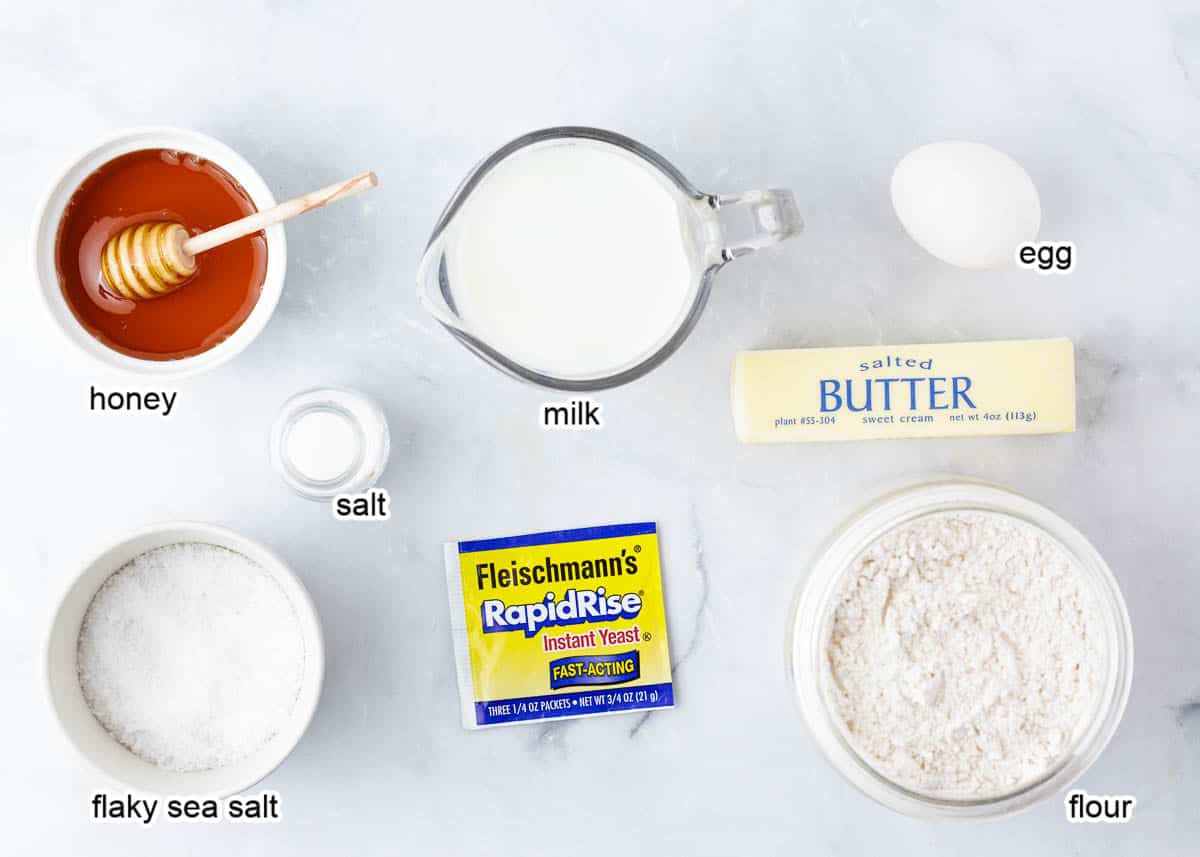 Find the full printable recipe with specific measurements below.
Rapid rise yeast: Normally, you would need to know how to proof yeast, and I encourage you to check out the post to learn the difference, but with rapid yeast, you don't need to proof it first before adding it in with other ingredients.
Flour: The signature softness of these rolls comes from accurate measurements of the ingredients, especially flour. The best way to know you're using the right amount of flour is to use a kitchen scale. If you don't have one of those, don't worry, I can show you how to measure flour without a scale to get the same results.
Salted butter: No need to melt butter to brush it on, but it does need to be soft and spreadable. If you forget to take it out of the fridge ahead of time, here's how to soften butter in a pinch.
A Different Flavor of Butter
Instead of honey butter, try garlic herb butter or cinnamon butter the next time! You can also use regular butter and sprinkle Parmesan, herbs, or salt overtop.
How to Make Parker House Rolls
Learning how to make Parker House rolls from scratch is easier than you may think! Check out the simple steps below to get started.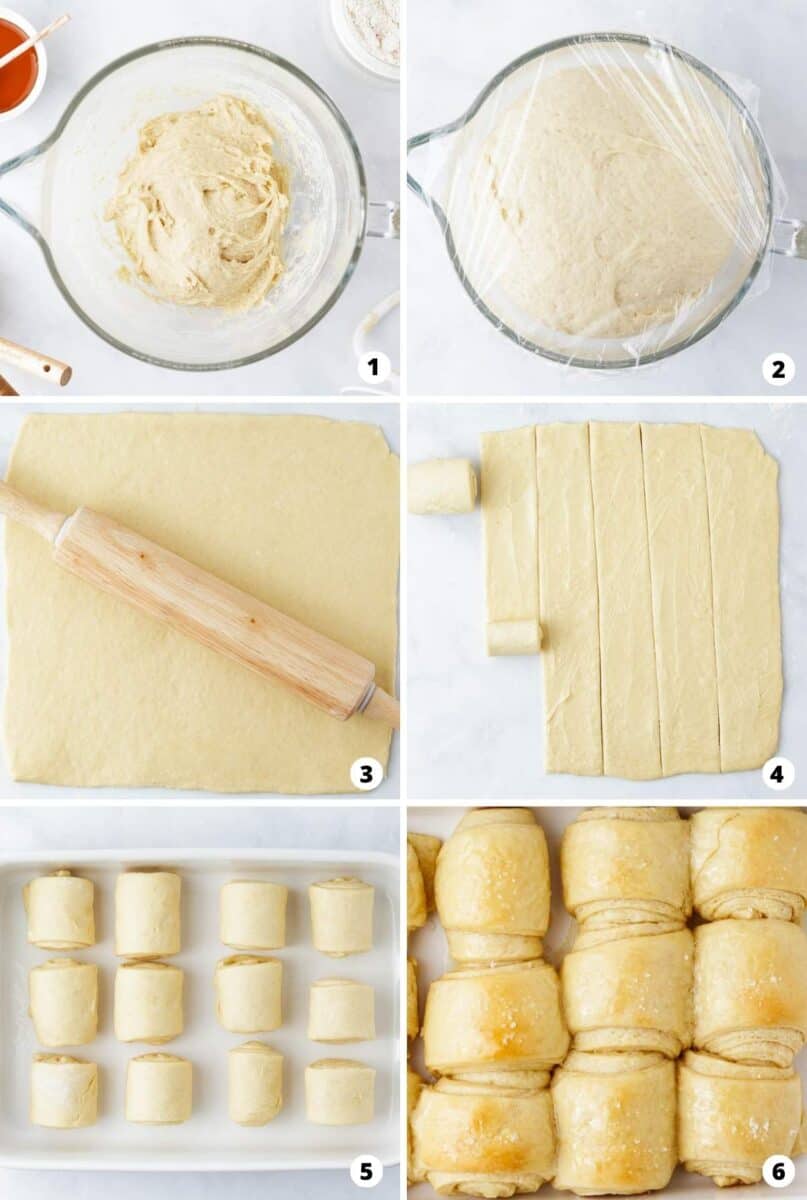 Make the dough. In the bowl of a stand mixer, combine the flour, yeast, and salt. Using the dough hook attachment, stir in the milk, honey, egg, and butter. This is where the instant yeast comes in so handy! It starts to activate while it's being kneaded, rather than making a yeast mixture ahead of time. Do this for 4-5 minutes until all the ingredients have combined and the dough is smooth.
Let it rise. Cover the bowl with plastic wrap and allow it to rise in bulk for about 1 hour. Keep it in a warm place, preferably draft-free, so it doesn't take longer than necessary.
Roll it out. Once the dough has bulked up, lightly dust a clean flat surface with flour. Remove the plastic wrap from the bowl and transfer the dough from the bowl to the floured work surface. Punch it down (yes, literally punch it). Divide it in half and roll each one into a 12″ square and make it about 1/4″ thick.
Cut into strips and roll. Take your whipped butter and honey mixture and spread it over the squares. Then, you'll cut each square into 6 strips, for a total of 12 rolls in the end. Use a pizza cutter or sharp knife to help with even slices. Roll each one into a coil along the length of the strip, starting at one end.
Last rise. Place the Parker House rolls seam side down into a prepared 9×13″ baking dish. Cover the dish and let them rise for another 30 minutes until puffy. If you know you won't be baking them today, you can put them in the fridge overnight. This will slow the rise significantly and will be ready when you are.
Bake. Preheat the oven to 350°F and bake for 18-25 minutes. Once the rolls are golden brown, remove them from the oven and spread with the remaining honey butter. Watching the heat from freshly baked rolls melt the honey butter is stuff dreams are made of. Pull them apart, sprinkle with flaky sea salt and enjoy while still warm!
Expert Tips
Measure flour properly. I can't stress this enough! Using too much flour can cause the Parker House dinner rolls to be heavy and dense. This happens when you're not using a scale, or not using the spoon and level method to measure the flour.
Do not overwork the dough. Whether you're kneading by hand or using the stand mixer, make sure to knead it just enough. Overdoing it will overwork the gluten, causing the dough to be tough. Again, no one wants dense rolls!
Check your yeast. Make sure it's not expired. If it is, toss it and get a fresh package.
Make them ahead. Once you've rolled the dough strips and placed them in the dish or pan, cover them and store them in the fridge overnight. Take them out 30 minutes before baking.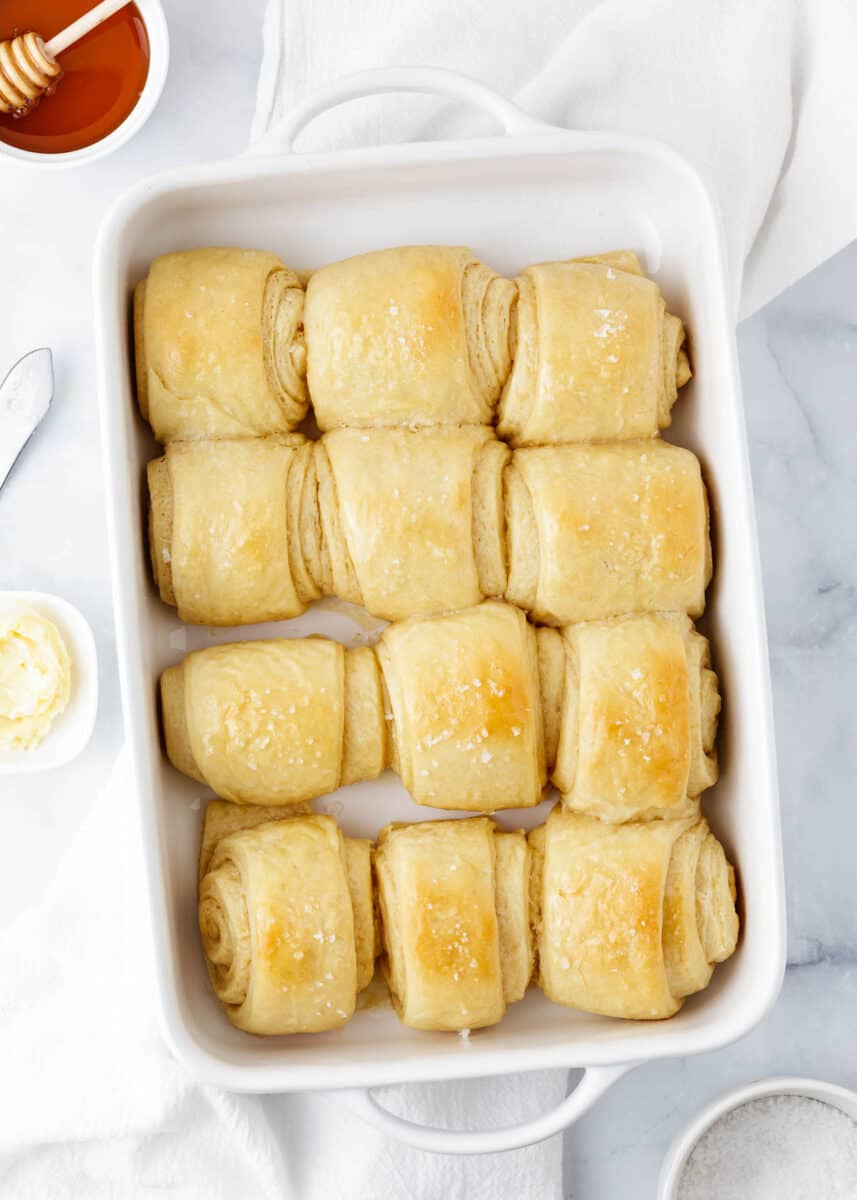 Recipe FAQs
Why do they call them Parker House rolls?
They are named after the Parker House Hotel in Boston, where they originated. They're made by making a crease in the center of the dough that you fold over before baking.

They say the indentation is a nod to the angry baker who accidentally invented them by throwing a baking sheet full of unfinished rolls into the oven!
Can I make this without a stand mixer?
You can knead the dough with your clean hands if you'd like. It will be an arm workout, but traditional bread recipes are worth the extra bit of effort!
If I only have active dry yeast, can I use it?
Yes, they are interchangeable in this recipe. Mix 1 packet of active dry yeast with warm milk and honey and let it sit for 5-10 minutes until it starts to foam. Once it is bubbly, mix in the flour and continue following directions as listed.
Can I freeze the dough before baking?
Parker House rolls can be frozen before baking for up to 3 months. Prepare the rolls up to step 5. Cover with plastic wrap and freeze. On the day you're ready to bake, thaw them at room temperature for a few hours and bake as directed.
Freezing & Reheating
Once they have completely cooled, place rolls in a freezer-friendly bag or container and keep them frozen for up to 3 months. You want to make sure they're covered well, so feel free to wrap them individually in plastic wrap to avoid freezer burn.
Once they are thawed, warm them up in the microwave to get them nice and soft again!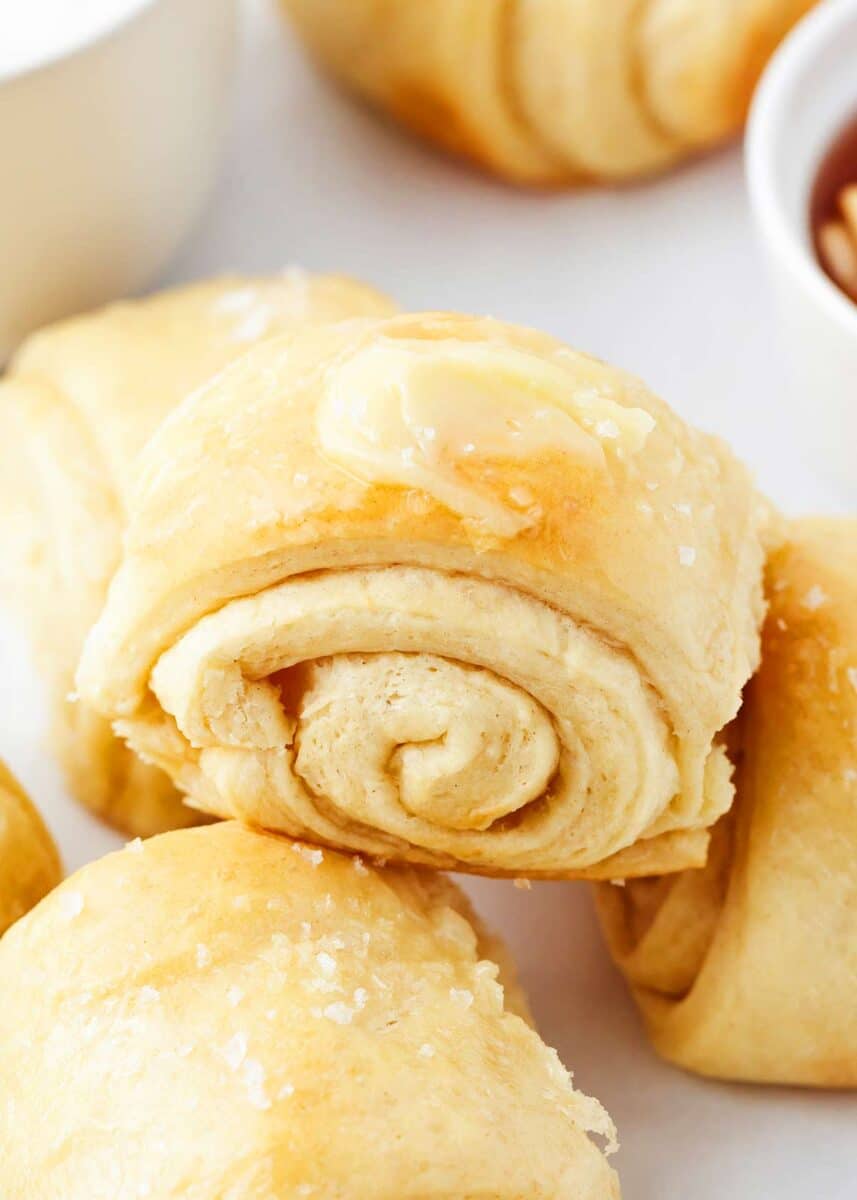 HUNGRY FOR MORE? Subscribe to my newsletter and follow on Facebook, Pinterest and Instagram for all the newest recipes!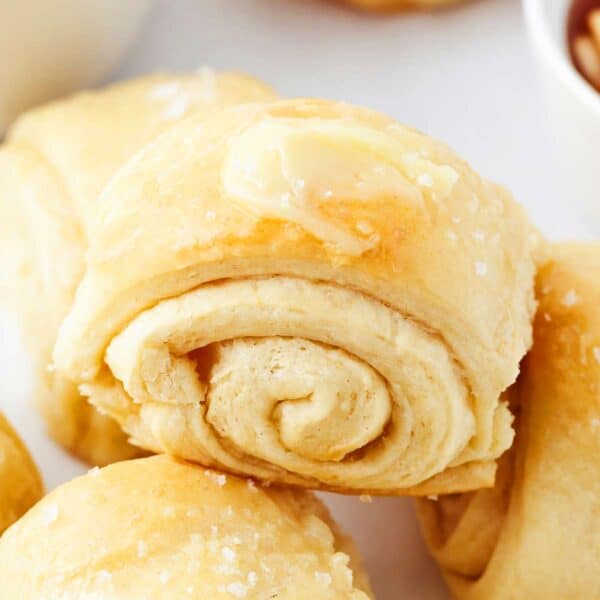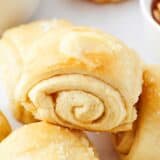 Parker House Rolls
Buttery, fluffy, and irresistible is what these Parker House rolls are famous for! They are spread with honey butter inside before baking and brushed with more while still warm!
Ingredients
Honey Butter
4 Tablespoons (56 grams) salted butter , softened
2 Tablespoons (38 grams) honey
Rolls
3 ¼ cups (440 grams) all-purpose flour , plus more for rolling
1 (1/4-ounce) packet Fleischmann's Rapid Rise Yeast
½ teaspoon fine sea salt
1 cup (8 ounces) warm whole milk (105°F)
2 Tablespoons (38 grams) honey
4 Tablespoons (56 grams) salted butter , at room temperature
1 large egg , at room temperature
Flaky sea salt , for serving
Instructions
Honey Butter
In a small bowl, whip the butter and honey together until combined. Set aside.
Rolls
Spray a 9×13-inch baking dish with nonstick spray.

In the bowl of a stand mixer fitted with a dough hook, combine the flour, yeast, and salt. Stir in the warm milk, honey, egg, and butter 4 to 5 minutes, or until completely combined and smooth. Cover with plastic wrap and place in a warm spot for1 hour.

Lightly dust a work surface with flour. Turn out the dough and punch it down. Divide it in half. Roll each half into a 12-inch square, about 1/4-inch thick.

Spread each square with honey butter, saving any leftover butter for spreading on top. Cut each square into 6 strips. Roll each strip into a coil and arrange seam-side down in the baking dish.

Cover the dish and let the rolls rise 30 minutes, or until puffy. Alternatively, you can let the rolls rise in the refrigerator overnight.

Preheat the oven to 350°F.

Bake 18 to 25 minutes, or until the rolls are golden brown. Remove from oven and spread with remaining honey butter. Pull apart and sprinkle with flaky sea salt. Serve warm.
---
Notes
Make Ahead: Rolls can be made up to 1 day in advance and baked right before serving. Let the rolls rise in the refrigerator (up to overnight) and remove 30 minutes prior to baking. Bake as directed. Freeze before Baking: Prepare the rolls through step 5. Cover and freeze up to 3 months. Thaw overnight in the refrigerator or on the counter for a few hours. Once thawed, bake as directed. Freeze after Baking: Bake the rolls and cool completely. Cover well and freeze up to 3 months. Thaw and warm before serving. Yeast: If using Active Dry Yeast instead, mix 1 packet with the warm milk and honey. Let sit 5 to 10 minutes, or until bubbly and foaming. Mix in the flour until well combined. Follow the directions from then on. Recipe adapted from Parker House
Nutrition
Serving: 1roll | Calories: 337kcal | Carbohydrates: 54g | Protein: 8g | Fat: 10g | Saturated Fat: 6g | Polyunsaturated Fat: 1g | Monounsaturated Fat: 2g | Trans Fat: 0.3g | Cholesterol: 39mg | Sodium: 175mg | Potassium: 110mg | Fiber: 2g | Sugar: 5g | Vitamin A: 301IU | Vitamin C: 0.02mg | Calcium: 39mg | Iron: 3mg
Nutrition provided is an estimate. It will vary based on specific ingredients used.
Did you make this recipe? Don't forget to give it a star rating below!