These apricot yogurt muffins are so soft and delicious, with great apricot flavor. The perfect breakfast or snack that the whole family will love!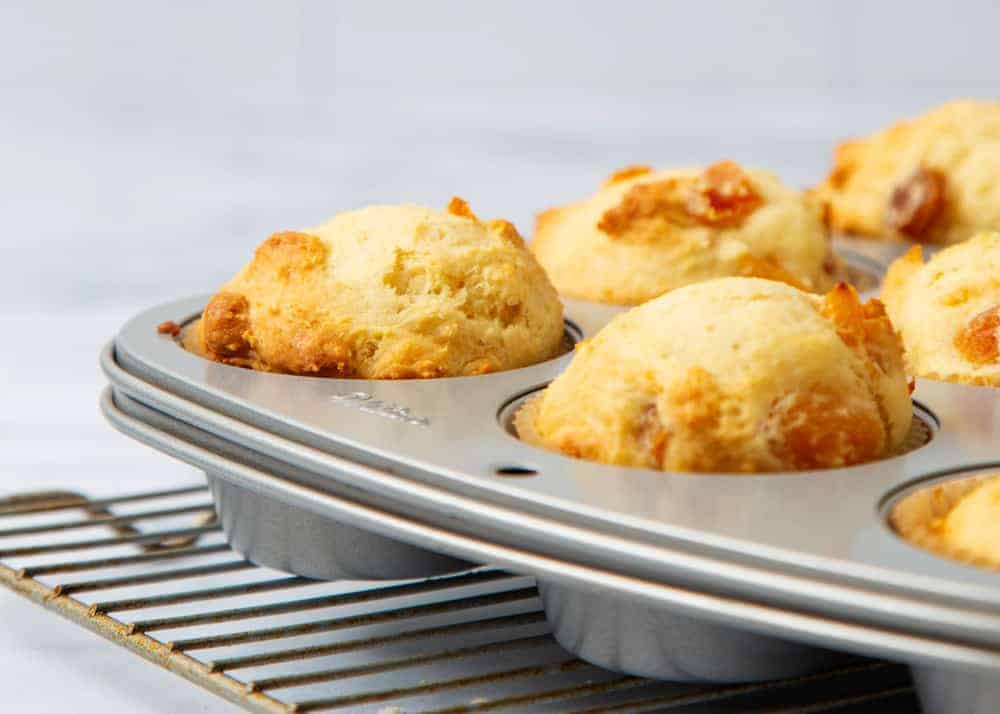 Morning Yogurt Muffins
We make breakfast muffins quite often and especially love to enjoy them on Sunday mornings. These apricot muffins were a fun variation from our normal blueberry muffins and had such delicious apricot flavor. We'll definitely be making them again!
I love warm muffins fresh out of the oven on a Sunday morning! My family and I recently went on a week and a half long vacation. We returned home late Saturday night only to wake up on Sunday morning and realize that we didn't have any food in the house! Has that ever happened to you?
We were kind of tired of restaurant food, so I spent a few moments opening cupboards and mentally making note of what I could use to whip up a nice homemade breakfast for us. One egg, flour, sugar, apricots and a carton of greek yogurt are what I came up with. Queue these apricot muffins! They were soft, flavorful and super simple to make.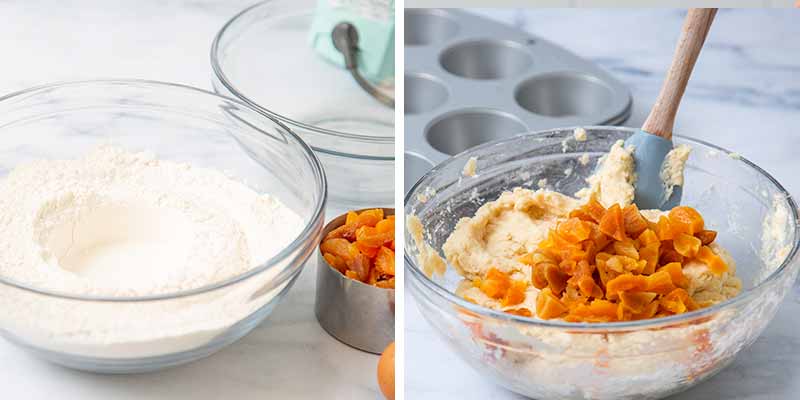 How to Make Apricot Muffins
BOIL. To soften the dried apricots, place them in boiling water. Simply microwave 2 cups of water until boiling, then add apricots and let soften for 5 minutes.
MIX. In a large bowl, stir together the dry ingredients. Then mix together the wet ingredients in a separate bowl. Create a well in the center of the dry mixture, then pour the wet mixture into the well. Mix just until combined. Drain the apricots then gently fold into the batter.
BAKE. Grease or line your muffin tin, then fill each well about 2/3 of the way full. Bake for about 20 to 24 minutes, or until the tops are lightly golden and a toothpick comes out clean.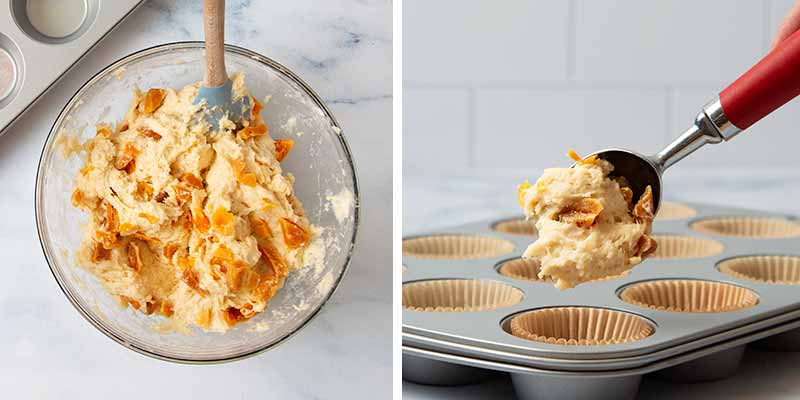 Baking Tips
You could easily swap out half of the flour for whole wheat flour.
Fresh apricots would work great, or really any soft fresh or dried fruit would work as well.
Regular yogurt is okay to use – I just used Greek because that's what we had on hand.
Don't over mix! Mix just until combined so the muffins stay soft and fluffy.
Use an ice cream scoop to fill each muffin cup about 2/3 full. It's the perfect size.
Feel free to make mini muffins instead of regular sized. I typically cut the baking time in half, but keep an eye on them and remove from oven when the tops are lightly brown.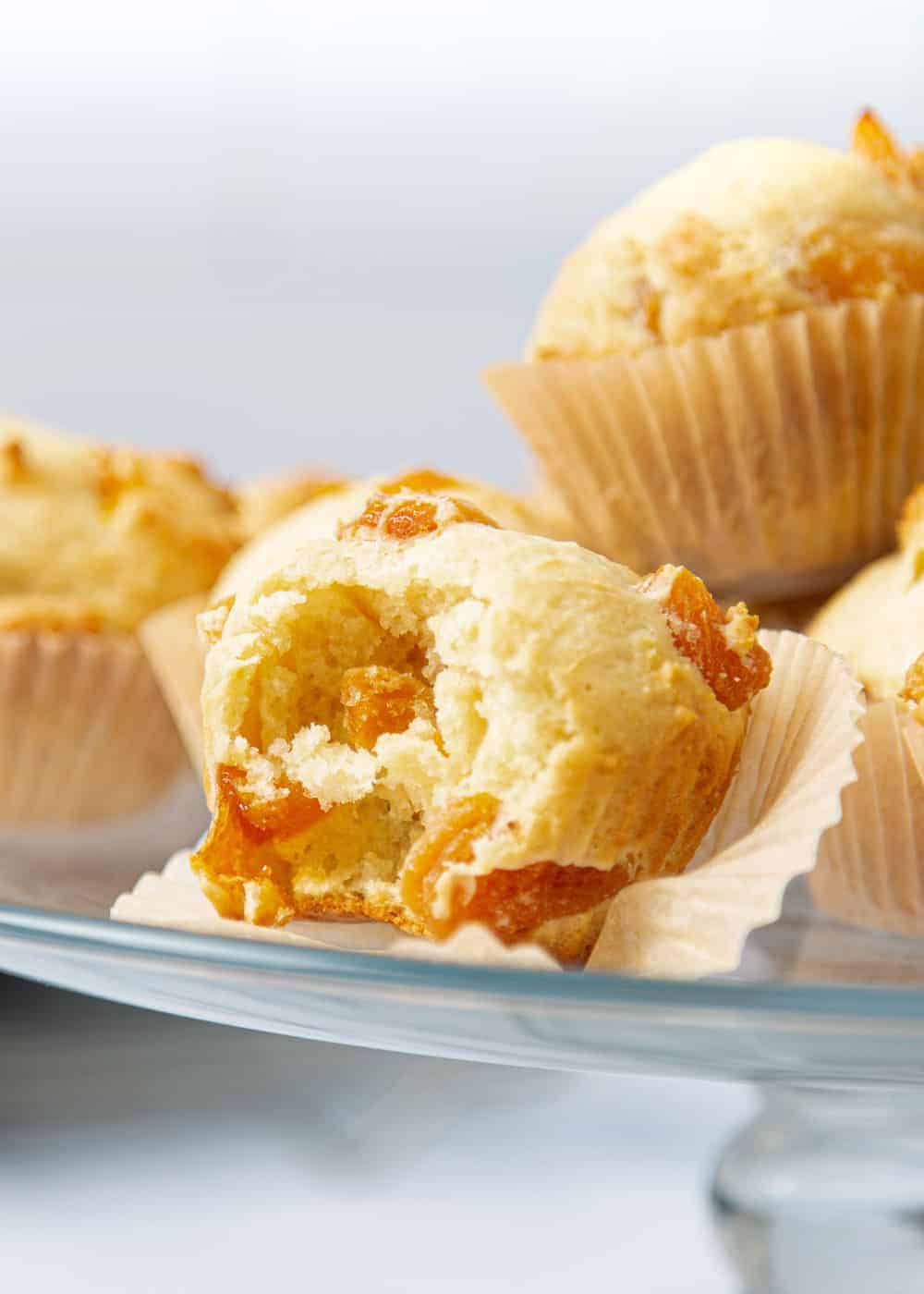 More Delicious Muffin Recipes
HUNGRY FOR MORE? Subscribe to my newsletter and follow on Facebook, Pinterest and Instagram for all the newest recipes!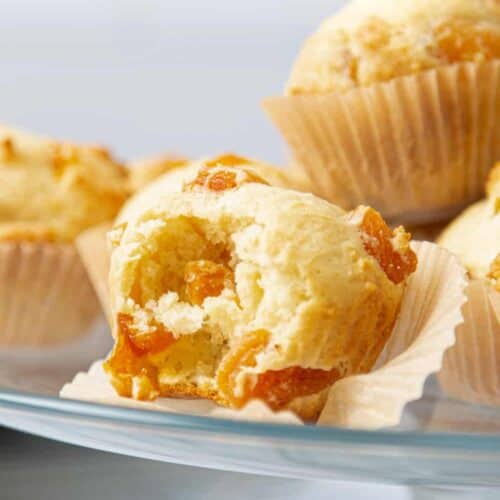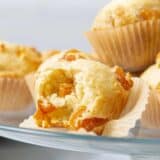 Apricot Muffin Recipe
These apricot yogurt muffins are so soft and delicious, with great apricot flavor. The perfect breakfast or snack that the whole family will love!
Ingredients
2 cups all-purpose flour
1 egg
¾ cup granulated sugar
1 cup Greek yogurt
½ cup melted butter
1 teaspoon baking soda
½ teaspoon salt
2 Tablespoons milk or oil
1 cup chopped dried apricots
Instructions
Preheat oven to 350°F. Place cupcake liners in muffin tins (alternatively, you could simply grease the muffin tins).

Boil 2 cups of water in the microwave. Place apricots in the boiling water for five minutes to soften. Set aside.

In a large bowl, mix dry ingredients together. Create a well in the center and set aside. Mix yogurt, melted butter, egg and milk in a separate bowl just until combined. Pour into dry ingredients and mix just until combined. Do not over-mix.

Drain apricots and add to the mixture. Fold in gently.

Fill cupcake liners 2/3 of the way full with batter (an ice cream scoop works perfectly for this). Bake for 20-24 minutes, or until tops are lightly browned and a toothpick inserted into the center comes out clean.
---
Nutrition
Calories: 216kcal | Carbohydrates: 30g | Protein: 4g | Fat: 8g | Saturated Fat: 5g | Cholesterol: 35mg | Sodium: 268mg | Potassium: 91mg | Sugar: 14g | Vitamin A: 505IU | Vitamin C: 1.3mg | Calcium: 32mg | Iron: 1.1mg
Nutrition provided is an estimate. It will vary based on specific ingredients used.
Did you make this recipe? Don't forget to give it a star rating below!