Jump to Recipe⌄
Lemon Zucchini Muffins Made in the Blender
Lemon Zucchini Muffins made in the blender… the perfect go to for kids and adults! These are super easy to make, gluten free and they'll be done in 30 minutes from start to finish.
These muffins are great to make when you're looking to use up ripe bananas and zucchini. There is no added flour and only a little bit of sugar added in. Most of the zucchini recipes I have see online have lots of sugar in them, so I was on a quest to develop a recipe with less sugar and more healthy. Now don't get me wrong…these are not your typical "sweet" cake like muffin. They have more of an oatmeal texture.k.
I adapted this recipe from my blender muffins that have been very popular and added in the lemon burst Original Yoplait yogurt for a lemon flavor. My one year old gobbled them right up. It's the only way I've been able to sneak in her veggies lately. She has all the sudden refused to eat any vegetables. I'm hoping it's just a phase… but she had no idea there was any zucchini in the muffins, so I call that a win. ;)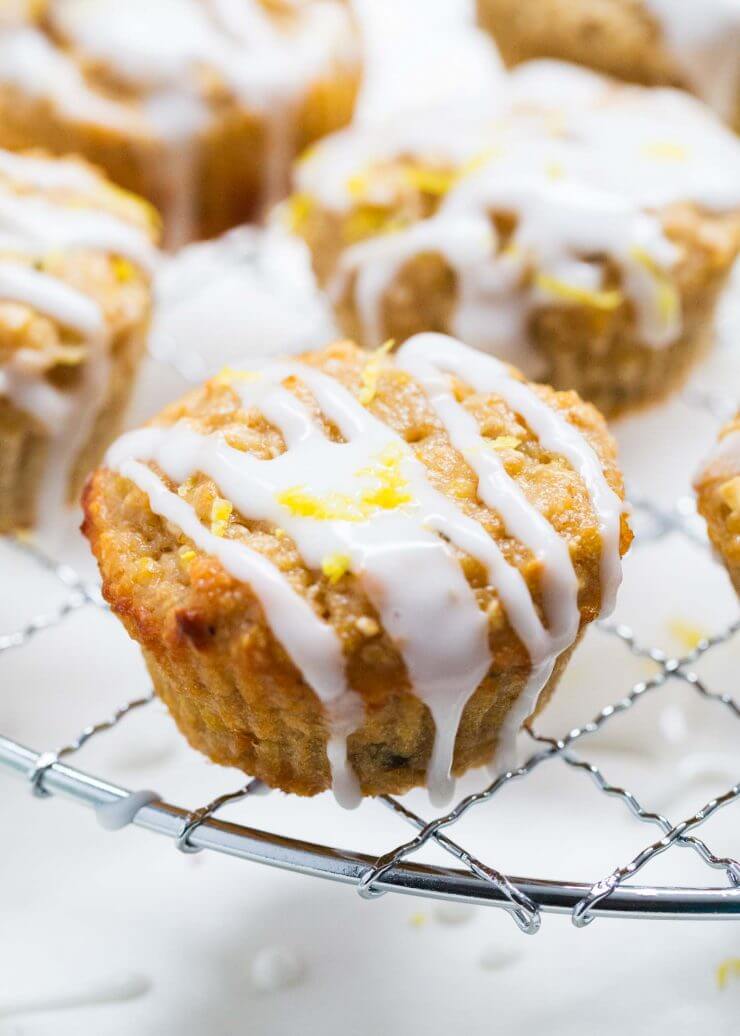 MY OTHER RECIPES
I'm super excited to be partnering with Yoplait for this post. The lemon burst yogurt added the perfect flavor. Yoplait has more than 100 different flavors to choose from, so you could definitely try different flavors as well. We're big fans of Yoplait and it's a tasty snack I feel good about giving to my children. I also love that they recently reduced the sugar by 25%! More information on Yoplait products can be found here.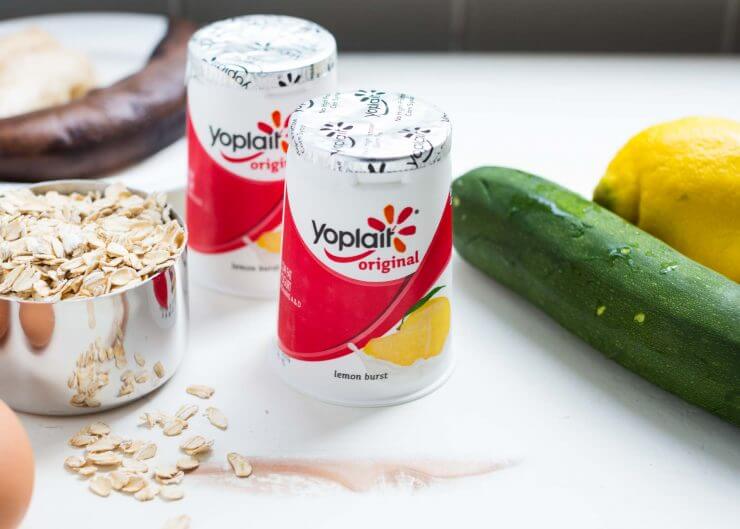 Lemon Zucchini Muffins are incredibly easy to make!
To get started you're going to need to grate your zucchini and gather all your ingredients.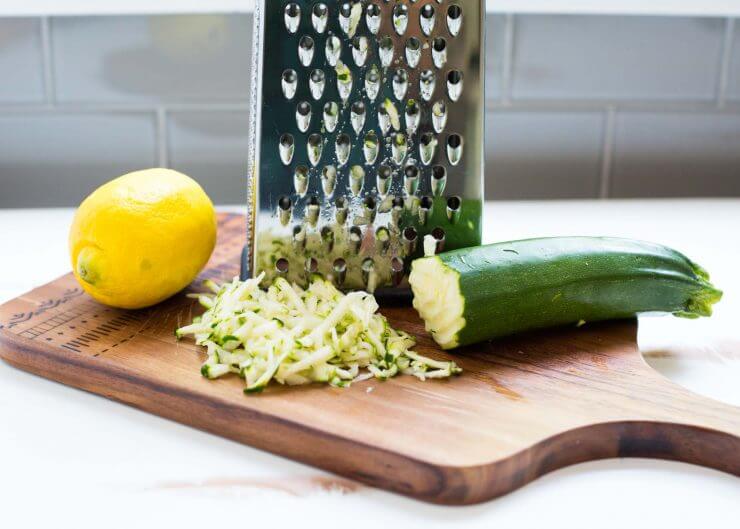 You'll want to make sure to remove most the water, so that it doesn't make your muffins soggy. To do this place it in paper towel or cheese cloth and then squeeze it out.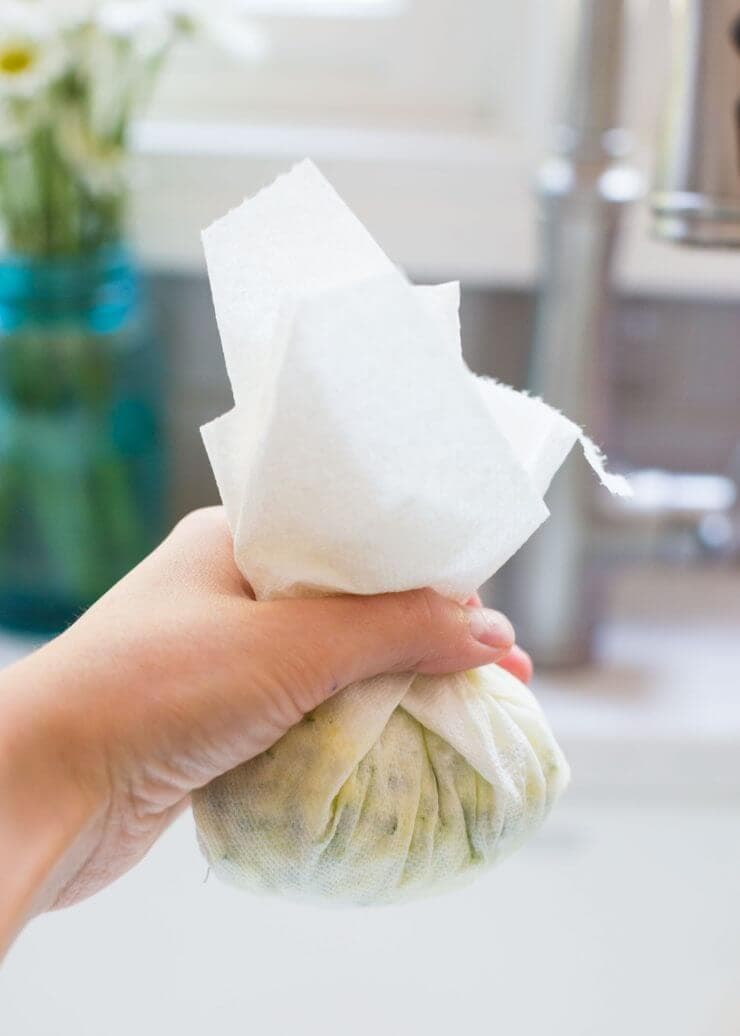 Then place all the ingredients in the blender and mix until combined.
You can leave the muffins as is, or add a little glaze for some added sweetness and lemon flavor.
I added a lemon glaze for half of the muffins and it added the perfect sweetness.
Making this recipe? Don't forget to rate the recipe below and tag #iheartnaptime on Instagram. Thank you! XO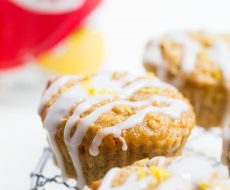 Lemon Zucchini Muffins Made in the Blender
Lemon Zucchini Muffins made in the blender... the perfect go to for kids and adults! These are super easy to make, gluten free and they'll be done in 30 minutes from start to finish.
Print
Ingredients
muffins:
2 cups old fashioned oats
2-3 very ripe bananas
1/2 cup 1 container lemon burst Yoplait Original Yogurt or Greek Yogurt
1 large egg
1/4 cup brown sugar
2-3 Tablespoons honey
1 1/2 teaspoons baking powder
1/2 teaspoon salt
1/2 cup grated zucchini
1 lemon zest
2 teaspoons fresh lemon juice
Lemon glaze:
1/2 cup powdered sugar
1 teaspoon fresh lemon juice
Extra lemon zest for garnish
Instructions
Preheat oven to 400°F. Line a muffin tin with liners or use a silicone muffin pan. Spray with non-stick cooking spray and set aside.

Combine all the muffin ingredients in a blender. Pulse 10 to 15 times, or until the batter is well combined.

Using a large cookie scoop, or 1/4 cup, add the batter to the muffin pan. You want them about 3/4 the way full.

Bake for 22 to 24 minutes, or until a toothpick comes out clean.

Transfer to a cooling rack.

For the glaze, whisk together the powdered sugar and lemon juice. Add a teaspoon of milk if needed to thin it out. Drizzle over top of the muffins and sprinkle on the lemon zest.

Enjoy!
Nutrition Facts
Lemon Zucchini Muffins Made in the Blender
Amount Per Serving
Calories 130 Calories from Fat 9
% Daily Value*
Total Fat 1g 2%
Cholesterol 14mg 5%
Sodium 108mg 5%
Potassium 218mg 6%
Total Carbohydrates 27g 9%
Dietary Fiber 2g 8%
Sugars 15g
Protein 3g 6%
Vitamin A 0.9%
Vitamin C 9.6%
Calcium 4.7%
Iron 4.6%
* Percent Daily Values are based on a 2000 calorie diet.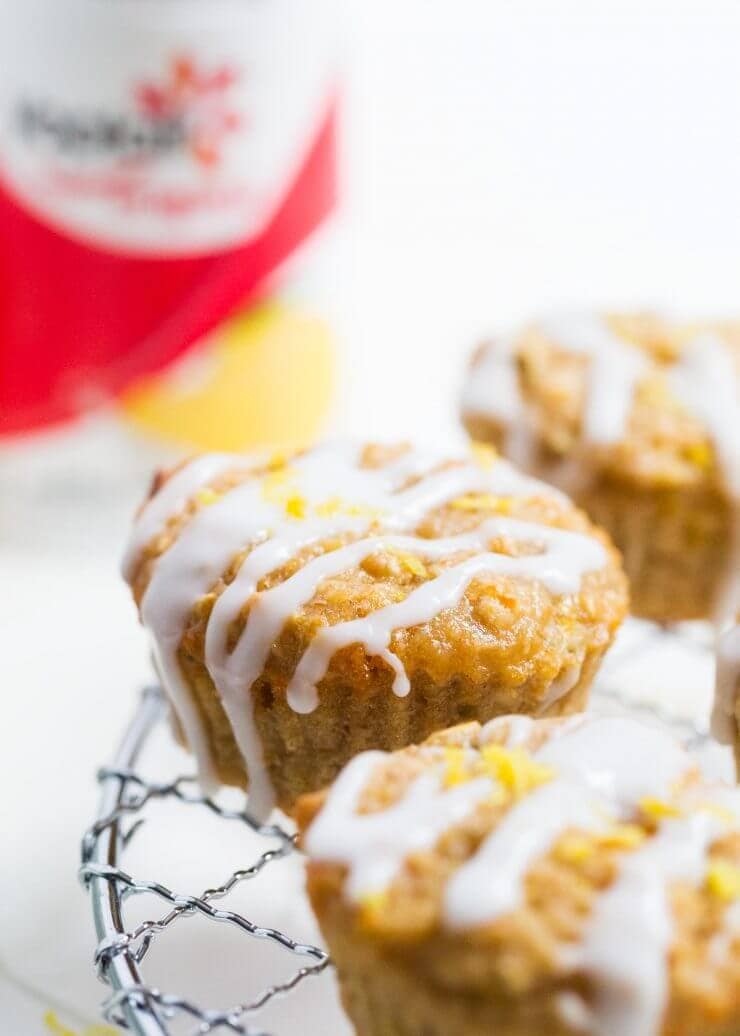 These muffins are great to keep in the freezer and pop out when you need a quick breakfast or snack on the go. Simply place them all in a ziptop bag and then place in the freezer. Then when ready to eat, place in the microwave for 10 seconds.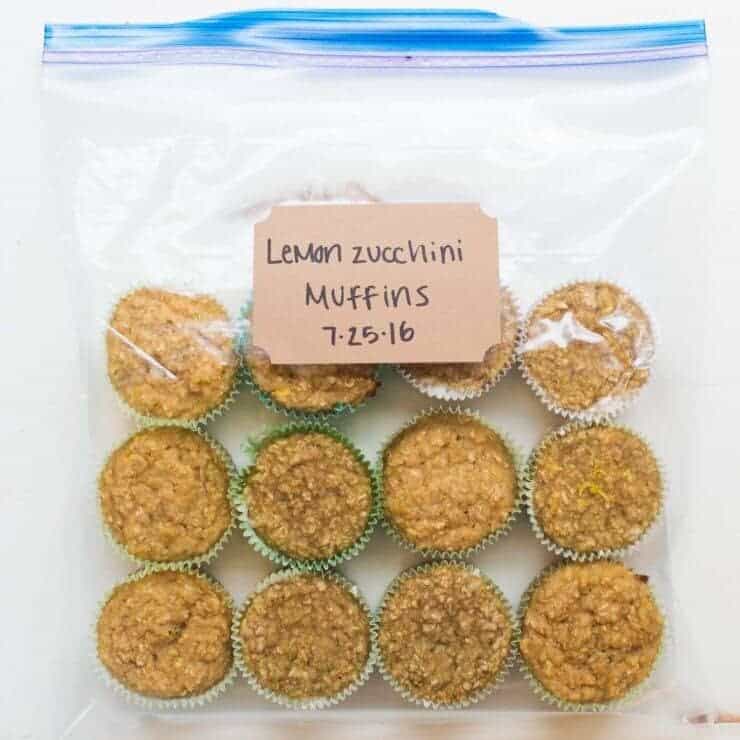 Beyond the Lemon Zucchini Muffins
I'm super excited to be partnering with Yoplait this year and can't wait to bring more yummy recipes to you. I had the opportunity the past month to visit the General Mills headquarters for the day and I loved these signs right when you walk in. Aren't they fun?
We got to tour around the campus and even cook in the Betty Crocker Kitchens. I loved it all in person!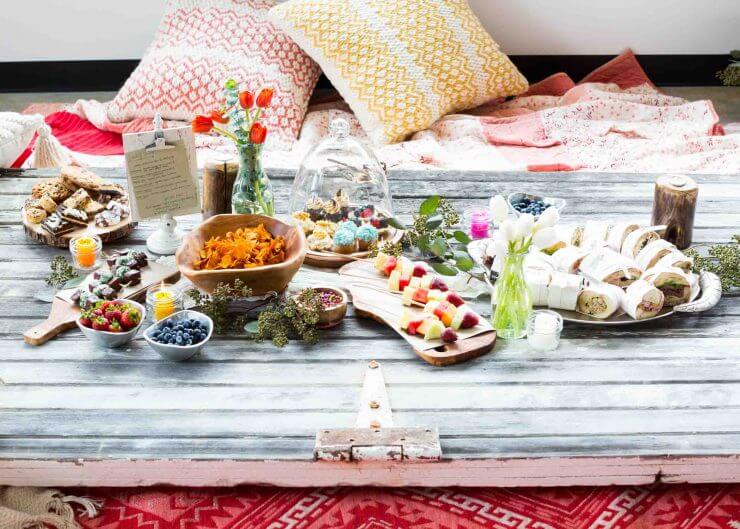 They also had the most beautiful lunch for us with wrapped sandwiches, delicious dessert, fruit kabobs and of course Yoplait. So fun! :)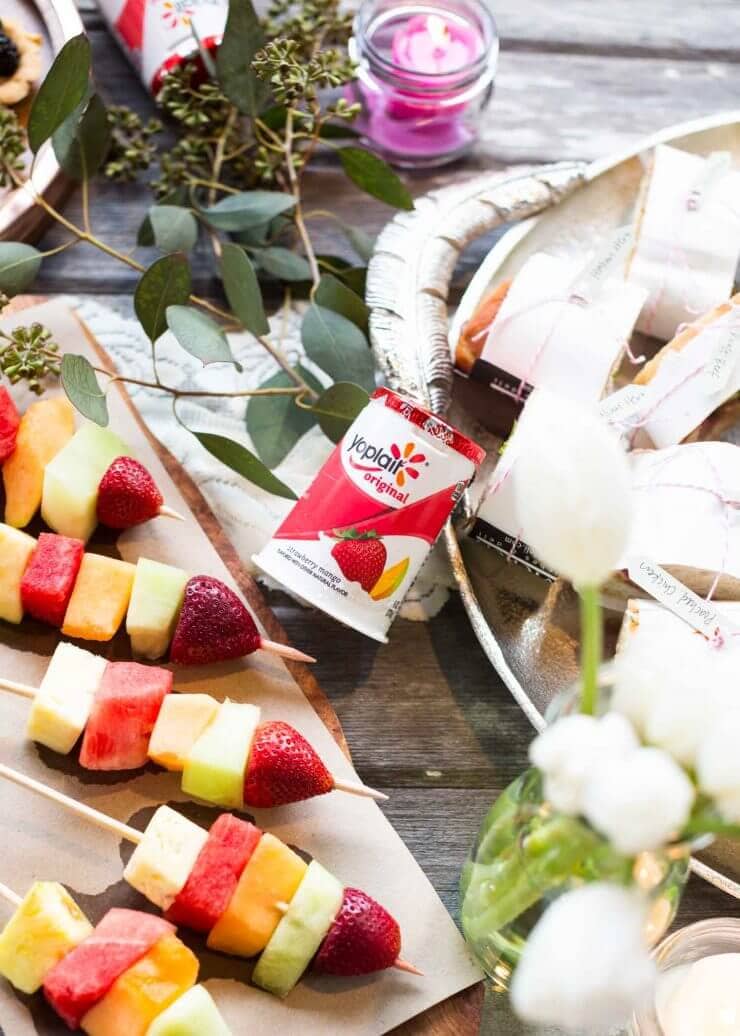 Hope you enjoy this recipe! I'm thinking these muffins and green smoothies will be on repeat the first week of school!
Happy Baking!
This post was brought to you by Yoplait. All opinions are my own. Thanks for supporting the brands that help support I Heart Naptime.