These easy breakfast muffins are made with only a few ingredients and use just one bowl and spoon! Once you make this easy muffin recipe, it'll become your new favorite easy breakfast!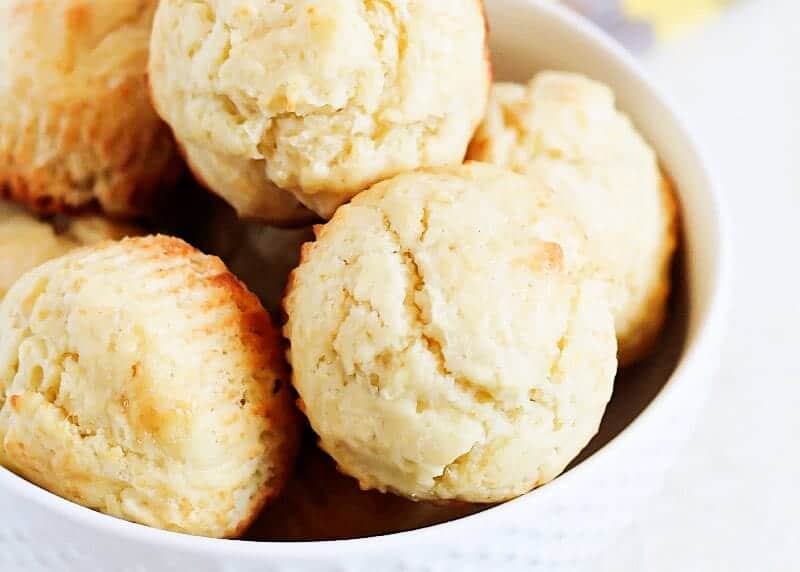 Easy Breakfast Muffins
When mornings are super hectic and busy, I love to have a quick and easy grab-and-go breakfast. These easy muffins are one of my favorite recipes, along with banana nutella muffins, blueberry muffins, and chocolate chip zucchini muffins.
I absolutely love this plain muffin recipe! Not only are they absolutely delicious, but they have only a few ingredients and use one bowl and spoon. Double score! That's why these easy muffins make the perfect quick and simple breakfast! I bet you have all the ingredients already in your pantry.
What I love about this easy muffin recipe is that you can put the extras in a sealed container and then heat them up one at a time in the microwave for a super easy breakfast or snack. Perfect grab-and-go option! These seriously are so easy and a family favorite.
Homemade Breakfast Muffins Ingredients
Homemade muffins are so easy to make and come together quickly and easily in just a few steps. Combine the dry ingredients with the wet ingredients making a simple and basic breakfast muffin recipe. You will be making batches of these muffins!
Find the full printable recipe with specific measurements below.
All-purpose flour: This gives the muffins stability and thickness with the flour.
Sugar: Adds a hint of sweetness!
Baking powder: Fluffs up and helps the muffins raise in the oven as it is baking.
Salt: Just a pinch will help aid the baking powder and help balance the flavors.
Eggs: Binds the batter together giving it color, texture, and structure.
Vegetable oil: Moisture is added to the muffin mixture using oil and milk.
Milk: Gives a creamy and soft texture to the muffin batter and when they are baked.
How to Make Breakfast Muffins
This breakfast muffin recipe is SO easy! Just follow the simple steps below to get started. Scroll down for the printable easy muffins recipe and video tutorial.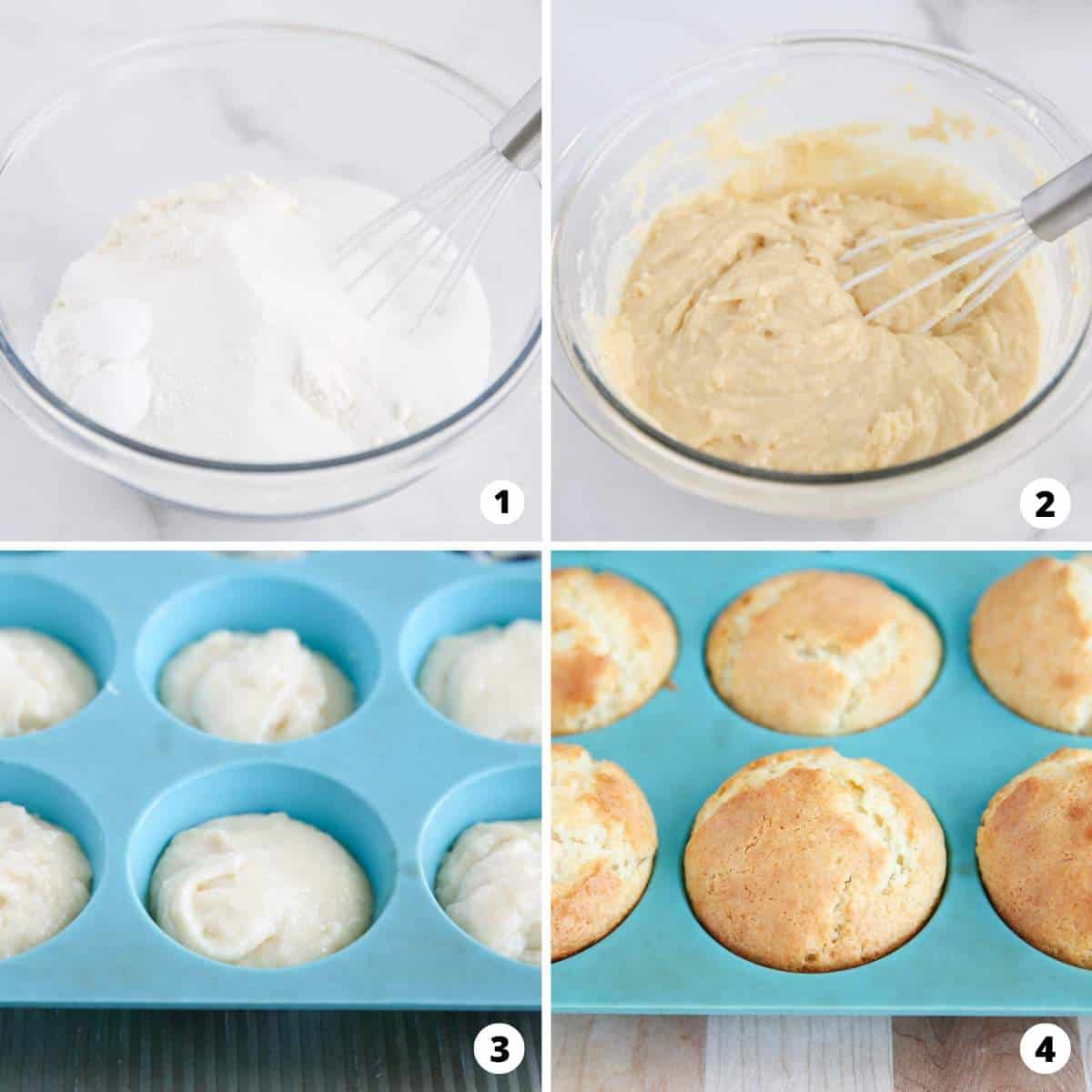 Dry ingredients. In a large mixing bowl, combine flour, sugar, baking powder, and salt and whisk together.
Wet ingredients. Add in eggs, oil, and milk and mix only until combined. Don't beat or over-mix! If you over mix your muffins will become tough and dry.
Add to muffin tin and bake. Scoop into prepared muffin pan (I like to use a large cookie scoop) and bake for 15-20 minutes.
Bake. Once the muffins are golden and tops spring back when you press on them or a toothpick comes clean.
For Serving + Variations
These easy homemade muffins are the base for making something great! Take this breakfast recipe and create the variation or several that works best for you and your family!
Toppings: Spread strawberry jam on top.
Spreads: Add a smear of peanut butter, cinnamon butter or apple butter, or peanut butter.
Egg muffins: Make it savory and add a slice of cheddar cheese, eggs, and a piece of bacon to the center of a muffin.
Sweet: We also love to add 1/2 cup of cinnamon chips (I like the ones from King Arthur Flour Or Gygi). Chocolate chips are great, but I often save those for banana mini muffins!
Nuts: Adding in walnuts or pecans gives these muffins a boost!
Mixed fruit: These also taste great with fresh fruit mixed in like blueberries, strawberries, or peaches.
5 star review
"I made these yesterday and threw in some fresh fruit salad (strawberries, blueberries, bits of chopped granny smith apples, shredded coconut) and a teaspoon or two of lemon juice. I sprinkled cinnamon on top."

-Ashley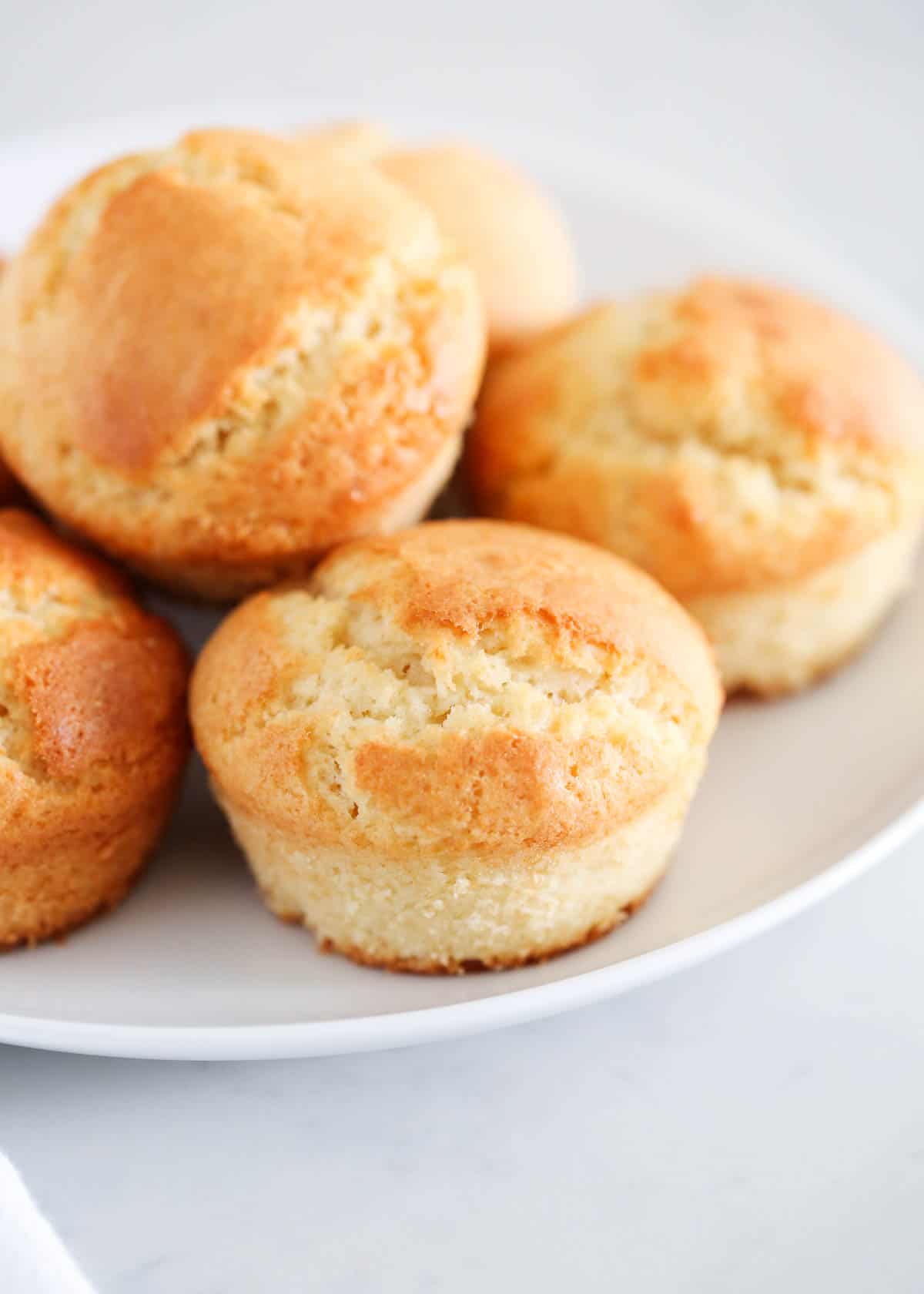 Recipe FAQs
Is a muffin healthy for breakfast?
Homemade muffins are a great source of a healthy breakfast. These have pantry staples mix together making this base muffin recipe that is perfect for a healthy and delicious breakfast.
What goes well with muffins for breakfast?
Fresh fruit, eggs, and bacon, or yogurt on the side. This makes for the perfect combination of a complete meal!
What makes a muffin different from a cupcake?
Cakes and muffins are both baked recipes. Muffins are made of a form of bread whereas cakes have more sugar and are sweeter.
Do muffins freeze well?
Yes, these breakfast muffins freeze great! Make sure to cool them completely, then add them to a freezer bag or airtight container. They will keep in the freezer for about 2 to 3 months. To reheat them, simply allow them to thaw overnight or warm in the microwave for 15-30 seconds wrapped in a damp paper towel.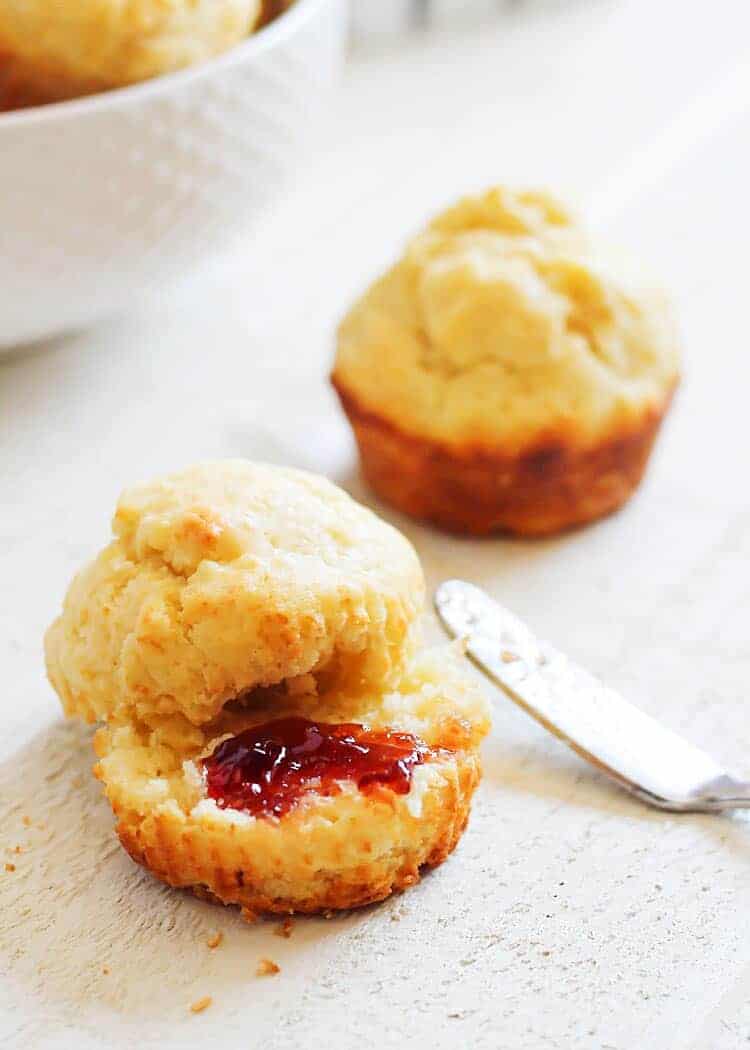 Storing Simple Muffins
Once the muffins have cooled on wire racks, place them in an airtight container and store in a dry area.
More Breakfast Recipes to Try
HUNGRY FOR MORE? Subscribe to my newsletter and follow on Facebook, Pinterest and Instagram for all the newest recipes!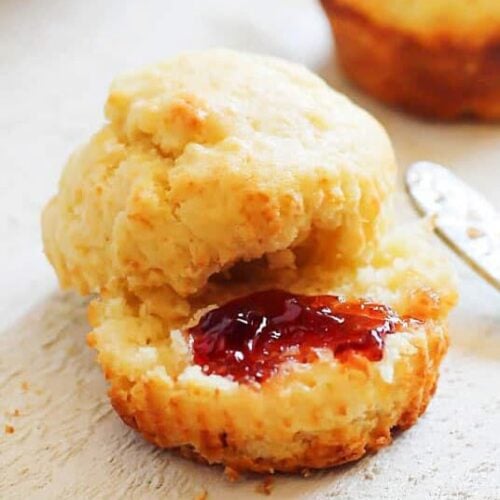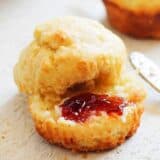 Easy Muffin Recipe
Made with only a few ingredients and use just one bowl and spoon! Once you make this easy muffin recipe, it'll become your new favorite easy breakfast!
Ingredients
2 cups (260 g) all-purpose flour
½ cup (98g) granulated sugar
2 teaspoons baking powder
½ teaspoon salt
2 eggs , beaten
½ cup vegetable oil
½ cup milk
Optional mix-in's: 1/2 cup blueberries, chocolate chips or cinnamon chips
For serving: butter and jam
Instructions
Preheat the oven to 400º F. Line a 12-cup muffin tin with paper liners or spray each cup with cooking spray. In a mixing bowl, combine flour, sugar, baking powder and salt and stir together.

Add in eggs, oil and milk and mix only until combined, don't beat or over mix or they will be dry! Fold in 1/2 cup mix-in's if desired.

Scoop into prepared muffin tin and bake for 15-18 minutes or just until golden and a toothpick comes clean. Serve with butter and jam.
---
Notes
Storage: Once cooled keep in sealed container for 3 days or freeze up to 3 months. Allow to thaw and then rewarm in the microwave for 10-15 seconds.
Nutrition
Calories: 209kcal | Carbohydrates: 25g | Protein: 3g | Fat: 10g | Saturated Fat: 1g | Cholesterol: 28mg | Sodium: 113mg | Potassium: 146mg | Sugar: 8g | Vitamin A: 55IU | Calcium: 63mg | Iron: 1.2mg
Nutrition provided is an estimate. It will vary based on specific ingredients used.
Did you make this recipe? Don't forget to give it a star rating below!
Recipe originally written by our contributor Jen from Yummy Healthy Easy.