Thin strips of tender beef smothered in a rich and tangy cream-based mushroom sauce made in one skillet in 30 minutes is why this is the best beef stroganoff recipe!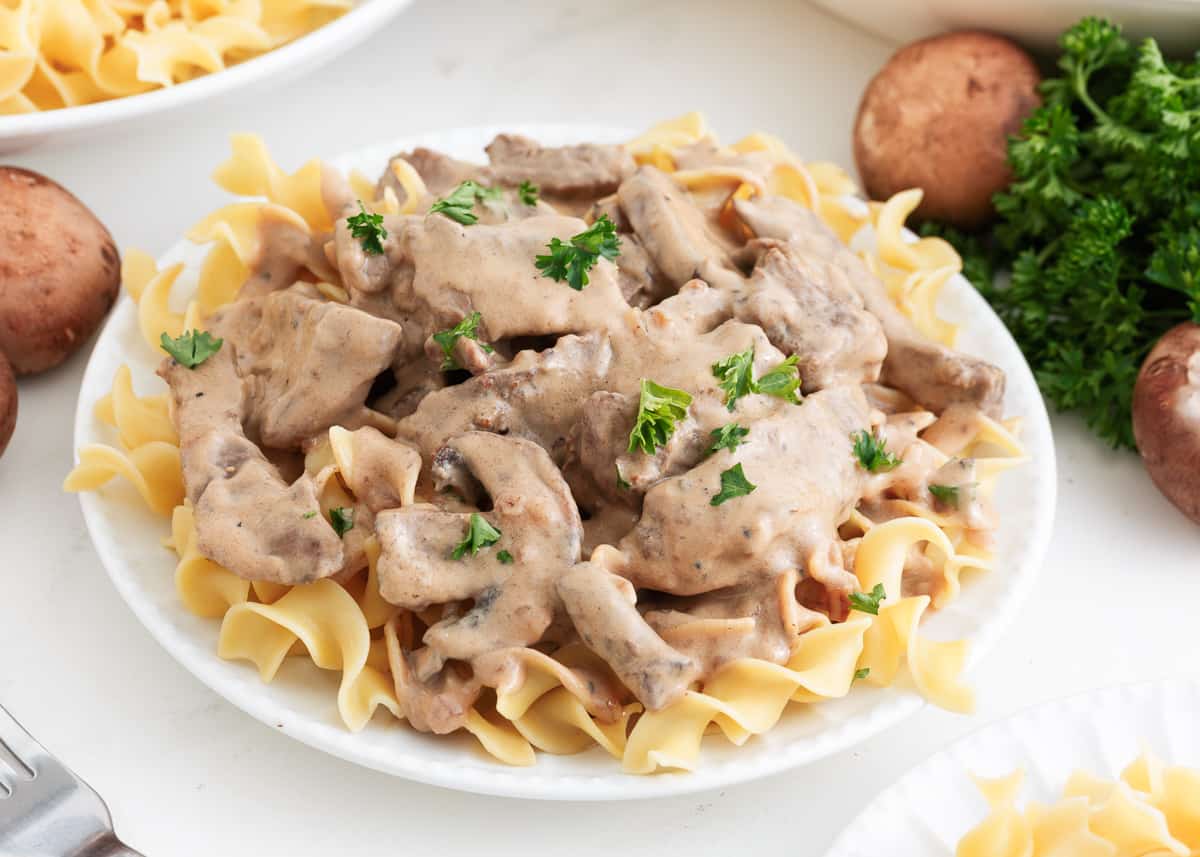 Classic Beef Stroganoff
As retro as homemade beef stroganoff may seem, it's never gone anywhere. It's a classic dish that's here to stay like hamburger helper or salisbury steak and you're about to find out why!

It's a one-skillet dish made with thin strips of high-quality beef that are given a quick sear first. Then, they're smothered in a fabulously rich and tangy cream-based sauce loaded with tender sliced mushrooms.
Usually served over mashed potatoes or homemade egg noodles to soak up all of that delicious sauce, it's a comfort food that our whole family loves! Other simple down-home favorites include this pot roast and cheesy stuffed meatloaf.
This easy beef stroganoff recipe is made with simple ingredients, however, I do recommend a good quality beef marbled with fat, so that every bite is nice and tender, not tough and chewy.
Why This Recipe Works
Flavorful. Both the steak and the stroganoff sauce are the stars of this show. They are equally as important and equally delicious.
Customizable. There are plenty of ways to switch up the ingredients to suit your needs. Make it gluten-free, add veggies, use a different protein, etc.
Comfort food. When served over noodles or creamy mashed potatoes this is the kind of comfort food that has your kids' friends wanting to eat dinner at your house!
Recipe Ingredients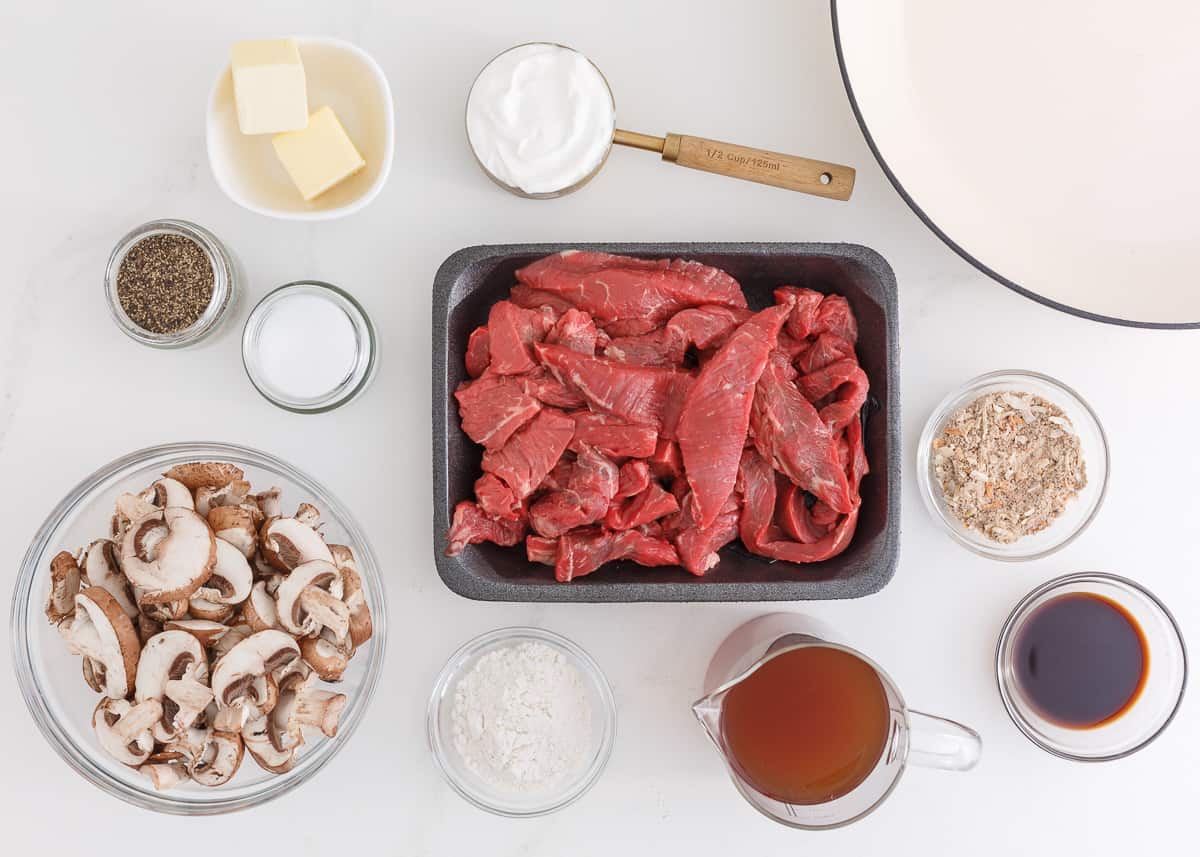 Find the full printable recipe with specific measurements below.
Salted butter: For this beef stroganoff recipe I love using butter to saute the beef and mushrooms for additional flavor.
Steak: Good quality steak, sliced thin. Sometimes it's easier to slice beef while it's still partially frozen.
Salt & pepper: Just a bit of seasoning is all the beef needs. The flavorful sauce does the rest.
Cremini mushrooms: Also known as baby Bella or brown mushrooms, they have a deeper flavor than regular white button mushrooms.
Beef broth: Use beef stock or broth as the liquid for the sauce to give it a robust beefy flavor.
Worcestershire sauce: Adds a depth of flavor with its complex savory, sweet, and briny taste.
Onion soup mix: We're using this to season the creamy mushroom sauce to give it loads of flavor!
All-purpose flour: This is what we use to thicken the sauce.
Sour cream: Added at the end to add a rich consistency but also to lighten it up with its slight tang.
What Cut of Beef Should I Use in Stroganoff?
As mentioned earlier, you want to look for steak that has a lot of marbling and will result in tender strips of beef after a quick sear. You could use anything from top sirloin and filet mignon to a boneless ribeye.
If you want to use a cheaper cut of beef that isn't quite so tender or marbled with fat, you might want to try crockpot beef stroganoff instead.
Variations
This classic beef stroganoff recipe has plenty of room for flexibility. Here are some alternatives:
Make it a little lighter and healthier by using plain Greek yogurt instead of making it a sour cream sauce.
You can also cheat and take a shortcut by using cream of mushroom soup, although, not the same in my opinion!
Add extra veggies like bell peppers, and broccoli.
If you like a little spice, add some red pepper flakes.
Need it gluten-free? Use gluten-free flour.
Did you know you can also make it a ground beef stroganoff recipe? You can! Brown some ground beef instead of chunks of beef and continue as directed.
How to Make Beef Stroganoff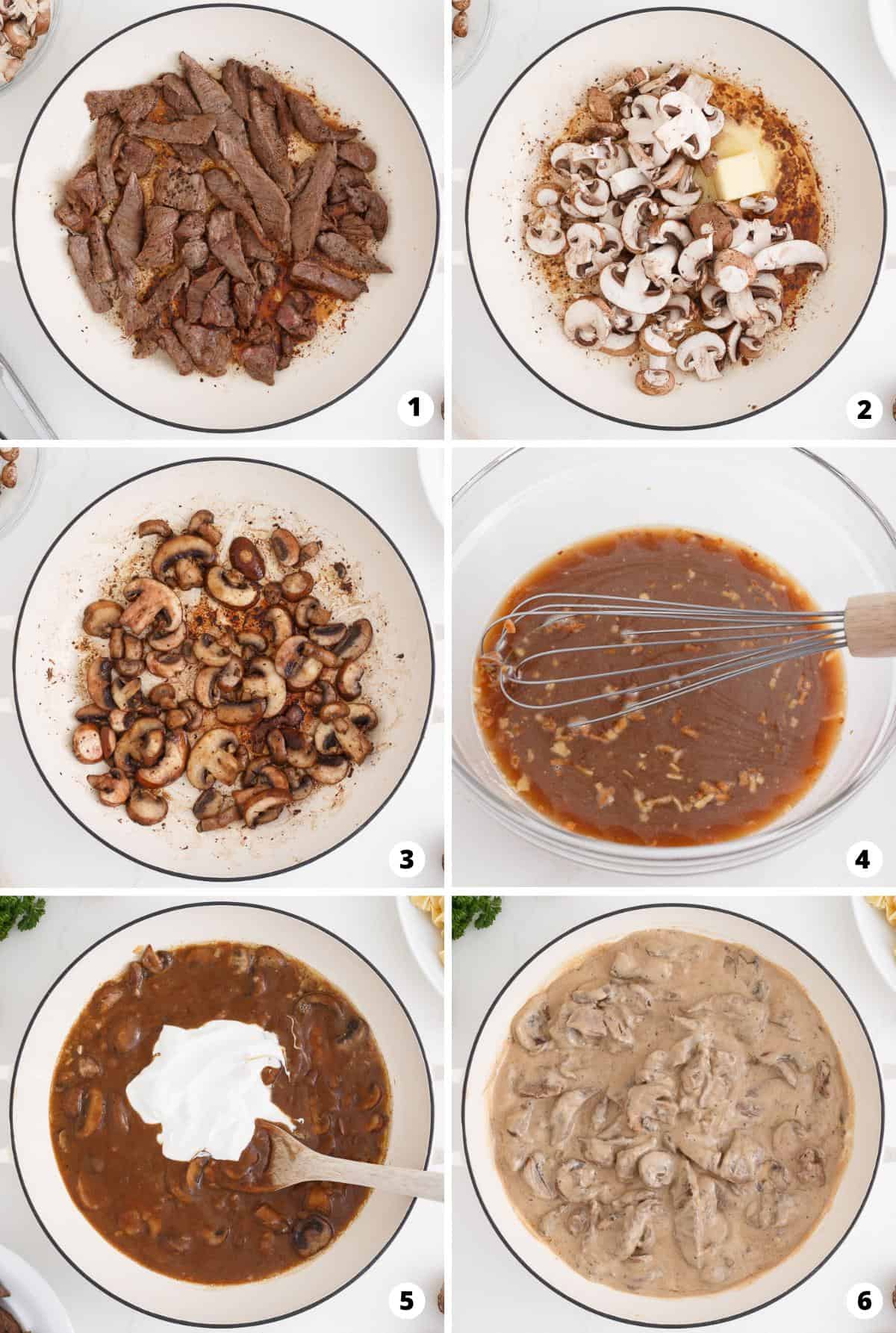 Brown the steak strips. In a large skillet with melted butter over medium-high heat, lay the strips down and leave them alone as they brown on one side. It's important to get a good sear! Then, use a pair of tongs to flip them over to brown on the other side. Transfer to a plate.
Add the mushrooms. Melt the rest of the butter in the same skillet and add the mushrooms.
Saute until golden. Cook them for about 5-7 minutes until they are golden and have softened.
Combine sauce ingredients. In a medium bowl, whisk together the broth, Worcestershire sauce, onion soup mix, and flour until combined. You may still see some small lumps of flour, but that's ok. They should dissipate once the mixture gets whisked into the skillet over heat.
Thicken sauce in the skillet. Pour the broth mixture into the skillet with the mushrooms and bring it to a boil. Reduce the heat and simmer for 5 minutes, until the sauce has thickened. Stir occasionally. Then, stir in the sour cream.
Heat through and serve. Add the meat back into the skillet to heat through and stir to combine. Season to taste and then serve it over butter noodles or mashed potatoes. Garnish with fresh parsley, and enjoy!
Expert Tips
An undisturbed quick sear. Letting the meat sear on one side will give it a nice brown crust that will add that much more flavor. It also prevents the meat from sticking to the skillet.
Do not overcook the beef. Once you add it back to the skillet to heat through, don't allow it to continue to simmer. Remove from the heat and serve.
Sauce consistency. If you find it is too thick once the beef has been added back in, try adding a splash of water or beef broth and give it a quick stir.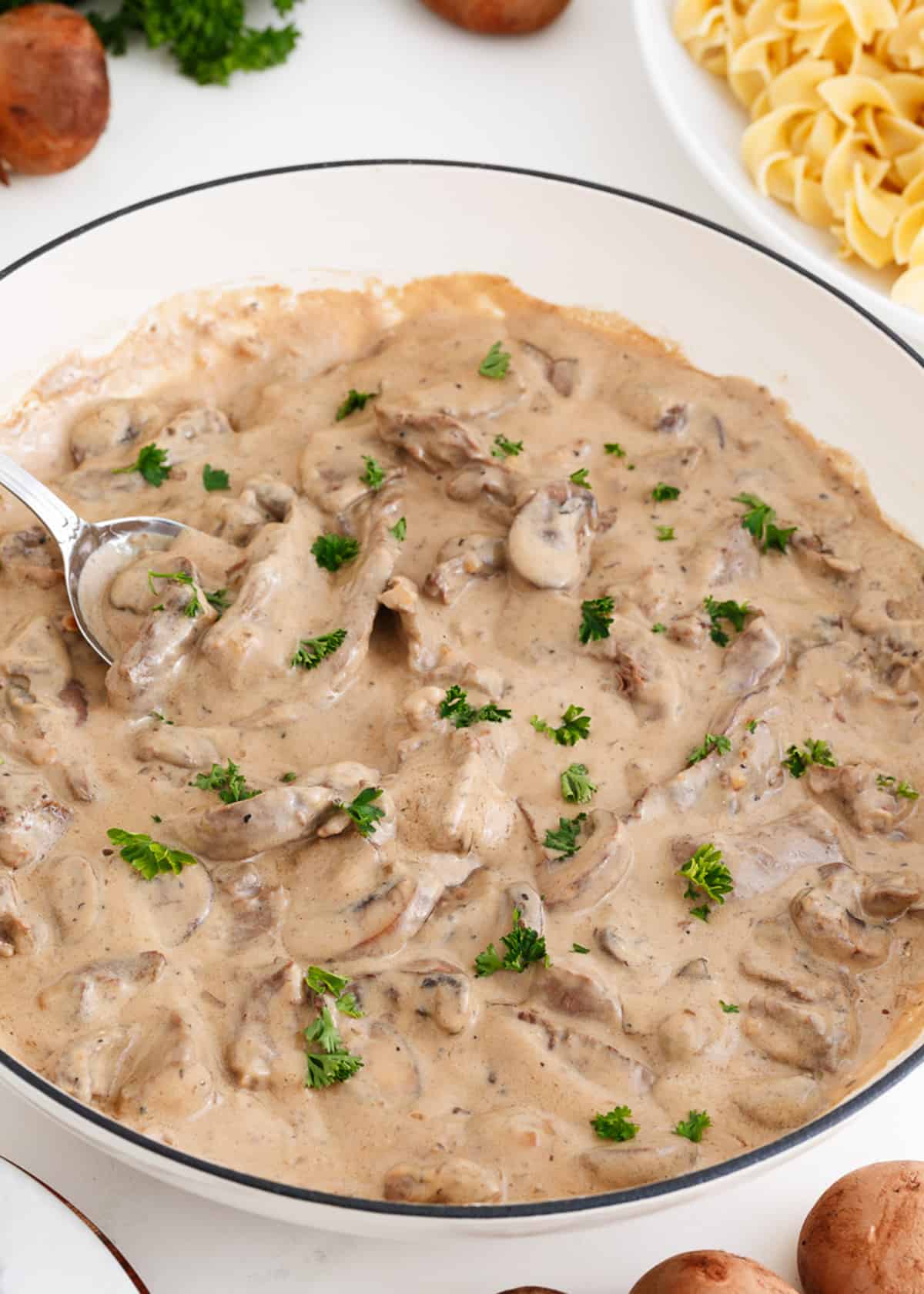 Recipe FAQs
Can I substitute plain yogurt for sour cream in beef stroganoff?
Yes, you can! I prefer to use Greek yogurt for its thickness, but you can use regular too. As long as it's plain and without flavor, it'll provide that same tanginess that sour cream does.
What is beef stroganoff sauce made of?
As you can imagine, everyone has their version. Some use white wine, while others use vinegar and even Dijon mustard and garlic.

Mine is made with beef broth, Worcestershire sauce, and onion soup mix. It's thickened with flour and made rich and creamy with sour cream.
Can I double this recipe for a larger crowd?
Absolutely. This recipe serves 4, so if you're throwing a dinner party, by all means, make more. You still want to sear the strips of beef undisturbed and far enough apart so they brown evenly, so you may need to work in batches.
What to Serve with Beef Stroganoff
Traditionally, beef stroganoff is served over egg noodles but we also love it over these crockpot mashed potatoes, too. However, for something low carb you could do a cauliflower mash instead.
Rice is also a great idea as is anything that will absorb the flavors of that mouthwatering sauce.
All it needs is a side of roasted Brussels sprouts or a simple chopped salad and you're good to go!
Storing
Keep leftovers stored in an airtight container in the fridge for up to 4 days. You can freeze it, however, sometimes freezing cream-based sauces changes the consistency once thawed.
Thaw overnight and then reheat gently over low heat until the meat is heated through.
HUNGRY FOR MORE? Subscribe to my newsletter and follow on Facebook, Pinterest and Instagram for all the newest recipes!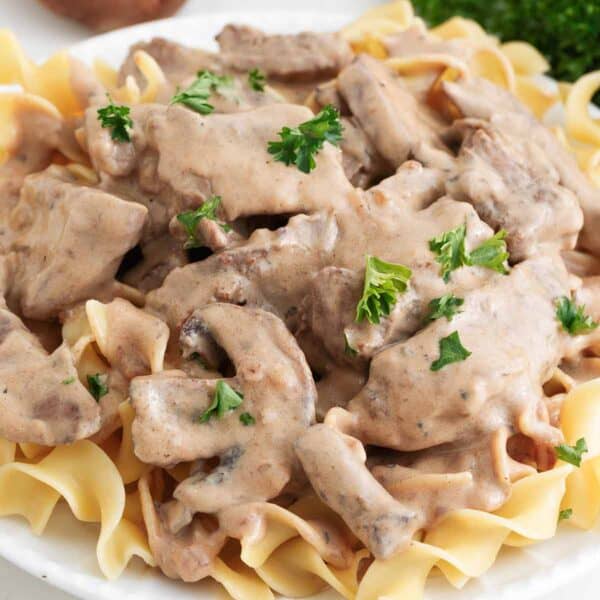 Beef Stroganoff Recipe
Thin strips of tender beef smothered in a rich and tangy cream-based mushroom sauce made in one skillet in 30 minutes is why this is the best beef stroganoff recipe!
Ingredients
4 Tablespoons salted butter , divided
1 ½ pounds pounds steak , thinly sliced
Kosher salt , to taste
Ground black pepper , to taste
8 ounces cremini mushrooms , sliced
1 ½ cups beef broth or stock
2 Tablespoons Worcestershire sauce
1 ounce onion soup mix
3 Tablespoons all-purpose flour
½ cup sour cream
For serving: Cooked butter noodles or Mashed potatoes and Fresh parsley
Instructions
In a large skillet, melt 2 Tablespoons butter over medium-high heat. Add the steak in a single layer. Season with salt and pepper. Sauté, undisturbed, 3 minutes, or until browned on one side. Using tongs, flip and sauté 2 to 3 minutes, or until browned on other side. Transfer to a plate.

In the same skillet, melt the remaining 2 Tablespoons butter over medium heat. Add the mushrooms and sauté 5 to 7 minutes, or until softened and golden.

In a medium bowl, whisk together the broth, Worcestershire, onion soup mix, and flour until well combined.

Stir the broth mixture into the mushrooms and bring to a boil. Reduce heat to medium low and simmer 5 minutes, stirring occasionally, or until sauce has thickened. Stir in the sour cream and add the meat. Adjust seasoning, if needed.

Serve over butter noodles or mashed potatoes and sprinkle with fresh parsley, if desired.
---
Notes
Variations:
Greek yogurt: Feel free to use Greek yogurt instead of sour cream to make it a little healthier.
Veggies: You can add as many other veggies you love to the mushrooms, like asparagus, bell peppers, or broccoli.
Spice: Add in a pinch of crushed red pepper flakes for a kick.
Ground beef: You can use ground beef in place of the steak.
Swap the beef: You can also use chicken, pork or tofu in place of the steak.
Gluten-free: Swap the all-purpose flour with gluten-free flour.
Nutrition
Calories: 308kcal | Carbohydrates: 10g | Protein: 28g | Fat: 17g | Saturated Fat: 9g | Polyunsaturated Fat: 1g | Monounsaturated Fat: 5g | Trans Fat: 0.3g | Cholesterol: 102mg | Sodium: 808mg | Potassium: 698mg | Fiber: 1g | Sugar: 2g | Vitamin A: 358IU | Vitamin C: 1mg | Calcium: 67mg | Iron: 3mg
Nutrition provided is an estimate. It will vary based on specific ingredients used.
Did you make this recipe? Don't forget to give it a star rating below!