Crockpot beef stew has loads of chunky beef, tender vegetables, and a simple seasoning slow-cooked in a flavorful broth for a melt-in-your-mouth spoonful the whole family will enjoy!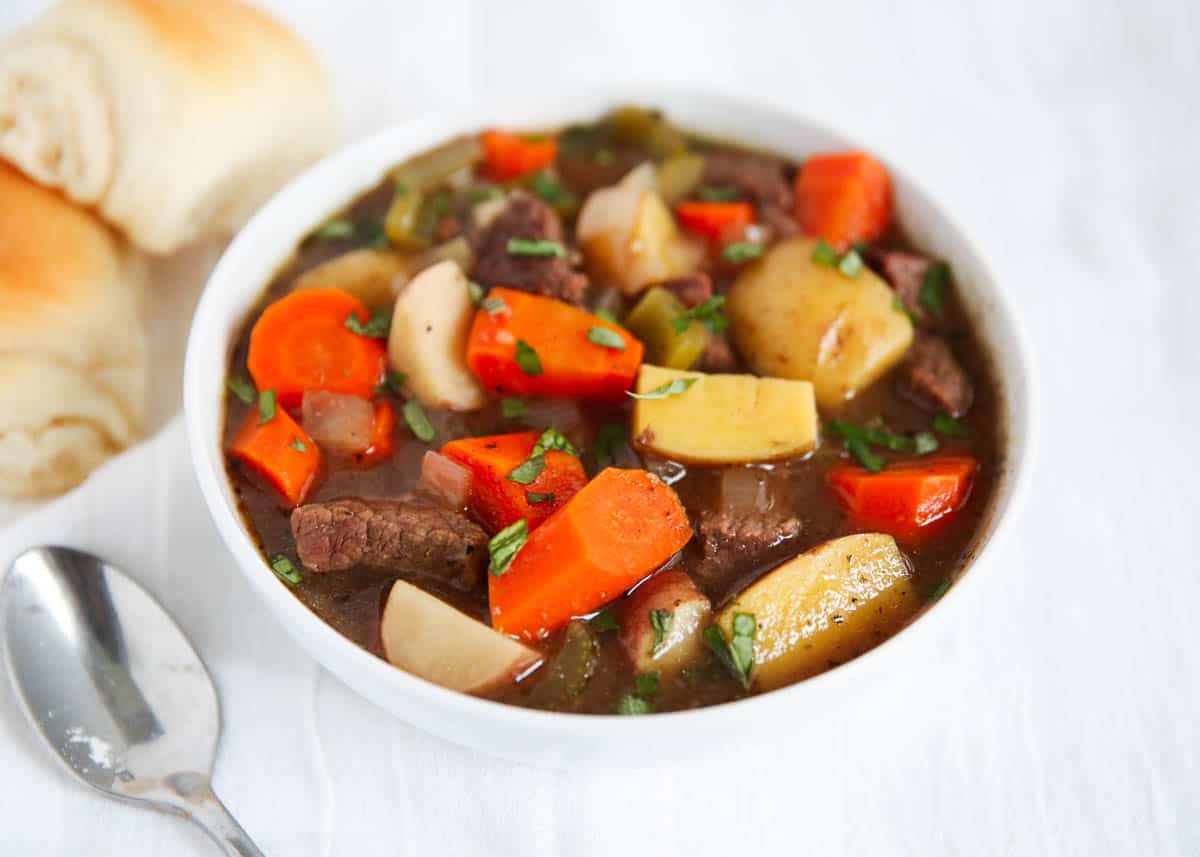 Easy Beef Stew Recipe
Is there anything a good bowl of hearty beef stew and a basket of lion house rolls can't fix? I don't think so either and lucky for you I'm sharing the BEST slow cooker beef stew recipe that will carry you through the winter months. It's very similar to my slow cooker beef bourguignon, so if you like that one, this one is a must-try!
Tender chunks of beef and veggies, a soupy flavorful broth makes one hearty comfort food dinner worth running to the table for just like when I make beef stroganoff. My kids gobble this dish up and also love to enjoy the leftovers for lunch or dinner again the next day. The flavors get even more delicious.
Slow cooker recipes are such a great way to get weeknight dinner on the table with little effort. You set it and hours later when you're ready to sit down to eat, the aroma of a homecooked meal is permeating throughout your home. Easy crockpot jambalaya and crockpot chili are two others that your family will devour in minutes!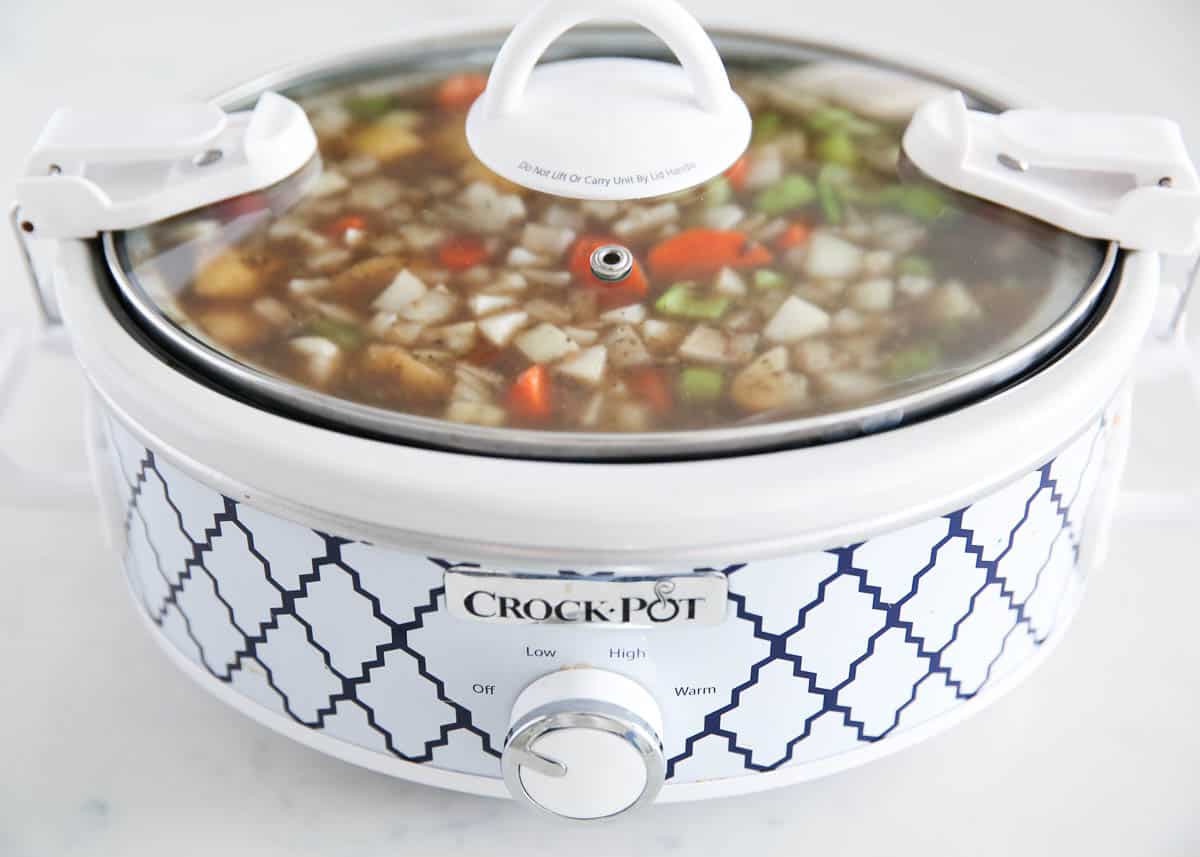 Tips for Slow Cooker Beef Stew
A good sear. Don't skip the browning of the meat. When you sear the outside, it traps in the moisture, it adds incredible flavor and the brown bits it leaves behind add flavor to the broth.
Consistency of the broth. You can make the broth as thick or as thin as you like. Leave it completely soupy or start with a bit of flour to thicken it up. Want it even thicker like a gravy? Add more flour.
Best served warm. The great thing about crockpot recipes is that you can leave it on and have people serve themselves if they're not quite ready to eat yet.
Flour-less broth. Make this gluten-free and swap the flour for a cornstarch flurry.
Variations
I use beef stew meat for my recipes because it usually comes pre-cut, but go ahead and use beef chuck roast or sirloin tip cut into chunks if you like.
For a little depth of flavor try adding some red wine (the alcohol will cook off).
Add a little more veggies during the last hour of cooking. Frozen peas, corn, or sliced mushrooms are great.
Swap the Italian seasoning for thyme or oregano on its own.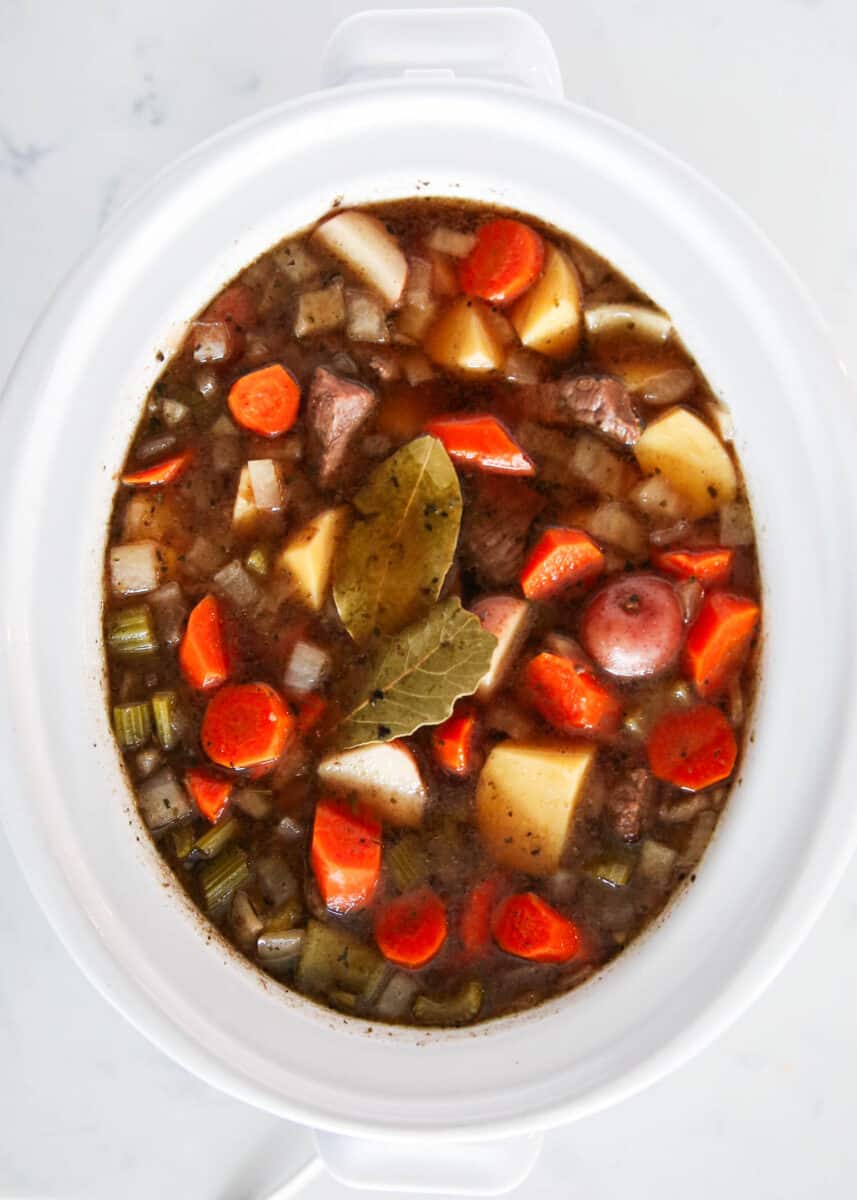 Storing Leftovers
You can keep stew in the refrigerator covered in an airtight container for up to 3 days in the fridge.
Stews that use flour (like this one) to thicken, can separate over time in the freezer. You can freeze it, just be aware that the potatoes may change their texture and you'll need to give it a good stir once it has had a chance to thaw.
Reheat on the stovetop until warmed through. If you're just reheating individual bowls, you can also reheat in the microwave.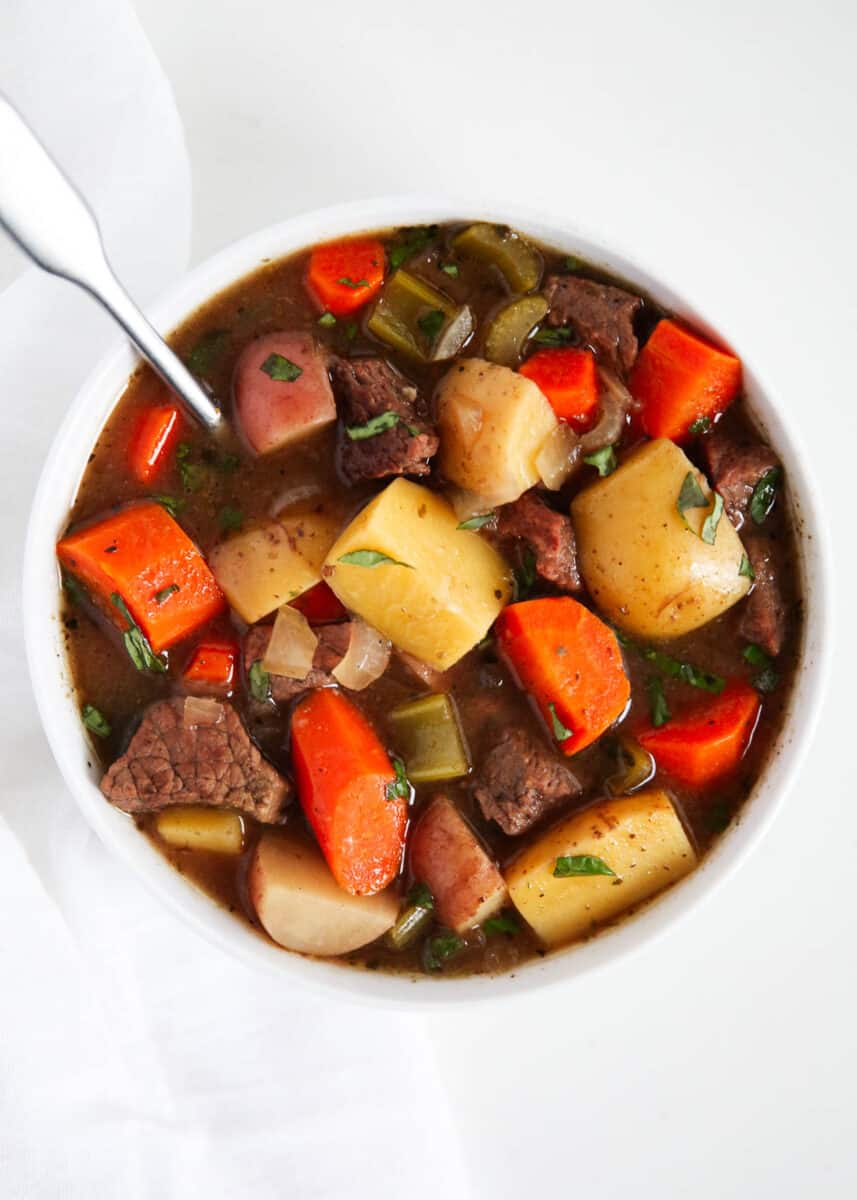 Best Sides for Beef Stew:
HUNGRY FOR MORE? Subscribe to my newsletter and follow on Facebook, Pinterest and Instagram for all the newest recipes!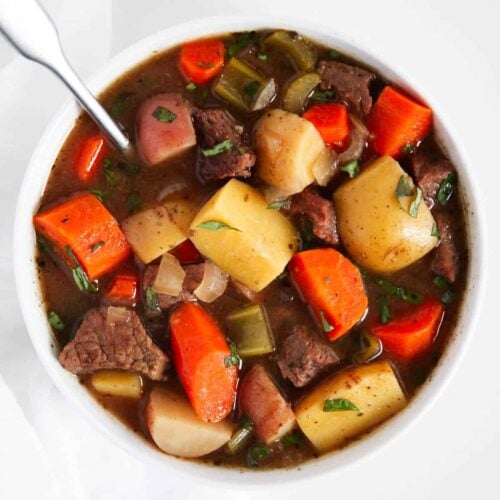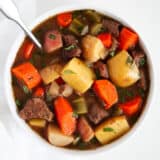 Crockpot Beef Stew
Crockpot beef stew has loads of chunky beef, tender vegetables, and a simple seasoning slow-cooked in a flavorful broth for a melt-in-your-mouth spoonful the whole family will enjoy!
Ingredients
1-2 Tablespoons olive oil
1-2 pounds stewing beef , cut into large 1-inch chunks
1 teaspoon Kosher salt , more to taste
½ teaspoon fresh cracked black pepper , more to taste
32 ounces beef stock , or broth
2-3 Tablespoons tomato paste
2 Tablespoons Worcestershire sauce
2-3 teaspoons Italian seasoning
1 teaspoon garlic powder
1 small onion , diced
1 pound baby potatoes , quartered
4 carrots , peeled and diced into 1-inch pieces
4 celery ribs , sliced thin
2 bay leaves
2-4 Tablespoons all-purpose flour
Instructions
Heat olive oil in large heavy saute pan or stock pot. Season beef with salt and pepper and then add to pan. Cook in 2 batches, until browned on all sides, about 3-5 minutes per batch. Put the meat in the bottom of your slow cooker.

Add the beef stock, tomato paste and worcestershire sauce to the pot. Add the Italian seasoning and garlic powder. Simmer for a couple minutes and scrape the bottom of the pan to get the bits. Pour the liquid from the pan into the slow cooker with the beef.

Add the onion, potatoes, carrots and celery to the slow cooker. Place the bay leaves on top. Cover and cook on low for 6-8 hours or 3-4 hours on high heat. Salt and pepper to taste.

In a small bowl whisk together the flour and 1/2 cup stew broth. Add more flour for a thicker stew. Then pour back into the slow cooker and cook an additional 30 minutes. Salt and pepper to taste.

Serve while warm. Add fresh herbs on top if desired.
---
Notes
Variations:
If you'd like to add in more vegetables, try adding the below the last hour of cooking.
Add 1 cup frozen peas
Add 1 cup frozen corn
Add 1/2 cup sliced mushrooms
Nutrition
Calories: 335kcal | Carbohydrates: 25g | Protein: 19g | Fat: 18g | Saturated Fat: 6g | Polyunsaturated Fat: 1g | Monounsaturated Fat: 8g | Trans Fat: 1g | Cholesterol: 54mg | Sodium: 900mg | Potassium: 1173mg | Fiber: 4g | Sugar: 6g | Vitamin A: 7019IU | Vitamin C: 13mg | Calcium: 82mg | Iron: 4mg
Nutrition provided is an estimate. It will vary based on specific ingredients used.
Did you make this recipe? Don't forget to give it a star rating below!