Chocolate Candy Cane Kiss Cookies
Hello! We are the sisters from
Six Sisters' Stuff
and we are SO thrilled to be here today!
To us, Christmas just isn't Christmas without cookies. When we were growing up, our sweet mom would spend hours in the kitchen during the holiday season baking yummy cookies and treats for our neighbors and friends.
This recipe is absolutely delicious and the Candy Cane Kiss on top makes it look so fun and festive!
Chocolate Candy Cane Kiss Cookies
Ingredients:
1/2 cup shortening
1/2 cup butter
1 cup light brown sugar
1 cup granulated sugar
2 large eggs
2 teaspoons vanilla
1 teaspoon peppermint extract
1 teaspoon baking powder
1 teaspoon baking soda
1/2 teaspoon salt
2 1/2 cups all-purpose flour
1/4 cup + 2 Tablespoons unsweetened cocoa powder
2 cups semisweet chocolate chips
1 (10 ounce) package Hershey's Candy Cane Kisses, unwrapped
Directions:
1. Preheat oven to 350 degrees. In a large mixing bowl, cream together softened butter, shortening, brown sugar and granulated sugar until light and fluffy. Add eggs, vanilla, and peppermint extract. In a separate bowl, combine baking powder, baking soda, salt, flour and cocoa powder. Add to the butter/sugar mixture and combine. Fold in chocolate chips. Chill dough in the refrigerator for 30-60 minutes to avoid cookies from flattening.
2. After your dough has chilled, drop by rounded tablespoons onto an ungreased cookie sheet. Bake for 8 minutes or until set up but the centers are still soft. Let the cookies cool for 1-2 minutes. Top each cookie with an unwrapped Candy Cane Kiss. Allow to cool long enough for the Kisses to harden.

MY OTHER RECIPES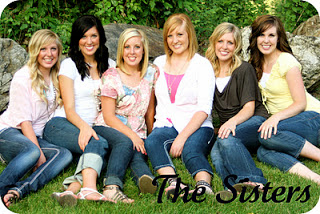 Six Sisters' Stuff
was started in 2011 by these sisters who shared a love of easy recipes and crafts. They blog about their yummy family-approved recipes and simple crafts that even the busiest of people have time to make. The Six Sisters will be hosting their first
blog conference
this upcoming February and releasing their first cookbook in the spring of 2013.