Thick, chewy, and loaded with nutty, chocolaty goodness, these cowboy cookies have a hint of cinnamon and coconut, oats for texture, and a bit of everything in every bite. They're the perfect go-to snack when the cookie cravings hit!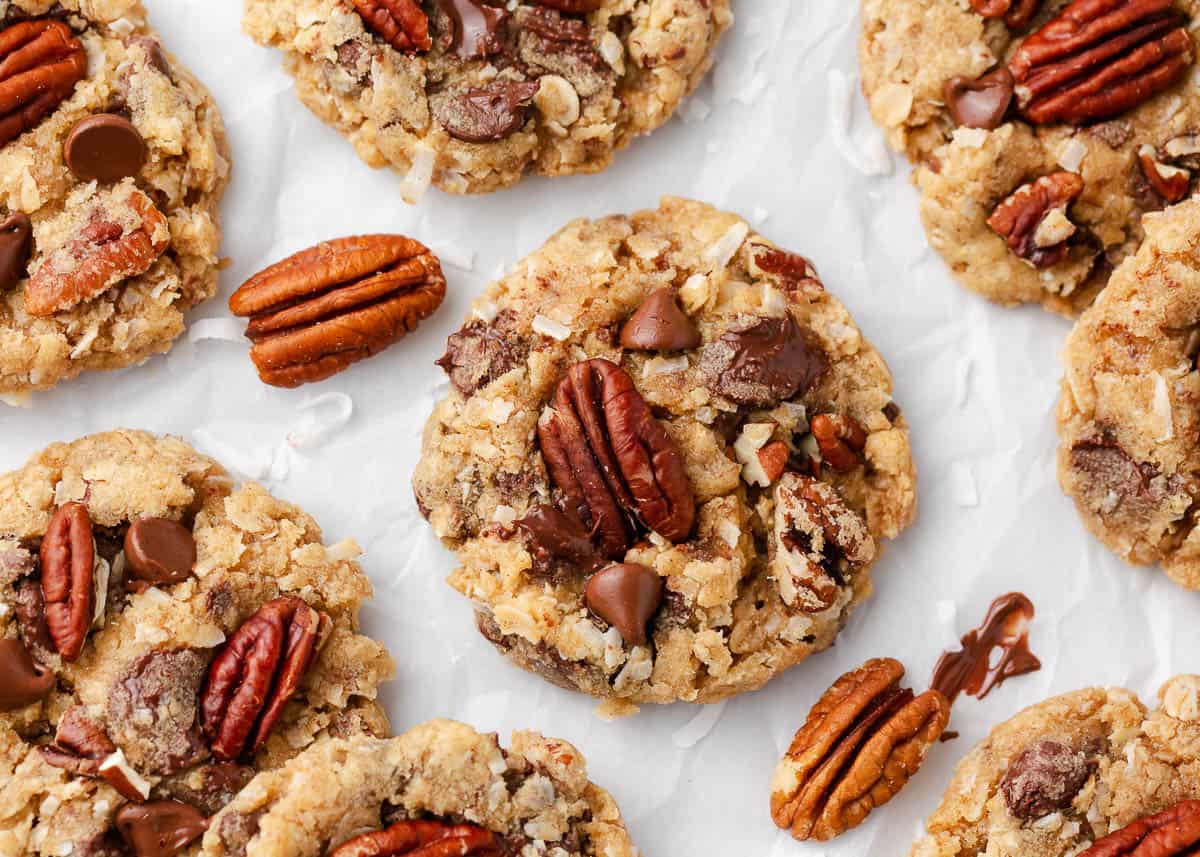 Can I Get a Yee-Haw?
No? Well, I definitely know I'll get a deee-lish out of you all!
Cowboy cookies are thick, hearty, and loaded with mix-ins! Not just any mix-ins though, a true cowboy cookie has chocolate chips, oats, coconut, and pecans with a hint of cinnamon.
These chewy bakery-style cookies are the best of chocolate chip cookies, oatmeal chocolate chip cookies, and chewy coconut chocolate chip cookies combined!
You may have heard of cowboy cookies referred to as Laura Bush's cowboy cookies and that's because she made them popular back in 2000 during the presidential campaign. The public voted hers the best cookie recipe out of all the candidates' wives.
I guess thanks are in order because these cookies are divine!
One bite of these cowboy cookies and I may just get a yee-haw out of you yet!
Why This Recipe Works
Easy to make. It's an easy one-bowl recipe and the entire batch of cowboy cookies can be prepped in 15 minutes. You can even make the dough balls ahead and bake them when you're ready.
You probably have what you need. There are no fancy individual ingredients that go into the cookie dough, so you probably already have what you need.
Delicious and full of texture. It's the combination of these simple ingredients that gives the cowboy cookies a wide range of flavors and textures that are irresistible!
Cowboy Cookie Recipe Ingredients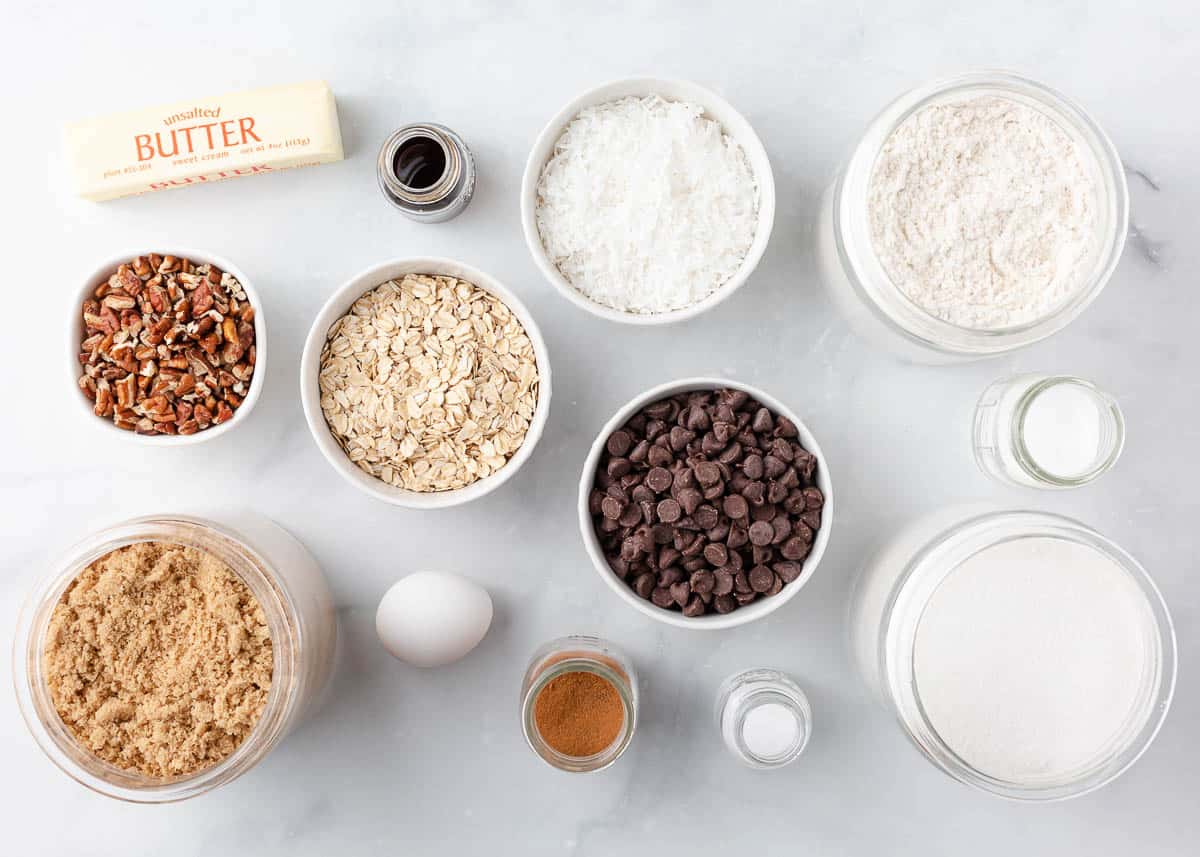 Find the full printable recipe with specific measurements below.
Unsalted butter: Bring the butter out to room temperature ahead of time so that it is soft enough to cream and blend easily. Here's how to soften butter quickly if you forget to do this. We're using unsalted so we can control the amount of salt added to this recipe. If salted butter is all you have, cut down the salt added to just 1/2 teaspoon.
Sugars: I use both granulated sugar and light brown sugar. The combination gives us the sweetness we need plus the addition of the caramelized brown sugary flavors and a bit of added moisture.
Baking staples: Large egg, vanilla extract, all-purpose flour, baking soda, sea salt. Nothing too exciting to note here except make sure you're using baking soda, not baking powder!
Mix-ins: Old-fashioned oats, semi-sweet chocolate chips, shredded coconut, and chopped pecans. Feel free to keep some chocolate chips for the top of the cookies as well. You'll be dividing the oats. Some will be pulsed and some will be kept whole.
Variations
Traditional cowboy cookies are amazing but that doesn't mean you can't get creative with them!
If pecans aren't your favorite nuts swap them for chopped walnuts or almonds instead. You can use quick oats, but they won't give you the same texture. Use milk chocolate, white chocolate, or dark chocolate chips if you would like.
You can add some dried fruit to the mix, like raisins, cranberries, or dried cherries.
If you want to go the extra mile, I'd suggest browning the butter. If you've ever had my brown butter chocolate chip cookies you'll understand how much extra flavor it adds!
How to Make Cowboy Cookies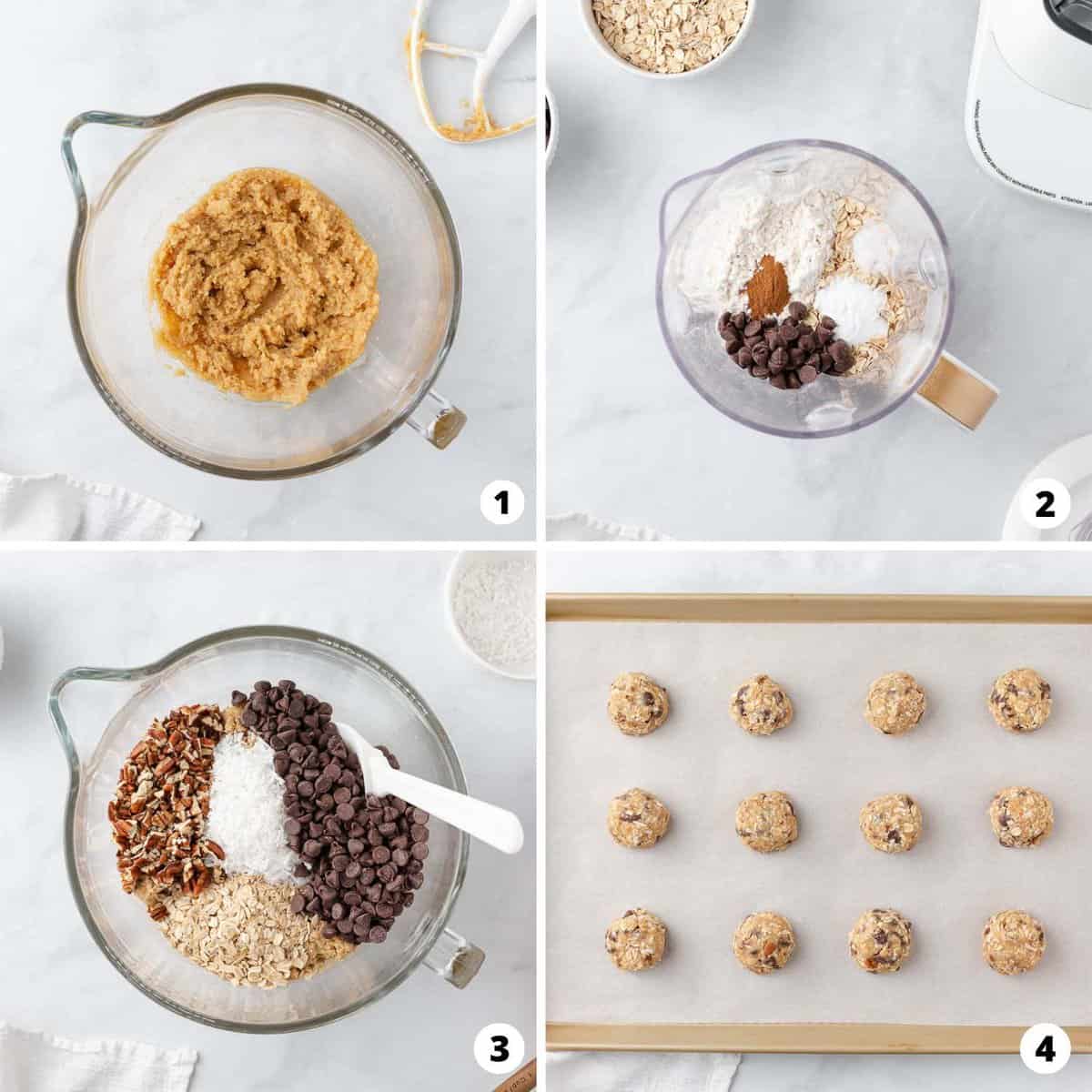 Mix wet ingredients. In a large mixing bowl, or the bowl of a stand mixer using the paddle attachment, beat the butter and sugars together, then mix in the egg and vanilla.
Mix dry ingredients. In a blender or food processor, pulse the flour, 1/2 cup of oats, 1/4 cup of chocolate chips, baking soda, salt, and cinnamon. Just a few times until the oats and chocolate chips are broken, not completely a powder.
Form the cookie dough. Add the dry mixture to the wet mixture and mix until just combined. Fold in the mix-ins and the remaining oats and chocolate chips.
Bake the cowboy cookies. Use a large cookie scoop to scoop out the dough onto 2 parchment-lined baking sheets. Leave enough room between each one for a bit of spreading. Press down on the dough slightly with the back of a spoon and add a few extra chocolate chips or pecan on top for the presentation. Bake for 6-8 minutes until golden brown around the edges.
Helpful Tips
If you find the dough is too soft or too sticky, place it in the fridge for 15 minutes to solidify. It might mean your butter has become too soft, in which case it will spread too thin.
Oats: Do not use quick oats it will not only change the texture of the cookies but they will end up dry.
Just out of the oven, the middle will still be a bit soft. That's ok, they will firm up as they cool. This is how you get cowboy cookies nice and chewy!
Finishing them with a sprinkling of flaked sea salt is an excellent way to get more of that sweet and salty taste experience.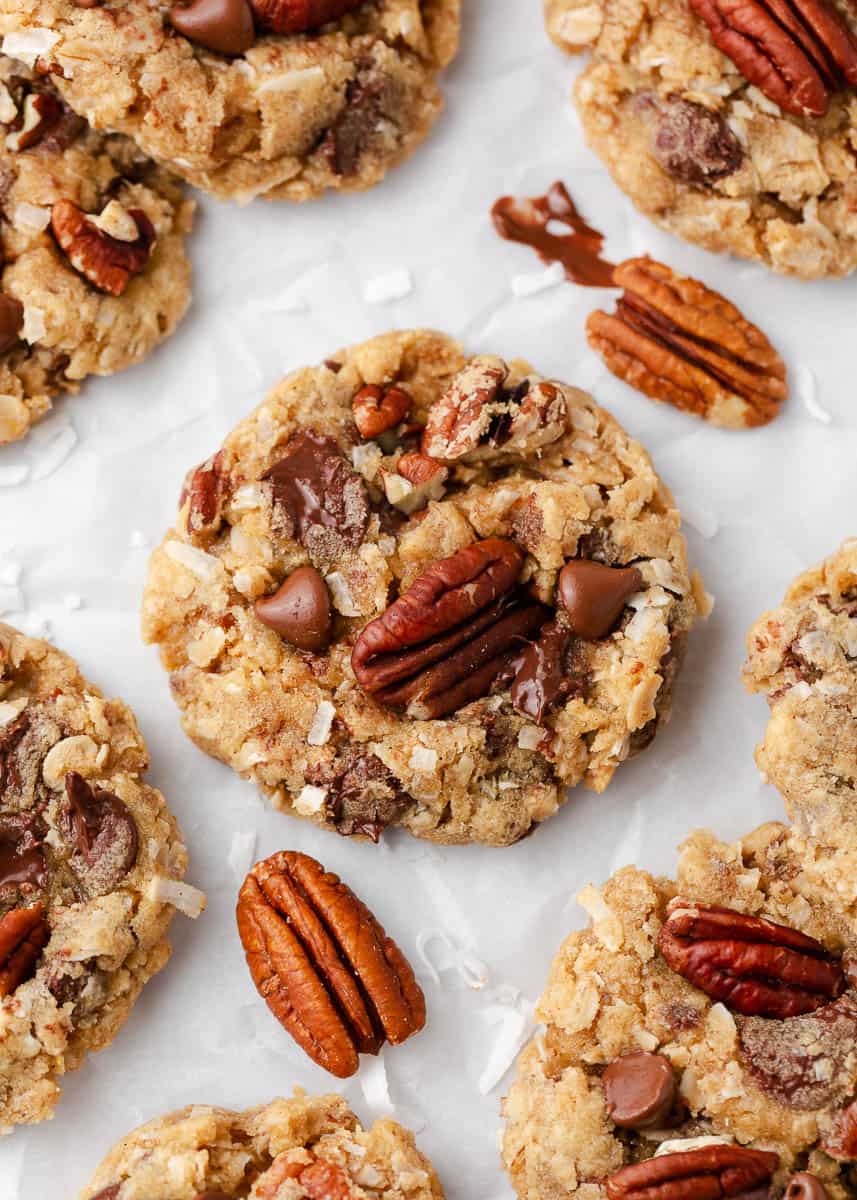 Recipe FAQs
Can I stir the ingredients by hand?
I wouldn't recommend it. If you have an electric mixer I would suggest using it, if not a stand mixer. To whisk it by hand would be too hard to get the butter and sugars to that creamy consistency. If you want the workout then, by all means, try it out.
Why are they called cowboy cookies?
Some say it's because they were made to sustain cowboys during the day because of how hearty and filling they are. Others think it's because they were invented during a time when the Wild Wild West was trending. Who knows why they are called what they're called as long as we get to keep eating them.
Why did my cowboy cookies turn out dense?
The culprit is probably not measuring the flour correctly. It is super important in any baking recipe to make sure to use the right amount. The kitchen scale is the most accurate way, but if you don't have one, knowing how to measure flour without a scale is key. Otherwise, you'll end up using too much leaving your cookies dense and dry.
How did my cowboy cookies turn out overbaked?
Most likely due to not taking them out soon enough. As soon as you start to see the edges turn golden brown it's ok to take them out even if the centers are still soft. As they cool on the baking sheet, the residual heat from the tray will continue to bake the cookies.

If you take them out once the centers are no longer soft, they will still continue to bake as they cool which will leave them overdone.
Can I freeze the cookie dough for later?
Absolutely! Roll them into balls and lay them in a single layer on a baking sheet. Flash freeze them until solid then transfer them to a freezer bag. Keep them frozen for up to 3 months. You can bake them straight from frozen just tack on a few extra minutes.
Storing
To keep the cowboy cookies nice and moist, store them in an airtight container at room temperature for up to 3 days. No need to refrigerate them.
Freeze them by placing them in a freezer-safe bag or container and storing them in the freezer for up to 3 months. You can separate the layers with parchment paper so that they don't stick together when frozen.
Thaw them in the fridge overnight or leave them out on the counter.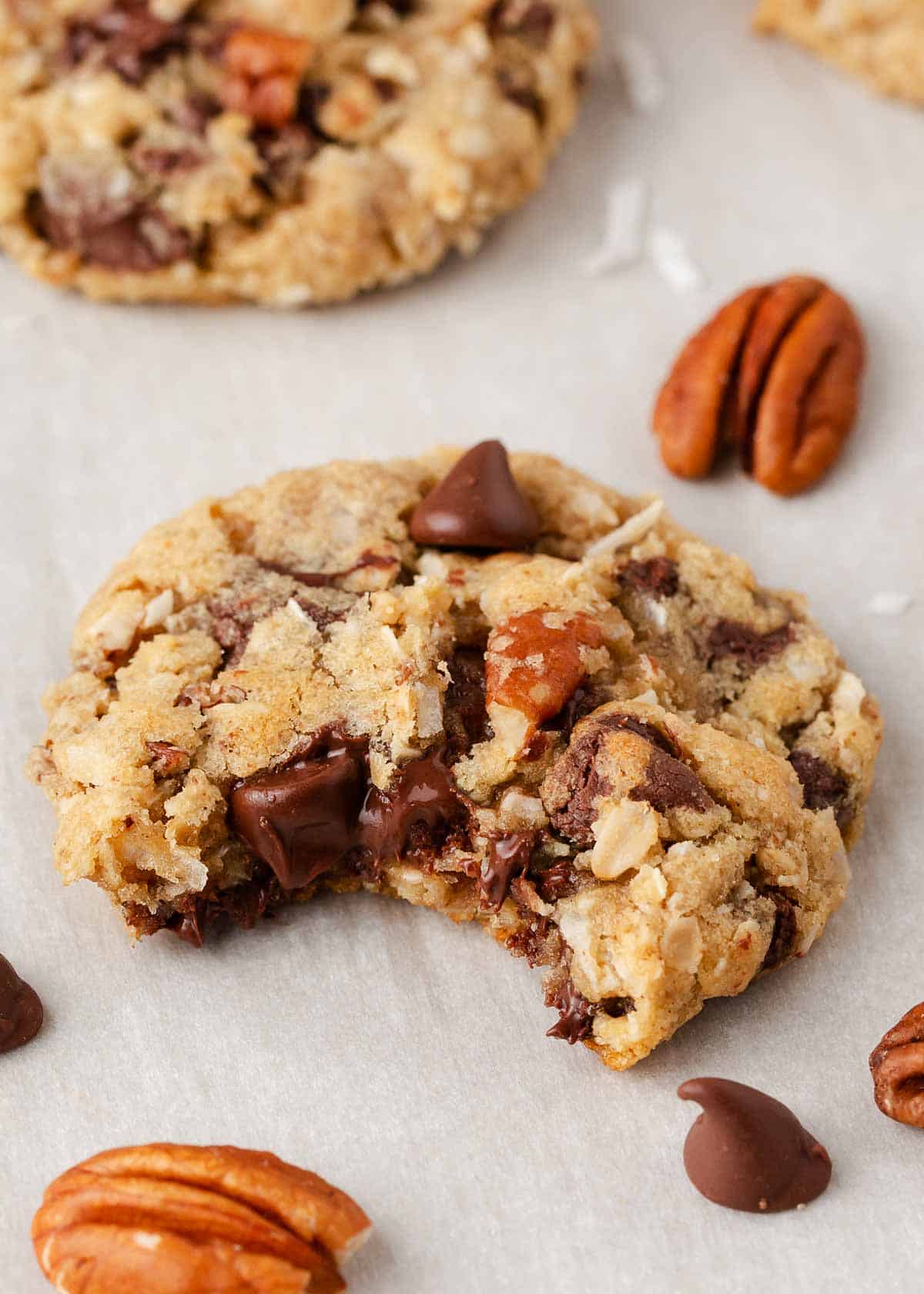 More Cookie Recipes You Will Love
HUNGRY FOR MORE? Subscribe to my newsletter and follow on Facebook, Pinterest and Instagram for all the newest recipes!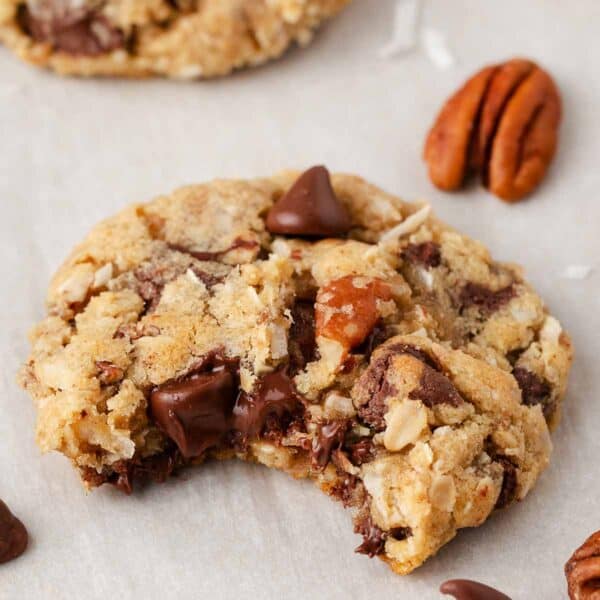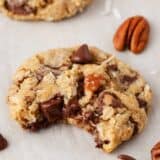 Cowboy Cookies
Thick, chewy, and loaded with nutty, chocolaty goodness, these cowboy cookies have a hint of cinnamon and coconut, oats for texture, and a bit of everything in every bite. They're the perfect go-to snack when the cookie cravings hit!
Ingredients
½ cup unsalted butter , softened
¾ cup light brown sugar , packed
½ cup granulated sugar
1 large egg
2 teaspoons vanilla extract
1 ⅓ cups all-purpose flour
1 cup old fashioned oats , divided
1 ½ cups semi-sweet chocolate chips , divided (more for topping, if desired)
1 teaspoon baking soda
½ teaspoon fine sea salt
½ teaspoon ground cinnamon
½ – 1 cup shredded coconut
½ cup chopped pecans , more for tops if desired
Instructions
Preheat the oven to 375°F. Line 2 baking sheets with parchment paper.

In a large bowl or the bowl of a stand mixer fitted with the paddle attachment, beat together the butter, brown sugar, and white sugar. Mix in the egg and vanilla.

In a blender, pulse flour, 1/2 cup oats, 1/4 cup chocolate chips, baking soda, salt and cinnamon a few times until oats and chocolate are broken.

Mix the flour mixture into the wet ingredients until just combined. Fold in the coconut, pecans, remaining 1/2 cup oats, and remaining 1 1/4 cup chocolate chips.

Using a large cookie scoop (or 2 Tablespoons), scoop the dough onto baking sheets. Flatten slightly with the back of a spoon. Add a few extra chocolate chips to the top, if desired. Bake 6 to 8 minutes, or until golden around the edges. The middle should be soft and will firm as they cool.

Let cool on baking sheet a few minutes before transferring to a cooling rack to cool completely. Store in a covered container up to 3 days.
---
Notes
Butter: Make sure to leave the butter out an hour before making or follow these tips on how to soften butter. If using salted butter, only use 1/2 teaspoon salt.
Make ahead: This dough can be made 24 hours in advance and stored in the refrigerator until ready to bake.
Storage:
Store baked cookies in an airtight container up to 3 days or freeze up to 3 months.
Thaw overnight in the refrigerator before enjoying, or leave at room temperature.
Nutrition
Serving: 1cookie | Calories: 292kcal | Carbohydrates: 37g | Protein: 4g | Fat: 14g | Saturated Fat: 8g | Polyunsaturated Fat: 1g | Monounsaturated Fat: 4g | Trans Fat: 0.2g | Cholesterol: 19mg | Sodium: 103mg | Potassium: 165mg | Fiber: 3g | Sugar: 17g | Vitamin A: 142IU | Vitamin C: 0.1mg | Calcium: 27mg | Iron: 2mg
Nutrition provided is an estimate. It will vary based on specific ingredients used.
Did you make this recipe? Don't forget to give it a star rating below!